Cooked sweet potatoes are mixed into this sweet potato cranberry quick bread batter, giving it a moist texture and a great flavor. A perfect fall breakfast or snack!

Today I have a very special post for you – I am guest posting for a great blogging group called Mystery Dish.  Each month a group of mystery ingredients is selected, and then each blogger in the group creates a recipe using a certain number of the ingredients!  Sarah at The Pajama Chef introduced me to this group, and I am so excited to be their guest this month.  When she emailed me the ingredients, I kind of felt like I was on Chopped.  The possibilities of what to make were endless!!  Sweet, savory, breakfast, dessert…in the end, I went for sweet with a Sweet Potato Cranberry Quick Bread! No surprise there, I just can't stop baking. 
In case you are wondering, the options were:
Sweet Potato
Kale
Squash
Nutmeg
Venison
Turkey
Cranberries
Caramel
Candy Corn
I went for sweet potato, cranberry, and nutmeg (I wonder if anyone combined venison and candy corn…) and made a delicious Sweet Potato Cranberry Quick Bread.  Check out what everyone else made at the end of the post!
I absolutely love sweet potatoes.  Growing up my mom would always make baked potatoes for the family, and a baked sweet potato for the two of us!  I eat them all of the time, but have never baked with them.  This was the perfect opportunity to try something new.  And, of course, I loved it!
The sweet potato gives this bread a sweet, earthy flavor, and helps to keep it very moist.  Plus I love the color – it's perfect for this time of year!  I added applesauce too so that I only had to use ¼ cup of oil.  I love substituting applesauce for oil when I can to keep my baked goods a little bit lighter.
I grated fresh nutmeg into the batter, which gives the bread a great deep, spicy flavor and tastes so good with the cinnamon, and then folded in some, sweet dried cranberries. The resulting bread tastes like fall baked into a loaf!
To get mashed sweet potatoes, peel a large sweet potato, cut it into chunks, and put them in a small saucepan.  Cover the potatoes with water and then bring the water up to a boil.  Boil for about 15 minutes, until the potatoes are tender. Then drain them and mash.  I hope you enjoy my Mystery Dish creation.  Make sure to check out the other great dishes at the end of the post!
1. Pumpkin Spice Cupcakes with Cinnamon Buttercream
2. Roasted Acorn Squash with Cranberries, Almonds, and Brown Sugar
3. Sweet Potato and Sausage Soup
6. Sweet Potato, Smoked Turkey, and Cranberry Croque Madame
7. Caramel Candy Corn Poke Cake
8. Roasted Butternut Squash Pizza with Kale and Ricotta
9. Sweet Potato Cranberry Quick Bread (That's me!)
10. Venison with Sweet Potato Hash & Fried Egg
12. Sweet Potato Pie with Cranberry Compote
If you have leftover sweet potato to use up, try these!
And if you are craving cranberries now, these cookies are perfect!
White Chocolate Cranberry Cookies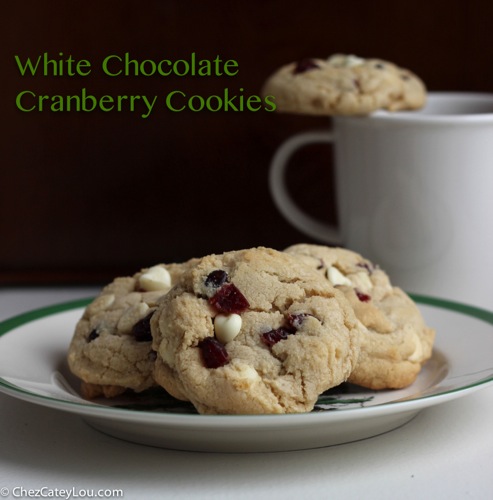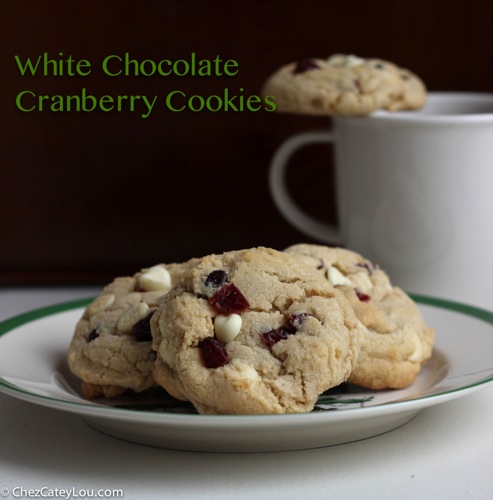 Connect with Chez CateyLou!