A classic recipe for Texas Chocolate Sheet Cake. This cake is a family favorite for my husband and I can see why – it is so decadent and delicious!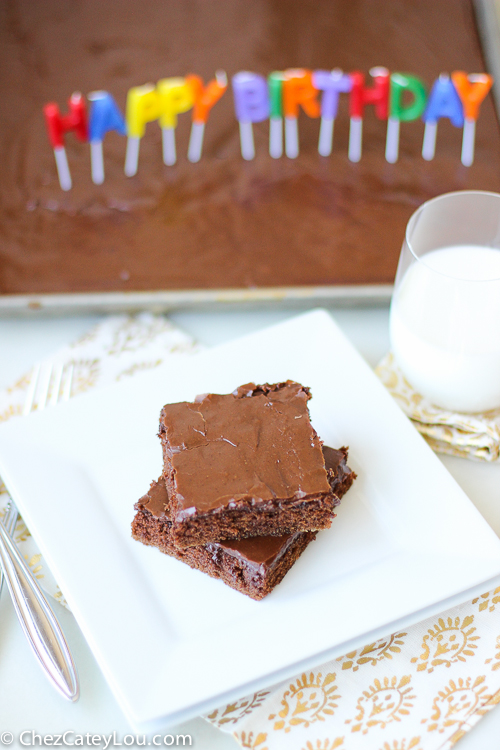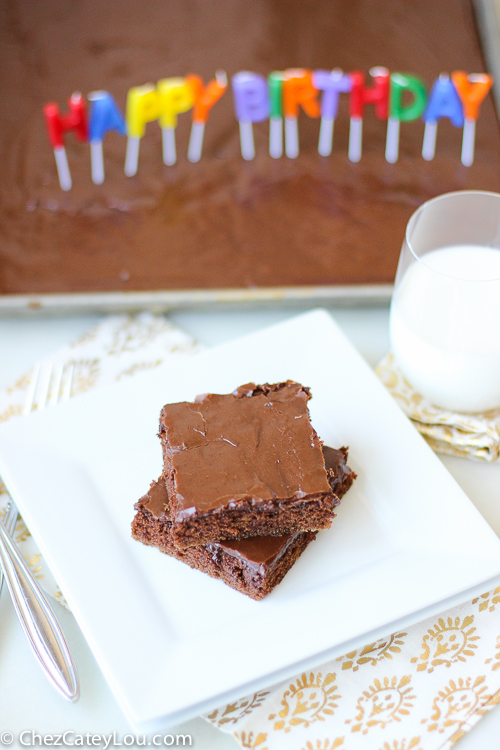 I'm sharing a very special recipe with you today for a very special day…it is TheBetterHalf's 30th Birthday! He's finally as old as I am, at least for the next 6 months. He was complaining the other day about getting old. I told him he would get no sympathy from me! Welcome to 30 – it isn't so bad!
I love celebrating birthdays on the blog – it is nice to have an excuse to make a decadent birthday treat (not that I need an excuse to bake…). Growing up, Texas Chocolate Sheet Cake was one of TheBetterHalf's favorite desserts, so I got the recipe from his mom to make for his birthday. I was nervous to bake a family favorite, because I didn't want to mess it up! Luckily, he said this chocolate sheet cake was just as good as he remembered it.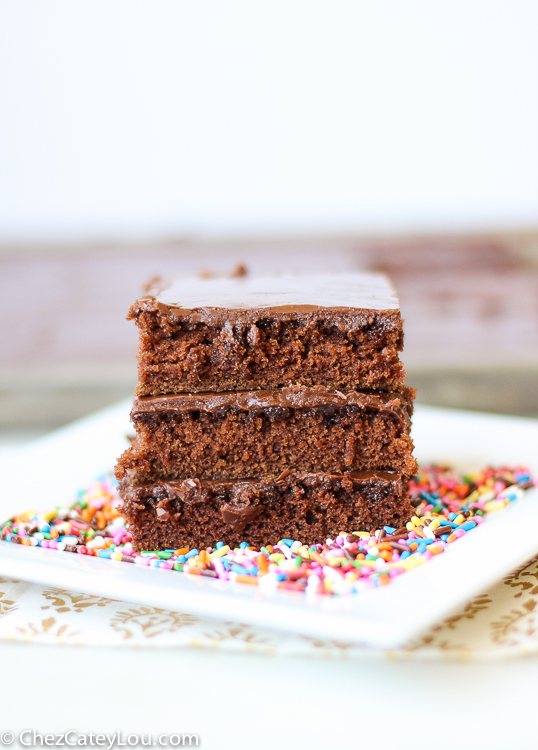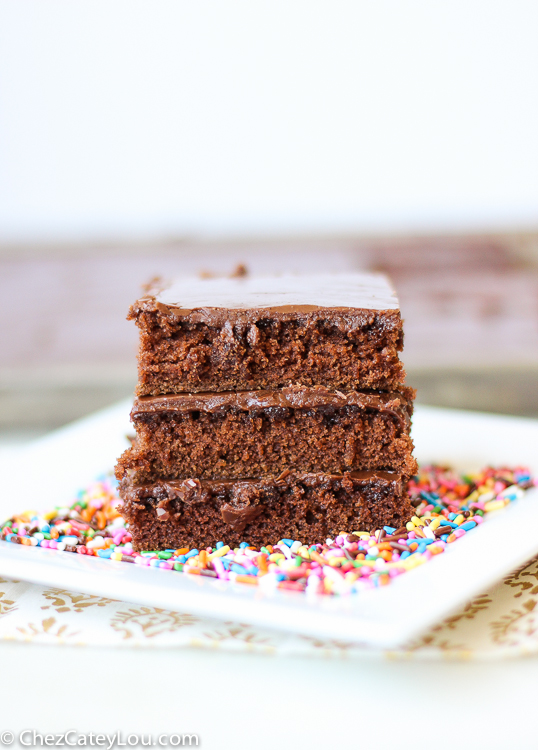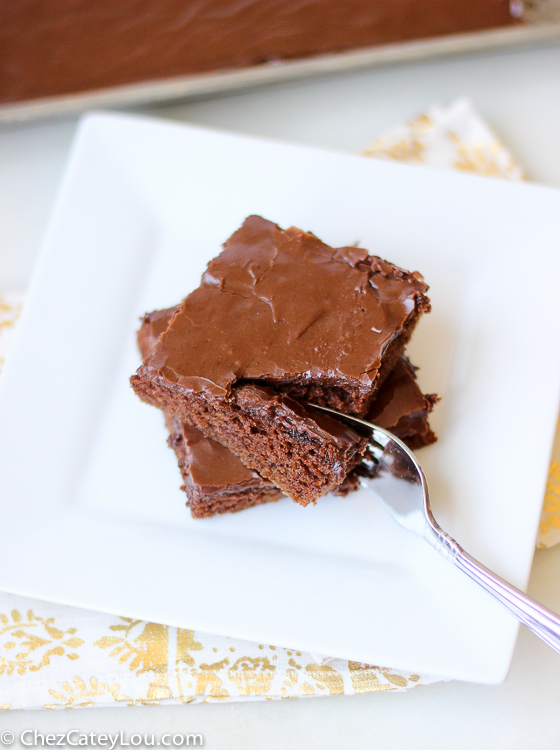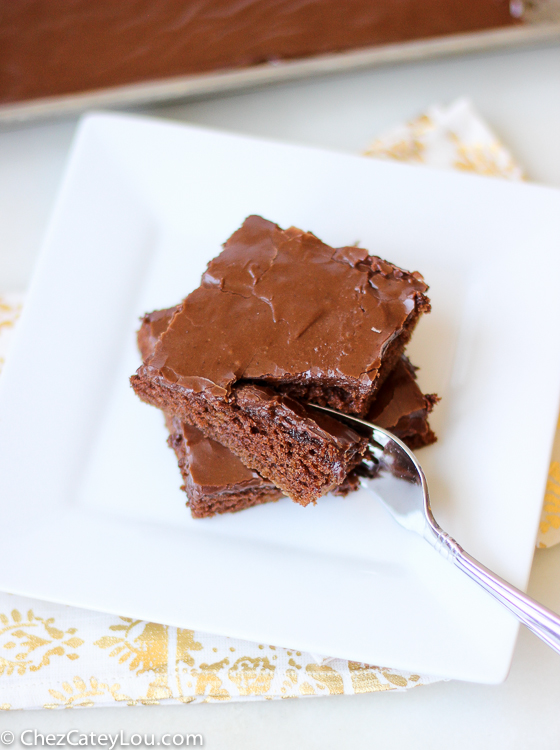 I can see why this was a family favorite recipe….this cake is GOOOOOOD. Dangerous in fact. I had to cut the cake into slices and freeze it pretty much right after the photoshoot because we couldn't stop eating it! The cake is so light and fluffy. There is a hint of cinnamon in the batter, which gives a subtle flavor that tastes awesome with the cocoa! The icing reminds me of the taste of fudge, and the texture is incredible.
The one tricky part about making this cake is the icing. You want it to be super smooth so that the top of the cake can get that smooth, perfect texture but the powdered sugar can get lumpy. If you sift it first, and then whisk the warm frosting like crazy, you should be lump-free!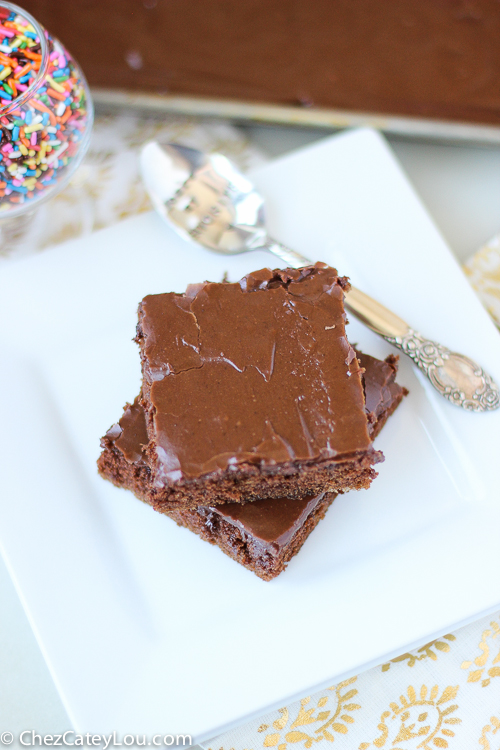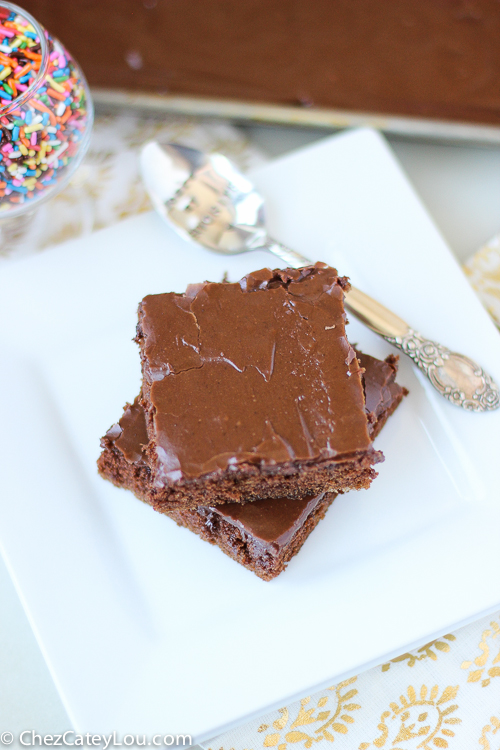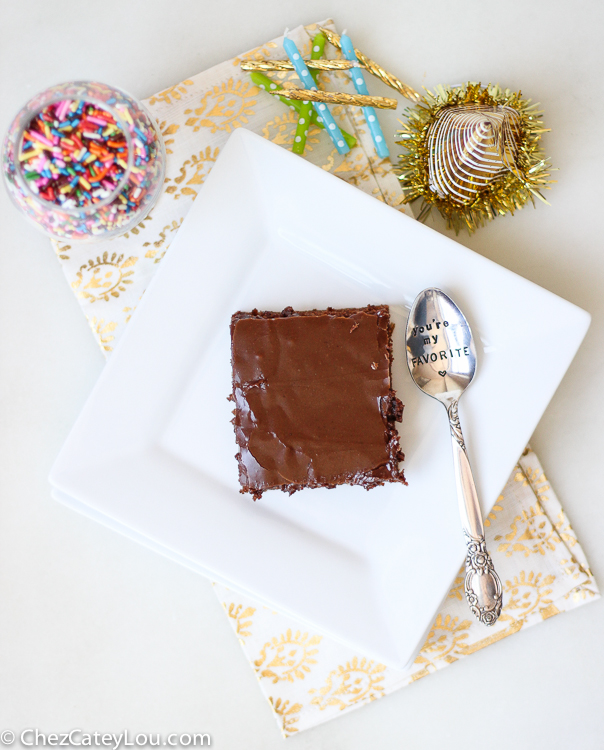 So, how cute is that spoon? I bought it for TheBetterHalf – I think I might like it more than him though! It is from For Such a Time Designs in case you need to get one for yourself!  I also got a custom Chez CateyLou spoon.  So cute!
Happy Birthday to my favorite person in the world! I hope you actually read this post!
We are going to Momofuku Ko tonight to celebrate!  We love David Chang (Ssam Bar is one of our favorite restaurants in the city) and can't wait to try out this acclaimed restaurant for the first time!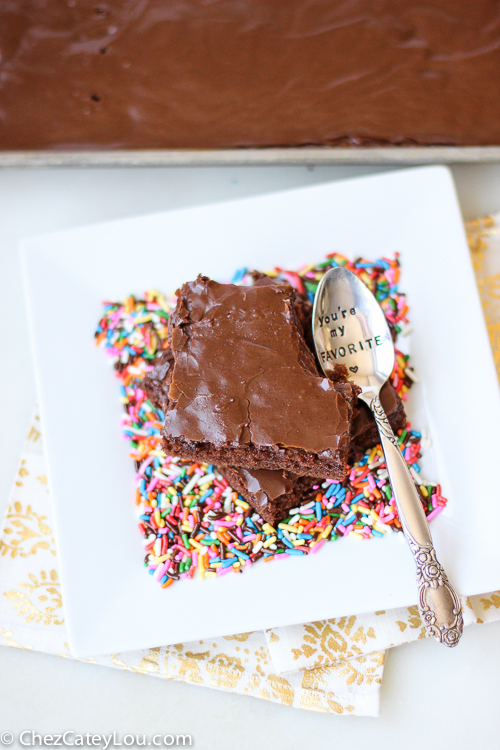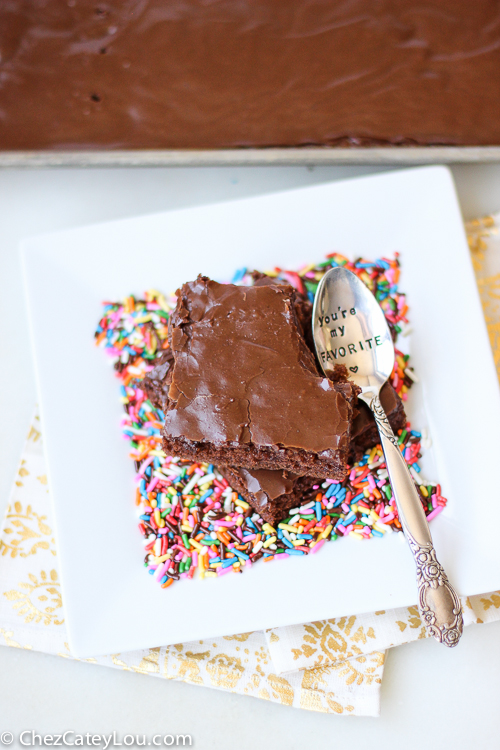 Texas Chocolate Sheet Cake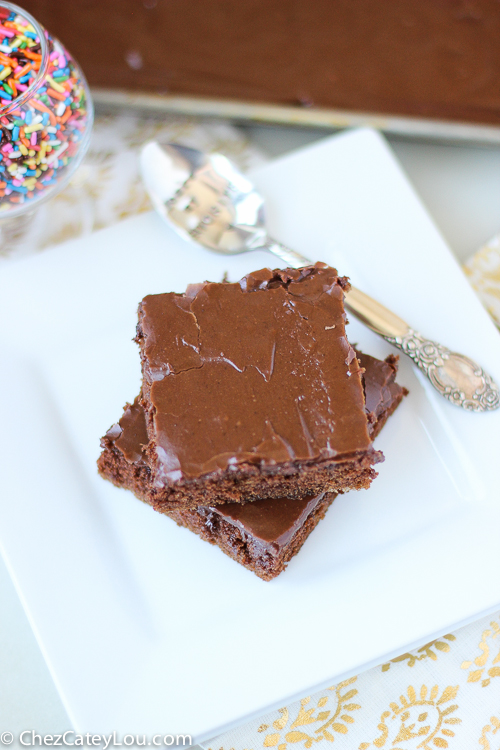 A classic recipe for Texas Chocolate Sheet Cake. This cake is a family favorite for my husband and I can see why - it is so decadent and delicious!
Ingredients
For the Cake

2 cups flour
2 cups sugar
1/4 teaspoon salt
1 cup butter
4 Tablespoons cocoa powder
1 cup water, boiling
1/2 cup buttermilk
2 large eggs, beaten
1/2 teaspoon cinnamon
1 teaspoon baking soda
1 teaspoon vanilla

For the Frosting

4 Tablespoons cocoa
1/2 cup butter
6 Tablespoons milk
1lb confectioners sugar, sifted
pinch of salt
1 teaspoon vanilla
Instructions
Preheat oven to 350 degrees F. Grease and flour an 18x13 sheet pan.
In a large bowl, whisk together flour, sugar, and salt.
In a medium saucepan, melt the butter with the cocoa, stirring occasionally, then add the boiling water. Bring mixture to a boil and boil for 30 seconds. Remove from heat and mix into the flour and sugar.
Mix together buttermilk, eggs, cinnamon, baking soda, and vanilla. Then add to the flour/cocoa mixture and mix well.
Pour into the prepared pan and spread evenly. Bake for 20-30 minutes. Meanwhile, prepare the frosting so that you can frost the cake right when it comes out of the oven.

For the Frosting

Boil the cocoa, butter, and milk. Remove from heat and whisk in the powdered sugar, salt, and vanilla. Keep whisking until no lumps remain.
Right when the cake comes out of the oven, pour the frosting on top of the cake and quickly spread evenly.
Allow the cake to cool before serving.
Notes
Recipe adapted from Philadelphia Orchestra Cookbook
via Susan B.
https://chezcateylou.com/texas-chocolate-sheet-cake/
© Chez CateyLou. All images & content are copyright protected. Please do not use my images without prior permission. If you want to republish this recipe, please re-write the recipe in your own words, or link back to this post for the recipe.
More birthday treats, some of TheBetterHalf's favorites!
Yellow Cake with Chocolate Peanut Butter Frosting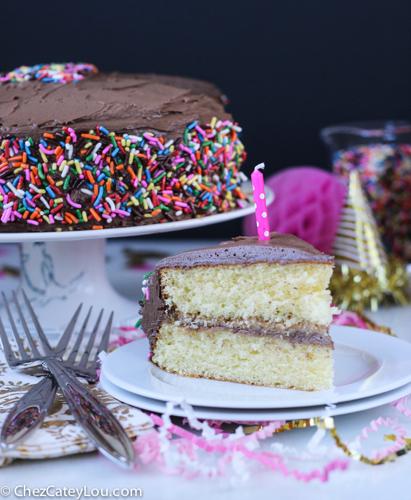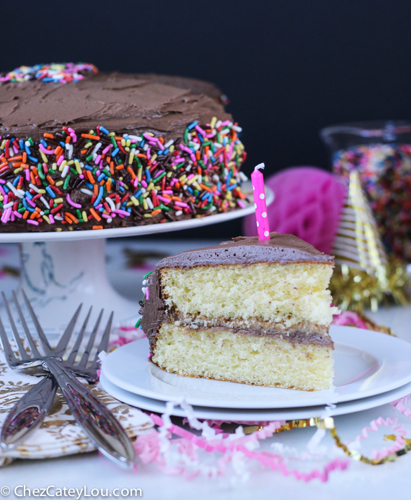 Chocolate Cake with Peanut Butter Buttercream Frosting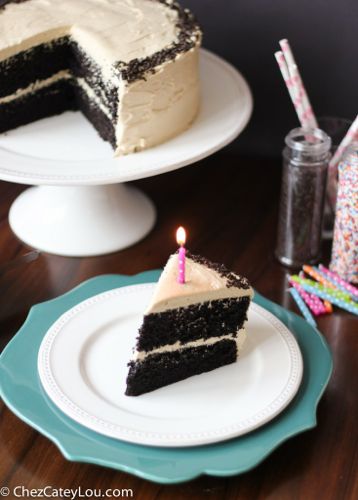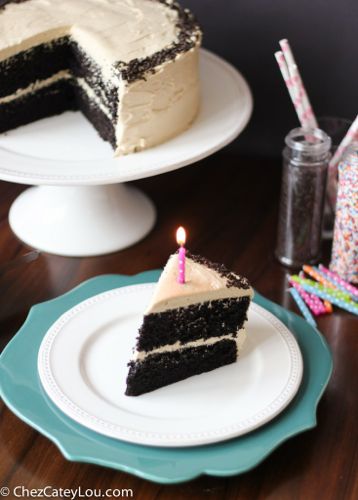 Follow Chez CateyLou around the internet!