Baked chocolate donuts are topped with fresh strawberry cream cheese icing. Pretty and delicious, these will be a new breakfast favorite!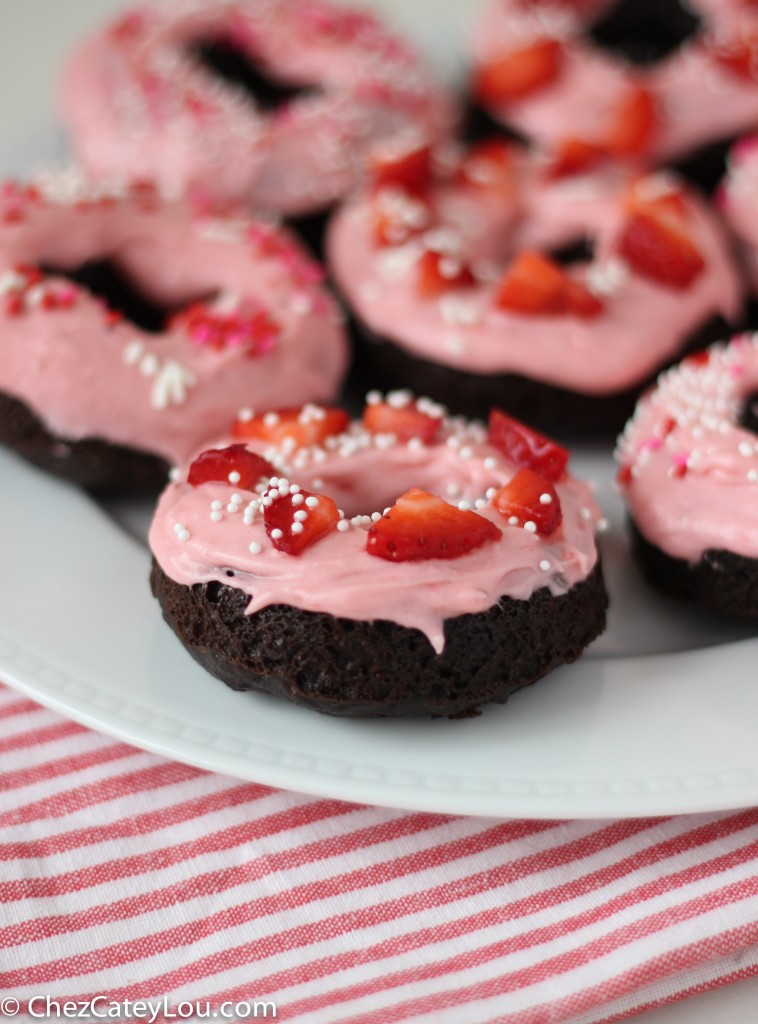 It is time for another Mystery Dish post! This month, Allie from Baking a Moment  picked a fun list of celebratory ingredients for us. They were Champagne, Strawberries, Oranges, Beets, Filet Mignon, Lobster, Cream, Chocolate, Rosewater, and Rice.  Since champagne, lobster, and filet mignon aren't in my usual cooking repertoire, I'm not really sure what rosewater is, and I am not a fan of beets, I decided to go with what I know and love – chocolate and strawberries! It doesn't get much better than that.  Especially when combined in a baked donut – chocolate donuts with strawberry cream cheese icing to be exact!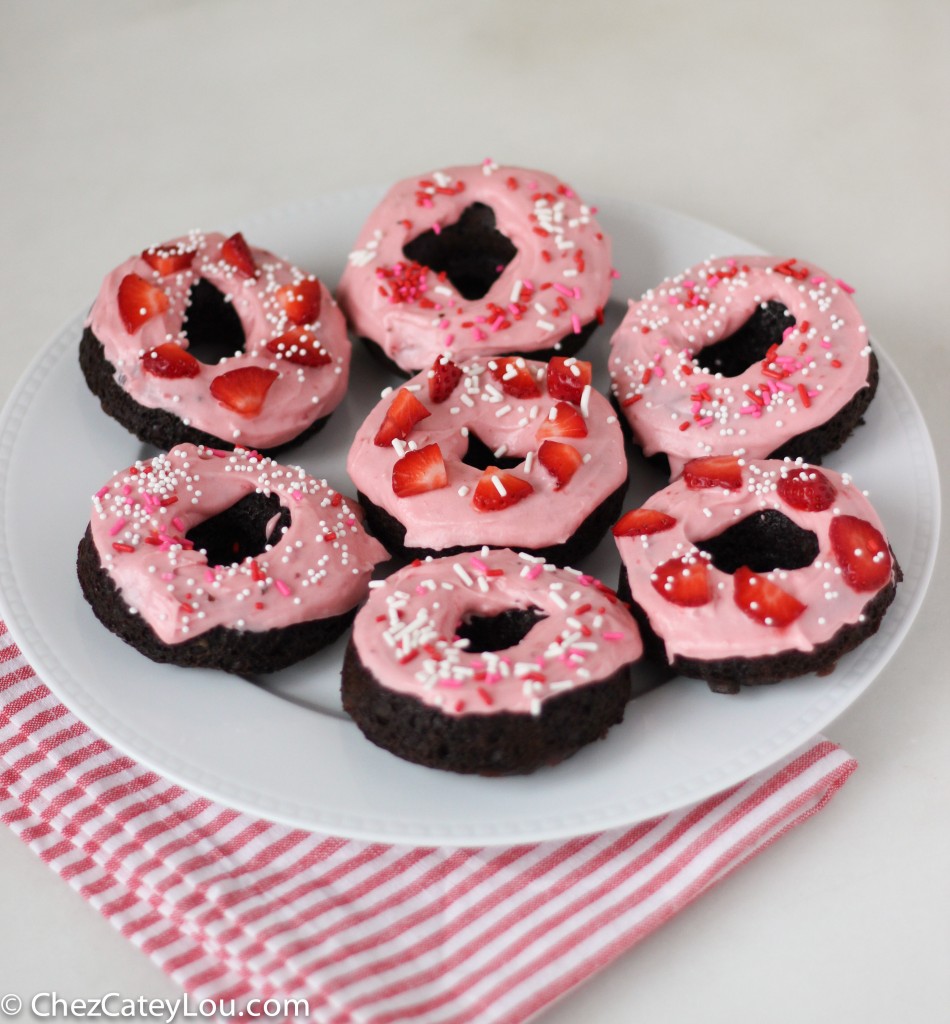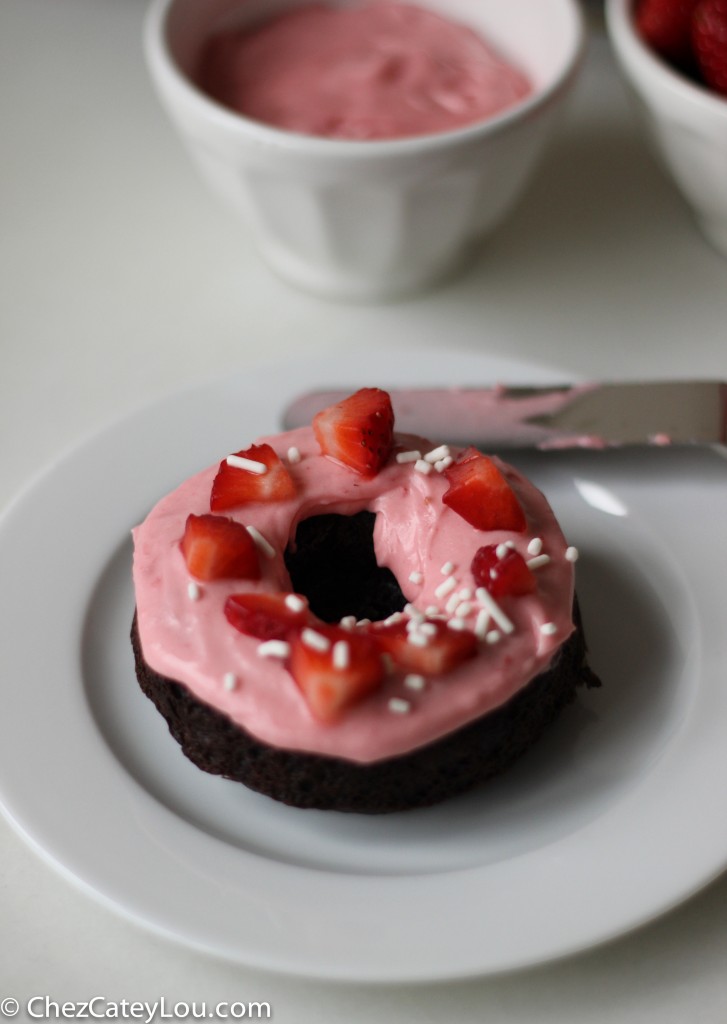 Donuts are one of my favorite things to bake.  It all started with these pumpkin doughnuts – and I haven't looked back since.   Baked donuts are so easy, so pretty, and so delicious!  So when I picked chocolate and strawberry for my Mystery Dish ingredients, I knew that I wanted to create delicious chocolate donuts to share with you.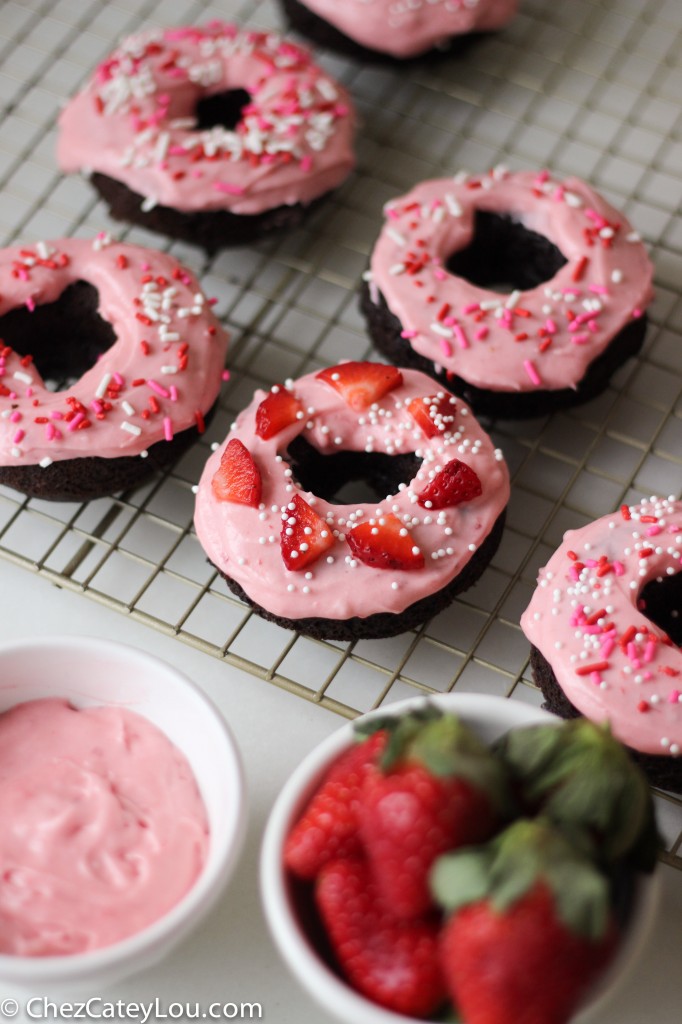 First up – the base for the chocolate donuts.  The "dough" part of this donut is pure chocolate cake perfection.  I used buttermilk, which is a secret ingredient in baking.  It keeps cake recipes so light and moist.  I then stirred in rich cocoa powder (this one from King Arthur Flour is my absolute favorite) to make the dough nice and chocolately, and just to reinforce the chocolate flavor, I added some mini chocolate chips at the end!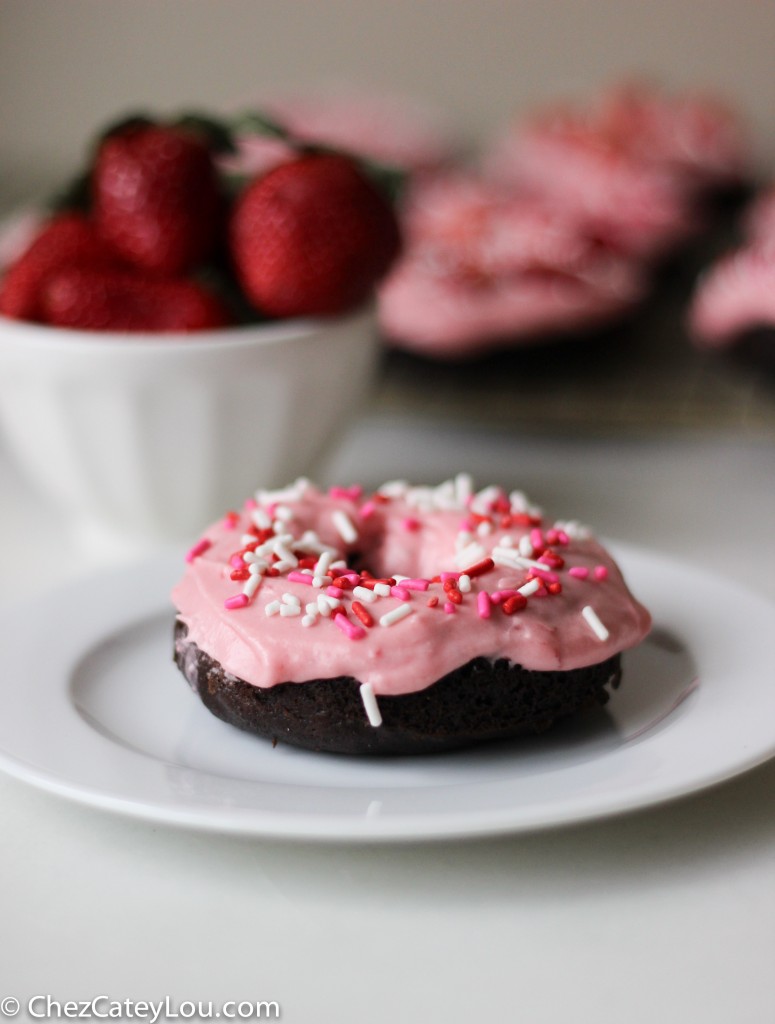 Next, the icing!  Strawberries are my absolute favorite fruit.  I love their bright, sweet flavor.  The fresh strawberries in this icing taste amazing with the tangy cream cheese (of course powdered sugar, butter, and vanilla only help things out).  This icing was so good!   Seriously, I was licking the bowl clean.  Plus you can't beat the gorgeous pink color.  These would be perfect for Valentine's day.  If your icing isn't looking pink enough for your liking, feel free to stir in a drop of red food coloring.  I won't tell.
And finally, the topping!  After you ice your chocolate donuts, you can sprinkle them with whatever you like.  Valentine's sprinkles, fresh strawberries, mini chocolate chips, chocolate sprinkles – it is so much fun to play around with different toppings.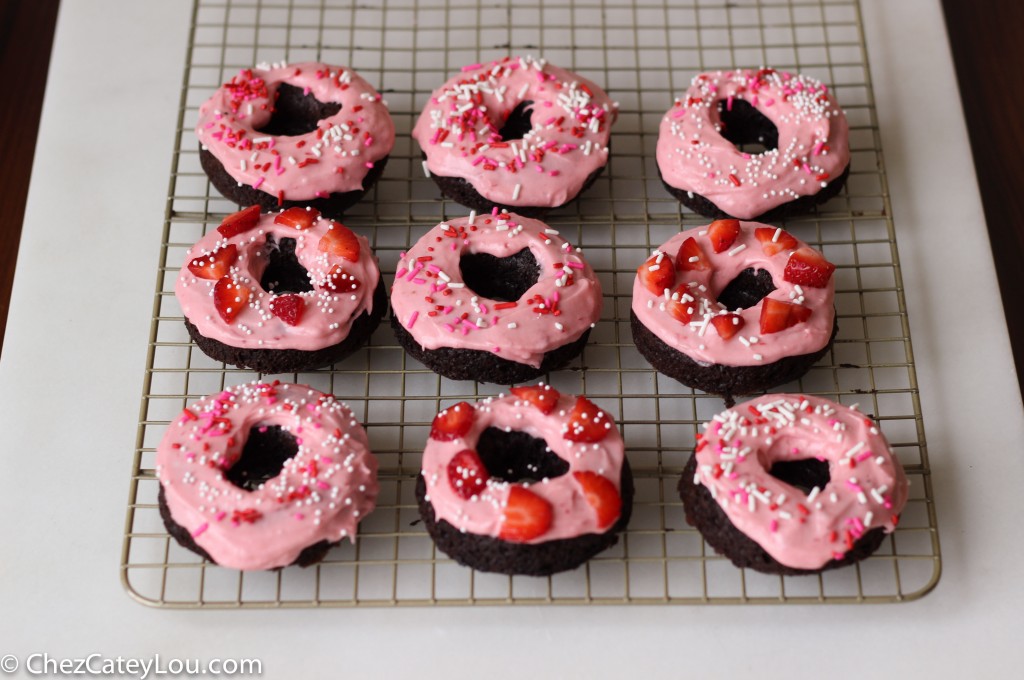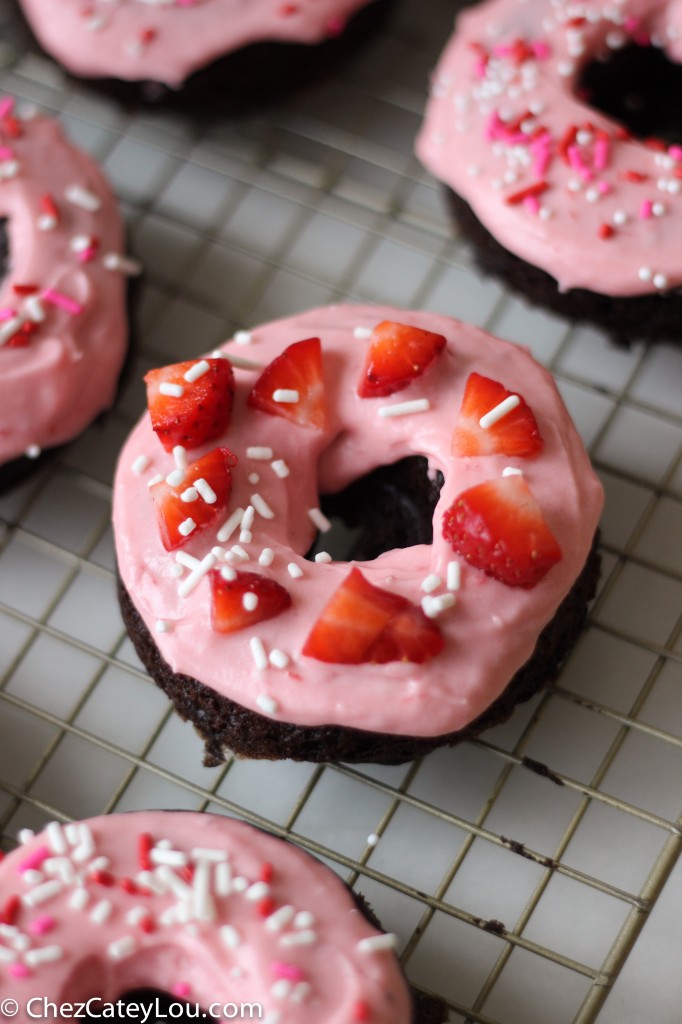 Look at all the other amazing dishes that my Mystery Dish friends made!  Everyone is so talented – I can't wait to try out some of their recipes!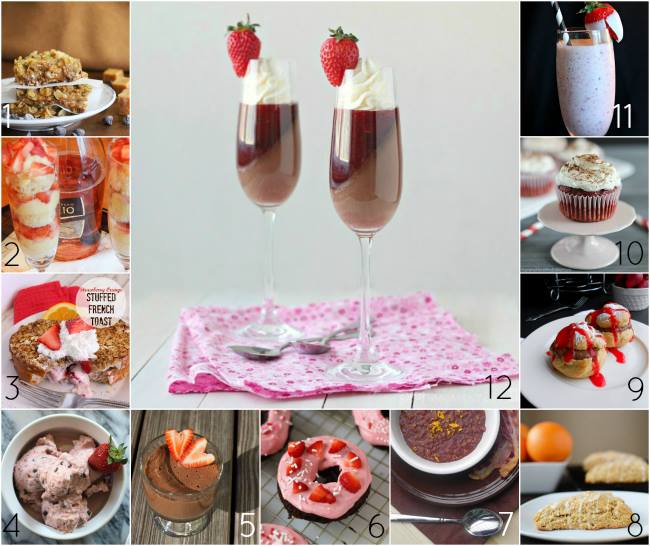 1. Carmelitas by Pass the Cocoa
2. Strawberry Champagne Cupcake Trifles by The Dessert Chronicles
3. Strawberry Orange Stuffed French Toast by I Dig Pinterest
4. Strawberry Orange Ice Cream with Chocolate Chips by Joyful Healthy Eats
5. Chocolate Strawberry Pudding by See Hubby Cook
6. Chocolate Doughnuts with Strawberry Cream Cheese Icing by Chez CateyLou
7. Champorado (Filipino Chocolate Rice Pudding) by The Pajama Chef
8. Whole Wheat Orange Scones with Vanilla Cream Glaze by The Well Floured Kitchen
9. Chocolate-Filled Cream Puffs with Strawberry Sauce by Culinary Couture
10. Red Velvet Beet Cupcakes by Yummy Healthy Easy
11. Chocolate Covered Strawberry Milkshake by I Want Crazy
12. Strawberry Rose Chocolate Verrines by Baking a Moment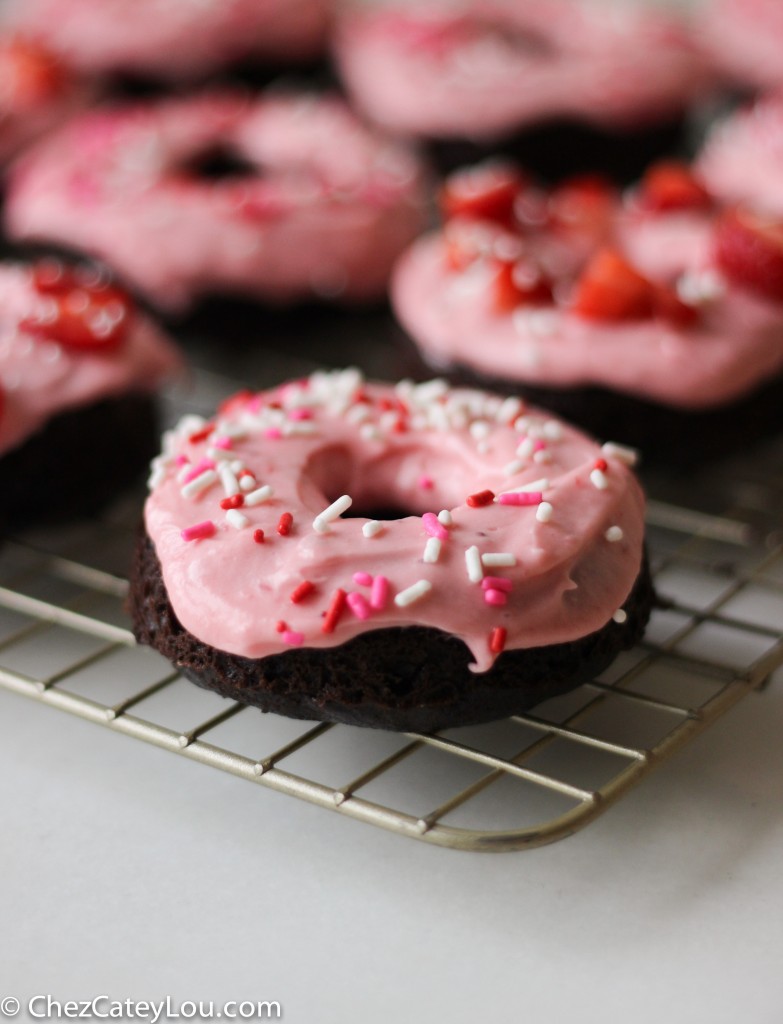 Chocolate Donuts with Strawberry Cream Cheese Icing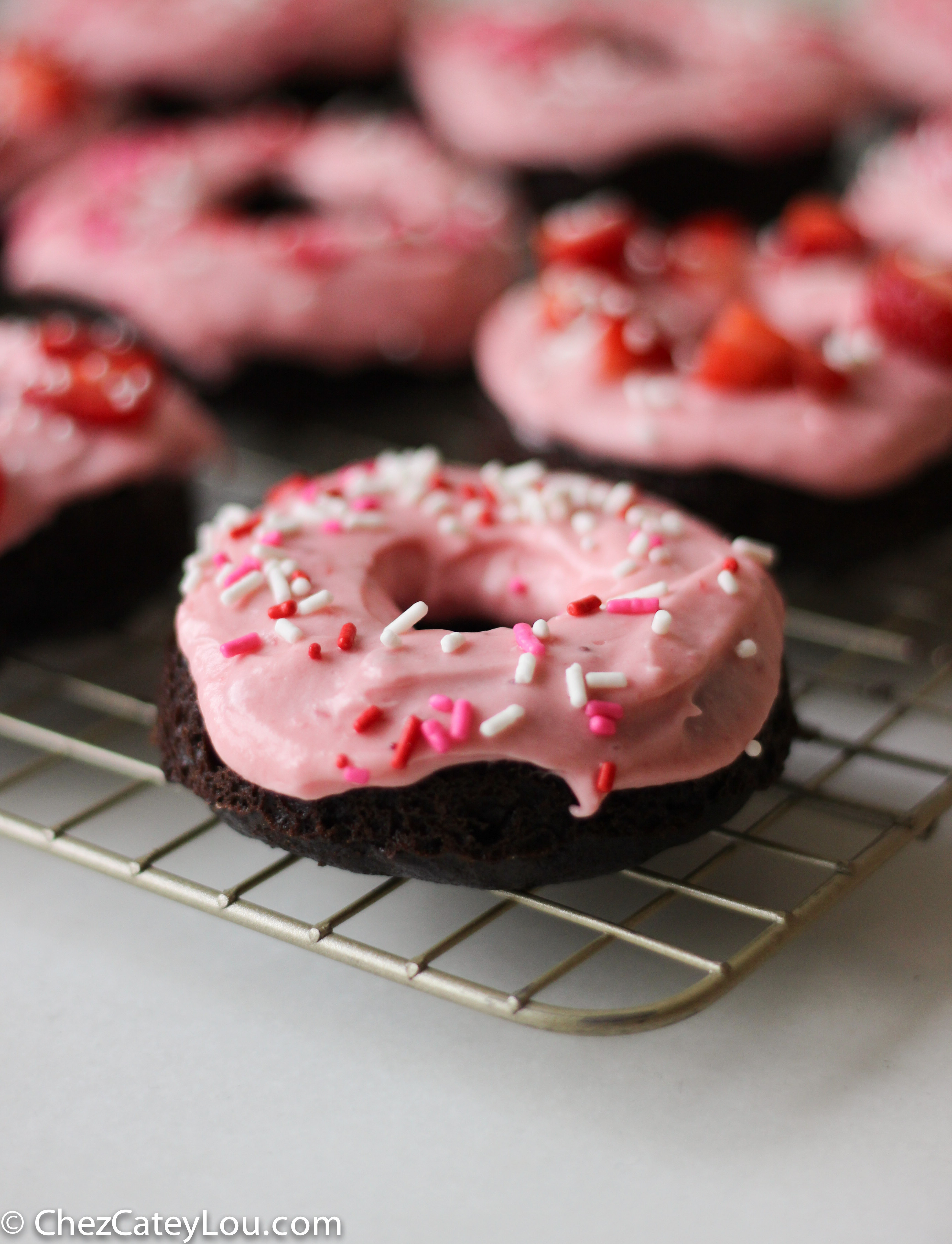 Baked chocolate donuts are topped with fresh strawberry cream cheese icing. Pretty and delicious, these will be a new breakfast favorite!

Ingredients
For the Donut:

1 cup flour (4 ½ oz)
1/4 cup cocoa powder (¾ oz)
1/2 teaspoon baking soda
1/2 teaspoon baking powder
1/4 teaspoon salt
3 tablespoons unsalted butter, melted and cooled slightly
1/2 cup dark brown sugar (3 ¾ oz)
1 large egg, at room temperature
1/2 cup buttermilk (4 oz), at room temperature
1/2 teaspoon vanilla
1/2 cup mini chocolate chips

For the Icing:

1/3 cup strawberries
1/4 cup unsalted butter, at room temperature
2 oz cream cheese, at room temperature
1 - 2 cups powdered sugar
1 tsp vanilla
pinch salt
Instructions
For the Donut:

Preheat oven to 325 degrees F. Spray 2 6 cavity donut pans with cooking spray.
In a small bowl, whisk together flour, cocoa powder, baking soda, baking powder, and salt.
In a medium bowl, whisk together butter and brown sugar until smooth. Add egg and whisk until combined. Add in the buttermilk and vanilla, and mix well.
Add the dry ingredients to the wet ingredients and stir until just combined - do not overmix. Fold in the chocolate chips.
Spoon the batter into the doughnut pan, filling about 2/3 full.
Bake for 7-8 minutes - try not to over bake. The donut will be slightly springy to the touch, but will still look moist and shiny.
Cool for a few minutes in the pan, then turn onto a wire rack to cool completely.

For the Icing:

Puree the strawberries in a mini food processor until smooth.
In a medium bowl, beat the butter and cream cheese together until creamy. Add 1 cup of powdered sugar and beat until well incorporated. Add the strawberry puree, vanilla, and salt and beat well. Taste the icing and add more sugar until desired flavor and consistency is reached. If the icing seems too thin, you can add in more sugar or cream cheese.
Using a butter knife or offset spatula, ice each donut, and decorate as desired.
https://chezcateylou.com/chocolate-doughnuts-with-strawberry-cream-cheese-icing/

© Chez CateyLou. All images & content are copyright protected. Please do not use my images without prior permission. If you want to republish this recipe, please re-write the recipe in your own words, or link back to this post for the recipe.



If I've inspired you to buy a donut pan, try some of these great recipes!
Double Chocolate Pistachio Doughnuts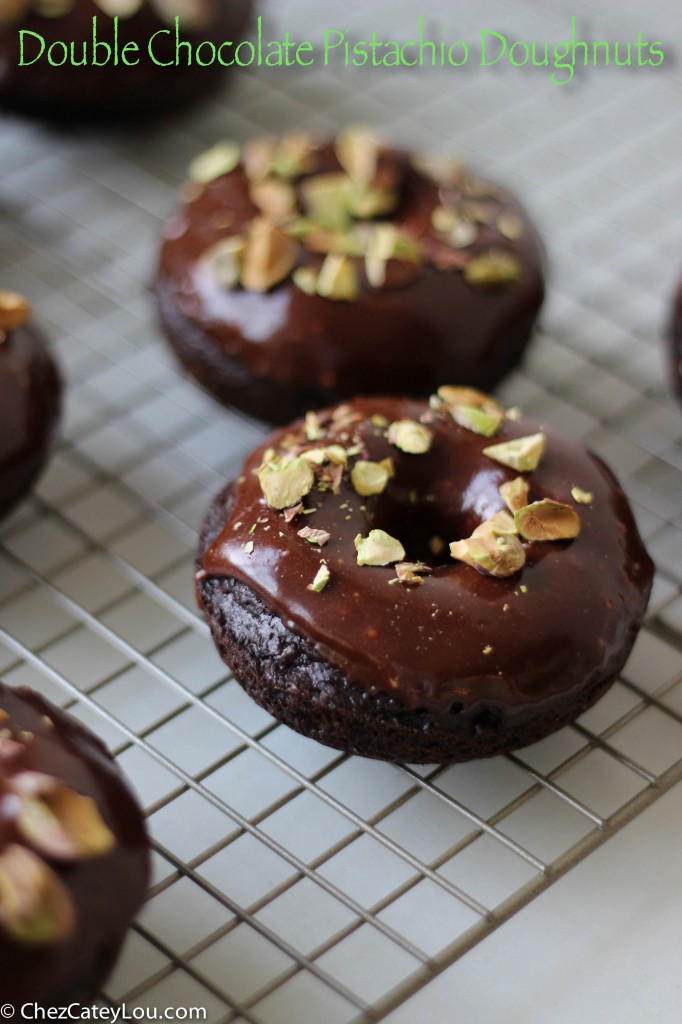 Cinnamon Roll Doughnuts with Cream Cheese Icing