These baked Cinnamon Roll Donuts, drizzled with cream cheese icing, give you all the delicious cinnamon roll flavor without the hassle of baking cinnamon rolls!
According to this handy little website, it is Donut / Doughnut Appreciation Day!  I know there is a National Donut Day in June, but I fully support having two days a year when we can celebrate the mighty Donut.  If you follow my blog regularly, you probably think that I celebrate donuts on a weekly basis.  I have been obsessed with making them ever since I bought this amazing donut pan
!  I decided that I had to celebrate this holiday with baked Cinnamon Roll Donuts with Cream Cheese Icing.
Now I know that a baked donut is not the same as a fried donut, but honestly, they really are great. The key is to not overmix the batter and to not overbake them. The result is a light and tender donut, without the mess of frying and without the extra calories and fat!  On Saturday morning, I made Cinnamon Roll Donuts with Cream Cheese Frosting. I mean how could those be bad??  All of your favorite cinnamon bun flavors baked into a donut!  These were soooo good. The smell of cinnamon in our apartment was intoxicating!  There are a few steps involved, but the result is totally worth it.
First, make a cinnamon / butter / brown sugar topping.  Put a little bit into the bottom of each donut cavity and spread it around.  Then mix up the batter, and spoon that on top of the cinnamon. Be careful not to fill the cavities too full. I find that just under ¾ full makes my donuts look just perfect! Bake the donuts , let them sit for about 5 minutes, then turn them out onto a wire rack.   Not all of the the cinnamon goo (technical term) will come out of the pan.  Initially, I was really upset about this.  Then I realized that a) I could take it out with a rubber spatula and put it on the doughnut b) I could eat it plain as it started to harden up and c) the donuts had plenty of cinnamon flavor even without all of the goo.
Finally, make the cream cheese icing and drizzle it on top. I was going for all pretty zig zags. Then TheBetterHalf requested one with his name on it, so who am I to say no.
You can wait for the icing to set a bit. Or you can just dig right in! I obviously recommend the latter.  What a great way to celebrate Doughnut Appreciation Day!
This recipe makes about 18 donuts, so you will need to bake these in two batches if you don't have multiple donut pans
.
More Donut love:
Pumpkin Donuts with Chocolate Icing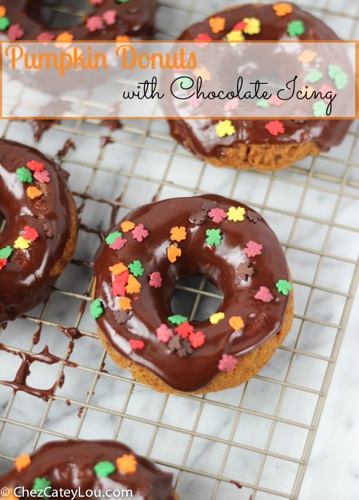 Double Chocolate Pistachio Donuts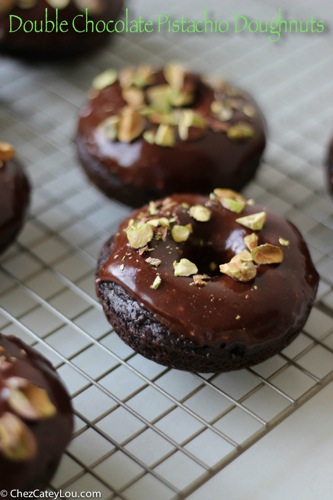 Chocolate Donuts with Peanut Butter Frosting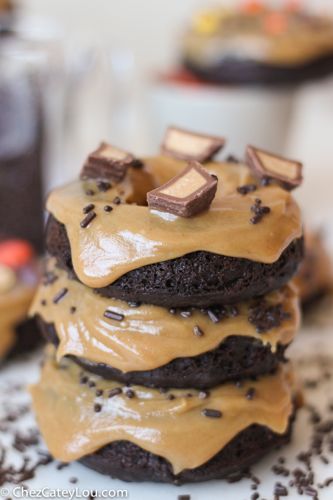 Connect with Chez CateyLou!