Kabocha squash is roasted with shallots, tossed in a Thai style vinaigrette, and topped with fresh cilantro. There are so many amazing flavors in this Thai Roasted Kabocha Squash!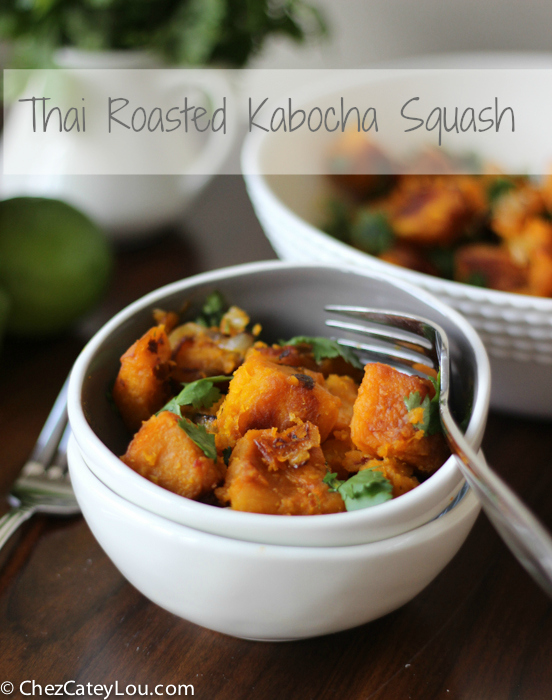 With spring only one day away (allegedly…the sleet on my way to work says otherwise), I need to share one last wintery veggie recipe with you – Thai roasted kabocha squash! While I am so excited for spring and all of the delicious veggies that the season brings, I am a little sad to see squash season go. I loooove squash. And particularly Kabocha squash! However if I had a hard enough time finding it in peak squash season, I'm sure I won't be coming across it for the next few months.
And speaking of squash season, I need to RUN to ABC Kitchen ASAP to get one last fix of my beloved Kabocha squash toast. TheBetterHalf, if you are reading, let's go after work!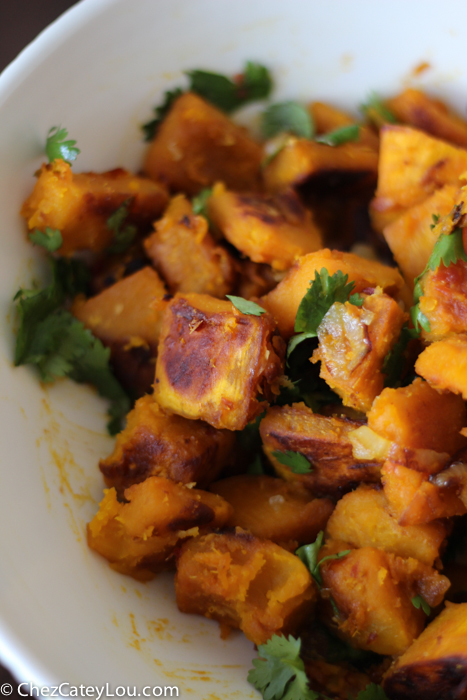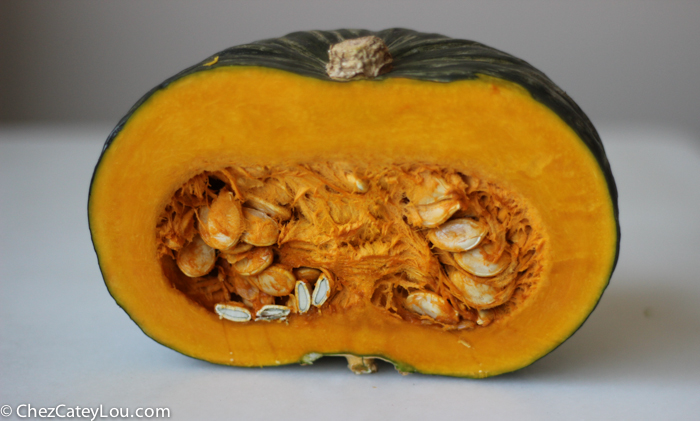 After my successful quest for Kabohca squash to make squash toast, I had an extra squash leftover. So I decided to roast it up, Thai style!
We have been really into Thai flavors lately. I think we go to Uncle Boons at least every other week. It is becoming a problem! So I wanted to try cooking Thai food at home.
I just love the flavors involved in so many Thai dishes – lime, cilantro, coconut, chilies. But one ingredient that is used in so many Thai recipes scares me….fish sauce! I don't really like fish at all, so I could never bring myself to buy a bottle of fish sauce. I know that it is in a lot of the sauces that I love at Thai and other Asian restaurants, but I just wasn't sure I could handle having it in my fridge.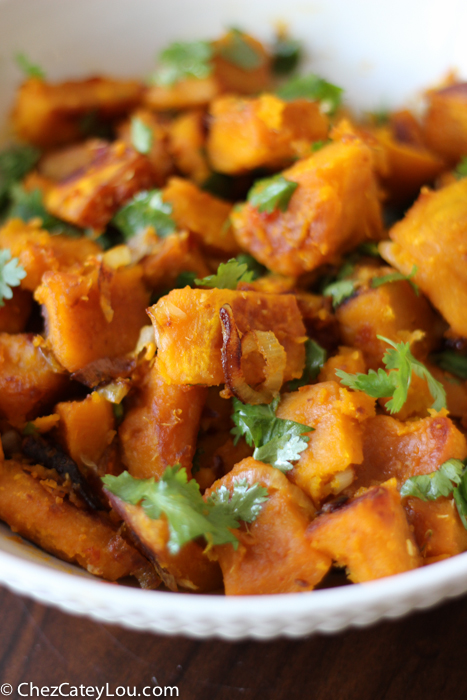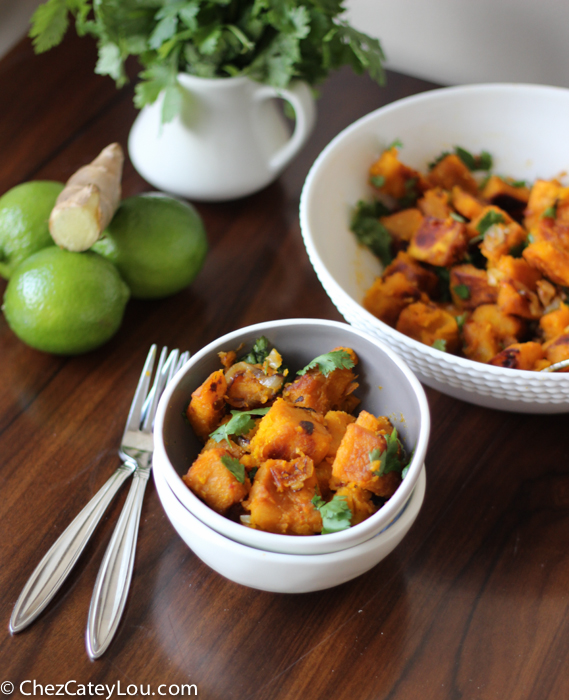 But I finally decided to get over my fear and just do it (ok actually, I made TheBetterHalf go buy it for me 🙂 ) And guess what – it really isn't that scary. Although I would not recommend taking a giant whiff of it – the smell is rather pungent! But fish sauce is the secret ingredient that gives so many Thai sauces their delicious flavor. Just a small amount goes a long way!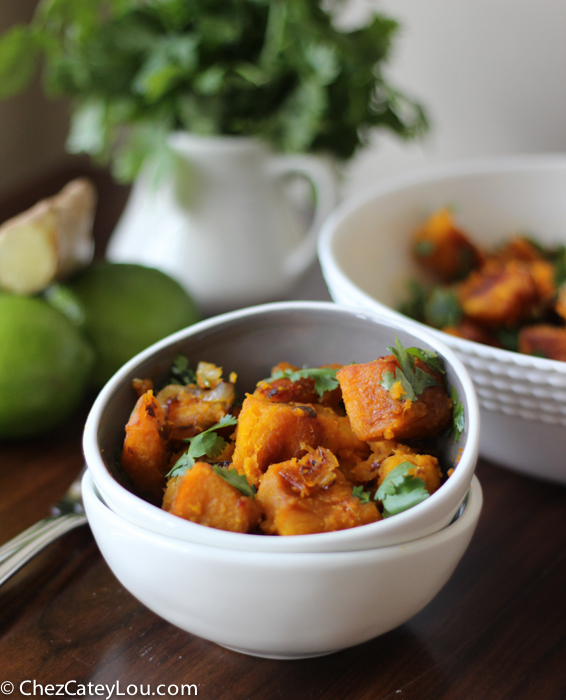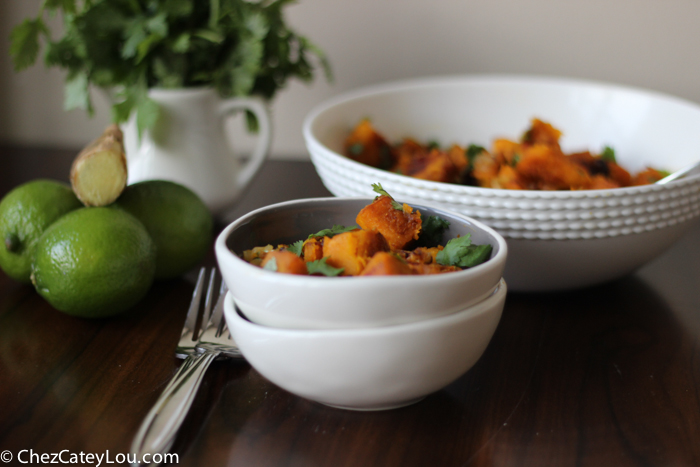 The squash in this dish is roasted with shallots – that mixture alone would be delicious! But then the whole thing is tossed in a Thai vinaigrette that gives it the most amazing flavor.  It is finished with chopped cilantro. I am a huge cilantro lover – the more, the better!
This Thai vinaigrette would be delicious on any roasted veggie, or even on a salad. So if you can't find Kabocha squash, you can still make a similar dish.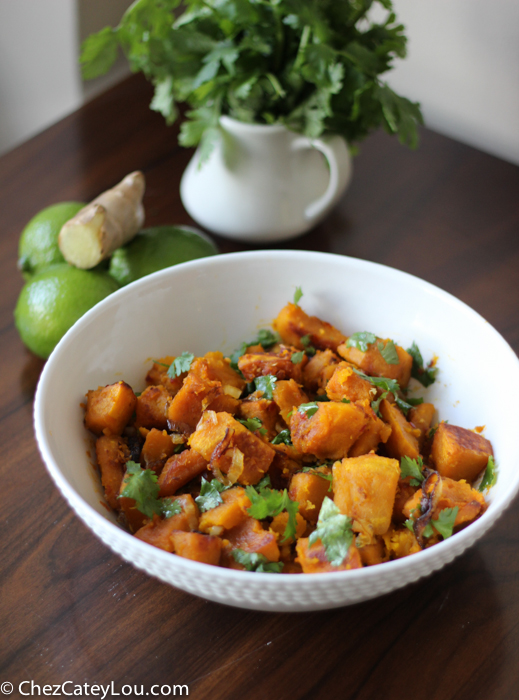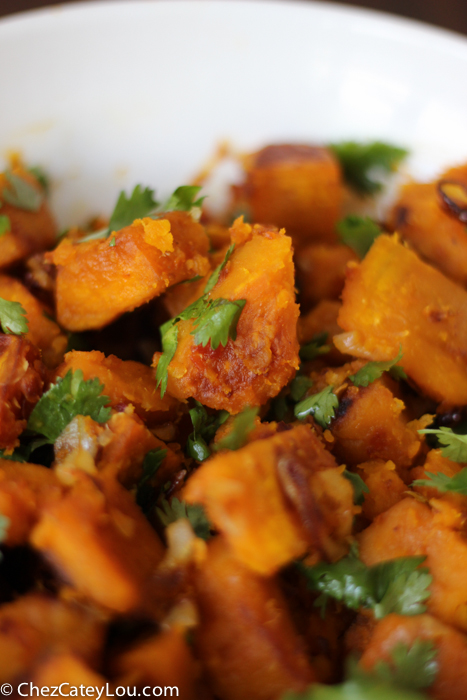 Thai Roasted Kabocha Squash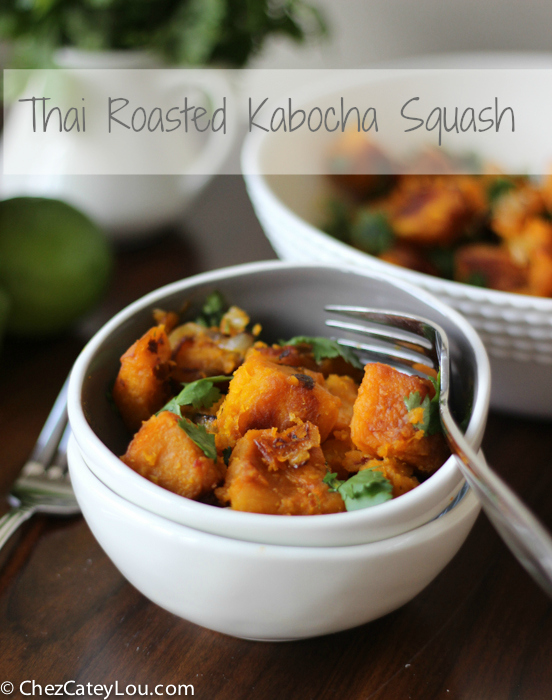 Kabocha squash is roasted with shallots, tossed in a Thai style vinaigrette, and topped with fresh cilantro. There are so many amazing flavors in this Thai Roasted Kabocha Squash!
Ingredients
For the Squash:

1 medium kabocha squash - peeled, seeded, and cut into 1/2 inch cubes
1 medium shallot, cut into 1/4 inch thick slices
1 tablespoon olive oil
1/8 teaspoon salt

For the Thai Vinaigrette

2 teaspoons rice vinegar
2 teaspoons lime juice
2 teaspoons fish sauce
1 teaspoon grated fresh ginger
2 tablespoons olive oil
2 teaspoons agave
2 teaspoons chili paste
1/4 cup cilantro, roughly chopped
Instructions
For the Squash:

Preheat oven to 425 degrees F
Place the squash cubes and the shallots on a rimmed baking sheet. Toss with 1 T olive oil and 1/8 t salt. Roast for 25 - 30 minutes, stirring every 10 minutes, until the squash is browned on the outside and soft on the inside. Transfer to a medium bowl.

For the Thai Vinaigrette:

Whisk together all ingredients (except the cilantro)
Drizzle the Thai vinaigrette over the squash, and stir to combine. Sprinkle cilantro over the top and serve. This tastes great warm, at room temperature, or cold.
Notes
https://chezcateylou.com/thai-roasted-kabocha-squash/
© Chez CateyLou. All images & content are copyright protected. Please do not use my images without prior permission. If you want to republish this recipe, please re-write the recipe in your own words, or link back to this post for the recipe.
All things squash!
A love note to ABC Kitchen's Kabocha Squash Toast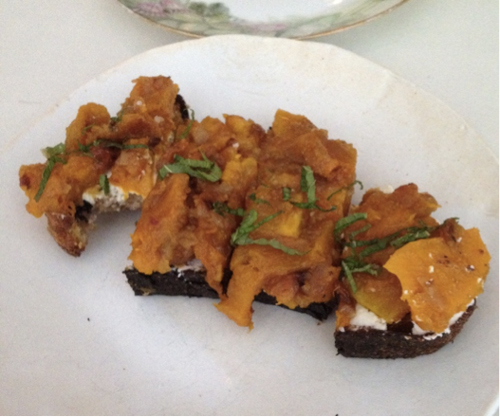 And a recipe for said Kabocha Squash Toast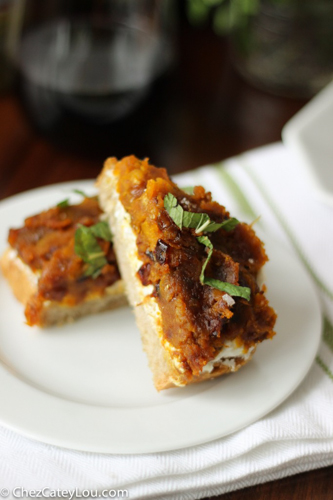 Let's give butternut some love too – Butternut Squash Potstickers