Rich and fudgy chocolate brownies are topped with a thick layer of funfetti chocolate chip cookie dough. These Cookie Dough Brownies are the perfect treat for a special occasion!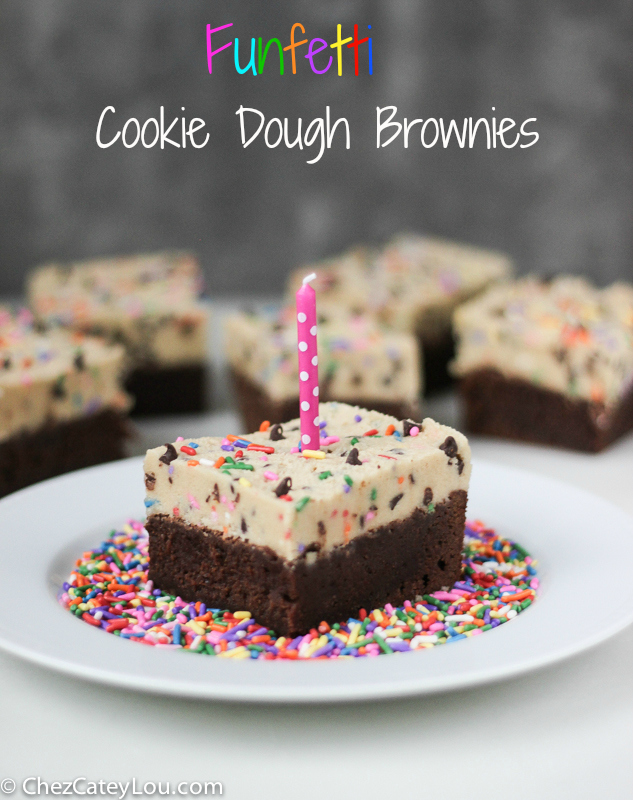 Happy Thanksgiving to everyone!
and.
Happy Birthday to me! Today is my 30th birthday. So no pumpkin pie for my dessert – today I am celebrating the big 3-0 with Funfetti Cookie Dough Brownies! Because in my opinion, all birthdays need sprinkles and a special dessert!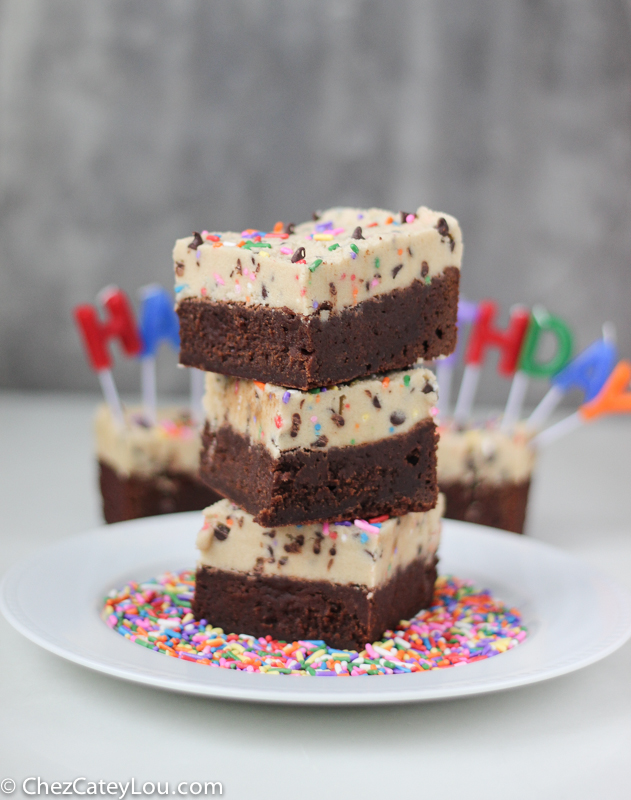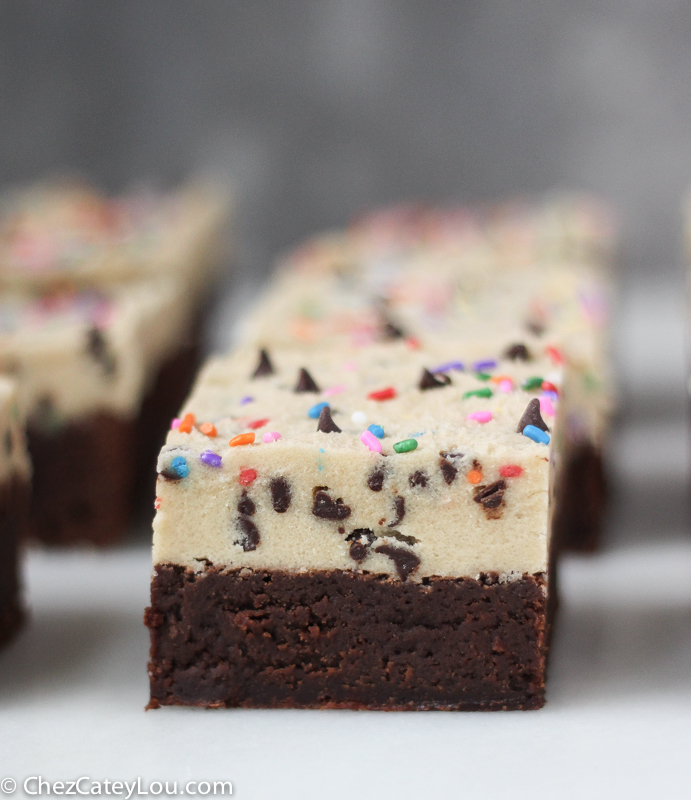 I like to make something a little over-the-top and decadent for my birthday treats. Now some might argue that everything I make on Chez CateyLou is decadent, but there are certain recipes that I like to save for special occasions.
See my birthday last year (one of my favorite recipes of all time).
And Chez CateyLou's birthday (one TheBetterHalf's favorite recipe of all time).
And TheBetterHalf's birthday.
Clearly I enjoy celebrating special occasions with rich and decedent and over-the-top delicious desserts.
Like cookie dough brownies. These babies are RICH. Not something I would be able to eat every day. But on a birthday? I'll take 3!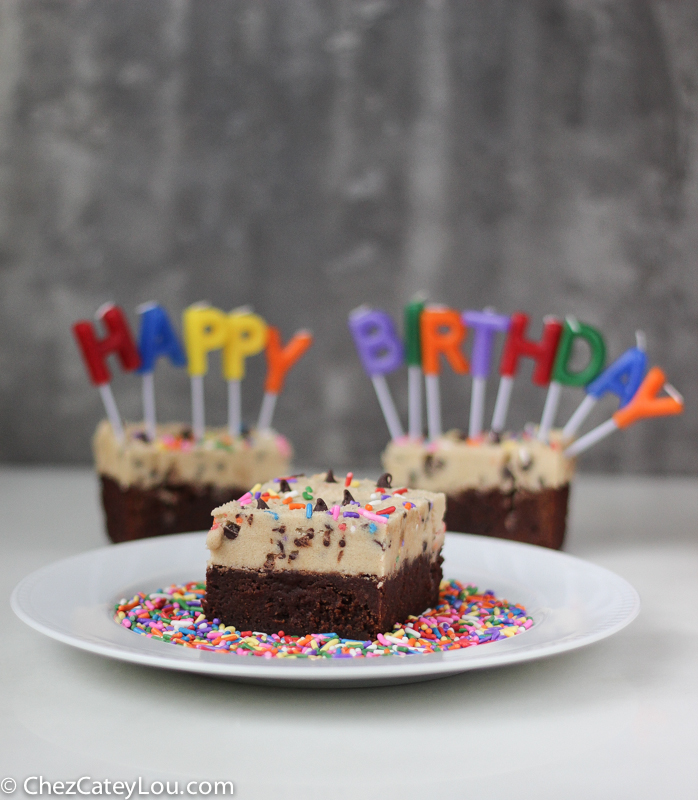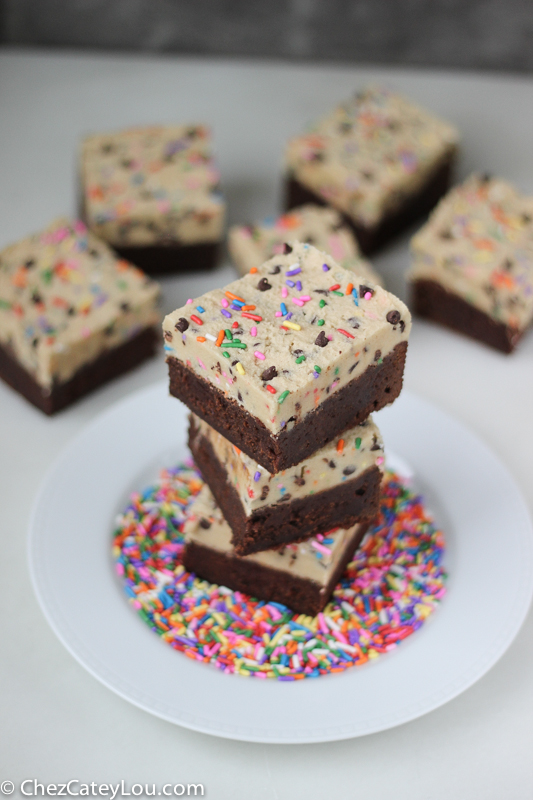 I had been eyeing the recipe for Chocolate Chip Cookie Dough Brownies on Recipe Girl for quite some time. But I had to wait for a special occasion to make them, mostly because I knew I would not be able to control myself around these. I love brownies – if I had to pick a favorite dessert, it would probably be a brownie. And I also love cookie dough – so I figured these brownies would pretty much be my biggest weakness.
And I was right. They are so delicious!  The brownie layer is so rich and fudgy, and the cookie dough layer is just like it sounds – a delicious layer of pure funfetti chocolate chip cookie dough.  I mean really, it doesn't get better than that!
Recipe Girl gives some great tips about making these brownies, so make sure to check out her site as well!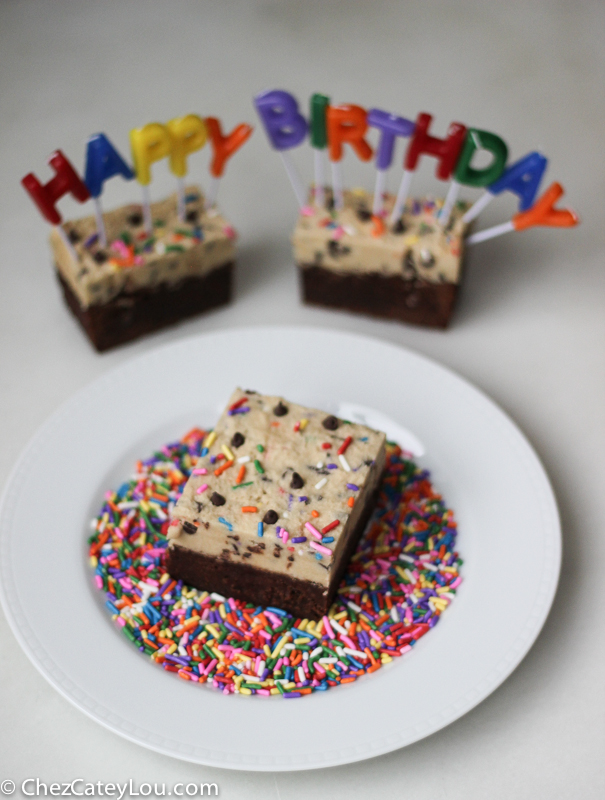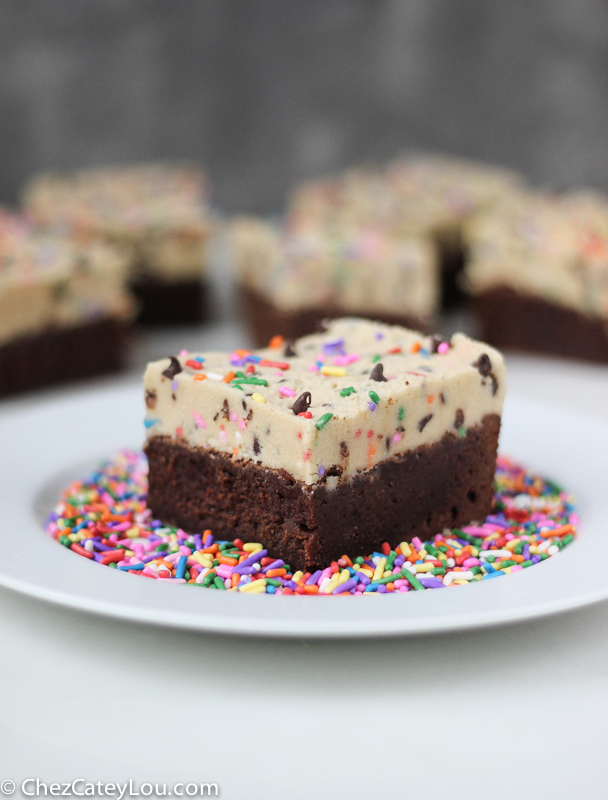 Today is my last day in Paris!  I'm so happy that I am ringing in my 30th year in my favorite city.  We've written about Paris before on the blog, but I can't wait to tell you all about some of our new favorites in this amazing city!
I hope that you all have a very Happy Thanksgiving!  I can't wait to see the Instagrams  and Facebook posts of your meal!
Funfetti Cookie Dough Brownies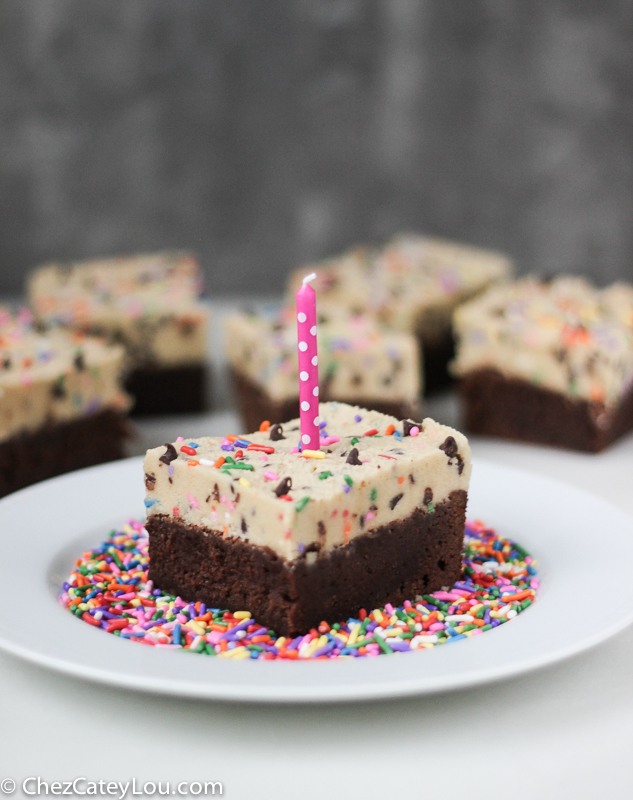 Rich and fudgy chocolate brownies are topped with a thick layer of funfetti chocolate chip cookie dough. These Cookie Dough Brownies are the perfect treat for a special occasion!
Ingredients
For the Brownie Layer

3/4 cup (1 1/2 sticks) unsalted butter
1 1/2 cups bittersweet chocolate chips or chopped bittersweet chocolate
1 cup granulated white sugar
1/2 cup packed light brown sugar
4 large eggs
1 teaspoon vanilla extract
1/2 teaspoon salt
1 cup all-purpose flour

For the Cookie Dough Layer

3/4 cup (1 1/2 sticks) unsalted butter, soft room temperature
3/4 cup granulated white sugar
3/4 cup packed light brown sugar
1/4 teaspoon salt
2 tablespoons milk or cream
1 1/2 teaspoons vanilla extract
1 cup all-purpose flour
1 cup miniature chocolate chips
1/2 cup sprinkles
additional miniature chocolate chips and sprinkles, if desired to decorate the top
Instructions
For the Brownie Layer

Preheat the oven to 350 degrees F. Spray a 9x9-inch pan with nonstick spray, then line the pan with a long strip of parchment paper - leave the edges hanging over two sides of the pan, to use as a handle once the brownies are finished. Spray the parchment with nonstick spray.
Add the butter and the chocolate to a microwave safe bowl and microwave in 30 second increments, stirring after each increment, until the mixture is completely melted. You can also do this in a pan set over simmering water.
Add the white and brown sugar to the chocolate mixture and whisk well, then whisk in the eggs one at a time until smooth. Whisk in the vanilla and salt.
Sift flour into the bowl and stir until just combined. Pour the brownie batter into the prepared pan. Bake for 25 to 30 minutes, or until the brownie layer is cooked through - a toothpick inserted into the center will come out with a few moist crumbs.
Cool the brownies at room temperature for at least an hour, then place the pan of brownies in the refrigerator to cool completely.

For the Cookie Dough Layer

In the bowl of a stand mixer fitted with the paddle attachment, combine the butter, white sugar, brown sugar, and salt and beat until soft and creamy. Beat in the milk and vanilla. Add the flour and mix until combined. Stir in the 1 cup of chocolate chips and the sprinkles.
Scoop the cookie dough onto the top of the chilled brownies and spread into an even layer. Pat the cookie dough on top to create a smooth top, using slightly wet or slightly oiled hands so that the dough doesn't stick. Sprinkle additional chocolate chips and sprinkles on top if desired and lightly press into the cookie dough.
Wrap the pan in plastic wrap and chill until firm, at least 2 hours.
Remove brownies from the pan using the parchment paper handles. You might need to run a knife around the edges of the pan first to loosen everything.
Cut the brownies with a very sharp knife, cleaning the knife between cuts for smooth, clean edges. Serve the brownies slightly chilled.
Notes
https://chezcateylou.com/funfetti-cookie-dough-brownies/
© Chez CateyLou. All images & content are copyright protected. Please do not use my images without prior permission. If you want to republish this recipe, please re-write the recipe in your own words, or link back to this post for the recipe.
Want to give me an amazing birthday present? Follow me on social media!
All birthdays need a little funfetti involved!  Here is some extra funfetti goodness!
St. Patrick's Day Funfetti Chocolate Chip Cookies