Cinnamon Raisin English Muffin bread is the easiest yeast bread you will ever make and it tastes absolutely delicious! It is the perfect toasting bread!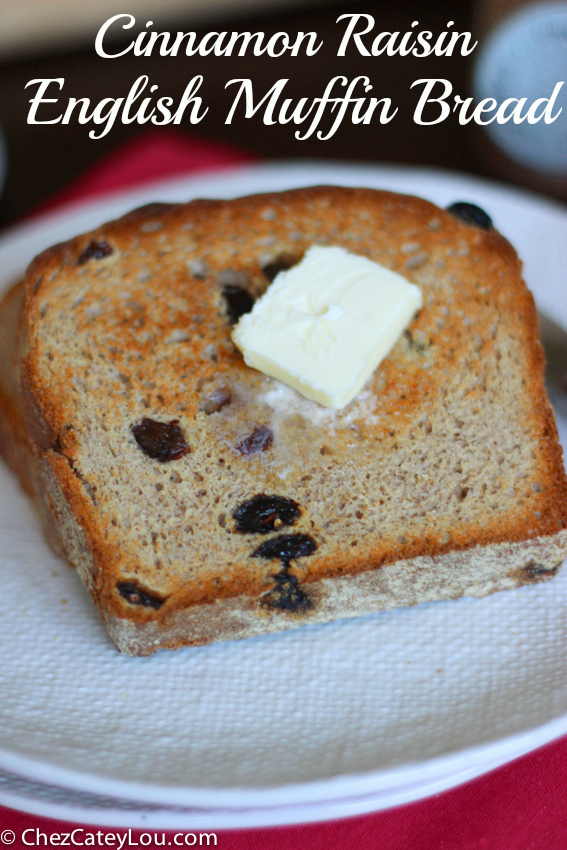 Happy Sunday! How was everyone's weekend? TheBetterHalf and I were in DC to celebrate his sister's graduation from college. So even though I was not baking bread this weekend, I can still tell you about it!
Remember this English Muffin bread? I love it because it is one of the easiest yeast breads I have ever made – and it is delicious! Well I decided to change it up a bit and make a cinnamon raisin version. It is equally as easy as the original, and it tastes even more delicious – because in my opinion, you can never have enough cinnamon!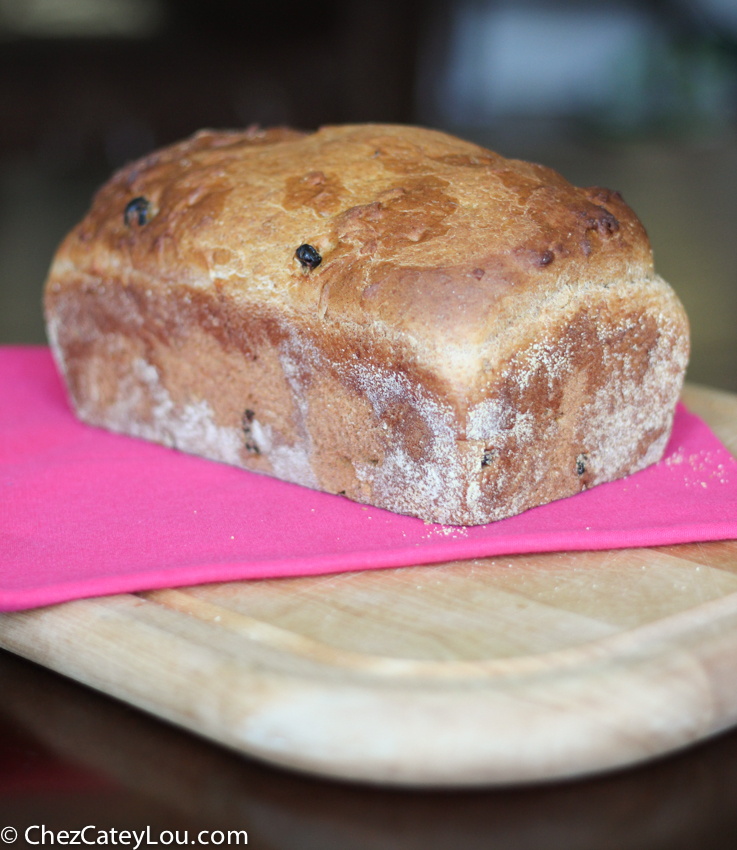 If you are at all scared of making yeast breads, this is definitely the recipe for you. Sure, there is yeast in the batter, but there is absolutely no kneading required. You just mix together all of the ingredients, scoop it into a loaf pan, and let it rise. The put it in right into the oven, and pretty soon, you will have freshly baked cinnamon raisin bread! It really is that simple.  Yeast bread does not have to be scary!!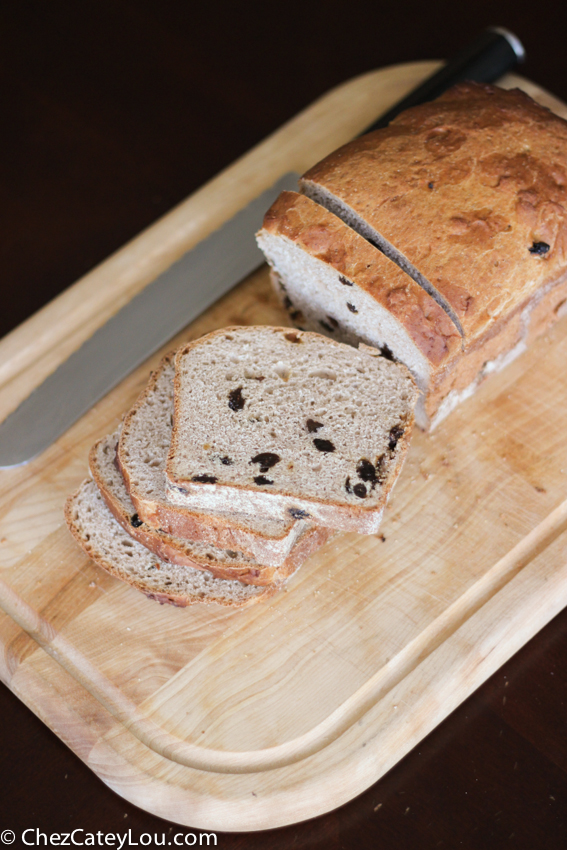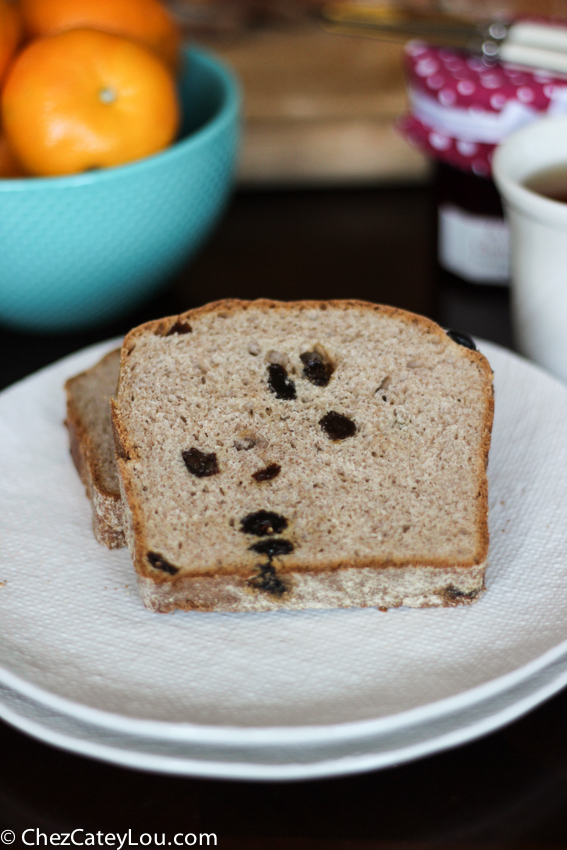 One of my favorite breakfasts growing up was cinnamon toast. Specifically, made with this cinnamon raisin bread.  Nothing beats warm crunchy toast spread with melty butter and topped generously with cinnamon sugar.
This cinnamon raisin English muffin bread reminds me so much of that childhood favorite loaf of bread, full of sweet cinnamon and plump raisins.  It makes the best cinnamon toast ever.  This bread is great fresh out of the oven, but I actually think it is even better toasted – it just has a great texture for toasting!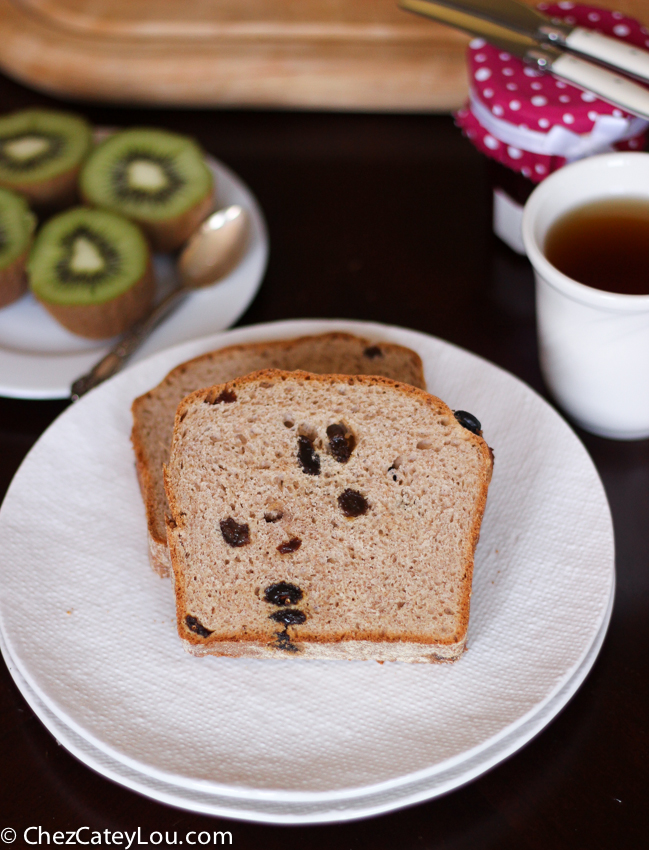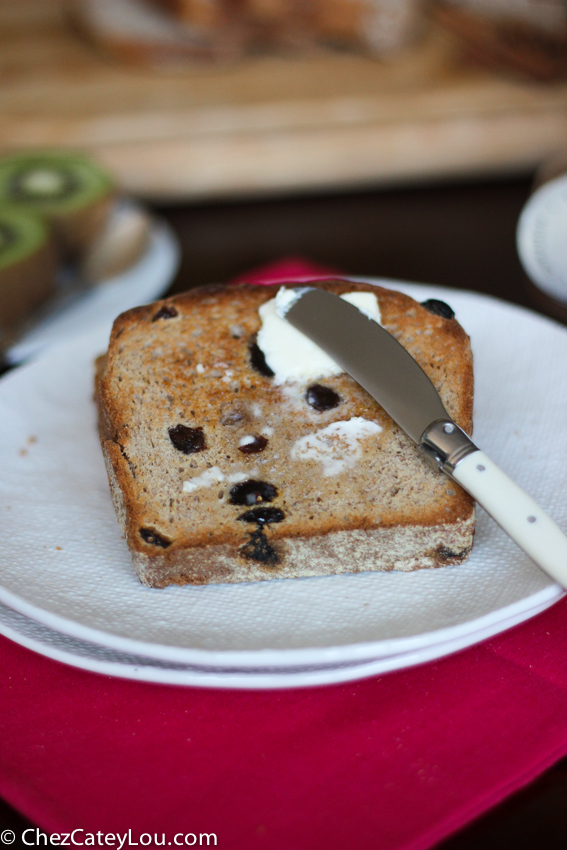 Cinnamon Raisin English Muffin Bread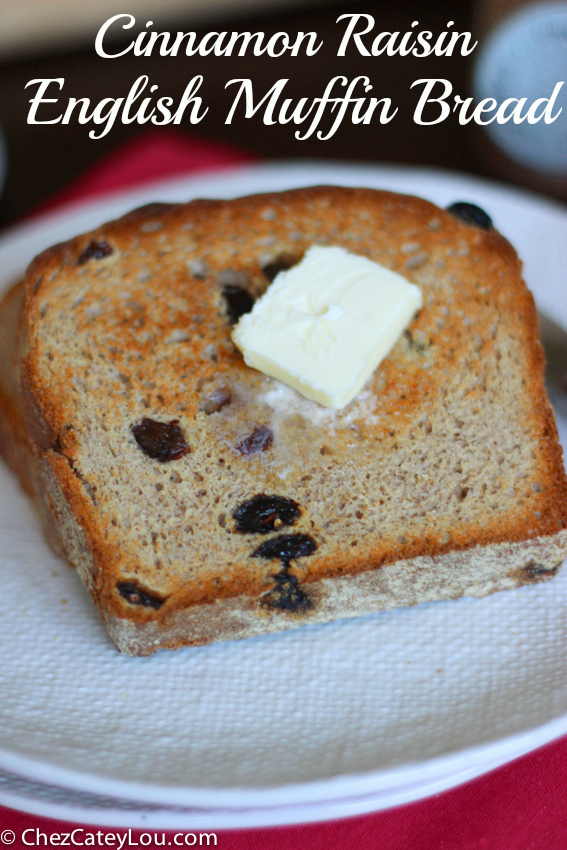 Cinnamon Raisin English Muffin bread is the easiest yeast bread you will ever make and it tastes absolutely delicious! It is the perfect toasting bread!
Ingredients
3 cups all-purpose flour
2 tablespoon sugar
1 1/2 teaspoons salt
1/4 teaspoon baking soda
1 tablespoon instant yeast
1 tablespoon cinnamon
1 cup milk
1/4 cup water
2 tablespoons vegetable oil
1/2 cup raisins
cornmeal, to sprinkle in pan
Instructions
Whisk together the flour, sugar, salt, baking soda, instant yeast, and cinnamon in a large mixing bowl.
Combine the milk (I used 2%), water, and oil in a separate, microwave-safe bowl, and heat to between 120°F and 130°F. Be sure to stir the liquid well before measuring its temperature to get an accurate reading.
Pour the hot liquid over the dry ingredients in the mixing bowl.
Beat at high speed (using a hand mixer or a stand mixer) for 1 minute. The dough will be very soft. Add the raisins and mix until combined.
Lightly grease an 8 1/2" x 4 1/2" loaf pan, and sprinkle the bottom and sides with cornmeal.
Scoop the soft dough into the pan, leveling it in the pan as much as possible.
Cover the pan with plastic wrap sprayed with nonstick cooking spray, and let the dough rise until it's just barely over the rim of the pan, about 45 minutes to 1 hour.
Towards the end of the rise, preheat the oven to 400°F.
Remove the plastic wrap, and bake the bread for 22 to 27 minutes, until it is golden brown and the interior temperature is 190°F.
Remove the bread from the oven and turn it out of the pan onto a rack to cool. Let the bread cool completely before slicing.
https://chezcateylou.com/cinnamon-raisin-english-muffin-bread/
© Chez CateyLou. All images & content are copyright protected. Please do not use my images without prior permission. If you want to republish this recipe, please re-write the recipe in your own words, or link back to this post for the recipe.
Here are some other great bread recipes using cinnamon or raisins:
Easy Cinnamon Chip Bread (Equally as easy as the cinnamon raisin english muffin bread!)