This Cornmeal Olive Oil Blueberry Cake is just like a treat you would find in Italy! The flavor is incredible, and it is a perfect cake for summer.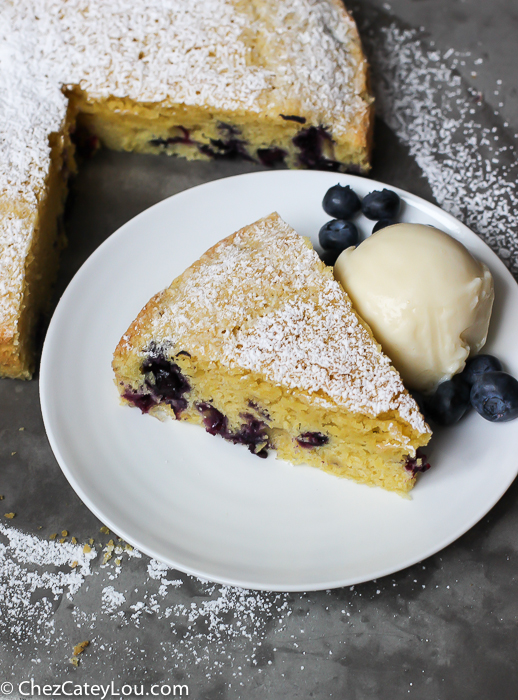 We are back from our trip! We had the most amazing time – I shared a ton of photos on Instagram. I hope it wasn't too many…I just couldn't resist posting all of the gorgeous views and delicious meals! And I can't wait to tell you more – a Portofino post will be coming soon. But first, let's have cake.
Thanks to jetlag, I was up super early on Saturday morning and the first thing I wanted to do was bake! I missed the kitchen! I get so much inspiration when I travel, and want to recreate everything that I ate. We saw lots of olive oil cakes and lots of cornmeal in the breads and pastries in Italy, so that is what inspired me to make a Cornmeal Olive Oil Blueberry Cake!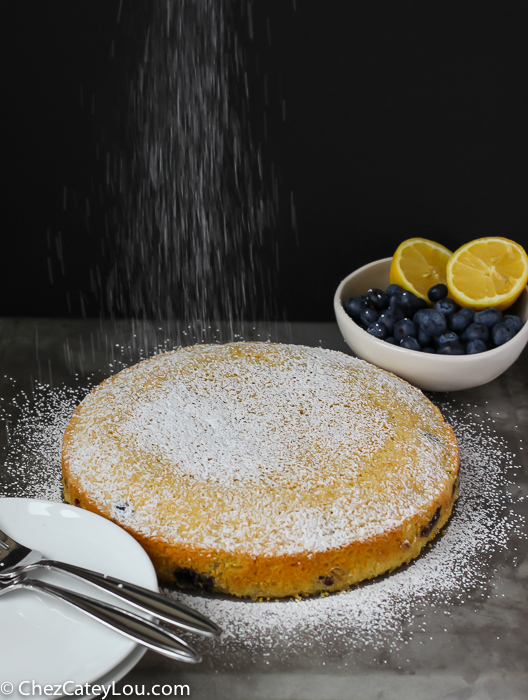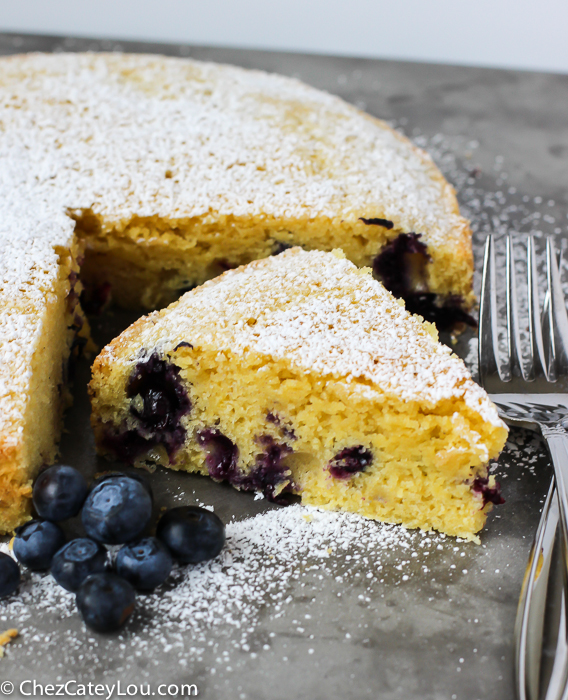 I actually love being up early on the weekends. The city is so peaceful in the morning – it is the only time it is truly quiet here. However, what I don't love about being up early is the fact that nothing is open yet. They say NYC is the city that never sleeps, but it does – on Saturday mornings. There were no good coffee spots open at 6am! TheBetterHalf and I became quite addicted to good cappuccinos on our trip, and were dying for one on Saturday morning. Unfortunately we had to wait until 8am to satisfy the craving. Good thing we had this delicious blueberry cake to comfort us 🙂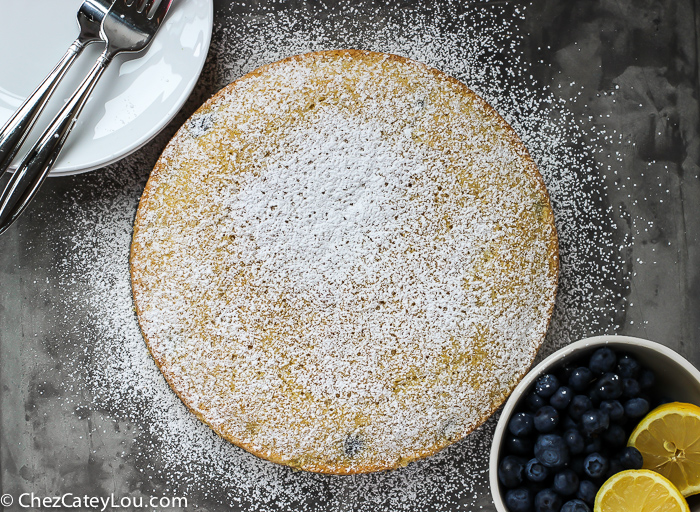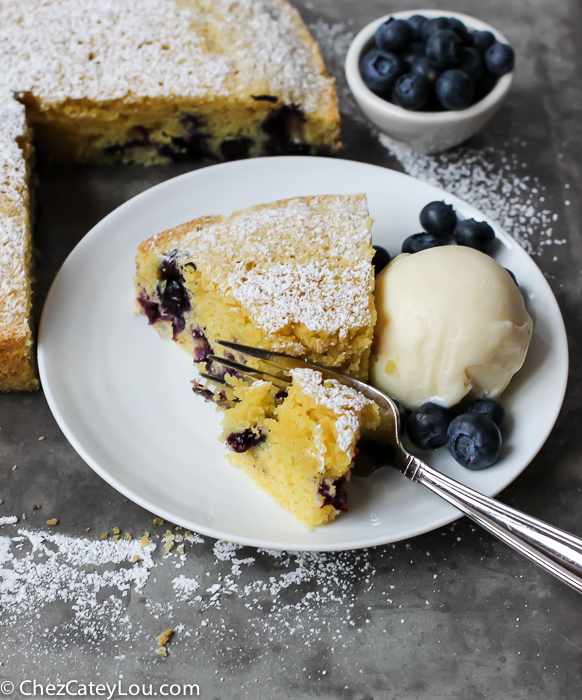 This is such a perfect cake for summer. I love the flavor of the blueberries with the cornmeal, and the color is such a cheery bright yellow! The combo of butter and oil gives an incredible texture and flavor. And, it is a cinch to make! My only word of advice / caution is to grease and flour the pan VERY well, and perhaps even use parchment paper on the bottom. My cake kind of stuck because I was a bit careless with my greasing. However luckily I was able to get it out (PHEW!).
We ate the blueberry cake plain for breakfast, and then warmed with vanilla frozen yogurt for dessert the next day. So good. I can't wait to try it with other berries, and maybe even with peaches!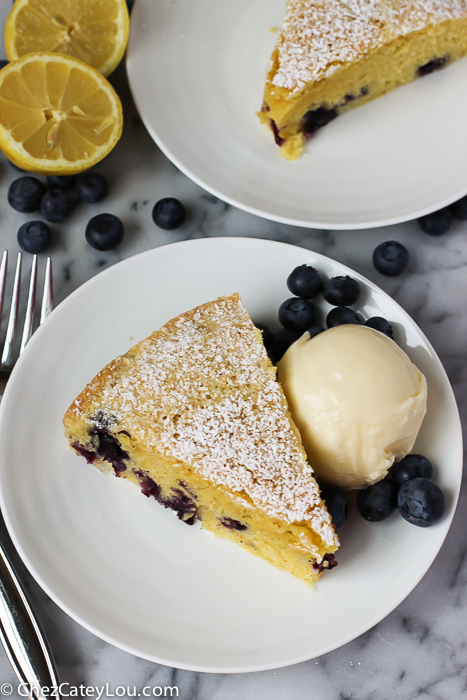 Cornmeal Olive Oil Blueberry Cake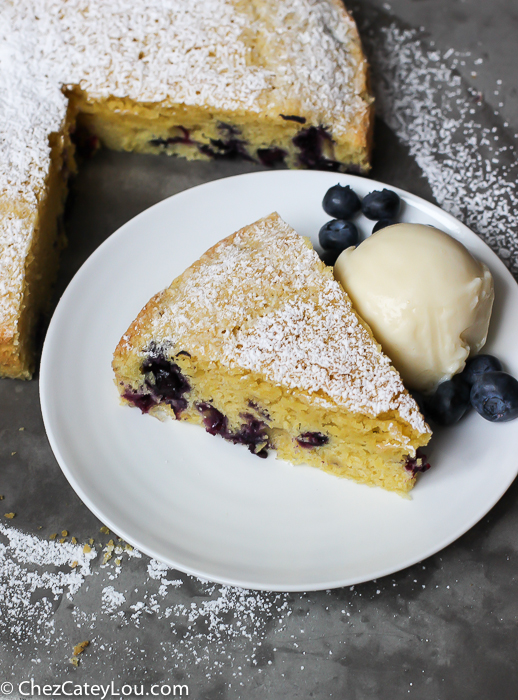 This Cornmeal Olive Oil Blueberry Cake is just like a treat you would find in Italy! The flavor is incredible, and it is a perfect cake for summer.
Ingredients
1 1/4 cups (165 grams) fine cornmeal
2/3 cup (90 grams) all-purpose flour
1/4 cup (32 grams) cornstarch
1 1/2 teaspoons baking powder
1/4 teaspoon salt
1 cup (200 grams) sugar
zest and juice of 1 lemon
4 large eggs, at room temp
1 teaspoon vanilla extract
7 tablespoons (99 grams) unsalted butter, melted and cooled
1/3 cup (80ml) fruity olive oil
3/4 cup fresh blueberries
powdered sugar, for dusting
Instructions
Preheat oven to 350 degrees F. Butter and flour a 9inch round cake pan. If desired, line the bottom of the pan with parchment paper.
In a smal bowl, whisk together the cornmeal, flour, cornstarch, baking powder, and salt. Set aside.
Add the sugar and lemon zest to the bowl of a stand mixer, and use fingertips to rub the sugar and zest together until well mixed.
Add the eggs and then turn the mixer on to medium speed. Beat for about 4 minutes, until the mixture is pale and slightly thickened.
On low speed, add the vanilla and lemon juice and mix until combined. Add the dry ingredients and mix until combined. In a slow stream, add the melted butter and then the olive oil and mix until combined.
Pour half the batter into the prepared pan. Place the blueberries evenly on top of the batter. Then pour the rest of the batter evenly on top of the berries.
Bake the cake for 25-30 minutes, until light golden brown on the top and a toothpick inserted into the center comes out with a few moist crumbs. Allow the cake to cool in the pan for 5 minutes, then run a table knife around the edges to make sure the cake isn't stuck. Then turn out onto a wire rack to cool completely. Once cool, dust with powdered sugar and serve.
Notes
Recipe adapted from Baking Chez Moi
https://chezcateylou.com/cornmeal-olive-oil-blueberry-cake/
© Chez CateyLou. All images & content are copyright protected. Please do not use my images without prior permission. If you want to republish this recipe, please re-write the recipe in your own words, or link back to this post for the recipe.
I love baking with blueberries in the summertime!
Blueberry and Jam Buttermilk Coffee Cake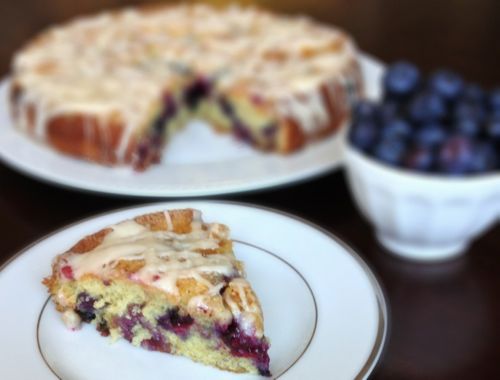 Follow Chez CateyLou around the internet!