Hearty quinoa is mixed with buffalo chicken, kale, and broccoli, then topped with a creamy cheese sauce. This is healthy comfort food at its finest!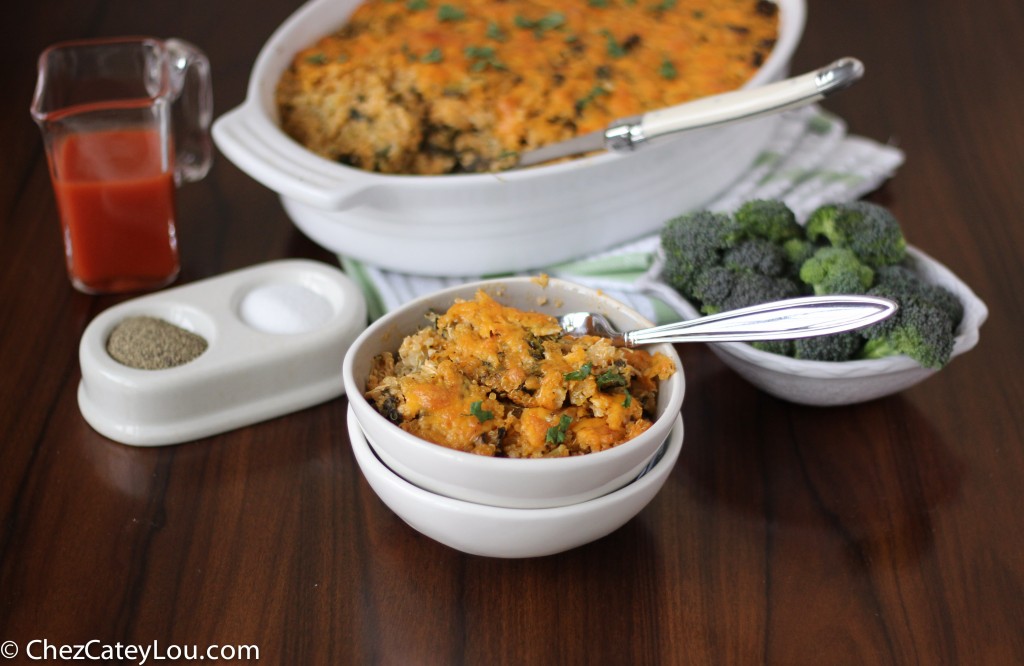 The never-ending debate: what to eat for dinner? I'd like to tell you all that I cook a healthy and balanced dinner every night for TheBetterHalf and myself……but I don't. It is just so hard to find the time!!  That is why I just love recipes like this Buffalo Chicken Quinoa Bake!! I can make it on a lazy Sunday, and then we have a healthy and delicious dinner ready on Monday! It has all the components of a balanced meal in one, and it tastes AMAZING.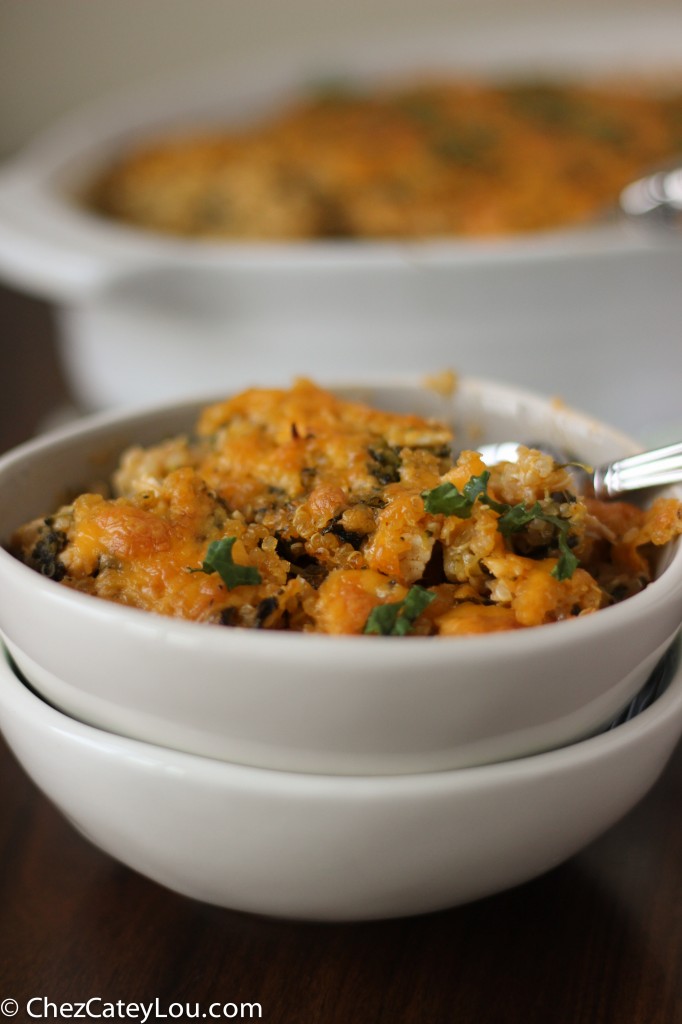 This dish is basically like a mac and cheese – only a little spicier and a lot healthier. I love a good mac and cheese, but most Monday nights I am looking for something a little healthier to undo all the damage that I did over the weekend.
So what makes this dish healthier than a traditional mac and cheese?  Quinoa has a ton of protein and fiber, unlike its friend macaroni.  There's a full serving of veggies in here courtesy of the broccoli and kale.  And the chicken breast adds in more lean protein.  Plus, isn't spicy food supposed to boost your metabolism??? Bring on the buffalo sauce!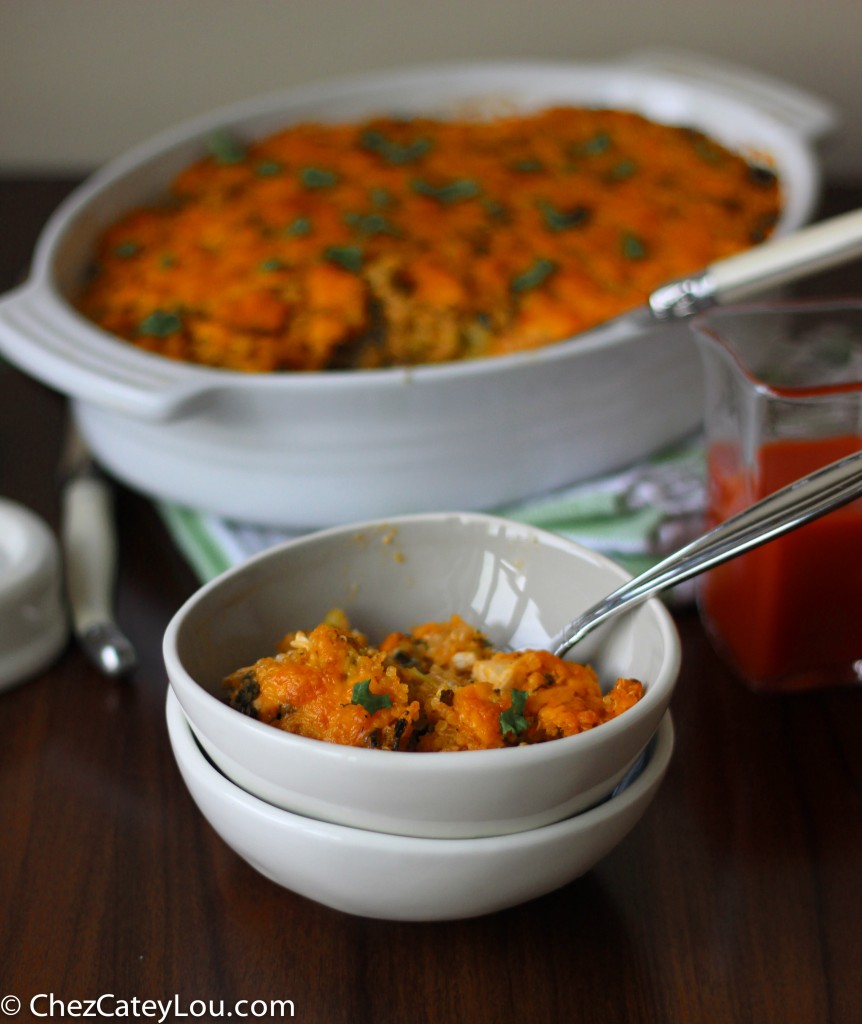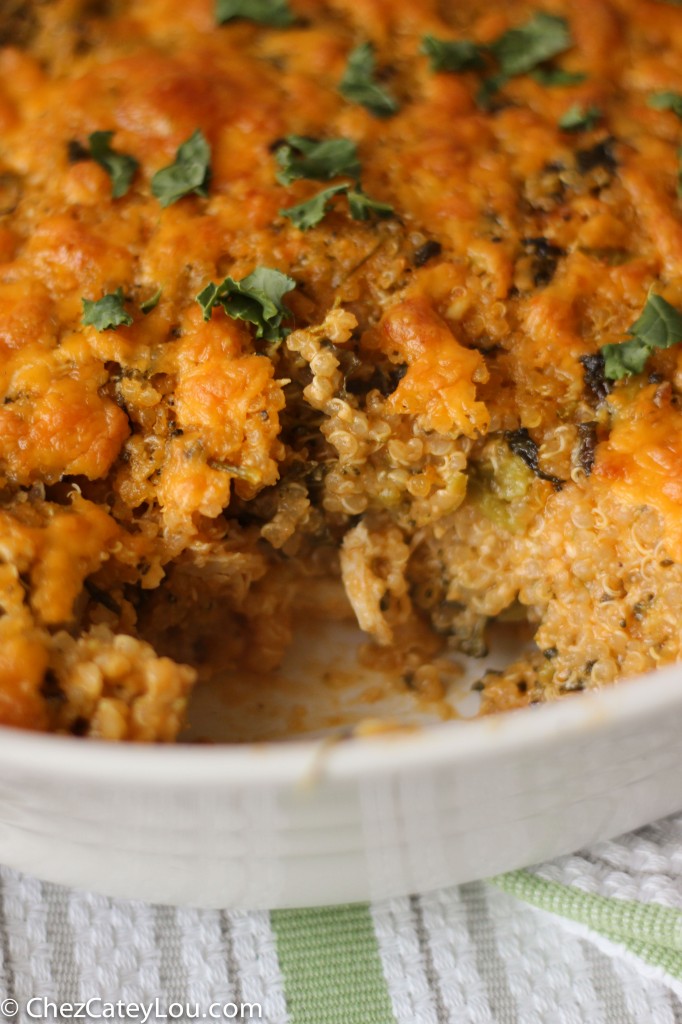 Ok yes, there is a decent amount of butter in here. And there is cheese too. But we want it to taste good, right?! And it is still freezing cold out, so we need comfort food!  But healthier comfort food, so that we aren't scared of ourselves when the bulky sweaters come off.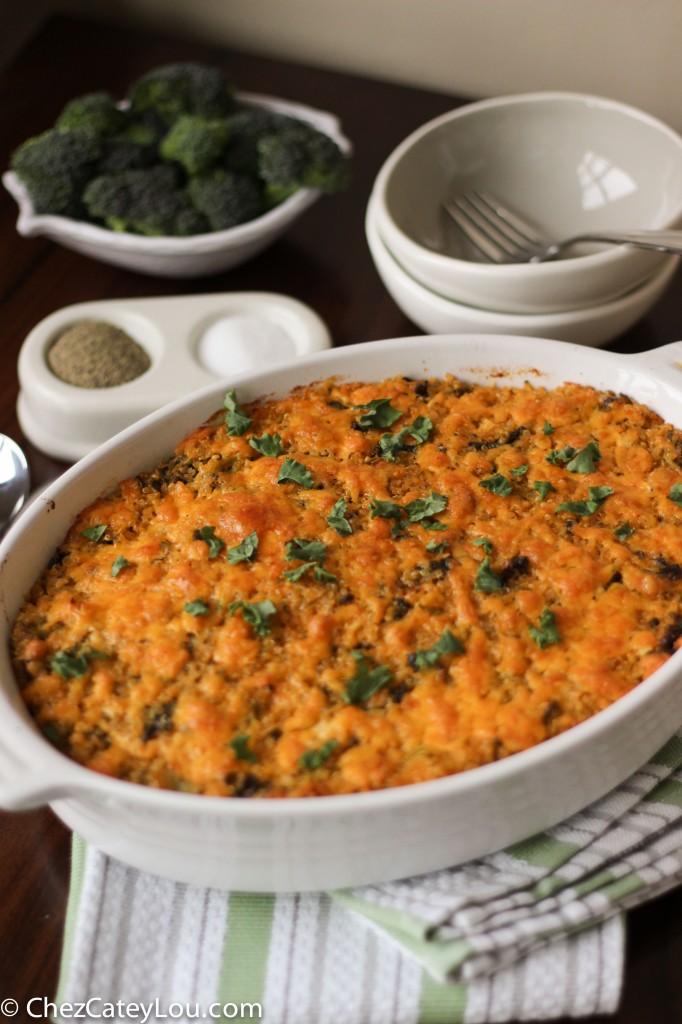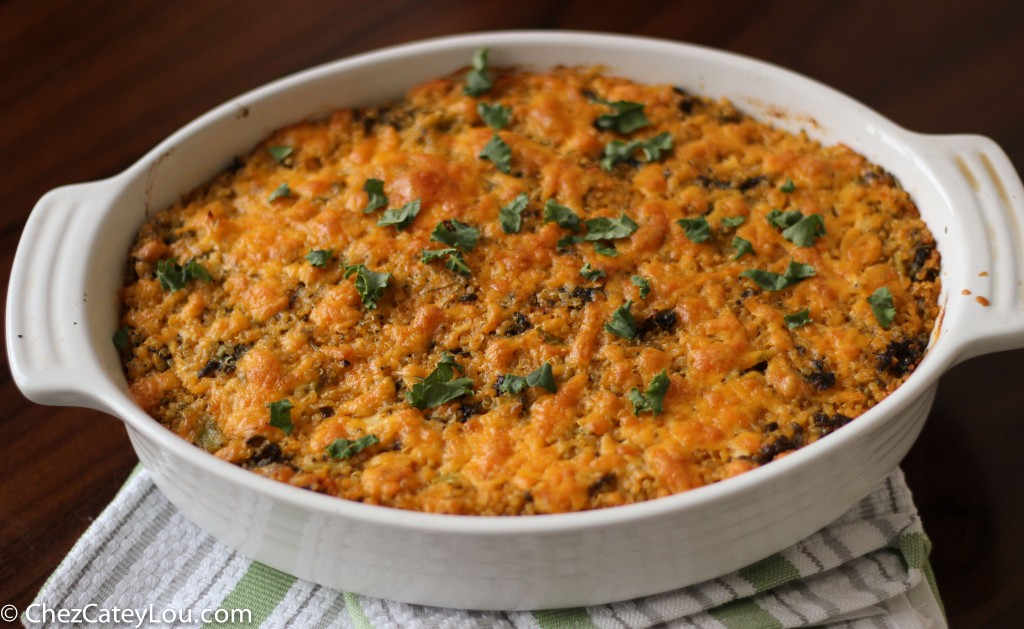 I learned a great trick for cooking quinoa and veggies from this recipe. You can add the chopped veggies right on top of the quinoa, and cook it all together in one pot rather than cooking the veggies separately.  Isn't that great?  Have people been doing this all along and I am reallllly late to the party? Probably. But I thought it was pretty neat.   I  definitely plan on using this method of cooking quinoa and veggies for quick and easy dinners in the future!
This recipe calls for cooked chicken. A rotisserie chicken or leftover chicken works great for this. If you don't have any, just sauté up 2 chicken breasts and then cut or shred the meat.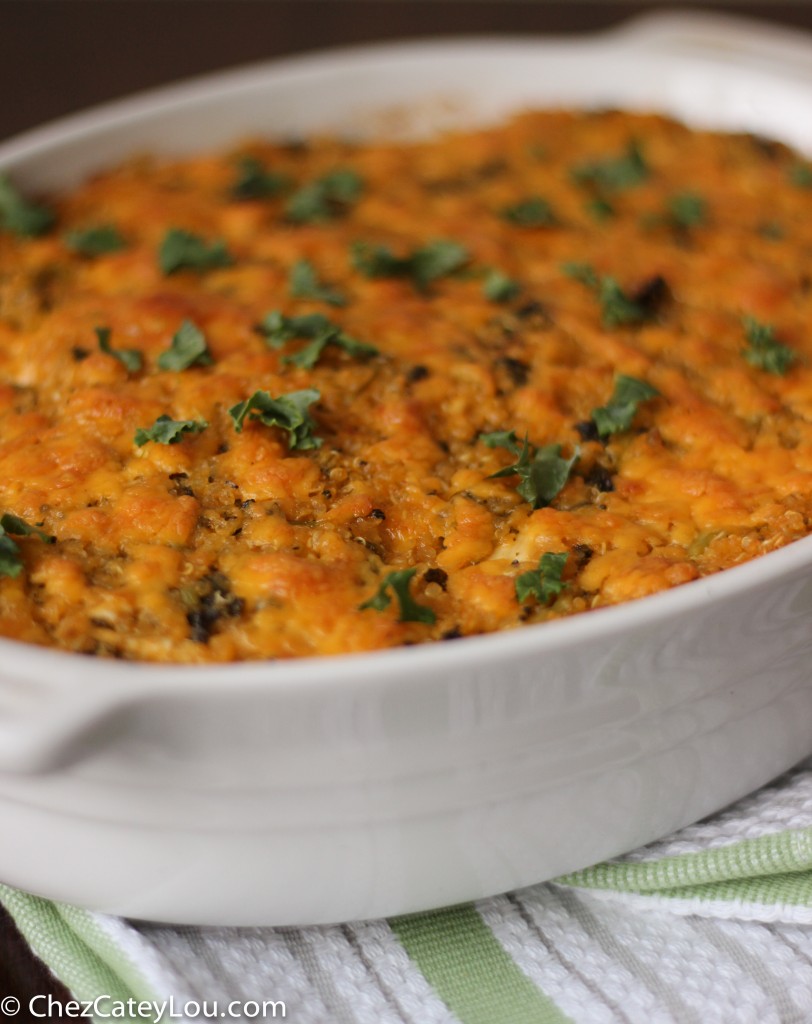 So what is everyone else eating for dinner tonight? If you aren't sure, make this quinoa bake! It is delicious, satisfying, and healthy.  Everyone will love it!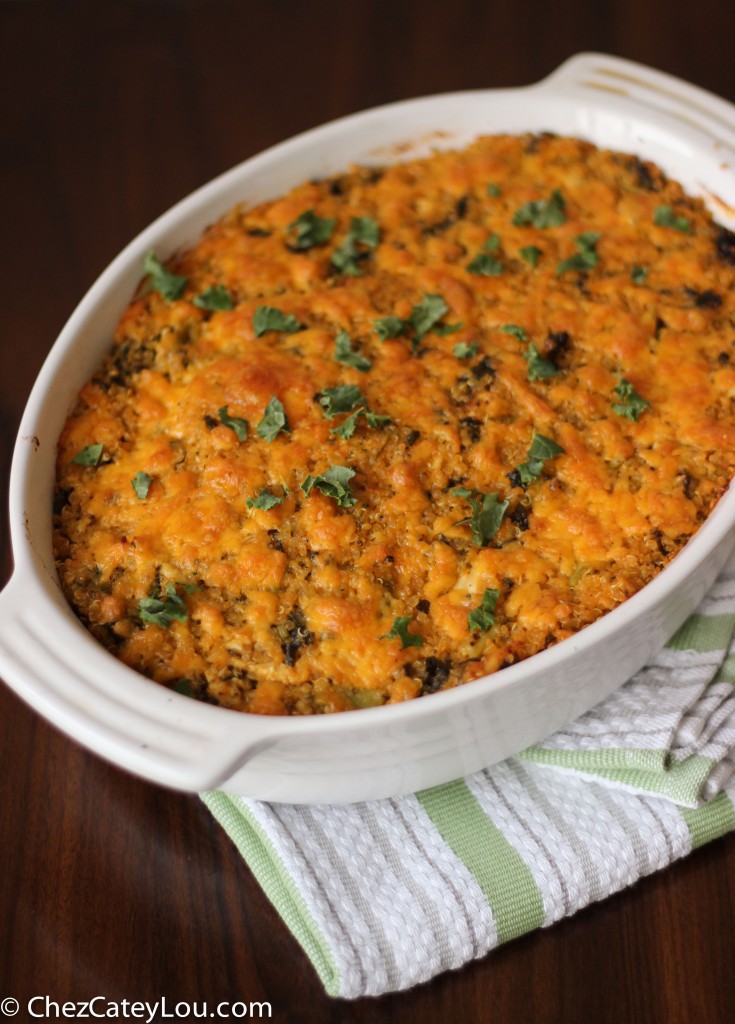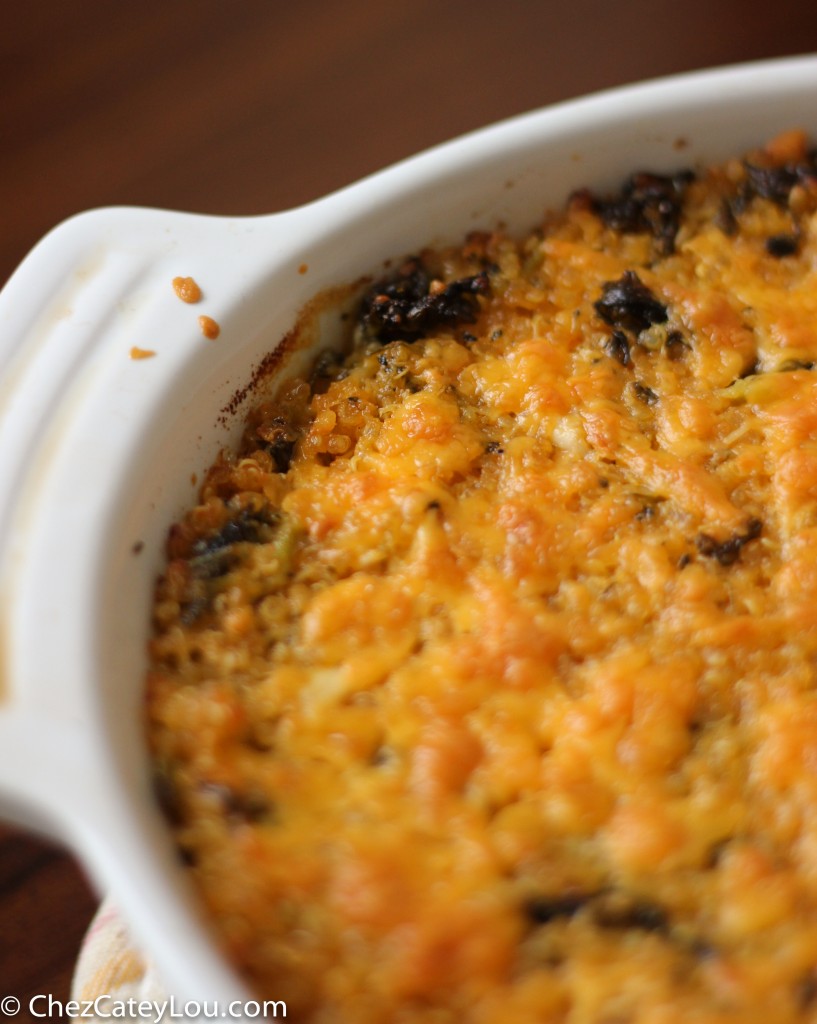 Creamy Buffalo Chicken Quinoa Bake with Broccoli and Kale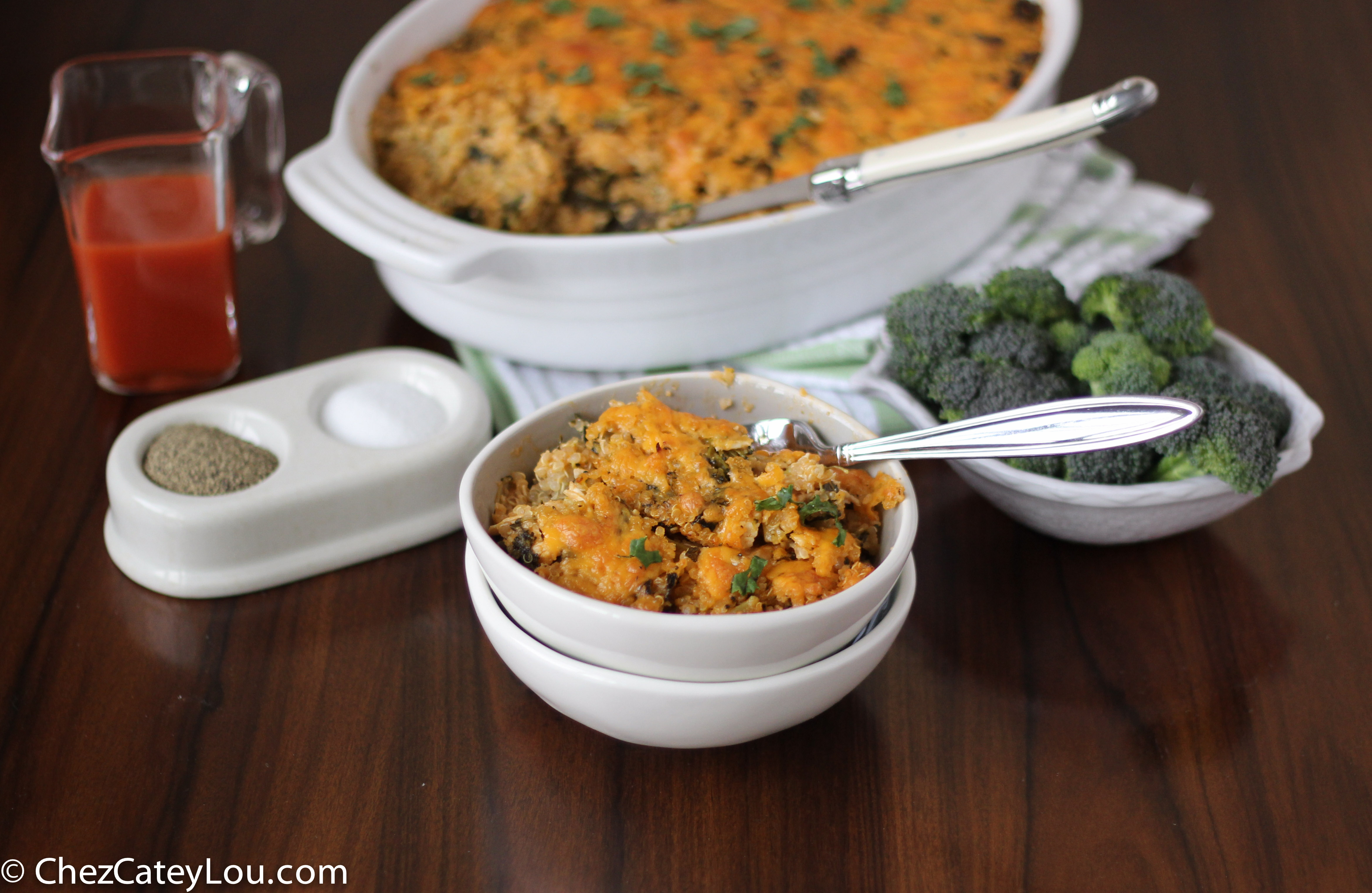 Hearty quinoa is mixed with buffalo chicken, kale, and broccoli, then topped with a creamy cheese sauce. This is healthy comfort food at its finest!
Ingredients
2 cups water or chicken broth (I used broth)
1 cup uncooked quinoa
1 1/2 cups baby kale
1 small head broccoli, chopped
2 small cooked chicken breasts, chopped or shredded
1 tablespoon flour
1 tablespoon butter
1 cup milk (I used 2%)
1/2 cup shredded pepperjack cheese
3/4 cup shredded cheddar cheese, divided in half (slices work too)
1/4 cup butter, melted
1/2 cup hot sauce (I used Franks)
1/2 teaspoon seasoned salt
1/4 teaspoon pepper
fresh cilantro, chopped, for garnish
Instructions
Place quinoa in a fine-mesh strainer and rinse well. Transfer quinoa to a medium saucepan. Add water or broth, and bring to a boil.
Reduce heat to medium-low and add the chopped kale and broccoli on top of the water, do not stir. Cover and simmer for 15-20 minutes or until water is absorbed.
Remove from heat and let sit, covered, for 5 minutes. Fluff quinoa with a fork and stir the veggies into the quinoa. Add the chicken to the quinoa mixture and set aside.
Preheat oven to 350 degrees F.
Heat a medium saucepan over medium heat. Melt 1 tablespoon of butter, then add the flour. Whisk together to create a roux and cook for 1-2 minutes until mixture gets a bit golden in color. Turn the heat down to low and whisk in the milk. Continue stirring the mixture until milk thickens. Add in pepperjack cheese and half of the cheddar cheese and continue to stir until mixture is smooth. Remove from the heat and stir in the 1/4 cup melted butter, hot sauce, seasoned salt and pepper.
Pour the sauce over the quinoa mixture and mix well to combine. Once combined, spray an 8x8 or 9x9 baking dish with non-stick spray and pour the mixture into the dish. Top with remaining cheddar cheese.
Bake for 10 to 15 minutes and then turn the broiler on and broil for 1 to 2 minutes or until cheese is golden and bubbly.
Remove from the oven and top with fresh cilantro. Allow to sit five minutes and then serve.
Notes
https://chezcateylou.com/creamy-buffalo-chicken-quinoa-bake-with-broccoli-and-kale/
© Chez CateyLou. All images & content are copyright protected. Please do not use my images without prior permission. If you want to republish this recipe, please re-write the recipe in your own words, or link back to this post for the recipe.
Want more dinner ideas?  How about soup?!
Creamy Tomato Orzo Soup, made with Greek Yogurt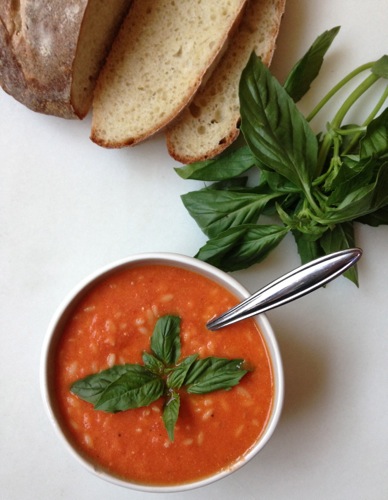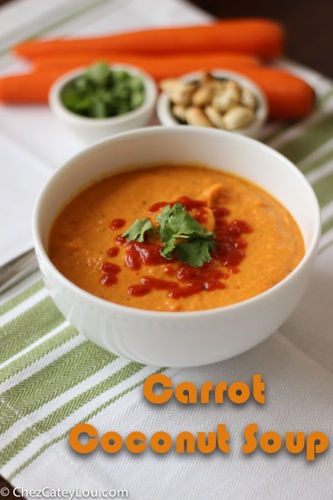 Follow Chez CateyLou around the internet!