Buttery, tender lemon buttermilk cake is topped with a tangy lemon glaze – this fresh and delicious Lemon Bundt Cake is a citrus lovers dream!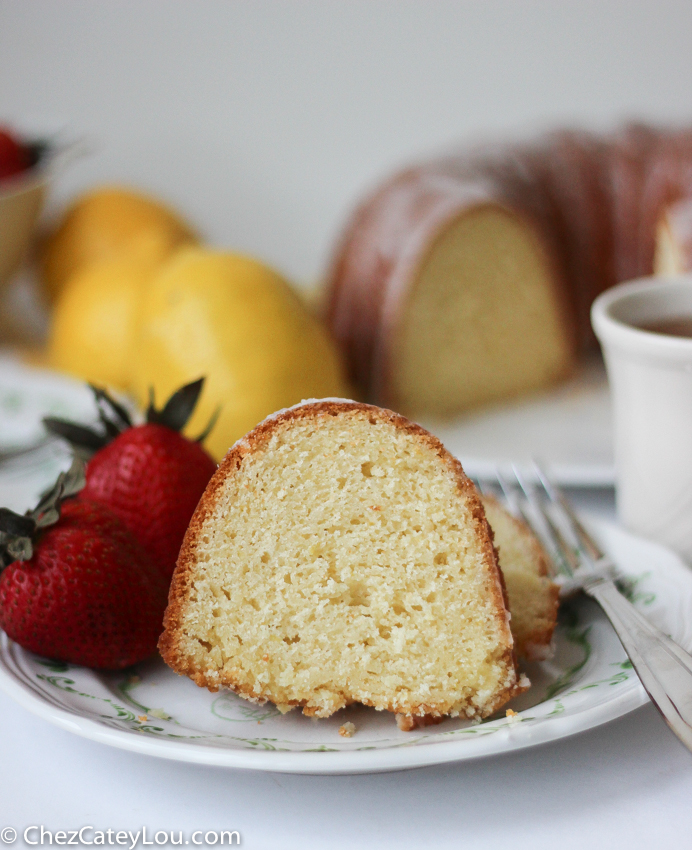 It is time for another Mystery Dish! And I'm soooo excited because this month I was the host! That's right, I got to pick a list of ingredients for my other blog friends to use in their creations.  So fun!
In order to celebrate, I bought myself a Bundt Pan
! You think I'm kidding, right?
Nope, I'm serious, I really bought a bundt pan just for this. I will take any excuse I can to buy new kitchen supplies!
But I had been eyeing this lemon bundt cake recipe for ages and I knew it would be the perfect thing to make for my month of Mystery Dish!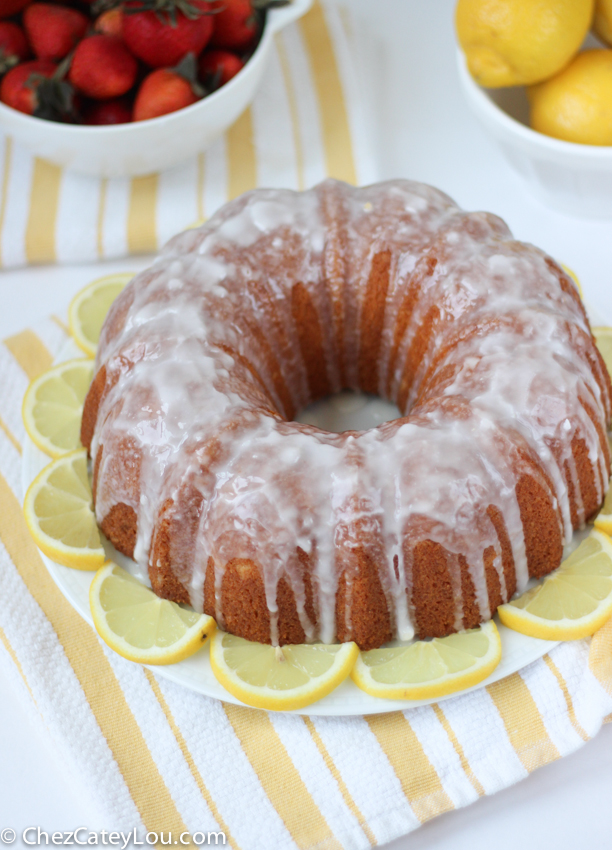 So are you wondering what ingredients I picked? I seriously agonized over this decision – I wanted to pick things that had never been used before and I wanted a good variety of ingredients, but I also had to make sure that some of the ingredients could complement each other. So much pressure! Ha, not really – it is more like so much fun! Such a food blogging dork. Here is the winning list and the reason behind my choice:
-raspberries: summer!
-peanut butter chips: they make any cookie better
-edamame: such a random choice
-lemon: because it was in my cake recipe 🙂
-yeast: what's better than bread?
-whole wheat pastry flour: I've been obsessed with the stuff lately
-bacon: enough said.
-buttermilk: see lemon
-basil: best herb out there
-zucchini: summer, again!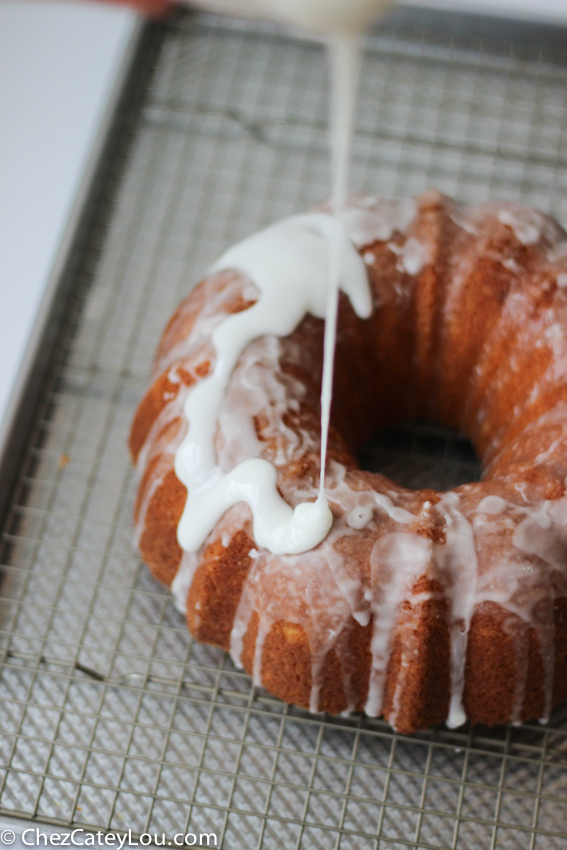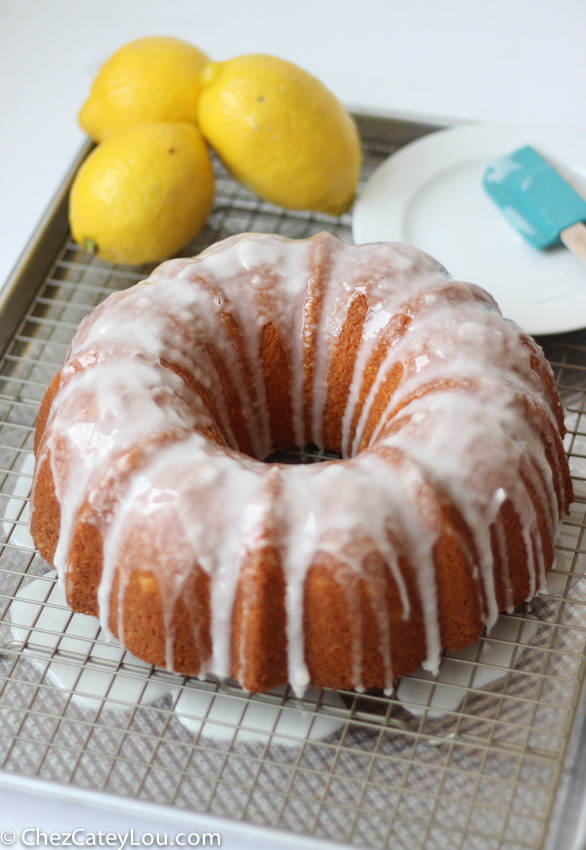 So why have I been eyeing this lemon bundt cake recipe? It just sounded so summery and delicious. I always think of summer when I think of lemon desserts.
And I knew it would be a great recipe because it is from Cook's Illustrated – their stuff is always the best!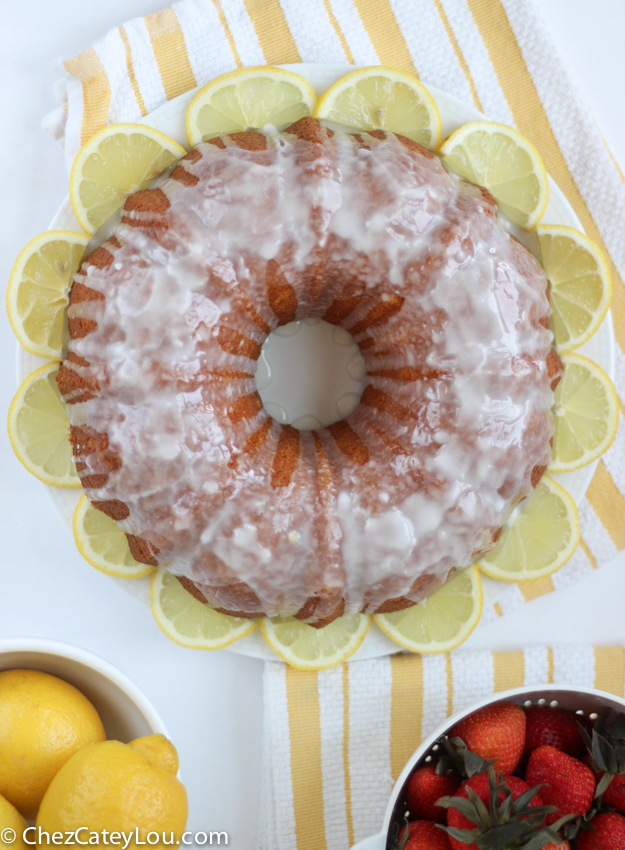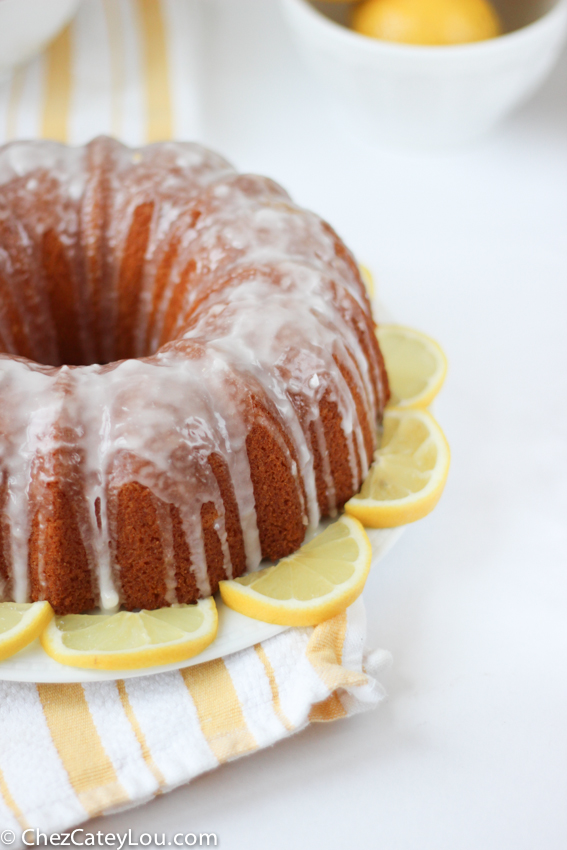 And of course, they did not disappoint! This lemon bundt cake is so full of bright lemon flavor thanks to zest and juice in the batter, and then more juice in the glaze.
The cake itself is so rich and buttery and buttermilk helps it stay tender and moist. It is delicious for dessert, or for a snack with some tea. We actually ate it for breakfast!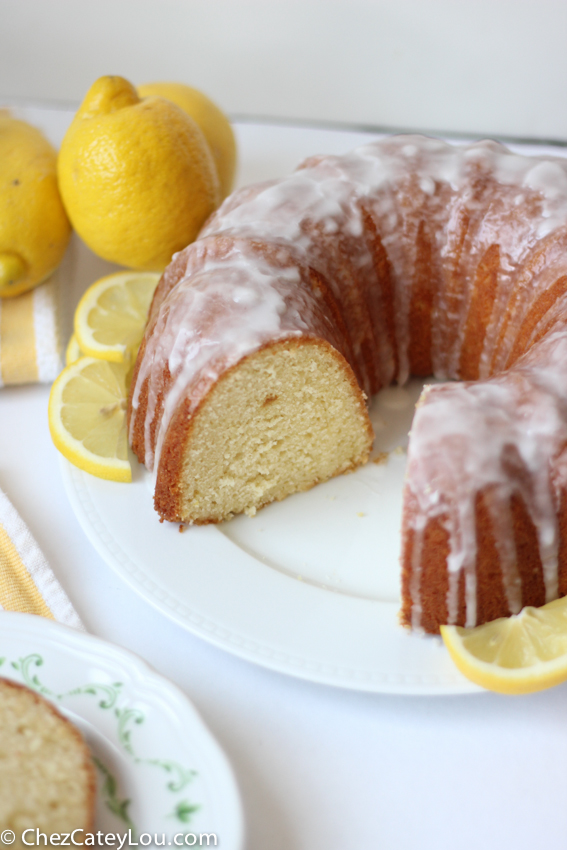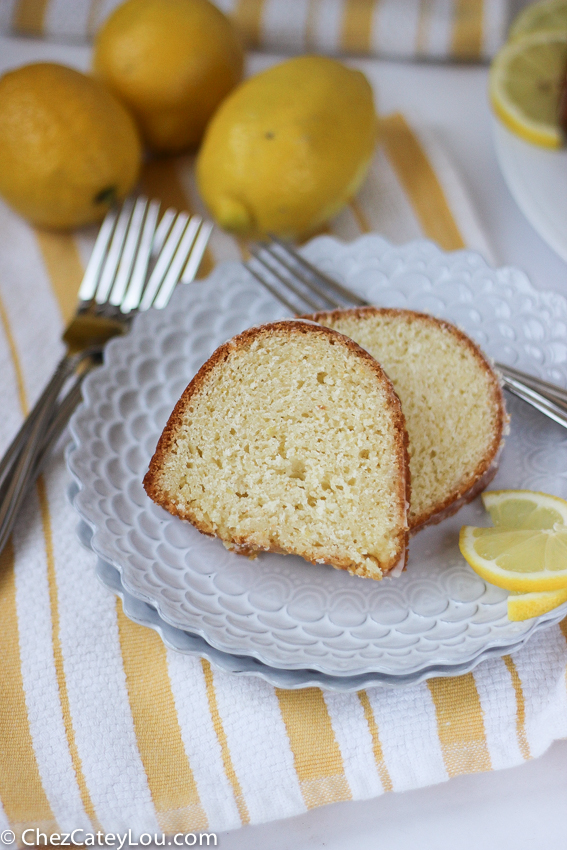 I am always amazed each month to see what everyone comes up with. My blogging friends are so creative and talented, and it is incredible how we all end up making such different things! Check out their recipes, the links are below the picture!
And a special welcome to our guest poster this month, the lovely Chelsea from Chelsea's Messy Apron! Her blog is awesome – she comes up with the greatest recipes and is constantly posting new things.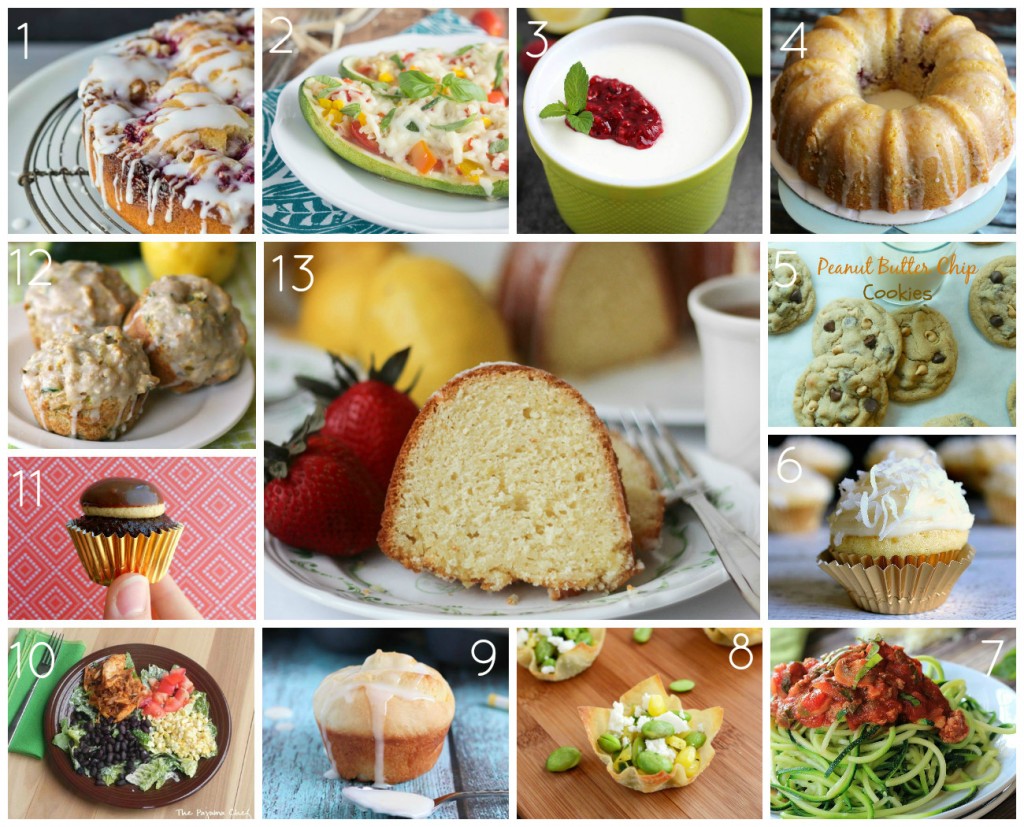 1. Raspberry Lemon Sweet Roll Cake with Buttermilk Glaze – Baking a Moment
2. Twice Baked Zucchini Boat – Chelsea's Messy Apron
3. Buttermilk Panna Cotta with Raspberry Mint Compote – Blahnik Baker
4. Lemon-Raspberry Bundt Cake – I Dig Pinterest
5. Peanut Butter Chip Cookies – The Dessert Chronicles
6. Mini Coconut Cupcakes with Lemon Cream Cheese Frosting – I Want Crazy
7. Zucchini Noodles with Meat Mushroom Tomato Sauce – Joyfully Healthy Eats
8. Baked Wonton Cups Filled with Edamame Corn Salad – The Well Floured Kitchen
9. Easy 30 Minute Orange Rolls – Yummy Healthy Easy
10. BBQ Chicken Salad with Jalapeno Basil Ranch Dressing – The Pajama Chef
11. Mini Reese's Peanut Butter Cupcakes – Culinary Couture
12. Zucchini Muffins with Lemon Glaze – The Weary Chef
13. Lemon Bundt Cake – Chez CateyLou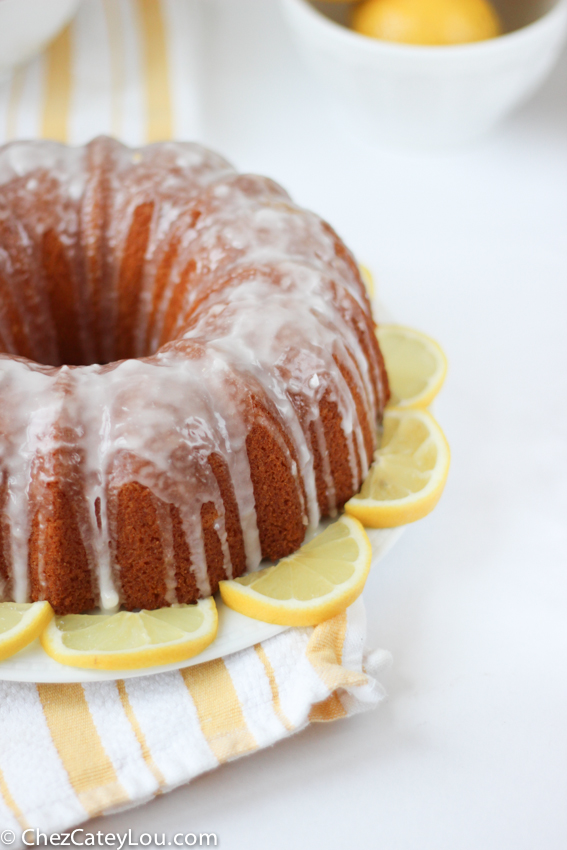 Buttery, tender lemon buttermilk cake is topped with a tangy lemon glaze - this fresh and delicious Lemon Bundt Cake is a citrus lovers dream!
Ingredients
For the Cake

3 - 4 lemons (you will use 2T of zest and 3T of juice for the cake. 2 - 3 T of juice is for the glaze)
3 cups (15 ounces) all-purpose flour
1 teaspoon baking powder
1/2 teaspoon baking soda
1 teaspoon table salt
1 teaspoon vanilla extract
3/4 cup lowfat buttermilk
3 large eggs, at room temperature
1 large egg yolk, at room temperature
18 tablespoons (2 1/4 sticks) unsalted butter, at room temperature
2 cups (14 ounces) sugar

For the Glaze

2 - 3 tablespoons lemon juice
1 tablespoon buttermilk
2 cups (8 ounces) confectioners' sugar
Instructions
For the Cake

Preheat oven to 350 degrees F. Spray a 12-cup Bundt pan with nonstick baking spray (the kind with flour) or butter and flour your pan.
Zest and juice 3 lemons and then mince the zest until it is almost a paste - you should have about 2 tablespoons. Mix zest with 3 tablespoons of lemon juice in a medium bowl and set aside for 10 - 15 minutes. (set aside the rest of the juice for the glaze)
In a large bowl, whisk together flour, baking powder, baking soda, and salt.
To the lemon juice mixture, add vanilla and buttermilk and whisk to combine.
In a separate small bowl, gently whisk eggs and egg yolk.
In the bowl of a stand mixer fitted with the paddle attachment, bet together butter and sugar at medium high speed until light and fluffy, about 3 minutes, scraping down the sides of the bowl with a rubber spatula as needed.
Turn speed down to medium and add half the eggs. Mix for about 15 seconds, then add the rest of the eggs and mix until combined.
Turn speed down to low and add 1/3 of the flour mixture. Mix for about 5 seconds, then add half of the buttermilk mixture and mix for another 5 seconds. Repeat this process with flour, buttermilk, and flour. Give the batter a final stir with a rubber spatula to make sure all flour is incorporated.
Spoon batter into prepared pan. Bake for 40 - 50 minutes, until top is light golden brown and a toothpick inserted comes out with a few moist crumbs.
Cool in the pan on a wire rack for 10 minutes.

For the Glaze:

Add 2 tablespoons lemon juice, buttermilk, and confectioners' sugar to a bowl and whisk until smooth. Add more lemon juice until desired consistency is reached - you want the glaze pourable but still slightly thick.
Turn the cake out of the pan onto a wire rack. Set the rack on a rimmed baking sheet for easy cleanup. Pour half the glaze over the cake and then let it cool for an hour. Cover the glaze bowl with a damp towel while the cake cools. After an hour, pour the rest of the glaze over the cake and then let it cool to room temperature.
Notes
https://chezcateylou.com/lemon-bundt-cake/
© Chez CateyLou. All images & content are copyright protected. Please do not use my images without prior permission. If you want to republish this recipe, please re-write the recipe in your own words, or link back to this post for the recipe.
More lemon love!
Baked Lemon Donuts with Greek Yogurt