Chocolate Shortbread Cookies are my absolute favorite Christmas Cookie! The flavor is rich and chocolatey and the cookies are so fun and festive!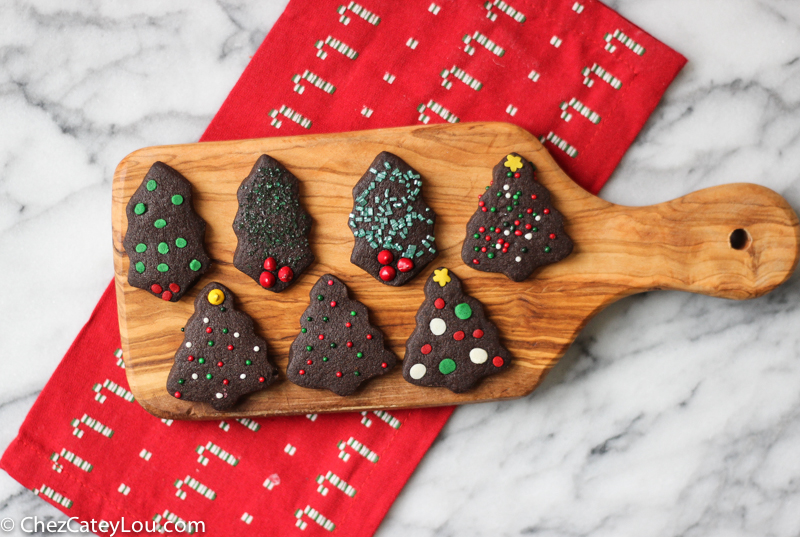 Happy December! I know I'm a day late in wishing you that…I had every intention of posting these lil Chocolate Shortbread Cookies yesterday morning, but my TiVo was so full of great shows from being away for two weeks that I couldn't stop watching TV Sunday night. And then promptly fell asleep at 9pm because of JetLag. So, cookies had to wait until today 🙂
Literally the second we got home from our trip, I was ready for Christmas baking! I was up early Saturday morning and my mind immediately went to my favorite Christmas cookie – Chocolate Shortbread Cookies. I am so excited to share this recipe with you today!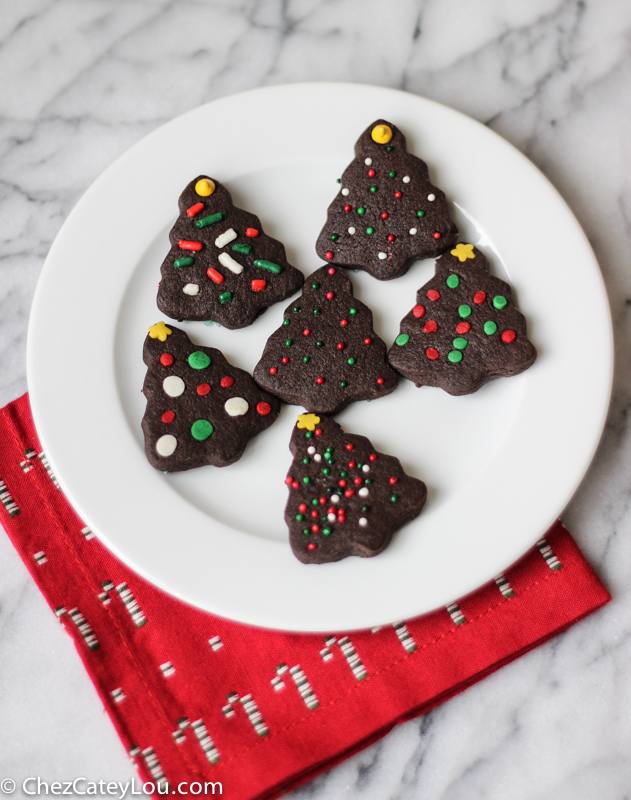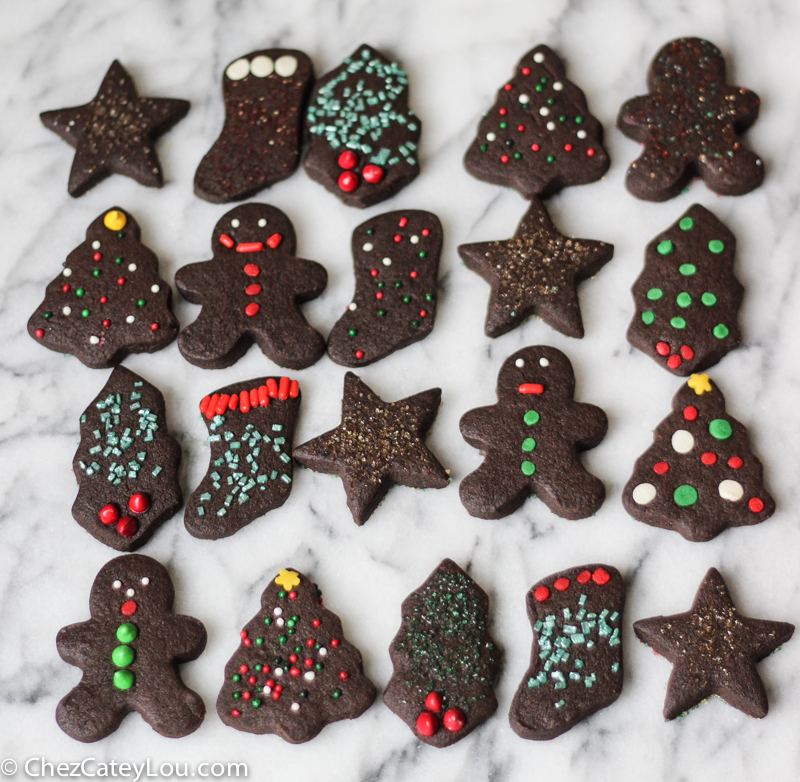 I have always had a huge sweet tooth. Maybe that's why I have always loved Christmas so much – there are tons of goodies around this time of year, specifically tons of Christmas cookies. I love all types of cookies, but if I had to pick one favorite, I would pick these Chocolate Shortbread Cookies. The recipe comes from my aunt – you might remember her from this post. She wrote an amazing cookbook called Almonds
.
She always makes these Chocolate Shortbread Cookies around Christmas, and growing up they were always my favorite.  I couldn't stop eating them!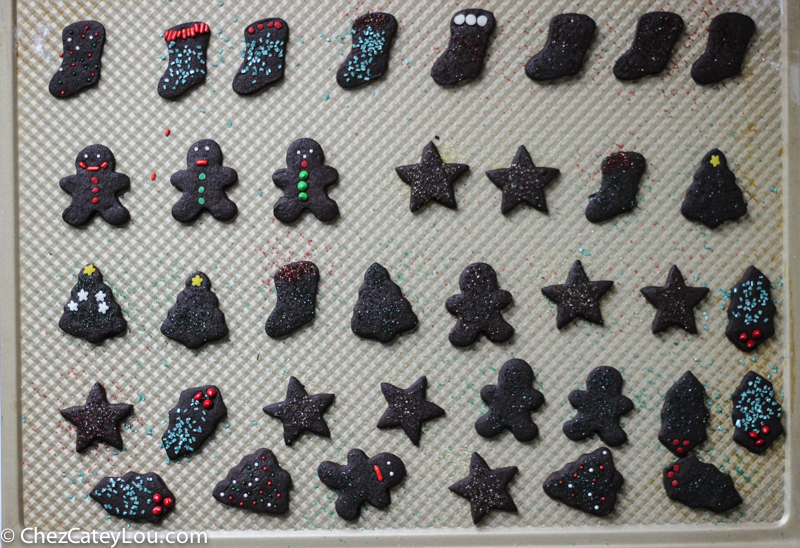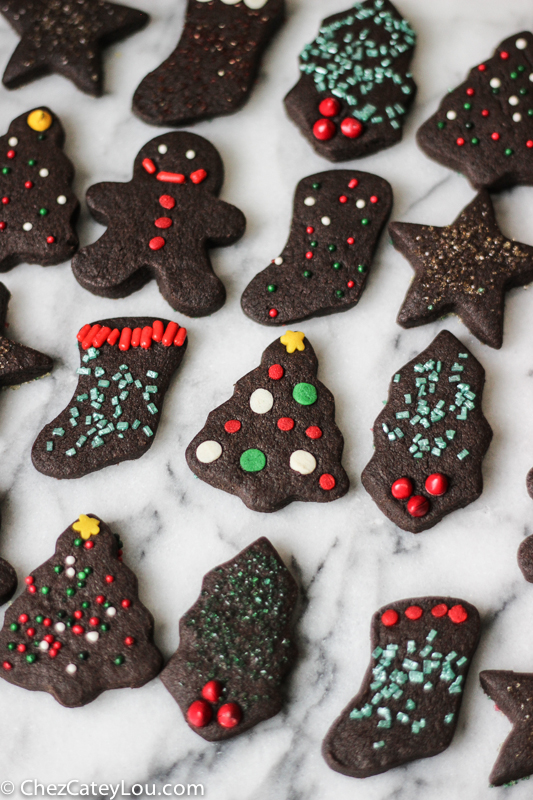 The dough is really easy to make – just mix together softened butter with powdered sugar, vanilla, salt, flour, and cocoa powder. That's it!
I guess the "hardest" part of these cookies is rolling out the dough and cutting out the cookies. Here are my tips for roll-out cookies.
1) First, chill the dough. Once the dough is all mixed up, give it a few kneads so that it is perfectly smooth. Form the dough into a ball and then flatten into a thick disc. Wrap it in plastic and refrigerate for at least 30 minutes. The dough will last up to 48 hours, so you can easily make this ahead of time! Let the dough sit at room temperature for about 10 minutes before you roll it out.
2) Roll out the dough between parchment paper. I actually like to place the dough on a large silicone mat, and place a piece of parchment on top of the dough. This way, you don't have to add any additional flour to the dough, and it won't stick to your rolling pin or your rolling surface.
3) Chill the rolled dough before cutting out the cookies. I like to pop it in the freezer for about 10 minutes. This makes it so easy to cut out the cookies.
4) Chill the cut cookies before baking them. As you can tell by now, cold dough is your friend when making cut-out cookies. Chilling the cut cookies before baking helps them retain their shape in the oven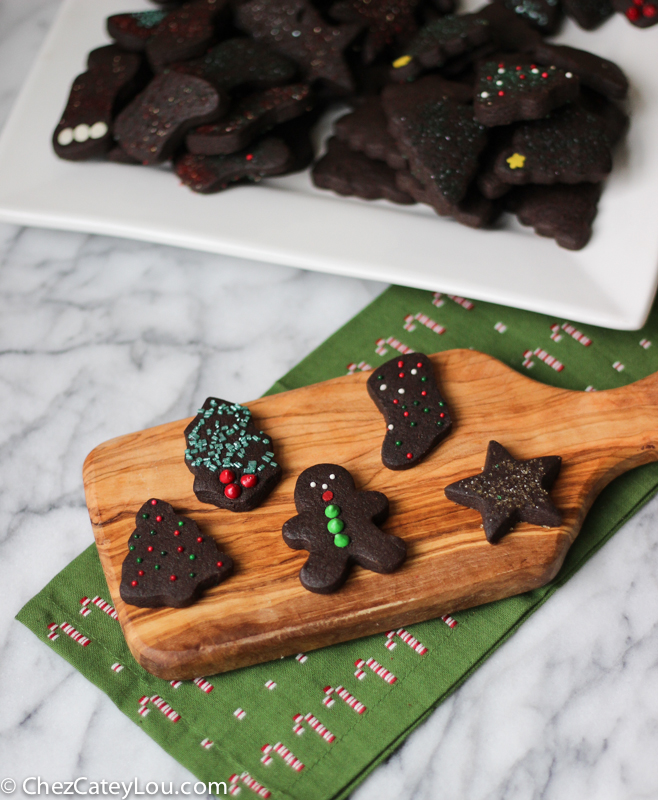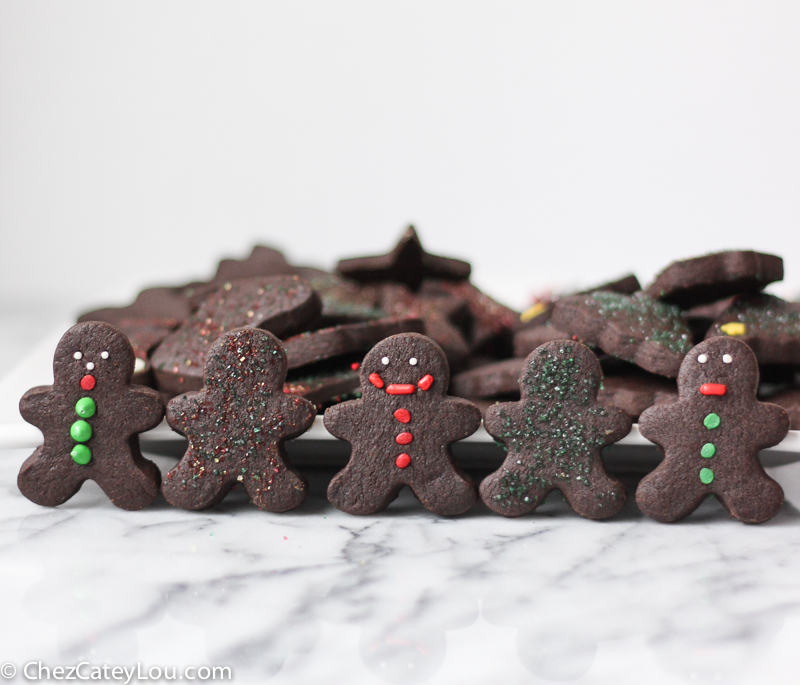 The chocolate shortbread cookies taste delicious and look cute on their own, so if you don't have time to decorate them it is not a problem at all! I decorated about half of mine, and just left the other half plain. If you want to add sprinkles, add them after step 3 above. They will stick well in the slightly warm dough.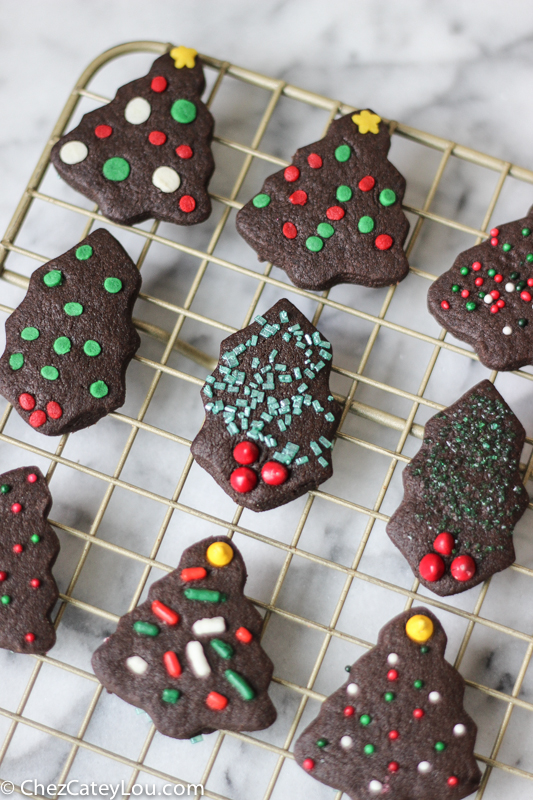 I'm so happy that I could share my favorite Christmas cookie with you to kick off December! What is your favorite Christmas cookie? I'd love to try some of your favorites!
Chocolate Shortbread Cookies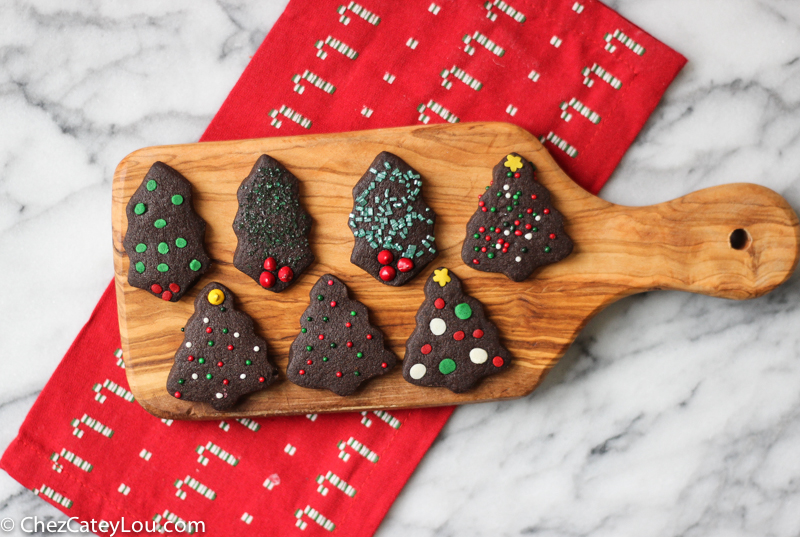 Chocolate Shortbread Cookies are my absolute favorite Christmas Cookie! The flavor is rich and chocolatey and the cookies are so fun and festive!
Ingredients
1 cup (2 sticks) unsalted butter, at room temperature
1 teaspoon vanilla
1 cup powdered sugar
1/4 teaspoon salt
2 cups flour
1/2 cup cocoa powder
Instructions
In the bowl of a stand mixer fitted with the paddle attachment, cream butter until soft and smooth. Add vanilla, sugar, and salt and beat until well incorporated and smooth. On low speed, add the flour and cocoa and mix until the dough just comes together. Turn dough out onto a silicone mat or parchment paper and knead a few times until smooth. Form dough into a ball and flatten into a disc. Wrap in plastic wrap and refrigerate for an hour, or up to 48 hours.
Place dough on a silicone mat and place a large piece of parchment on top of dough. Use a rolling pin to roll the dough (under the parchment) about 1/4 inch thick. Chill the rolled dough for about 10 minutes in the freezer. Using cookie cutter(s) of your choice, cut out cookies and place 1 inch apart on an ungreased cookie sheet. If desired, decorate with sprinkles, pressing them lightly into the dough so they stick. Refrigerate cut cookies for 20 minutes before baking (or freeze for 5-10 minutes)
Preheat oven to 300 degrees F. Bake cookies for 13 - 16 minutes, until slightly firm to the touch. Cool cookies on sheet for a few minutes, then remove to a wire rack to cool completely.
Notes
https://chezcateylou.com/chocolate-shortbread-cookies/
© Chez CateyLou. All images & content are copyright protected. Please do not use my images without prior permission. If you want to republish this recipe, please re-write the recipe in your own words, or link back to this post for the recipe.
Connect with Chez CateyLou!
More Christmas Cookies!
French Butter Cookies (Sables)