Chocolate Chip Sweet Potato Bread is the perfect way to sneak some nutrition into your breakfast! Mashed sweet potato gives this quick bread a great moist texture.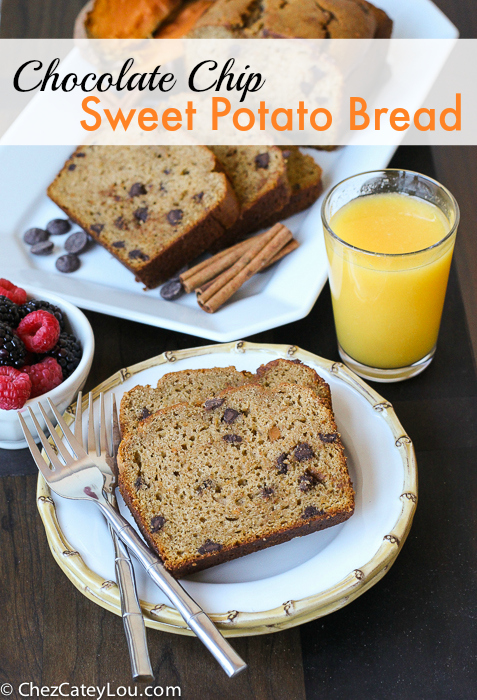 I know we are well into the new year, but this is my first post of 2016 so….Happy New Year! My slow down in blogging is entirely because of this. I work full-time, and I used to spend my free time daydreaming about (and then making, photographing, and writing about) cookies and breads and cakes…now most of my free time is spent researching baby things and attempting to sleep.  Growing a baby takes a lot of energy!  I'm still around, just won't be posting as frequently.  But when I do post, the recipes are definitely going to be some of my favorites!  Like this Chocolate Chip Sweet Potato Bread.  I have already made this three times this year!  We absolutely love it – it is quickly becoming a breakfast favorite.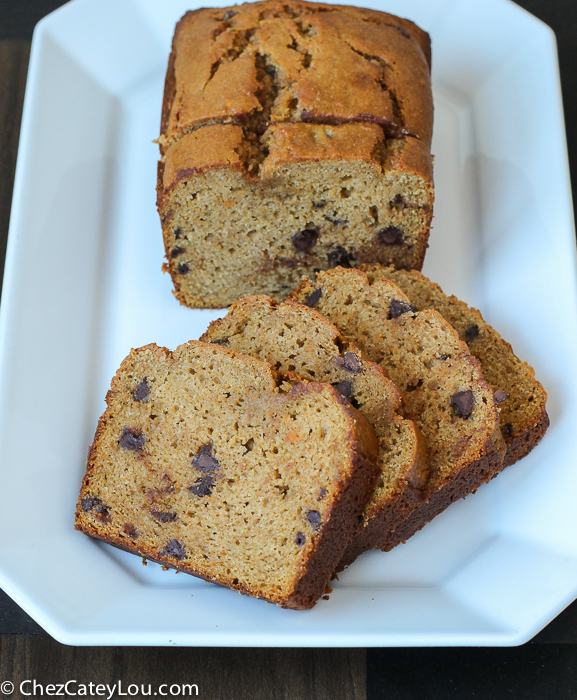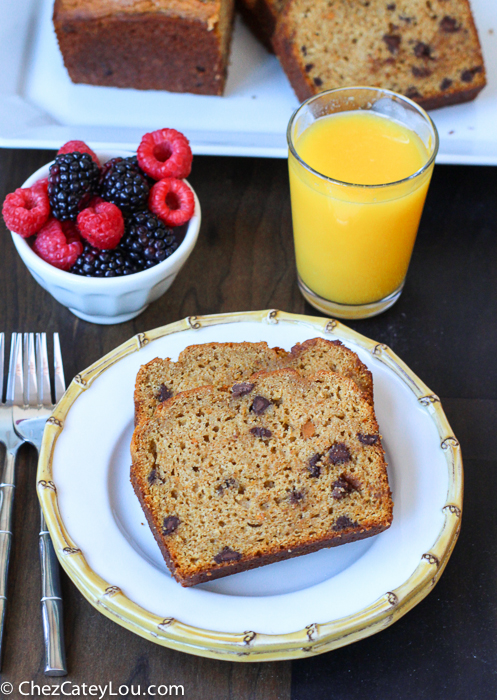 How is everyone doing on the new year's resolutions? Although this isn't technically a "skinny" recipe, the nutrition stats aren't bad – only 1/4 cup of oil – and I love that you can feel good about getting your sugar fix knowing that you will also be getting tons of nutrition from the sweet potato! This is one of the (many) reasons I love baking – you can sneak in good-for-you ingredients, and control the fat and sugar content.
My sweet tooth vanished during the first trimester, but it definitely returned midway through the second and now is fully back and stronger than ever! I've been trying to do a lot of baking myself to satisfy my sweet tooth in a healthier way. Carrot cake muffins and zucchini bread and yogurt cake – and this sweet potato bread! Although I can't lie- I've made these and these more than once…. Sometimes a girl just needs a good chocolate chip cookie, right??
This is a variation on a recipe I made a few years ago – I made it a bit moister by adding in some Greek yogurt, and I subbed out the cranberries for chocolate chips, because in my opinion pretty much every muffin or quick bread tastes better with chocolate!  If you think the sweet potato sounds weird, I definitely urge you to give this a try.  You can't really taste it – it just adds a moist texture to the bread, and I love the flecks of orange.  The results are actually very similar to using pumpkin – it kind of just takes on whatever spices and flavors you use in the bread.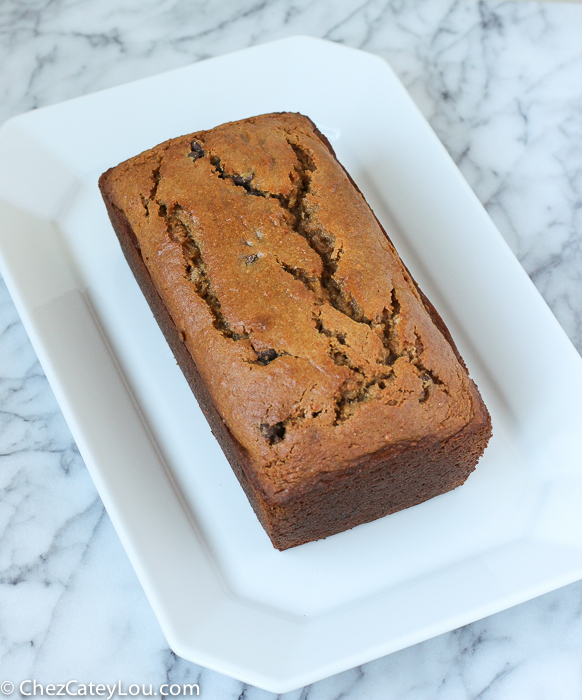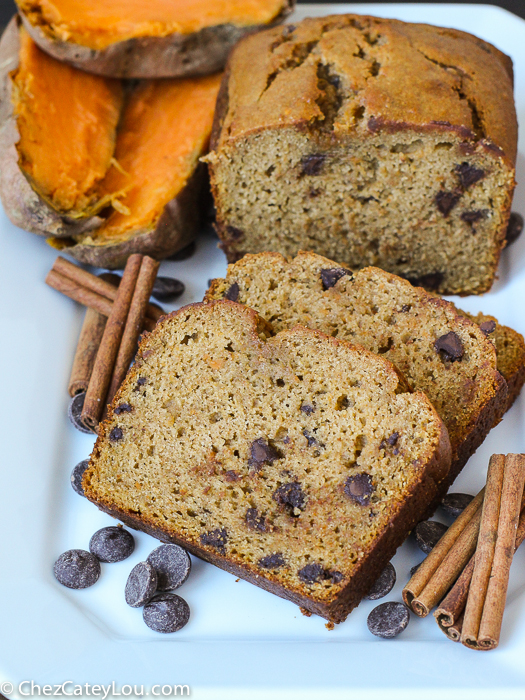 Chocolate Chip Sweet Potato Bread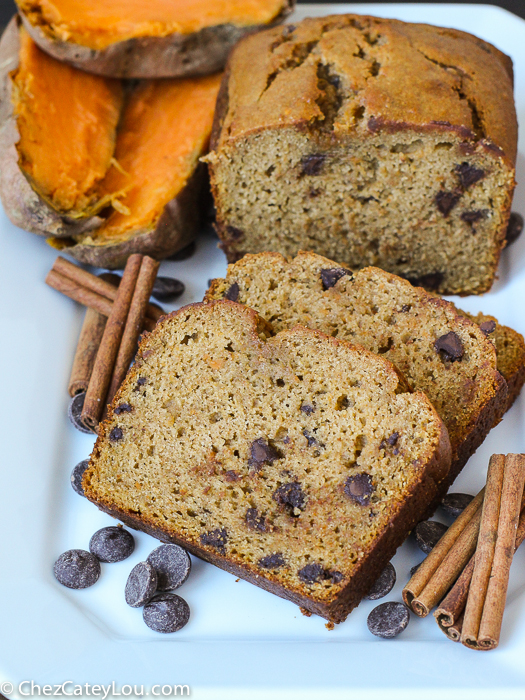 Chocolate Chip Sweet Potato Bread is the perfect way to sneak some nutrition into your breakfast! Mashed sweet potato gives this quick bread a great moist texture.
Ingredients
1 cup all-purpose flour
½ cup whole wheat flour
1 ½ teaspoons baking powder
½ teaspoon salt
¼ teaspoon baking soda
1 teaspoon cinnamon
½ cup sugar
½ cup brown sugar
1/3 cup vegetable oil
2 Tablespoons unsweetened applesauce
¼ cup Greek yogurt or sour cream
2 large eggs
1 teaspoon vanilla
1 cup mashed sweet potato
½ cup chocolate chips
Instructions
Preheat the oven to 350 degrees F. Grease an 8"x4" loaf pan.
In a large bowl, whisk together flours, baking powder, salt, baking soda, and cinnamon.
In a medium bowl, whisk together sugar, brown sugar, vegetable oil, applesauce, and yogurt. Add the eggs and whisk until combined. Whisk in the vanilla and the sweet potato.
Add the wet ingredients to the dry ingredients, and mix until just combined. Fold in the chocolate chips. Pour the batter into the prepared loaf pan. Bake for 45 - 60 minutes, until a toothpick inserted into the center of the bread comes out with a few moist crumbs. Let the bread cool in the pan for 10 minutes, then turn it out onto a wire rack to cool completely. The bread will cut much easier if you let it cool first.
https://chezcateylou.com/chocolate-chip-sweet-potato-bread/
© Chez CateyLou. All images & content are copyright protected. Please do not use my images without prior permission. If you want to republish this recipe, please re-write the recipe in your own words, or link back to this post for the recipe.
Follow Chez CateyLou around the internet!
Pinterest | Instagram | Stumble Upon
More sweet potato and cinnamon treats!
Sweet Potato Cranberry Quick Bread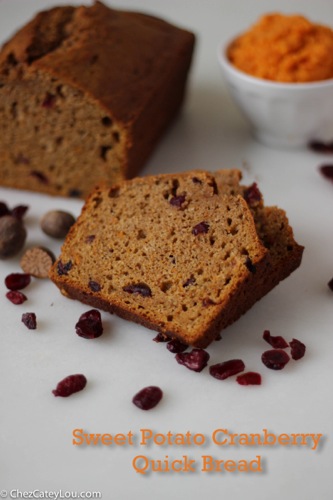 Skinny Pumpkin Chocolate Chip Bread