A recipe for the roasted Kabocha Squash Toast from ABC Kitchen in NYC. Now I can make my absolute favorite restaurant dish at home, and it is easy!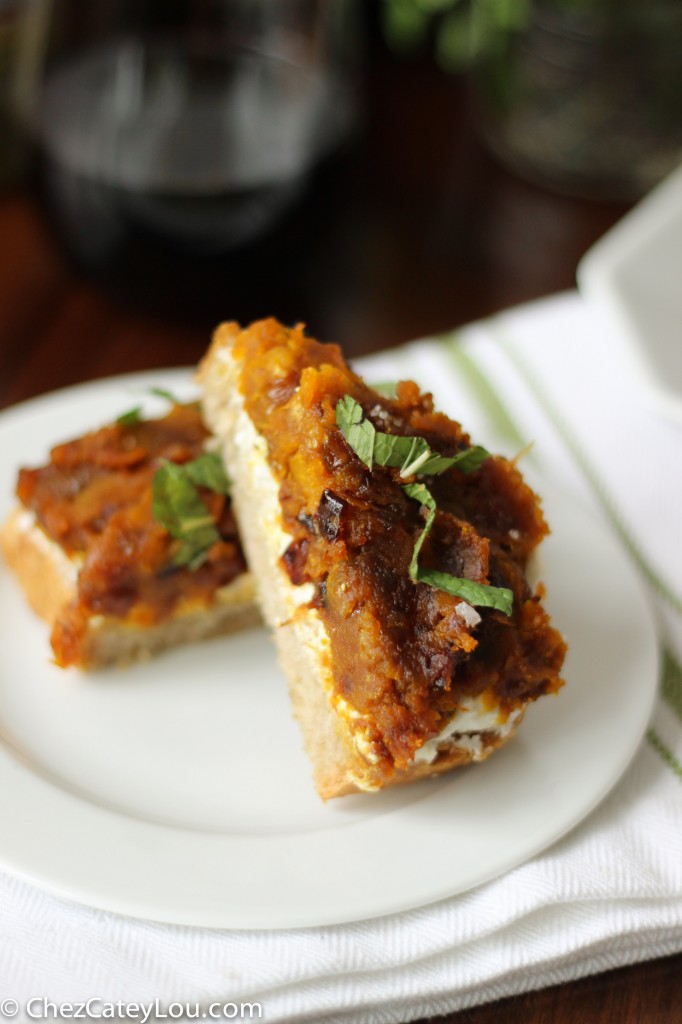 It is day two of Chez CateyLou's 1st birthday celebration! Yesterday we had a delicious chocolate cake with peanut butter frosting. Today, we are returning to where it all began – ChezCateyLou's very first post on the delicious squash toast at ABC Kitchen here in NYC.  And now, one year later, I am sharing the recipe with you so that you can make this amazing toast at home!  ABC Kitchen's squash toast is my absolute favorite dish that I've had at any restaurant, ever.  I'm literally obsessed and crave it weekly – it is kind of strange. We have been to ABC Kitchen several times this winter just to sit at the bar and eat squash toast.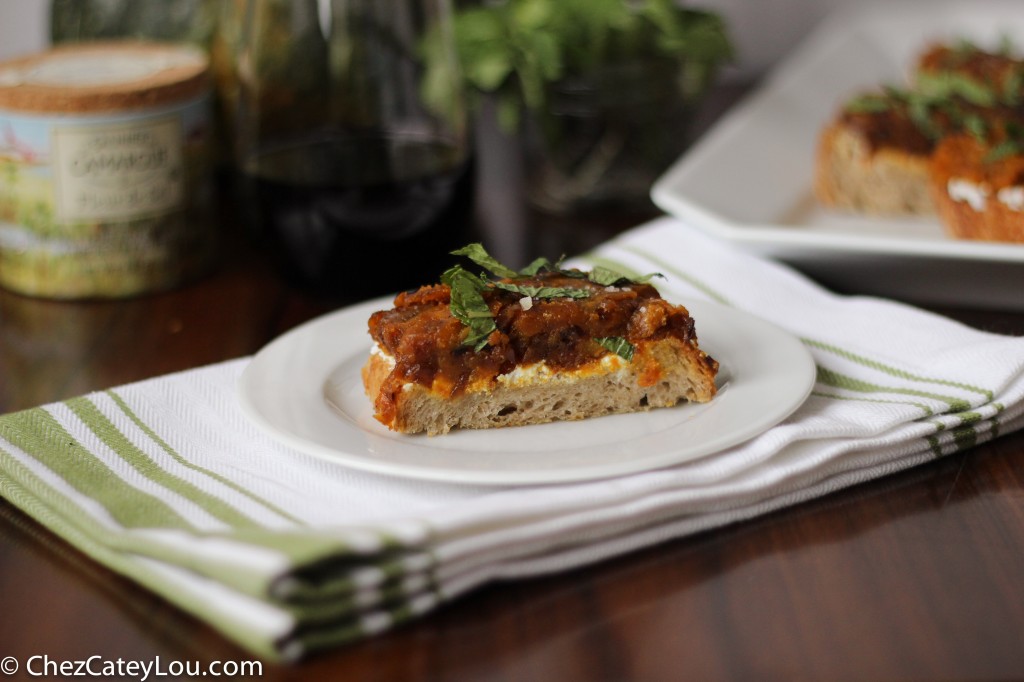 Now I am all about celebrating birthdays, so I'm totally fine with having a two day celebration, but I have to tell you that this was not the original plan. I had been thinking for a long time about how I wanted to celebrate CCL's birthday, and I thought squash toast would be really fun and would be a nice way to reflect on the past year.
So I started a loaf of no-knead bread on Friday night and planned to get up Saturday to buy Kabocha squash and make my toast. I've had a hard time finding Kabocha squash in the past, but I've never really looked THAT hard. So I figured if I put a little effort into it, I would be able to find this elusive squash. I mean, this is NYC after all – aren't you supposed to be able to find any food you want?  Well let me tell you, you can't.  TheBetterHalf and I have had way too many situations like this in the past – where you need a specific ingredient but just can't find it ANYWHERE (cake flour, Sambal Oelek, and Hershey's brand chocolate chips all come to mind). I literally went to 2 Whole Foods, 3 grocery stores, 2 specialty markets, and a produce shop. I called a Japanese market, Trader Joes, Fairway, Citerella….no one had Kabocha squash. So I gave up, and baked a cake instead. Not a bad tradeoff, so I was ok with it.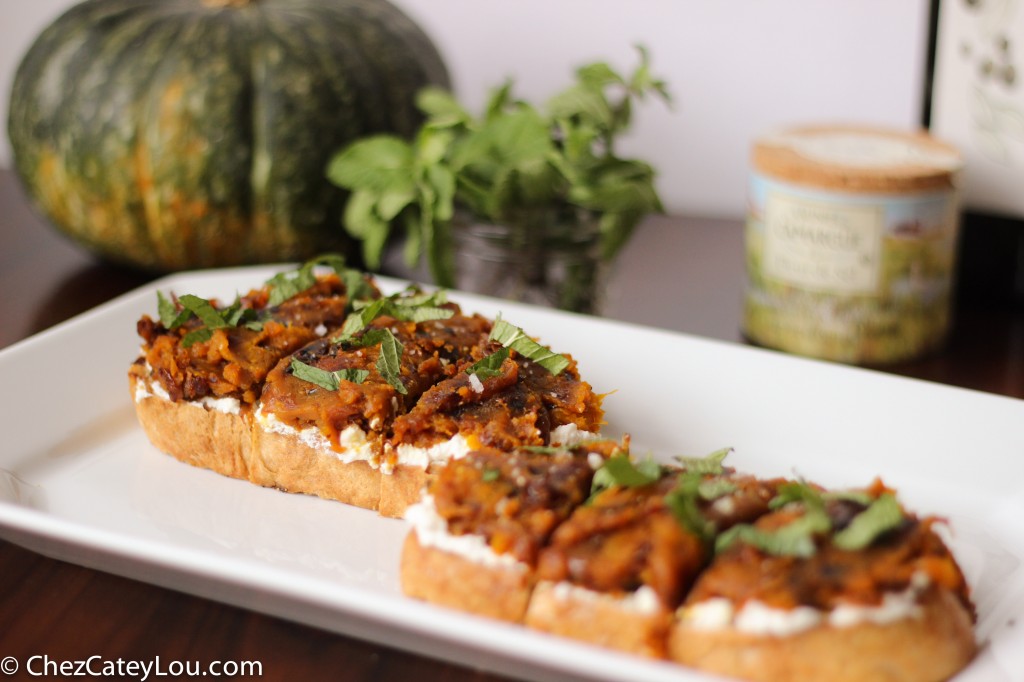 But then! After dinner on Saturday night, TheBetterHalf and I were walking around downtown and I made him stop into a random Asian market….and lo and behold, they had a small box of Kabocha squash. I think I actually screamed. I was SO excited. I wanted to buy all five, just because I figured I would never see Kabocha squash again.  TheBetterHalf talked me out of it so I settled on two. Victory.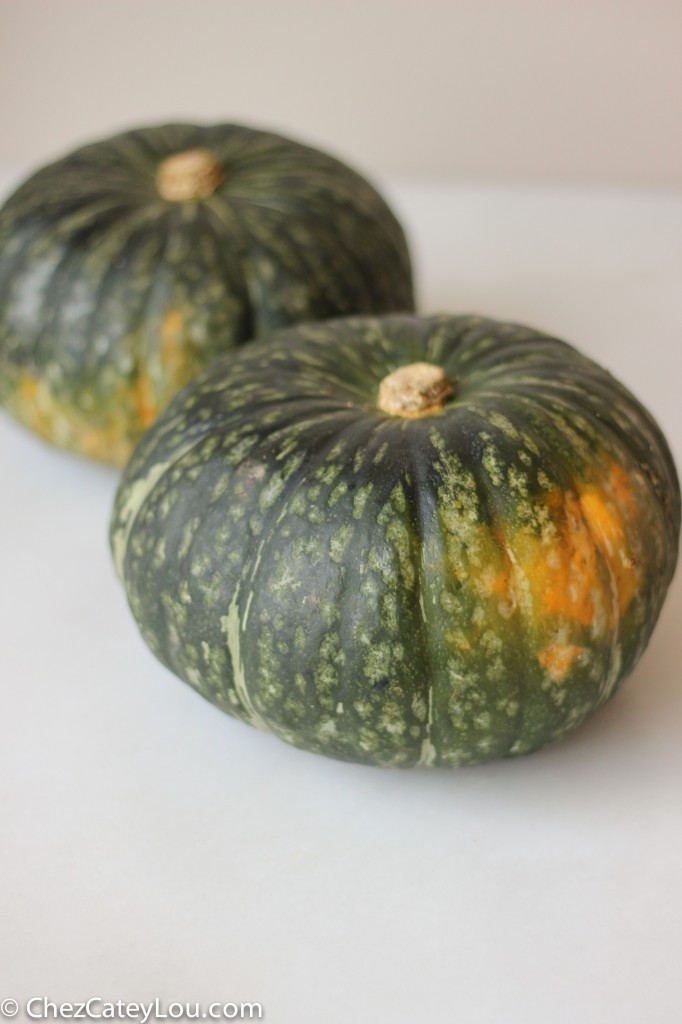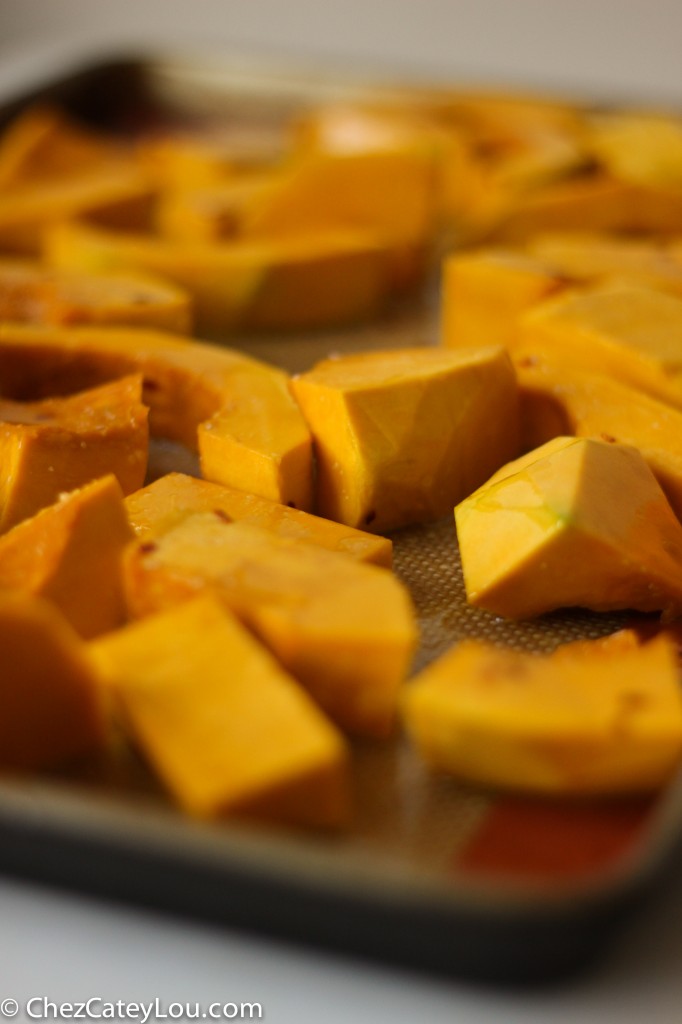 So after all that, how do you make squash toast? The key component is the squash mixture. You roast Kabocha squash with olive oil, salt, and red pepper flakes. At the same time, you caramelize some onions, and then toward the end of cooking mix in apple cider vinegar and maple syrup (or agave if you have a maple syrup aversion like I do! And yes, I realize that I claim to not like maple syrup and yet am obsessed with squash toast. I can't explain it.) The smell when you add the vinegar and syrup to the pan of caramelized onions is seriously unreal. TheBetterHalf wants a candle made out of it. Or cologne. Gosh we like food a lot.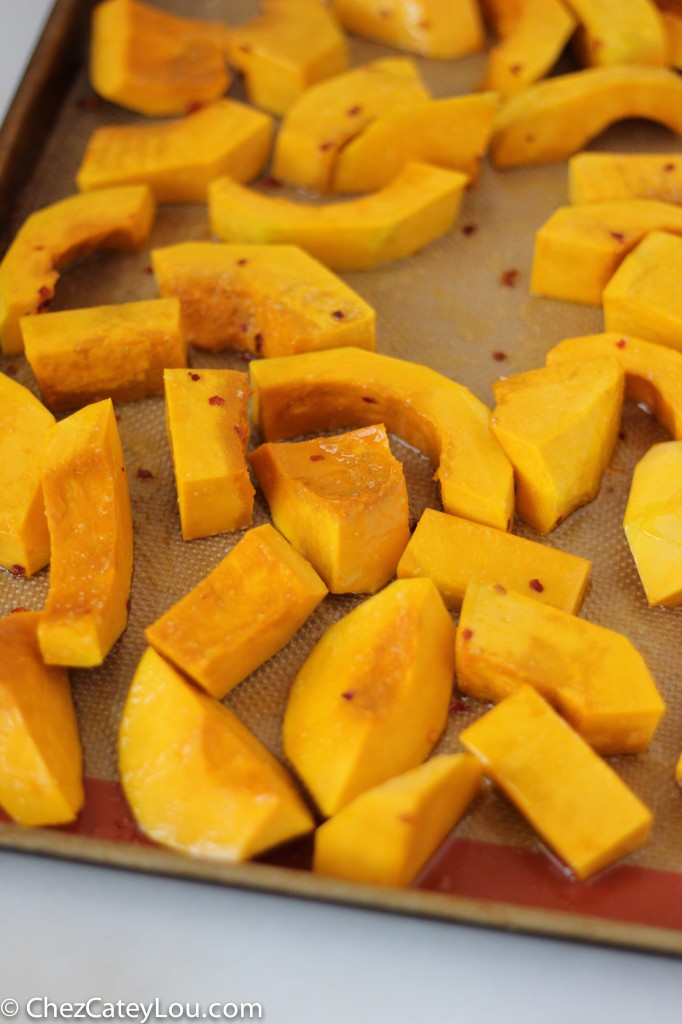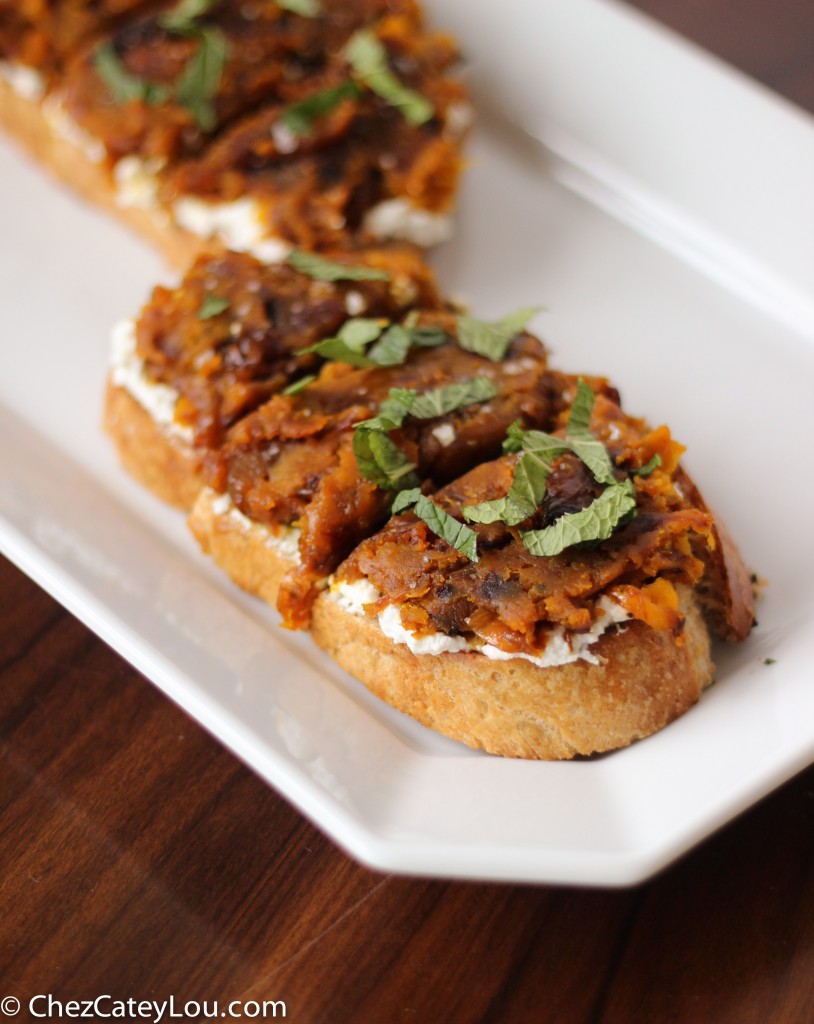 When the veggies are all cooked, you mix the squash with the onions. That mixture right there is gold. I could eat it plain, and in fact I did eat a lot of it plain!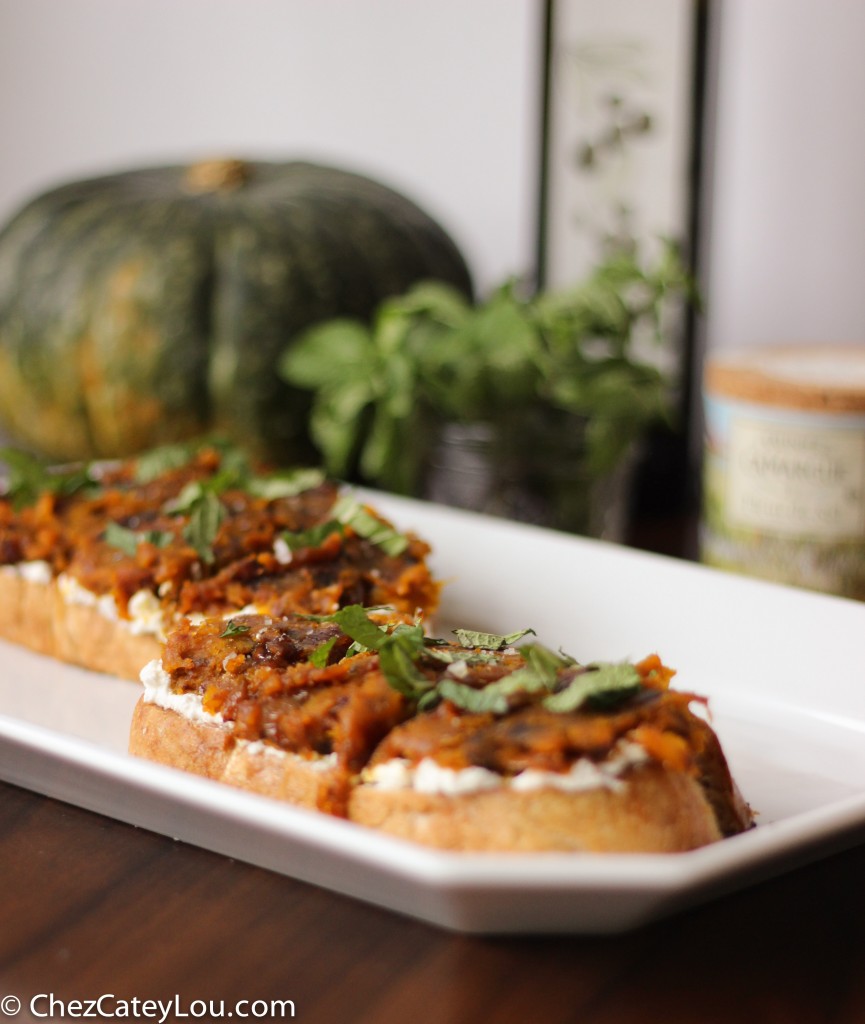 Now for the assembly of the toast. First you take a thick slice of a good, rustic bread and brown it in some olive oil. Spread it with a thin layer of ricotta cheese and then top that with a generous helping of the squash mixture – it should be warm, but not hot. Sprinkle some fresh mint on top and finish with sea salt and a drizzle of olive oil, then devour! Yes, there is a lot of olive oil involved in this recipe. There is a reason it tastes so good!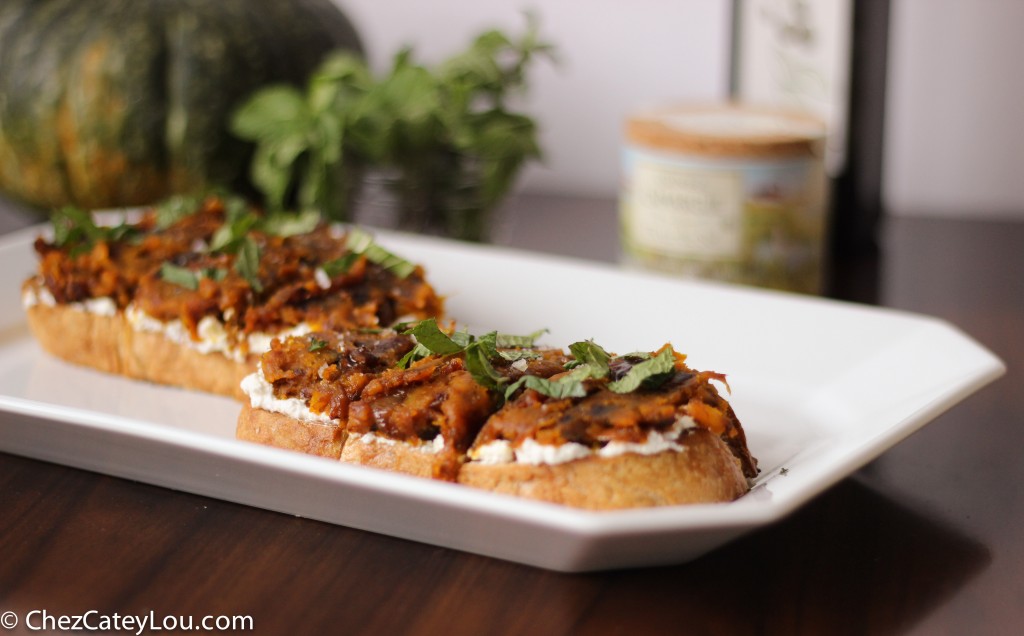 So was it worth all of the trouble of finding the squash?  Well to be perfectly honest, I think this would taste just as good with butternut or another type of squash.  The amazing addicting flavor actually comes from the onion mixture, not from the squash.  But I'm still glad I tried the real deal.  And now I will never have to do a search like that again!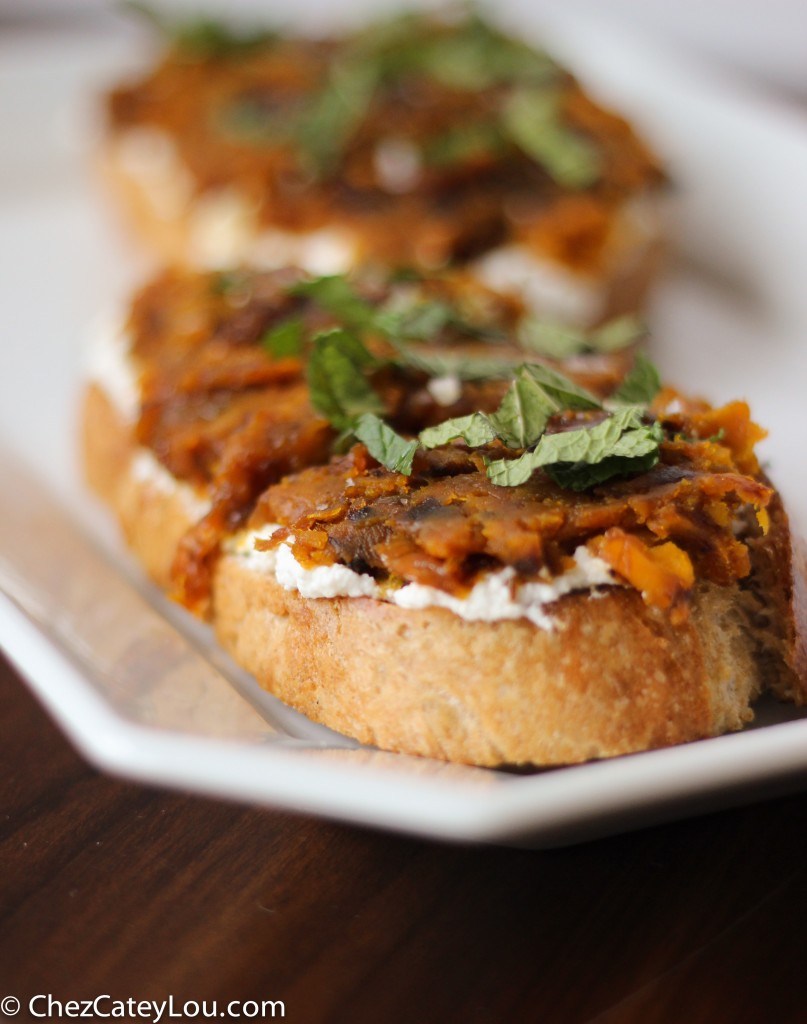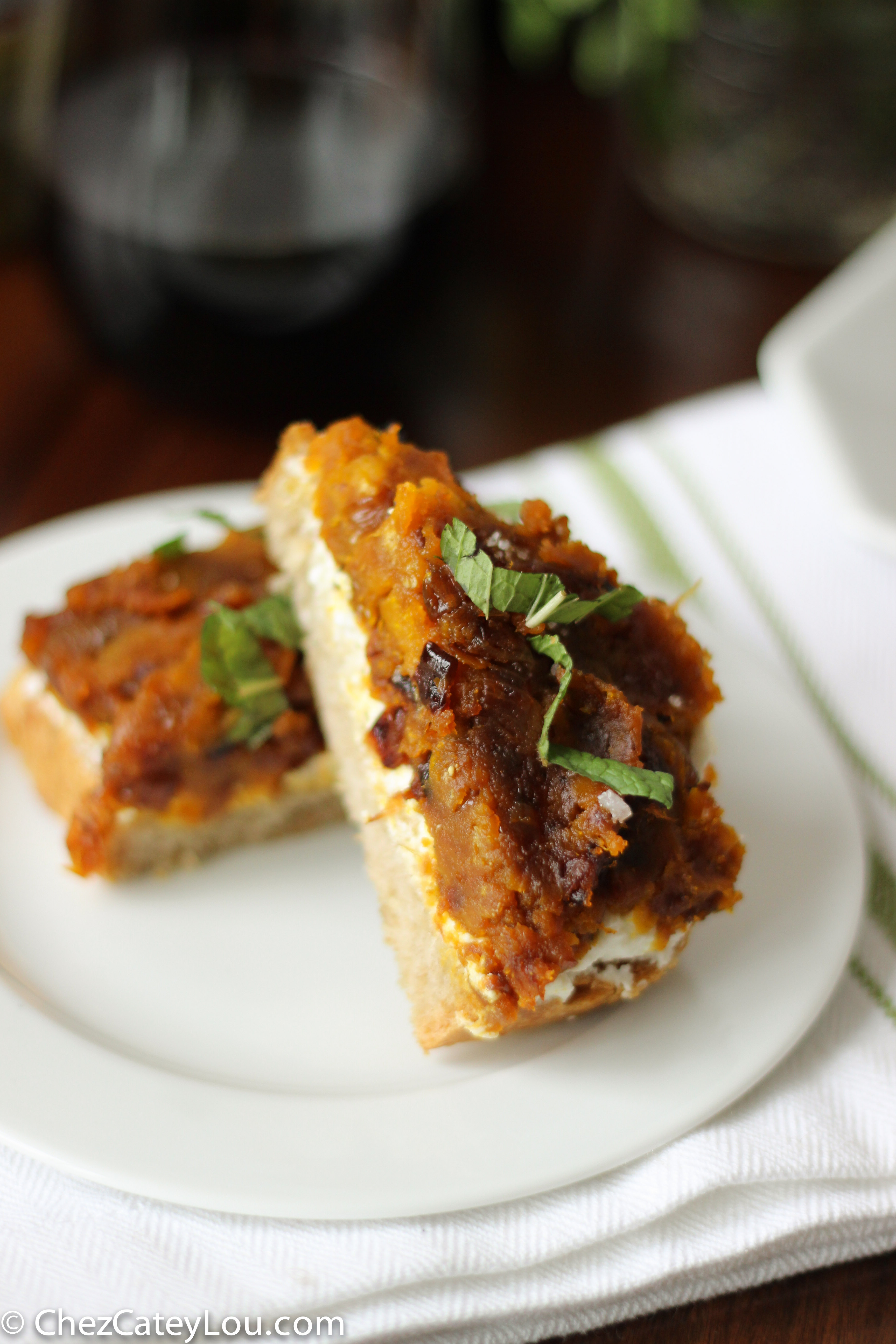 A recipe for the roasted Kabocha Squash Toast from ABC Kitchen in NYC. Now I can make my absolute favorite restaurant dish at home, and it is easy!
Ingredients
1 2 1/2- to 3-pound kabocha or other yellow-fleshed squash, peeled, seeded and cut into pieces 1/8- to 1/4-inch thick
3/4 cup extra-virgin olive oil
1/2 teaspoon dried chile flakes
3 teaspoons kosher salt
1 yellow onion, peeled and thinly sliced
1/4 cup apple cider vinegar
1/4 cup maple syrup or agave
4 slices country bread, 1-inch thick
1/2 cup ricotta cheese
Coarse salt
4 tablespoons chopped mint
Instructions
Preheat oven to 450 degrees F. Line a rimmed baking sheet with parchment paper or a silicone mat.
Combine the squash, 1/4 cup olive oil, chili flakes and 2 teaspoons of salt in a bowl and toss well.
Transfer the mixture to the prepared baking sheet and cook, stirring every few minutes, until tender and slightly colored, about 15 minutes or a little longer. Remove from the oven.
Meanwhile, heat another 1/4 cup olive oil in a skillet over medium-high heat. Add the onions and remaining teaspoon salt and cook, stirring frequently, until the onions are well softened and starting to brown, about 15 minutes. Add the vinegar and syrup, stir and continue cooking until the liquid is syrupy and the onions are broken down, about 15 minutes. The mixture should be jammy.
Combine the squash and onions in a bowl and smash with a fork until combined. Taste for seasoning.
Add the remaining oil to a skillet over medium-high heat. Add bread and cook until just golden on both sides, about 10 minutes total; drain on paper towels.
Spread cheese on toasts, then top with the squash-onion mixture. Sprinkle with coarse salt and garnish with mint. Drizzle with olive oil.
Notes
https://chezcateylou.com/abc-kitchens-kabocha-squash-toast/
© Chez CateyLou. All images & content are copyright protected. Please do not use my images without prior permission. If you want to republish this recipe, please re-write the recipe in your own words, or link back to this post for the recipe.
If you like squash, try these Butternut Squash Potstickers: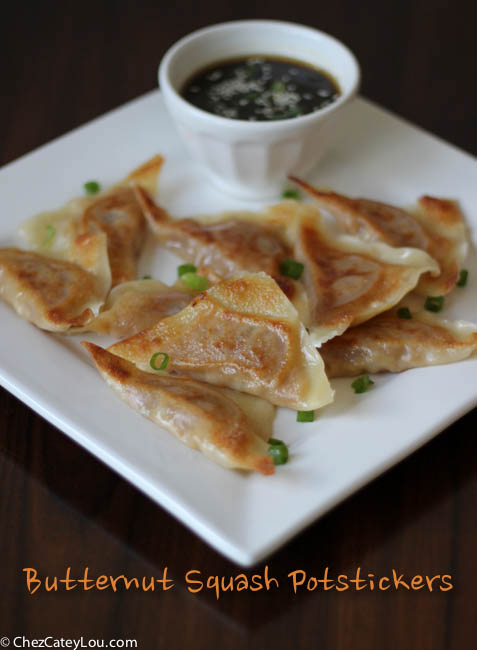 Also, squash toast goes great with this Creamy Tomato Orzo Soup: