These pumpkin waffles are crispy on the outside, light and fluffy on the inside, and full of delicious pumpkin flavor. Your house will smell like fall when you make these!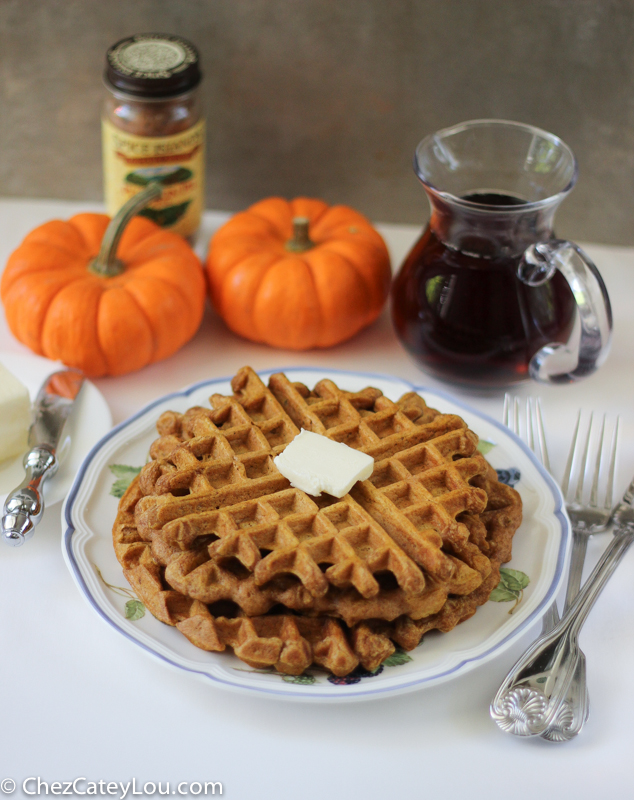 Welcome to day two of PUMPKIN WEEK!  In case you missed yesterday's post, I decided to make my own food holiday week and post 5 days of pumpkin recipes!  Once fall arrives, I want to eat all pumpkin, all the time – so I wanted to share my pumpkin love with you all week long.
Today, it is time for Pumpkin Waffles!  Talk about the perfect fall breakfast.  The smell when this waffle batter hits the hot waffle iron is incredible – they are so perfect for cozy fall weekends.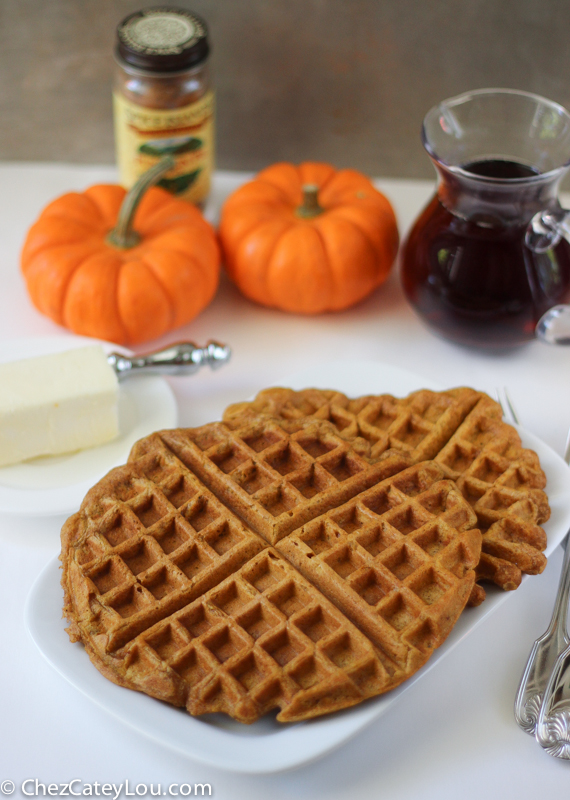 I've actually had this recipe ready for a few weeks. I made these waffles when I was in St. Louis at my parent's house. I don't have a waffle maker (or an ice cream maker, or a blender, or a large food processor…small NYC apartment, no room!) so I like to take advantage of these tools when I'm visiting my parents. The weather was just starting to feel like fall the weekend I was in town, so of course I knew I had to make Pumpkin Waffles!
These waffles are crispy on the outside but are airy and almost creamy on the inside – this is thanks to buttermilk and a whipped egg white. They give these waffles an amazing texture. And the pumpkin / cinnamon flavor is delicious! I'm not a syrup fan, so I ate these with butter and a little cinnamon sugar. So good!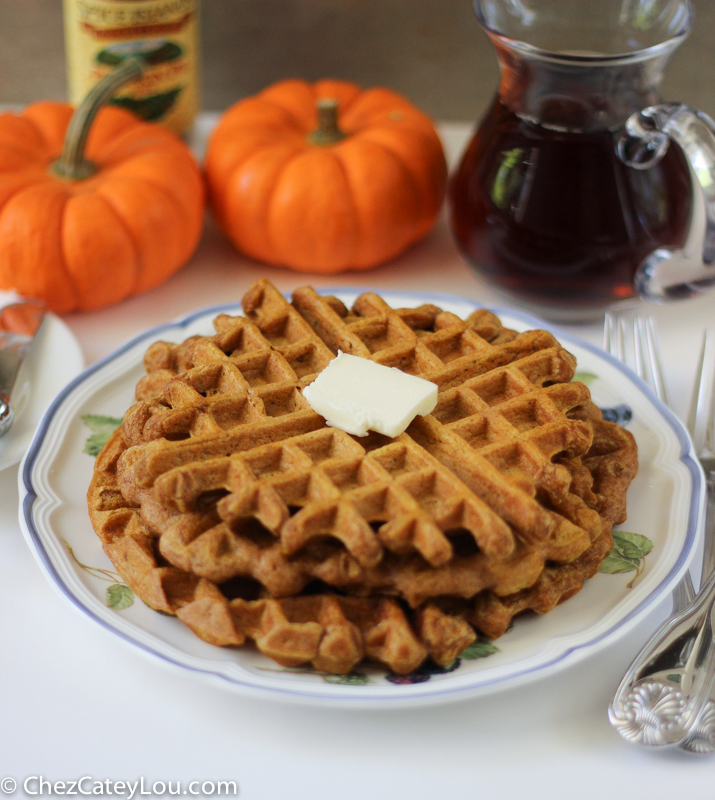 Ok also, I know most bloggers save behind the scenes photos for posts about Food Photography, but I just had to include this one below because it makes me laugh. Since I'm not used to shooting in my parent's house, it took me awhile to find the right lighting. It just so happened that the perfect lighting was on the kitchen floor by the back door. And I had a friend with me during the whole shoot…our family dog, Ally. I'm pretty sure she thought that I was crazy, sitting on the floor taking pictures of food. She was so good though, she never got closer to the waffles than she was in this picture.
And if anyone is grossed out by this whole scene, don't worry – I didn't serve this plate of waffles to anyone! (Though TheBetterHalf says this post only gets a B health rating…)
Also to any non food bloggers out there, this is pretty much what food photo shoots look like, at least for an amateur photographer like me! Random kitchen objects used for backgrounds, a light reflector made from aluminum foil, taken in whatever room has the best lighting…I hope you still like my blog now that you know how unglamorous my shoots are 🙂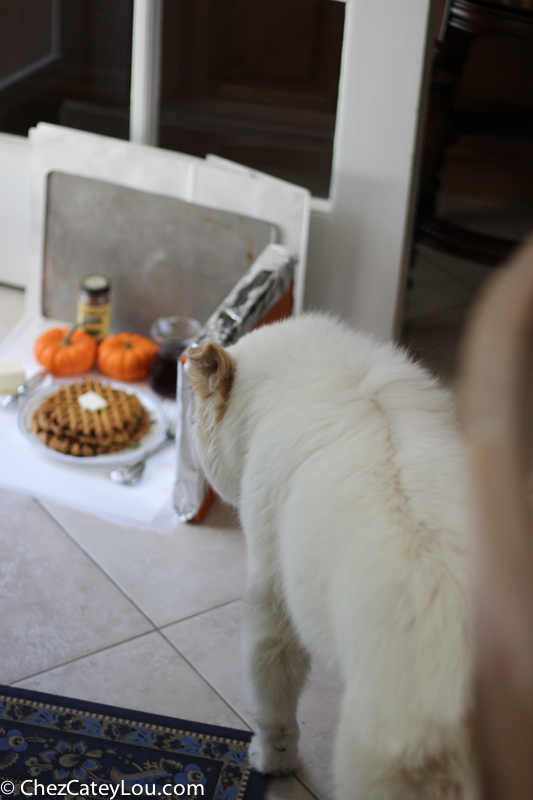 Stay tuned for more pumpkin goodness tomorrow! And if you can't get enough, check out my Twitter and Facebook for some other great pumpkin treats.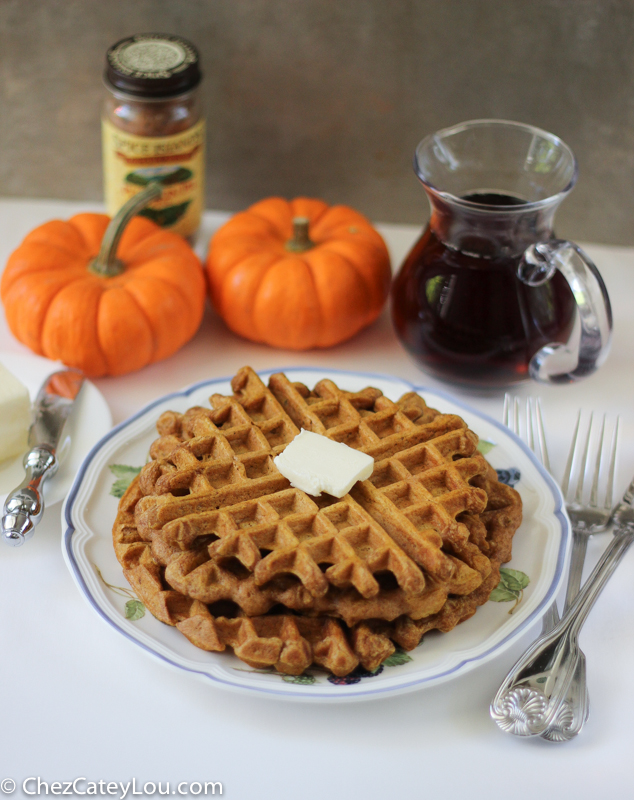 Ingredients
1 cup all-purpose flour
½ teaspoon salt
2 Tablespoons sugar
1 teaspoon baking soda
1 egg, separated
1/3 cup pumpkin puree
1/3 cup buttermilk
2 tablespoons unsalted butter, melted and cooled slightly
Instructions
Preheat waffle iron.
In a medium bowl, whisk together flour, salt, sugar, and baking soda.
In a separate bowl or glass measuring cup, whisk egg yolk with pumpkin, buttermilk and melted butter.
In another bowl, beat egg white until it just holds a stiff peak.
Slowly add pumpkin mixture to dry ingredients and gently mix with a rubber spatula as you are adding the wet to the dry. Do not overmix. Gently fold the egg whites into the batter.
Lightly grease waffle iron (if not non-stick) and spread batter onto waffle iron - use the amount specified by your waffle iron instructions. Cook 3 - 5 minutes, until golden brown. Serve immediately.
https://chezcateylou.com/pumpkin-waffles/
© Chez CateyLou. All images & content are copyright protected. Please do not use my images without prior permission. If you want to republish this recipe, please re-write the recipe in your own words, or link back to this post for the recipe.
Can't get enough pumpkin? Me neither!
Baked Pumpkin Donuts with Pecan Brown Butter Icing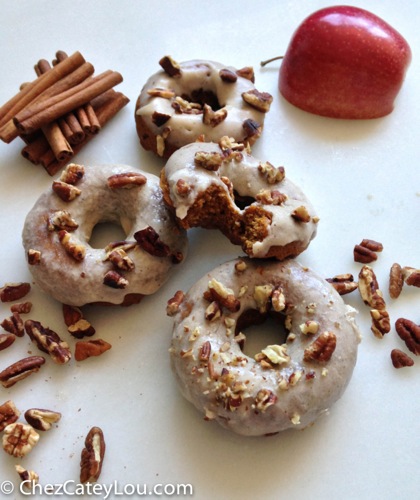 Mini Pumpkin Cinnamon Chip Muffins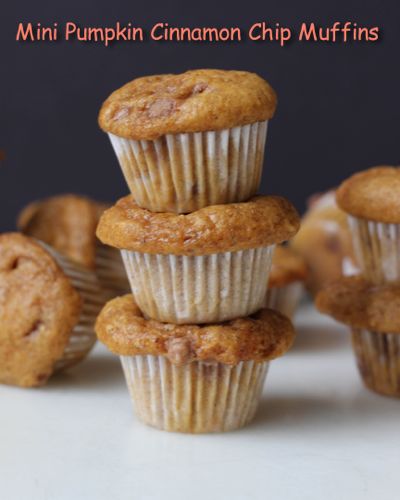 Connect with Chez CateyLou!