Fun and festive sprinkles are added to a classic chocolate chip cookie, making these delicious funfetti cookies perfect for St. Patrick's Day!
Good morning! Apparently it is National Pancake Day. I'm not sure how I missed that one – TheBetterHalf just emailed me to let me know! As the pancake queen, I'm kind of upset with myself for not knowing about this awesome holiday. I might have to eat a plate of these for dinner to make myself feel better. Or these. Or these.
So I don't have pancakes to share with you today, but at least I have the next best thing – cookies! I am on a roll with the St. Patrick's Day recipes. I just can't help myself – I will take any excuse I can to make fun and festive treats. I posted these Irish Cream Cheesecake Brownies the other day, and today I have St. Patrick's Day funfetti chocolate chip cookies for you!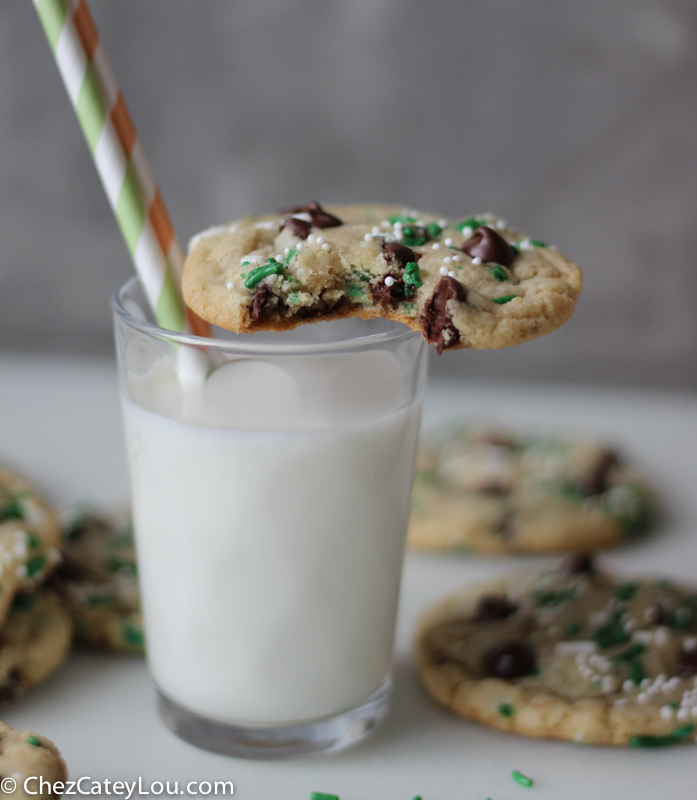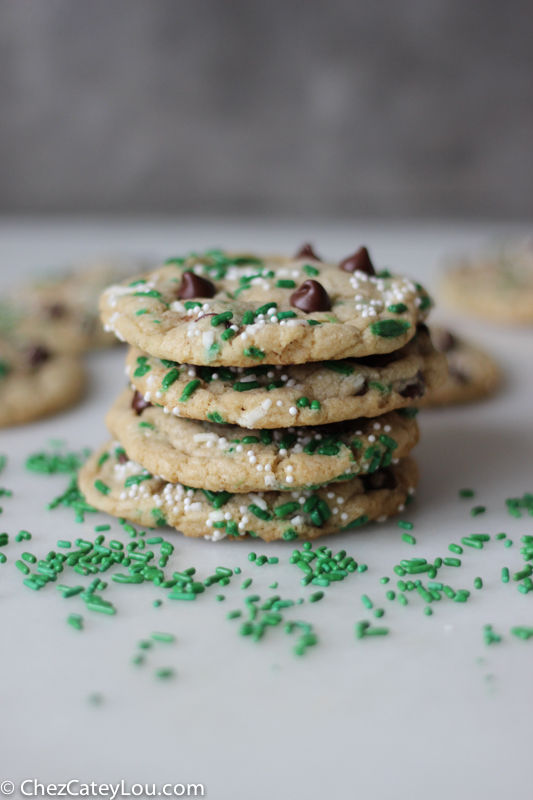 So the only St. Patrick's day thing about these cookies are the green and white sprinkles.  No Irish whiskey, no Guinness, no Lucky Charms.  These are really just classic chewy chocolate chip cookies, dressed up with some colorful sprinkles. But you know that that means? Even if you aren't into St. Patrick's Day, you can still make these. You can customize them for any holiday, or just use regular rainbow sprinkles. You could also leave the sprinkles out, but I'm not sure why you would want to do that. Everything looks prettier with sprinkles!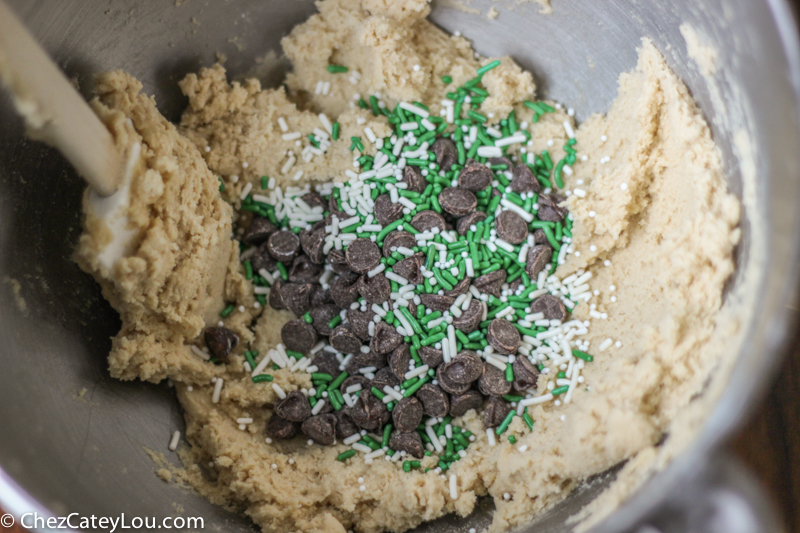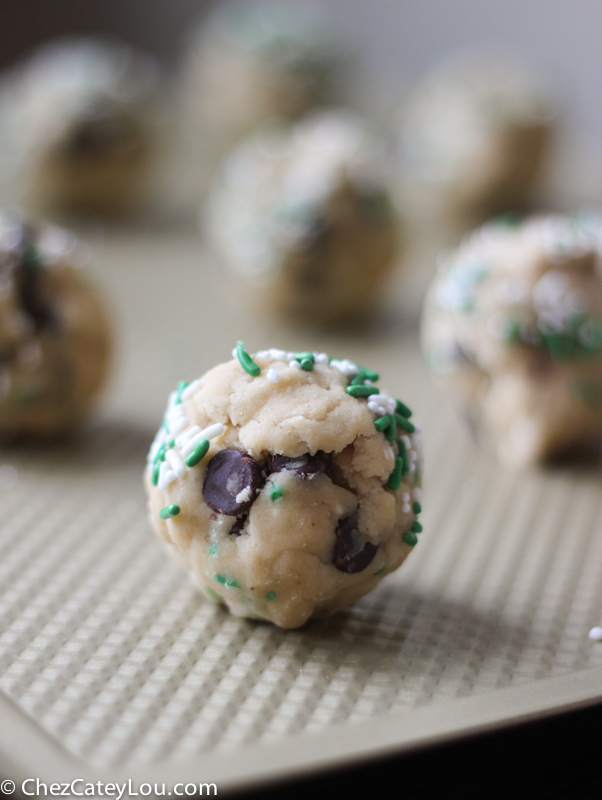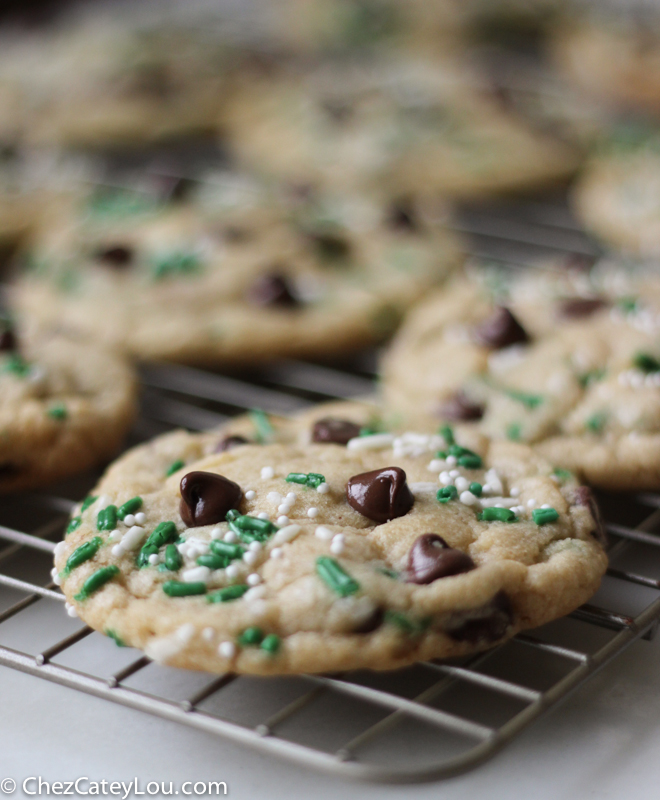 I have made quite a few types of chocolate chip cookies on Chez CateyLou. It is safe to say that they are our favorite type of cookie. I think this recipe and this recipe are tied for my absolute favorites, but I love trying out new recipes. So that's why I'm constantly looking for new variations or twists on our classic fave. And that's how I got the idea to add in some green and white sprinkles and turn chocolate chip cookies into St. Patrick's Day funfetti chocolate chip cookies!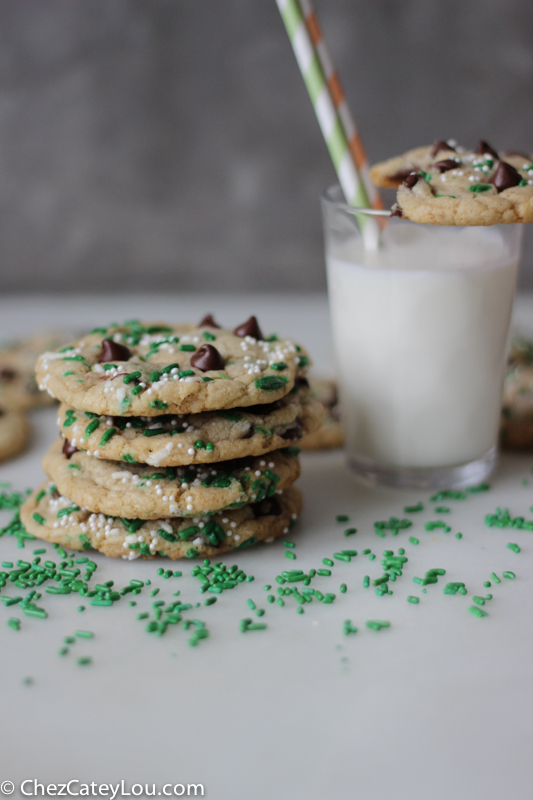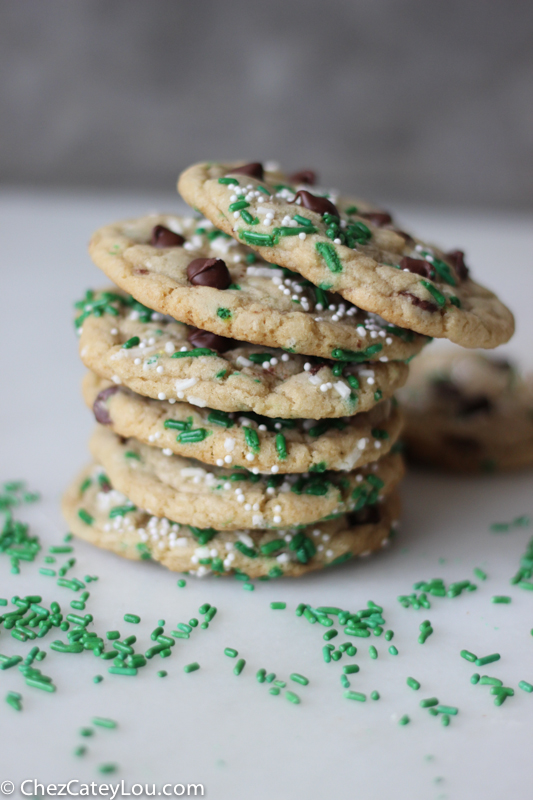 This cookie is slightly soft and chewy, my favorite texture in a chocolate chip cookie. I let the dough sit in the refrigerator for 24 hours before I baked the cookies – it really helps all the flavors combine and develop, and it gives the final cookie a better texture. However if you don't have the patience for that, these cookies will still taste pretty darn good if you bake them right away.
I also made these fairly large – about 2.5 tablespoons of dough in each cookie. This way, the edges are slightly crispy while the inside is super soft. Nothing beats that perfect chocolate chip cookie texture!
So whether you want to celebrate St. Patrick's Day or you are just looking for a great chocolate chip cookie, make these funfetti cookies! They are so good and so festive.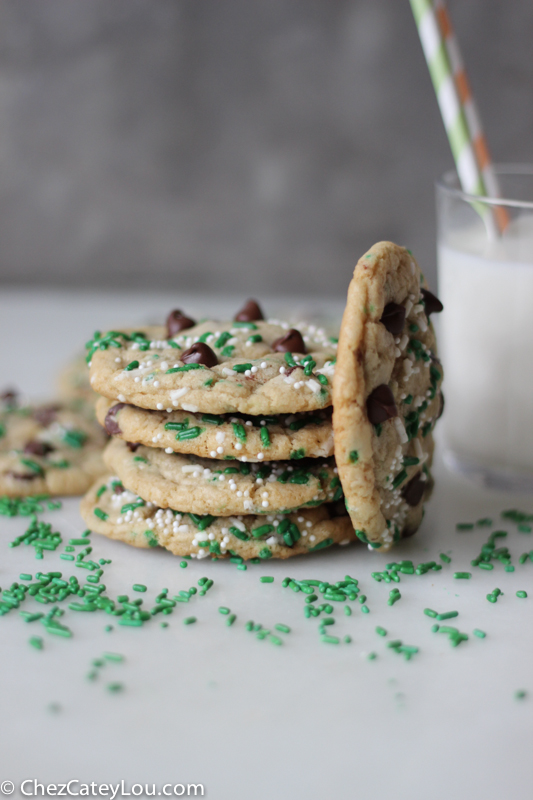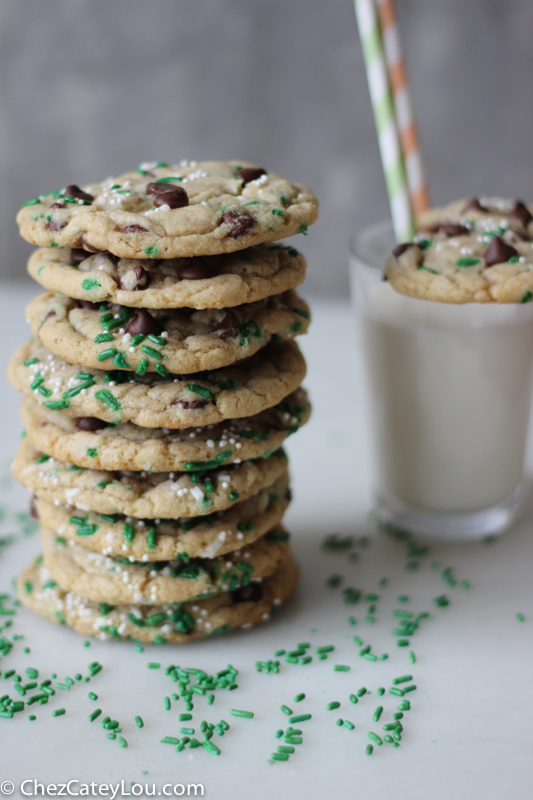 St. Patrick's Day Funfetti Chocolate Chip Cookies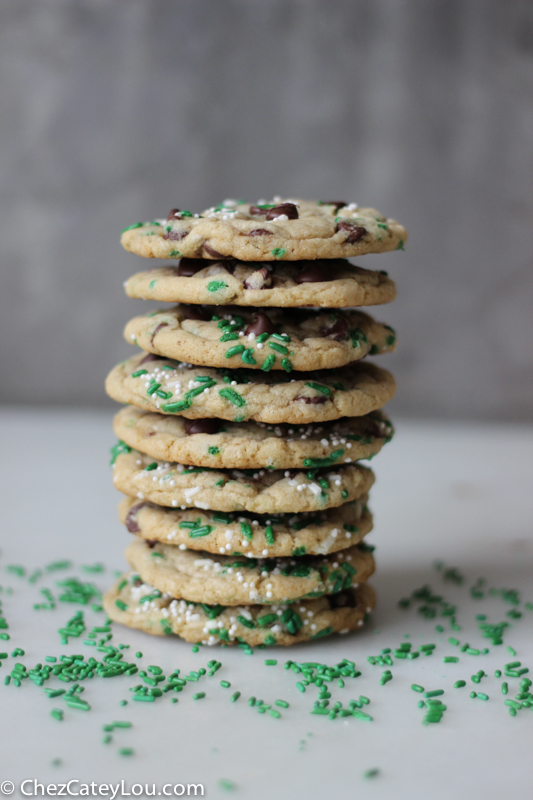 Fun and festive sprinkles are added to a classic chocolate chip cookie, making these delicious funfetti cookies perfect for St. Patrick's Day!
Ingredients
1 ¼ cups all purpose flour
½ teaspoon baking soda
½ teaspoon salt
1 stick unsalted butter, at room temperature
½ cup brown sugar
½ cup granulated sugar
1 large egg
½ teaspoon vanilla
½ cup chocolate chips
½ cup sprinkles, plus extra for topping
Instructions
In a medium bowl, sift together the flour, baking soda, and salt.
In a large bowl, cream together butter and sugars until light and fluffy. Add in the egg and mix until fully incorporated. Stir in the vanilla.
Add the dry ingredients to the wet ingredients and mix until combined. Stir in the sprinkles and chocolate chips.
Cover the dough, and chill for 24 - 48 hours.
Preheat oven to 350 degrees F.
Form the dough into large balls, about 2.5 tablespoons each, and space a few inches apart on a cookie sheet. If desired, roll the top of the dough balls in extra sprinkles.
Bake for 10 - 12 minutes, until the cookies are slightly golden brown on the edges but are still soft in the centers. Let cool on the cookie sheet for 3 minutes, then transfer to a wire rack to cool completely.
https://chezcateylou.com/st-patricks-day-funfetti-chocolate-chip-cookies/
© Chez CateyLou. All images & content are copyright protected. Please do not use my images without prior permission. If you want to republish this recipe, please re-write the recipe in your own words, or link back to this post for the recipe.
Need some non St. Patrick's Day sprinkles?
Brown Butter Baked Donuts with Chocolate Icing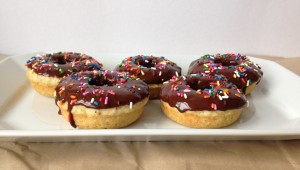 Cake Batter Chocolate Chip Cookies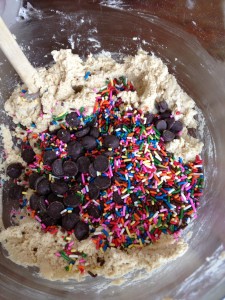 Funfetti Sugar Cookies