Salted caramel and chocolate chips top a buttery oatmeal cookie crust and a crumble topping is the finishing touch – these easy oatmeal bars are so good!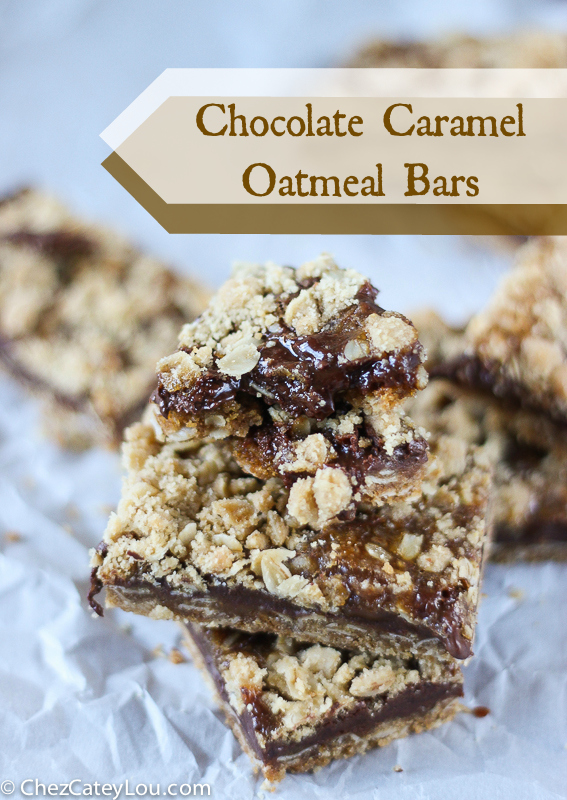 Can you handle the ooey-gooeyness of these chocolate caramel oatmeal bars?? I really can't – I want to eat that entire stack right now! And if you cheat and use store-bought caramel, these bars are so simple to make. And yes, I did cheat…I know that I'm a food blogger and should be making everything from scratch, but you can get such delicious caramel sauce in jars that I figured I would take a shortcut. And you really can't tell a difference – these are delicious!!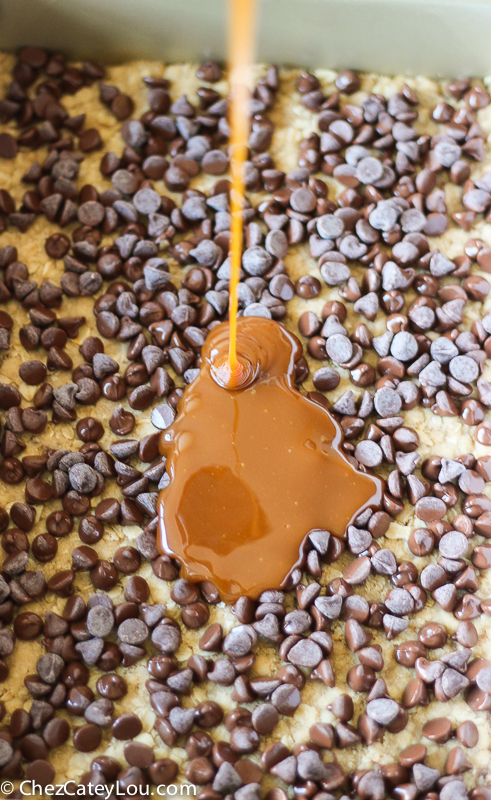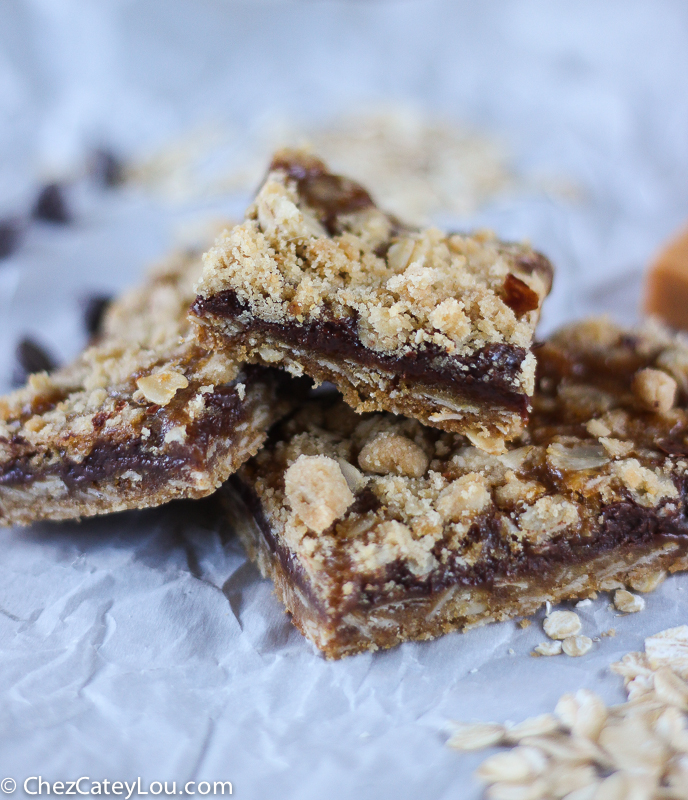 I love quick and easy dessert recipes like this one! Baking is my passion, but since I work full-time, I just don't always have the time to be whipping up complicated or time consuming treats.  And that's when bar recipes can save the day. They come together so quickly, then you throw them in the oven and that's it! So simple, and so delicious.
These oatmeal bars start with an oatmeal cookie crust that you just press into the pan. Then the crust is topped with chocolate chips and caramel sauce, and the bars are finished with some of the crust mixture crumbled on top.  The crust is like an extra buttery oatmeal cookie, and the chocolate chips and caramel combine to make the most gooey and flavorful filling.  I like to think that since there is oatmeal in these bars, that they are kind of healthy! I know that's a lie, but since we ate these for breakfast, I'm going to choose to believe the lie…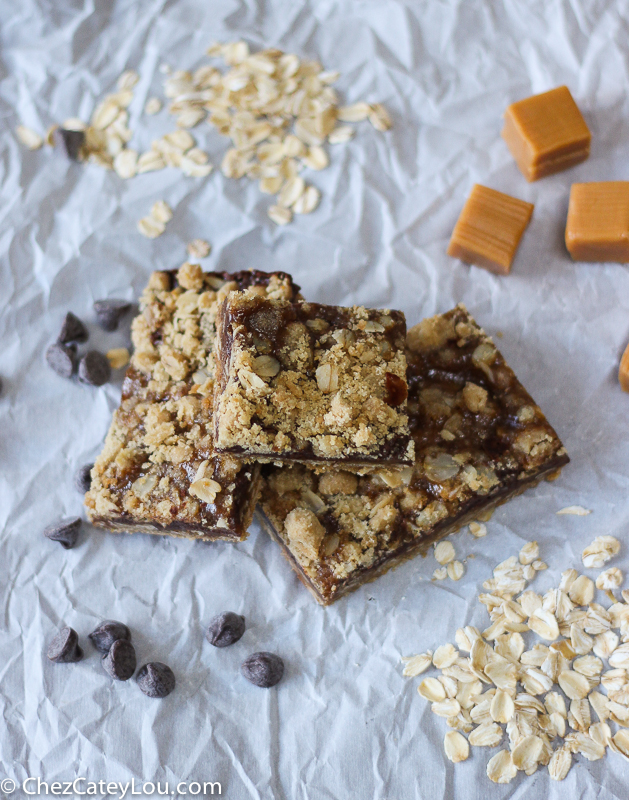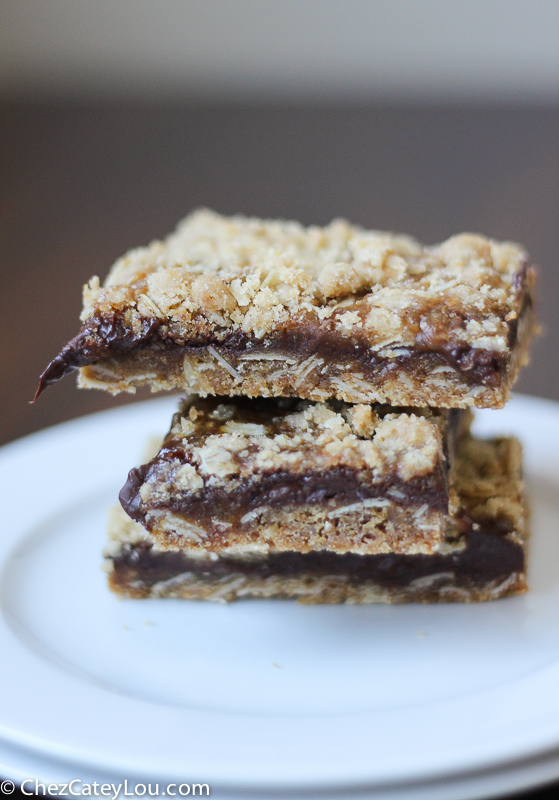 Chocolate Caramel Oatmeal Bars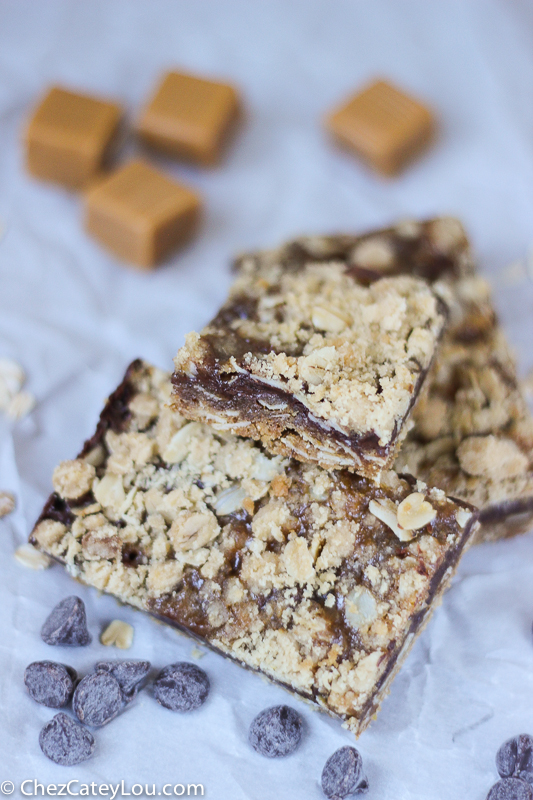 Salted caramel and chocolate chips top a buttery oatmeal cookie crust and a crumble topping is the finishing touch - these easy oatmeal bars are so good!
Ingredients
1 1/2 cup all purpose flour
1 1/3 cup rolled oats
1 cup brown sugar
3/4 teaspoon baking soda
1/2 teaspoon salt
9 tablespoons salted butter, melted and slightly cooled
12 ounces semisweet chocolate chips
1 (10oz) jar caramel sauce (I used Trader Joe's Fleur de Sel Caramel Sauce)
Instructions
Preheat the oven to 350 degrees. Lightly spray a 9x13 inch baking dish with nonstick cooking spray.
Add the flour, oats, brown sugar, baking soda, and salt to a large mixing bowl and mix to combine. Pour the melted butter on top and stir together until a soft, slightly crumbly dough forms.
Press 3/4 of the dough into the baking dish, and set the remaining 1/4 aside for topping. Bake the crust for 13 minutes, or until the top is barely golden brown.
Microwave the caramel sauce for about 30 - 45 seconds, until it is smooth and pourable.
Sprinkle chocolate chips over the baked crust, and then pour the caramel sauce over the chocolate chips. Crumble the remaining dough with your fingers (add a little more flour if it's not crumbly enough) and sprinkle over the top of the caramel mixture. Bake for another 15-20 minutes, until the top layer is golden brown. Let the bars rest for several hours or until the bars are cooled.
Notes
https://chezcateylou.com/chocolate-caramel-oatmeal-bars/
© Chez CateyLou. All images & content are copyright protected. Please do not use my images without prior permission. If you want to republish this recipe, please re-write the recipe in your own words, or link back to this post for the recipe.
Follow Chez CateyLou around the internet!
Pinterest | Instagram | Stumble Upon
Can't get enough caramel!
Caramel Stuffed Red Velvet Chocolate Chip Cookies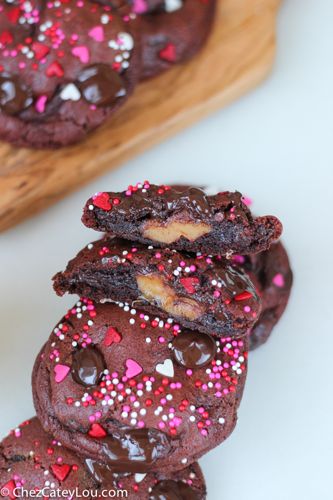 Salted Caramel Stuffed Chocolate Cookies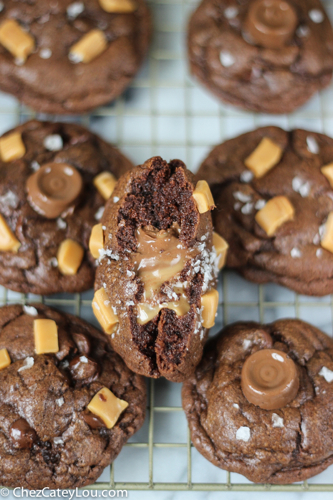 Salted Caramel Chocolate Chip Cookie Bars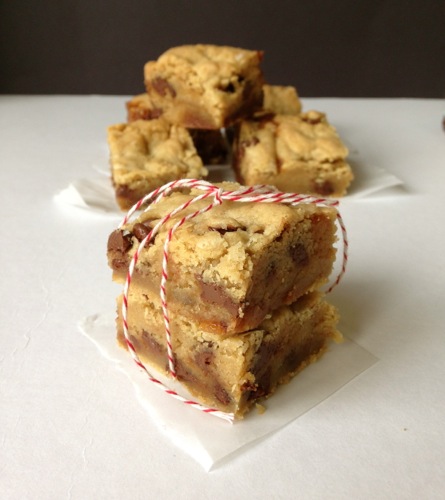 Salted Caramel Brownies