Pair Skinny Nut™In-Shell Pistachios with Greek yogurt, blackberries, and green tea for a healthy and filling snack that is absolutely delicious!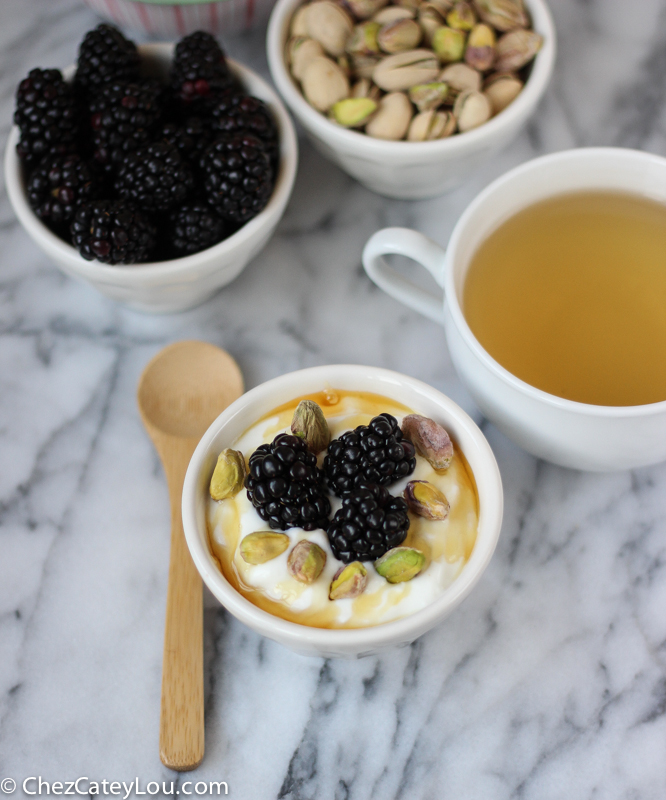 If you've spent any amount of time with me, you know I love my snacks! I seriously can't go two hours without snacking on something. But when you snack as much as I do, the key is to keep the snacks healthy and  nutritionally balanced. That's why one of my favorite snacks to reach for are pistachios! They are a great way to get a salty, crunchy fix while sticking with a healthy diet.
Plus, pistachios pair so well with other foods to create perfect snacks or mini-meals. One of my favorite pairings is pistachios with Greek yogurt, blackberries, and green tea to drink. This is literally the perfect snack –  protein from the yogurt, a little healthy fat (plus protein and fiber) from the pistachios, vitamins and fiber from the berries, and antioxidants from the green tea. Talk about a power snack! And filling too. I add a small drizzle of honey too since I like things sweet!
Scroll to the bottom of the post for a chance to win a year's supply of pistachios!
…