The ultimate baked chocolate donut, these Brooklyn Blackout Donuts are based off a popular breakfast treat from NYC's Donut Plant.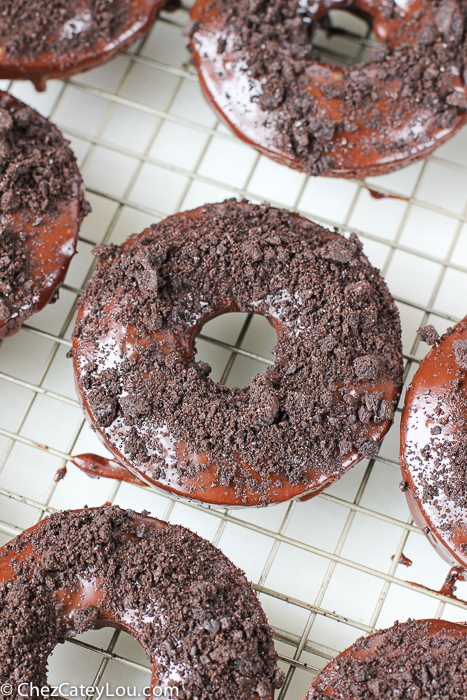 I've mentioned this before, but one of the most concerning things to happen to me in the first trimester was not the constant nausea or fatigue…it was the loss of my sweet tooth! Honestly, desserts are one of my favorite things ever, so to just have no interest in eating anything sweet was the most bizarre thing ever. I wondered if it would be like that forever. And then one day, TheBetterHalf and I were in our local market, and something sweet actually sounded appealing to me…a Brooklyn Blackout Donut from the Donut Plant!!! It was like a light at the end of the first trimester tunnel.
Then for about 5 days in a row, I had to have that donut. Which was problematic when the store was out of it and I then had to go to every local coffee shop that serves Donut Plant donuts to find one…making me late for work…but it was totally necessary. After about the fifth day I decided that I probably shouldn't be eating fried donuts every morning, so I thought it would be really fun to create a baked version! These are just as moist and chocolatey as the real thing, but are much lighter.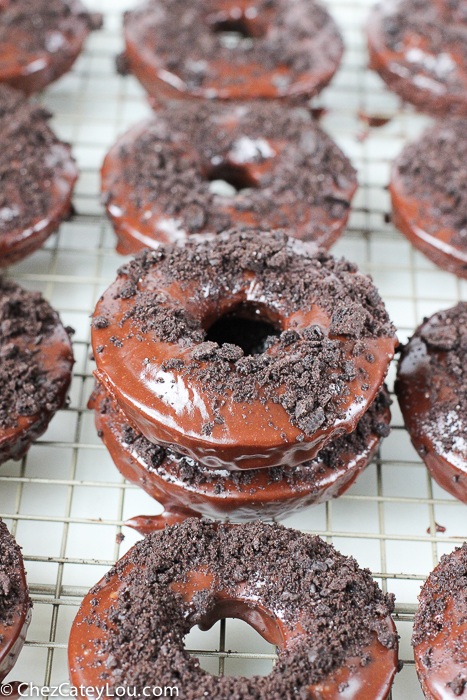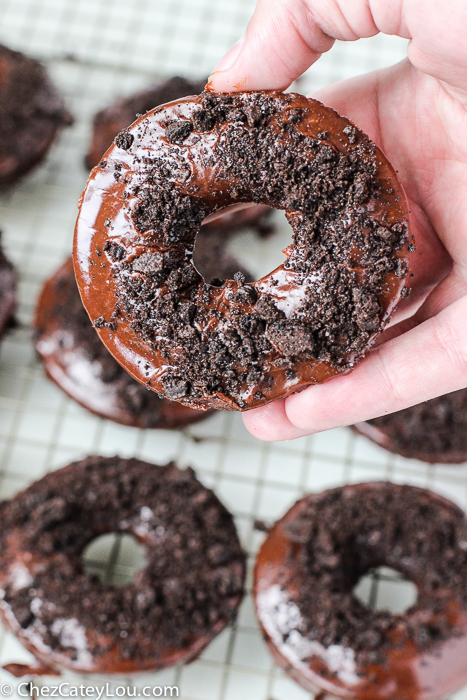 The true Brooklyn Blackout donut has chocolate pudding injected into the donut – I decided to skip that step because these donuts are super moist even without the added pudding.  I stirred some mini chocolate chips into the batter instead to get the extra chocolate kick.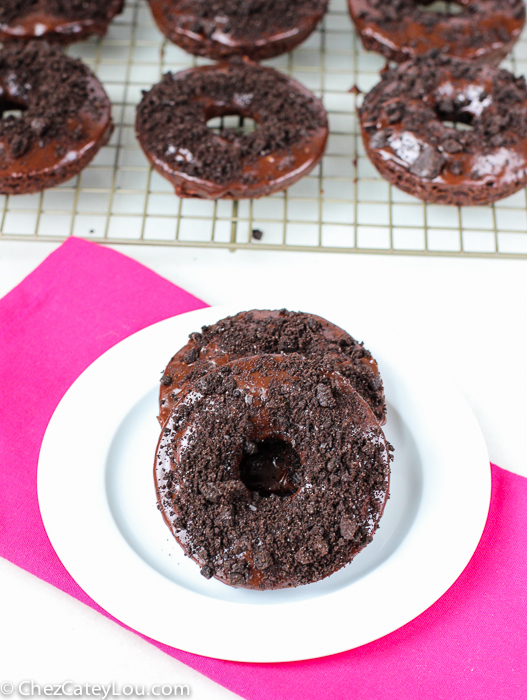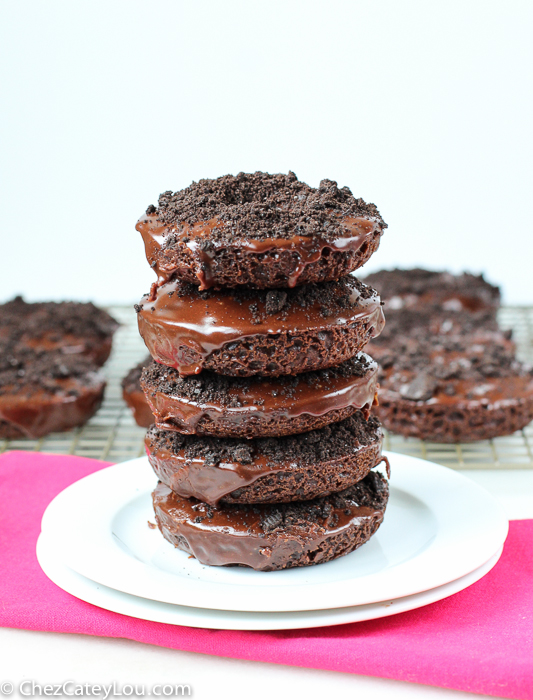 And in case you were wondering, the Brooklyn Blackout Donuts craving passed long ago. My pregnancy cravings have been very fleeting. For the most part I'll NEED to have something – then I will eat it once or twice, and then I won't want to eat it ever again. Ah the joys of pregnancy ☺ But I'm happy to have this recipe in my arsenal so that if the craving strikes, I am ready, and don't need to trek all over the city to find one!
PS – No bump yet in this picture (taken AGES ago it feels like!) but I love that I know my sweet little baby is in there.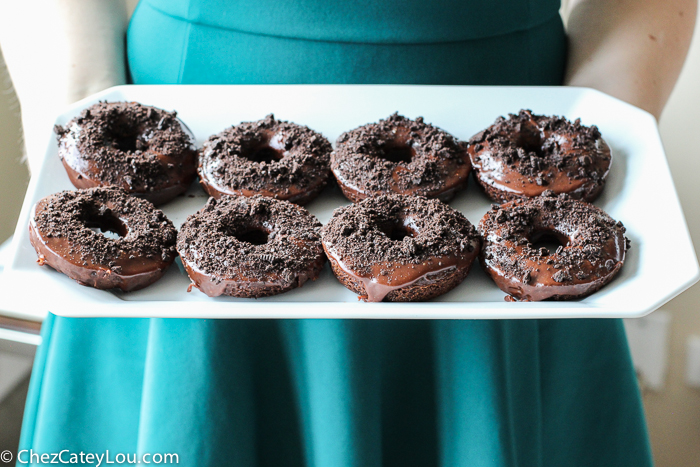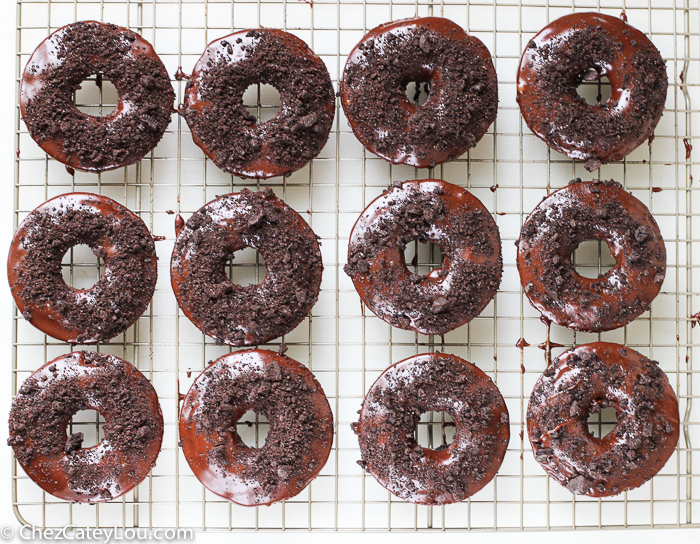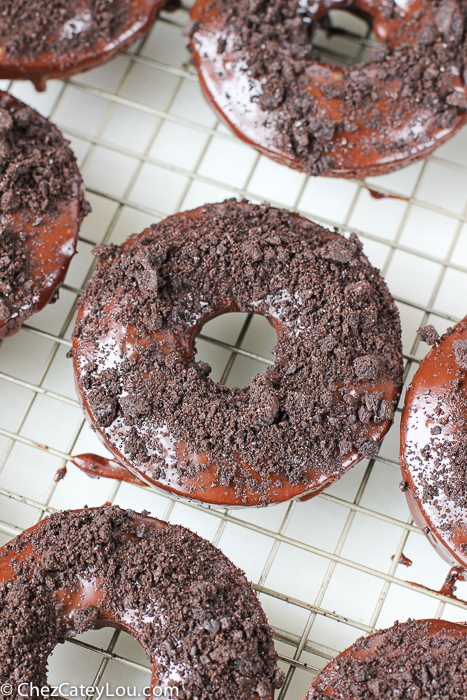 The ultimate baked chocolate donut, these Brooklyn Blackout Donuts are based off a popular breakfast treat from NYC's Donut Plant.
Ingredients
For the Donut

1 cup flour
1/3 cup cocoa powder
1/2 teaspoon baking soda
1/4 teaspoon salt
1/4 cup white sugar
1/4 cup light brown sugar
3 Tablespoons vegetable oil
1 large egg
1/2 cup buttermilk
1/2 teaspoon vanilla
1/4 cup mini chocolate chips

For the Icing

4 Tablespoons butter
3 Tablespoons milk
1 Tablespoon corn syrup
3 oz bittersweet chocolate, chopped
1 teaspoon vanilla
1 cup powdered sugar
Crumbled chocolate cookies, for topping
Instructions
For the Donuts

Preheat oven to 325 degrees F. Grease two six-count donut pans with nonstick cooking spray.
In a medium bowl, whisk together flour, cocoa powder, baking soda, and salt. In a separate medium bowl, whisk together sugars, oil, and egg until very well combined. Add the buttermilk and vanilla and whisk to combine. Add the dry ingredients to the wet ingredients and stir until just combined. Stir in the mini chocolate chips.
Spoon the batter into the donut pan, filling each cavity about half full. Bake for 6 - 8 minutes, until donuts are just cooked through. Allow to cool in the pan for a minute, then turn out onto a wire rack.

For the Icing

In a small saucepan, add the butter, milk, corn syrup, and chocolate. Turn on low heat, and stir until chocolate is melted and all ingredients are combined. Turn off heat and stir in vanilla, then whisk in powdered sugar.
Cover the top of each donut with the icing, then sprinkle with the cookie crumbs. If the icing sets before you are finished icing all the donuts, you can put it back on the heat for a minute or so.
https://chezcateylou.com/brooklyn-blackout-donuts/
© Chez CateyLou. All images & content are copyright protected. Please do not use my images without prior permission. If you want to republish this recipe, please re-write the recipe in your own words, or link back to this post for the recipe.
Follow Chez CateyLou around the internet!
Pinterest | Instagram | Stumble Upon
More chocolate donut deliciousness!
Double Chocolate Pistachio Donuts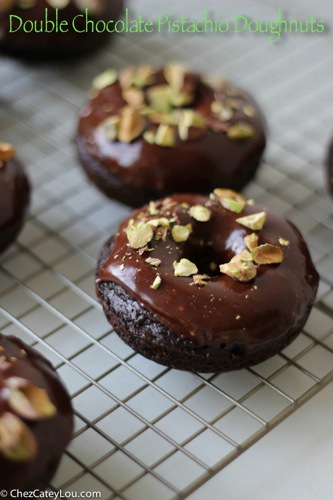 Chocolate Donuts with Peanut Butter Frosting