Light and fluffy baked donuts are decorated to look like pieces of candy corn. These Candy Corn Donuts are the perfect Halloween breakfast!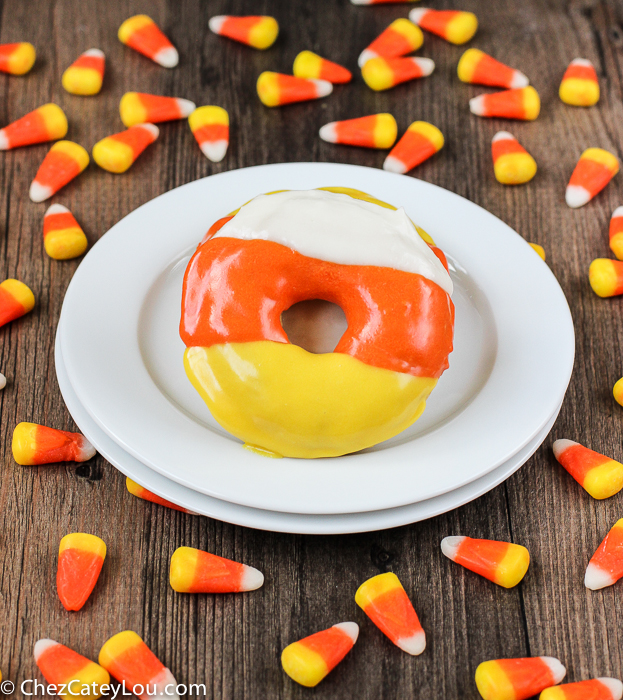 Wow, the fall really got away from me! I blinked and all of a sudden it has been a month since I last posted! To all my dear readers, I am very sorry – but I have a good reason that I will be sharing with you soon. But for now, at least I'm back with a really fun seasonal recipe just in time for Halloween – Candy Corn Donuts! I think these are some of the cutest donuts I have ever made. They are absolutely perfect for Halloween breakfast or for a Halloween party spread!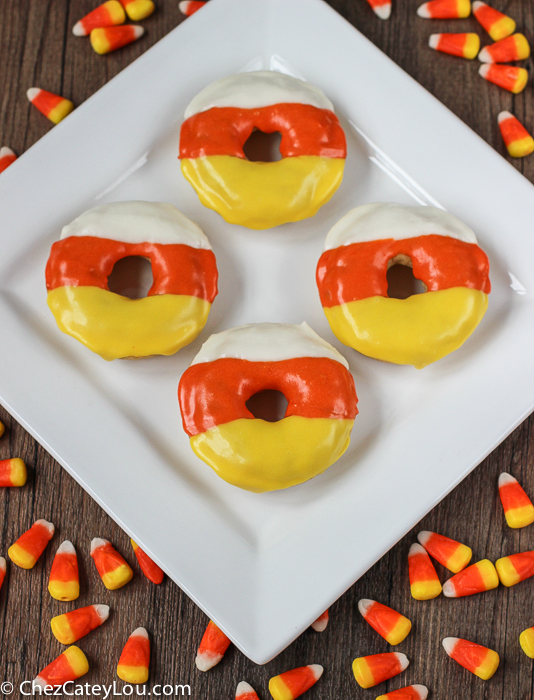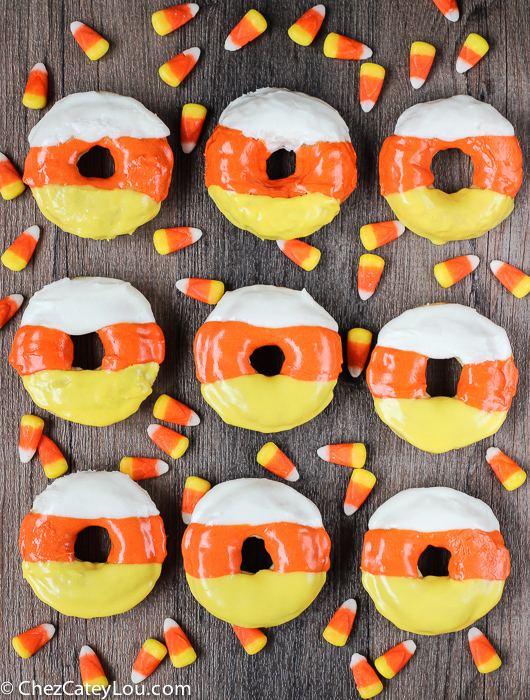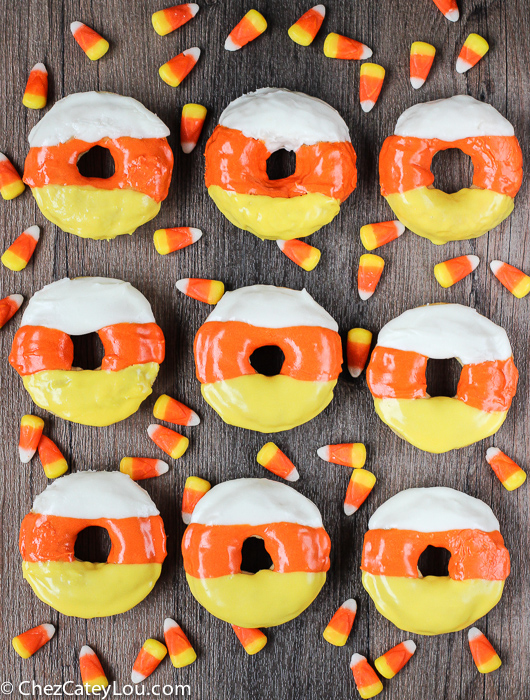 I first shared this recipe over on my friend Christine's blog. She is hosting a month-long Halloween extravaganza, and I was so excited to join in the fun. If you are looking for any Halloween food or craft ideas, she has you covered!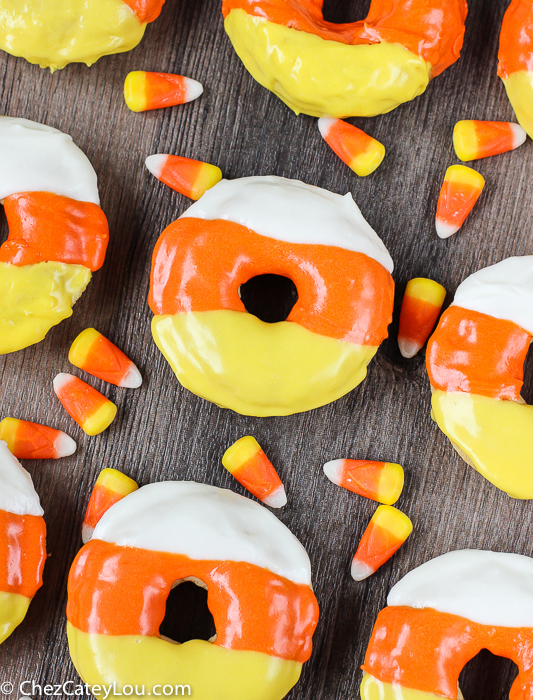 The base of this donut is just my standard baked donut, which is light and fluffy, and is the perfect vehicle for icing! The candy corn part of these candy corn donuts comes in the form of icing. There is no actual candy corn involved, just the icing decoration to make each donut look like a piece of candy corn! If you want to sprinkle your donuts with actual candy corn, I would not judge you in the slightest. It takes a bit of patience to ice these babies, but it is worth the effort, and I had fun doing it. If you have kids, they will love helping out.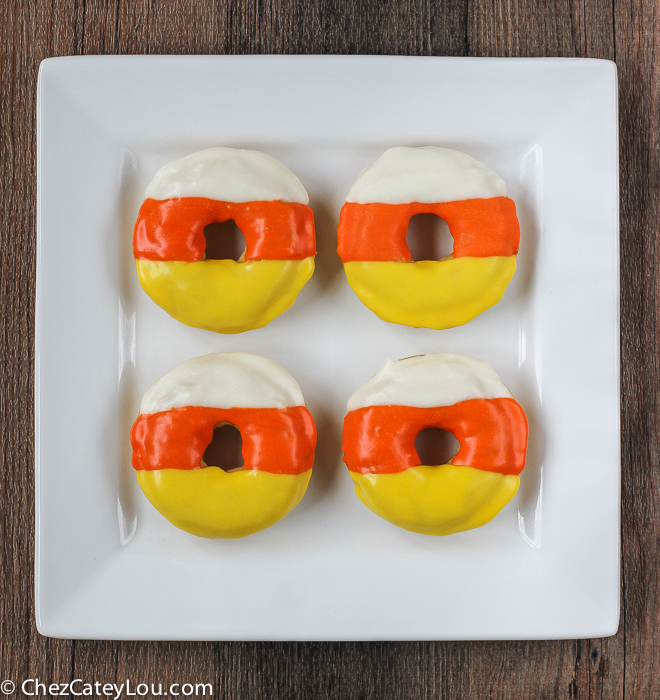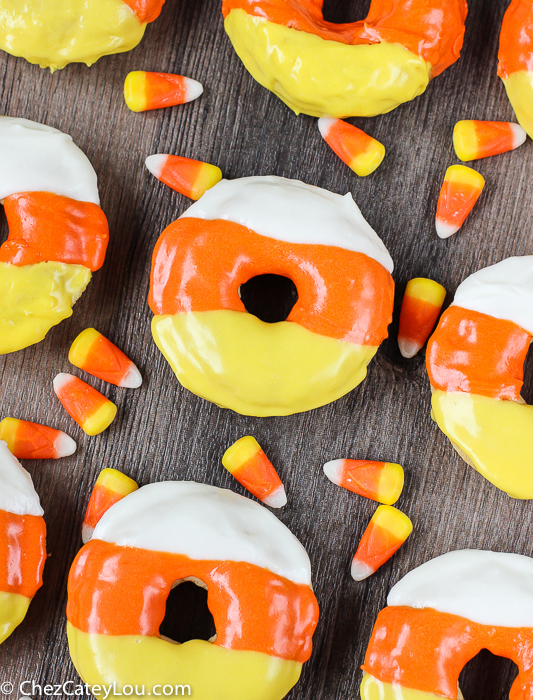 Light and fluffy baked donuts are decorated to look like pieces of candy corn. These Candy Corn Donuts are the perfect Halloween breakfast!
Ingredients
For the Donuts

1 cup flour
3/4 teaspoon baking powder
1/4 teaspoon baking soda
1/4 teaspoon salt
dash nutmeg
2 tablespoons vegetable oil
1/4 cup sugar
1 egg
1/4 cup milk
1/4 cup yogurt
1 teaspoon vanilla

For the Glaze

1 1/2 cups powdered sugar
2 tablespoons butter, melted
2 tablespoons light corn syrup
2-3 tablespoons heavy cream
dash salt
orange food coloring
yellow food coloring
Instructions
For the Donuts

Preheat oven to 325 degreesF. Grease two 6-cavity donut pans with nonstick cooking spray.
In a small bowl, whisk together the flour, baking powder, baking soda, salt, and nutmeg.
In a medium bowl, whisk together the oil, sugar, egg, milk, yogurt, and vanilla until very well combined.
Add the dry ingredients to the wet ingredients and mix until just combined.
Spoon the batter into the donut cavities, filling each one just over half full (this makes about 10 donuts). Bake the donuts for 8 - 10 minutes. Allow them to cool in the pan for a minute, then turn out onto a wire rack to cool completely.

For the Glaze

Whisk together powdered sugar, butter, cream, salt and 1 T heavy cream. Keep adding heavy cream until desired consistency is reached. Divide the glaze into three bowls. Keep one white, color one orange, and color one yellow.
Once the donuts are cooled, spread the icing on the donuts in three stripes - white on the top, orange in the middle, and yellow on the bottom. Allow the glaze to set, then serve.
https://chezcateylou.com/candy-corn-donuts-halloween/
© Chez CateyLou. All images & content are copyright protected. Please do not use my images without prior permission. If you want to republish this recipe, please re-write the recipe in your own words, or link back to this post for the recipe.
Follow Chez CateyLou around the internet!
Pinterest | Instagram | Stumble Upon
If you are looking for ideas to use all that leftover Halloween candy, try some of these!
Salted Caramel Stuffed Chocolate Cookies – made with Rolos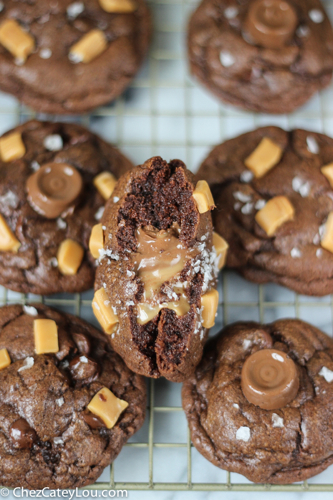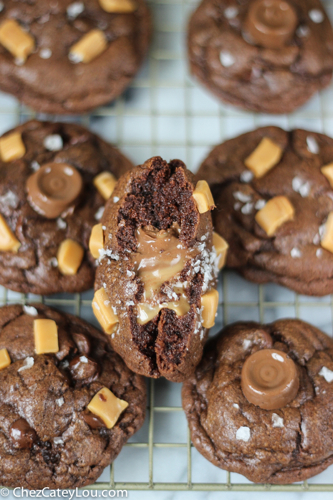 Butterfinger Peanut Butter Oatmeal Cookies