Baked donuts are decorated to look like Rudolph! These Chocolate Frosted Reindeer Donuts are so much fun to make and to eat – perfect for Christmas breakfast!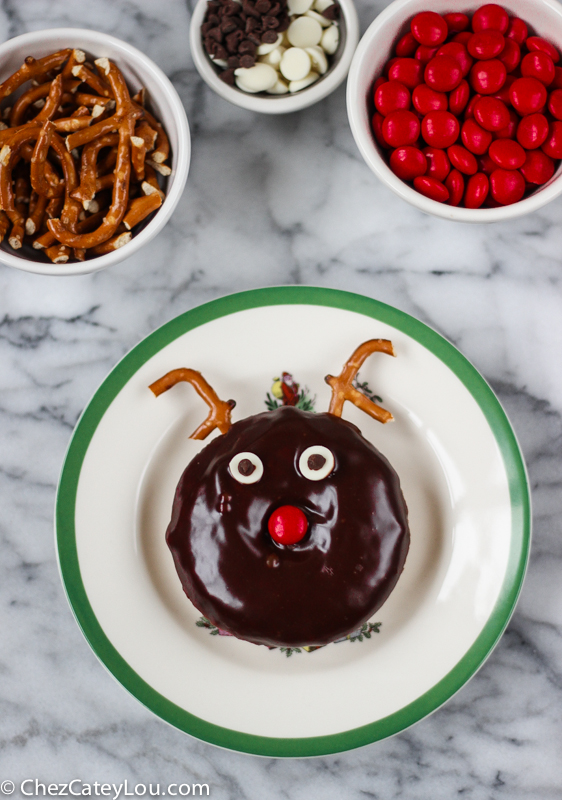 It is almost here! Is everyone ready for Christmas? This month seriously flew by! You might remember these cute chocolate frosted reindeer donuts from my Instagram post, over 2 weeks ago! I really meant to share these sooner, but this time of year gets so crazy. Hey, at least I have them up before Christmas! So there is still time to have Rudolph and his friends on your Christmas breakfast table 🙂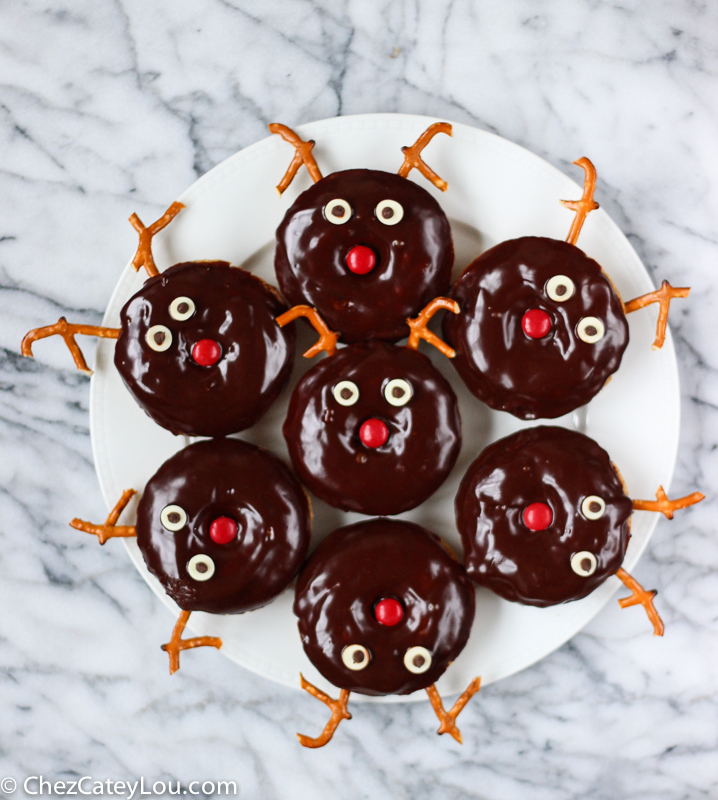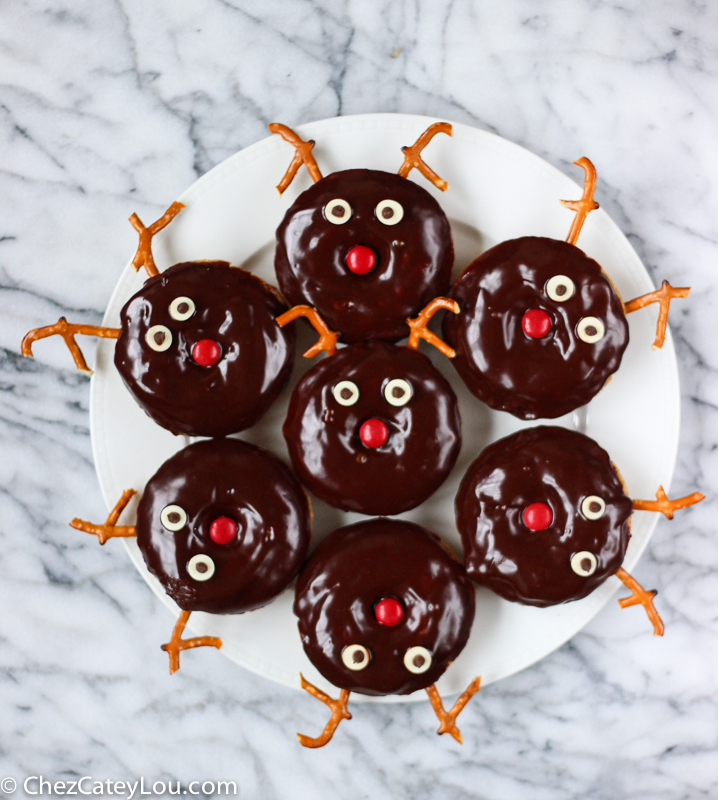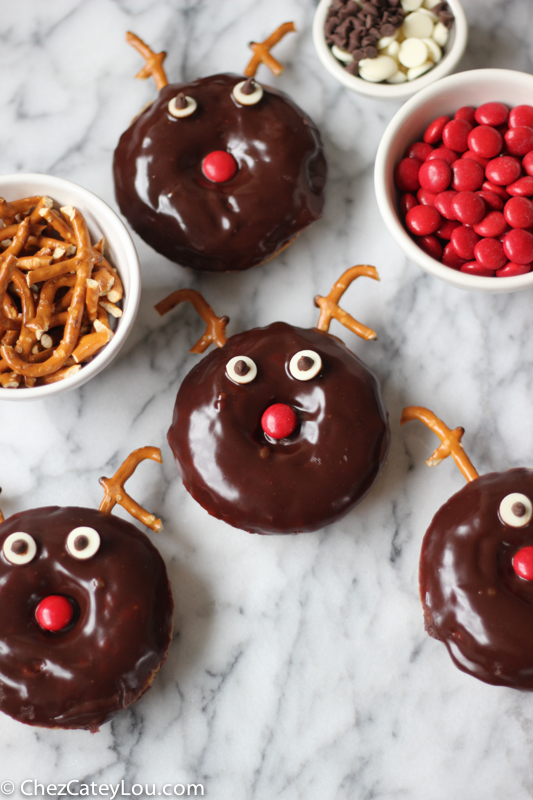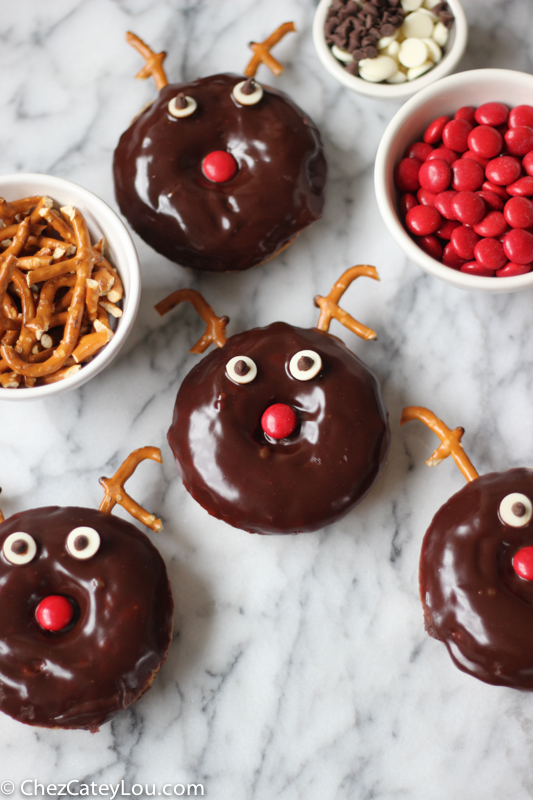 I can't let a holiday or season pass without making a donut to celebrate. Ever since I bought this donut pan
last year, I have been kind of obsessed. They are so easy to make, and it is so much fun to play around with different flavors – and in this case, decorations! I decided to make my reindeer donuts with a simple cake donut, and then frost them with chocolate icing! But you could definitely make the donut part any flavor you want – like gingerbread or chocolate!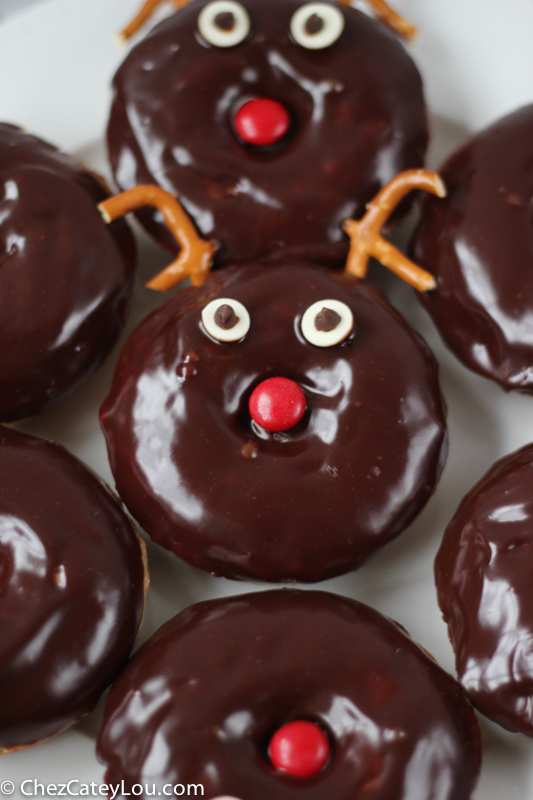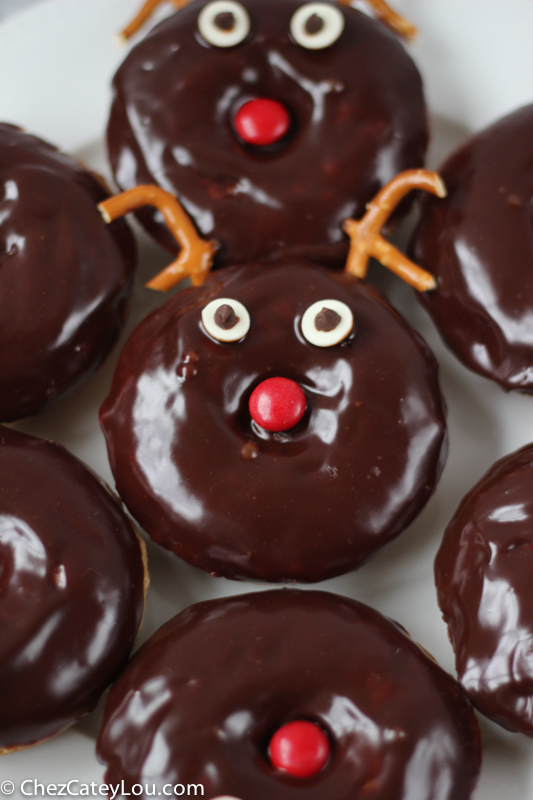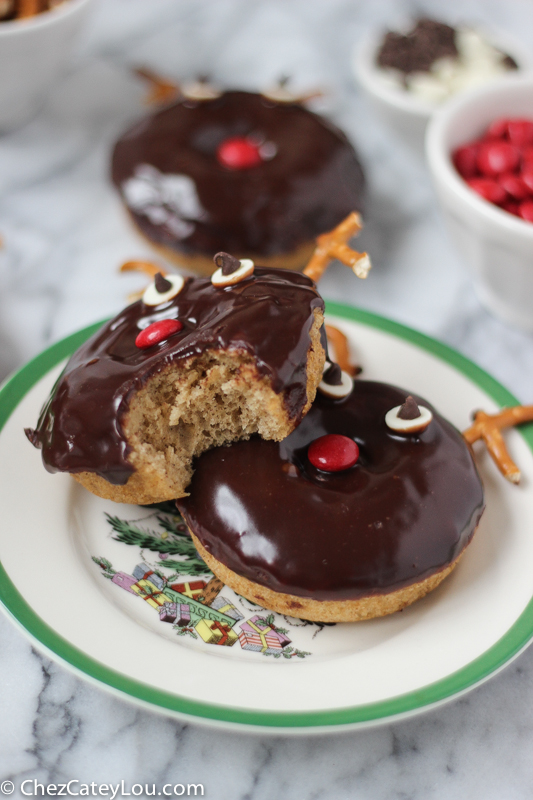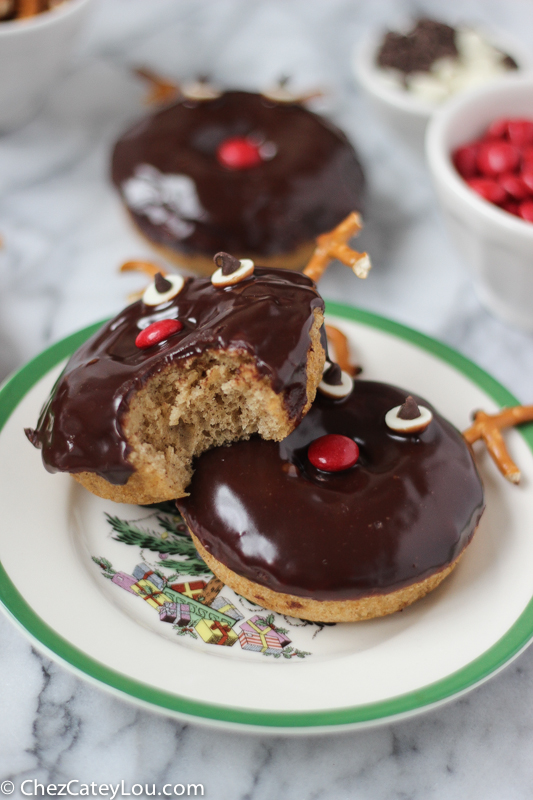 These reindeer donuts are so much fun to decorate. This would be a perfect activity to do with kids. And if you don't feel like baking the donuts, you could decorate store bought donuts – it would still be so fun and festive!
I will be back tomorrow with one more Christmas recipe for you! Hope everyone has a great day!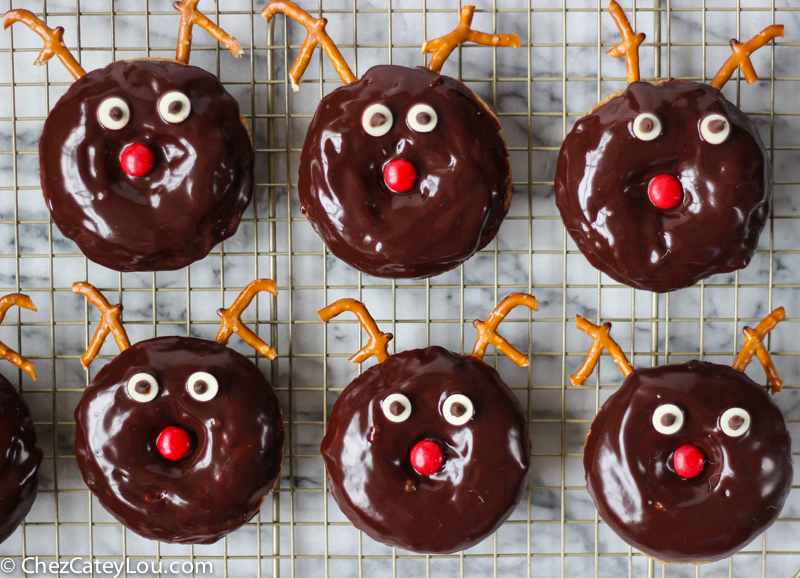 Chocolate Frosted Reindeer Donuts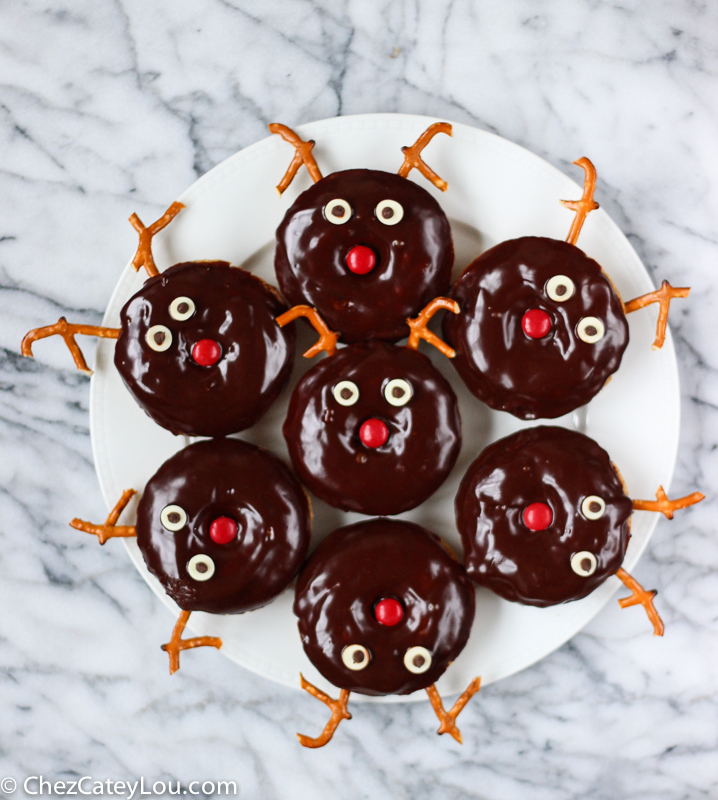 Baked donuts are decorated to look like Rudolph! These Chocolate Frosted Reindeer Donuts are so much fun to make and to eat - perfect for Christmas breakfast!
Ingredients
For the Donut

1 cup flour
3/4 teaspoon baking powder
1/4 teaspoon baking soda
1/4 teaspoon salt
1/8 teaspoon nutmeg
1/3 cup sugar
2 Tablespoons butter, melted and cooled slightly
1 egg
1/4 cup milk
1/4 cup Greek yogurt
1 teaspoon vanilla

For the Icing

3 Tablespoons butter
2 Tablespoons milk
1/2 Tablespoon light corn syrup
2 oz chocolate, finely chopped
1 teaspoon vanilla
pinch salt

For the Decorating

18 White chocolate chips
18 mini chocolate chips
9 - 18 regular chocolate chips
9 red M&Ms
Pretzels, broken into antler shaped pieces
Instructions
Preheat oven to 325 degrees F. Grease 2 six-cavity donut pans with nonstick cooking spray.

For the Donut

In a medium bowl, whisk together flour, baking powder, baking soda, salt and nutmeg.
In a separate bowl, whisk together sugar, butter, and egg until well combined and shiny. Add the milk, yogurt, and vanilla and mix until very well combined.
Add the wet ingredients to the dry ingredients and mix until just incorporated.
Spoon the batter into the donut pan, filling each cavity 3/4 full.
Bake for 7 - 9 minutes, until donuts are light golden brown. Cool in the pan for a few minutes, then turn out onto a wire rack to cool completely.

For the Icing

In a small saucepan over low heat, melt the butter with the milk and corn syrup. Add the chocolate and whisk constantly until chocolate is melted. Turn off the heat and stir in the vanilla and salt.
Dip each donut into the chocolate icing, then return to the wire rack.

For the Decoration

Eyes: Place two white chocolate chips, pointy side down, on the donut, where eyes would go. Using a toothpick, put a small dot of chocolate icing on the bottom of a mini chocolate chip, and place in the center of the white chocolate chip.
Nose: If your donut hole is too large for an M&M to fit without falling through, plug the hole with a chocolate chip or two. Then place a red M&M in the center for the nose, securing with a dab of chocolate icing if necessary.
Antlers: place a broken pretzel piece into each side of the donut, for antlers.
https://chezcateylou.com/chocolate-frosted-reindeer-donuts/
© Chez CateyLou. All images & content are copyright protected. Please do not use my images without prior permission. If you want to republish this recipe, please re-write the recipe in your own words, or link back to this post for the recipe.
The best gift you could give me is to follow me on social meadia!
More ideas for Christmas Breakfast or Christmas Brunch!
Overnight Buttermilk Cinnamon Rolls