Homemade bread is full of sweet, plump raisins and toasty, nutty pecans. Golden Raisin Pecan Bread will be your new favorite loaf!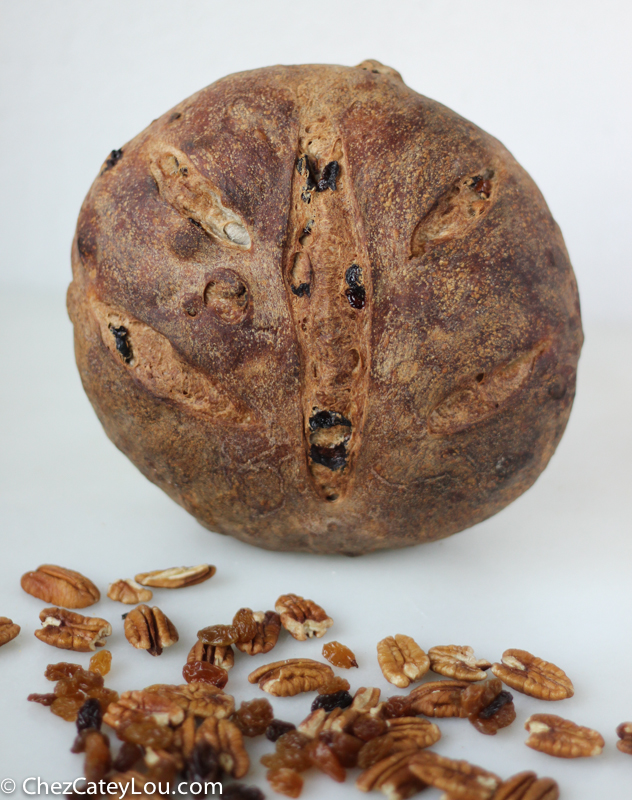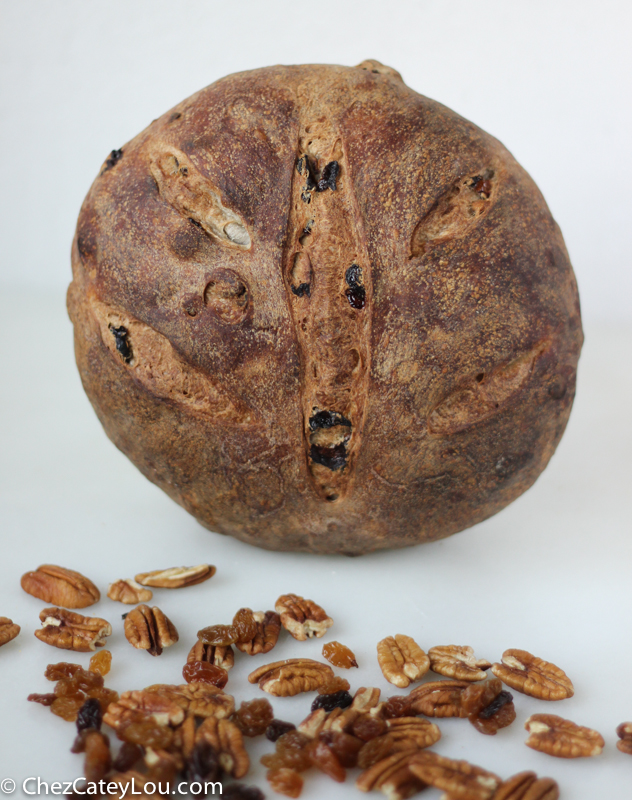 What is your favorite food? I know it is so hard to pick, but if you absolutely forced me to, I think I would say bread. I love bread! And it doesn't get any better than this homemade Golden Raisin Pecan Bread.
Seriously, this loaf is a winner. Everything about it is perfect – the texture, the flavor, the crust, the looks. It is one of the best loaves I'm made so far. And bonus – the recipe makes two loaves so you can eat one right away and freeze slices of the other one to have fresh bread for weeks!  The recipe comes from one of my favorite cookbooks, Flour: Spectacular Recipes from Boston's Flour Bakery + Cafe
.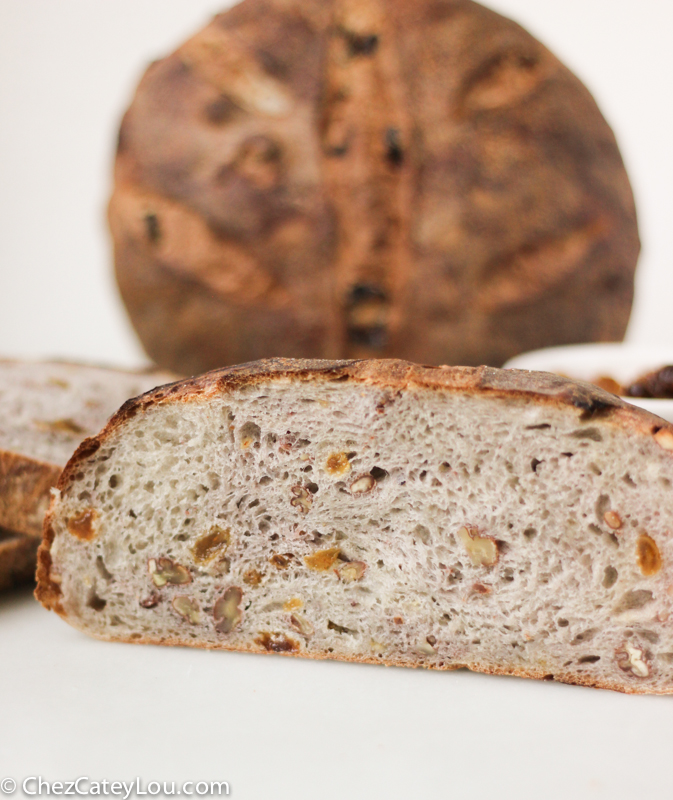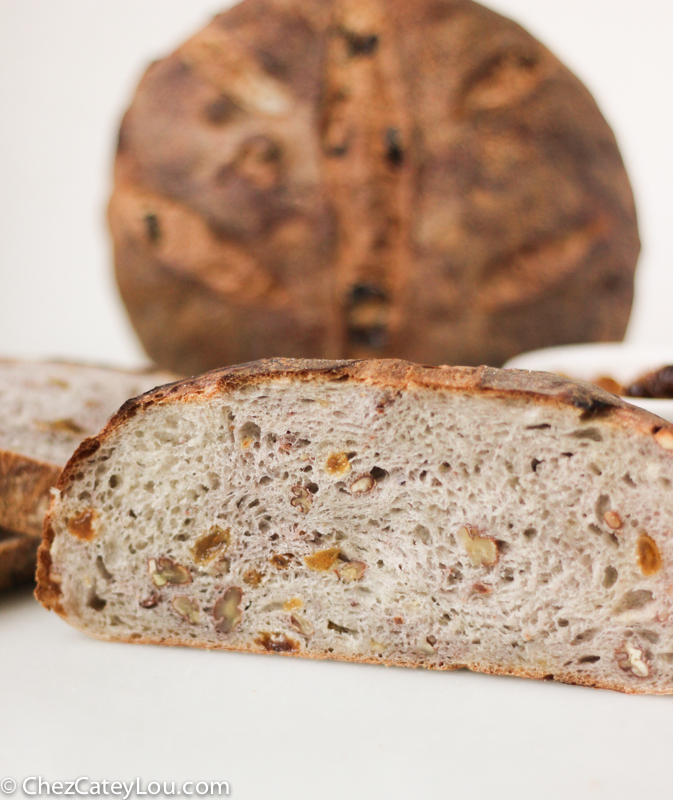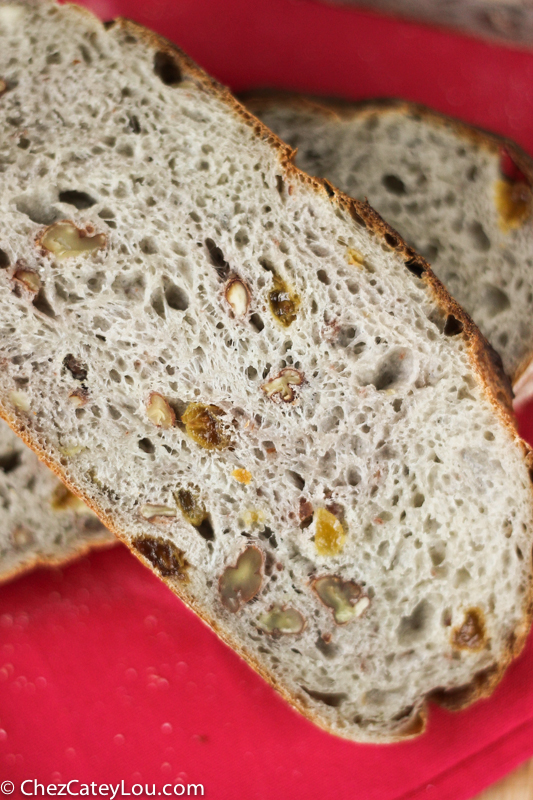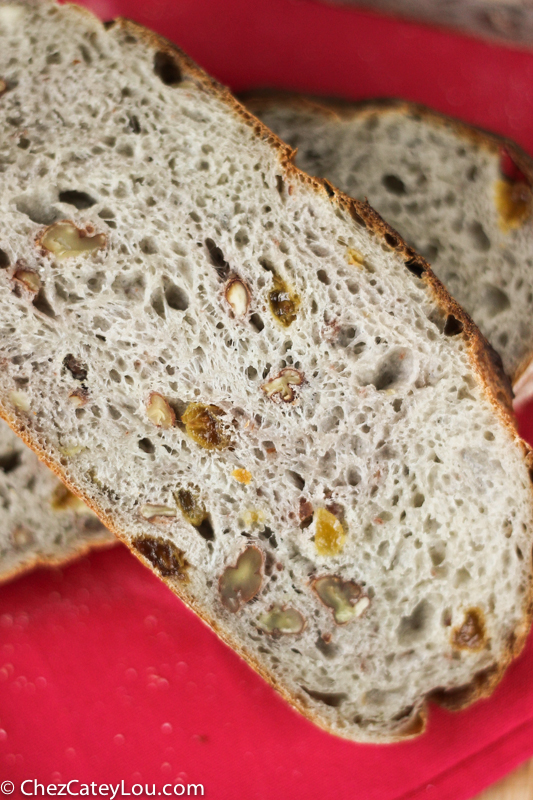 Ok so please don't stop reading when I tell you this….this bread uses a starter. I know, it sounds scary! And in the past I would have run far, far away from a recipe using a starter. But I promise you – a starter couldn't be easier! The only "hard" part is planning your timing.
So what is a starter you ask?  It is just water, flour, and a little bit of yeast mixed together. It takes about 2 minutes to make – seriously easy. Then it sits at room temperature for 4 – 8 hours. Then you stir in a little more flour, and put it in the fridge overnight. The next day, you have your starter! It gives bread so much depth of flavor and an amazing texture. It is really worth the extra effort.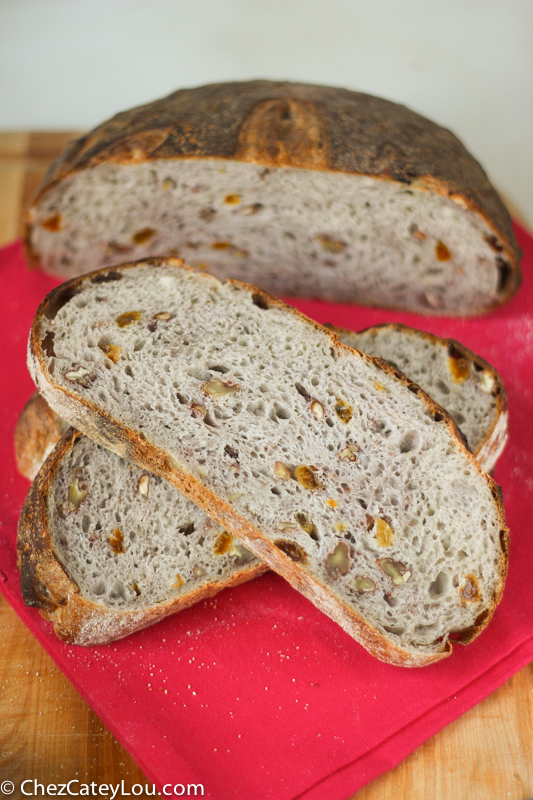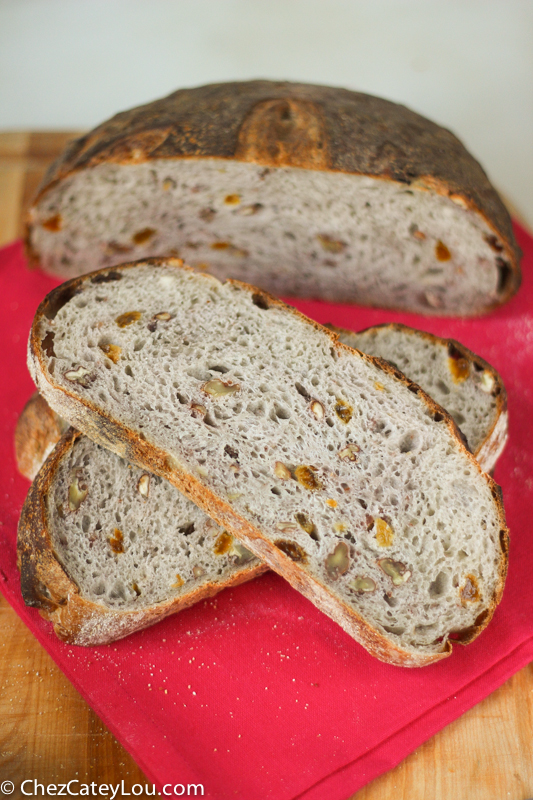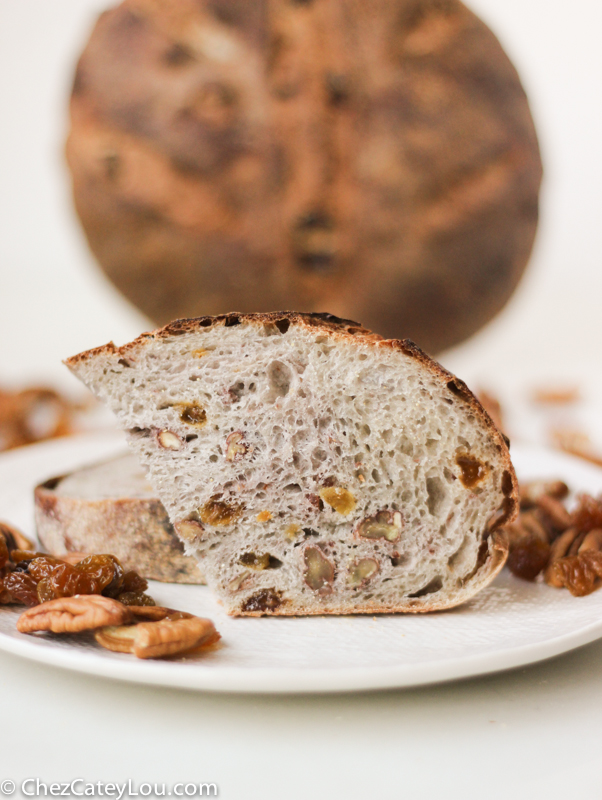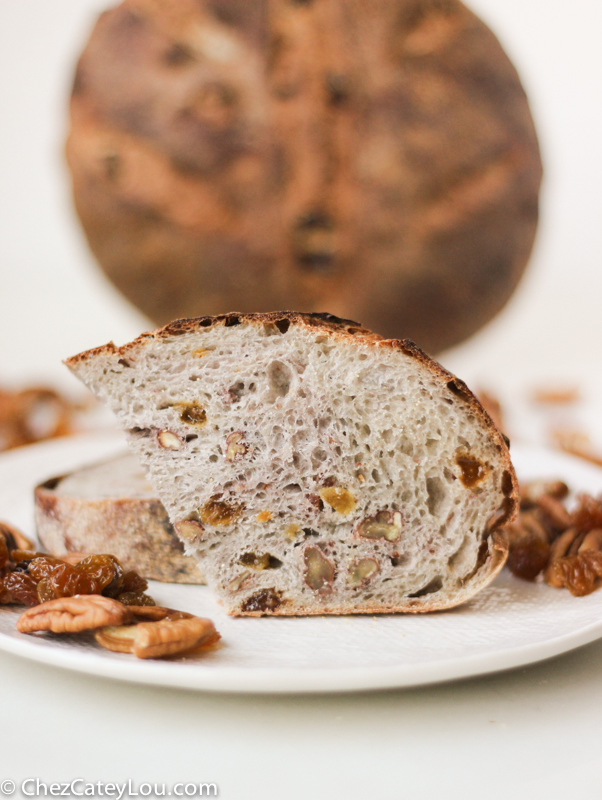 I must say, I was pretty impressed with myself when these loaves came out of the oven. I thought they looked like something you would buy at a bakery! And the flavor is incredible. The nutty pecans taste great with the sweet raisins. I had about 4 slices when it was still warm – I know recipes tell you to wait until baked goods are cool before slicing into them, but I just can't resist the smell of fresh bread!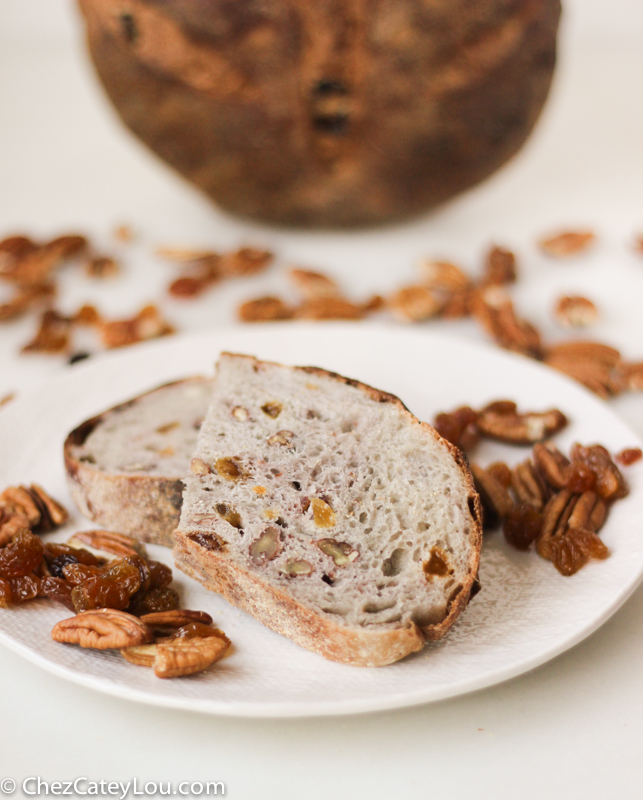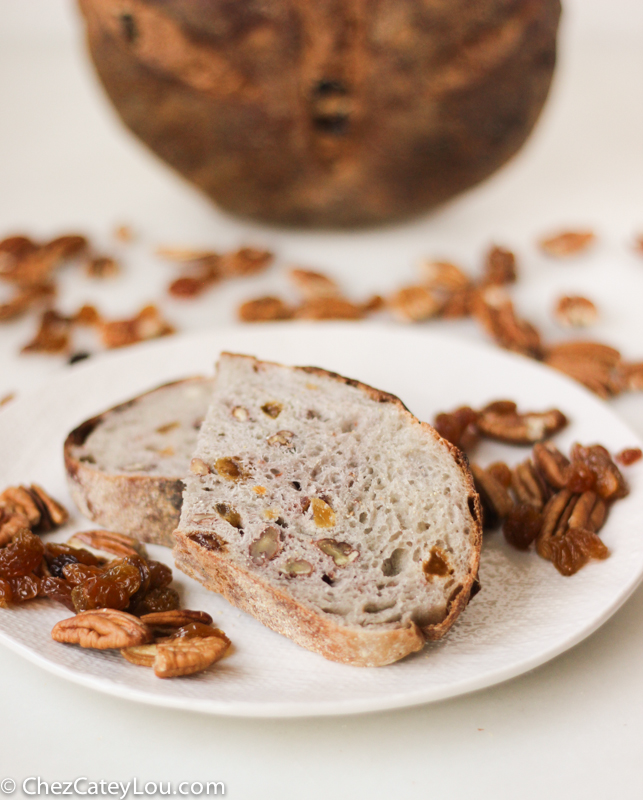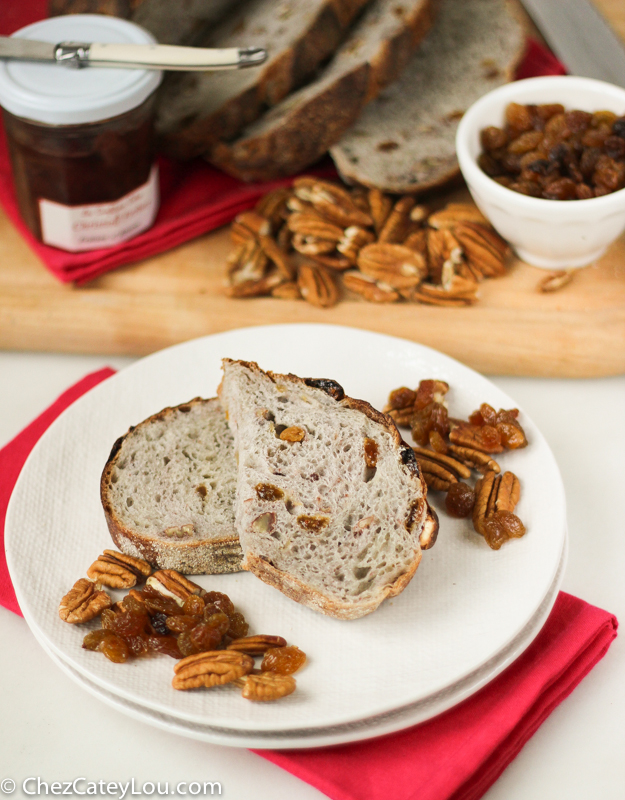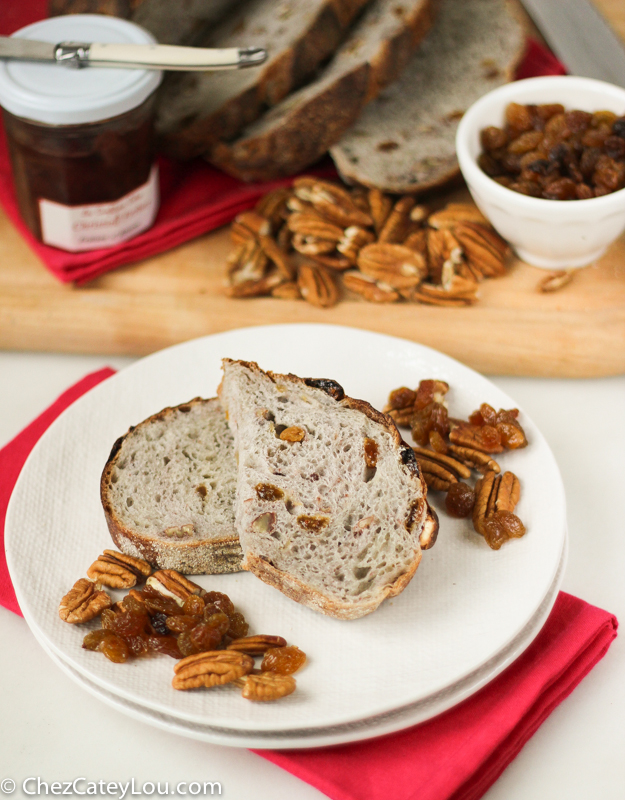 Golden Raisin-Pecan Bread
Homemade bread is full of sweet, plump raisins and toasty, nutty pecans. Golden Raisin Pecan Bread will be your new favorite loaf!
Ingredients
For the Bread Sponge

3/4 cup (180 grams) water
1 1/4 cups (175 grams) unbleached all-purpose flour
1/4 teaspoon active dry yeast

For the Bread

1 1/4 cups (300 grams) water, at body temperature
2 cups (280 grams) unbleached all-pourose flour
1 3/4 cups (260 grams) bread flour
Bread sponge (made the day before)
1/4 cup (85 grams) honey
2 teaspoons kosher salt
1 cup (100 grams) pecan halves, toasted
3/4 cup (120 grams) golden raisins
handful of medium-coarse yellow cornmeal (for the baking sheet)
Instructions
For the Sponge

Mix together the water, 1 cup (140 grams) of flour and yeast in a medium bowl until well combined. Cover the bowl and leave at room temperature for 4 - 8 hours.
Stir in the 1/4 cup (35 grams) flour and cover again. Place mixture in refrigerator overnight

For the Bread

In the bowl of a stand mixer fitted with the dough hook attachment, add the water, all-purpose flour, and bread flour. Mix on low speed until you have a shaggy dough, about 1 minute. Cover the bowl with a piece of plastic wrap and let it sit for 10 minutes.
Add the sponge, honey, and salt and mix on medium-low for 3 - 4 minutes. The dough should be slightly sticky but smooth. Add a little more flour if it is too sticky, or a little water if it is too stiff.
Add the pecans and raisins, and knead for 4 - 5 minutes on low speed. If the dough starts to gather on the hook, stop the mixer and scrape it down.
Lightly coat a large bowl with oil, then transfer the dough to the bowl. Turn to coat the dough with oil then cover the bowl with plastic wrap. Place the bowl in a warm, draft-free place for 2 - 3 hours. The dough will rise but won't fully double in size. It will feel loose and only slightly sticky.
Flour a work surface and your hands, and turn the dough out. Divide the dough in half and then shape each into a ball.
Sprinkle a large baking sheet with cornmeal and place the loaves on the sheet, spacing them at least 3 inches apart. Cover each loaf loosely with plastic wrap sprayed with nonstick cooking spray, and then let them sit for 2 - 3 hours.
Preheat oven to 500 degrees F. Fill a shallow pan with 2 cups of water and set aside.
Slash the loaves on top and place in the oven. Put the pan of water on the rack below the bread.
Bake for 30 - 35 minutes, until the loaves are dark golden brown on top and sound hollow when you tap on the bottom.
Transfer loaves to a wire rack to cool before slicing.
Notes
Recipe from Flour: Spectacular Recipes from Boston's Flour Bakery + Cafe
https://chezcateylou.com/golden-raisin-pecan-bread/
© Chez CateyLou. All images & content are copyright protected. Please do not use my images without prior permission. If you want to republish this recipe, please re-write the recipe in your own words, or link back to this post for the recipe.
If you are overwhelmed by this recipe, then try my Cinnamon Raisin English Muffin Bread. It is much easier to make!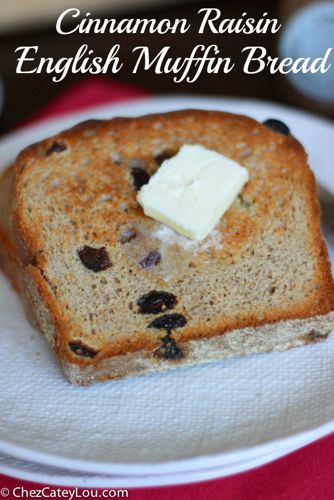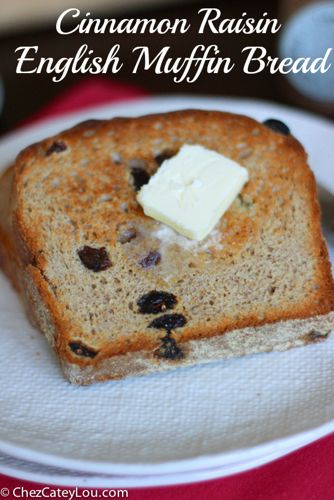 No-Knead Carrot Bread with Currants and Walnuts is also really easy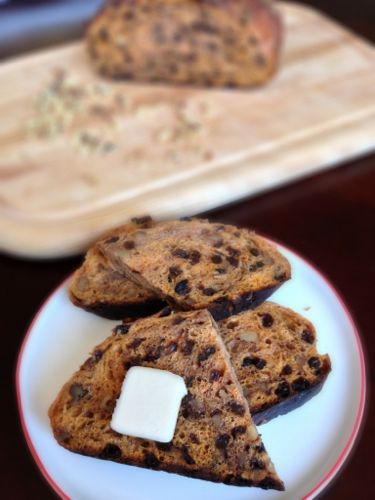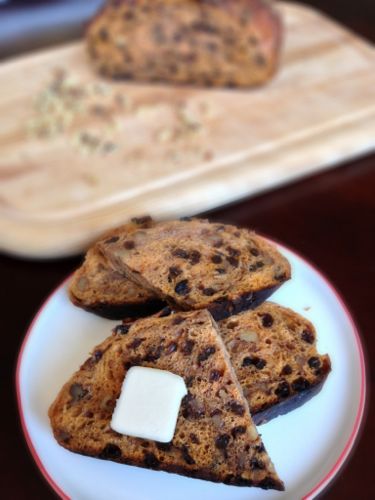 Almond Flour Bread has the most amazing texture!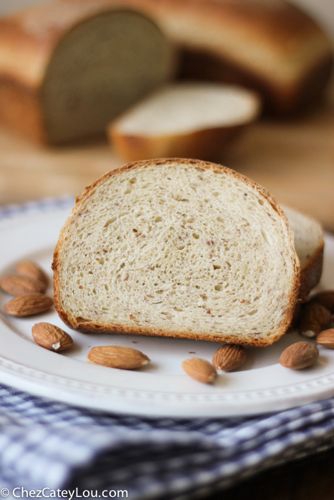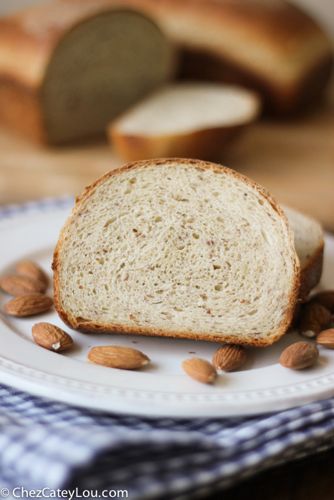 Connect with Chez CateyLou!