La Mar by Gastón Acurio is an incredible Peruvian fusion restaurant specializing in fresh seafood and grilled meats, located in a beautiful waterfront setting in the Mandarin Oriental hotel in Miami.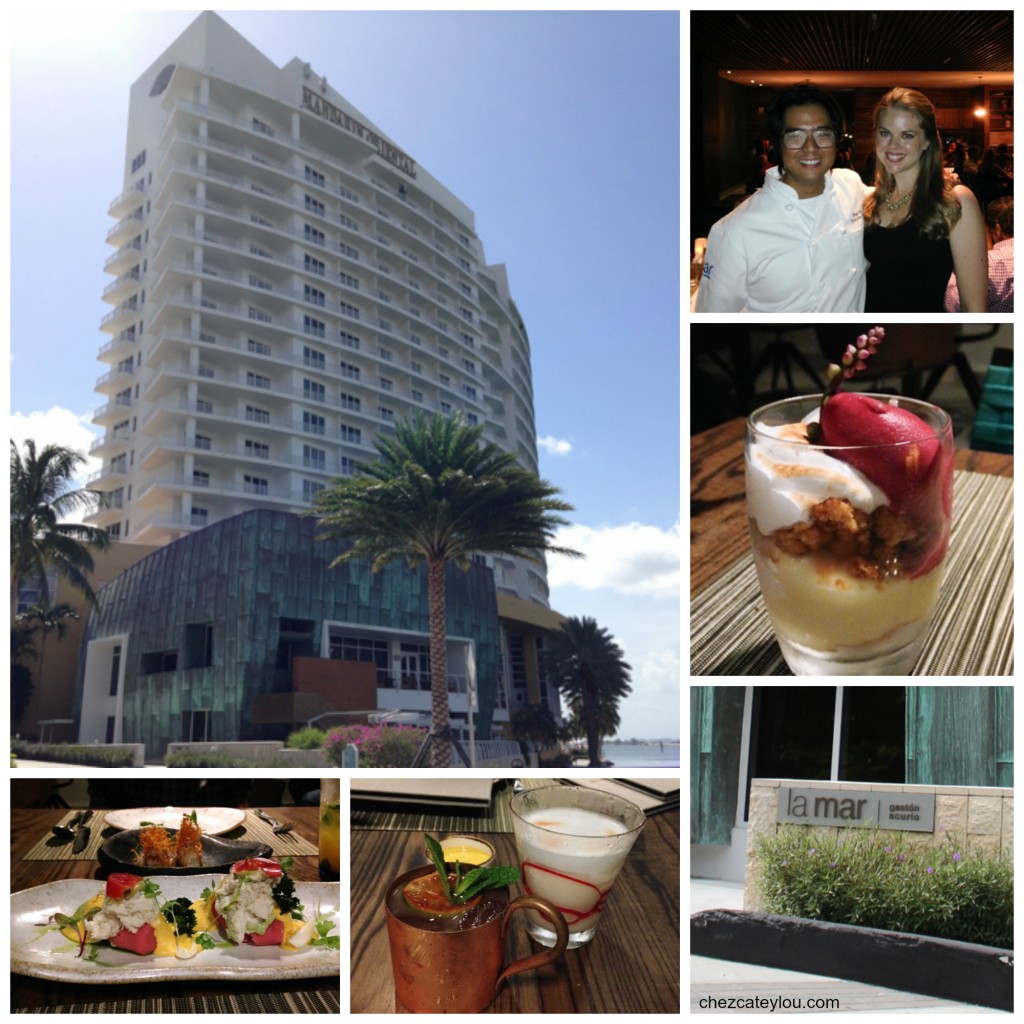 On our most recent trip to Miami we had a great dinner at La Mar – the new flagship restaurant at the Mandarin Oriental Miami. La Mar, which specializes in Peruvian Fusion, is part of the Gastón Acurio restaurant group that includes Astrid & Gastón in Lima, Peru; the 18th best restaurant in the world per the World's Best list. From the quality of the food, to the excellent cocktail menu, to the first-class service, La Mar is far better than the typical 'hotel restaurant' and is a must-visit for Miami travelers and fans of Latin American cuisine. That is, unless you're planning to strut your stuff on South Beach the next day…
The Mandarin Oriental is located on Brickell Key (a small manmade island right off downtown Miami) and La Mar has a beautiful setting right on the water. In the cooler months, we suggest sitting outside and enjoying a lovely view of the city skyline. However, in the summer, when Miami has the humidity of a rainforest, it's probably best to sit inside.
Also noteworthy was the excellent service at La Mar. Our waiter, Nicholas, was very helpful guiding us through the menu and made some great recommendations.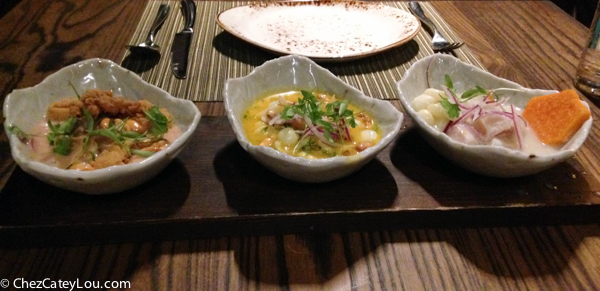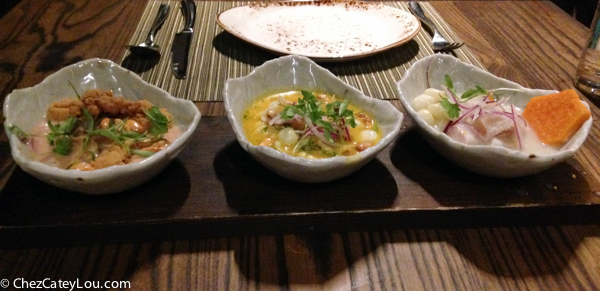 Chef Diego Oka's menu is split into two sides: cold dishes (mostly starters) and hot dishes (including many large format items designed to share). The highlight of the cold section is La Mar's collection of ceviches. Although ceviche is a well-known dish throughout Latin America and parts of Europe, it actually originated in Peru, and it's definitely something you should try at La Mar.
Ceviche is made with fresh seafood (typically raw and cut into chunks) that is cured in lime juice and served with various accompaniments. La Mar has six different ceviche variations, but to get a true taste of Peru we suggest ordering the ceviche sampler. It comes with three different cerviches: we had the Clasico (traditional ceviche made with fluke), Mixto (snapper, octopus and shrimp), and Barrio (snapper, mussels, shrimp, and chunks of crispy calamari, served in a spicy broth). They were all so good we spent the entire course debating which one was the best. While Cate preferred the spiciness of the Barrio cerviche (which has a great texture from the crispy calamari), my favorite was the Clasico. The fish was just so fresh and I love the acidity from all the lime juice (the juice partially cooks the seafood, so even if you don't love raw fish it's worth a try!). Whatever ceriche you choose, you can't go wrong.


Other cold starters worth highlighting were the Tiraditos (a Peruvian take on Japanese sashimi), the Causas (a traditional Peruivan dish whipped potato dish), and the Nigiri Anticucho (Peruvian nigiri). We loved how the Nikei Tiraditos used traditional Peruvian flavors (like passion fruit) in an Asian style preparation. Even Cate, who typically doesn't eat raw fish, really enjoyed the perfectly prepared tuna (though mostly due to the delicious sauce).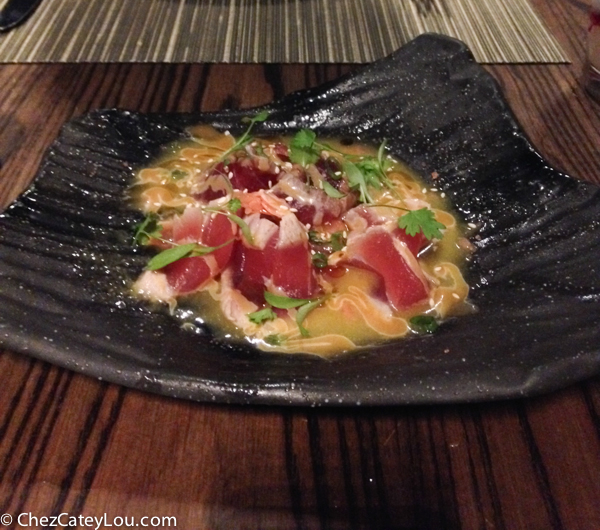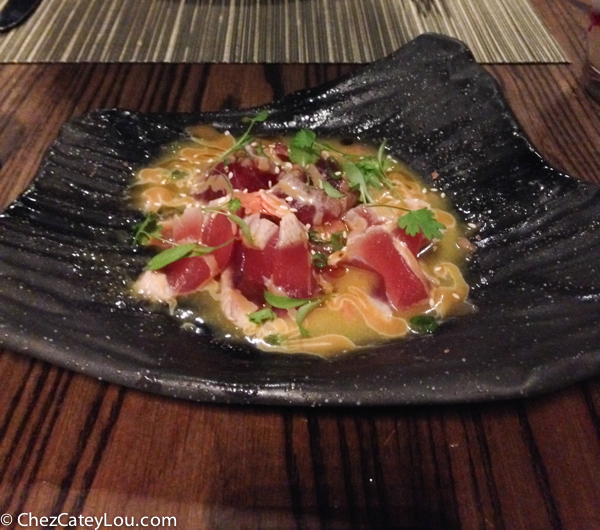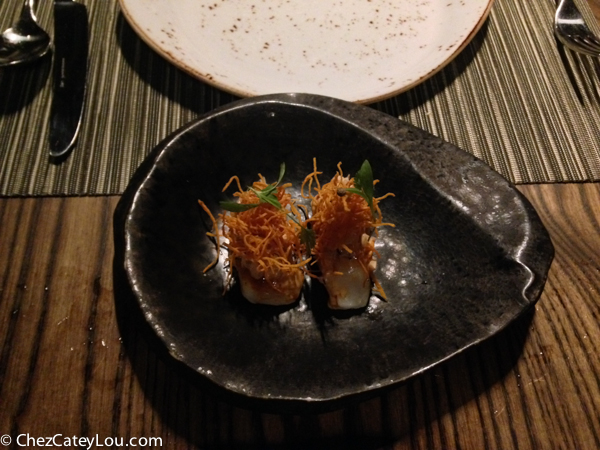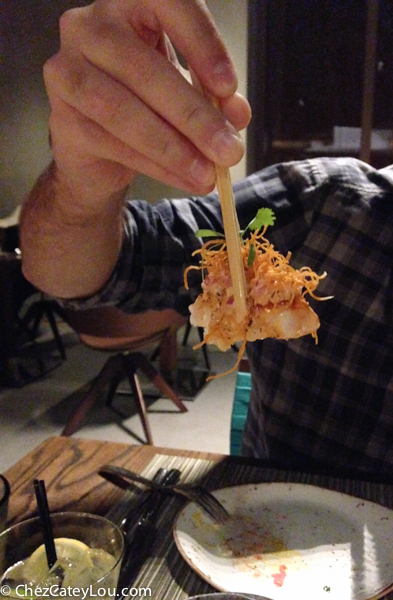 The Cangrejo Causas were easily the most colorful dish of the night.  The beet infused potatoes provided a vibrant base for lump crab meat and crispy kale. The dish was topped with a red tomato and yellow huancaína sauce. I must admit; I was initially thrown off by the pink colored tubular potatoes (my initial thought was why is crab meat stacked on a hot dog?). But the potato provided great texture and really complimented the fresh crab.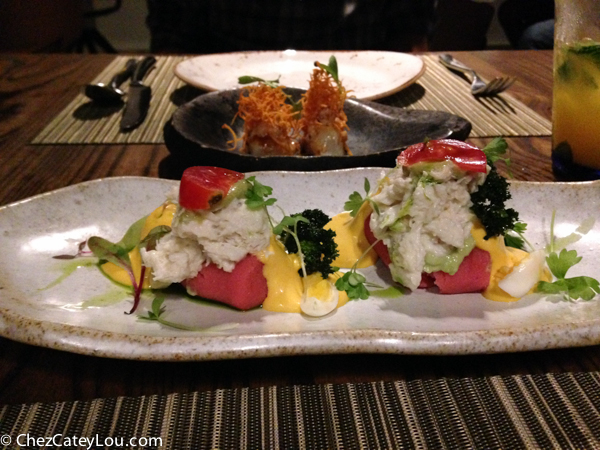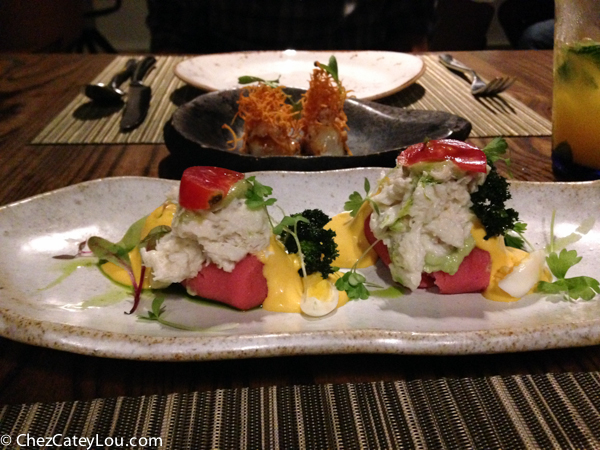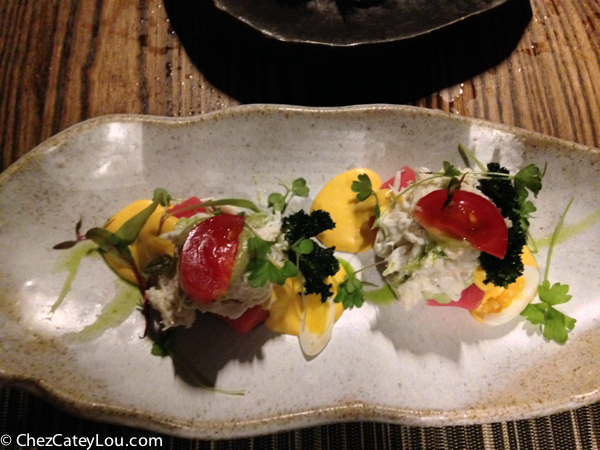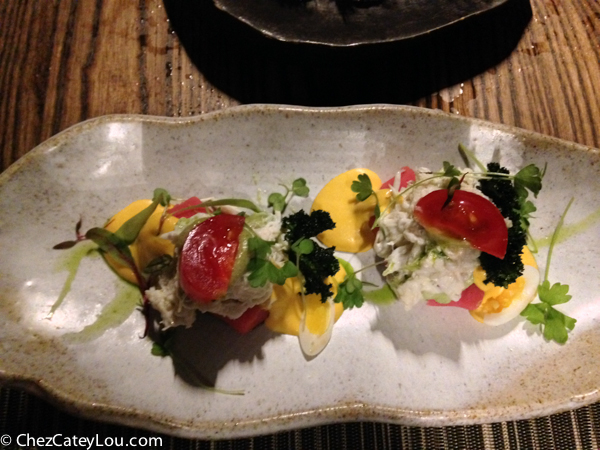 While that already sounds like a lot of food (and it was); we still had an entire side of the menu to explore. Our absolute favorite bite of the night may have been the Conchitas. Highly recommended from the kitchen staff, this dish was a delicious scallop topped with crispy sweet potato rings (and served in a scallop shell for good measure!). This dish had a bit of everything – great crispy texture from the sweet potato, sweet and savory flavors from the Asian infused sauce, and of course the scallop was perfect.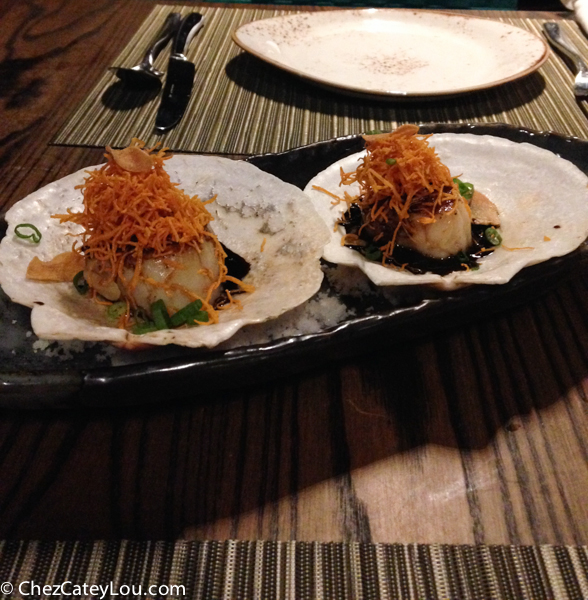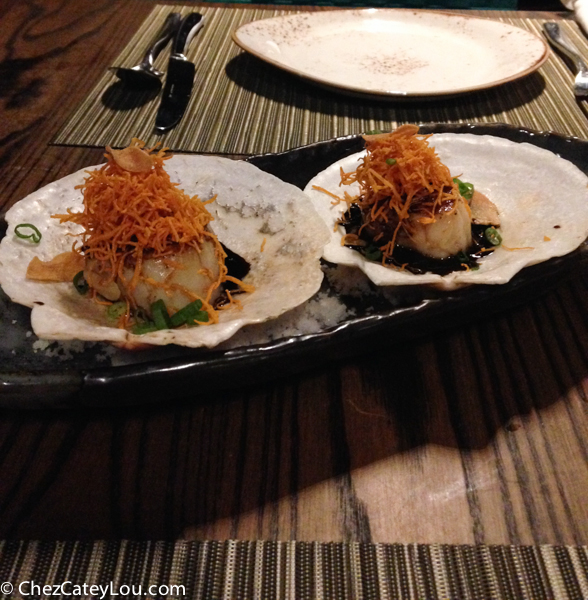 While the staters at La Mar are obviously very seafood-heavy (which we loved, especially in a city like Miami which has access to an ocean's worth of fresh seafood), we had a few great meat courses as well. The restaurant has an open grill area where it prepares Peruvian skewers. We loved the wagyu beef skewer topped with chimichurri, a quail egg, and crispy onion strips.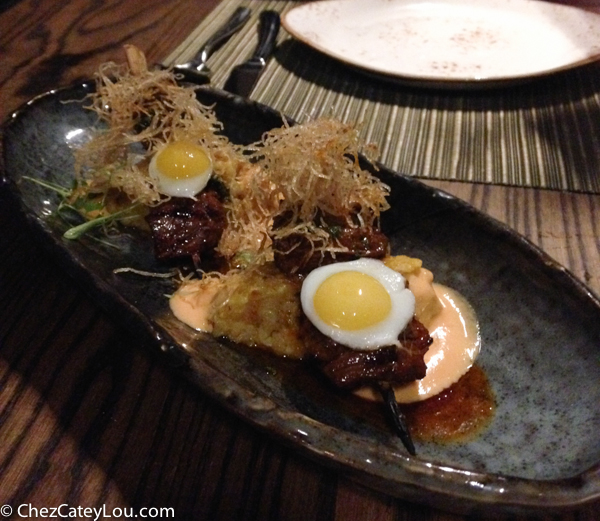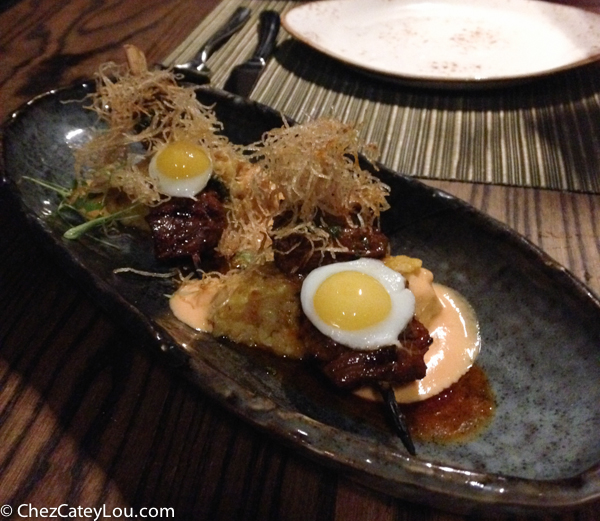 Sticking with the wagyu beef theme (never a bad thing), I also tried the beef tartare. The beef had a nice zip on it from the Peruvian spices. It is also topped with a quail egg.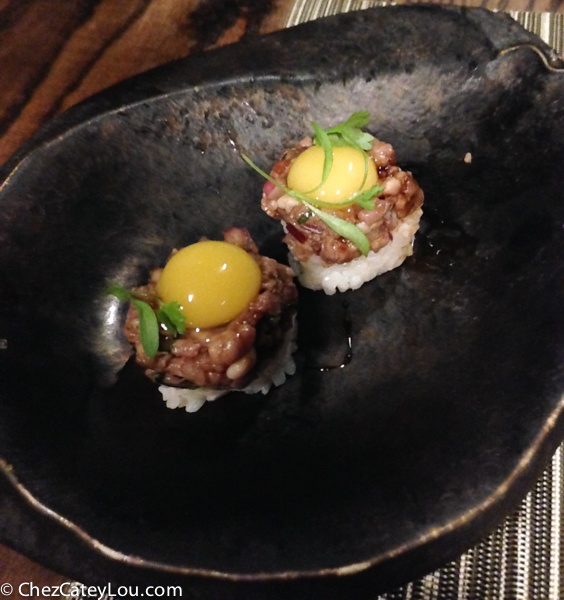 In the midst of all this amazing food, we were lucky enough to sample a wide array of Peruvian cocktails. The quintessential Peruvian drink is a Pisco sour. Pisco, which is a type of Brandy common in South America, is the base of the drink, which is then mixed with lime juice, egg whites (for foaminess), sugar and bitters. Although the egg whites may scare some drinkers away, trust me, it has all the flavors of a delicious margarita with a slightly thicker consistency. And watch out – these drinks go down easy and are very refreshing.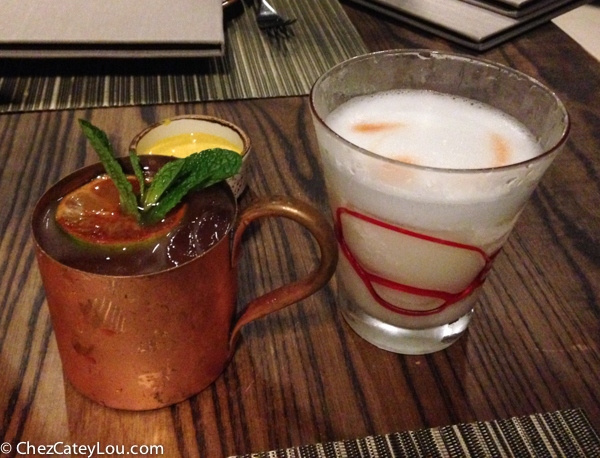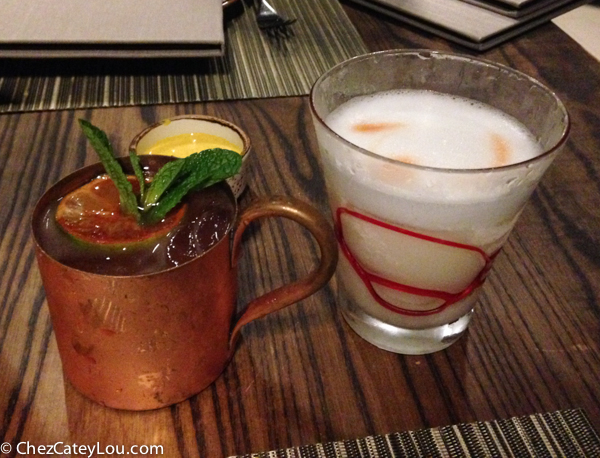 Cate loved the Chilcano de Pisco (the drink above served in the bronze mug). Similar to a Moscow Mule (but with Pisco), the Chilcano is mixed with lime and ginger beer. We also were treated to several "off menu" drinks that were particularly outstanding, including a Peruvian mojito and another pepper-infused pisco drink.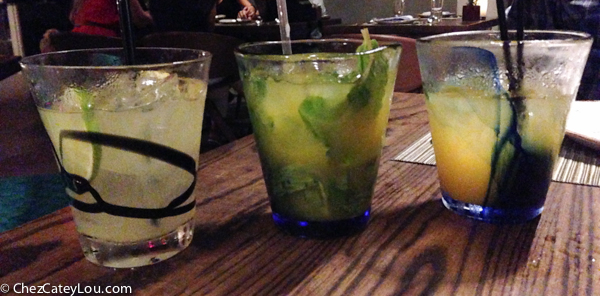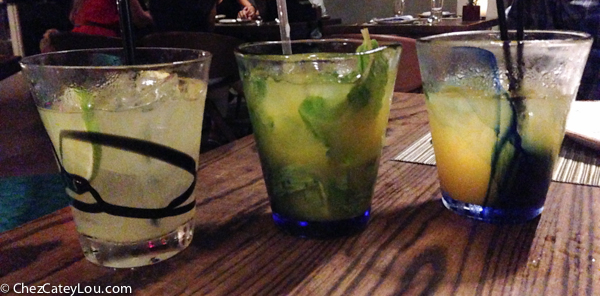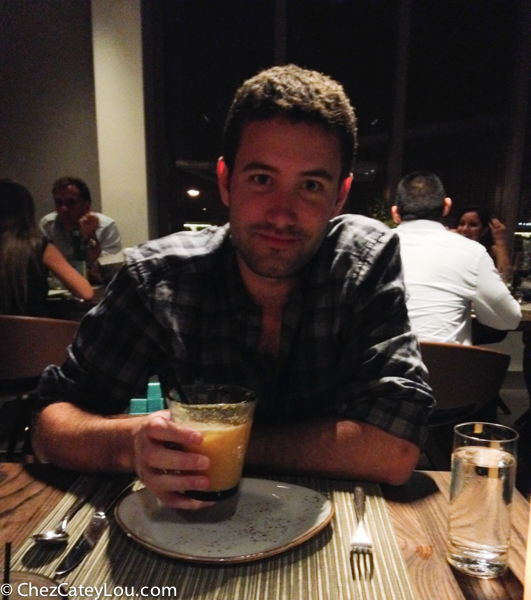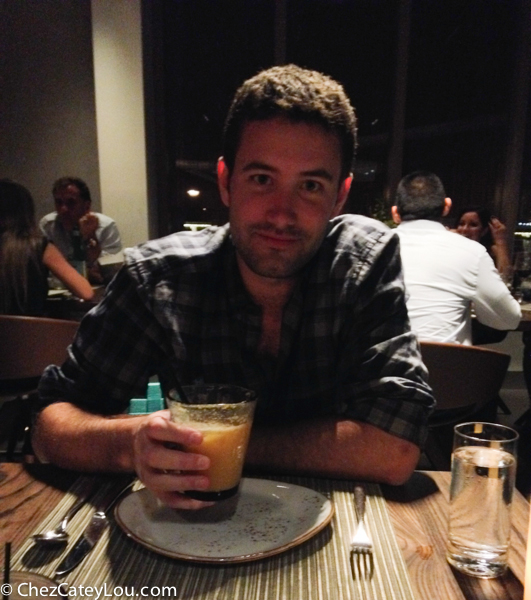 Where was I? (All that booze will do that to me…) Oh right, even more food. After we worked our way through almost all of La Mar's starters and "smaller" plates, we ended our meal with two entrees. One of La Mar's specialty dishes is the Chaufa Aeropuerto (the Chili Airport? disclosure: I don't speak Peruvian). This is a rice dish with chinese sausage, shrimp, egg, and a few other goodies. It is served piping hot in a lava bowl – so hot you can still here the rice crisping as the dish hits your table. As full as we were at this point in our meal, it was obvious why it's a house favorite.  The flavors really mesh well together and it's a perfect example of the type of Latin American/Asian fusion the restaurant does so well.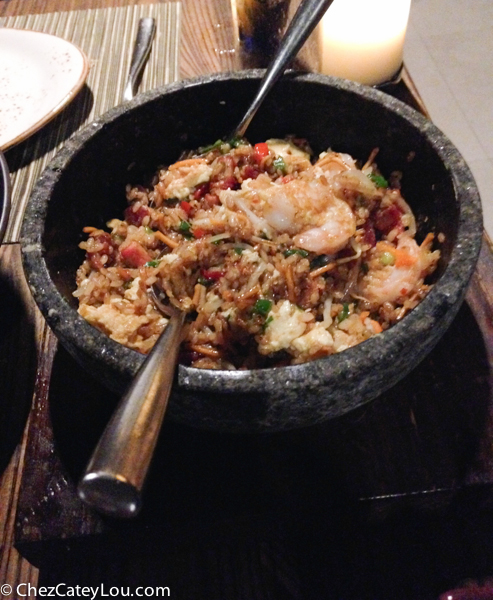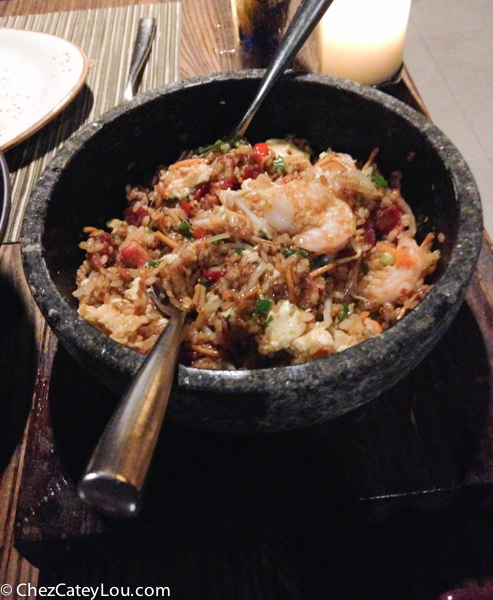 The last savory course we had was the special of the night: salmon topped with chinese broccoli, peanuts, and mixed in an Asian style sauce.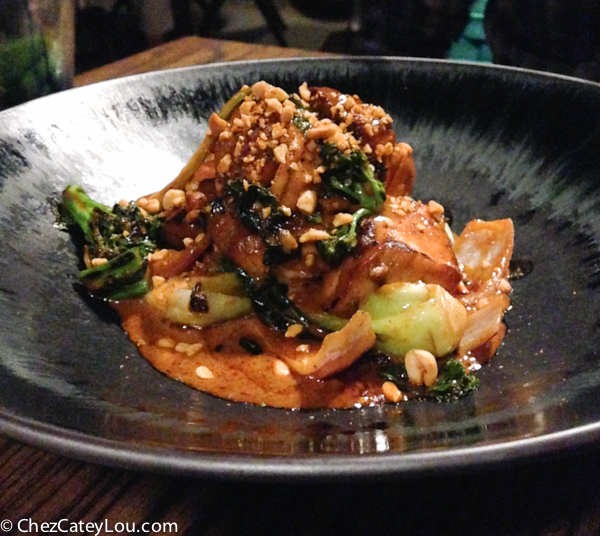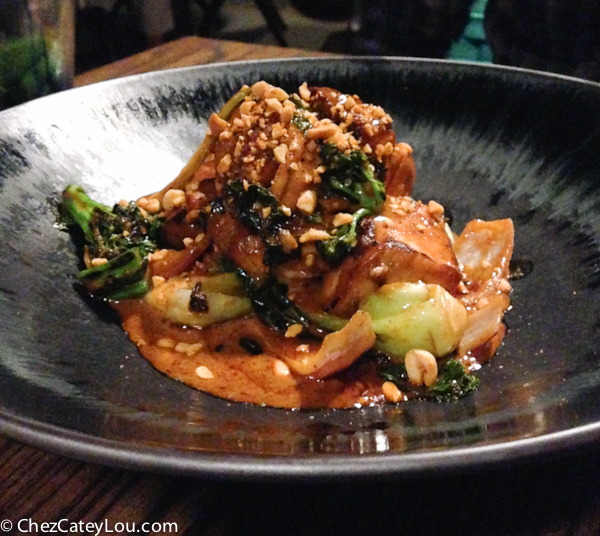 We did not try the Whole Fish Nikei (a whole fish prepared with a Peruvian-Japanese spicy sauce), but had to snap a picture of it – how awesome does this look?!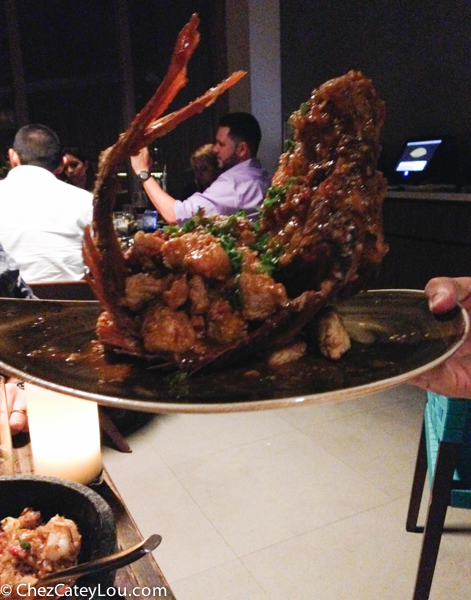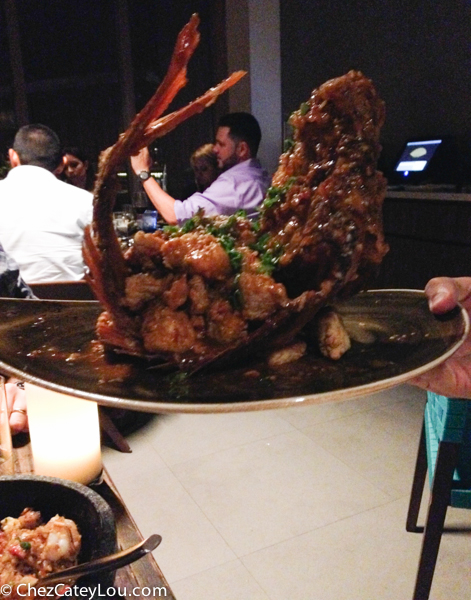 To cap off the evening, we had two desserts.  As full as we were, there is somehow always still room for dessert.  This masterpiece below is a chocolate mousse topped with caramelized andean grains, and topped with a lucuma fruit ice bomb.  I had never heard of Lucuma until this meal – it is a tropical fruit native to Peru that has a slight butterscotch flavor. It is delicious!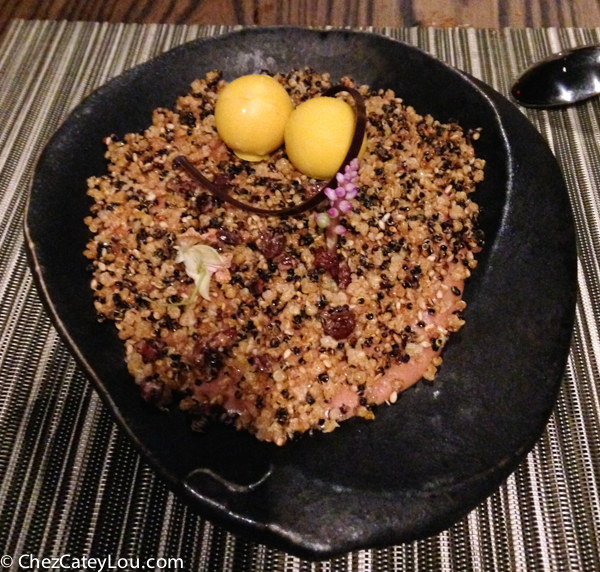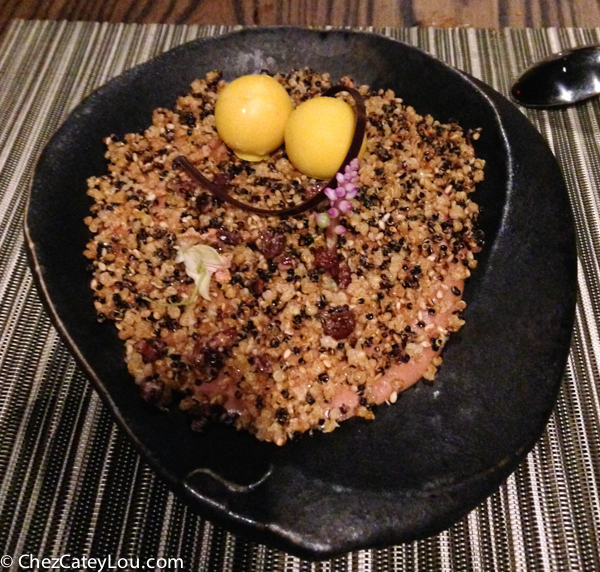 And the final bite of our feast was a deconstructed key lime pie, with a Peruvian twist of course.  It was the perfect way to end the evening.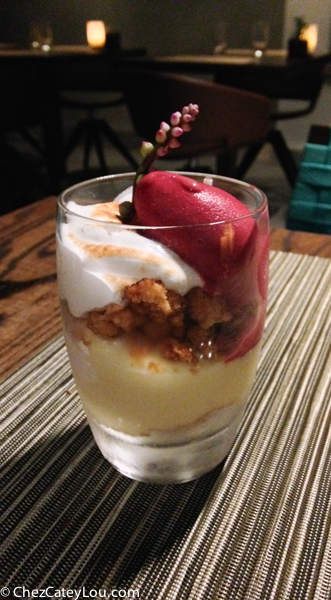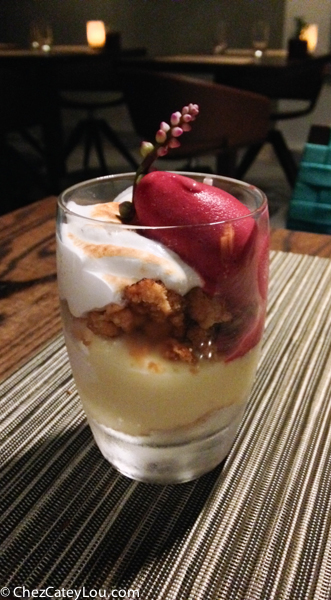 La Mar by Gaston Acurio
at the Mandarin Oriental Miami
t: +1 (305) 913 8358
Disclosure: La Mar generously treated us to dinner, but all opinions are our own