Classic soft and chewy oatmeal cookies are dressed up with tons of peanut butter chips. These Oatmeal Peanut Butter Chip Cookies are absolutely delicious!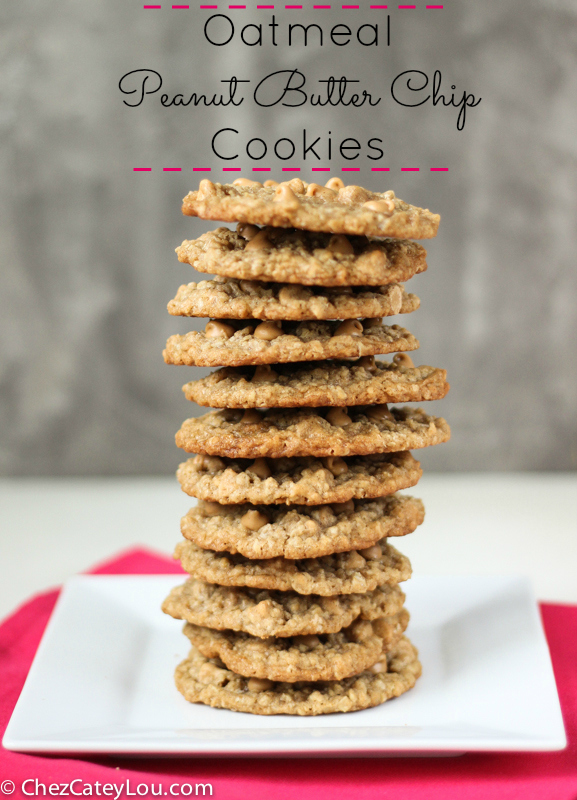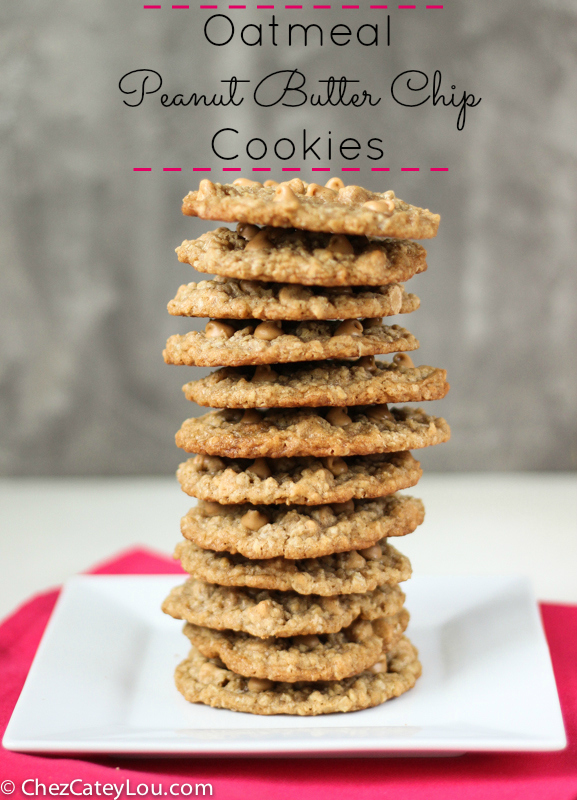 Bonjour mes amis! I am writing to you from lovely Paris! If you follow me on Instagram, then you know that TheBetterHalf and I are off on a two week vacation. We went to Madrid, Marrakech, and now are finishing our trip in Paris. I have been working for over 7 years and have never had two weeks off in a row, so this has been such a treat for me!
I know I should be sharing a Thanksgiving recipe with all of you, but since I won't be in America for Thanksgiving, I did all my cooking a few weeks ago. So to take a break from green beans and pie and stuffing, I have cookies for you! Oatmeal Peanut Butter Chip Cookies – soft and chewy in the middle, just slightly crispy on the edges, and full of tons of peanut butter chips. This is one delicious cookie!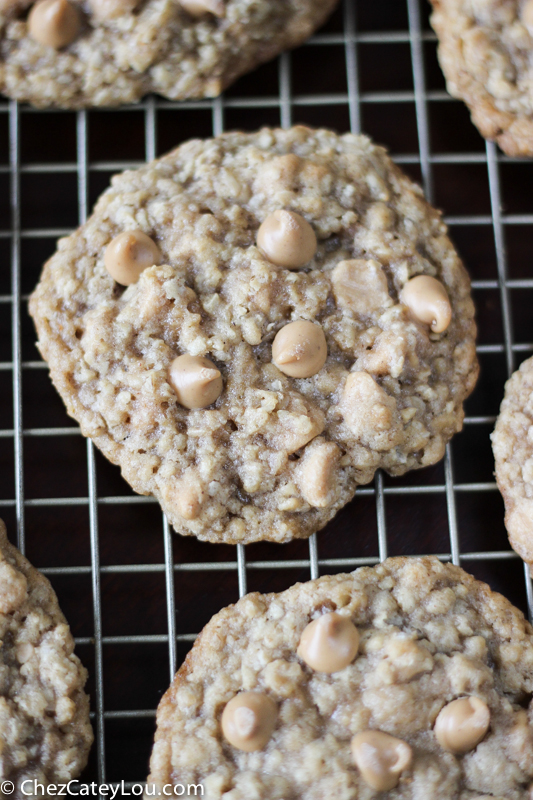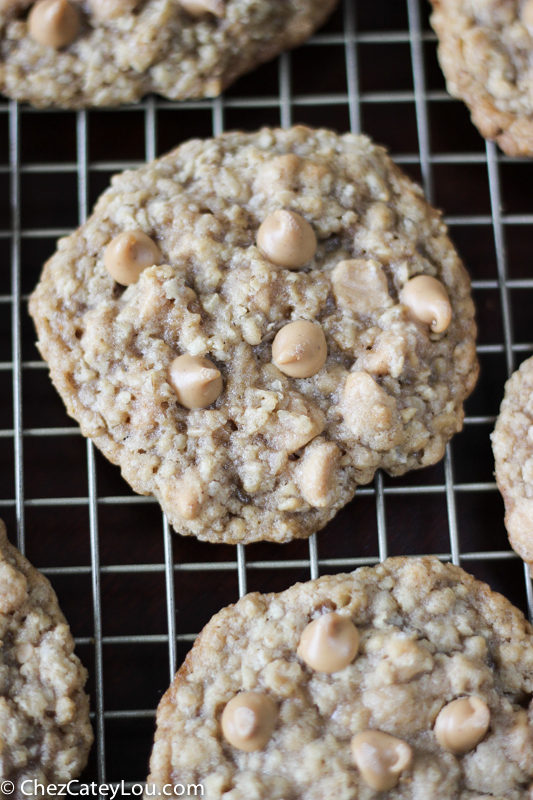 Before you get too jealous of my trip I have to tell you…I got really sick in Marrakech. It was so sad – we were in paradise here and here, and I literally didn't leave the bed for three days straight. I'm still not fully back to normal, hence why I am hanging out writing a blog post this morning rather than exploring this lovely city. I'm getting more energy each day though, so that is good news!  We ran out this morning for a pain au chocolate and a loaf of bread from Poilane for le petit dejeuner – pretty much heaven!  Why is the butter in Paris so delicious?!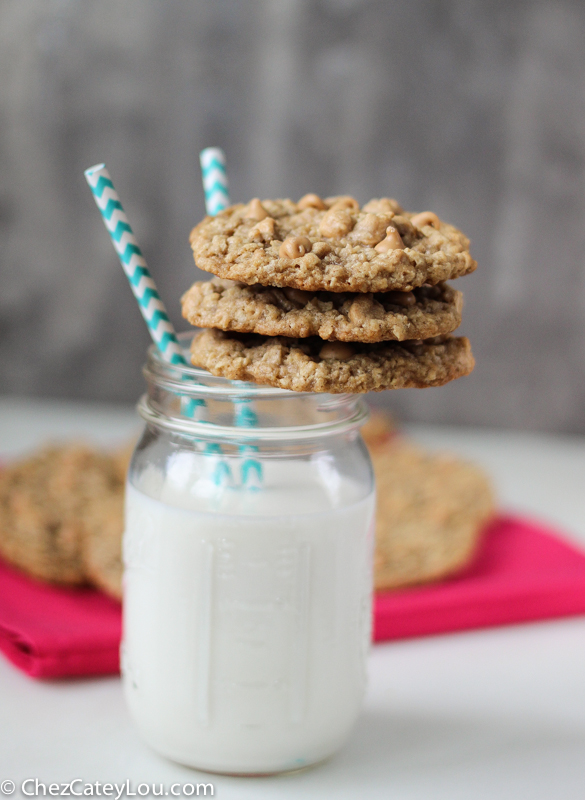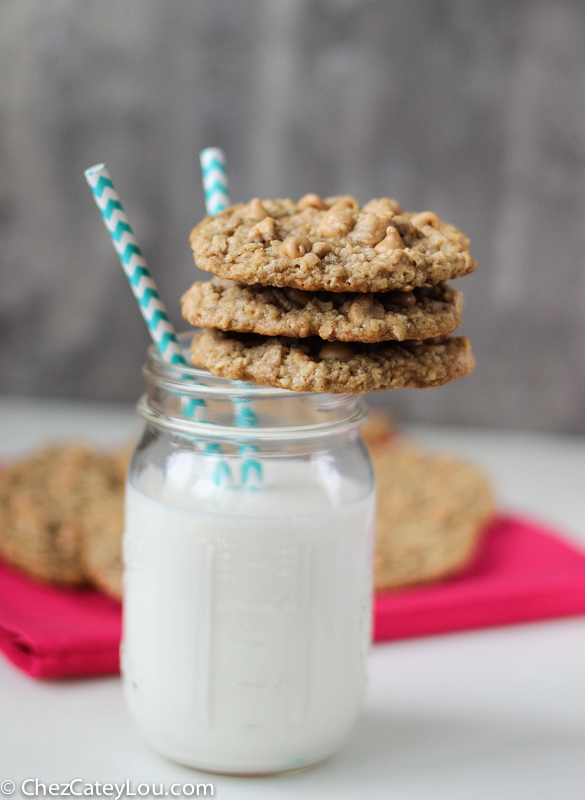 So cookies.  Can you ever have enough cookie recipes?  I really don't think so.  I have so many cookie recipes on CCL, and I just keep making more.  I love cookies!  This recipe is for a fairly traditional oatmeal cookie.  The texture is perfect – soft and chewy in the centers with a slight crisp on the edges.  There is cinnamon in the dough, which I love in my oatmeal cookies.  And then the star of the show is the peanut butter chips.  I love PB chips.  Sweet and peanut buttery and just so delicious!  They taste amazing with the oatmeal and the hint of cinnamon.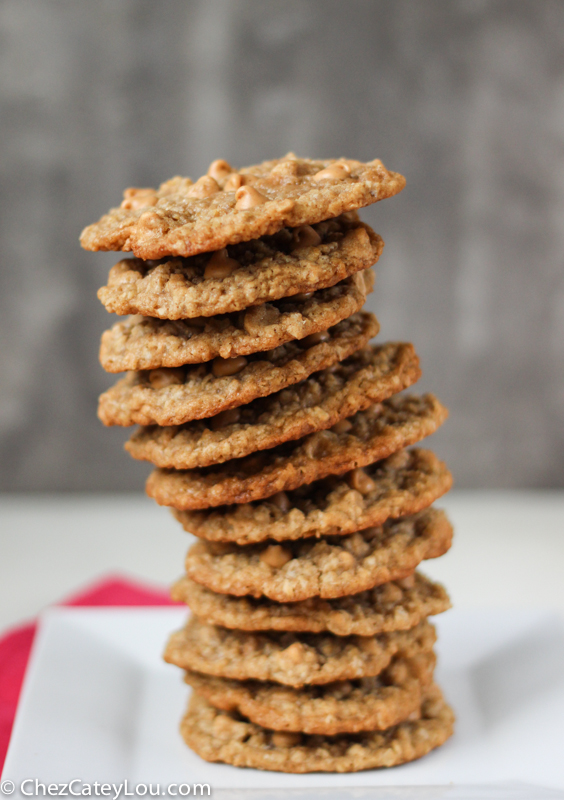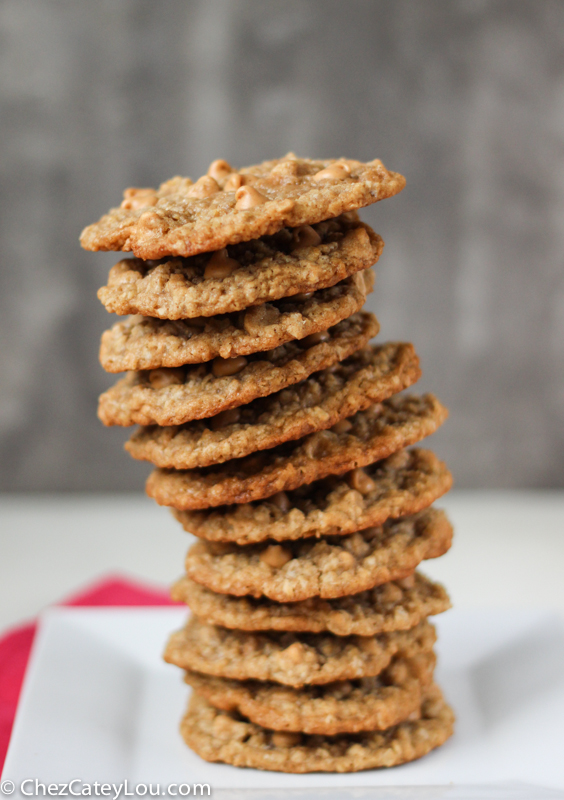 This recipe comes from the More From Magnolia
 cookbook. I'm not the biggest Magnolia Bakery fan anymore – personally I think that when they expanded, they lost a lot of their quality. But I still love their cookbooks – it reminds me of going to the original tiny bakery on Bleecker Street with my family on one of my first visits to NYC.  At that time, I never thought I would call the city home for 7+ years!
TheBetterHalf has been known to scoff at oatmeal cookies. He thinks that since there is oatmeal in there, that they are too healthy. So I added a few chocolate chips to the tops of a few cookies just to make him happy. He can't turn down a cookie if there is chocolate AND peanut butter involved. That's the great thing about baking – you can make every recipe your own. Personally, I like these without chocolate. Peanut Butter chips alone are enough for me to be happy!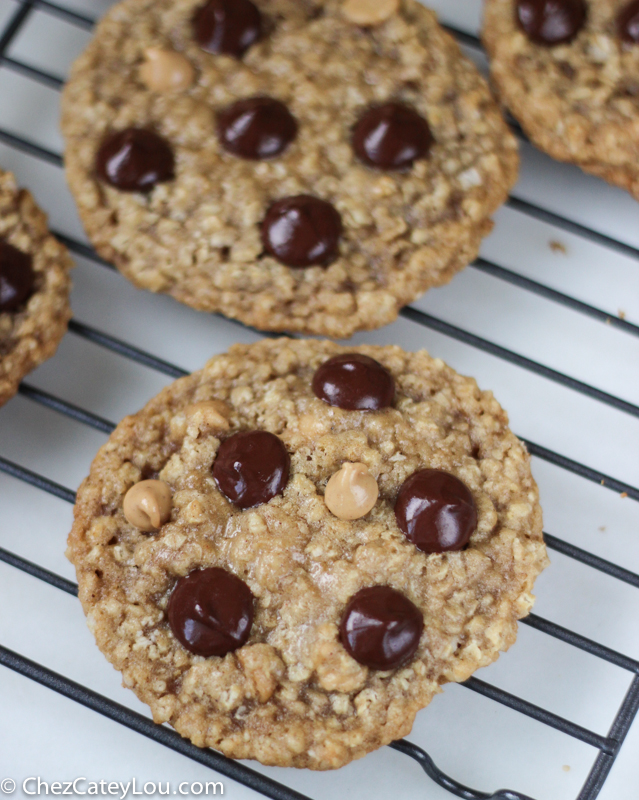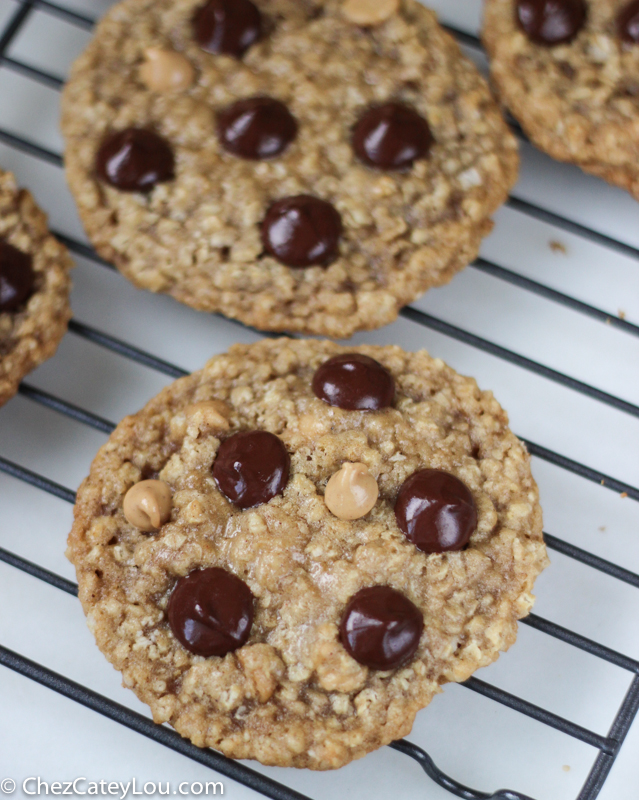 Oatmeal Peanut Butter Chip Cookies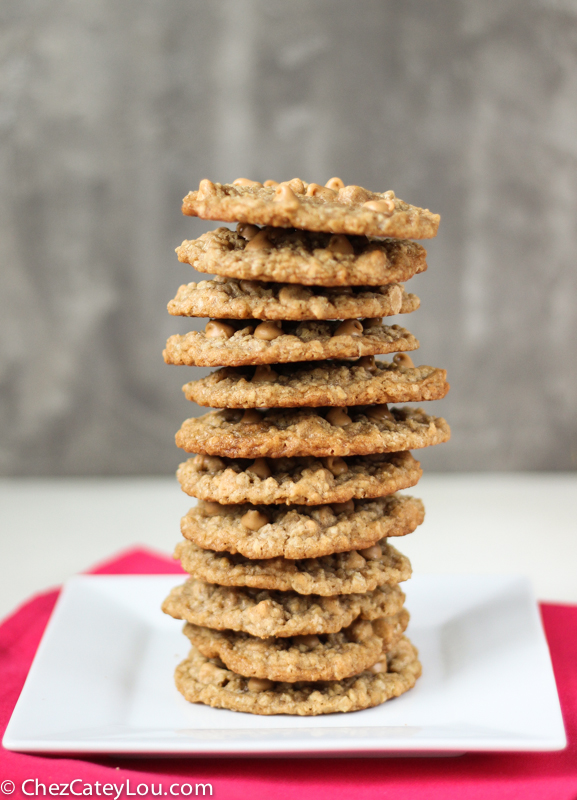 Classic soft and chewy oatmeal cookies are dressed up with tons of peanut butter chips. These Oatmeal Peanut Butter Chip Cookies are absolutely delicious!
Ingredients
1 cup all-purpose flour
1/2 teaspoon baking soda
1/2 teaspoon salt
1/4 teaspoon cinnamon
1 1/2 sticks (3/4 cup) unsalted butter, at room temperature
3/4 cup firmly packed light brown sugar
1/2 cup granulated sugar
1 large egg, at room temperature
1 teaspoon vanilla extract
2 cups quick-cooking oats
1 cup peanut butter chips
Instructions
In a medium bowl, whisk together flour, baking soda, salt, and cinnamon.
In a large bowl, beat together butter and sugars until light and fluffy. Add the egg and beat until very well combined. Beat in the vanilla. Add the Flour mixture to the butter mixture and stir until just combined. Stir in the oats, then the peanut butter chips.
Chill the dough for at least 2 hours and up to 48 hours.
When ready to bake, preheat oven to 350 degrees F. Line two cookie sheets with parchment paper or a silicone mat. Form dough into balls, about 1.5 tablespoons of dough for each cookie. Bake for 11 - 12 minutes, until cookies are slightly golden on edges, but still soft in the centers. Cool on cookie sheets for 2 minutes, then transfer to a wire rack to cool completely.
Notes
Recipe from More From Magnolia
https://chezcateylou.com/oatmeal-peanut-butter-chip-cookies/
© Chez CateyLou. All images & content are copyright protected. Please do not use my images without prior permission. If you want to republish this recipe, please re-write the recipe in your own words, or link back to this post for the recipe.
Follow Chez CateyLou around the internet, I love my followers!
More Oatmeal and PB Chip Cookies!
Dark Chocolate Chip Oatmeal Cookies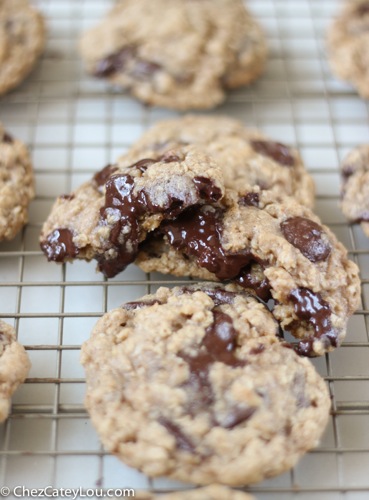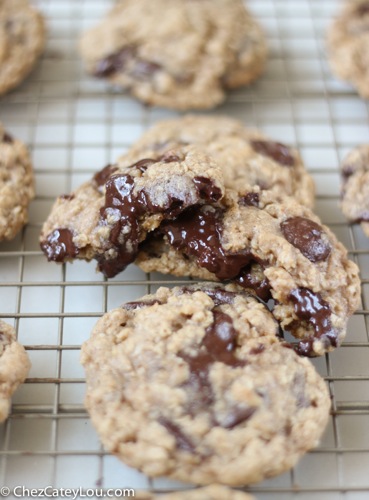 Butterfinger Peanut Butter Oatmeal Cookies