Baked Pumpkin Donut Holes can be made in a donut hole pan or a mini muffin tin. They are cute, delicious, and absolutely addicting – plus they are simple to make!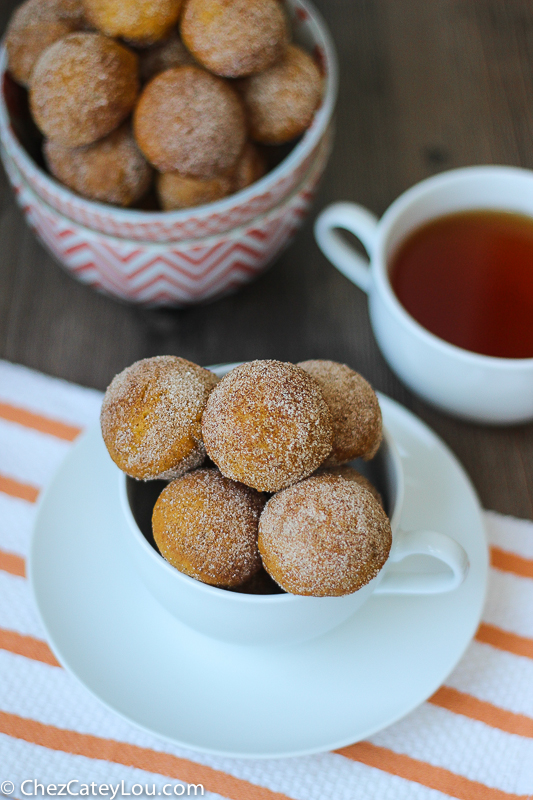 Pumpkin in February? You must think I'm crazy.  But why must pumpkin recipes only be posted in October and November?  Pumpkin is so delicious!!  I bake with it year round and I loved these pumpkin donut holes so much that I just had to share them with you!  So yes, pumpkin in February is happening and I couldn't be happier!
By the way, have you heard of Yummly?  I just recently started becoming a publisher on Yummly and it is my new favorite social media site!  It is all about food, and is a great way to save recipes that interest you.  You can use the "Yum" icon in my social share buttons to save recipes to your own personal recipe box.  Here are all of my recipes on Yummly! You can also Yum recipes right from my page!  Check it out and let me know what you think!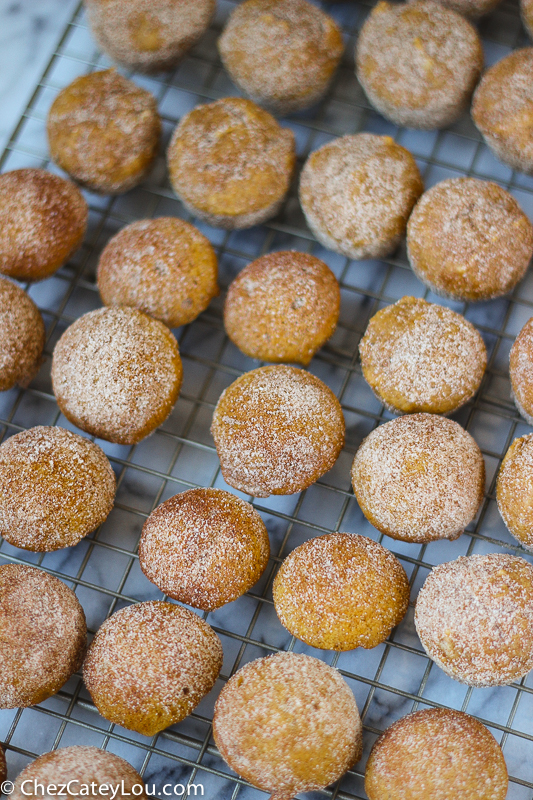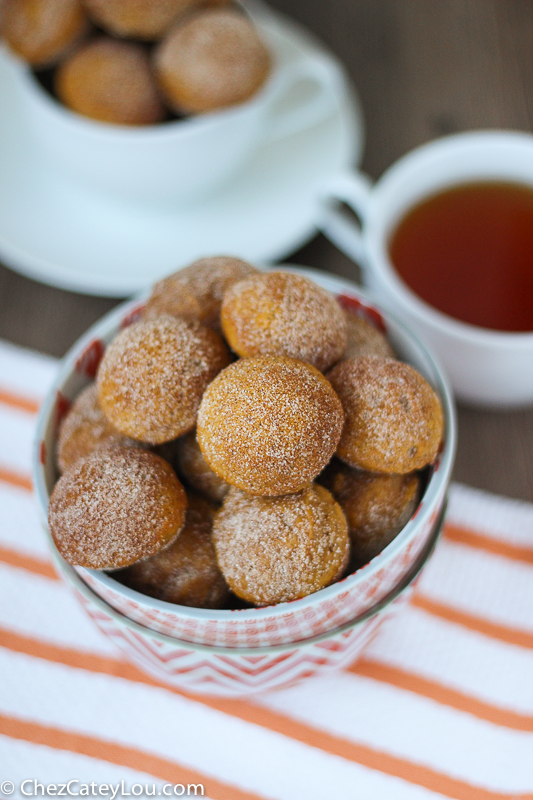 I'm currently sitting at Le Pain Quotidien writing this post.  It is cold and snowy in NYC, but I'm all warm and cozy inside enjoying my cappuccino! Funny story about Le Pain…
TheBetterHalf and I studied abroad in Athens (we have been together since we were freshman at Notre Dame!) and for our spring break we went to Rome.  We needed a break one day and so we found the cutest little coffee shop to have a drink and a snack.  We thought it was so quaint and local, and liked it so much that we returned the next day.  Fast forward to the following summer when I lived in NYC for an internship.  I was walking around one day when I spotted a "quaint and local" coffee shop with the same name as the one in Rome…I had no idea that Le Pain Quotidien was actually a worldwide chain!  So much for our unique find in Rome!!  I guess the French name should have tipped me off.   We actually tried to find the same Le Pain when we went back to Rome 6 years later, but it closed.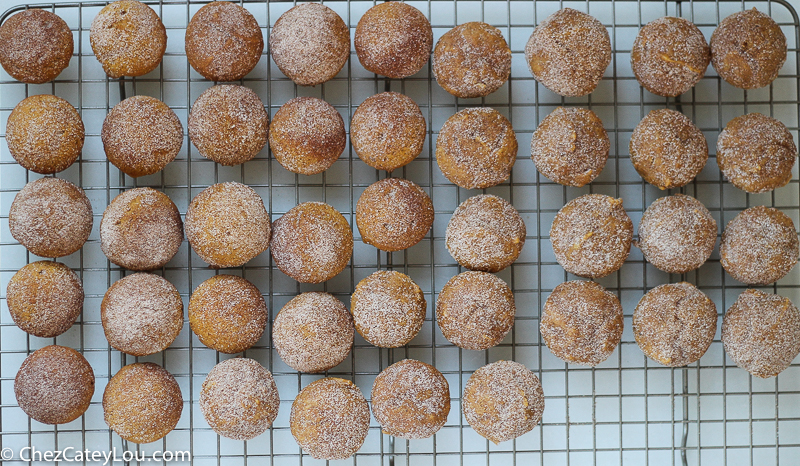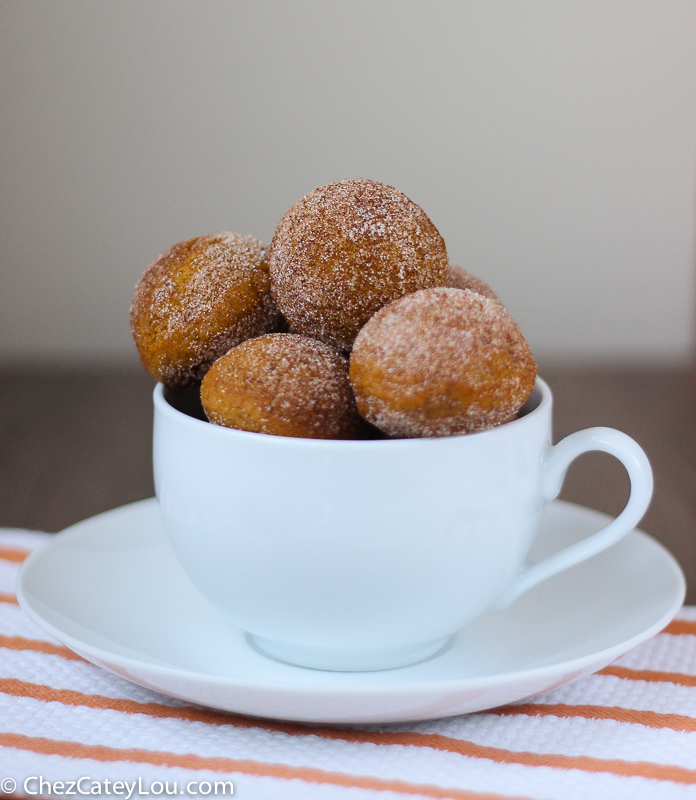 Anyway, back to pumpkin donut holes.  These little guys are seriously addicting.  Consider this your warning.  I'm not kidding – I actually couldn't stop eating them.  I had to make a second batch the same day as the first because I loved these so much!!  I made these in my Donut Hole pan
 but if you don't have one, you can also use a mini muffin tin.  It works really well!
The warm pumpkin donut holes are tossed in cinnamon sugar which creates a delicious coating and makes these really look like donut holes!  They are super easy to whip up, and you can easily double the recipe to feed a crowd.  These are one of my favorite pumpkin recipes yet!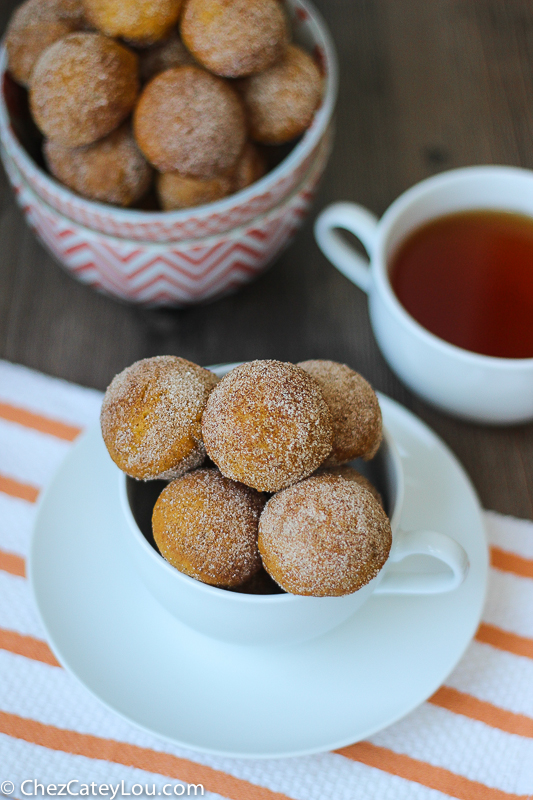 Baked Pumpkin Donut Holes can be made in a donut hole pan or a mini muffin tin! They are cute, delicious, and absolutely addicting - plus they are simple to make!
Ingredients
1 cup flour
1/2 teaspoon pumpkin pie spice
1 teaspoon cinnamon
1/2 teaspoon salt
1 teaspoon baking powder
1/4 cup oil
1 egg
1/4 cup brown sugar
1/4 cup white sugar
3/4 cup pumpkin puree
Cinnamon Sugar (about 1/2 cup sugar mixed with a tablespoon cinnamon), for finishing donut holes
Instructions
Preheat oven to 325 degrees F. Grease a donut hole pan or a mini muffin tin.
In a small bowl, whisk together flour, pumpkin pie spice, cinnamon, salt, and baking powder.
In a medium bowl, whisk together oil, egg, brown sugar, white sugar, and pumpkin until very well combined.
Add the dry ingredients to the wet ingredients and still until just combined.
Fill the each cavity in the donut pan or muffin tin about 2/3 full. Bake for 8 - 10 minutes, until donut holes are cooked through.
Let the donut holes cool for a few minutes in the pan, then toss the warm donut holes in the cinnamon sugar mixture, shaking off excess.
https://chezcateylou.com/pumpkin-donut-holes/
© Chez CateyLou. All images & content are copyright protected. Please do not use my images without prior permission. If you want to republish this recipe, please re-write the recipe in your own words, or link back to this post for the recipe.
If you just can't do pumpkin in February, that's ok – I still have some great mini muffin tin recipes for you!
Connect with Chez CateyLou!