Light and fluffy homemade cinnamon rolls from scratch, in an hour?? It is possible with these One Hour Cinnamon Rolls! Weekend breakfast has never looked so good, or so easy!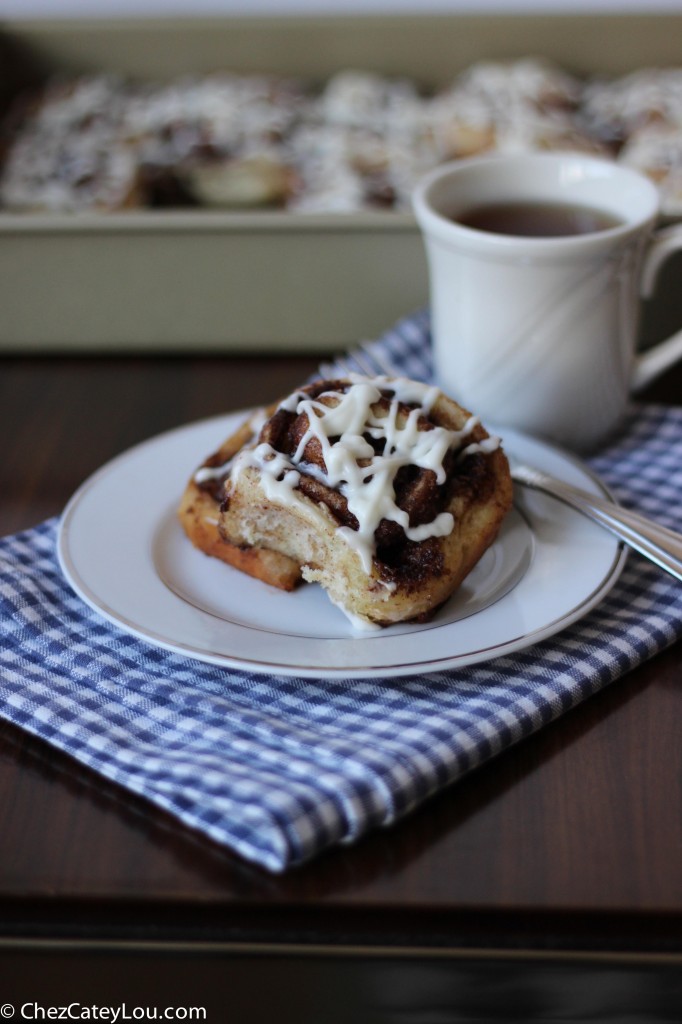 I finally did it.  What is it, you ask?  I made cinnamon rolls!  They are one of those bucket list cooking items that I have been wanting to make for ages, but just haven't attempted.  They kind of scared me for two main reasons.  One, because I thought they would be really hard to make.  And two, because I was worried I would eat the entire pan.  Well I can't really help you with number 2, because these are amazing.  You might eat the whole pan.  But making them?  That I can help you with!  I can't lie, they are not the easiest thing in the world to make, but they are definitely worth the effort.  And, they only take an hour to make – yep that's right, one hour cinnamon rolls!  In the world of bread baking, that is nothing!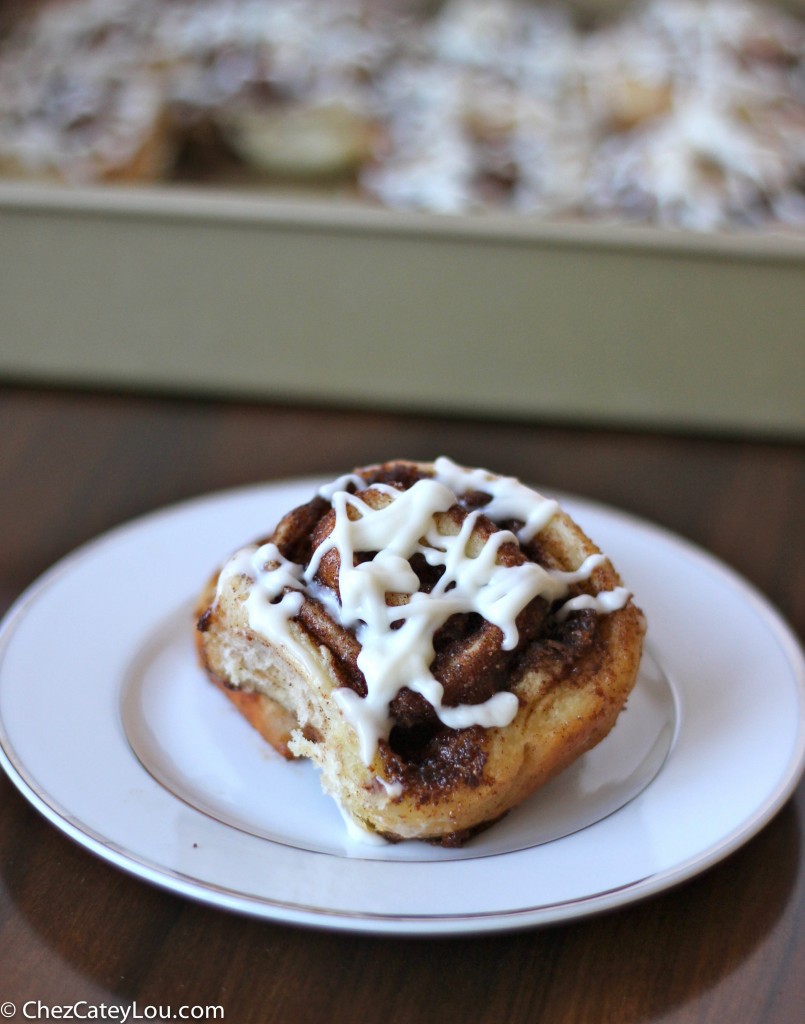 I found this recipe on Averie Cooks and when I saw that they would only take one hour, I was sold.  I knew this would be the perfect recipe to ease me into cinnamon roll making!  I highly recommend reading her post before attempting to make these, as she has lots of useful tips.  But I am going to walk you through some of my tips about these delicious hone hour cinnamon rolls.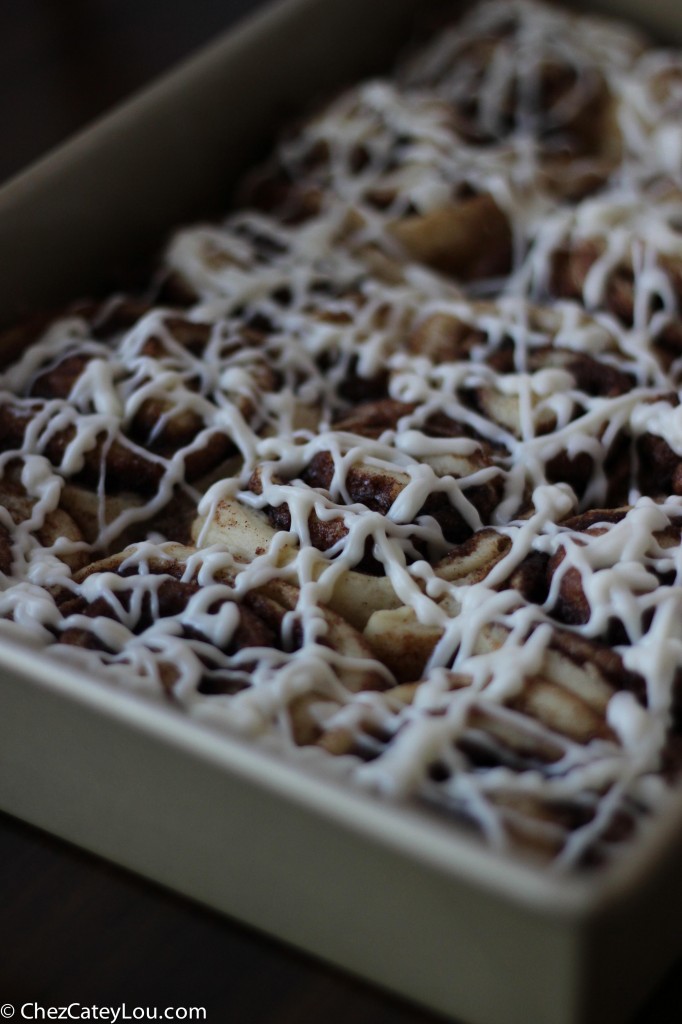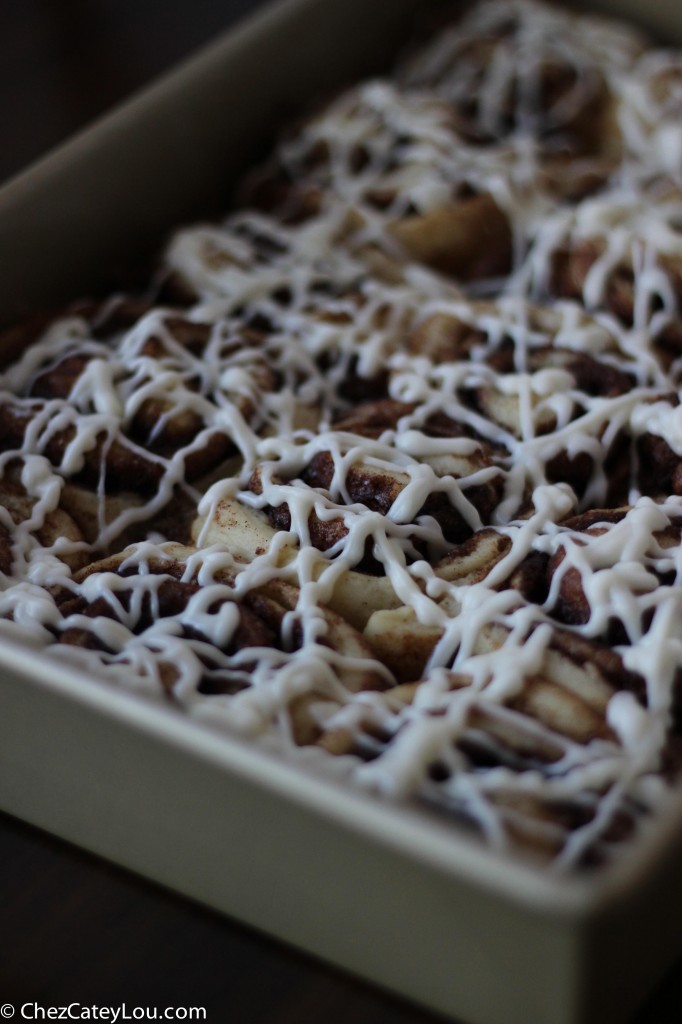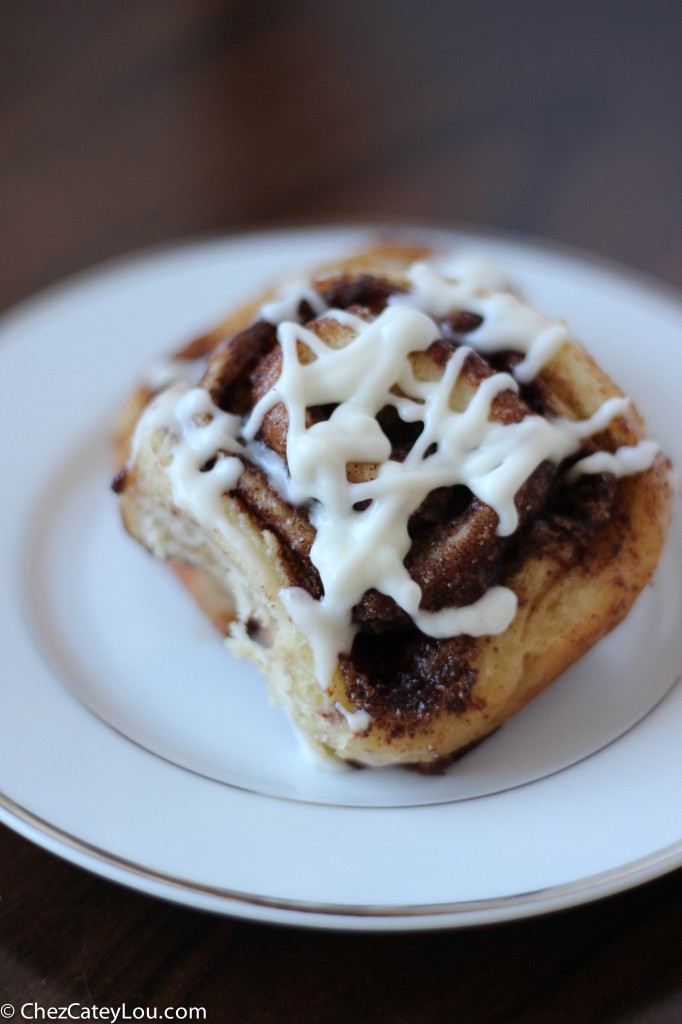 The yeast: Averie calls for Red Star Platinum yeast, so that is what I used.  I haven't baked quite enough bread to be able to tell the difference between yeast brands, but some bloggers swear by Red Star Platinum so I trust their expertise!  These rolls rose beautifully with the Red Star yeast, so I recommend that you use it.  If I test it with another type of yeast, I'll report back (or let me know if you try it 🙂 .
The liquid: These cinnamon rolls use buttermilk, which makes them so light and fluffy.  Plus, it is the main reason why you do not have to let them rise before baking them!  Magic, isn't it? Real cinnamon rolls with no rising, I didn't even think this was possible!  You need to heat the buttermilk to the temperature called for by the yeast you use.  Red Star Platinum yeast recommends that you heat the liquid to 120 – 130°F, which is hotter than most yeasts call for.  I do this in the microwave for about a minute – heat up the buttermilk, stir it, then take the temperature with a digital thermometer.  When working with yeast, you want to be precise so that everything turns out well.  Nothing is sadder than working hard on a recipe and having it not turn out!  It is enough to make you cry.  Not that I've ever done that…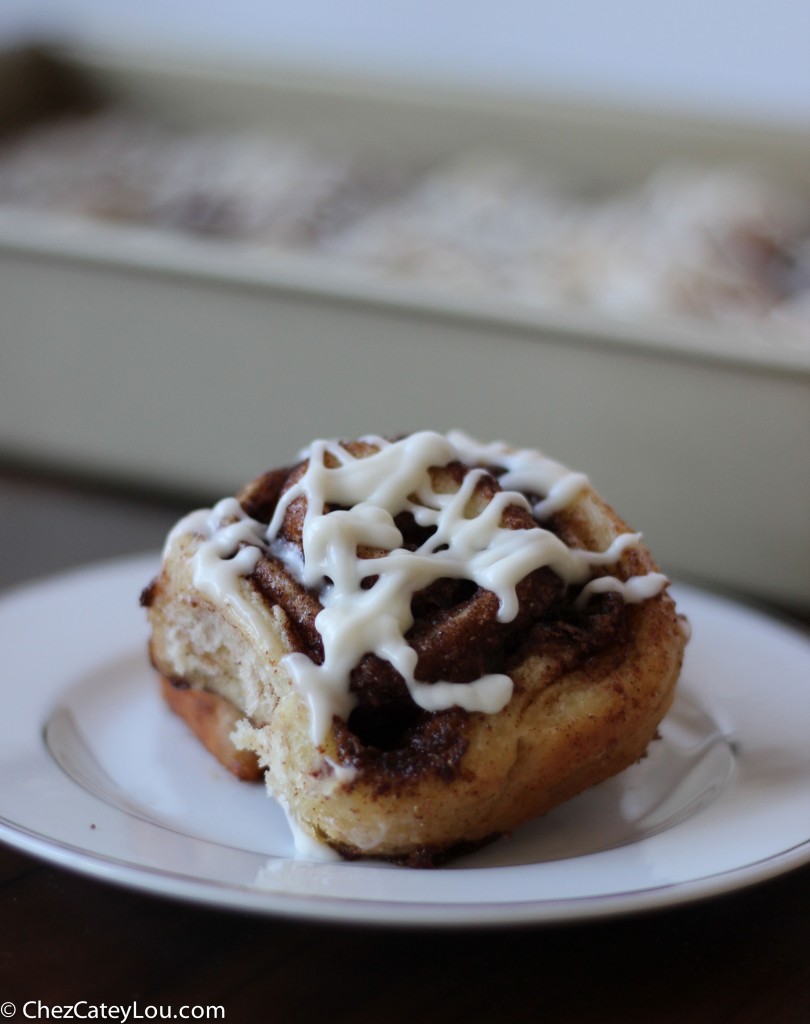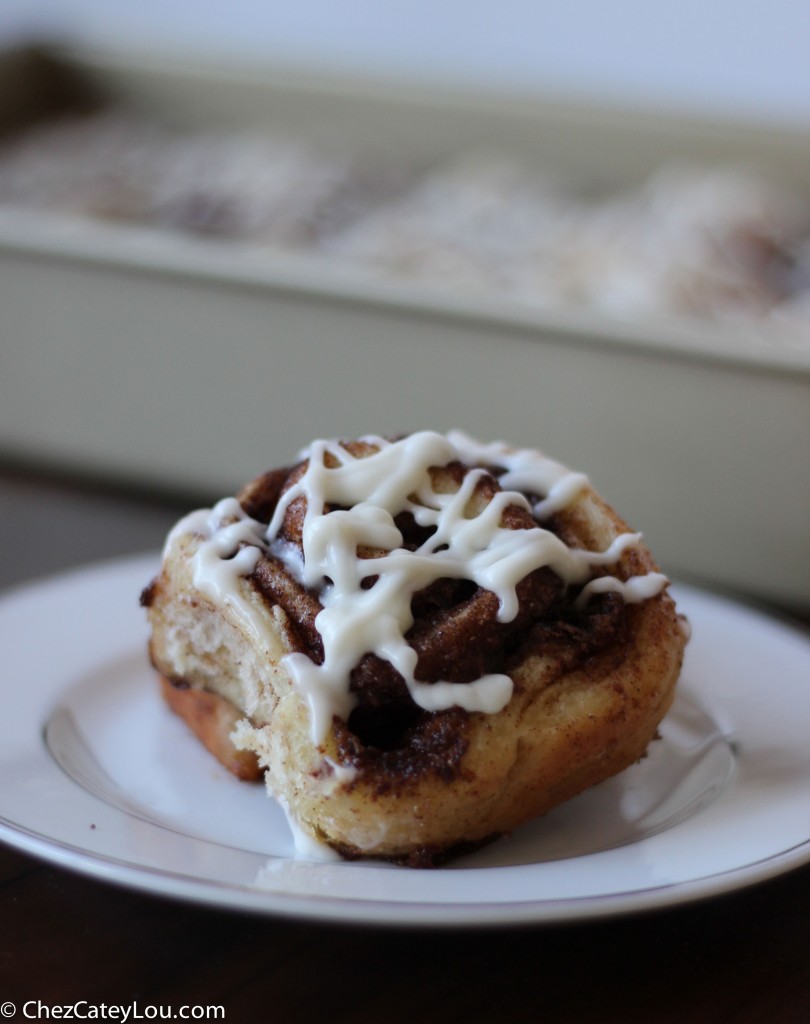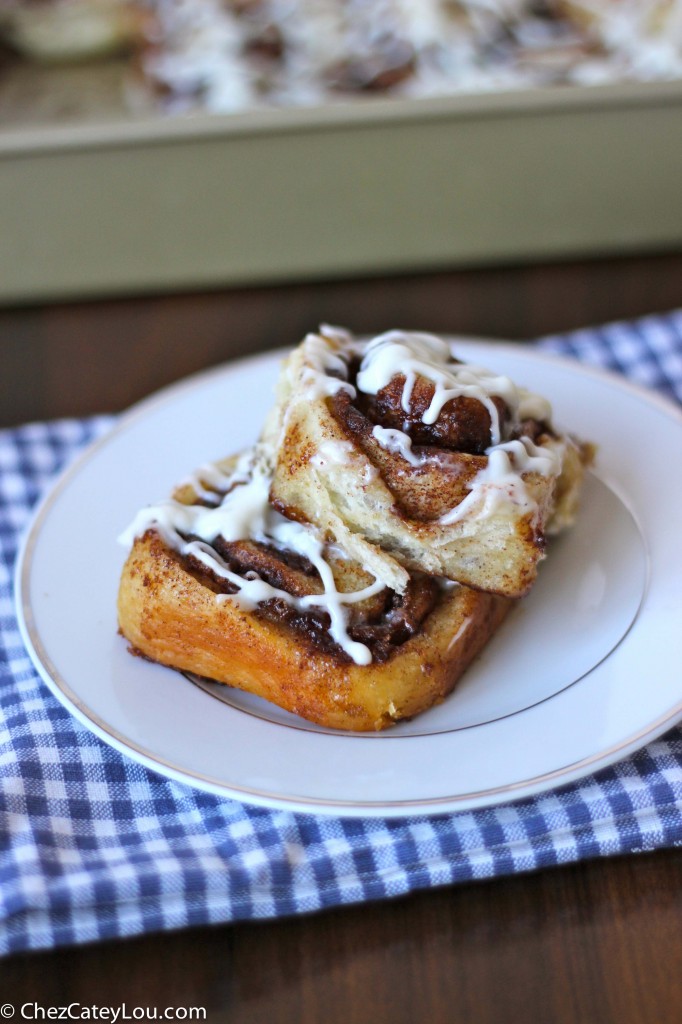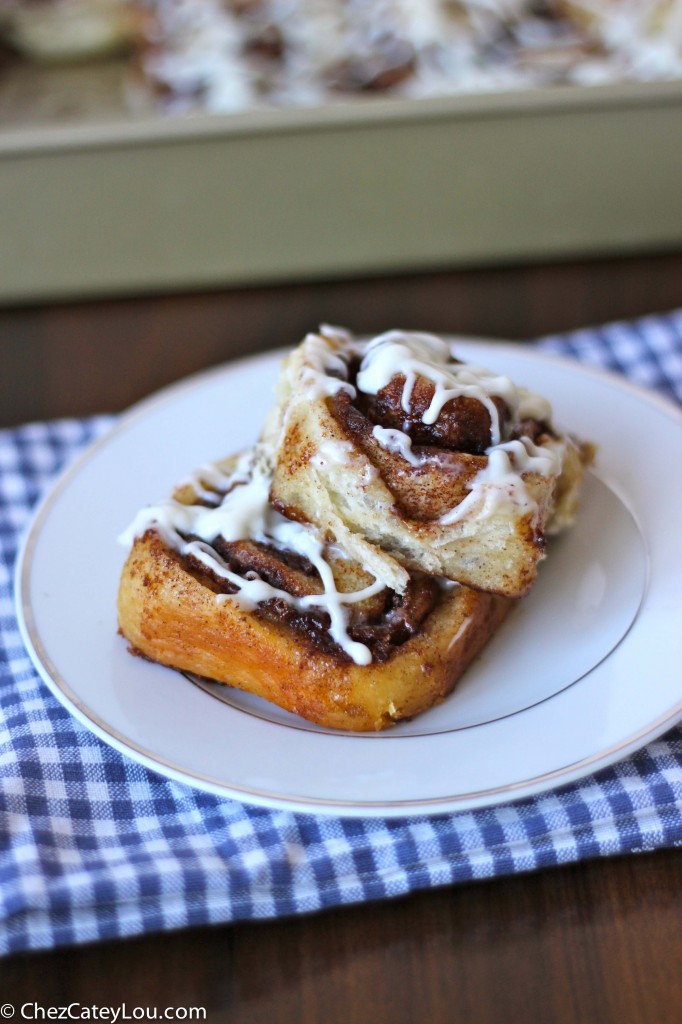 The dough: I love using a stand mixer with the dough hook attachment to knead dough.  It is so much easier and cleaner than kneading by hand!  You can of course do this all by hand, you just have to knead a little longer.  After you knead all the ingredients in the mixer for about 7 minutes, the consistency of the dough should be soft, smooth, and elastic.  It should not seem gloppy or overly sticky.  If it is, add flour one tablespoon at a time until a better consistency is reached.  Sometimes if my dough seems too sticky, I finish the kneading by hand, adding a little bit of flour.  You can really get a feel for the dough this way.
Rolling the dough:  Once the dough is kneaded, roll it into a rectangle that is about 9 inches by 14 inches.  You can use the edge of your 9×13 pan to help you estimate.  Sometimes the dough seems stubborn and does not want to take the right shape- just keep rolling!  Or if it doesn't want to roll at all, leave the dough for 5 minutes and then try again.  Make sure that the center of your rectangle is not too thin.  You actually want  the center to be slightly thicker than the edges to help when you are rolling up the dough.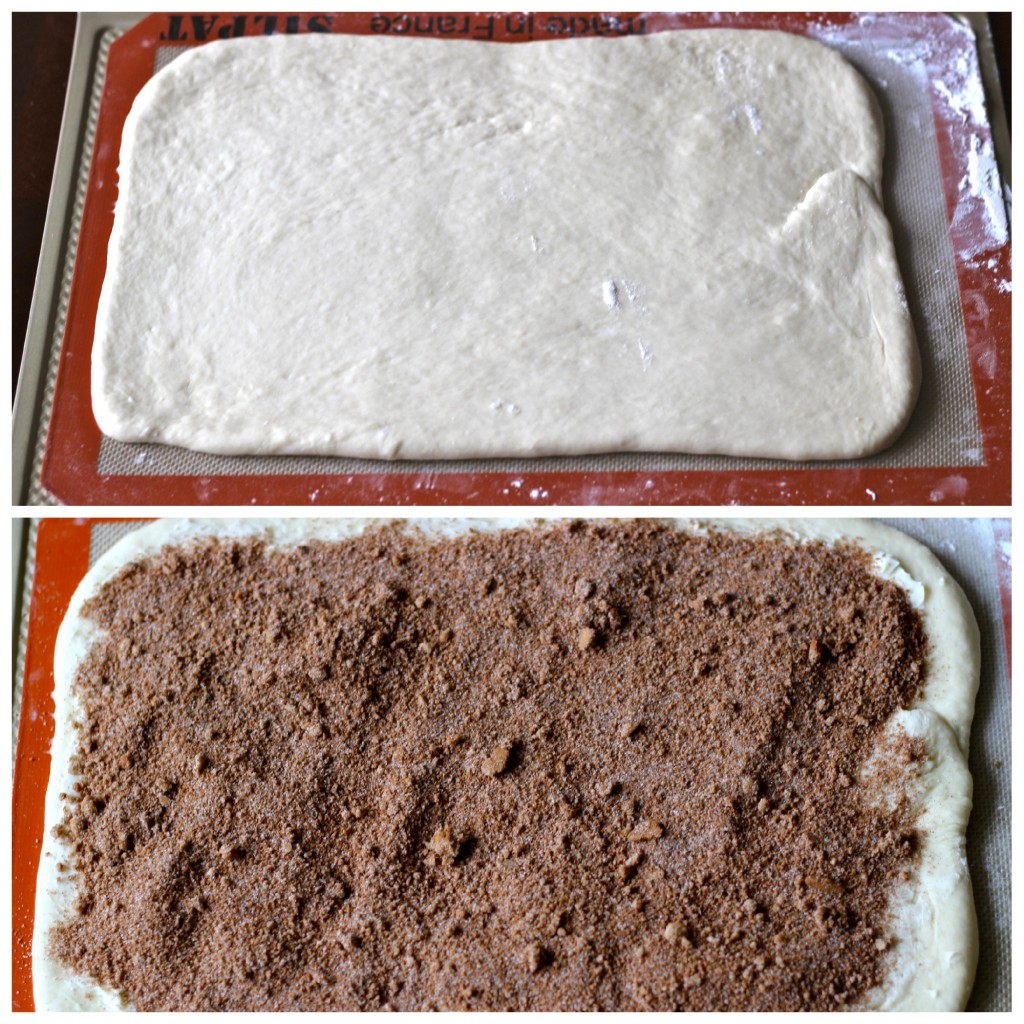 The filling: Make sure your butter is very soft before you spread it on your dough.  Otherwise, it is very hard to spread the butter – I know from experience on this one….
Making the dough into a log: This was the hardest part of the recipe for me.  You want to roll the dough as tight as possible, and try to keep the ends even.  I think this is a skill that likely improves with practice (I hope!). But just know that these rolls are very forgiving, and that icing covers up anything!  So if your roll isn't perfect, don't fret, they will still turn out ok.
Cutting the rolls: Averie recommends using dental floss to cut the dough.  Unfortunately I only had mint floss and did not want my rolls to taste like fake peppermint!  So I used a sharp knife to carefully cut my rolls, and it worked just fine.  I want to try the dental floss trick next time I make these!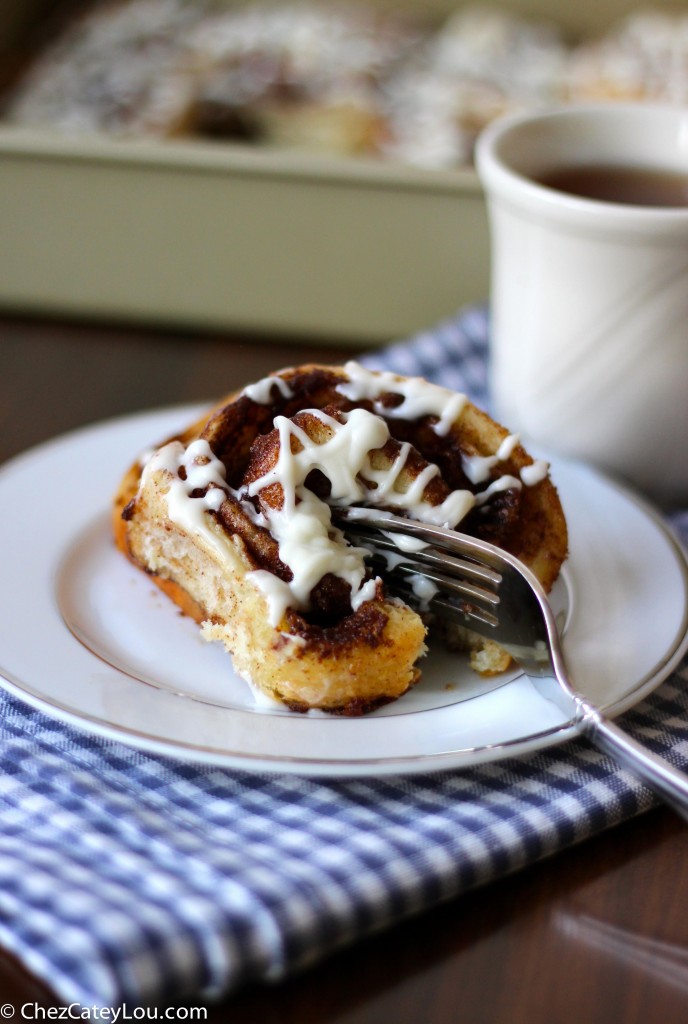 The rest: When you place the rolls in the pan, space them evenly apart.  They will rise and spread out in the oven, so they do not need to be touching each other when you put them in to bake.  Bake these for about 20 minutes – make sure you don't overbake them.  The dough will only be pale golden brown when they are finished, and they will firm up a bit as they cool.  The icing is the easy part!  You can frost these however you like.  Spread it on, drizzle it on, pipe it on – whatever way you pick, it will look perfect and will taste delicious.
So I know it sounds like a lot of instructions, but after you follow them you will have the most amazing cinnamon rolls, and all in about an hour!  Pretty spectacular if you ask me.  TheBetterHalf couldn't get enough and I have a feeling I will be making these again VERY soon!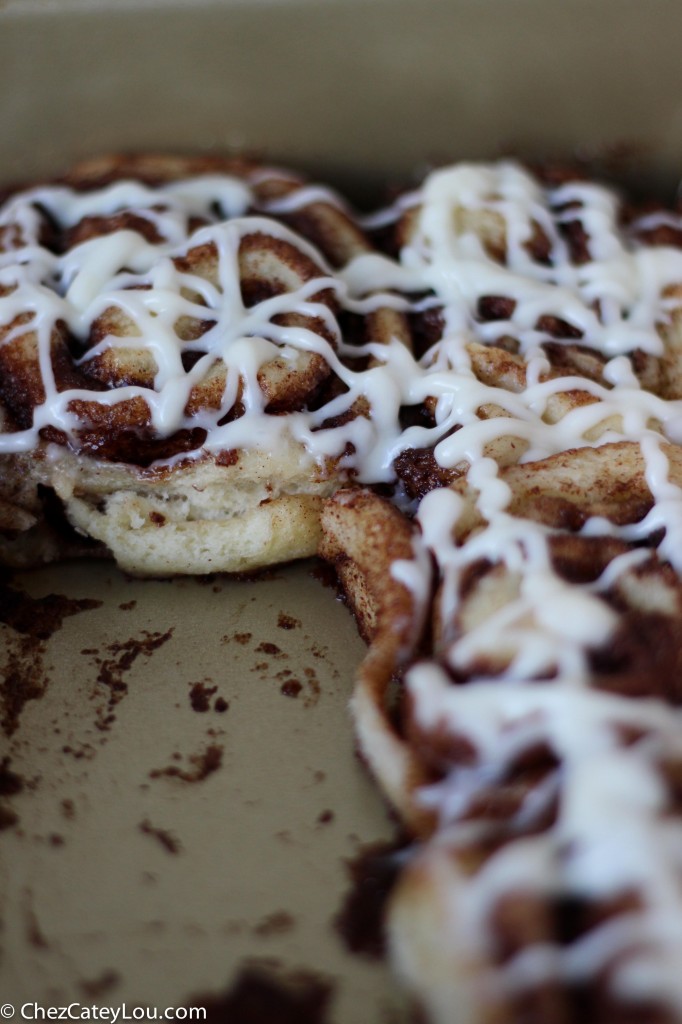 One Hour Cinnamon Rolls with Cream Cheese Icing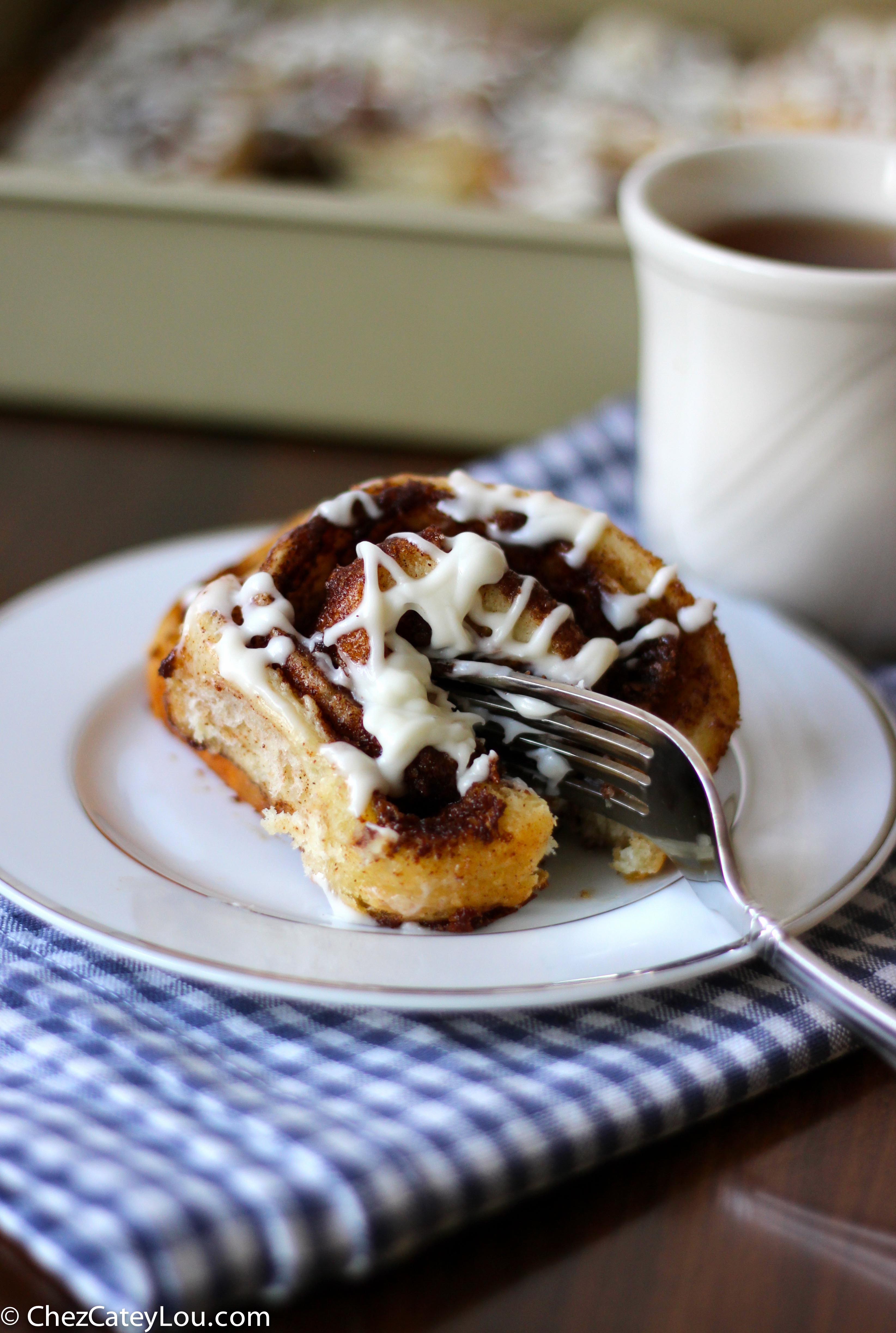 Light and fluffy homemade cinnamon rolls from scratch, in an hour?? It is possible with these One Hour Cinnamon Rolls! Weekend breakfast has never looked so good, or so easy!
Ingredients
For the Dough:

2 1/2 cups all-purpose flour + extra flour if needed, see directions
1 cup buttermilk, warmed to yeast manufacturer's directions (for Red Star Platinum, this is 120 - 130°F)
2 1/4 teaspoons instant dry yeast (one 1/4-ounce packet, I use Red Star Platinum)
2 tablespoons canola or vegetable oil
2 tablespoons granulated sugar
1/4 teaspoon salt

For the Filling:

1/2 cup unsalted butter (1 stick), very soft
1/3 cup granulated sugar
1/3 cup light brown sugar, packed
3 tablespoons cinnamon

For the Icing:

4 ounces cream cheese, very soft
about 2 cups confectioners' sugar
about 2 to 3 tablespoons cream, half-and-half, or milk
(note: you may halve this recipe if you don't like a lot of icing)
Instructions
Preheat oven to 350°F. Grease a 9x13 inch pan with cooking spray or butter and flour the pan

For the dough:

In the bowl of a stand mixer fitted with the dough hook, add all the dough ingredients and knead until the dough is soft and smooth, about 7 minutes. If the dough seems too wet and sticky, add in a little more flour.
Turn the dough out onto a silpat or a counter sprayed with cooking spray. Pat the dough into a rectangle, and then use a rolling pin to roll it into a rectangle that is about 9x14 inches.

For the filling:

Mix the sugars and cinnamon together in a small bowl.
Spread the soft butter evenly over the surface of the dough, leaving ¼ inch borders around the edges of the dough. Sprinkle the cinnamon sugar mixture over the butter.
Starting with the 14-inch side of the dough, roll it into a tight log. Cut log into 15 equal pieces, about 1 inch each (You can use unflavored dental floss or a sharp knife to do this) and place in the prepared pan, spacing evenly. Bake the rolls for about 20 minutes, until they are just slightly golden brown and are cooked through. They will continue to firm up as they cool, so do not over bake. When the rolls come out of the oven, make the icing.

For the Icing:

Combine all ingredients in a medium mixing bowl. Beat with an electric mixer at medium speed until smooth. Add more cream if necessary until the desired consistency is reached. After the rolls cool for a few minutes, ice them as desired. You can cover all the rolls with icing using a spatula. Or you can place the icing in a ziplock bag, cut off the corner, and use it as a piping bag to make a more decorative look.
Notes
Recipe from Averie Cooks
Read my blog post for more details about the recipe
https://chezcateylou.com/one-hour-cinnamon-rolls-with-cream-cheese-icing/
© Chez CateyLou. All images & content are copyright protected. Please do not use my images without prior permission. If you want to republish this recipe, please re-write the recipe in your own words, or link back to this post for the recipe.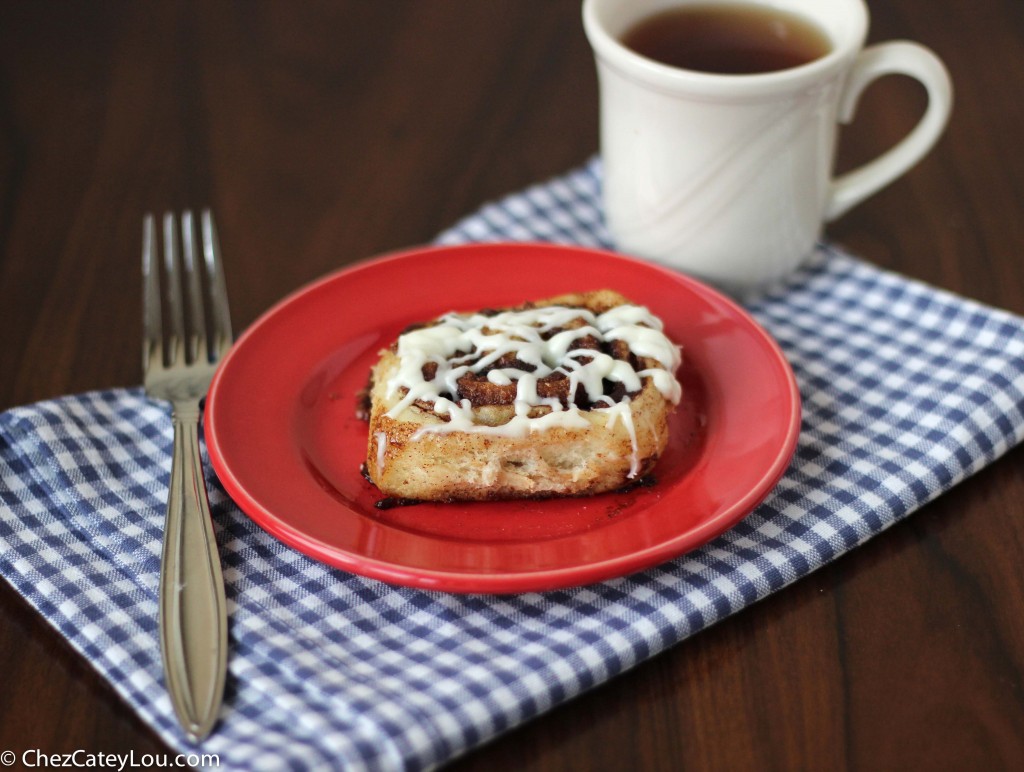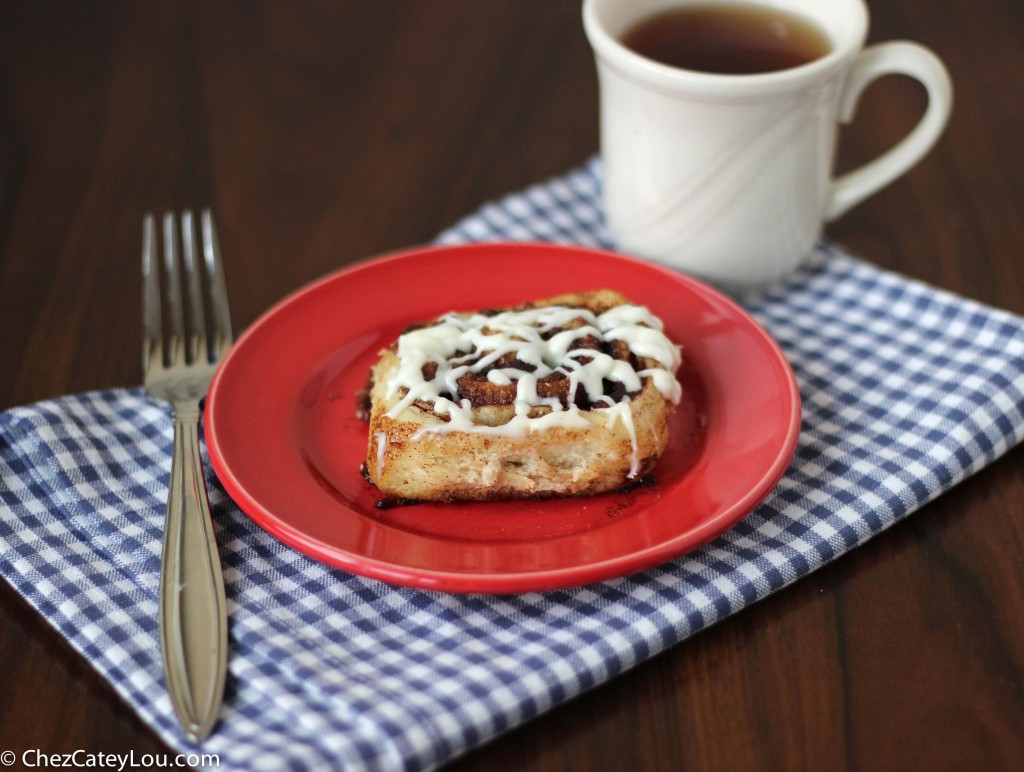 Connect with Chez CateyLou!