Pumpkin and cinnamon flavors shine in this Pumpkin Chocolate Chip Cookie. The texture is super chewy, not cakey at all! This has become my new favorite fall cookie!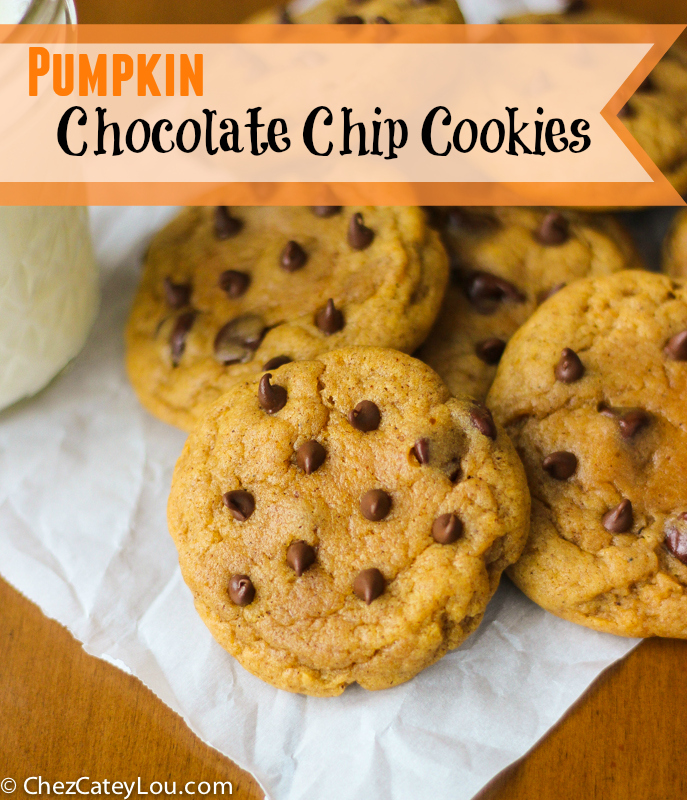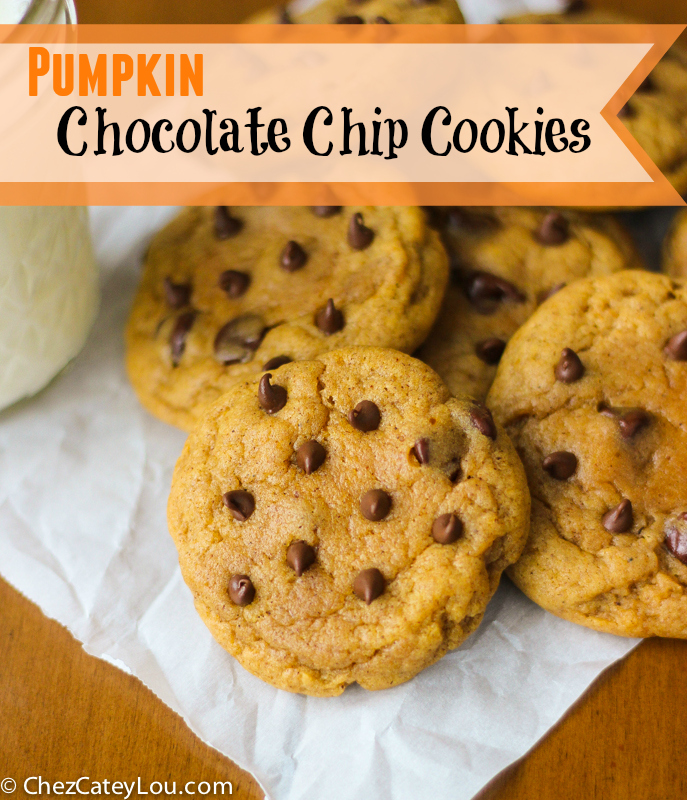 Today is a good day. Cookies AND a Giveaway – what could be better than that??
First the cookies. Pumpkin Chocolate Chip Cookies. Yes, more pumpkin!! What can I say, 'tis the season!
And second, the Giveaway! One lucky reader will win a Cake Decorating Turntable from Cake Boss
!! This thing is amazing, and is a necessary tool for any cake maker. The retail value is $89.99! Scroll to the bottom of the post for details on how to enter.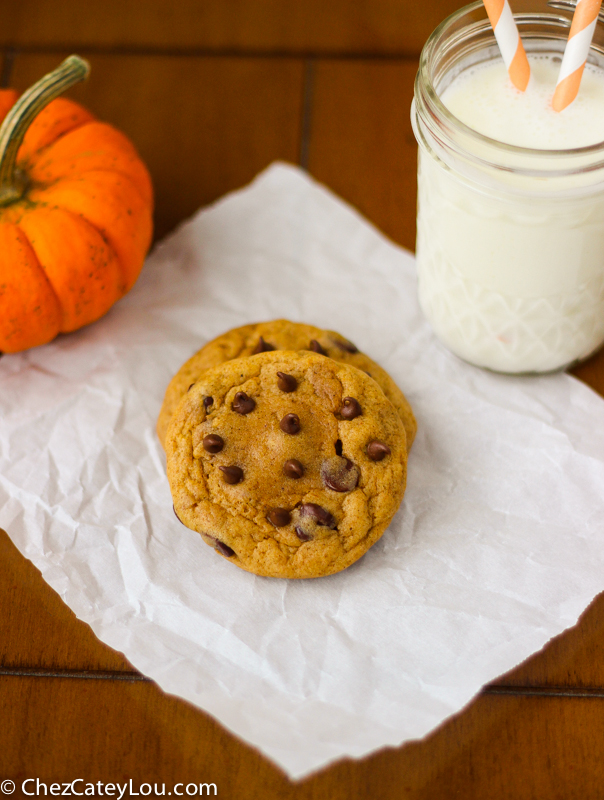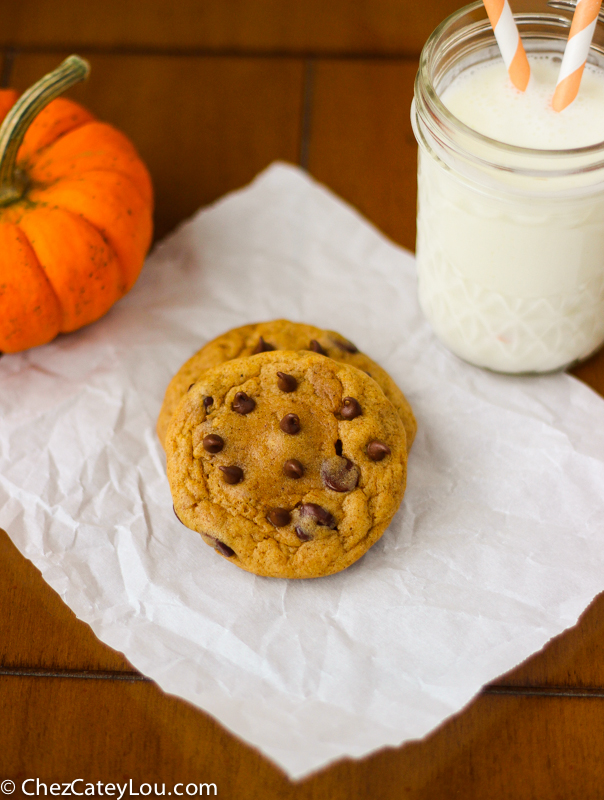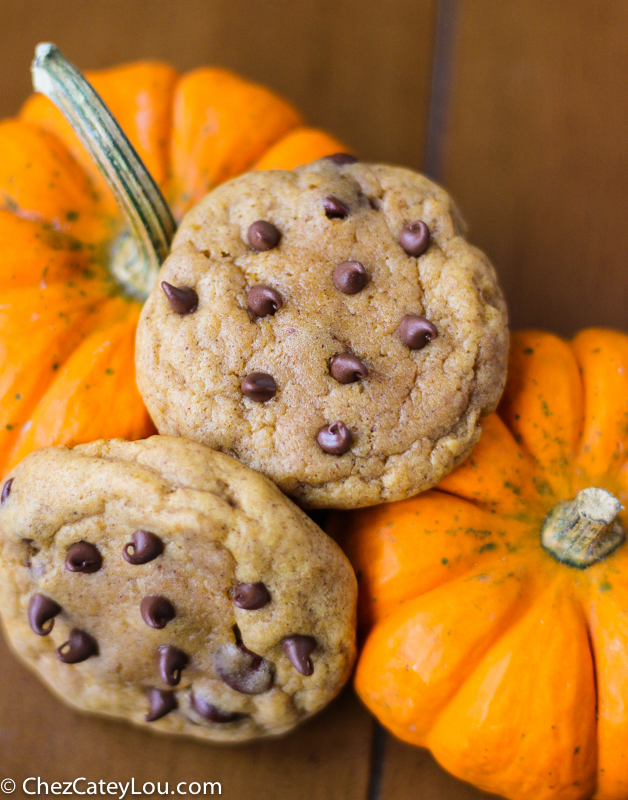 As I mentioned in this post, I've only recently started combining pumpkin and chocolate – and I am hooked! And really, I don't know what took me so long. Chocolate makes everything better!
I saw this recipe on Sally's Baking Addiction and I just knew I had to try it! If you haven't seen Sally's site, definitely check it out. She is the baking queen!!
These cookies are so soft and chewy, not cakey at all! They use melted butter, which I love in a cookie recipe, because you don't need to wait for the butter to come to room temperature! The chocolate really complements the pumpkin and cinnamon flavors – this is one delicious cookie.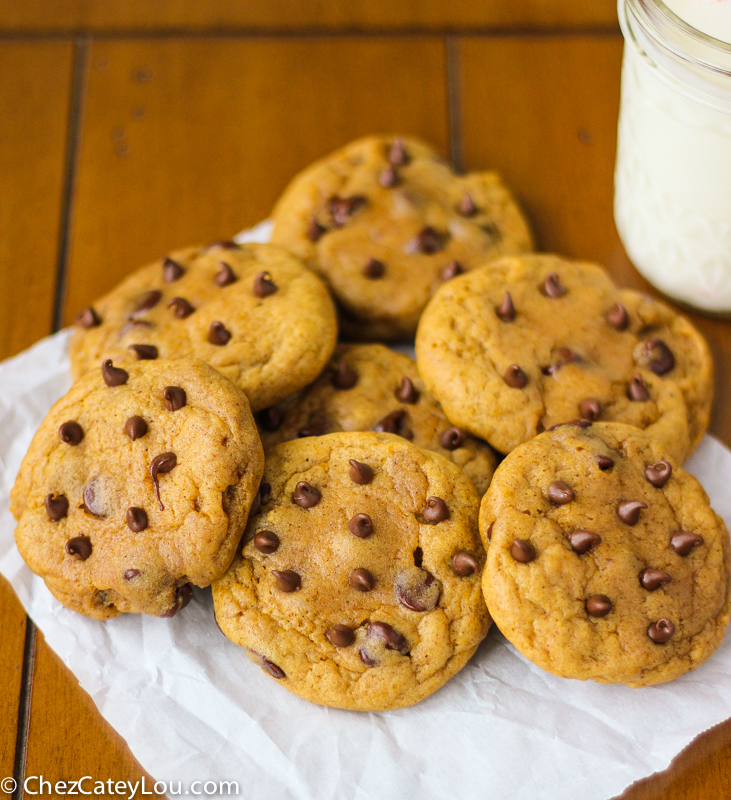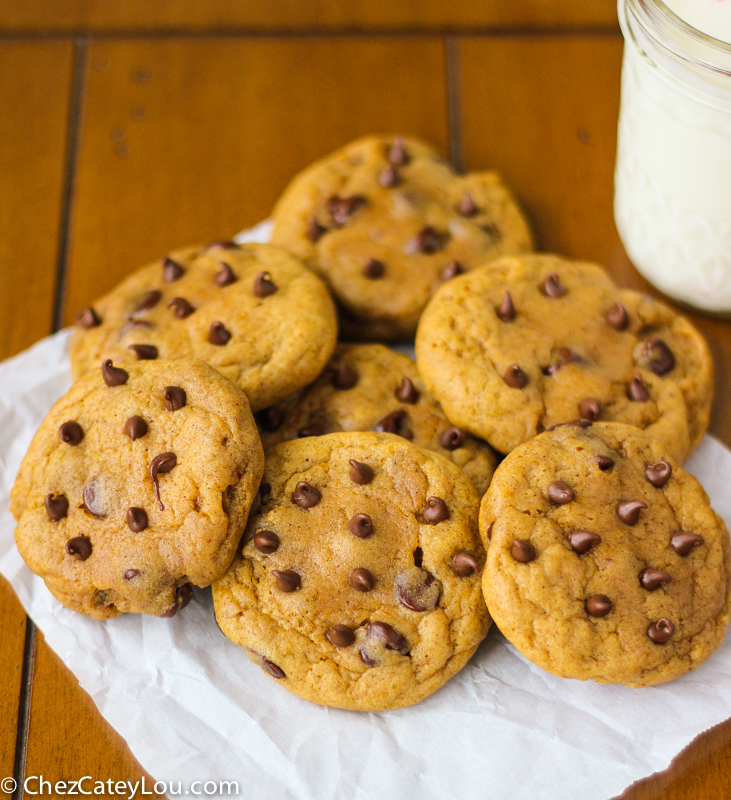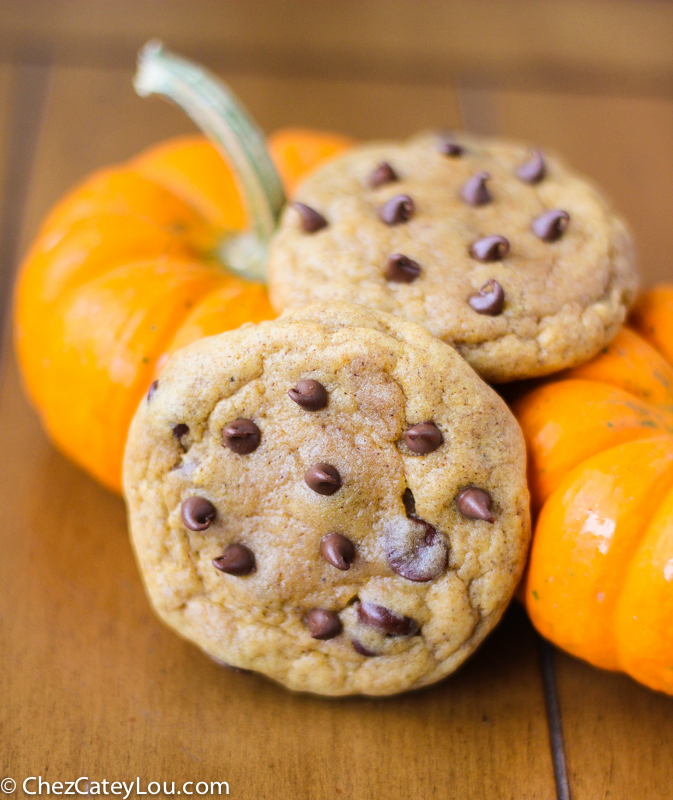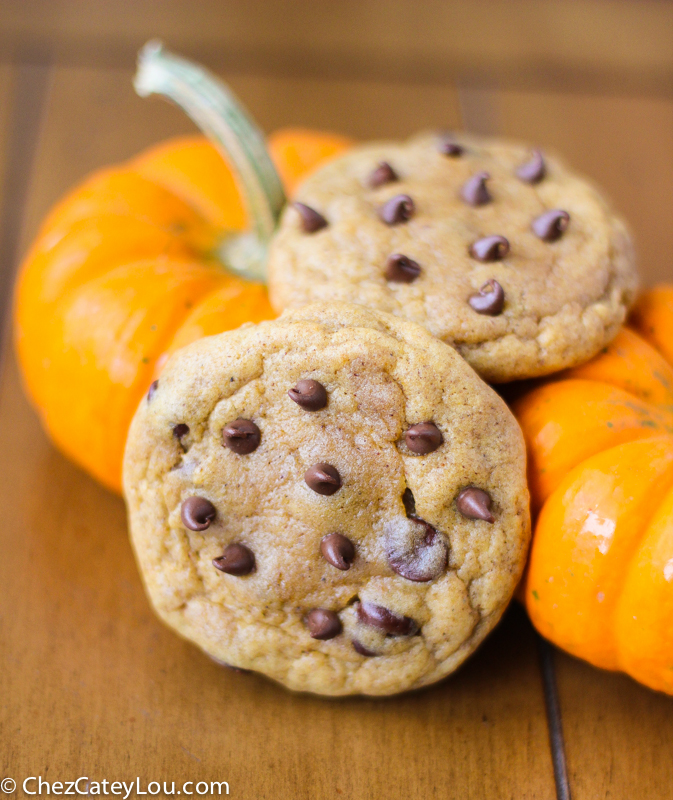 So now a little more about this awesome Cake Boss Giveaway! If you follow me on Instagram or Twitter, then you know that I was lucky enough to meet the Cake Boss last week! I attended a live taping, where I got to see Buddy in action. That man can ice a cake insanely fast – and he needs his turntable to do it! After the show, Buddy gave us a tour of his facility. It was so cool to see how everything works behind the scenes. And at the end, we got a warm vanilla cupcake, fresh out of the oven. I think it might have been the best cupcake I have ever had! Buddy is such a nice guy, and it was a really great experience.
I'm so happy that I get to share a little of the Cake Boss awesomeness with you! I am giving away a cast iron Cake Boss Decorating Turntable and Cake Stand
. I didn't realize it until I saw Buddy in action the other night, but a turntable makes icing a cake SO much easier. Scroll down to below the recipe and enter to win!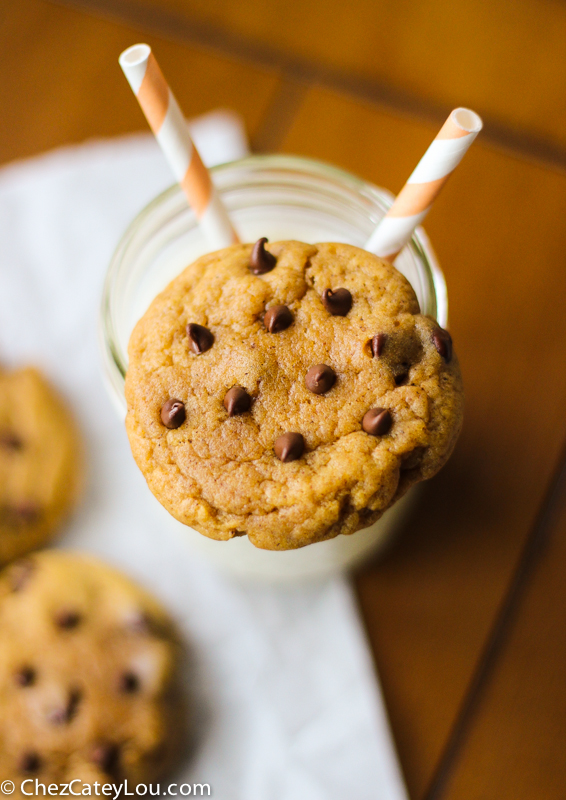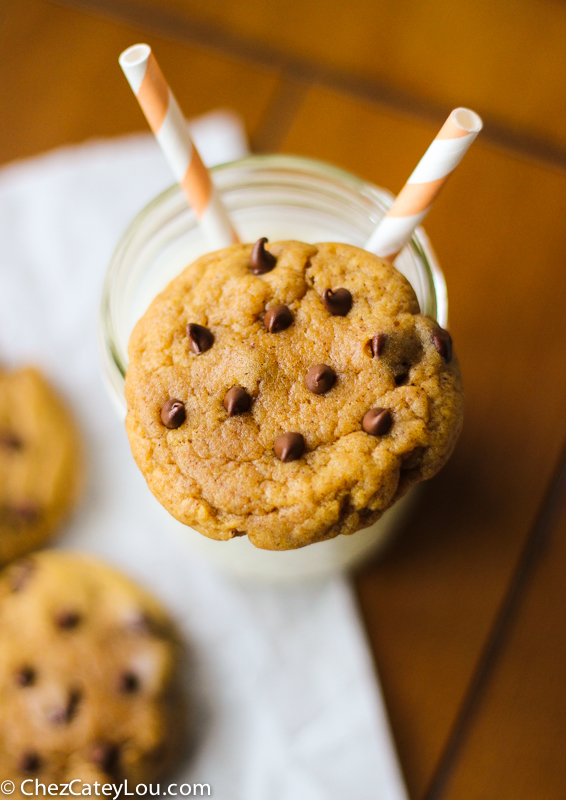 Follow Chez CateyLou around the internet! I love new followers!
Pumpkin Chocolate Chip Cookies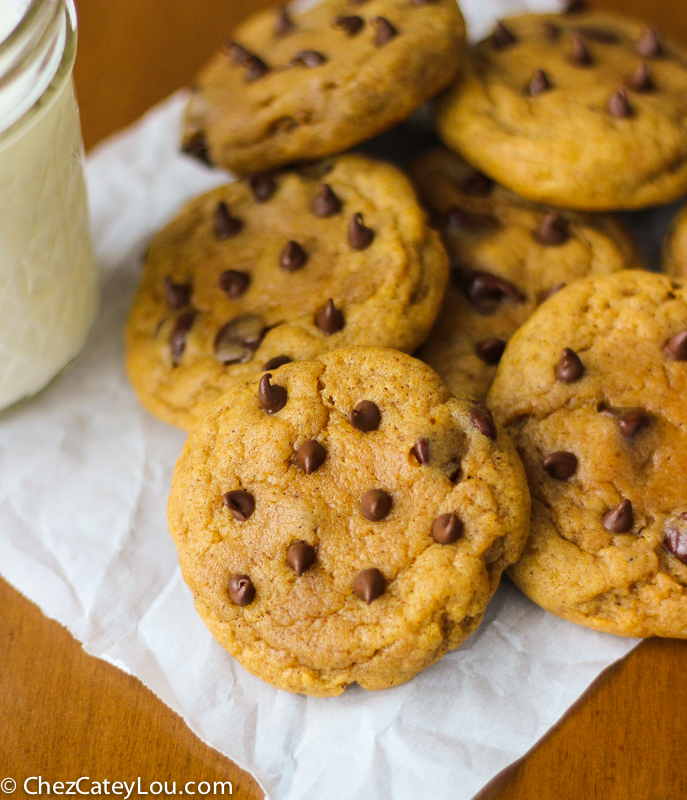 Pumpkin and cinnamon flavors shine in this Pumpkin Chocolate Chip Cookie. The texture is super chewy, not cakey at all! This has become my new favorite fall cookie!
Ingredients
1/2 cup (1 stick) unsalted butter, melted
1/4 cup (50 grams) light or dark brown sugar
1/2 cup (100 grams) granulated sugar
1 teaspoon vanilla extract
6 Tablespoons (86 grams) pumpkin puree
1 and 1/2 cups (190 grams) all-purpose flour
1/4 teaspoon salt
1/4 teaspoon baking powder
1/4 teaspoon baking soda
1 and 1/2 teaspoons ground cinnamon
1/2 teaspoon pumpkin pie spice
1/2 cup (90 grams) chocolate chips, plus extra for topping
Instructions
In a medium bowl, whisk the melted butter, brown sugar, and granulated sugar together until smooth and well combined, then add the vanilla and pumpkin and whisk together.
In a large bowl, whisk together the flour, salt, baking powder, baking soda, cinnamon, and pumpkin pie spice. Add the wet ingredients to the dry ingredients and stir until mixture forms a soft dough. Stir in the chocolate chips. Cover the bowl with plastic wrap and and refrigerate for 30 minutes, or up to 3 days.
When ready to bake, preheat oven to 350 degrees F and take the dough out of the refrigerator. Line two large baking sheets with parchment paper or silicone baking mats.
Using about 1.5 Tablespoons of dough for each cookie, roll dough into balls. Place evenly on cookie sheets, and slightly flatten the dough balls. Bake for 8-10 minutes - the cookies will still look soft and underbaked. Remove cookies from the oven and put a few more chocolate chips on the tops of the hot cookies, if desired.
Let the cookies cool on the sheets for 10 minutes, then transfer then to a wire rack to cool completely.
Notes
https://chezcateylou.com/pumpkin-chocolate-chip-cookies/
© Chez CateyLou. All images & content are copyright protected. Please do not use my images without prior permission. If you want to republish this recipe, please re-write the recipe in your own words, or link back to this post for the recipe.
I can't get enough chocolate chip cookies!
Nutella Stuffed Chocolate Chip Cookies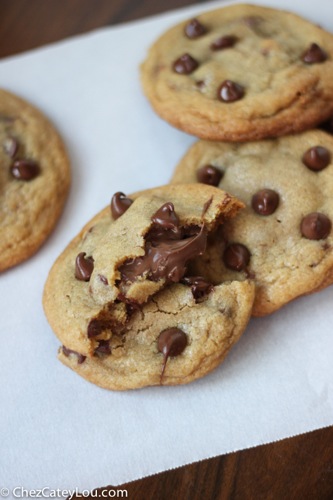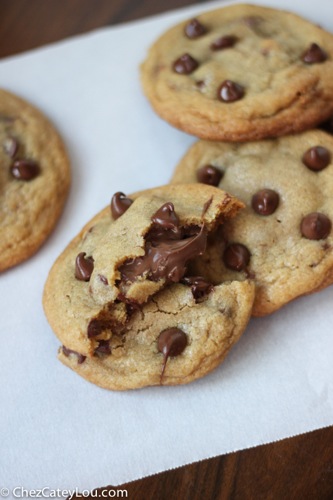 Levain Bakery NYC Chocolate Chip Cookies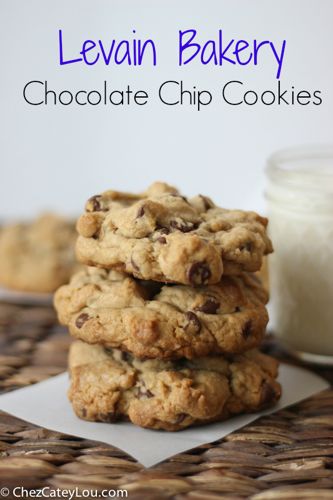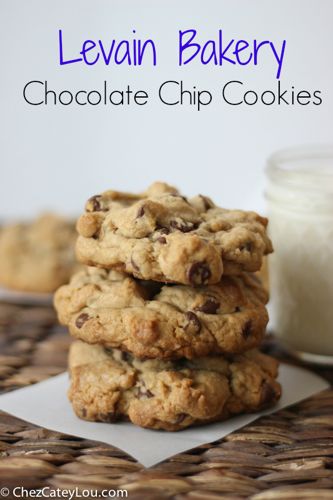 Chocolate Chip Cookies made with Cream Cheese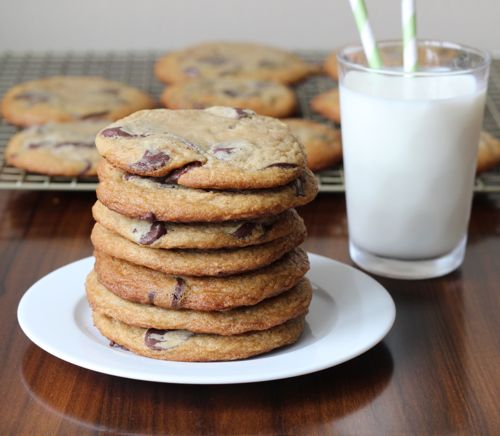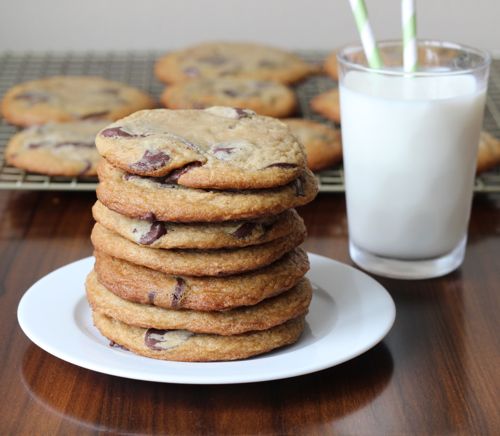 This post contains affiliate links