Light and fluffy baked pumpkin donuts are topped with rich chocolate icing. Fall breakfast has never looked so good!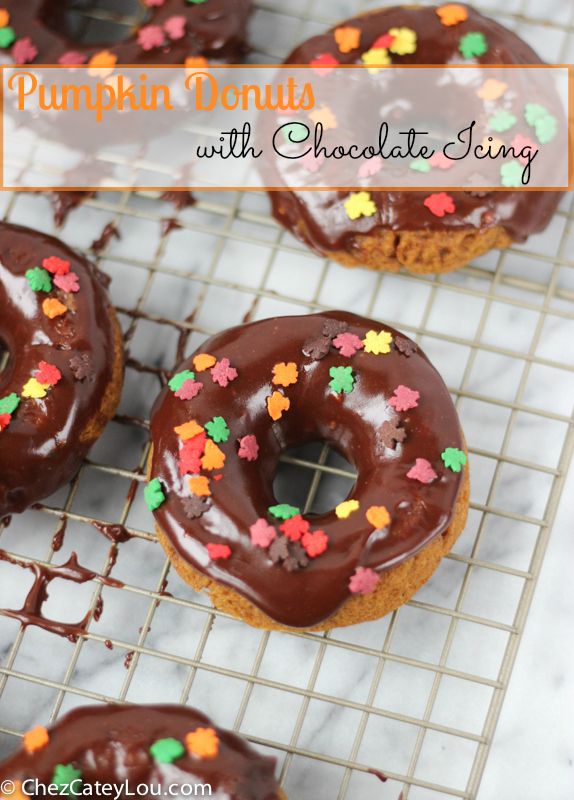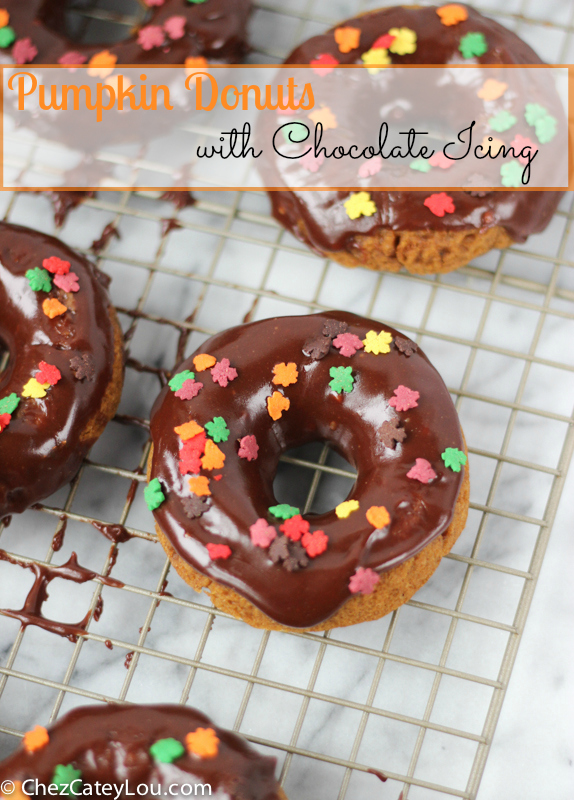 So you might have noticed it is October and I have not posted any pumpkin recipes yet (ok this beer cheese was made with pumpkin beer, but no actual pumpkin). And that is because I was saving up for this…I have declared this week PUMPKIN WEEK. Yep that's right, I made up my own food holiday week.
As you might remember from last year, I loooove pumpkin. The second the temperature starts to drop and the leaves start to change, all I want to eat is pumpkin everything, all the time. And so I decided to share my pumpkin love with you and bring you 5 days of pumpkin recipes.
And I figured the best way to kick off PUMPKIN WEEK is with donuts! Because I love making baked donuts almost as much as I love pumpkin. And I also wanted a reason to use these cute fall sprinkles
. So for my first recipe of the week, I bring you Baked Pumpkin Donuts with Chocolate Icing.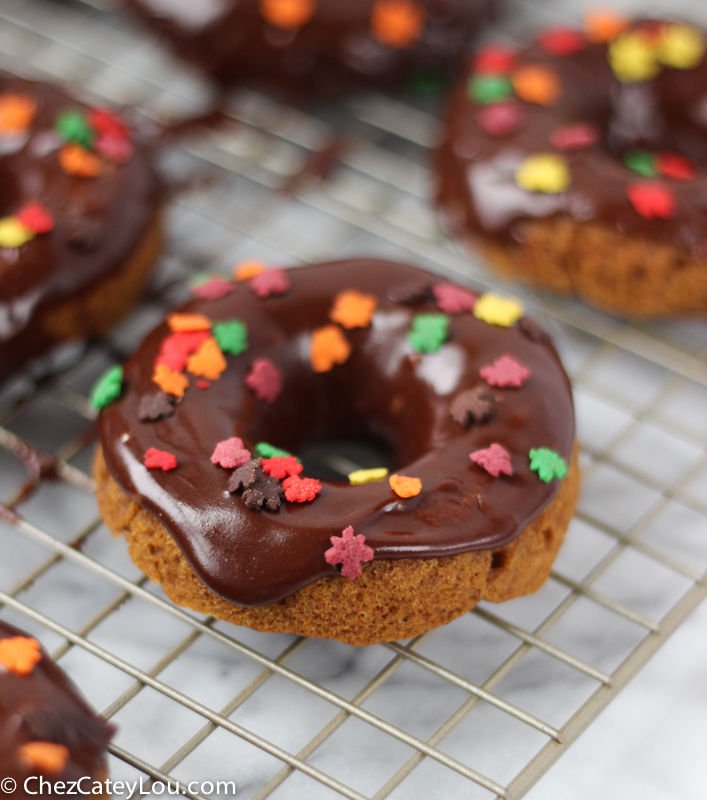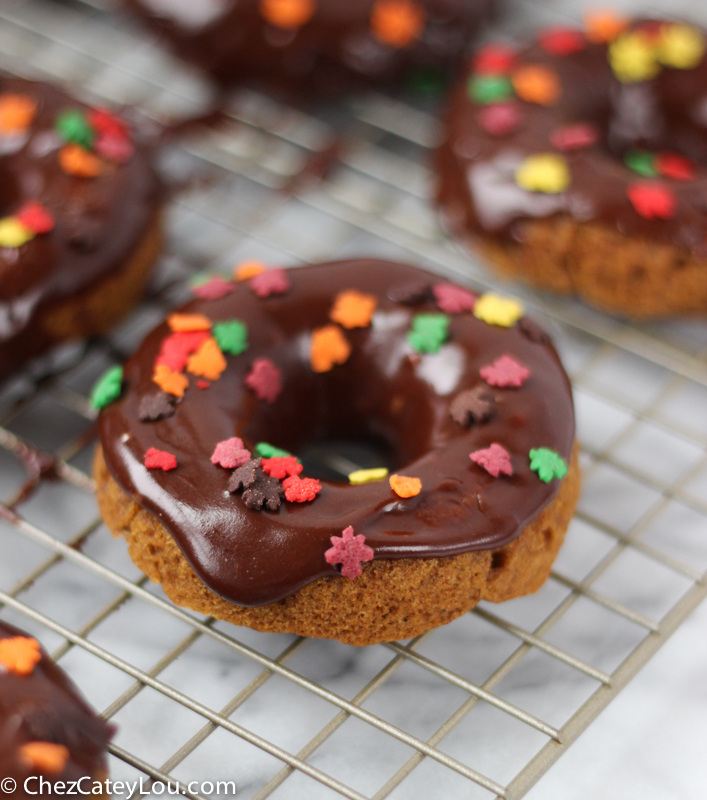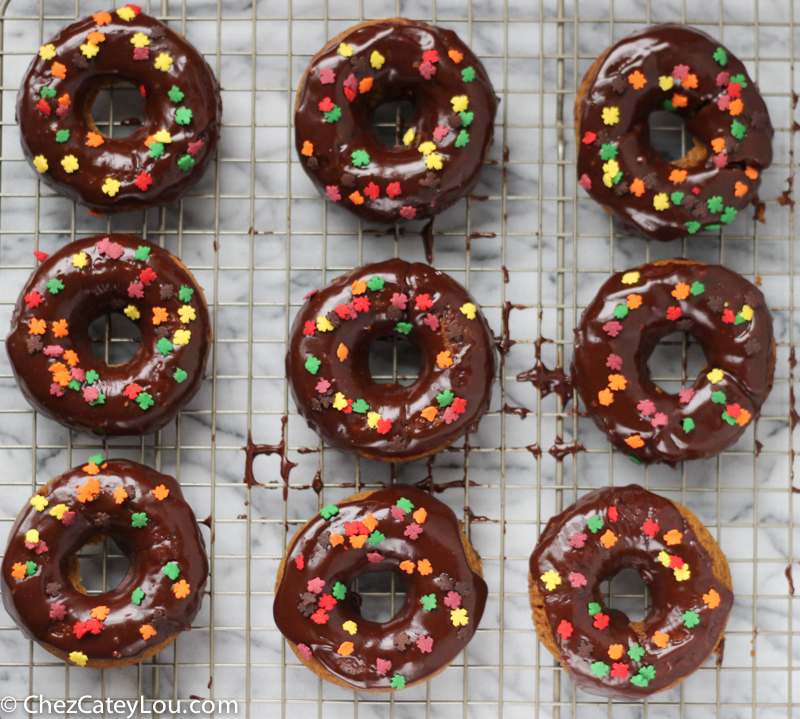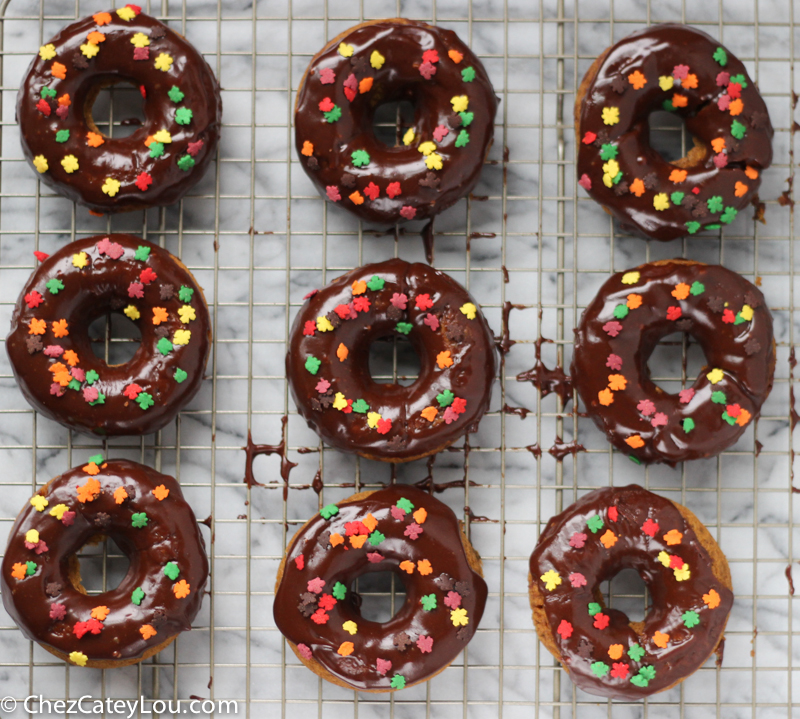 This might sound really weird, but this year is the first time I have combined pumpkin and chocolate. Crazy, I know. But I always thought pumpkin belonged with cinnamon, and that chocolate would overpower the flavor. And yet I see so many amazing blog recipes with chocolate and pumpkin and so I decided I needed to broaden my horizons and add some chocolate to my pumpkin.
Oh wow.
What was I waiting for??
Pumpkin + chocolate = delicious. The flavor of pumpkin and cinnamon and pumpkin pie spice are complemented so well by chocolate. I'm a convert! And I actually feel kind of silly that it took me so long to pair pumpkin with chocolate – I mean it is chocolate, how could it not make anything taste better?!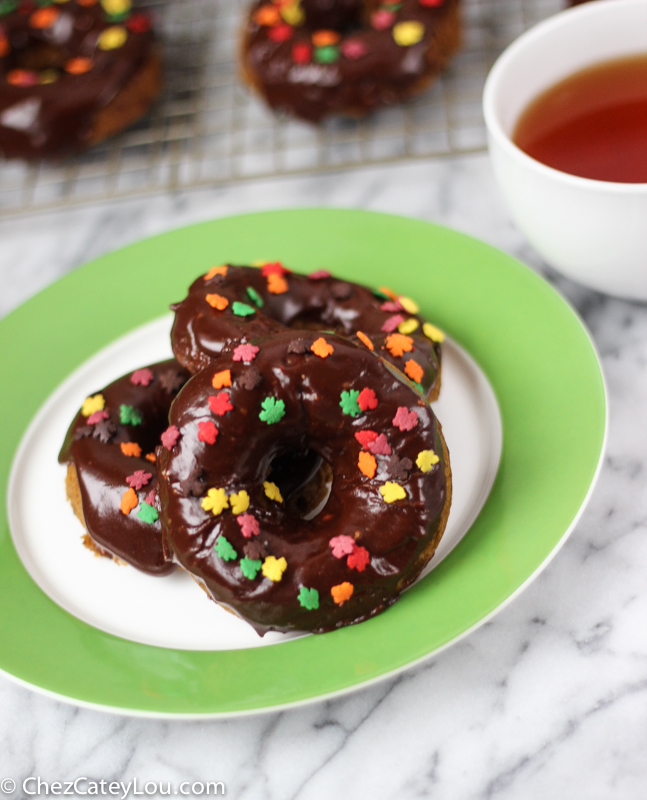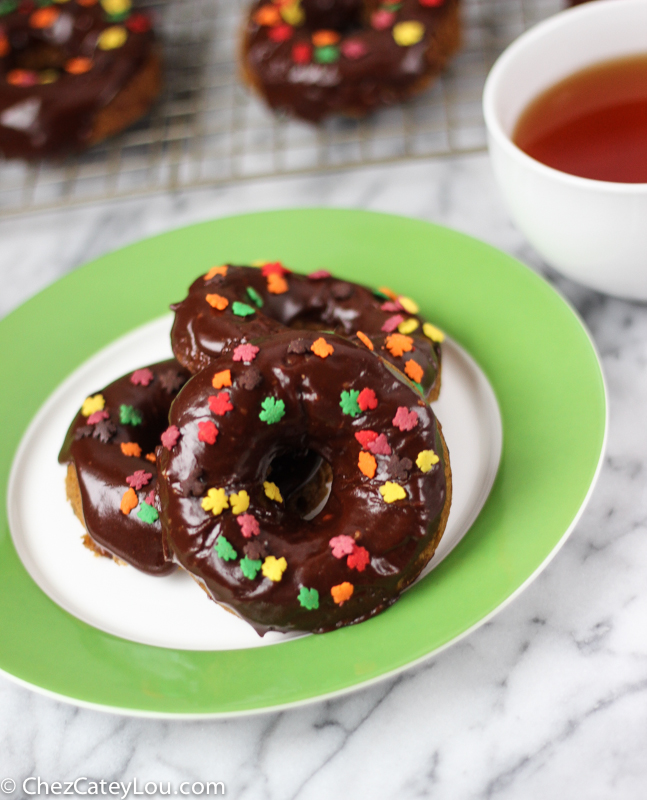 These baked pumpkin donuts are super simple to whip up. If you don't have a donut pan
yet, I highly recommend buying one. It changed my life. No seriously, it did. Baked donuts are really easy to make, and actually aren't that bad for you. Plus they are so cute – they are crowd pleasers for sure and will definitely bring a smile to your face!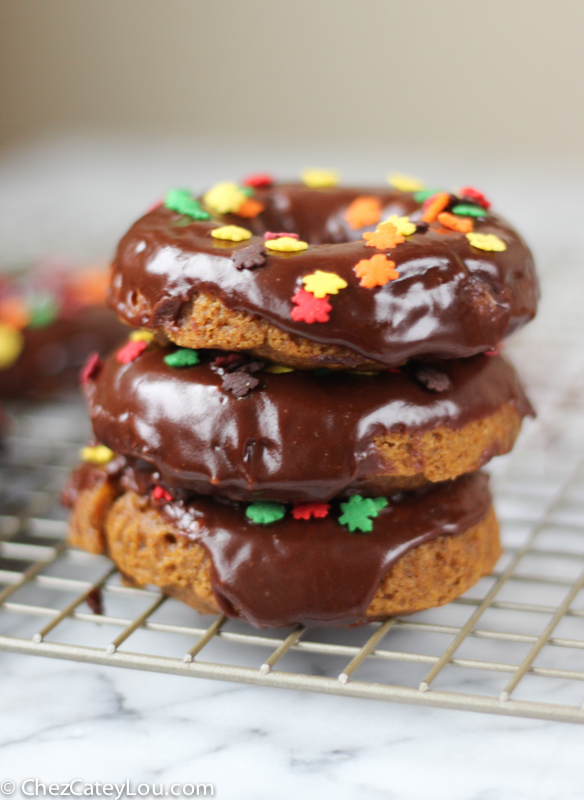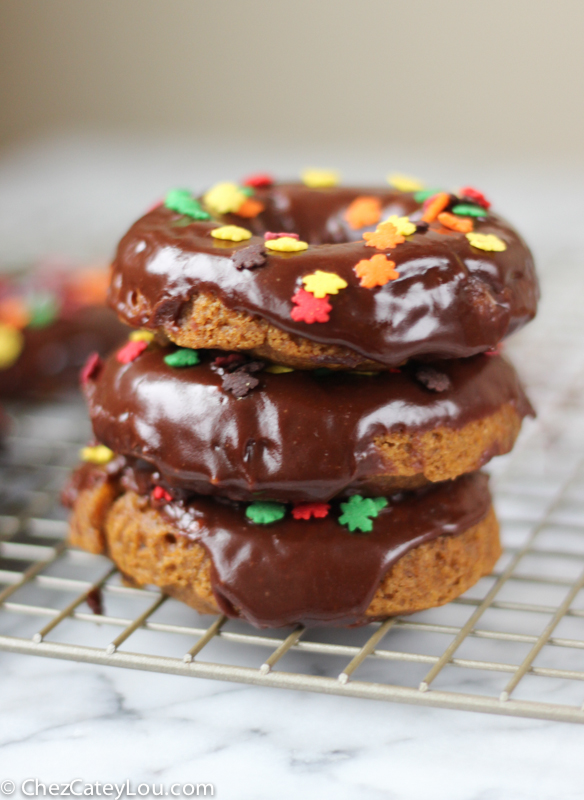 Pumpkin Donuts with Chocolate Icing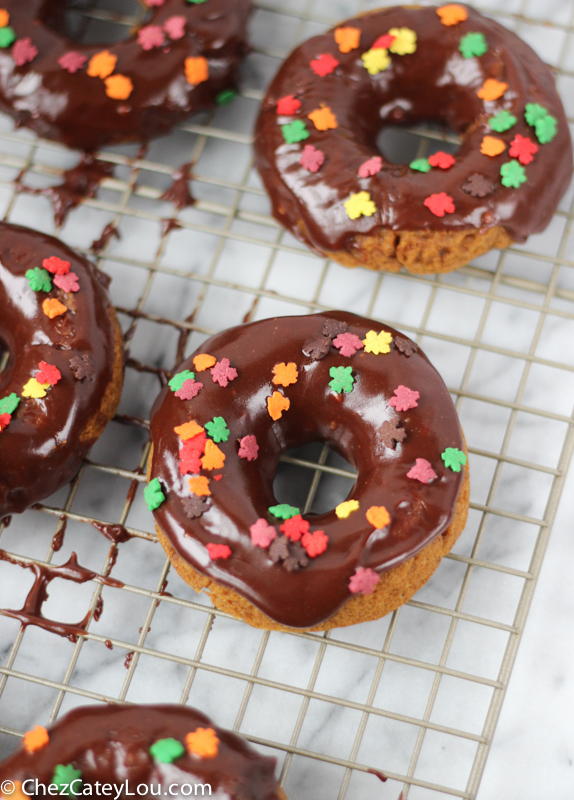 Light and fluffy baked pumpkin donuts are topped with rich chocolate icing. Fall breakfast has never looked so good!
Ingredients
For the Donut

1 cup all-purpose flour (or 1/2 cup all-purpose and 1/2 cup whole wheat pastry)
1/2 teaspoon baking soda
1/4 teaspoon salt
1 teaspoon cinnamon
1/2 teaspoon pumpkin pie spice
1/2 cup packed light brown sugar
1 large egg
1/4 cup oil
3/4 cup pumpkin puree

For the Icing

3 Tablespoons butter
2 Tablespoons milk
1/2 Tablespoon light corn syrup
2 oz bittersweet chocolate, chopped
1 teaspoon vanilla
1 cup powdered sugar
Pinch of salt
Instructions
For the Donut

Preheat oven to 325 degrees F. Grease 2 six-cavity donut pans with nonstick cooking spray.
In a small bowl, whisk together flour, baking soda, salt, cinnamon, and pumpkin pie spice.
In a medium bowl, whisk together brown sugar, egg, oil, and pumpkin until well combined.
Add the dry ingredients to the wet ingredients and mix until just combined.
Spoon the batter into the pans, spreading evenly and filling each cavity 2/3 full.
Bake for 8 minutes. Remove from oven and let cool in pan for a minute, then turn out onto a wire rack until cooled completely.

For the Icing

Melt the butter in a small saucepan over low heat. Add the milk and corn syrup and whisk until combined. Add the chocolate and whisk continuously until melted. Remove pan from heat and whisk in vanilla, then add powdered sugar and salt and whisk until smooth.
Immediately dunk the donuts into the chocolate icing, and sprinkle with toppings as desired. If icing starts to harden in the pan, put pan over low heat and whisk continuously until soft again.
https://chezcateylou.com/pumpkin-donuts-chocolate-icing/
© Chez CateyLou. All images & content are copyright protected. Please do not use my images without prior permission. If you want to republish this recipe, please re-write the recipe in your own words, or link back to this post for the recipe.
This post contains affiliate links.
Connect with Chez CateyLou!
More chocolate frosted donuts!
Chocolate Donuts with Peanut Butter Frosting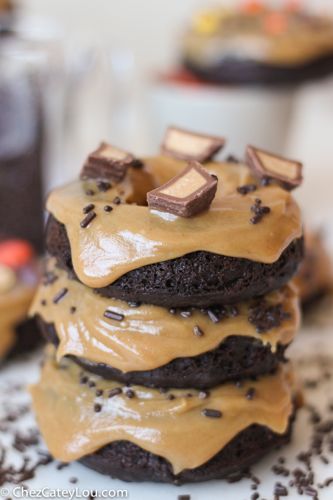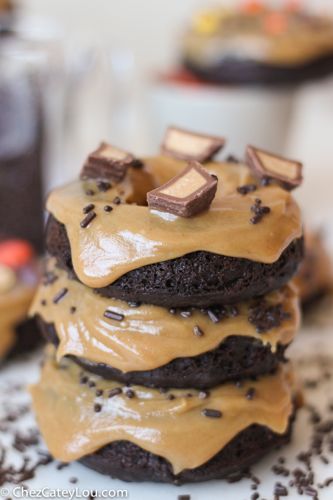 Double Chocolate Pistachio Donuts