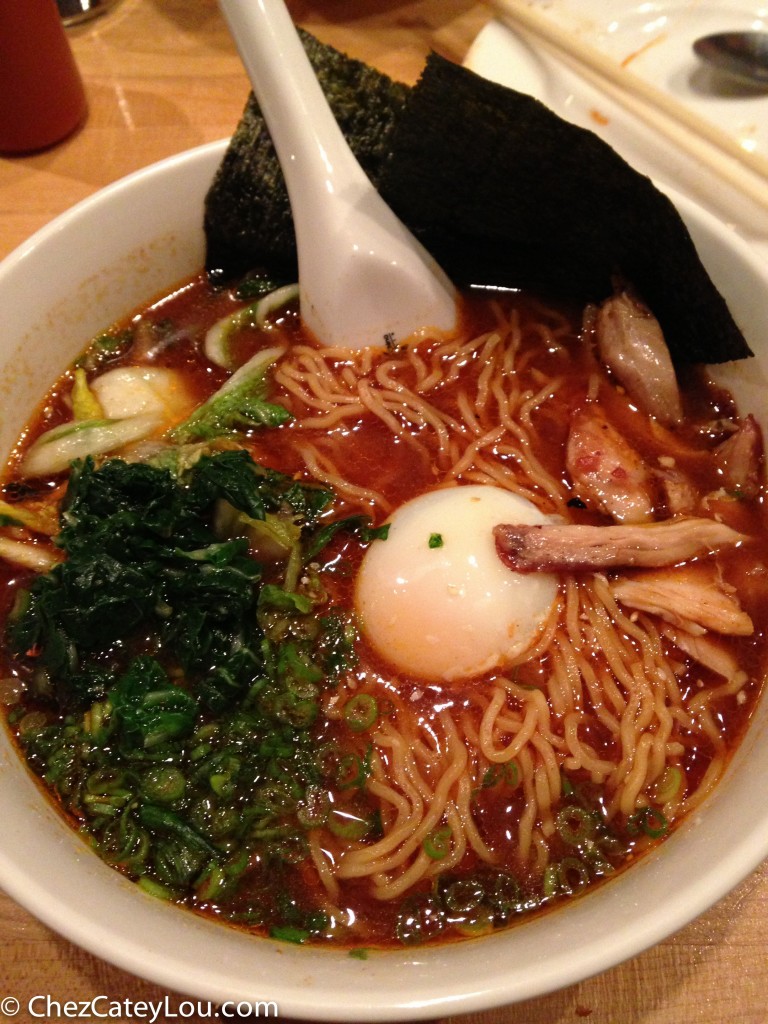 One of the best things about living in New York is having access to incredible food from all different parts of the world.   Although Italian food is still our favorite, we've started to really branch out and try new things.  Most recently, we've been on a huge Asian kick.  Like a Yao Ming sized Asian kick.  Chinese, Japanese, Vietnamese, Thai, Indian – I want them all, all of the time.  The flavors are just so unique and intense.
But today we're talking about ramen.  Authentic Japanese ramen – not instant ramen, the dorm room staple that I've never actually seen in a dorm room – consists of noodles in a flavorful, (usually) meat based broth that is topped with a combination of meat, veggies, and other accouterments.  It's comforting, it's delicious, and no one will judge if you slurp your noodles – actually it's encouraged!  So for the second installment of our Friday  Dinner Series, let's take a look at two of New Year's finest ramen spots – Momofuku Noodle Bar and Ippudo.
In order to evaluate these two titans of ramen, I've arbitrarily selected three criteria to judge: ambiance/miscellaneous, non-ramen dishes, and of course, their ramen selection.
Ambiance/Miscellaneous:
Noodle Bar: Noodle Bar, located in the East Village, is set up like traditional noodle bar.  The wooden interior is very cool and I always love restaurants that stick to a hip hop soundtrack.  However, the restaurant is extremely small and feels very cramped.   There are a few bar seats that overlook the open kitchen, more bar seats at a counter the runs the length of the restaurant, and then communal seating at a few large tables.  Although the tight seating may be authentic, I'd like a little more elbow room as I'm slurping down my ramen and pretending I know how to use chop sticks.
Noodle Bar does not accept reservations so make sure to get here early.  We recently were there at 5:30 on a Sunday and had to wait over an hour for a table.  Though tables do turn over relatively quickly, the line is usually long and there's only a small space to wait inside the restaurant.  Noodle Bar does not have an actual bar (the good kind, with alcohol) but the hostess will bring you drinks as you wait.
Ippudo: There are now two Ippudo locations in New York – the original, just south of Union Square, and a newer location in Midtown West.   Both locations have counter seats and individual tables.   While neither Ippudo location has the rustic cool of Noodle Bar, it's a little less hectic (once you're able to get a seat) and a lot more comfortable.
Ippudo does not take any reservations either and the waits are just as long.  Both locations do have a bar area so it makes the wait a little more bearable.  There's no hard alcohol, but beer, wine, and sake should be enough to get you through a 90 minute wait.  Another thing to note is that there is no takeaway at Ippudo.  Not just for ramen – but for anything.  No doggie bags, no to-go containers – maybe you could smuggle out a half eaten pork bun in your jacket pocket if you don't get caught.  This odd policy is not only frustrating but limits the amount of food you can sample on any one visit.  Hopefully it changes in the future.
Non-Ramen Food:
Noodle Bar: The non-ramen items at Noodle Bar are as excellent as you'd expect from a David Chang restaurant.  Of course there's the famous Momofuku buns.  I love the pork buns, which are filled with tender pork belly that is coated with a hoison sauce, but on our most recent trip we tried the shrimp buns.  The shrimp buns consisted of a fried shrimp cake that was topped with lettuce, pickled onion, and spicy mayo.   The crispy shrimp cake was very good but I still preferred the traditional pork bun or the BBQ bun at Momofuku Ssam Bar.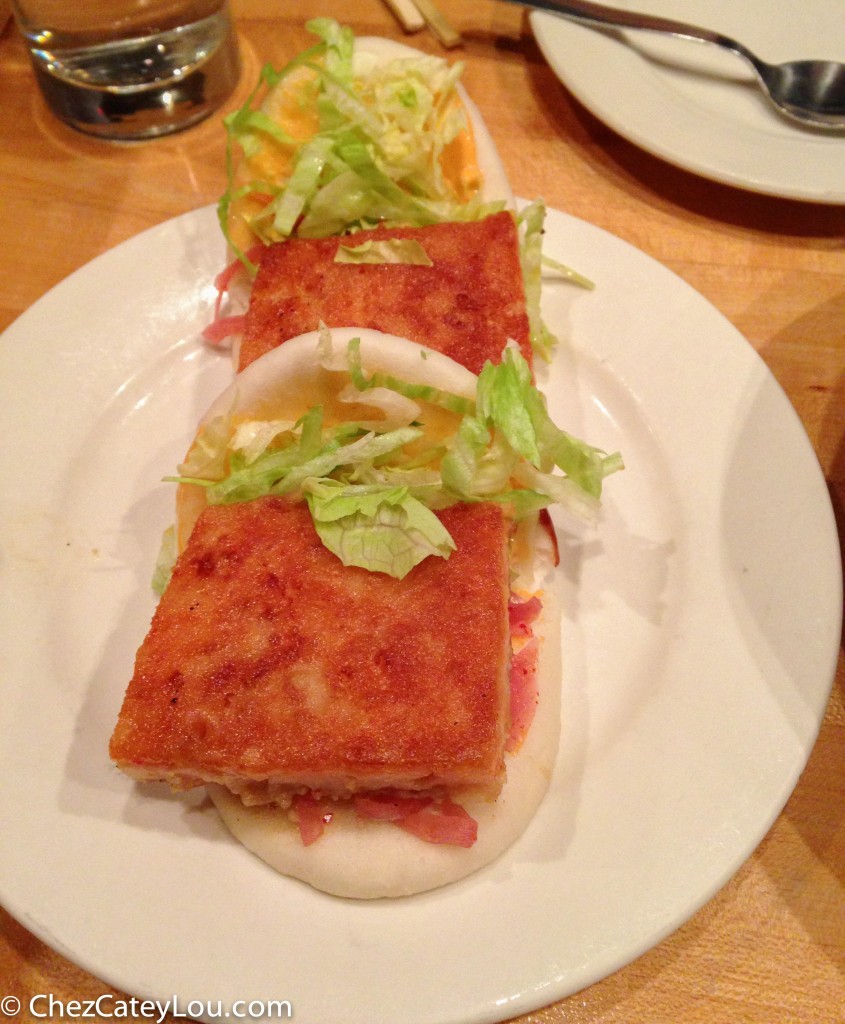 We also love the brussels sprouts.  The brussels are roasted and sliced and topped with pomegranates, peanuts and thai basil.  They are served next to a sweet coconut sauce.  The flavors on the plate definitely came together nicely and it's a standout on their current menu.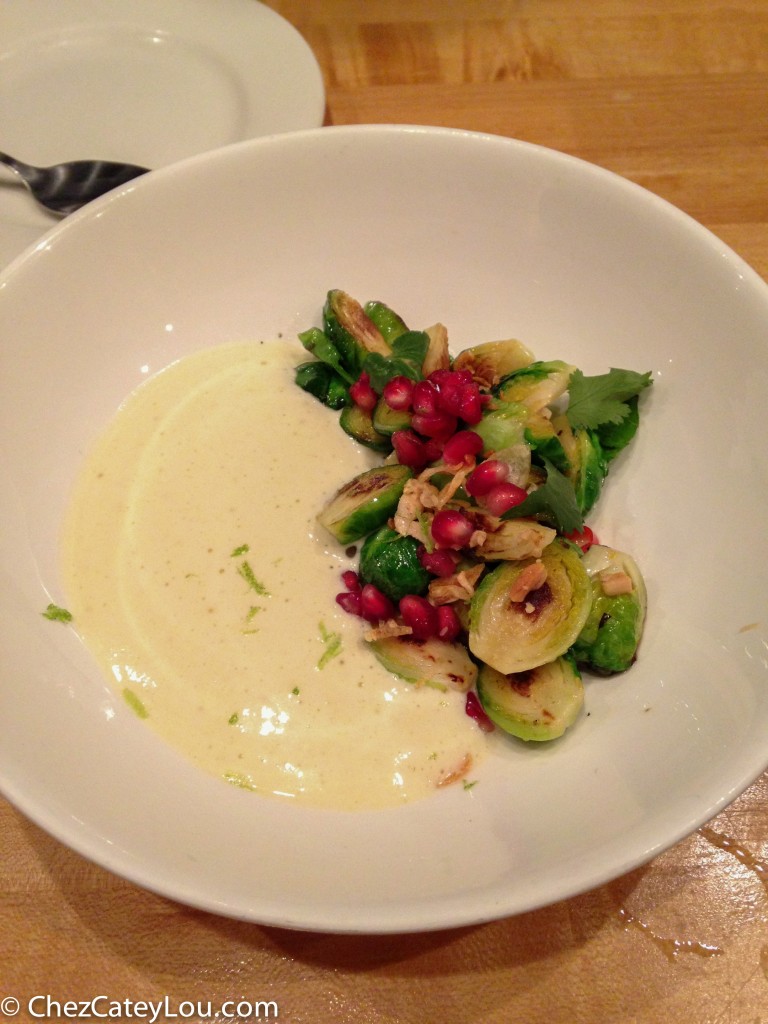 Another staple is the griddle-crisped Korean rice cakes.  Growing up I always thought rice cakes were just a terrible alternative to potato chips – but not anymore.  These rice cakes have an incredible texture.  They are crispy on the outside and soft on the inside.  They are then coated with a spicy chili sauce.  They are likely the same rice cakes that are served on the Spicy Sausage and Rice Cake dish at Momofuku Ssam Bar – which is one of our favorite dishes in all of NYC.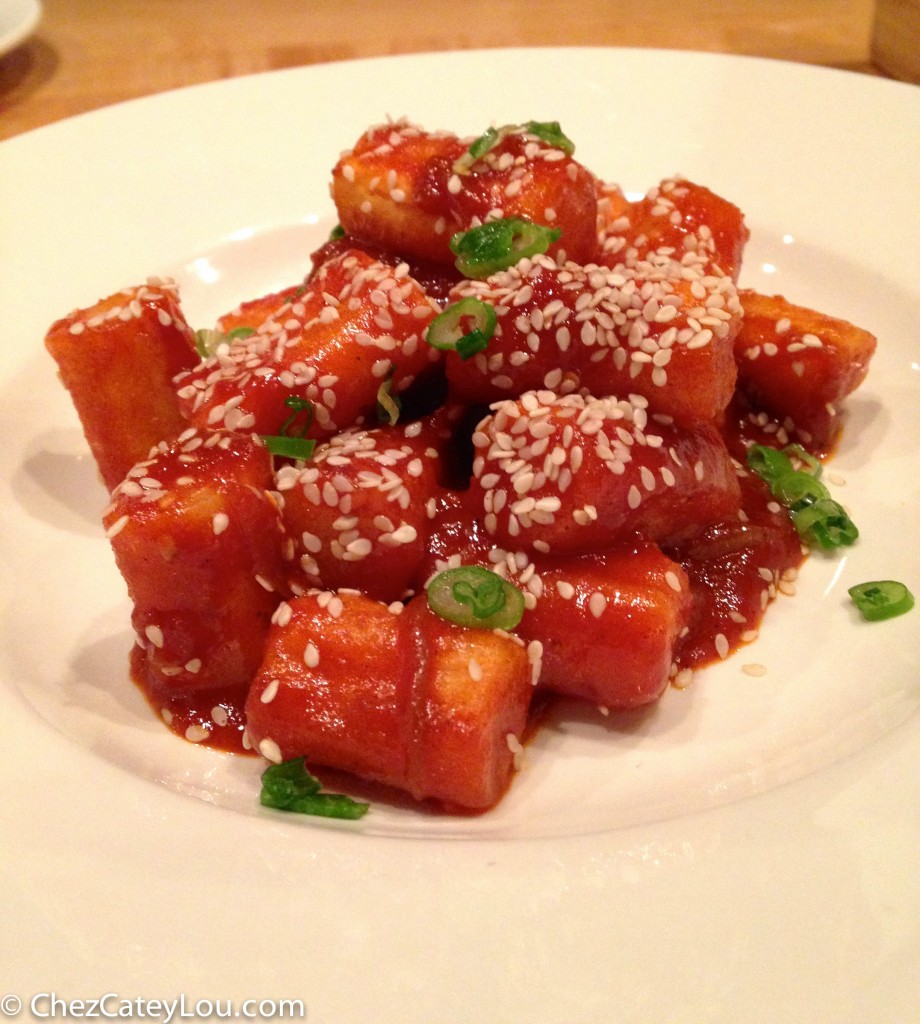 Ippudo:  Not to be outdone, Ippudo also makes a delicious steamed bun.  But our favorite, surprisingly, is not their pork bun but rather their veggie bun.  Ippudo's veggie bun is a fried eggplant and zucchini cake that is then slathered with a spicy sriracha sauce.  The filling is great, the sauce has just the right amount of heat, and the soft and pillowy buns at Ippudo even rival those at Noodle Bar.  A must order.  I could literally eat a dozen of these.  And it's healthy, because it's a vegetable.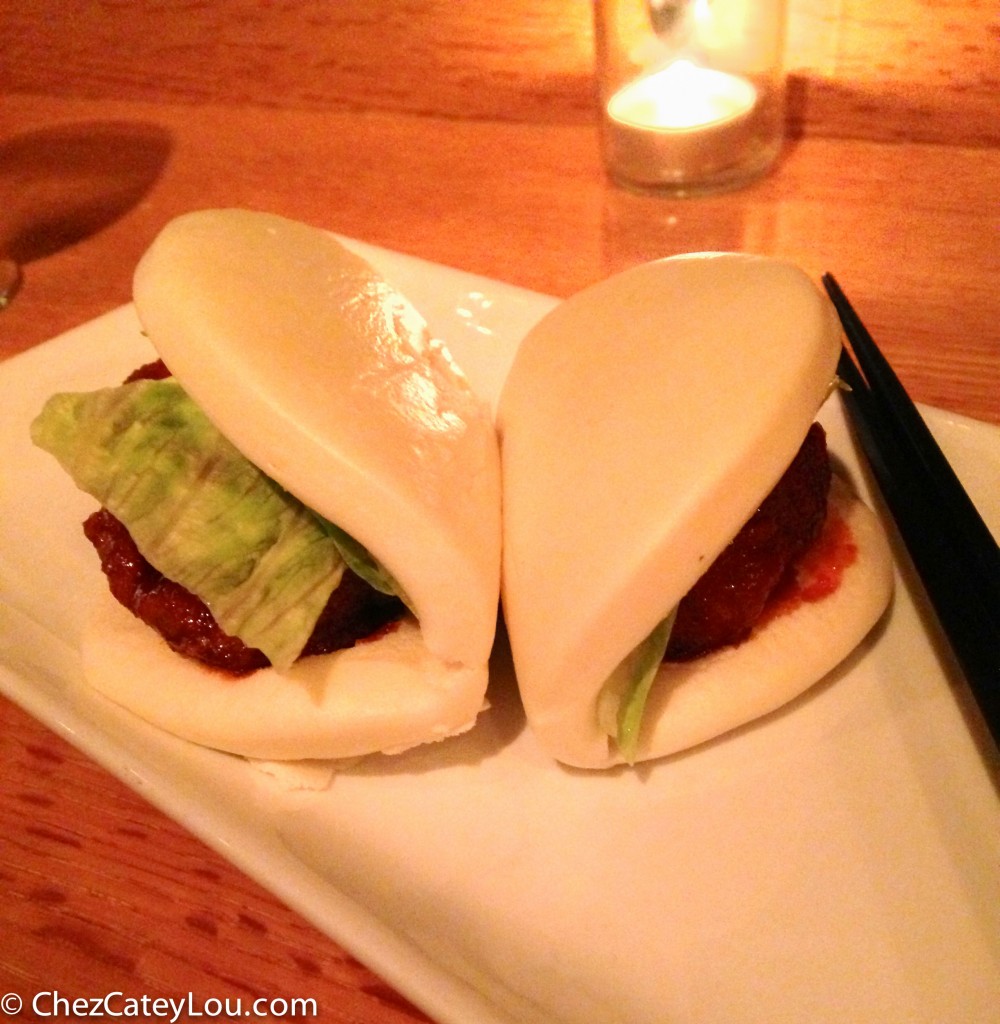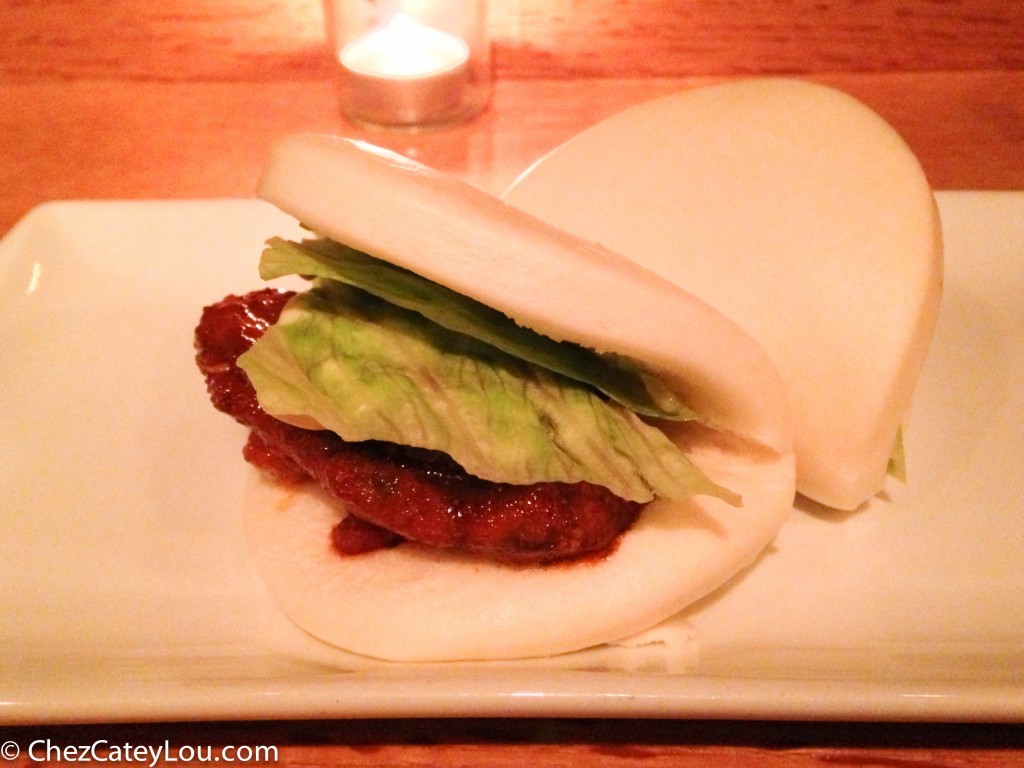 Aside from the buns, we've found the non-ramen items at Ippudo to be uneven.  In particular, I was not a big fan of their "fried chicken" that was reminiscent of an Asian chicken nugget.  We do enjoy the cucumbers in chili oil topped with sesames.  Although simple, it's a great, refreshing option and much more unique than edamame.
Noodle Bar:  Noodle Bar has two ramen and two other noodle options on its menu.  We've stuck to the ramen and both are very good.   The Momofuku Ramen, which is their version of a traditional ramen, has a pork based broth is topped with pork belly, pork shoulder, and a poached egg.  The broth has a great depth in flavor that comes from roast pork bones, shiitake mushrooms, smoked bacon, and taré.   The two different kinds of pork in the ramen are both delicious and give the dish some nice texture.   It's a very comforting meal that is big on umami flavor.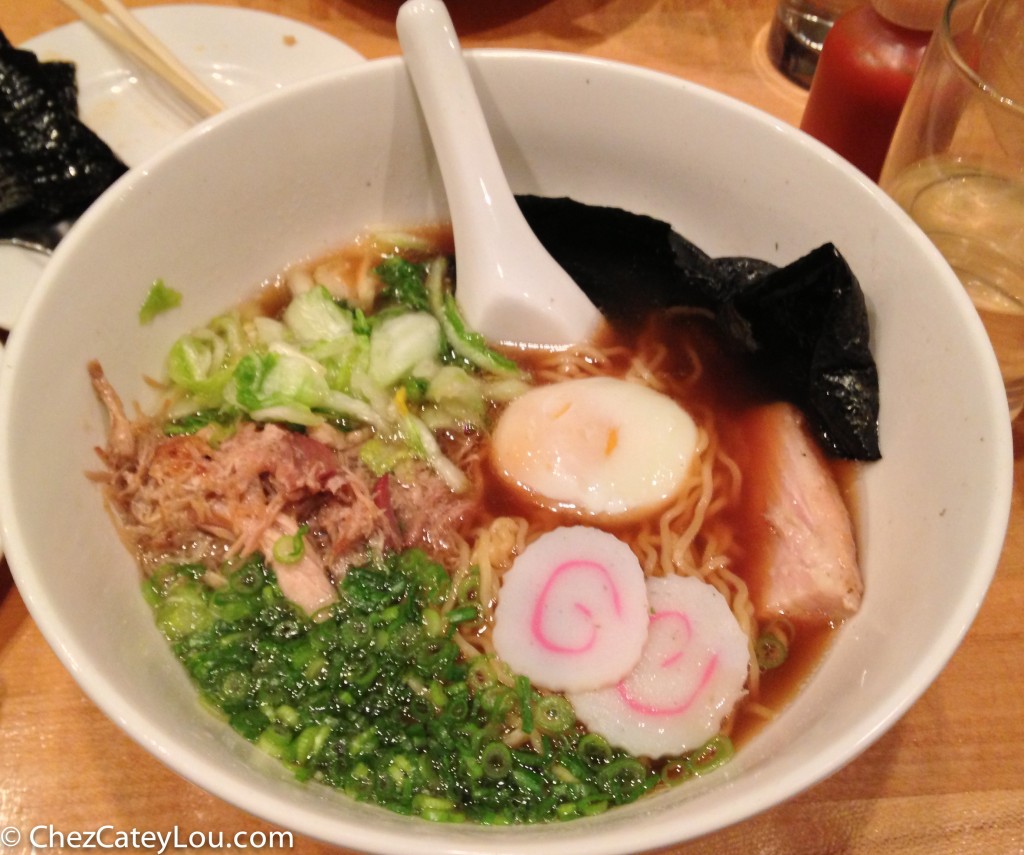 The second ramen dish on the menu at Noodle Bar is the Spicy Miso Ramen.  The Spicy Miso Ramen is topped with smoked, pulled chicken, swiss chard, sesame and a poached egg.  This was actually our favorite ramen at Noodle Bar.  The pulled chicken somehow remained crispy and the spiciness of the broth was really good.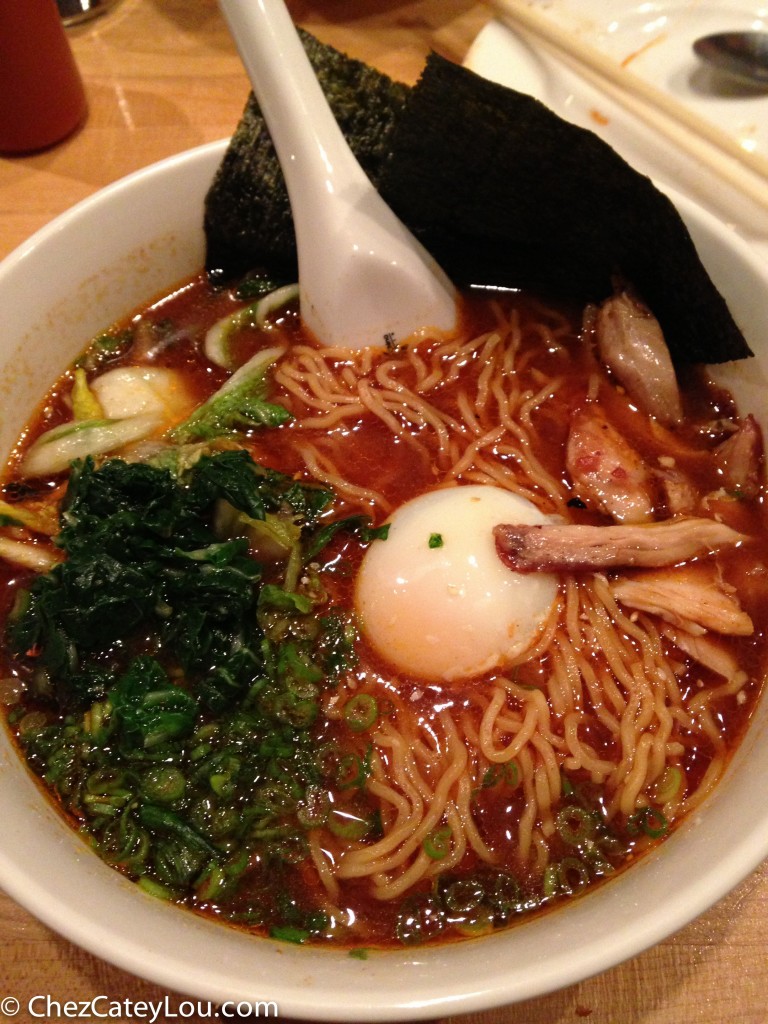 Ippudo:   There are a few more ramen options at Ippudo but Cate and I have two favorites:  the Akamaru Modern and the Karaka Men.  The Akamaru Modern is the most popular ramen dish at Ippudo and is topped with an "Umami Dama" miso paste, pork belly, cabbage, sesame kikurage mushrooms, and scallions.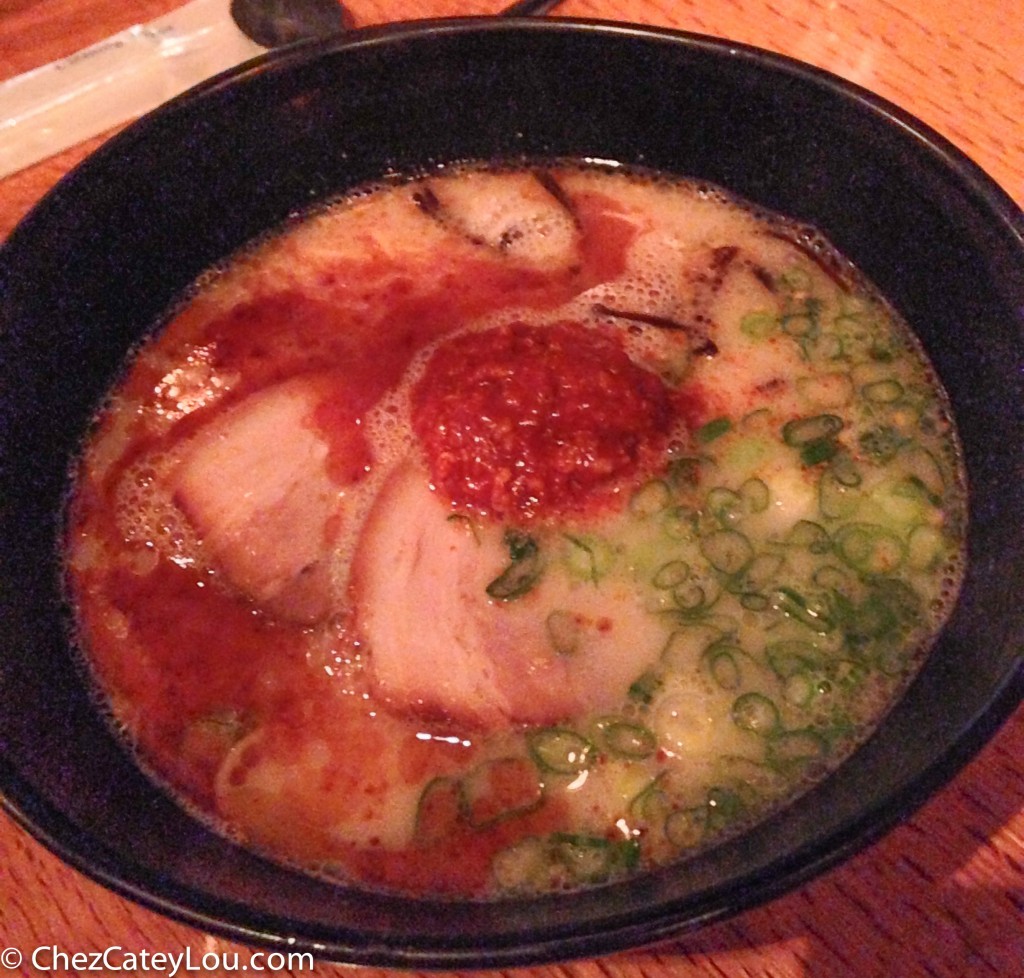 The Karaka Men ramen is topped with topped with pork belly, sesame kikurage mushrooms, cabbage, onion, minced pork, scallions, and a blend of spices.  It's definitely the spiciest ramen option at Ippudo and the broth has a good amount of heat.  My one issue with the noodles on the Karaka Man is that they are very thin.  Just like with my Italian food, I prefer a thicker noodle.  I wonder who I can talk to about getting some pappardelle sized ramen noodles?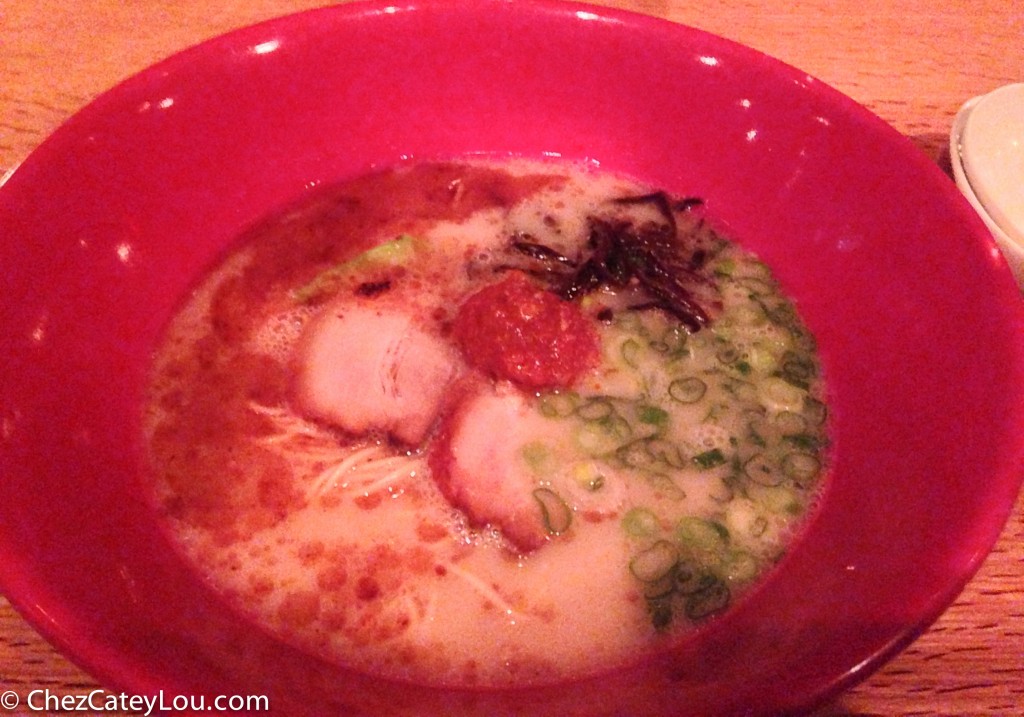 Also worth mentioning, Ippudo will give you a second serving of noodles for $2 more if they deem you have enough broth left if your bowl.  So on nights when you're extra hungry (like me, always), eat the noodles first, save some of that delicious broth, and yell out Kae-dama (which I believe is the Japanese term for fatso).
Winner:  Everyone.  Really.  Ramen is awesome and you cannot go wrong at either of these spots.  I give the edge in atmosphere to Ippudo because the larger space makes the eating experience more enjoyable.  However, the non-ramen menu items at Noodle Bar are definitely stronger, notwithstanding the delicious veggie buns at Ippudo.  The ramen at both places is great and Cate and I are very happy to have belatedly joined the ramen bandwagon.