Add some fall flavors to your morning bagel with Pumpkin Cream Cheese! It is so easy to make and tastes delicious – a simple way to make breakfast special!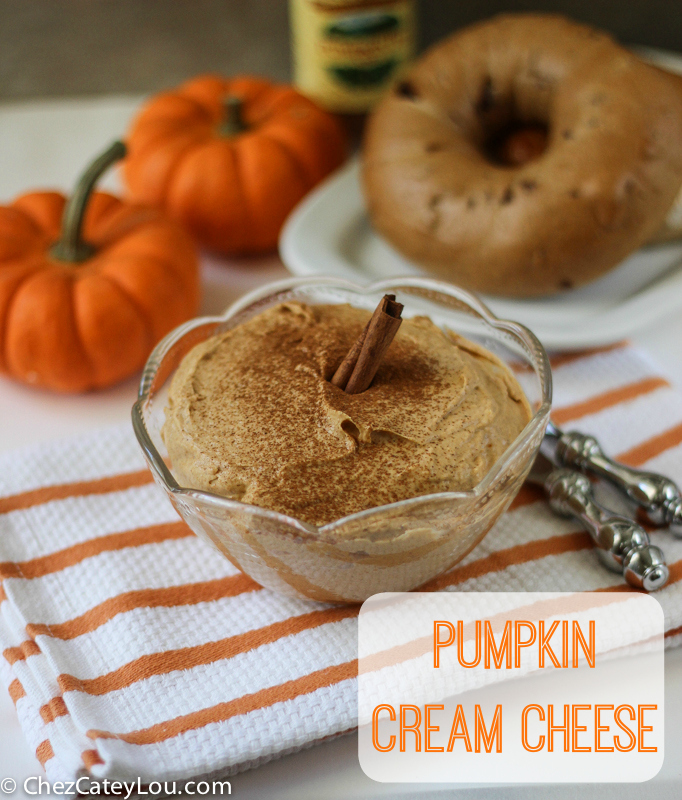 Welcome to day 4 of PUMPKIN WEEK! In case you missed my other posts, I have dedicated this week to all pumpkin recipes. Donuts and waffles and skinny bread – I can't get enough pumpkin!
Today I'm taking a break from baking and making something super easy – Pumpkin Cream Cheese! This is the perfect thing to whip up if you want your breakfast to be special, but just don't have the time to turn on the oven or make something complex. A little Pumpkin Cream Cheese on a store bought bagel is a great option for a fall breakfast treat that is delicious and impressive, but super easy!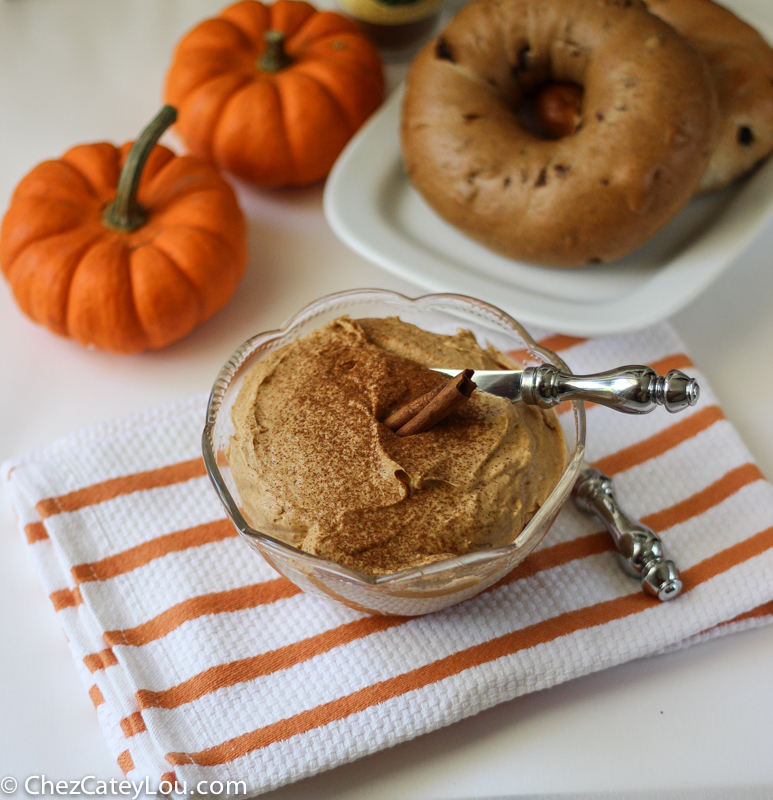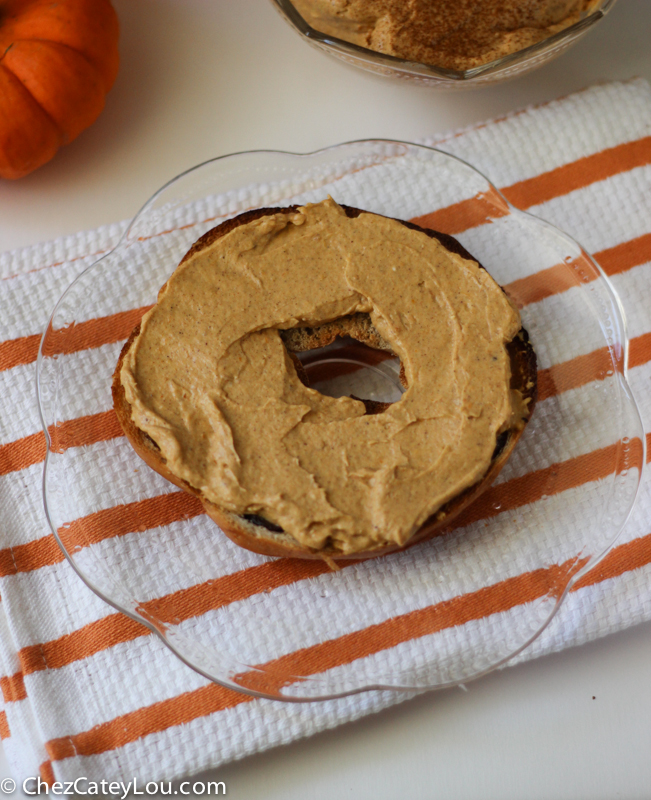 So some of you might be wondering why I would bother making Pumpkin Cream Cheese when you can just buy it. Well I have a few reasons.
1) homemade everything is always better.
2) this is seriously so easy to make. but most importantly is
3) I can't find pumpkin cream cheese in my markets.
I've gone on rants before about NYC markets (I'm talking about you Kabocha Squash). I love NYC and have access to nearly anything I could want. EXCEPT variety at supermarkets. I have literally 5 different markets within a 5 block walk (and that's not even counting the gourmet grocery stores) and I can't even tell you how many times I have walked to all of them to try to find something as simple as cake flour or chocolate peanut butter Hagen Daaz or coconut yogurt. I mean these are essentials, aren't they? (ok maybe don't answer that question…)
So while in suburban grocery stores there are probably 10 different flavors of cream cheese, in NYC there is plain, low fat and maybe one other flavor.  Maybe.  Oh and it will cost twice what you would pay in the suburbs, but that's a whole other subject.   I actually got really excited yesterday at the market when at first glance, I saw a pinky-orange cream cheese flavor. I was like YES, PUMPKIN. And then I realized. It was Smoked Salmon. Gross, just gross.
Ok I need to stop now – I just looked at Philadelphia's website and am getting angry that we have none of these flavors. Particularly fat free strawberry and dark chocolate.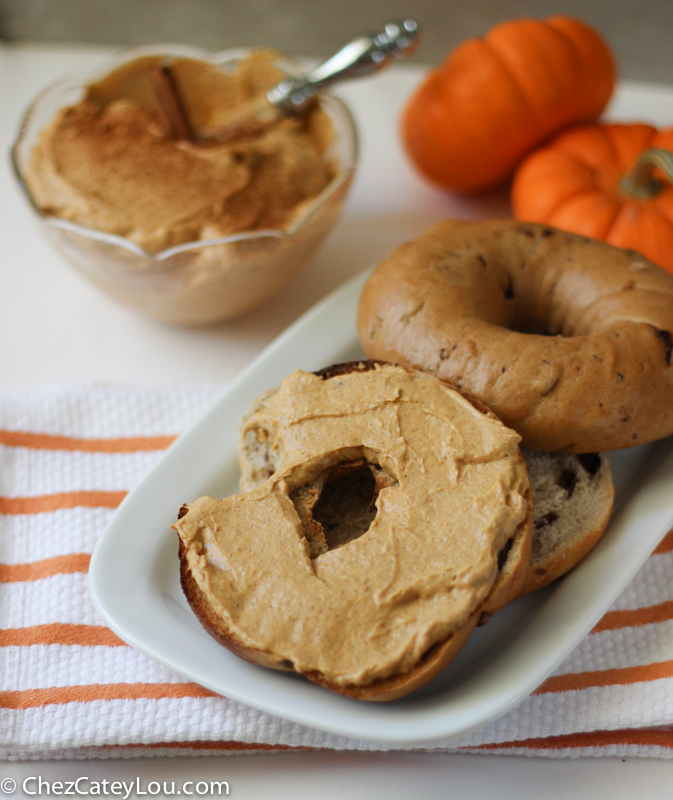 So back to happy topics, homemade Pumpkin Cream Cheese, spread on a toasted bagel. Talk about a delicious fall breakfast. If you are looking for a pumpkin fix but don't feel like baking, this is the recipe for you! And you can play around with the proportions in the recipe – if you like things sweet, add more sugar. Just want a hint of pumpkin? Add less! Cinnamon fanatic? Throw in an extra teaspoon. It is fun to customize recipes to your exact liking, and this one is really easy – you can't mess it up!
Stay tuned tomorrow for the final recipe of PUMPKIN WEEK! I saved the best for last, you won't want to miss it!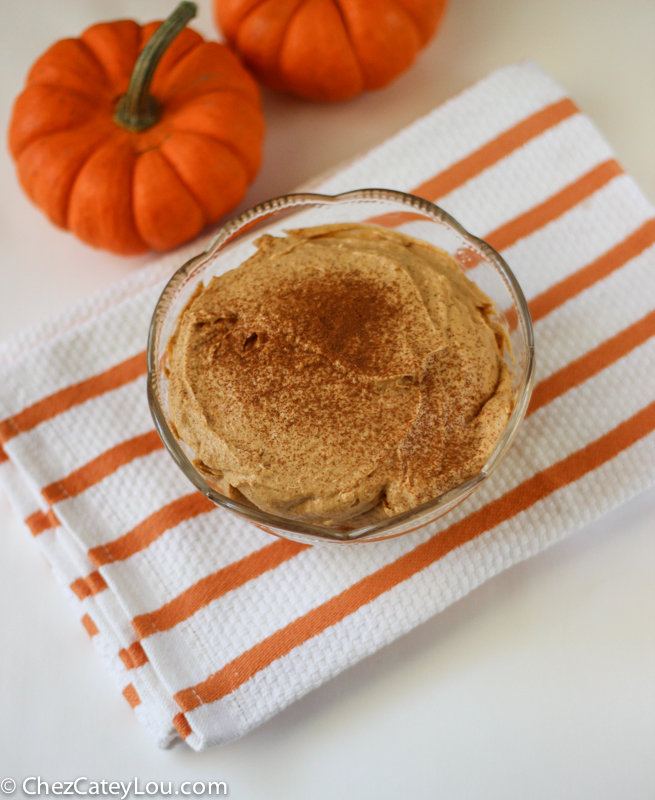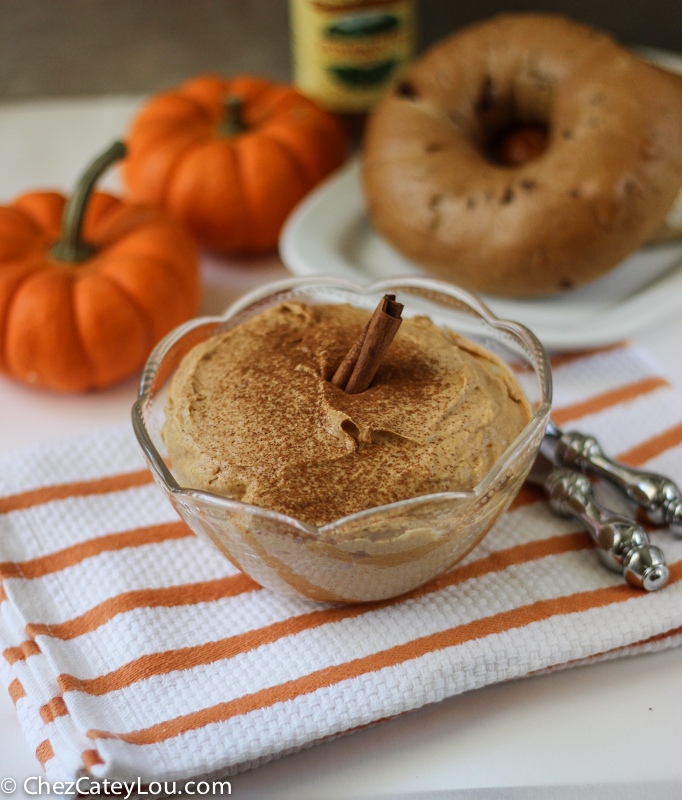 Ingredients
1 (8oz) block cream cheese (can use reduced fat), at room temperature
1/3 cup pumpkin puree
1/4 cup sugar
1 teaspoon cinnamon
1/2 teaspoon pumpkin pie spice
Instructions
Add all ingredients to a bowl and mix with a hand mixer until well combined. Taste, and adjust sugar and spices to your liking. Chill before serving, if a firmer texture is desired.
https://chezcateylou.com/pumpkin-cream-cheese/
© Chez CateyLou. All images & content are copyright protected. Please do not use my images without prior permission. If you want to republish this recipe, please re-write the recipe in your own words, or link back to this post for the recipe.
Are you sick of pumpkin? Here are some other fall recipes to try out instead!
Sweet Potato Cranberry Quick Bread