This healthy and delicious bread is full of fresh blackberries and delicious coconut flavor, thanks to coconut  yogurt and coconut oil.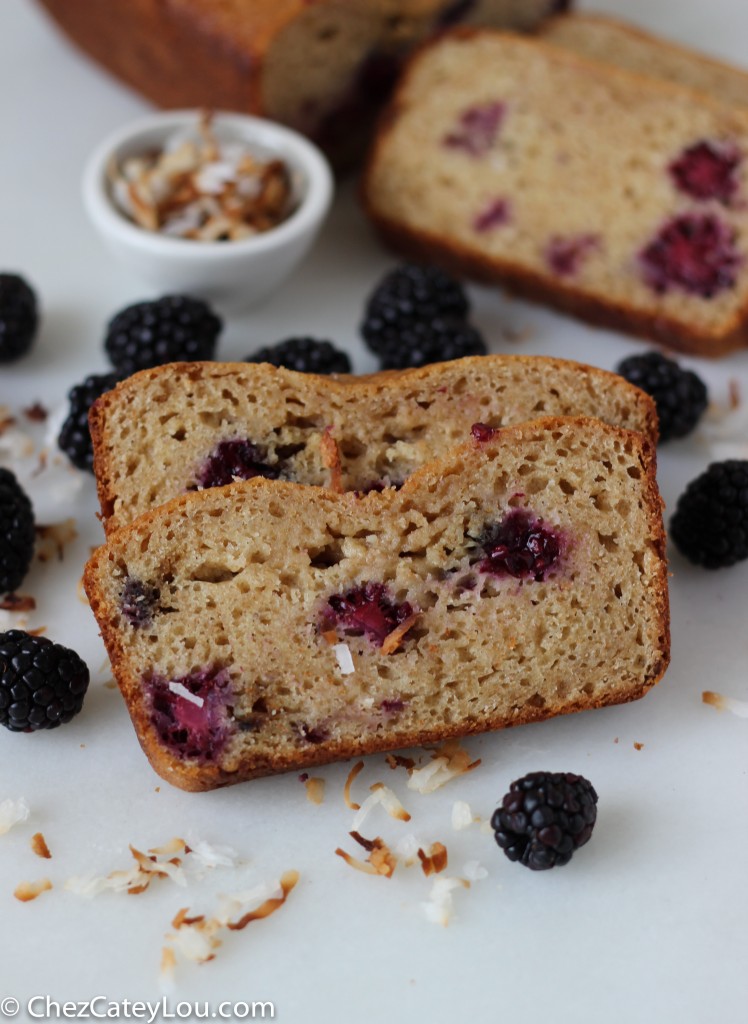 Blackberries and coconut, in the winter? Why not! I am channeling the tropics this weekend, trying to pretend that I am lying on a beach somewhere warm rather than looking out at a cold gray city skyline. And nothing says tropical more than coconut!
I am currently obsessed with this Chobani coconut  yogurt. Have you tried it? It is so creamy and coconutty – it kind of makes me feel like I'm eating ice cream! And no, they are not paying me – I just really love this yogurt! So when I was eating some the other day, I thought why not bake this delicious flavor into something? And so I came up with this blackberry coconut bread.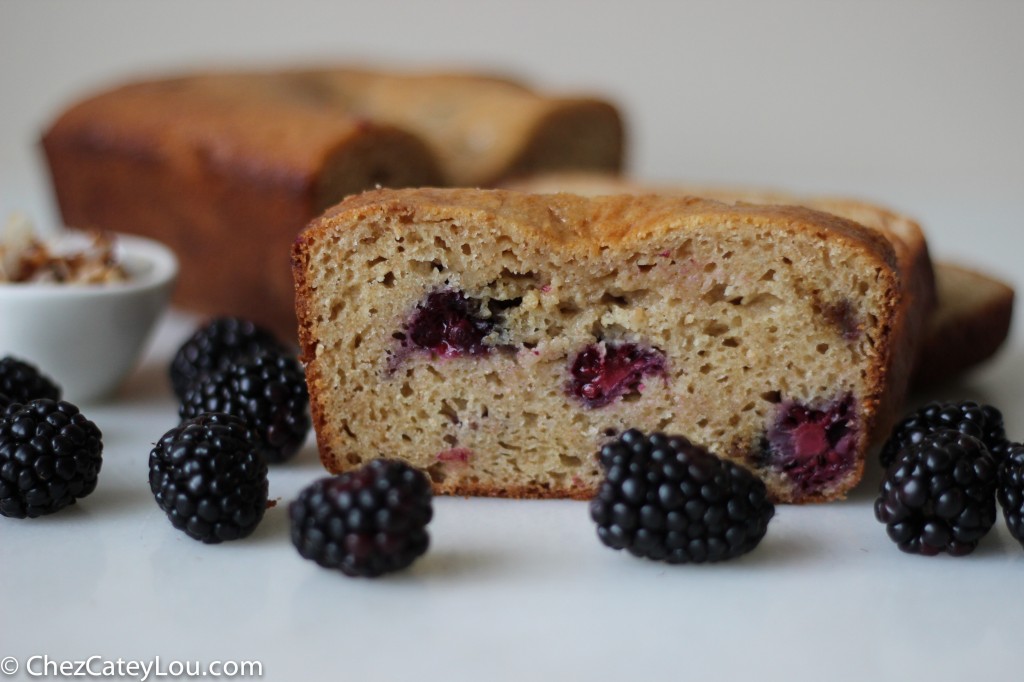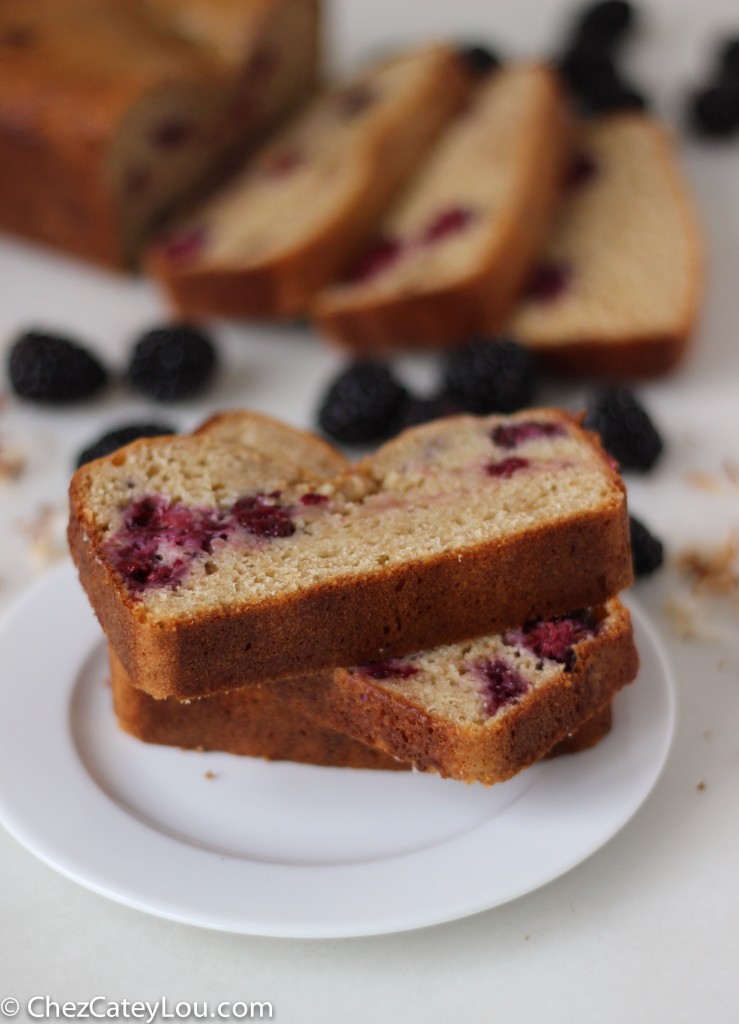 It is no secret that I LOVE baking with yogurt. It seems like anytime I make a muffin or quickbread or doughnut, I am adding yogurt to the batter. I just love the texture it gives to baked goods – it makes them so light and moist without adding more fat. Plus, you can add so much flavor to your baked goods by using flavored yogurt.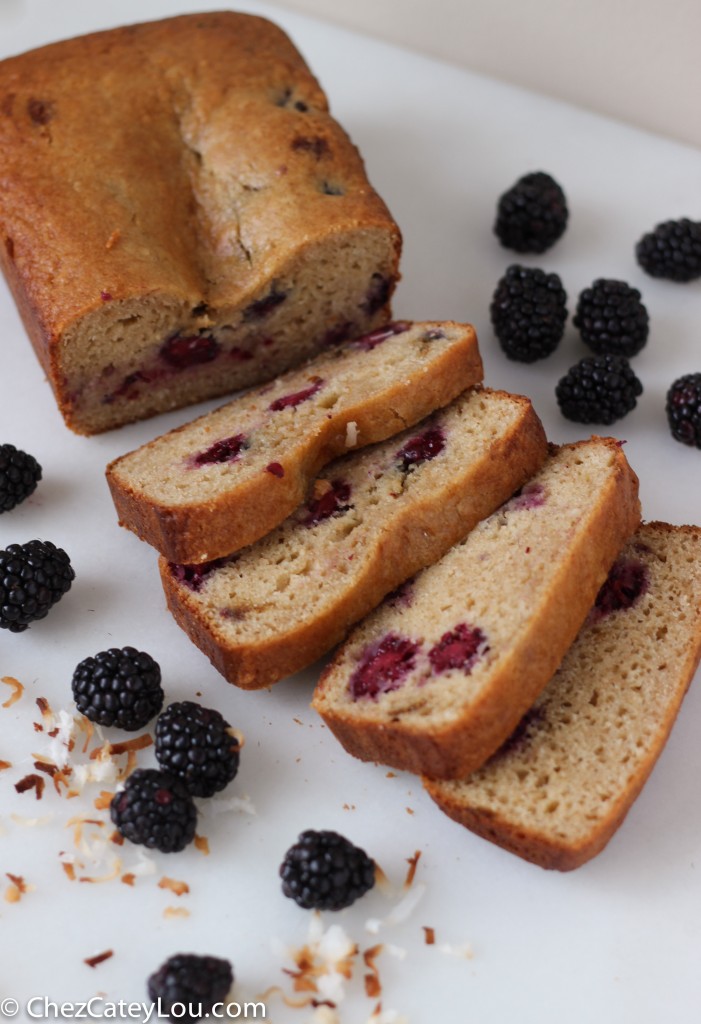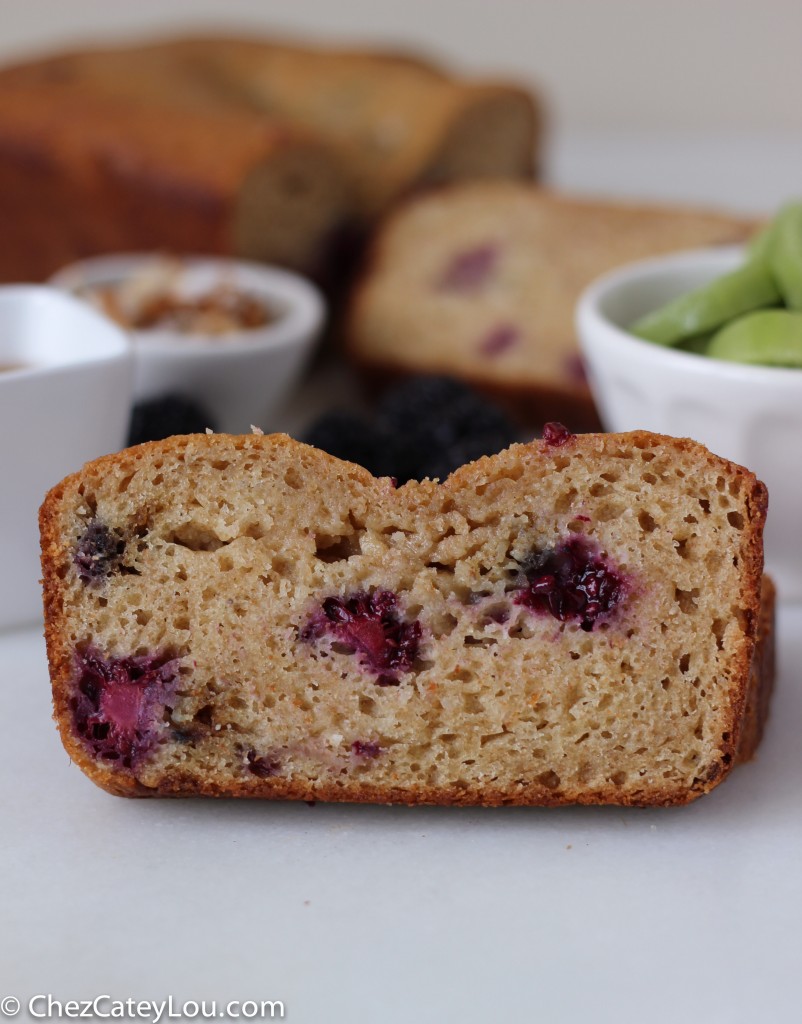 This bread is just full of healthy ingredients. Greek yogurt for tons of filling protein. Blackberries, which are chock full of vitamin C and fiber. Whole wheat pastry flour for both fiber and protein. And coconut oil, which is full of healthy fat and has been called a superfood lately.  Now that is a winning breakfast combo in my opinion! Or snack. Or dessert. I eat this bread at any and all times of day.
A word about whole wheat pastry flour.  It has a finer texture than regular whole wheat flour, which gives you the whole wheat flavor and nutrition you are looking for without the coarse and gritty texture that can sometimes come from whole wheat flour.  I really love it for baking.  I order mine from King Arthur Flour.  It might seem annoying to have to buy yet another type of flour, but I think it is worth it in recipes like this. It makes it so tender!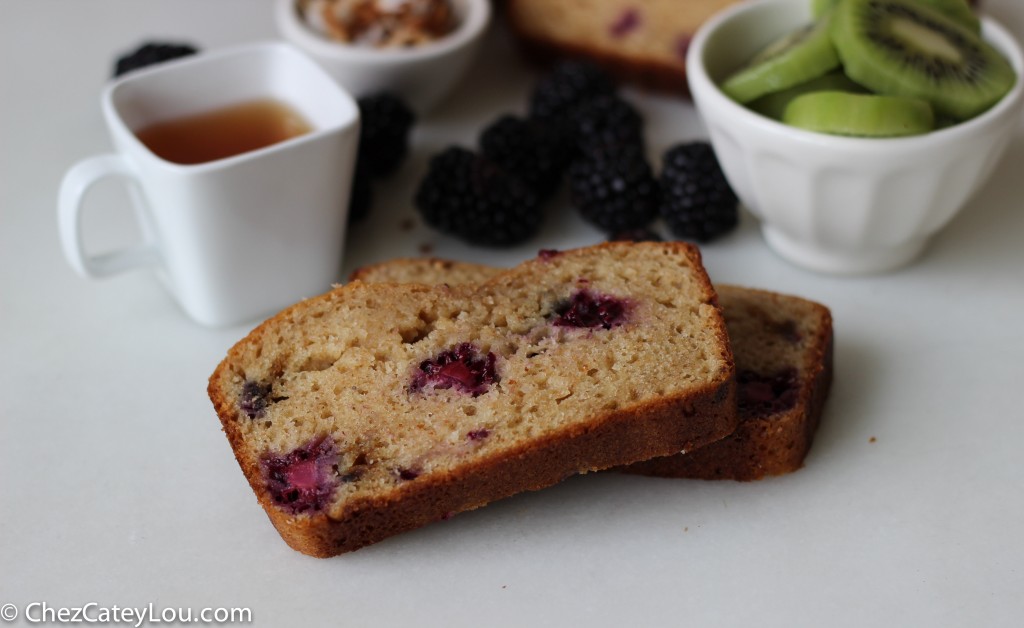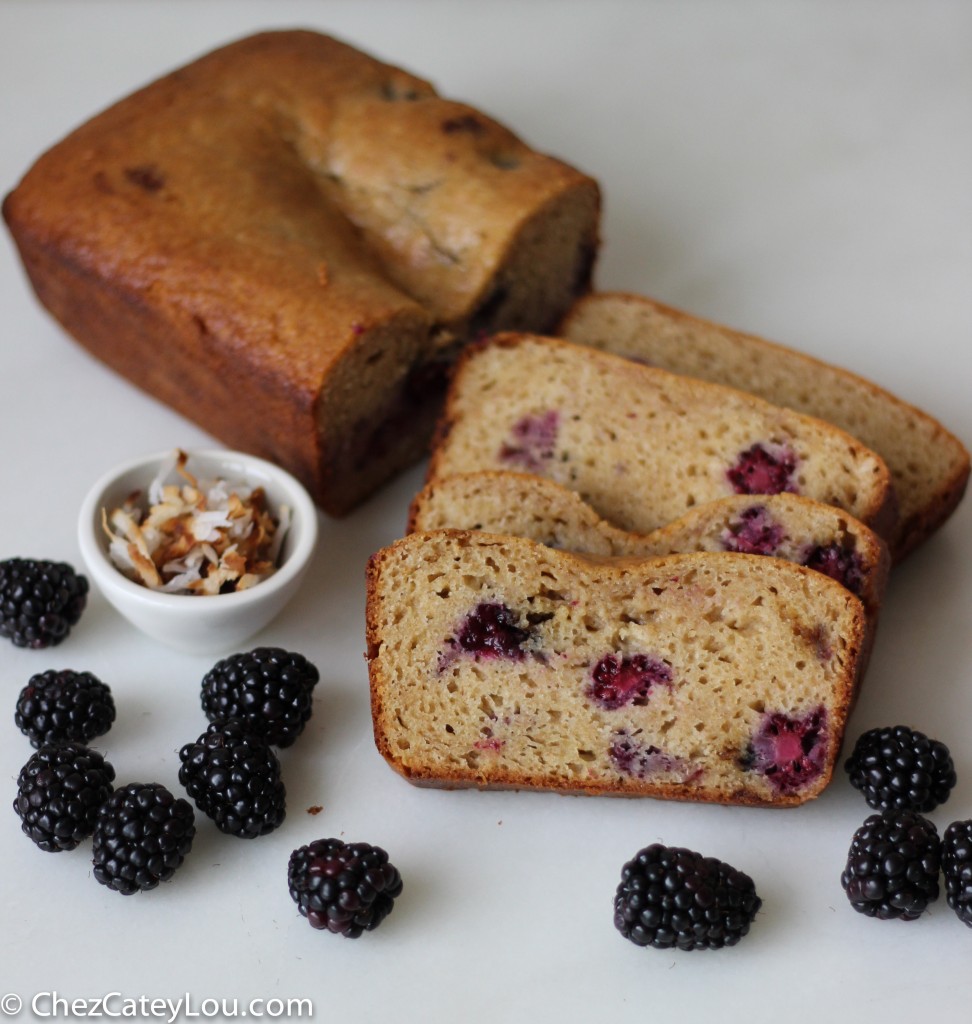 And, of course it tastes absolutely delicious! This bread is fruity and tropical. The coconut flavor from both the coconut yogurt and the coconut oil really stand out, and it pairs so well with the sweet and juicy blackberries. It is really simple to whip up.
But I will say with this and any quickbread, you want to let it cool completely before cutting it. I have learned this the hard way several times! If you cut this bread when it is warm, it will fall apart. Plus, it keeps cooking a bit as it sits out. Sometimes with quick breads the middle seems slightly underdone, but as it sits it will become firm. And even if it is a little gooey in the middle, I don't mind – those are my favorite bites!
My favorite way to do quickbreads lately is to make it the night before so that the next morning it is ready to go for a quick, easy, and delicious breakfast.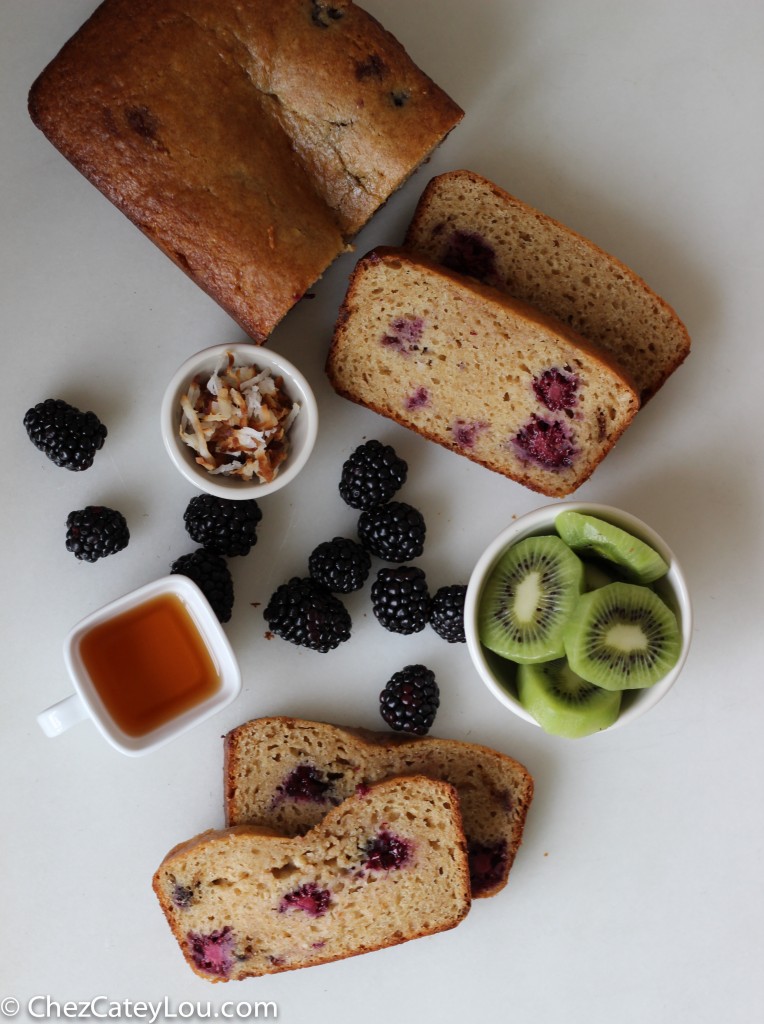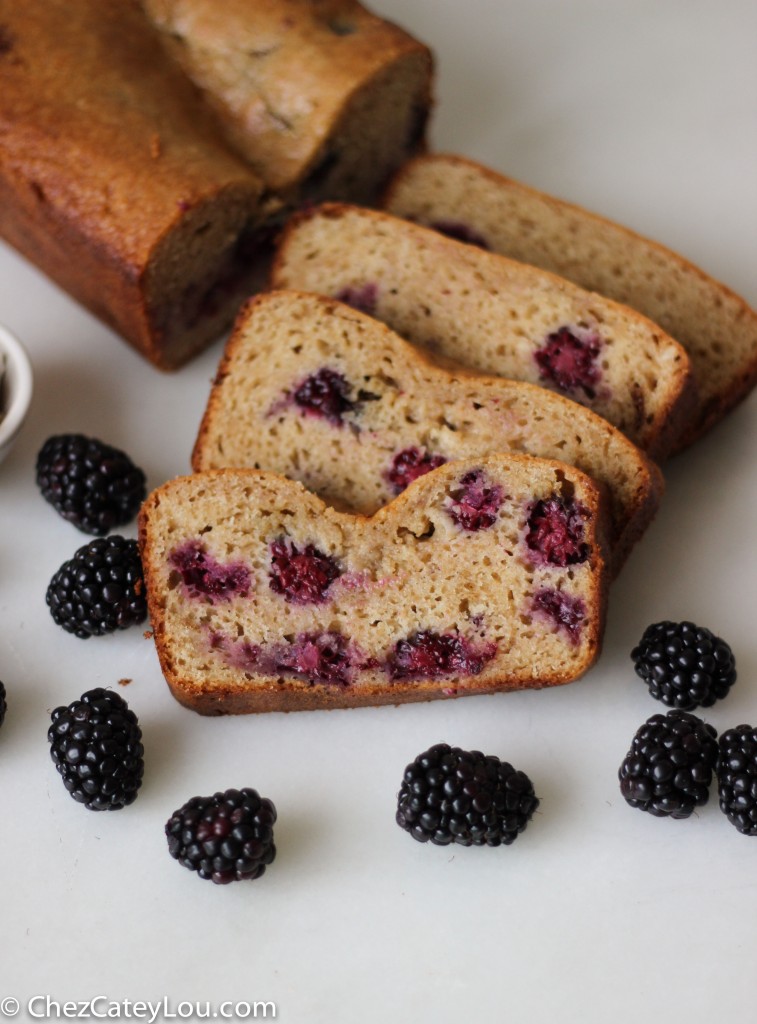 Healthy Blackberry Coconut Yogurt Bread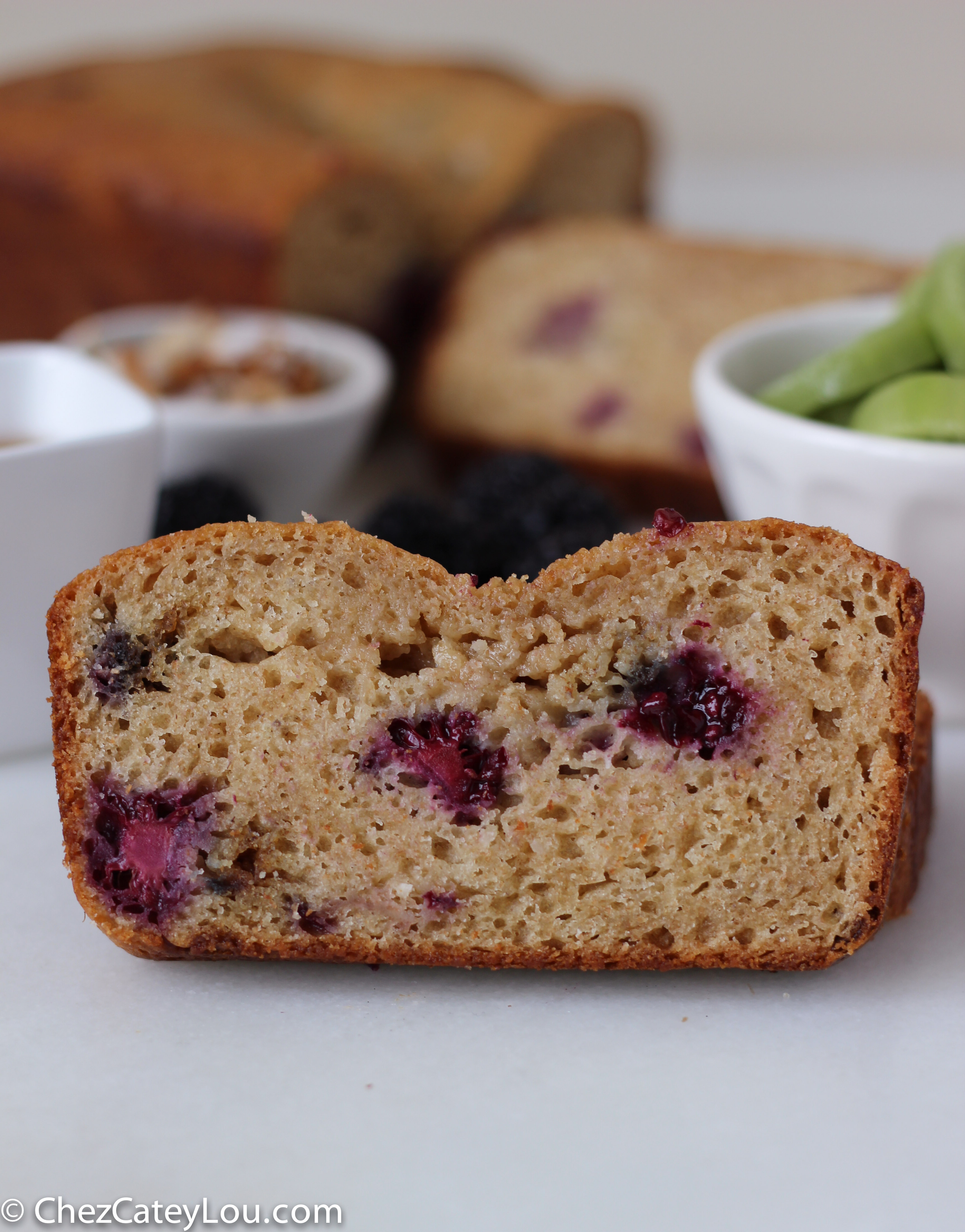 This healthy and delicious bread is full of fresh blackberries and delicious coconut flavor, thanks to coconut yogurt and coconut oil.
Ingredients
1 cup all purpose flour
1 cup whole wheat pastry flour
1/2 teaspoon baking soda
1 teaspoon baking powder
1/2 teaspoon salt
1/2 cup sugar
1/2 cup light brown sugar
1/3 cup coconut oil
2 large eggs, at room temperature
1 cup coconut yogurt (I used Chobani), at room temperature
1 teaspoon vanilla
1 cup blackberries tossed in 1 tsp flour
Instructions
Preheat oven to 350 degrees F. Spray a 9x5inch loaf pan with nonstick cooking spray.
In a medium bowl, whisk together the flours, baking soda, baking powder, and salt.
In a large bowl, whisk together sugars, oil, and eggs until well combined. Add in the yogurt and whisk until fully incorporated and no lumps remain. Whisk in the vanilla.
Add the dry ingredients to the wet ingredients and stir until just combined. Fold in the blackberries.
Spoon the batter into the prepared pan, spreading it evenly.
Bake for 40 - 50 minutes. If it appears to be browning too quickly before the center is cooked, tent with foil. Let it cool in the pan for about 10 minutes, then transfer the bread to a wire rack to cool completely.
Notes
To bring eggs to room temperature quickly, put them in a bowl of warm water for about 5 minutes. To bring yogurt to room temperature quickly, microwave for 30 seconds, stir then test with your finger. If it still feels cold, microwave in 10 second intervals until it is lukewarm.
https://chezcateylou.com/healthy-blackberry-coconut-yogurt-bread/
© Chez CateyLou. All images & content are copyright protected. Please do not use my images without prior permission. If you want to republish this recipe, please re-write the recipe in your own words, or link back to this post for the recipe.
Want more coconut recipes?
Healthy Pineapple Coconut Smoothies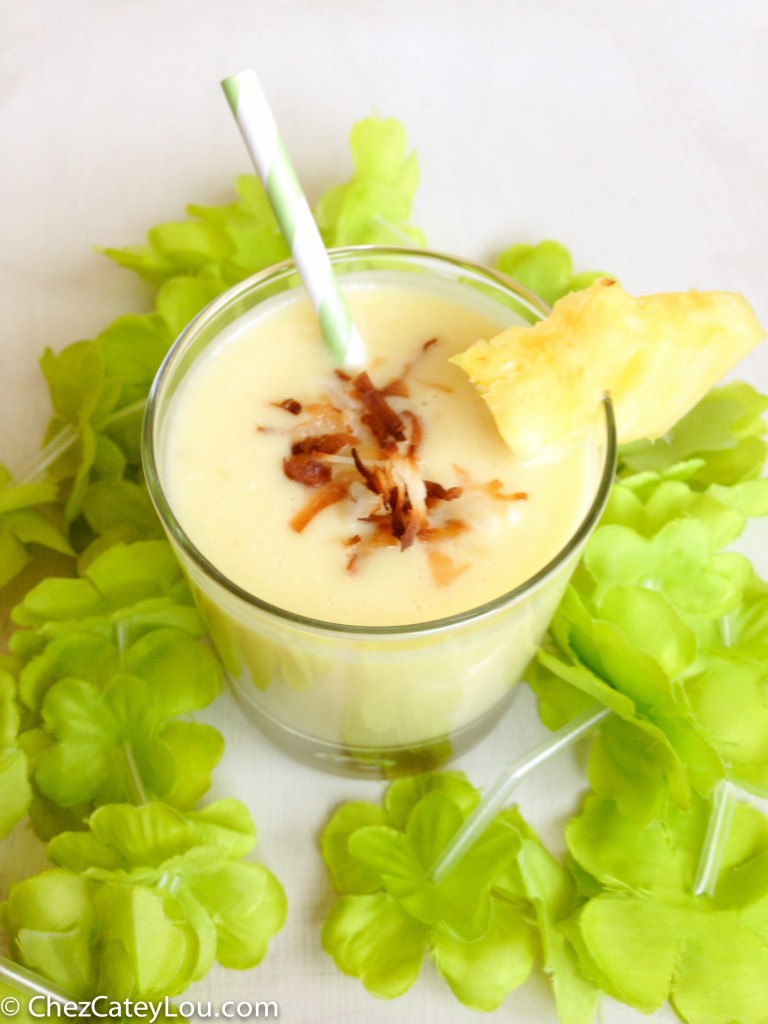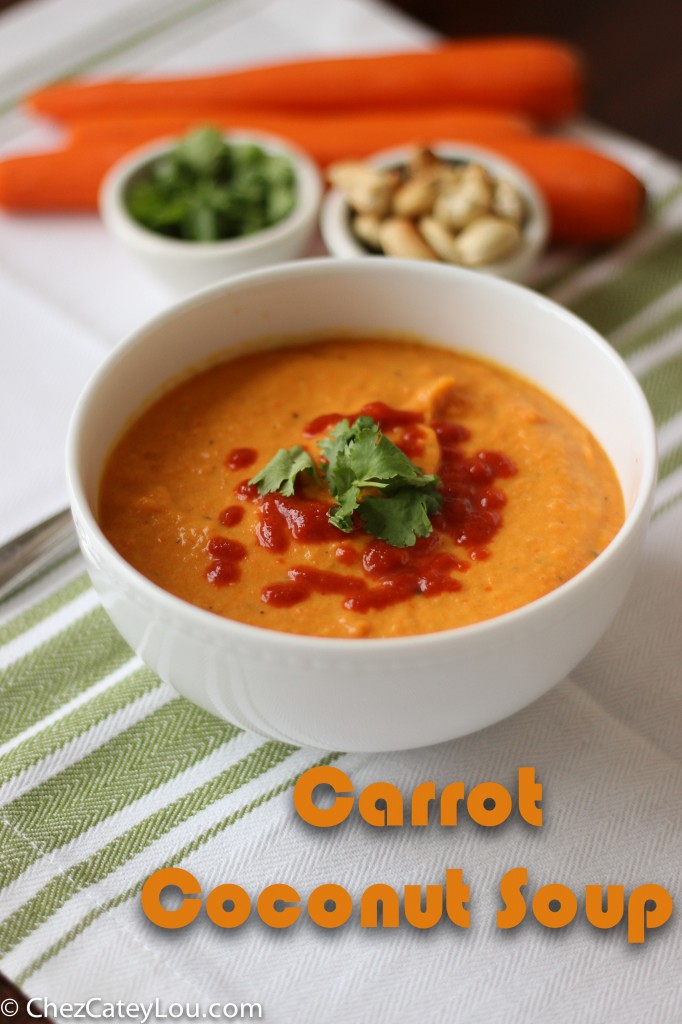 Dark Chocolate Chip Coconut Oil Cookies