These cherry almond muffins are bursting with fresh sweet cherries and are full of almond flavor from almond flour, extract, and chopped almonds!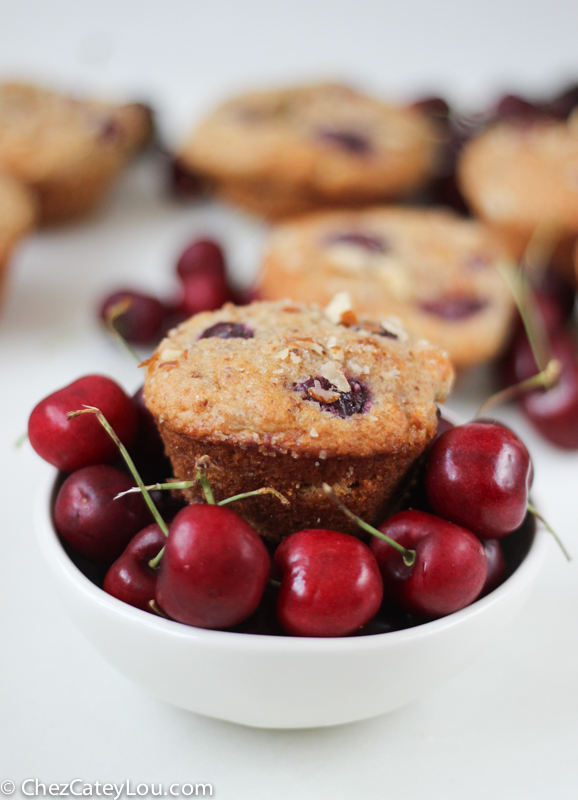 Happy Saturday! I love waking up on Saturday mornings and baking something for breakfast. Breakfast is my favorite meal of the day, and if you haven't noticed, I really like baking breakfast food! Today we are having Cherry Almond Muffins! The cherries are so beautiful and so delicious right now – I bought a huge bag the other day and couldn't wait to bake them into a muffin.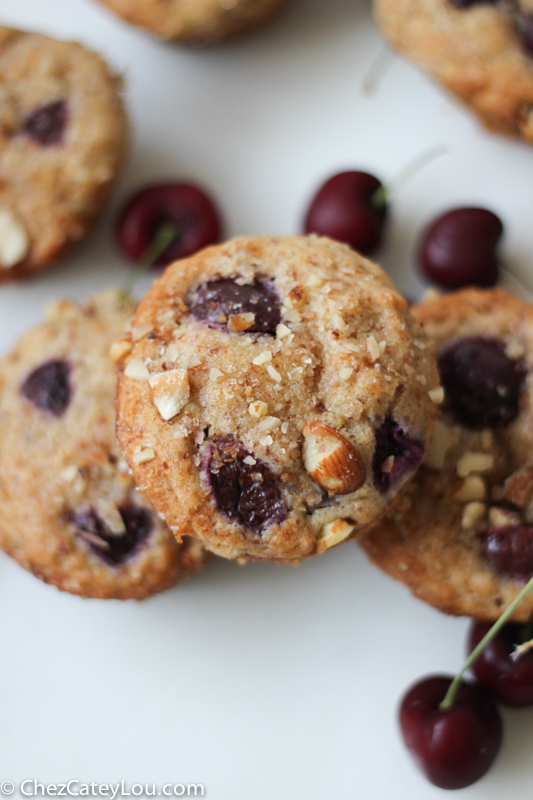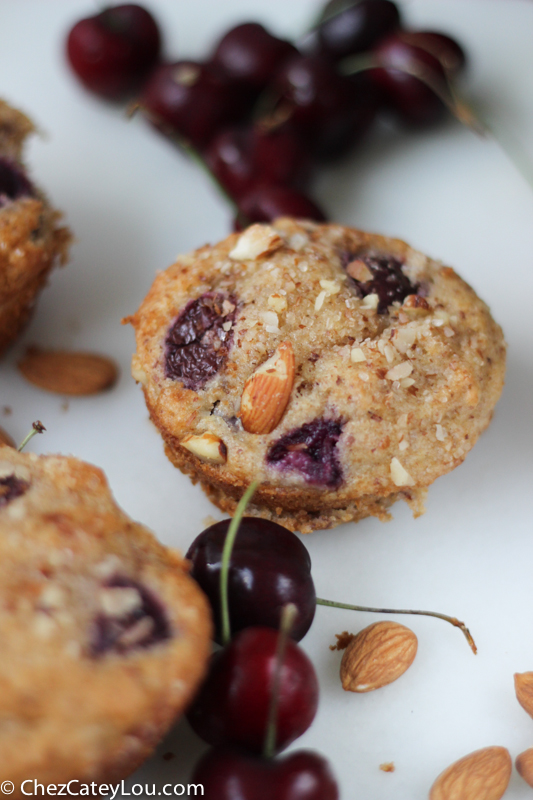 Cherries and almonds taste amazing together. There is something about their flavor profiles that just works so well. And this muffin has a triple dose of almond flavor: almond flour/meal in the batter, almond extract to flavor everything, and chopped almonds on top of the muffin!
I love the flavor of almond extract. A little goes a long way, so be careful when you are pouring it! But I love how it tastes with the cherries in these muffins.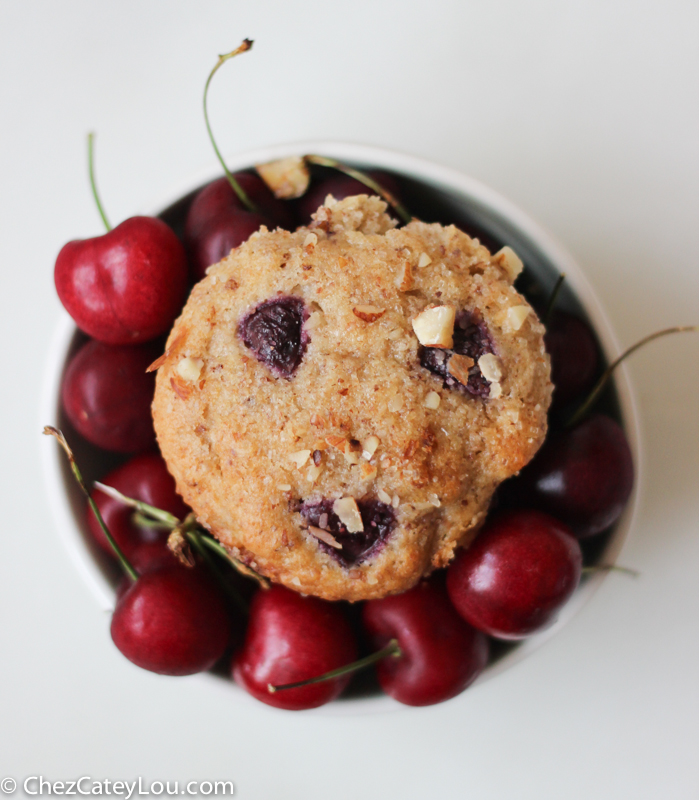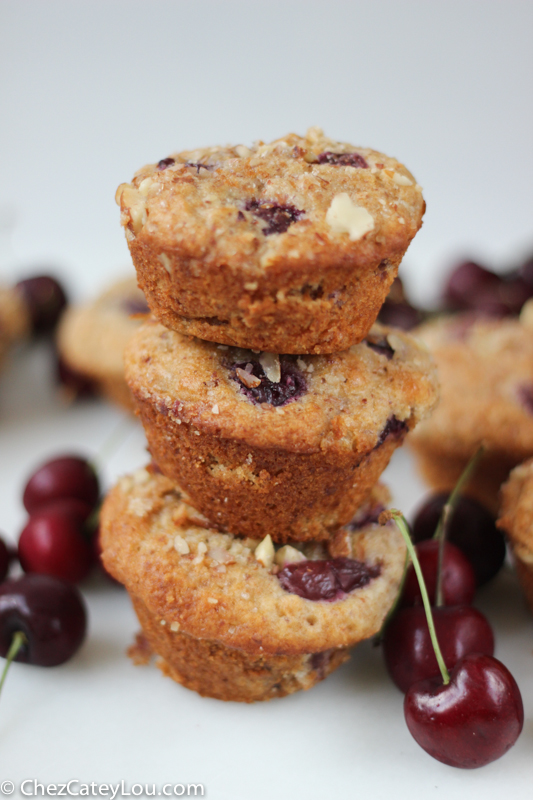 Now these are not gluten free, aka I mixed almond flour with regular flour. I wanted to use almond flour (I love this one from Hodgson Mill) in here, but I wanted the texture to still be like a regular muffin. I'm not sure if the texture would be ok with only almond flour – I will have to experiment and report back!
I topped these muffins with a mix of chopped almonds and turbinado sugar. It gives a nice crunch to the top of the muffin.
Hope you all have a great weekend! What are you baking for breakfast?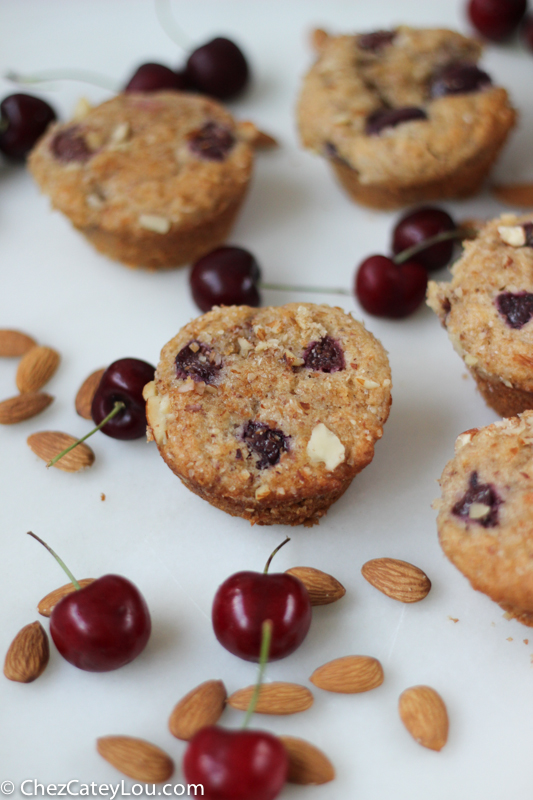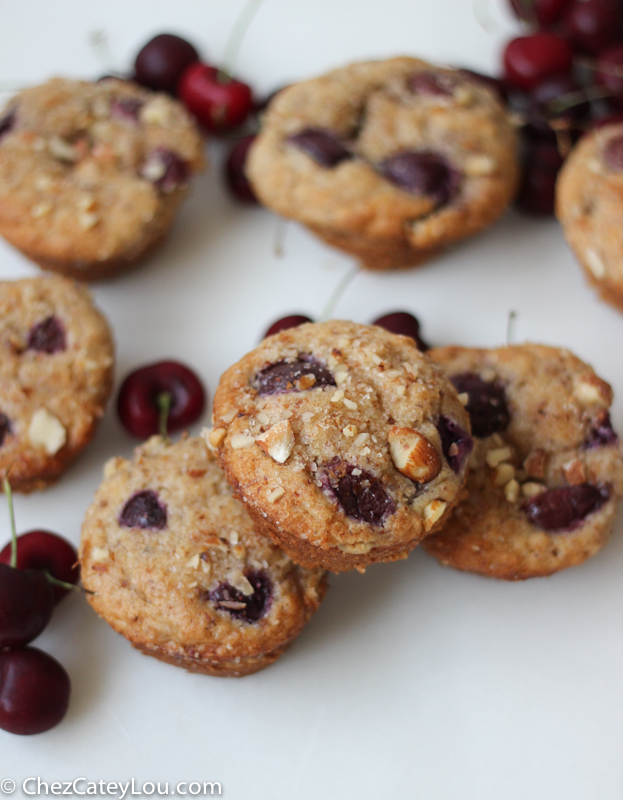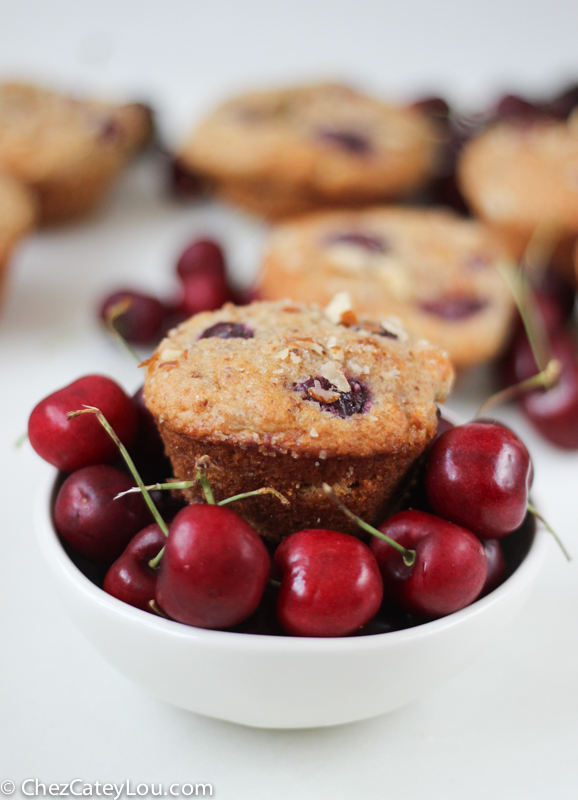 These cherry almond muffins are bursting with fresh sweet cherries and are full of almond flavor from almond flour, extract, and chopped almonds!
Ingredients
1 1/2 cups all-purpose flour
1 cup almond flour/almond meal
1/2 cup whole wheat pastry flour (or all-purpose)
1 Tablespoon baking powder
1/2 teaspoon salt
1/2 teaspoon baking soda
2 large eggs, at room temperature
1 cup sugar
1/2 cup vegetable oil
1/2 cup milk, at room temperature
1/2 cup plain Greek yogurt, at room temperature (I used Chobani 0%)
1 teaspoon vanilla extract
3/4 teaspoon almond extract
1 1/2 cups chopped fresh cherries

For the Topping

1/3 cup almonds, finely chopped
3 Tablespoons turbinado sugar
Instructions
Preheat oven to 375 degrees F
Spray 2 muffin tins very well with nonstick baking spray.
In a large bowl, whisk together all flours, baking powder, salt, and baking soda.
In a separate bowl, lightly beat the eggs. Add the sugar and oil and whisk until well very well combined, at least one minute. Add the milk and yogurt and whisk until combined. Stir in the vanilla and almond extract.
Pour the wet ingredients into the dry ingredients. Mix until just combined - do not over mix. Very gently fold in the chopped cherries. Spoon the batter into the muffin tins, filling only 2/3 full! If there are empty muffin tins, fill them halfway with water.

For the Topping

Mix together the ground almonds and the turbinado sugar. Sprinkle the topping evenly over the muffins. Bake for 15 - 20 minutes, until very light golden brown on top and just cooked through.
Cool in the pans for 5 - 10 minutes, then turn onto a wire rack to cool completely.
https://chezcateylou.com/cherry-almond-muffins/
© Chez CateyLou. All images & content are copyright protected. Please do not use my images without prior permission. If you want to republish this recipe, please re-write the recipe in your own words, or link back to this post for the recipe.
Lots of muffin recipes for you!
Raspberry Cream Cheese Muffins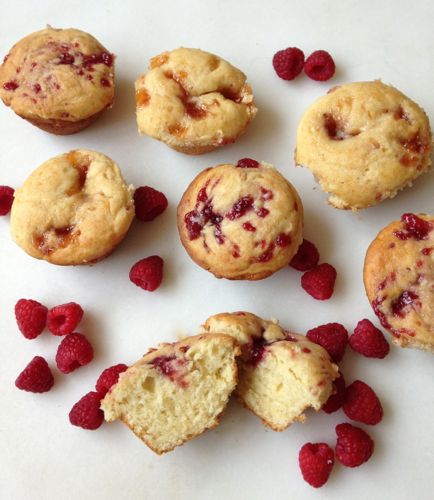 Whole Wheat Strawberry Muffins with Cheesecake Swirl