Tart lemon and sweet raspberries give amazing flavor to my Lemon Raspberry Yogurt Cake. Yogurt keeps it moist yet light, and it couldn't be easier to make!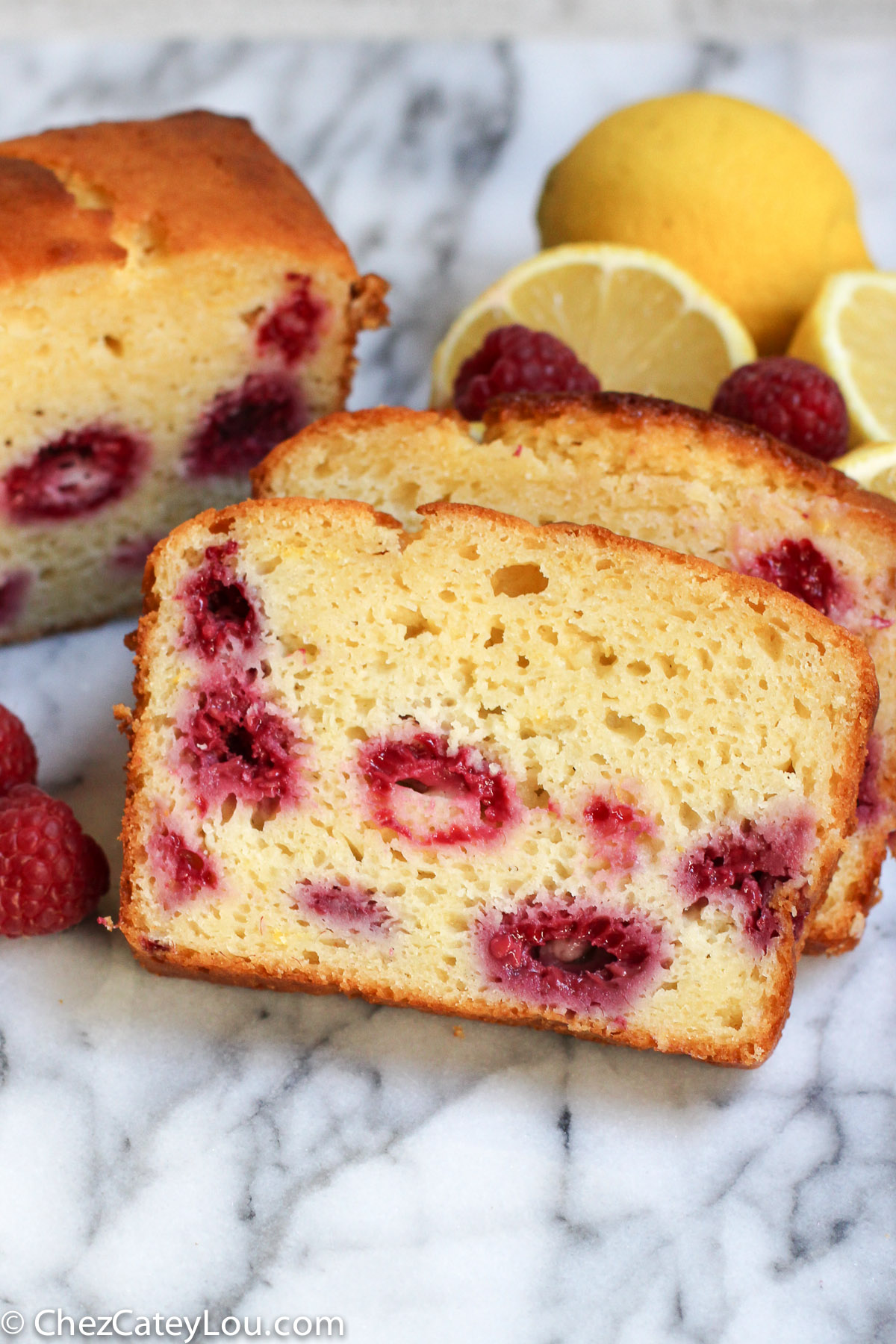 I'm back! Or am I? I'm not quite sure yet. All I know is that Friday after work I was in the mood to bake something. So I made a Lemon Raspberry Yogurt Cake. And it turned out well. And Saturday morning while Carlyle napped I decided to take some pictures. And they weren't half bad.  So I thought maybe I should start blogging again! I realized I have kind of missed this.  Even though I have about zero free time these days, I'm going to hopefully figure out a way to start sharing recipes with you again.  We shall see how this goes…
After such a long time away, we have a lot to discuss – like the birth of my sweet baby girl, my cross country move to San Francisco, and lots of Bay Area travels – but I will save all of that for other posts. For now, I will just talk about this beautiful, summery, Lemon Raspberry Yogurt Cake.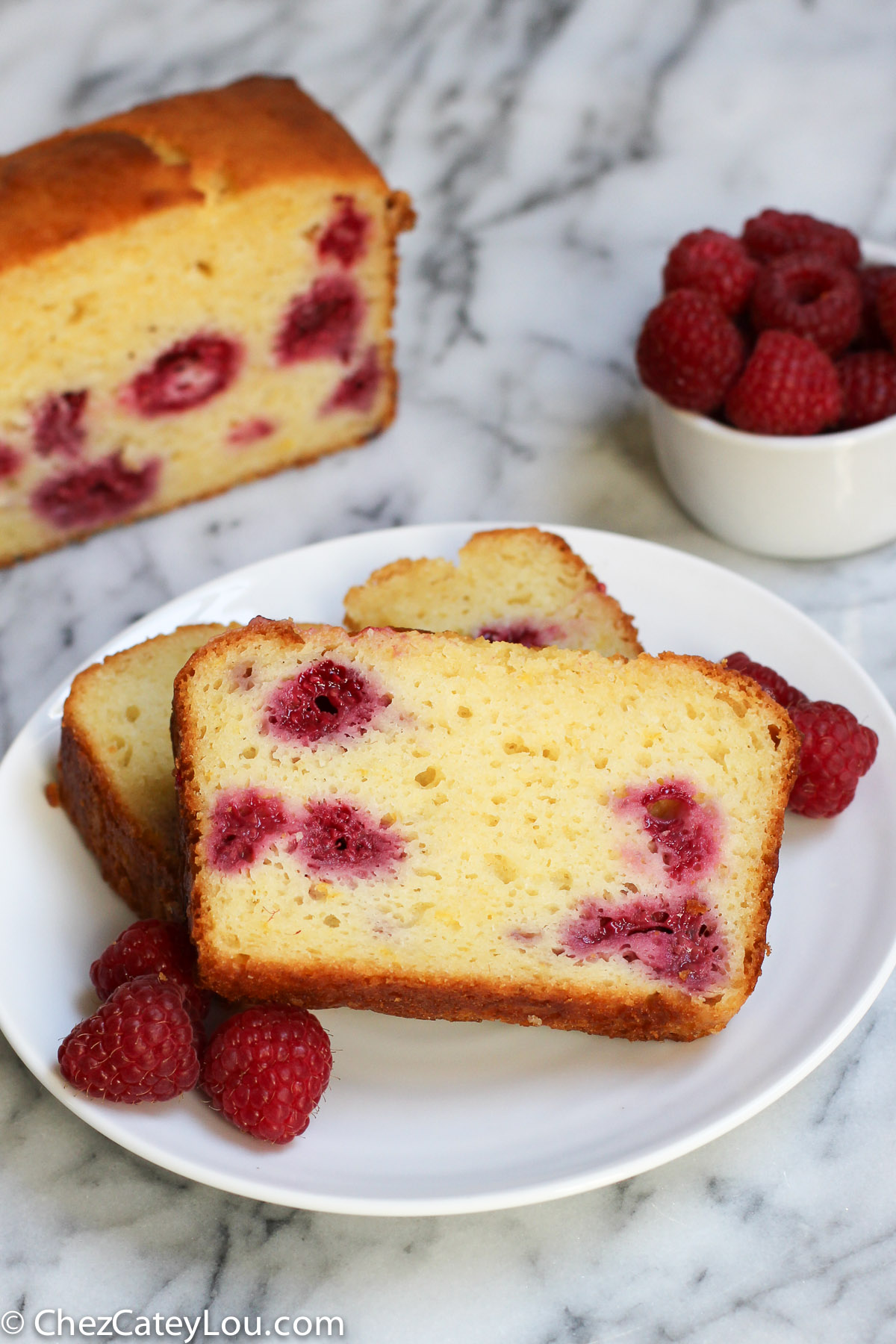 This is a twist on this and this recipe. Yogurt cakes (or yogurt breads / quickbreads) are one of my favorite things to bake. They are easy, a bit lighter than a real cake, and so delicious! Back when I used to bake (aka pre-baby…seriously, I have baked about 5 times since she was born), I would make variations of this recipe all the time. This lemon raspberry version is one of my favorites. The sweet yet tart raspberries work so well with the lemon, and you can't beat the beautiful color! It's a good thing this recipe is so easy to make – it is actually kind of embarrassing how fast TheBetterHalf and I ate this raspberry yogurt cake!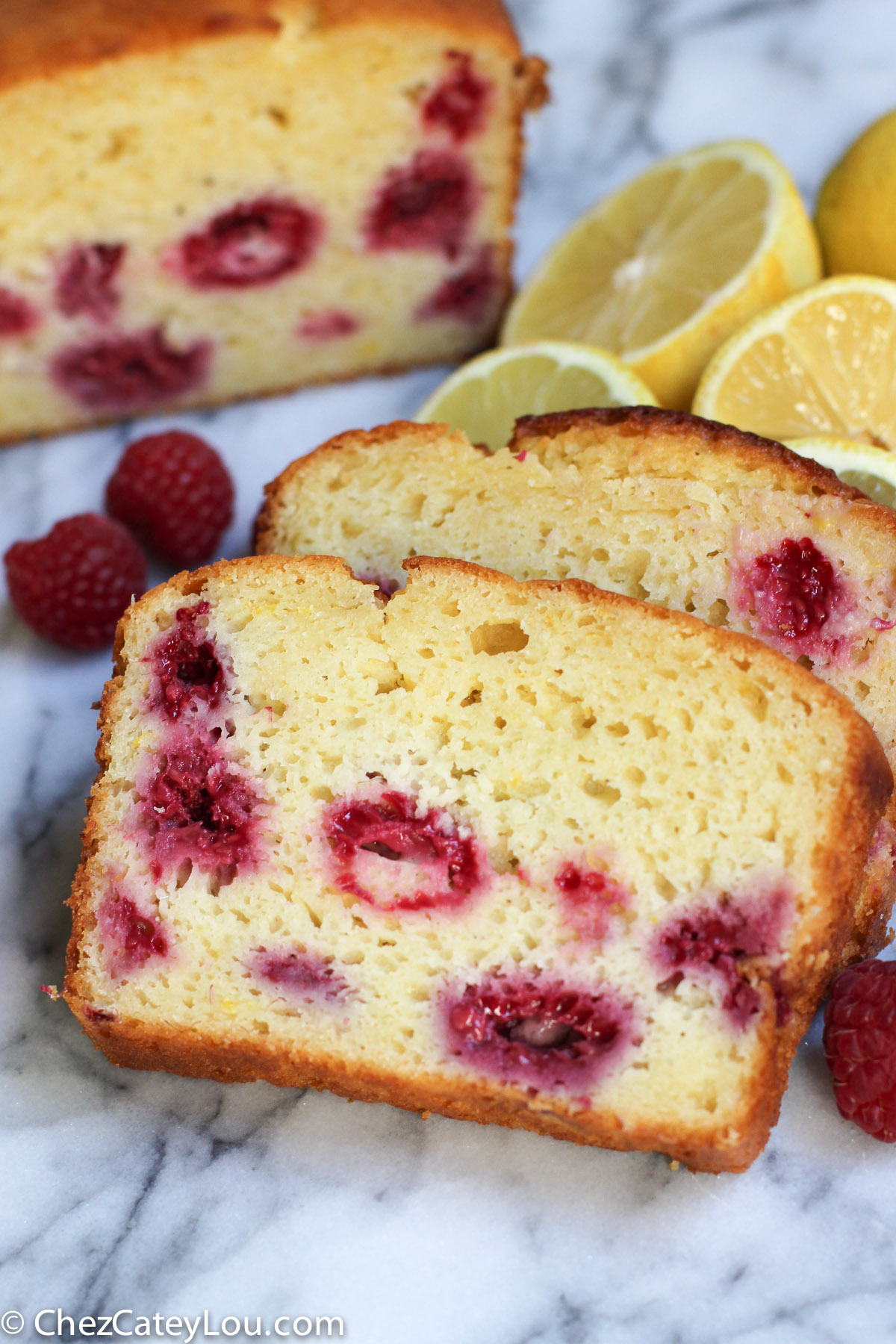 I used fresh raspberries for my cake – they are just starting to show up at our local farmers market and they are so good! One tip – freeze the fresh raspberries for a bit before you fold them into the batter. This helps them stay intact and not bleed all over the batter. I also toss the partially frozen raspberries in a bit of flour before mixing them in.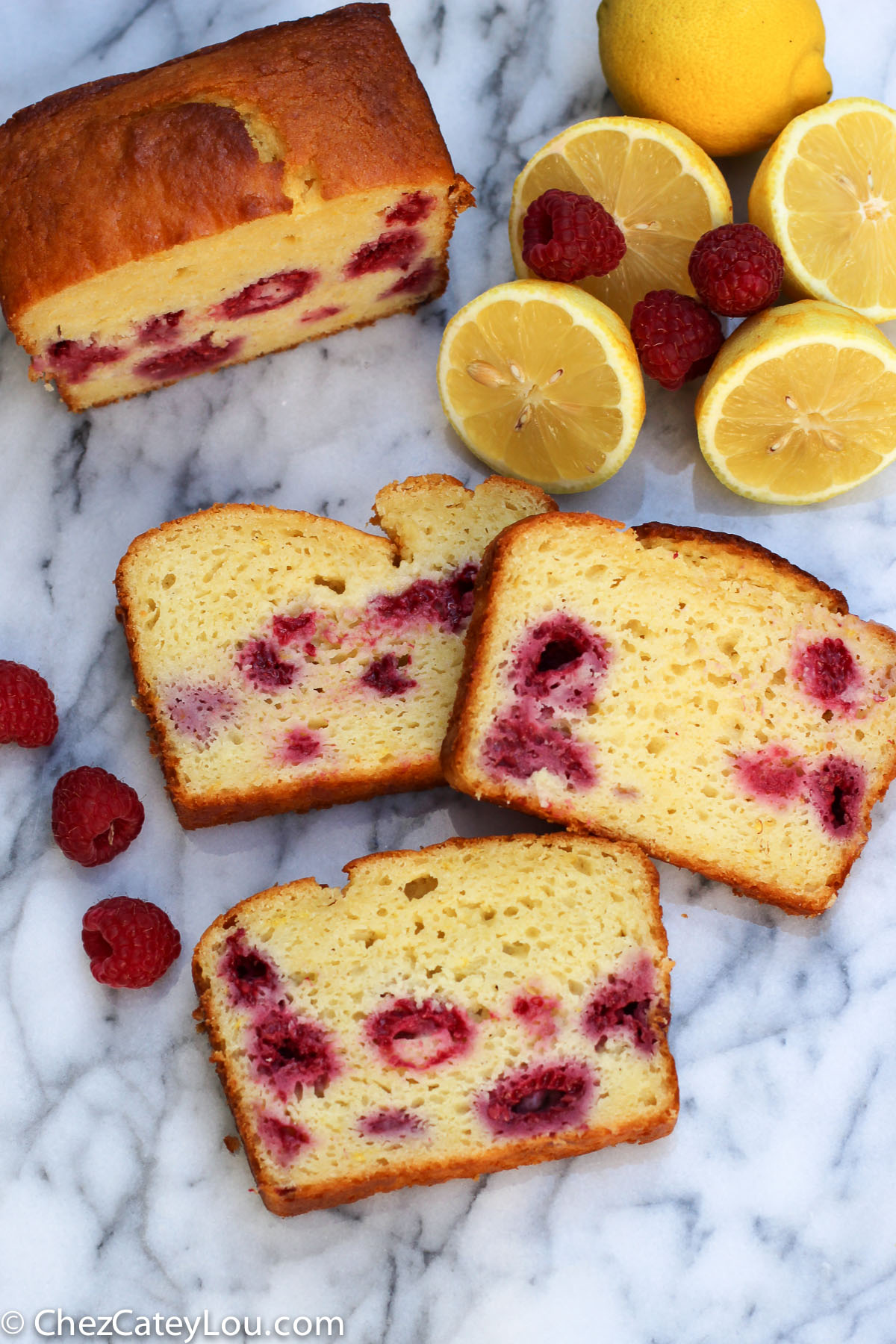 Lemon Raspberry Yogurt Cake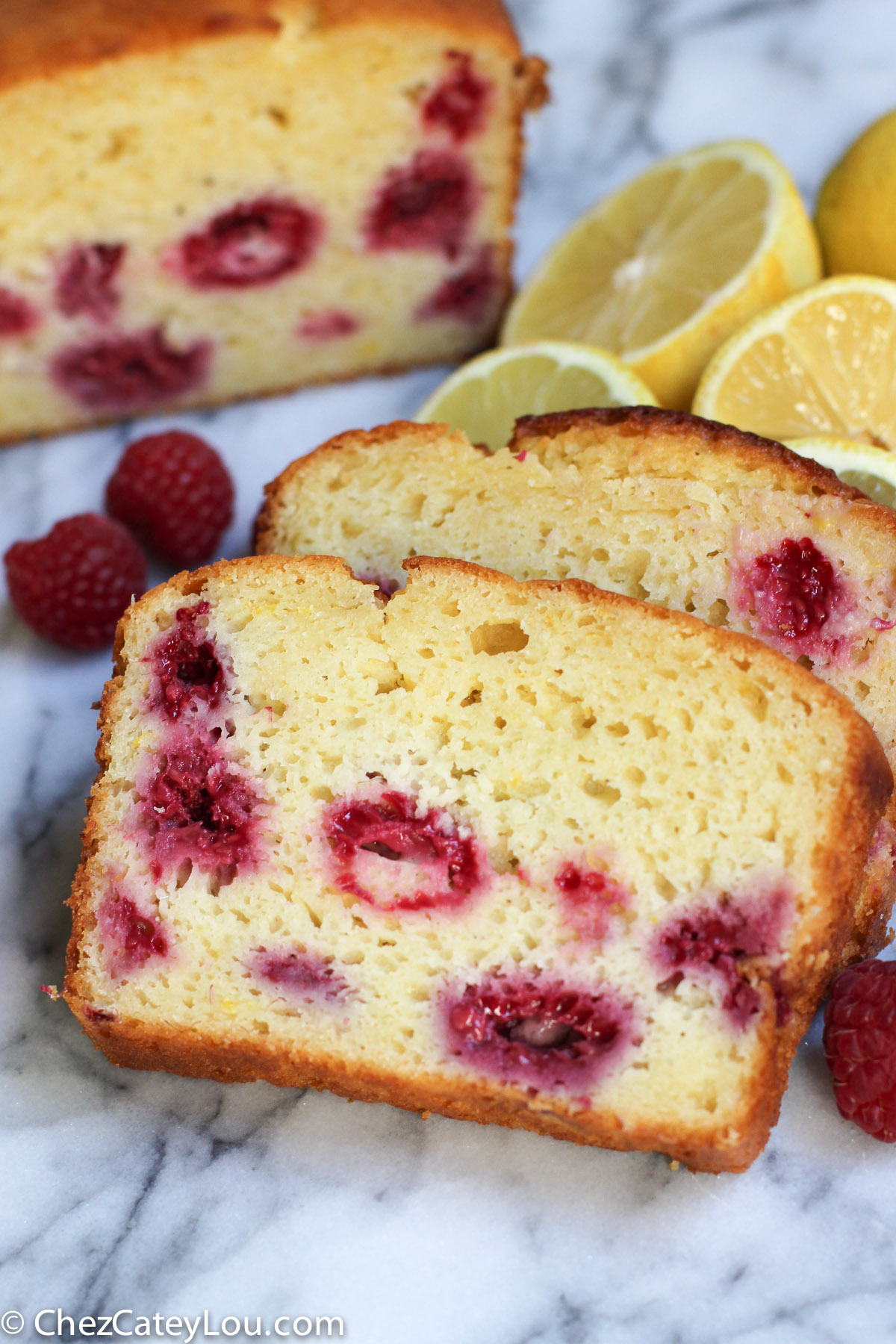 Tart lemon and sweet raspberries give amazing flavor to my Lemon Raspberry Yogurt Cake. Yogurt keeps it moist yet light, and it couldn't be easier to make!
Ingredients
1 1/2 cups flour
2 teaspoons baking powder
1/2 teaspoon salt
3/4 cup sugar
3 large eggs
1/3 cup vegetable oil
2 Tablespoons unsweetened applesauce
1 cup plain Greek yogurt
1 teaspoon vanilla
2 teaspoons lemon zest
1 1/2 cups raspberries (I use fresh raspberries, and freeze them for about a half hour before mixing into the batter)
Instructions
Preheat oven to 350 degrees F. Grease an 8"x5" loaf pan.
In a medium bowl, whisk together flour, baking powder, and salt.
In a large bowl, whisk together sugar and eggs until mixture is light and smooth. Whisk in the oil and applesauce, then the yogurt until very well combined. Whisk in the vanilla.
Add the dry ingredients to the wet ingredients and stir until just combined. Fold in the lemon zest and the raspberries.
Spoon the batter into the loaf pan and spread evenly. Bake for 30 - 35 minutes, until light golden brown and a toothpick inserted comes out with a few moist crumbs.
Remove the cake from the oven and allow to cool in the pan for a few minutes, then turn out onto a wire rack and cool completely.
https://chezcateylou.com/lemon-raspberry-yogurt-cake/
© Chez CateyLou. All images & content are copyright protected. Please do not use my images without prior permission. If you want to republish this recipe, please re-write the recipe in your own words, or link back to this post for the recipe.
More easy yogurt cake recipes:
Follow Chez CateyLou around the internet!