This clementine rosemary champagne cocktail combines bright citrus flavors with fresh rosemary. Delicious and gorgeous!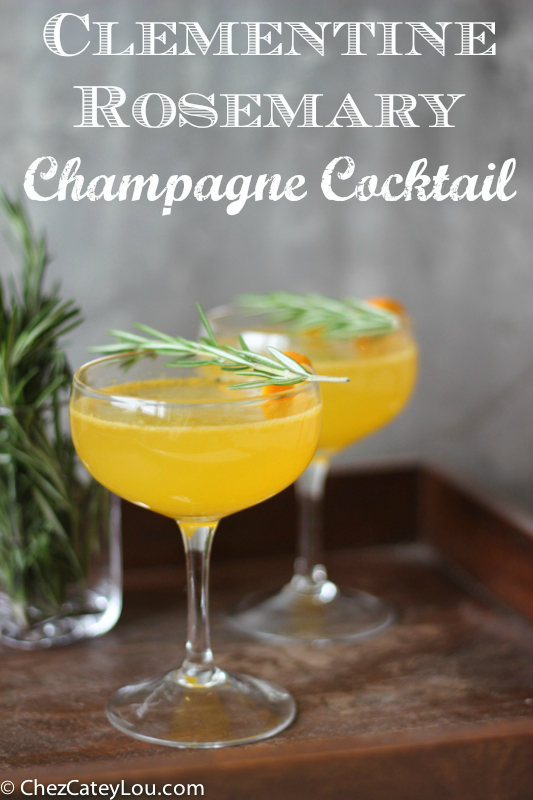 It's Friday! Who's ready for a cocktail? That was a rhetorical question…I know the answer is, "ME!" for every single person reading this blog. So how about a Clementine Rosemary Champagne Cocktail?
I have something pretty fun to share with you today – I am part of a cocktail contest! Veuve Ambal and Hella Bitter invited me to join their Bubbles, Bitters and Blogs contest – so of course I said YES PLEASE!!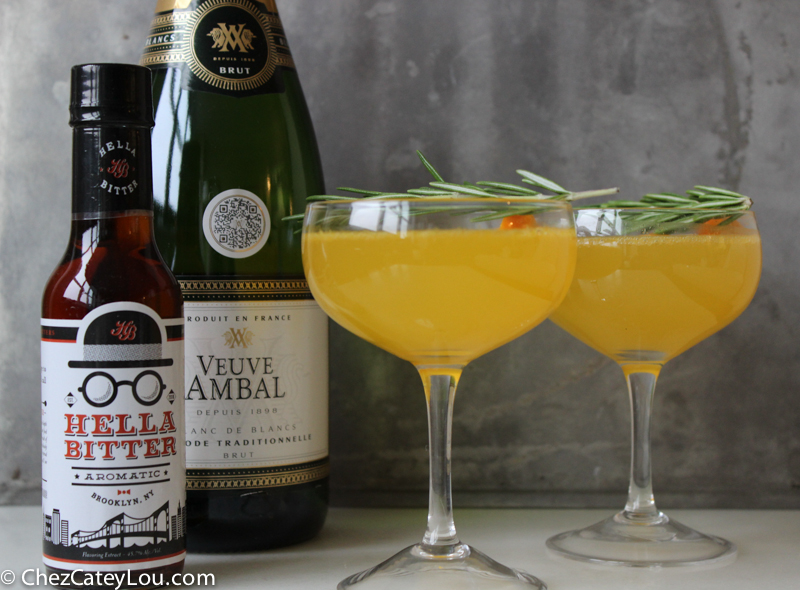 So, a little more about the contest. The team at ABLE, a marketing agency in NYC, sent me two bottles of Veuve Ambal and two bottles of Hella Bitters (aromatic and citrus flavors) and tasked me with creating a cocktail. Their team will choose the top 3 cocktails, and the winning recipes will be served at a party on March 27! I hope I win – how fun would it be to see a Chez CateyLou creation served at a fancy NYC party?!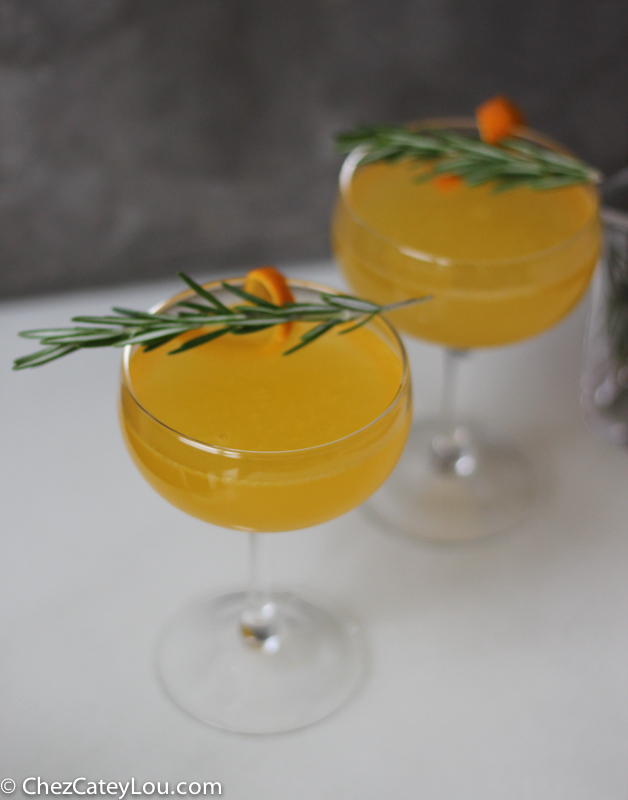 Because TheBetterHalf is more of a cocktail expert than I am (actually, he's just more of a cocktail drinker than I am), I sought out his assistance in creating my concoction. We knew we wanted to incorporate citrus and some fresh herbs. We've been seeing a lot of herbs in cocktails lately and really enjoy the fresh flavor they bring to drinks.
At his insistence, we did a lot of taste testing (probably too much!). But after our arduous testing process, we really loved the combination of orange and rosemary.  And so our Clementine Rosemary Champagne Cocktail was born!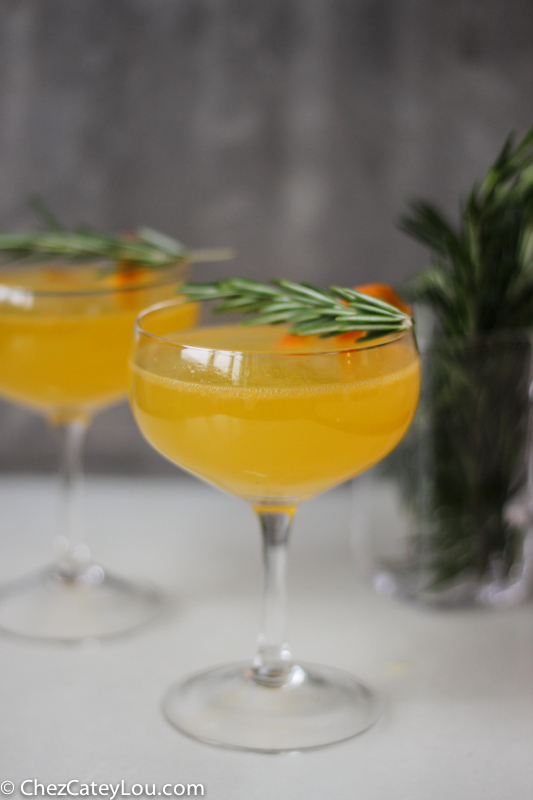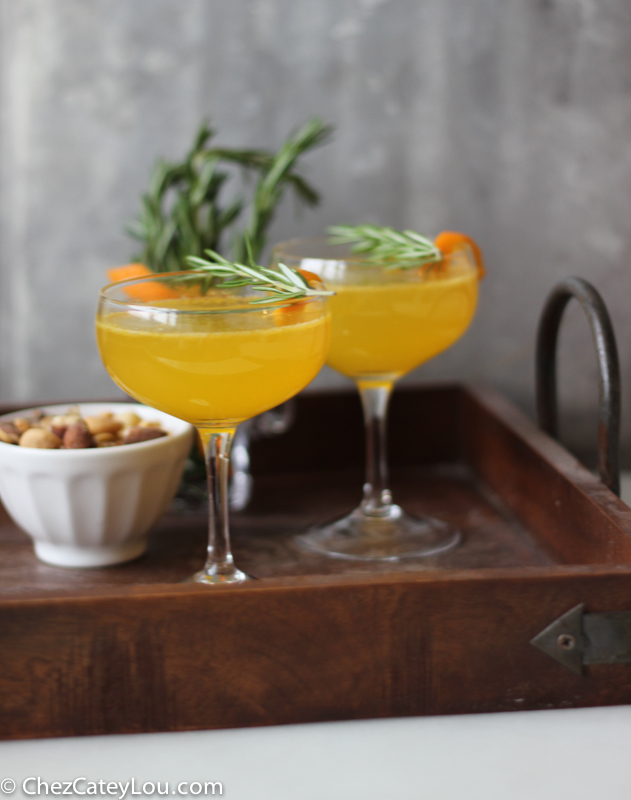 The tartness and bright citrus flavor from the clementine juice pairs so well with the sweet and herbaceous rosemary simple syrup.  The aromatic bitters adds a subtle yet complex and interesting flavor. The vodka gives the cocktail a bit of a kick, and the bubbly champagne ties the whole thing together. This drink tastes amazing and looks so pretty!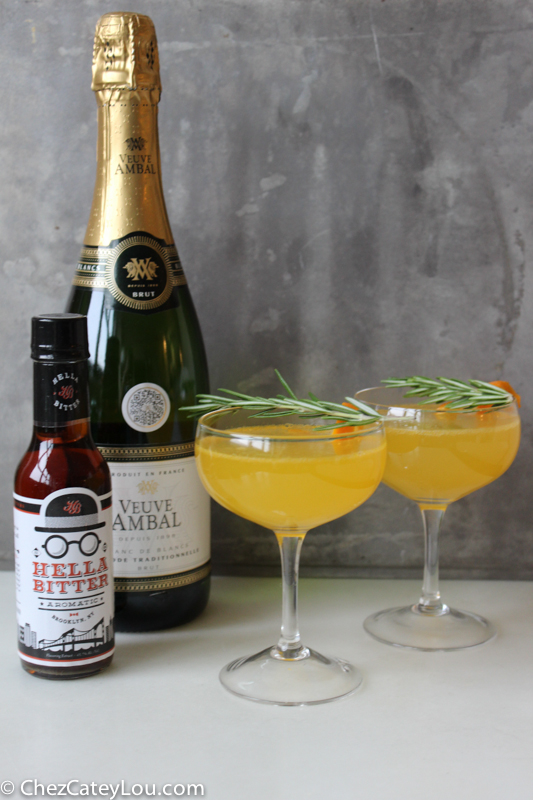 Let's talk for a minute about the glasses I used. I really wanted to serve my cocktail in a classic champagne coupe. These glasses are the new big thing at restaurants and bars (at least in NYC!) – I swear every other cocktail is served in one of these glasses. So I figured that they must be sold everywhere, right? Wrong.
I went on a wild goose chase around NYC trying to find these glasses (remember my search for Kabocha Squash? this felt very similar). I went to every home goods / kitchen store on the Upper East Side. I went to several downtown too. I even went to some restaurant supply stores in Chinatown!! (Although that was only because they were close to Uncle Boons…). Nothing. No luck.
After I had given up all hope, I passed a liquor store 3 blocks from my apartment. And guess what they had in the window….Champagne Coupes! In two different sizes! And, they were for sale! Victory.
And yes, I'm aware they sell these glasses online, but I wanted to make the drinks the next day! Should have planned that one better.
But it was totally worth the search, because I think these clementine rosemary champagne cocktails look pretty darn great in these glasses! And they taste even better. A fancy cocktail served in a classic glass? I feel like I'm in an episode of Mad Men.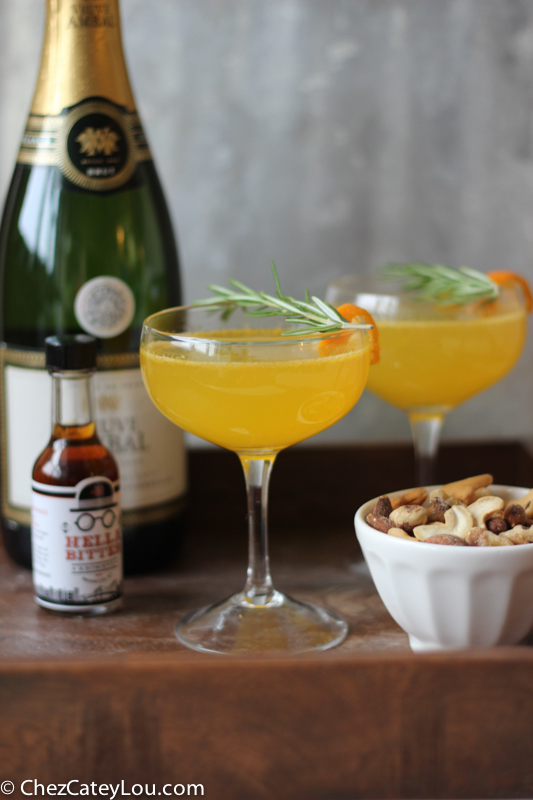 Disclosure: I was provided with Veuve Ambal champagne and Hella Bitter bitters by ABLE social to create a recipe. All opinions are my own.
Clementine Rosemary Champagne Cocktail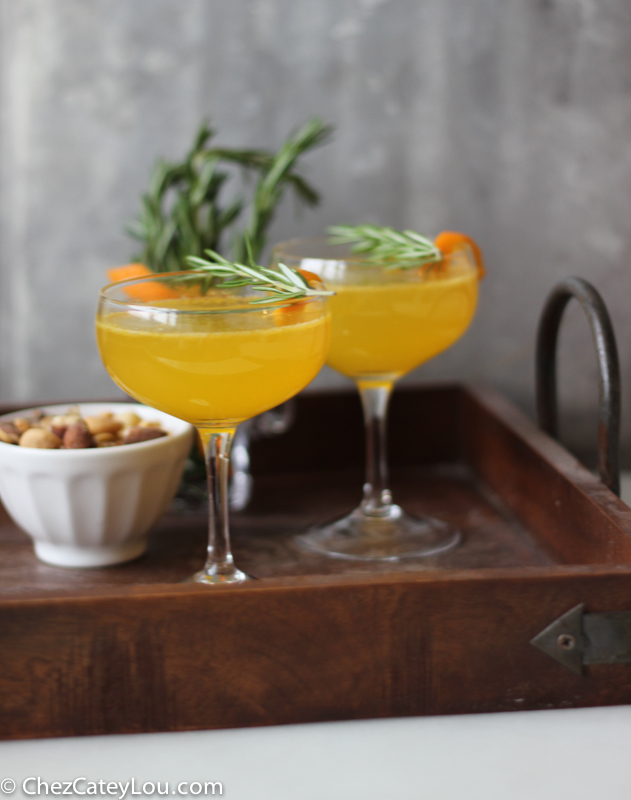 This clementine rosemary champagne cocktail combines bright citrus flavors with fresh rosemary. Delicious and gorgeous!
Ingredients
For the Rosemary Simple Syrup

1/2 cup sugar
1/2 cup water
5 sprigs rosemary

For the Champagne Cocktail

2 tablespoons fresh clementine juice
1.5 tablespoons rosemary simple syrup
1.5 oz vodka
4 dashes aromatic bitters (I used Hella Bitters)
1.5 oz champagne (I used Veuve Ambal Brut)
Ice, for shaking
Instructions
For the Rosemary Simple Syrup

Stir the sugar into the water, and bring the mixture to a boil. Boil until the sugar is dissolved. Take off the heat, and add the rosemary. Let it sit for 30 minutes, then remove rosemary.

For the Champagne Cocktail

Put the clementine juice, simple syrup, and vodka in a cocktail shaker. Fill with ice, then shake until all ingredients are mixed together and are cold.
Put 4 dashes bitters in a champagne coupe and swirl around the glass.
Strain the clementine mixture into the glass. Top with champagne. Garnish with a clementine rind twist and a sprig of rosemary.
Notes
Can easily double this recipe for 2 cocktails.
https://chezcateylou.com/clementine-rosemary-champagne-cocktail/
© Chez CateyLou. All images & content are copyright protected. Please do not use my images without prior permission. If you want to republish this recipe, please re-write the recipe in your own words, or link back to this post for the recipe.
Vodka not your thing but you still want a cocktail? I have you covered!
Tequila: Pineapple Mint Tequila Mojito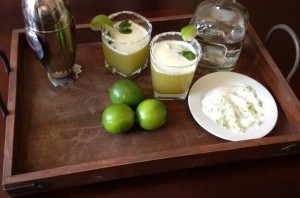 Rum: Thanksgiving Punch