Blackberry Cinnamon Roll Cake combines the flavor and texture of cinnamon rolls with the ease of a simple cake. It is impressive, delicious, and so easy!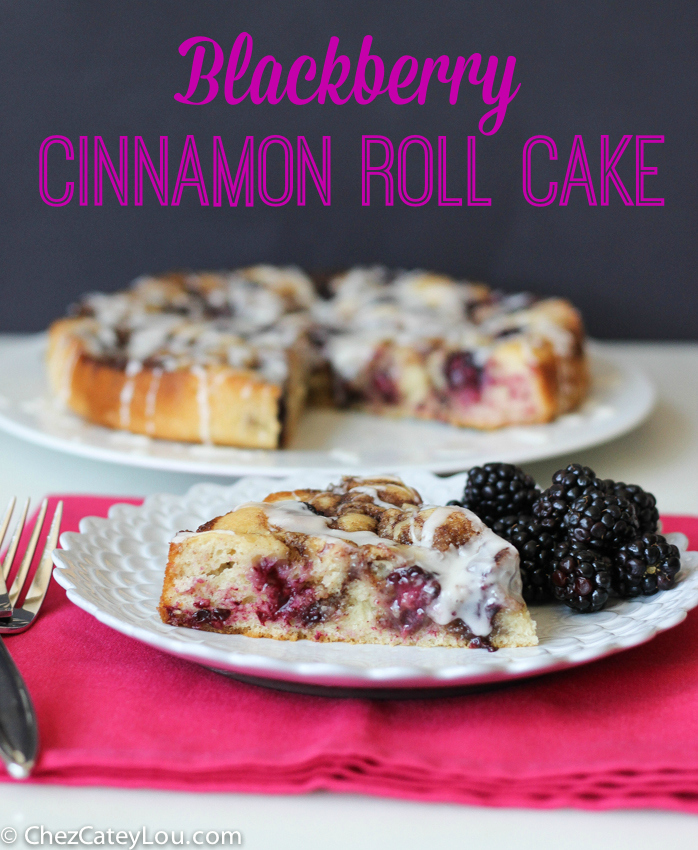 I think I have discovered the most perfect breakfast recipe ever.
Imagine this scenario – you have last minute guests for breakfast / brunch. You want to impress them with something homemade. You need to show off your baking skills and you want them to think you've been slaving away all morning. It needs to taste amazing, of course, but oh – you really don't have time to make anything complicated. Well guess what – I have that recipe for you! This blackberry cinnamon roll cake is everything I mentioned above! It is delicious, impressive, but most importantly EASY!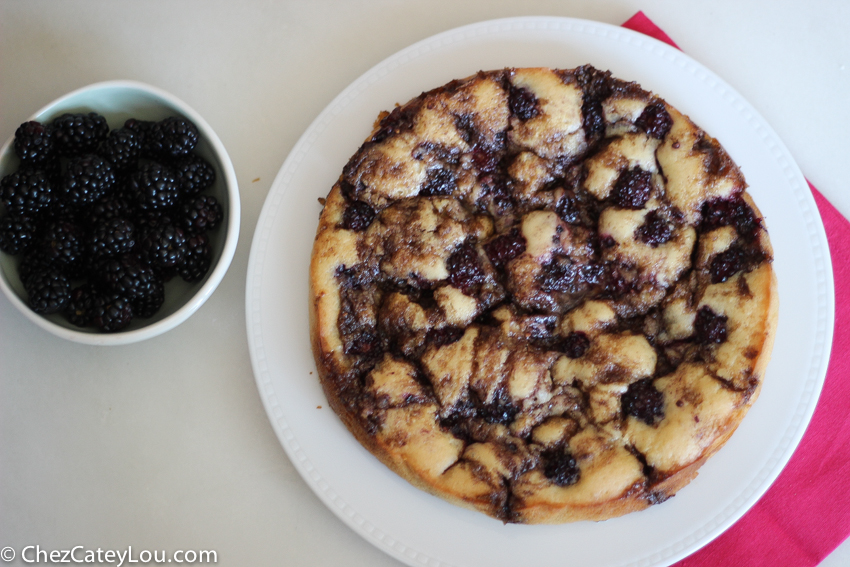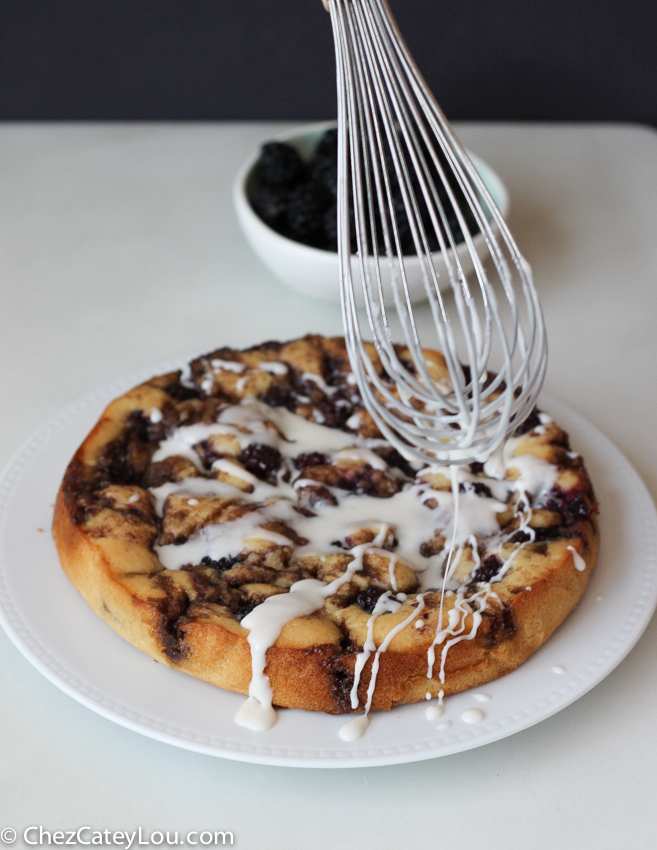 I wish I could take credit for coming up with this recipe, but I can't! I was inspired by my friend Allie's Raspberry Lemon Sweet Roll Cake. How good does this look?? And then I saw the inspiration for HER recipe, Naomi from Bakers Royale, and I immediately fell in love.
I am obsessed with berries. I eat them daily and love cooking with them. And cinnamon rolls?? Well you know how I feel about them! But unfortunately I don't have the time to make these amazing fluffy beauties very often. But honestly – I don't know if I need to make them ever again now that I discovered this cake. It is seriously just as good as a fresh homemade cinnamon roll. I can't wait to start playing around with different varieties, my mind is already spinning!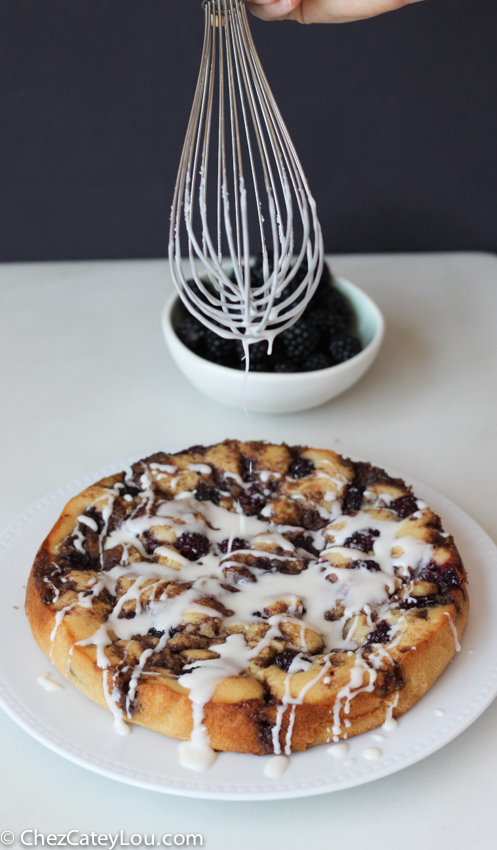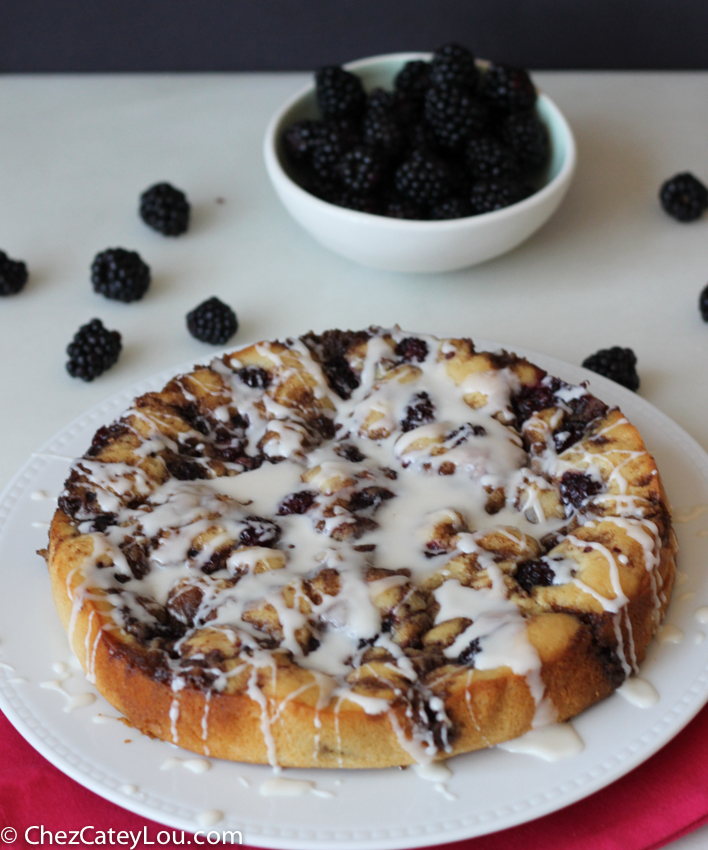 If you skip right to the recipe, you will see there is yeast in here. But do not be alarmed! I did not lie – this cake really is easy, yeast and all!! See the yeast in here does not need to be kneaded, which is the "hard" part about working with yeast, and it only needs to sit for 15 minutes before going in the oven. So no 2 hour rises! You do need to get your milk to the correct temperature, but that's not very hard thanks to the microwave!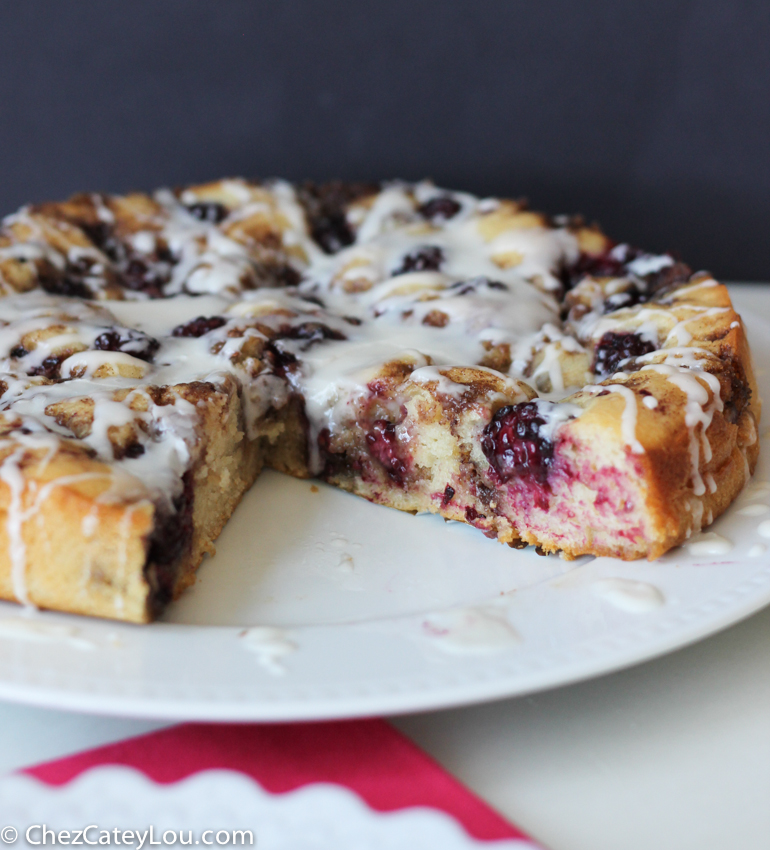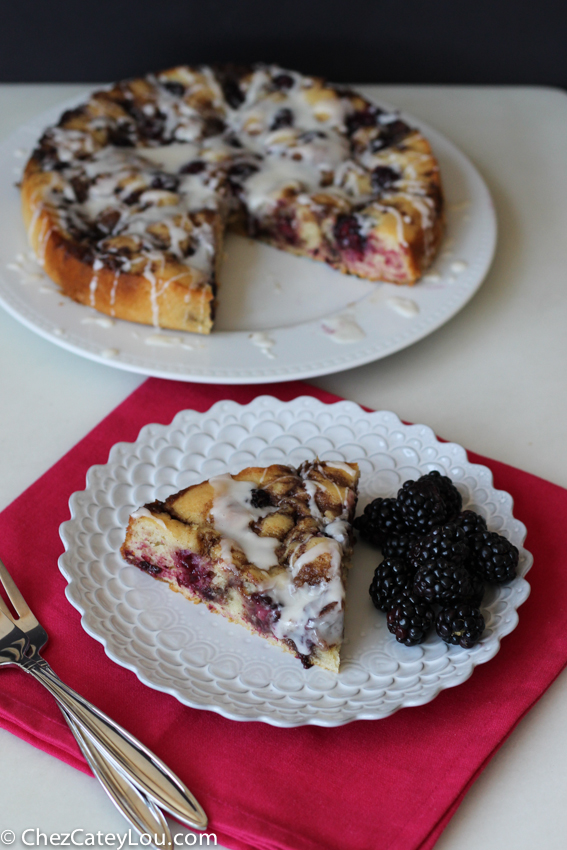 This cake is moist and flavorful. It is full of plump blackberries that taste amazing and give it the prettiest color. Plus there is a generous helping of brown sugar / cinnamon / butter mixture running throughout, so clearly you know it is going to be good!
Whip up this cake this weekend, you will not regret it! TheBetterHalf said this is one of the best things I have ever made. Now THAT is a complement 🙂
Hope everyone has a great weekend!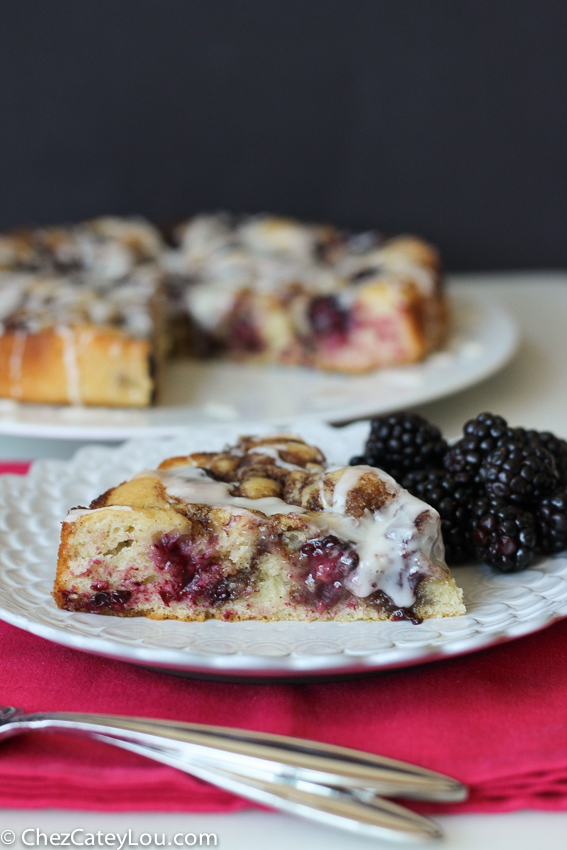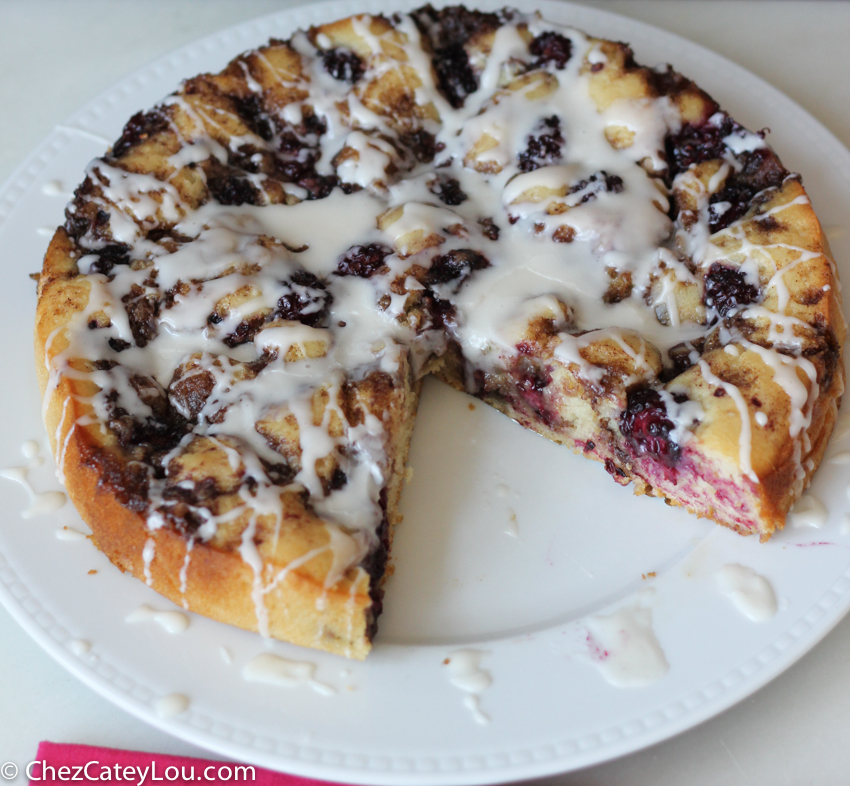 Blackberry Cinnamon Roll Cake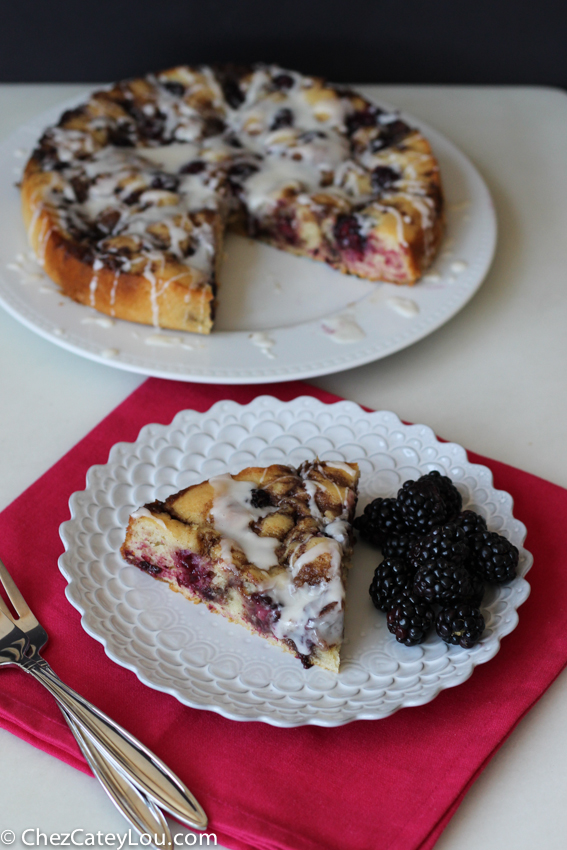 Blackberry Cinnamon Roll Cake combines the flavor and texture of cinnamon rolls with the ease of a simple cake. It is impressive, delicious, and so easy!
Ingredients
For the Batter

2 1/4 tsp active dry yeast (1 packet)
2/3 cup warm milk (100-110F - I used 2%)
1 1/2 cups all purpose flour
1/3 cup sugar
1/4 tsp salt
3 tbsp vegetable oil
1/2 tsp vanilla extract
1 large egg

For the Filling/Topping

3 tbsp butter, room temperature
3/4 cup brown sugar
1 - 2 tsp ground cinnamon (I used 2)
1/3 cup blackberries, lightly mashed
6 blackberries, halved

For the Icing

1 cup powdered sugar
1-2 tbsp milk or cream
pinch of salt
Instructions
Line an 8"x2" round cake pan with two long strips of foil in an X-shape, leaving the ends hanging over the edges of the pan. this will help with easy removal of the cake. Spray the foil and pan with nonstick cooking spray. Do not preheat oven.
Mix the yeast with the warm milk and a tablespoon of the sugar in a measuring cup. Let it sit for a few minutes until foamy.
Whisk together flour, rest of sugar and salt in a large bowl.
Add the oil, vanilla, and egg to the yeast mixture and whisk to combine.
Pour the liquid mixture into the flour mixture and whisk until combined and smooth. Pour into prepared pan and let it rest for 15 minutes.

For the Filling/Topping

Combine butter, brown sugar and cinnamon in a small bowl and using a fork mix until crumbly. Once dough has rested, sprinkle topping evenly over dough and then spoon the mashed blackberries on top. Lightly swirl the topping into the dough using the tip of a butter knife. Lightly press the blackberry halves into the batter.
Place pan into a cold oven, then set the oven temperature to 350F. Bake for about 30 minutes, until cake is lightly browned at the edges and the center of the bread springs back when lightly pressed. The middle might not look brown and the sugar mixture may still be bubbling. Cool for at least 30 minutes

For the Icing

Whisk together powdered sugar, milk, and pinch of salt until smooth. Add more milk or sugar until desired consistency is reached. Drizzle icing over the cake.
Notes
https://chezcateylou.com/blackberry-cinnamon-roll-cake/
© Chez CateyLou. All images & content are copyright protected. Please do not use my images without prior permission. If you want to republish this recipe, please re-write the recipe in your own words, or link back to this post for the recipe.
Here are some more great breakfast recipes for you to try!
Healthy Blackberry Coconut Yogurt Bread

Blueberry and Jam Buttermilk Coffee Cake