This Irish Soda Bread is so quick and easy – no yeast required. The perfect soda bread for St. Patrick's Day!


Does anyone else feel almost jetlagged because of daylight savings? You wouldn't think one hour would make that big of a difference, but I could barely get out of bed this morning! Although I will be very happy when it is still light out when I leave work. It will almost make the lost hour of sleep worth it. Almost.
But what did finally get me out of bed this morning was the thought of this Irish Soda Bread waiting for me! Soda bread, toasted, slathered with butter – what a perfect breakfast. And the bread couldn't be easier to make!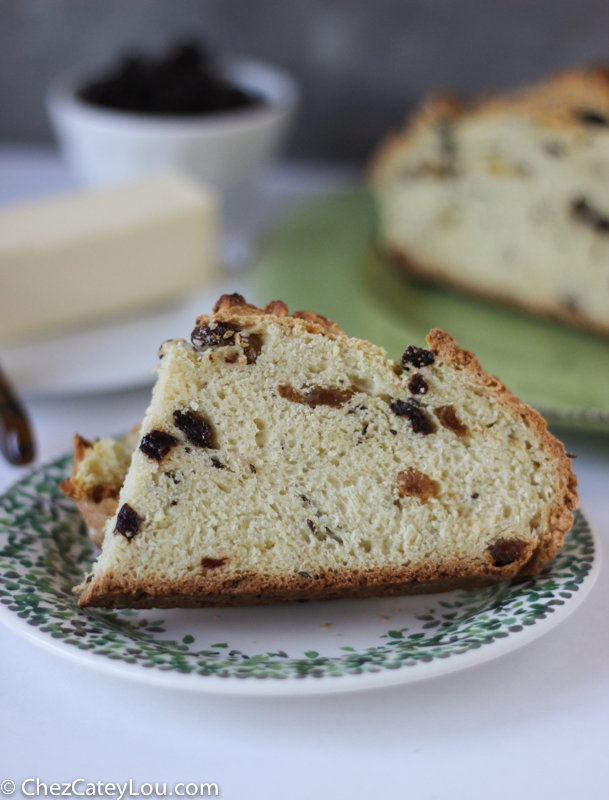 With St. Patrick's day only a week away, Pinterest is blowing up with soda bread recipes! It totally put me in the mood to make some. And then it made me wonder why I don't make this more often because seriously it is one of the easiest bread recipes out there. No yeast. No mixer. Just a teeeeeny amount of kneading. The whole thing is in the oven about 5 minutes after you start. Doesn't get easier than that!
And then, after about 45 minutes, you have a loaf of freshly baked bread! And you can proceed to be extremely impressed with yourself. I always am after I bake a loaf of bread.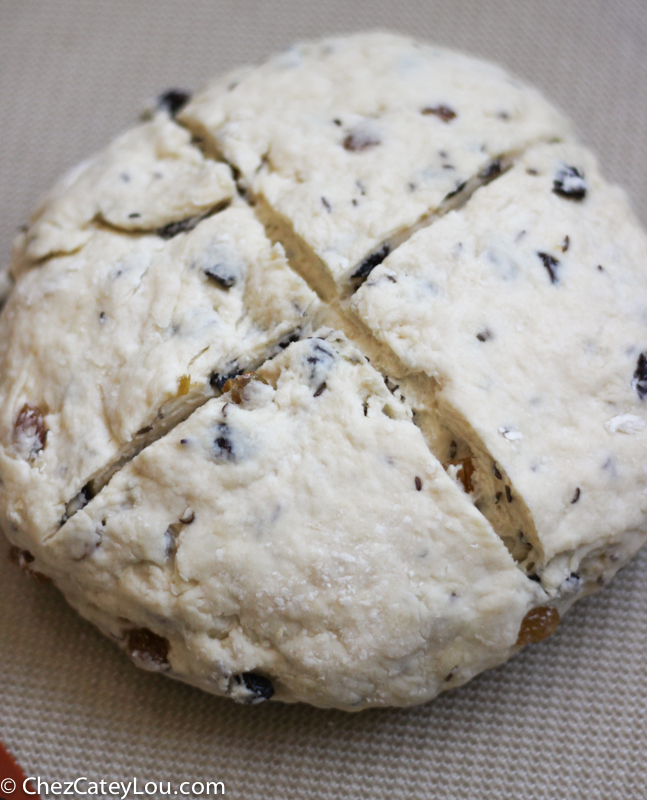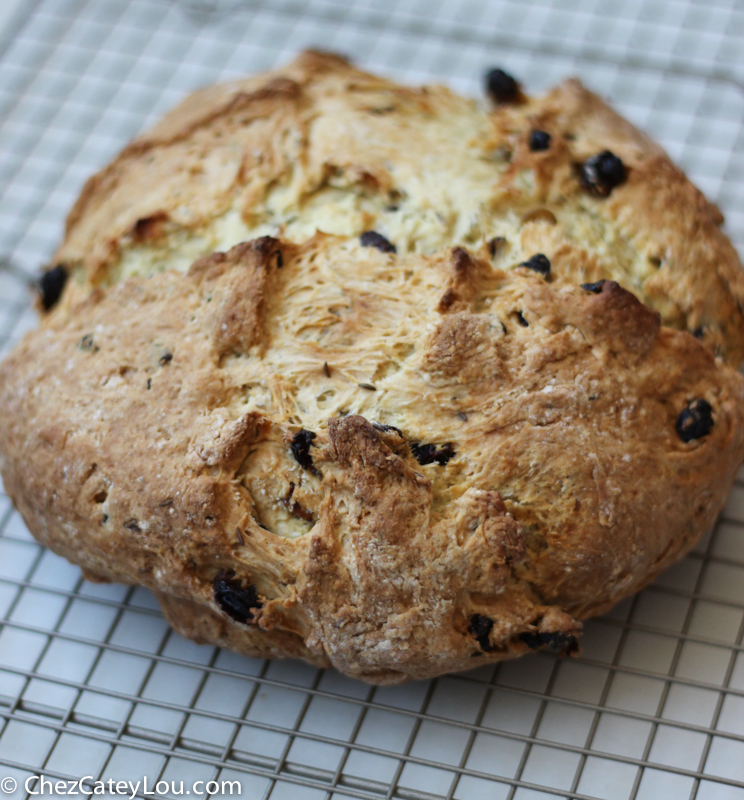 If you've never had soda bread, it is denser than a typical loaf of yeast bread. The crust is crunchy and the crumb is tender. There are lots of varieties of soda bread, but in this particular loaf, the flavor is slightly sweet (which is probably why I like this recipe).
The one constant in all soda bread recipes is buttermilk and baking soda. These two ingredients are why you don't need yeast! I mixed raisins into the dough, although you could use currants, dried cranberries, or just leave out the fruit altogether. I also added caraway seeds! They add such an interesting flavor, and they taste great with the sweet raisins.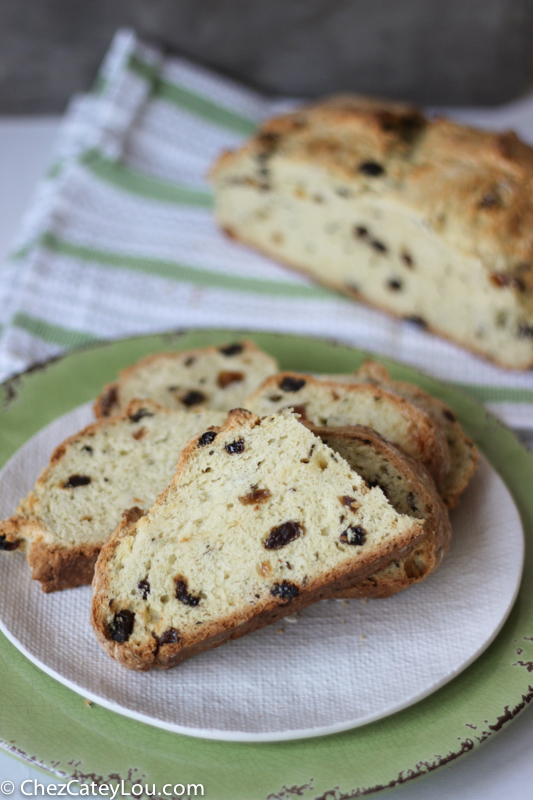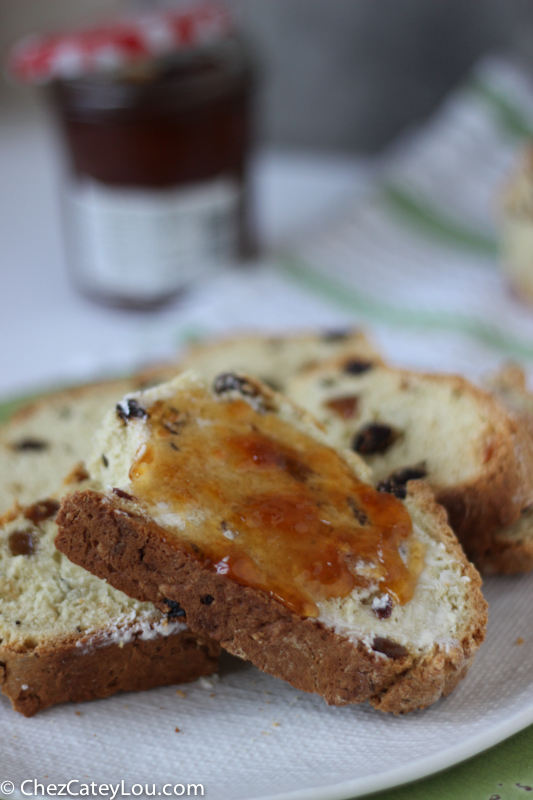 The key to having a tender loaf of soda bread is to not overwork the dough. You mix together the ingredients with a fork, and then when the dough is just starting to come together, you dump it out onto a lightly floured board or a silpat (silicone mat). I like to use the silpat because then the soda bread dough doesn't stick, and you don't need to add extra flour. You knead the dough just until it becomes a cohesive mass. You don't want the dough to be smooth, like a regular yeast loaf. Rather, you want it to be slightly bumpy. This is a rustic loaf, so it won't look perfect, but the texture will be perfect!
This soda bread is so good fresh out of the oven!  It is also amazing toasted the next day.  It is great for breakfast or alongside a bowl of soup.  It should definitely be part of your St. Patrick's day celebration!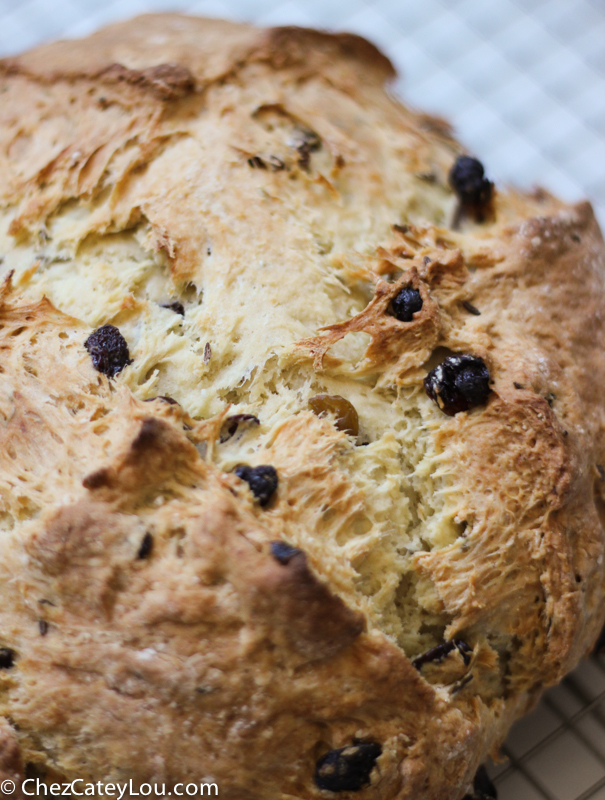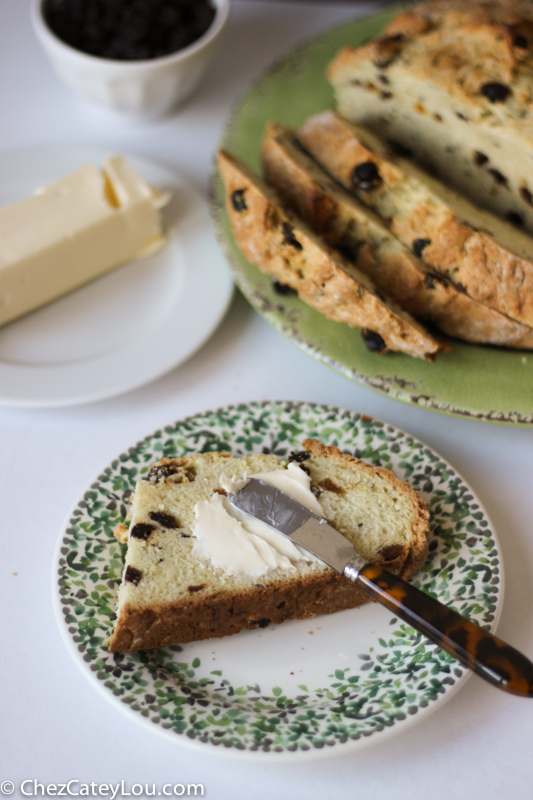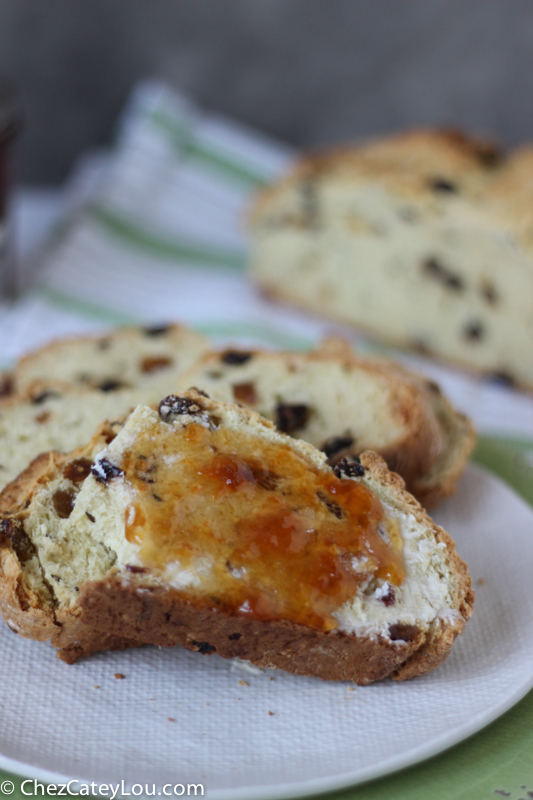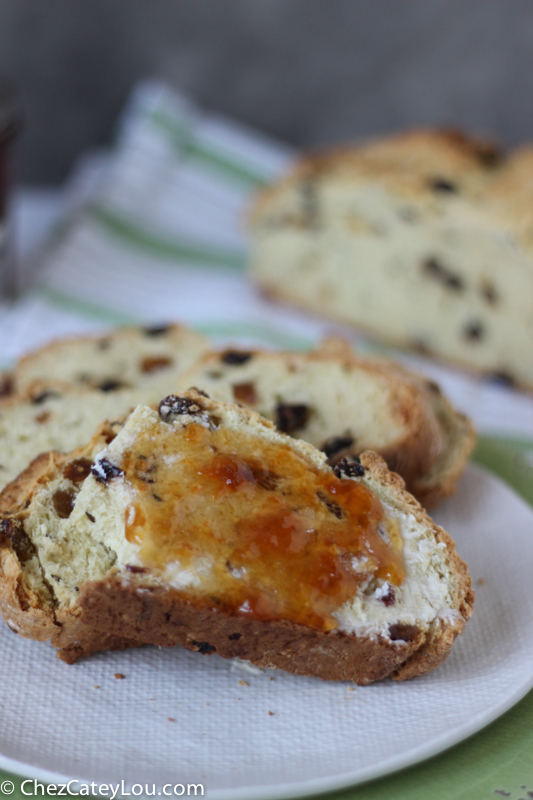 This Irish Soda Bread is so quick and easy - no yeast required. Buttermilk gives it an amazing texture, raisins and a touch of sugar add sweetness, and caraway seeds give it a unique savory flavor. The perfect soda bread for St. Patrick's Day!
Ingredients
3 cups all-purpose flour
1 cup cake flour
1/4 cup granulated sugar
1 1/2 teaspoons baking soda
1 1/2 teaspoons cream of tartar
1 1/2 teaspoons table salt
4 tablespoons softened butter (+ 1 tablespoon melted, optional)
1 1/4 cups buttermilk
1 egg, lightly beaten
1 cup raisins (I used a mix of regular and golden)
1 tablespoon caraway seed (optional)
Instructions
Preheat oven to 400 degrees. Line a baking sheet with parchment paper or a silicone mat.
In a large bowl, whisk together flours, sugar, baking soda, cream of tartar, and salt.
Add the 4 T softened butter, and mix with your fingertips until the mixture resembles coarse crumbs.
Add the buttermilk, egg, raisins, and caraway seed. Stir the mixture with a fork until the dough begins to come together.
Turn the dough out onto a silicone mat or a lightly floured counter. Knead about 12 to 14 turns, until the dough just comes together. The dough will be bumpy - do not knead until the dough is totally smooth or the bread will be tough.
Form the dough into a round disc, about 6 inches in diameter and 2 inches high. Place the dough on the prepared baking sheet, and cut a cross shape in the top with a very sharp knife.
Bake for 40 - 45 minutes, until the internal temperature is 170 degrees and the loaf is golden brown. If the bread is browning too quickly, tent it with aluminum foil.
Remove from oven and brush with melted 1T of butter, if desired. Cool to room temperature before cutting.
Notes
https://chezcateylou.com/irish-soda-bread/
© Chez CateyLou. All images & content are copyright protected. Please do not use my images without prior permission. If you want to republish this recipe, please re-write the recipe in your own words, or link back to this post for the recipe.
If you are looking for more easy bread recipes, I have you covered!
English Muffin Bread (no kneading required)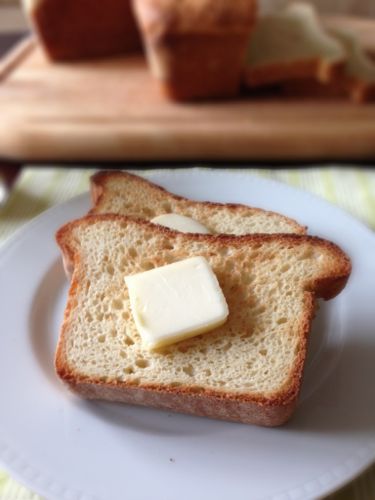 No-Knead Irish Brown Bread, made with Guinness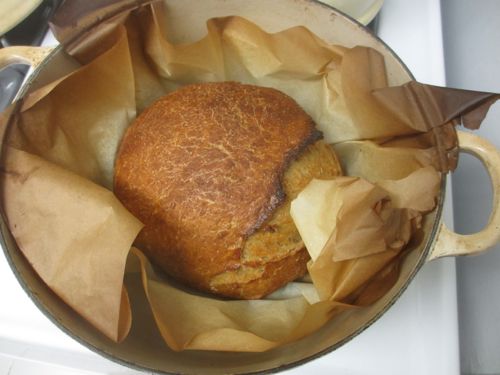 Cinnamon Chip Bread (no kneading required)