An overview of some of the sights and restaurants in the amazing city of Istanbul, Turkey and a closer look at the Four Seasons Sultanahmet.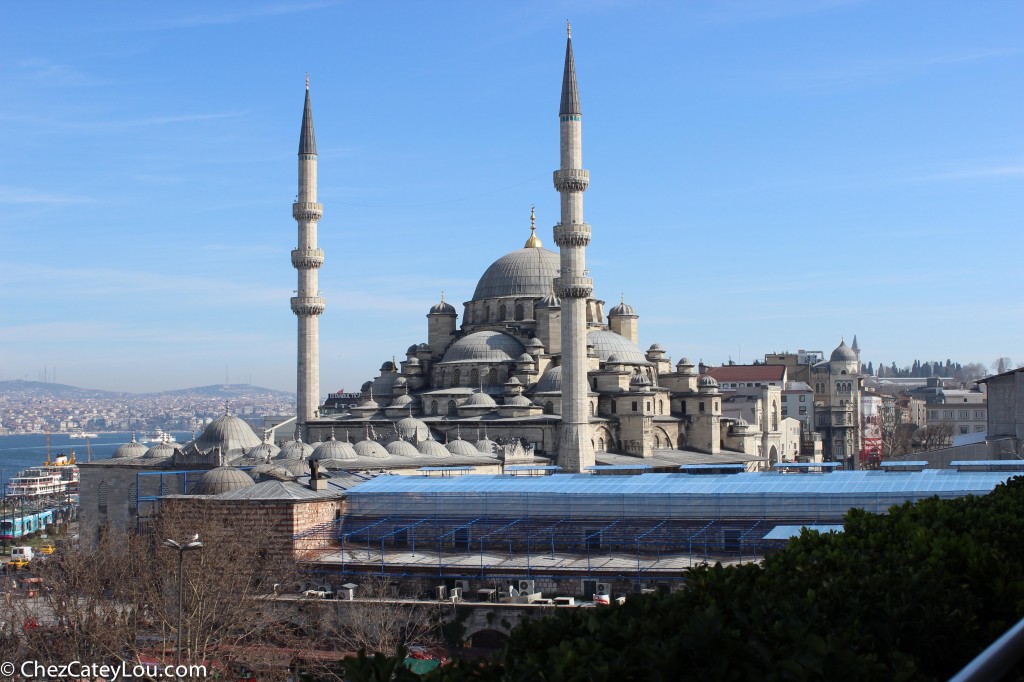 In February, Cate and I spent four nights in Istanbul, Turkey. Istanbul is a truly transcontinental city as it falls right on the Asia/Europe border. To get a better appreciation of this gigantic city of almost 14 million people, we spent a few nights in both the historic old city (Sultanahmet) and a few in the newer side near the Bosphorus strait. In honor of this split city, we'll split our recap into two posts: today a recap of the Four Seasons Sultanahmet, the Spice Market and the Grand Bazaar, Mikla Restaurant, and a look at some of the best sandwiches in Istanbul.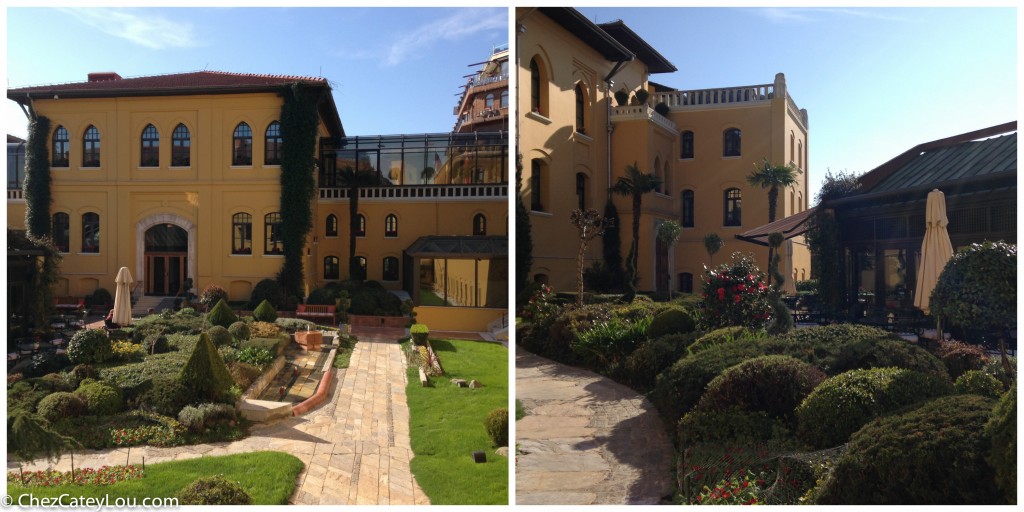 For the first leg of our trip we stayed at the Four Seasons Sultanahmet. One of the best things about this amazing property is its location. The hotel is right in heart of the old city, directly next to the Blue Mosque and the Hagia Sophia, and only a short walk to the Topkapi Palace. It's pretty amazing to walk out of your hotel and immediately be in of one of the most historic places in the world.
Amazingly, this 65 room hotel is actually a converted prison (this is now the second hotel we've stayed in that used to be a jail, the first being the Liberty Hotel in Boston). The highlight of the hotel is a beautiful interior courtyard. It's so serene and peaceful, which makes it a great reprieve from the crowded and busy city outside the walls.
Although there are some guides online that will advise you not to stay in Sultanahmet (because the area is somewhat touristy, and the food isn't as well regarded as it is on the newer side of town), we loved staying in this part of the city for a few days. We're far from history buffs, but there really is so much to see and do on this side of the water.  In addition to the Blue Mosque and the Hagia Sophia (both must visits, also, women should bring a pashmina to wrap their head in the Blue Mosque – they do have loaners, but who wants to share a head wrap), you also have the Topkopi Palace, the Spice Market and the Grand Bazaar.
Spice Market and Grand Bazaar – We'll spare you the history lesson on the Blue Mosque and the Hagia Sofia (because, uh, we're still learning about them), but we do have some general tips for touring the Spice Market and the Grand Bazaar. These are both "must visit" attractions (if only because they are so iconic), but you need to have the right approach.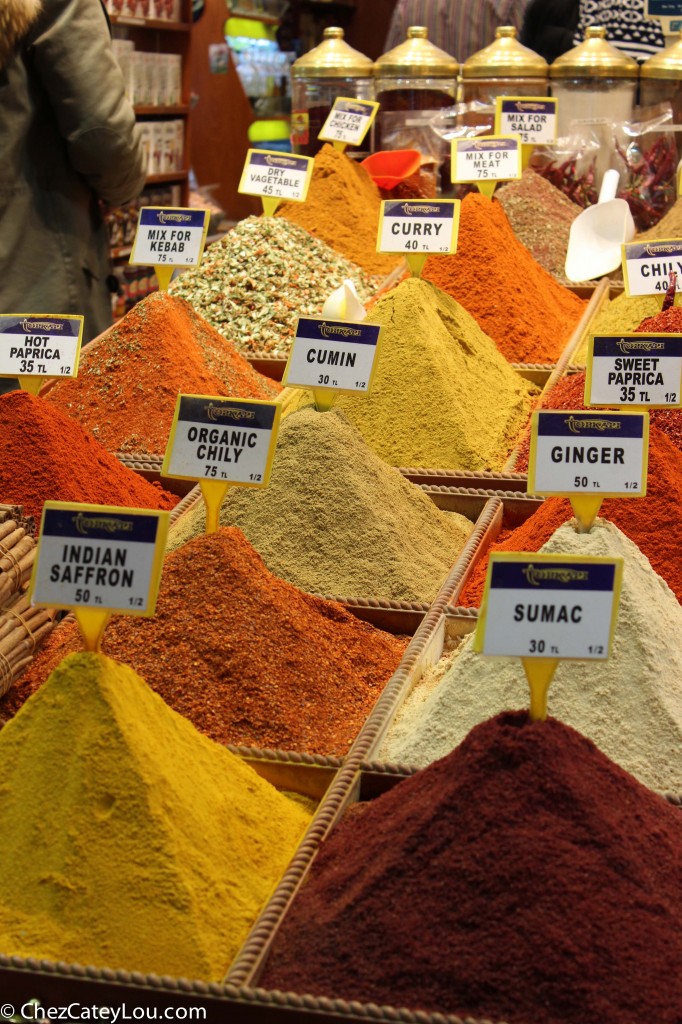 First the Spice Market.  You know that feeling when you're leaving a stadium after a sporting event and you're in a sea of people heading for an exit? Not the best, right? Well, that's kind of what it's like to visit the Spice Market. It's packed.  There's a nonstop current of people – tourists and locals – moving in both directions. People are going to bump into you. On either side of you will be shops full of identical spices. I swear I'm still getting paprika out of my lungs.  Merchants will yell stuff at you to try to get your attention – some of it will be amusing, most of it won't be. It's a sight, sure, but for us it was a 20 minute attraction (though it turns into an hour long attraction if you end up getting lost on the winding narrow backstreets).  And though we didn't have an incident, this was one place where I made sure I had my wallet secure in my front pocket.
The Grand Bazaar was a more enjoyable experience (although still slightly disappointing). The Bazaar is much larger than the Spice Market, and the crowds much less intense. You have more of an opportunity to linger without feeling rushed. It is a bit of a maze and feels like it goes on forever, but that's what makes it Grand. The reason why the Bazaar left me a bit disappointed is because it felt more like a tourist trap than a genuine market place. While there were a few places that sold authentic items,  the vast majority of shops sold the exact same collections of bowls, towels, pottery, t-shirts, etc. It was the the Islamic version of the Jersey Boardwalk. Determined not to leave empty handed, we did buy a box of genuine Turkish Delights (that are still unopened), but my wish of finding an authentic flying carpet that would take me to the Cave of Wonders where I would find Genie and someday become Sultan went unanswered.
I don't want to sound overly negative on these attractions, I still think they're worth seeing, but maybe don't plan on getting all your Christmas shopping done at the Grand Bazaar.
Mikla – In our admittedly hurried research of the Istanbul restaurant scene (this was a last minute trip due to me getting a new job), the one restaurant that appeared in almost all "best of Istanbul" lists was Mikla Restaurant. Mikla, located at the top of the Marmara  hotel in Pera, is home to one of the best panoramic views in the city. The restaurant has floor to ceiling windows so every seat in the has a fantastic view of the city. In warmer months the restaurant opens up the roof bar and guests can enjoy a drink while being outside. It's undeniably a cool spot and it gives you an appreciation of the sheer size of Istanbul (you know what else gives you an appreciate of just how big Istanbul is? The ride to the airport – the city just doesn't stop).
There are two ways to order at Mikla, a $120 Tasting Menu and a $75 Prix Fixe menu. We both chose the Prix Fixe Menu. I started off with Mikla's signature salted and dried beef tenderloins served with bird-shit paste. Yes. Bird-shit. And this is not a 'lost in translation' type moment, the restaurant is purposefully trying to be cheeky. Despite the unappetizing name, the dish is fantastic. The bird-shit is not real bird-shit (wanted to emphasize that), but rather is a hummus/chickpea puree to dip the beef in. Cate's starter was less adventurous (in fairness, it's hard to top bird-shit); she got a local vegetable platter. It was very good but not the most exciting dish (that's what you get for ordering vegetables!).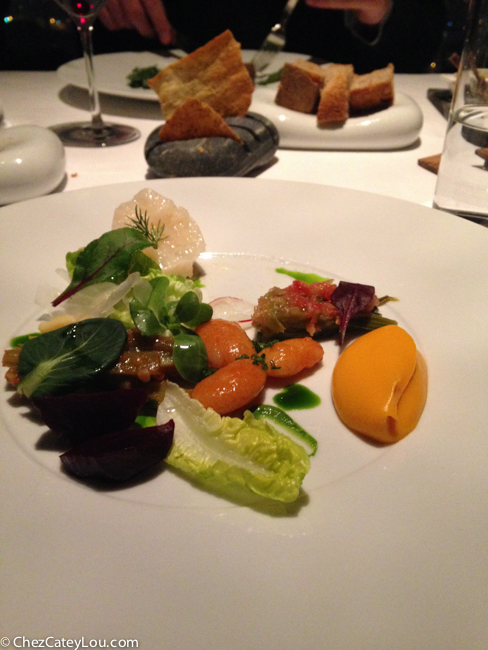 For our mains I ordered the lamb shank and Cate had langoustines. Expectations were sky-high for both dishes and unfortunately both were a bit underwhelming. The lamb shank was good and was served with an eggplant puree and white beans, but it overall wasn't as flavorful as I would have hoped from a nation that is famous for lamb. Cate's langoustines were way overcooked, which is a shame because they looked beautiful and because langoustines are typically so delicious (just an underrated crustacean – I think langoustines need a publicist). I give Mikla a bit of a break on their preparation of the langoustine because I got the impression that Turks enjoy their seafood more on the well-done side. Of course, that didn't make the dish taste better, but it wasn't as if they accidentally overcooked Cate's dish.
Aside from the food we ordered, the rest of the experience was a bit of a mixed bag. Our waiter was overbearingly attentive for the first third of our meal, and completely unavailable the rest of the time. The restaurant temperature was roughly 93 degrees. Again, I cut them a little slack because it's a foreign country, but all expensive dinners should come with high quality service. To their credit, the restaurant did bring an extra dessert after our complaints about the excessive heat.  And it was quite entertaining for me to see Cate trying to yell at a waiter who barely spoke English (though still….wasn't the first time…).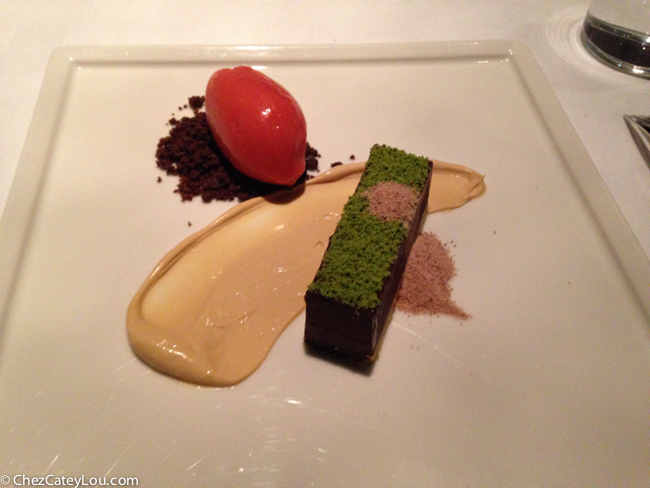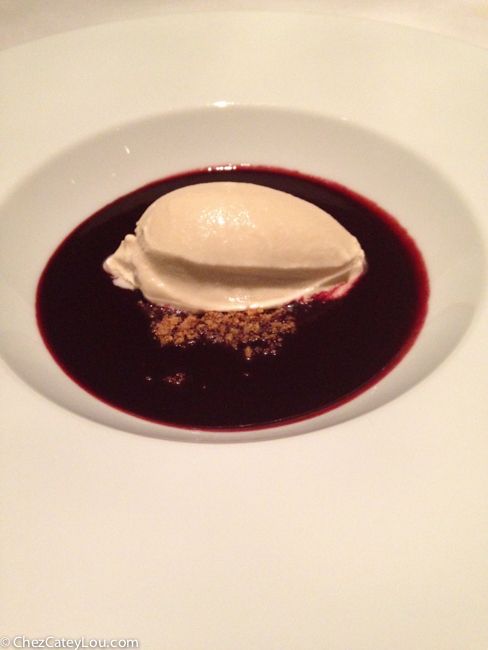 Durumzade – It's no secret that I love Anthony Bourdain's travel shows and I always make it a point to eat at a few of his recommended spots when visiting a new city. On No Reservations: Istanbul, Bourdain went to Durumzade for Durum Kebabs. Durum Kebabs are basically a wrap version of the popular Donar Kebab; meat, tomatoes, onions, parsley, and Turkish seasoning enclosed in grilled flatbread. Trust me – you're going to want to eat this.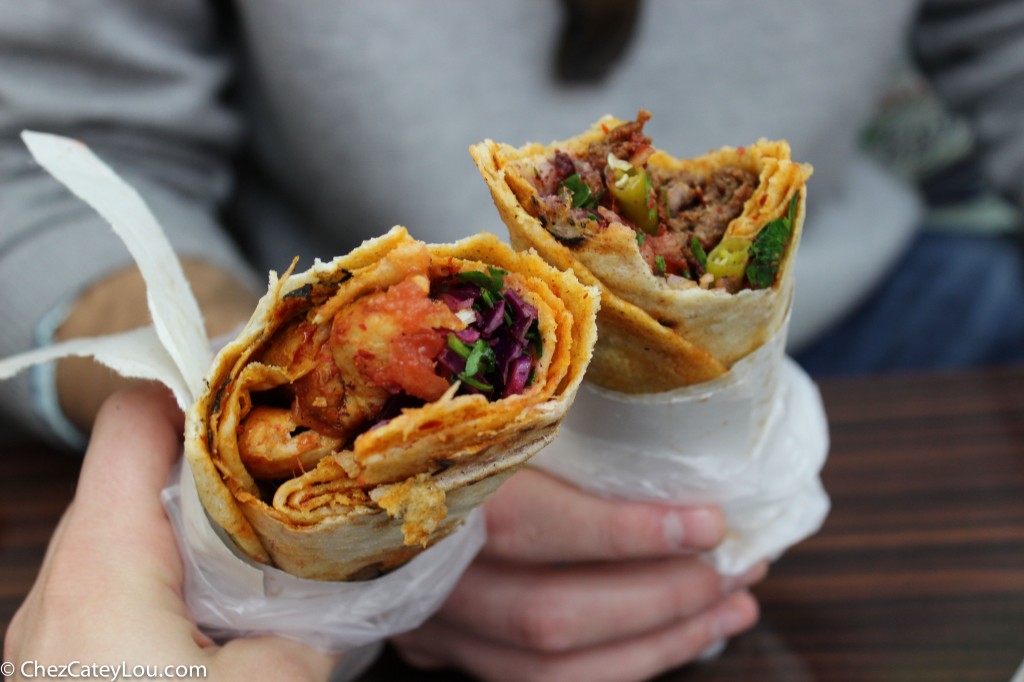 At Durumzade there were several different choices of meat (and maybe even a veggie option, but that's not important here). The skewered meat was then cooked and charred atop an indoor charcoal grill. As Durumzade is just a small sandwich shop, the friendly staff spoke little English. Luckily for us, an ex-pat was in the restaurant and advised us that if we liked spice, we had to order the spicy lamb. The spice factor on the lamb was actually two-pronged – there was an extra dusting of a spicy seasoning on the lamb itself and the wrap was filled with spicy peppers. I'm not going to lie – my eyes were definitely watering. But it was fantastic. If they sold these in America I would eat them once a week (at least). I actually ordered a second Durum Kebab (because I'm a fatass at heart) but told them to hold the spice, as I'm pretty sure I had cartoon steam emitting from my ears. But all in all, I preferred the spicy version more – it was just bursting with flavor. So go to Durumzade, order a spicy lamb (or two!), but maybe bring some water…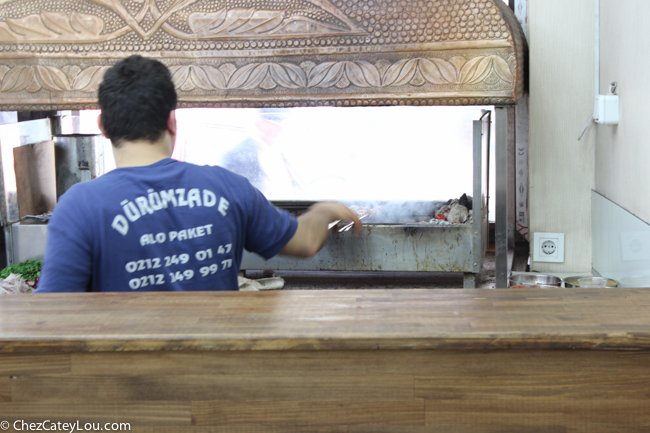 Karadenzi (in Beşiktaş, near the Shangri-La Hotel) While we're on the subject, let's talk some more about sandwiches (my favorite topic). Whereas Durumzade wraps up their sandwiches (which does make them easier to eat while walking), Karadeniz specializes in traditional Doner Kebabs. These are the real deal. All throughout Europe they sell knockoff or localized versions of the Doner Kebab, but they do not compare to these. It's like comparing a generic "steak and cheese"  to a Tony Luke's cheesesteak (not sure why all my analogies are cheesesteak related).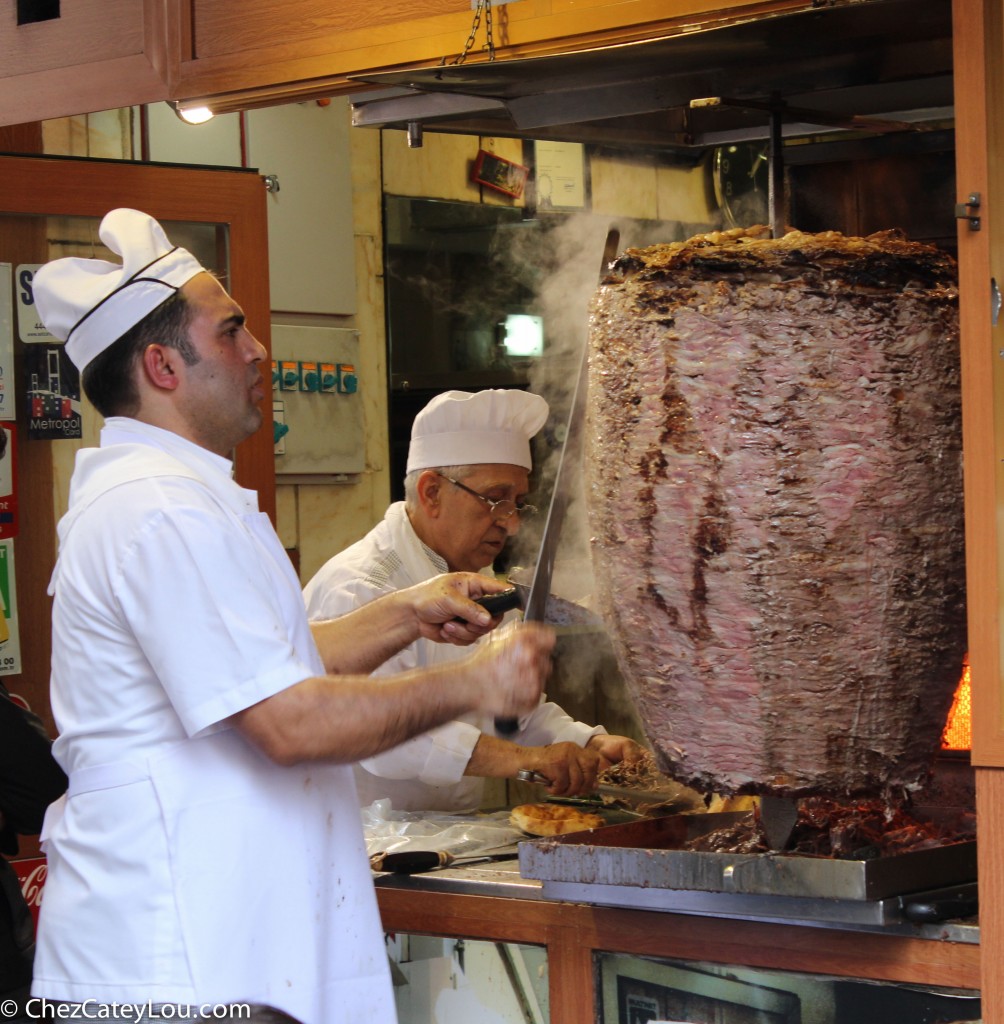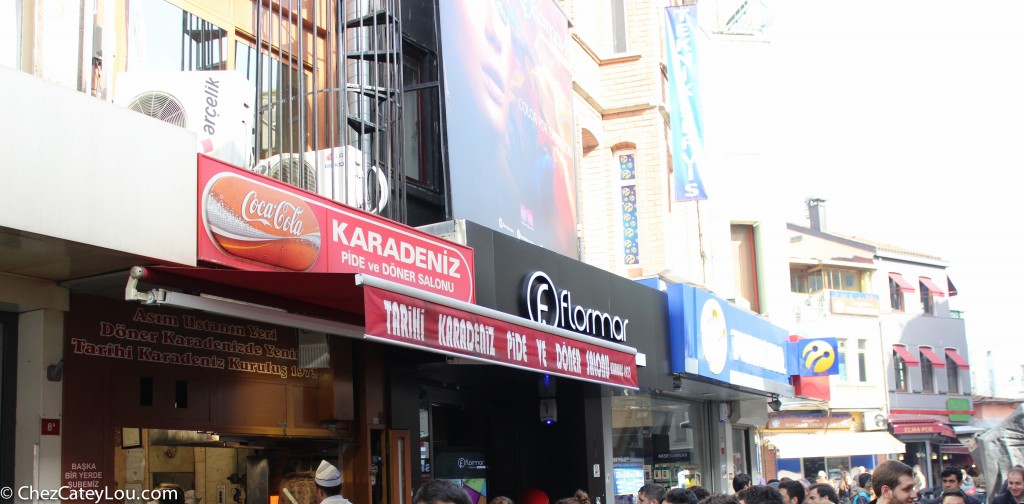 First thing you'll likely notice about Karadeniz is the long line full of Turks. From my experience, a long line of local people is always a good thing. Soon after noticing the line, you'll notice a massive piece of meat rotating over a spit. It's gigantic! As the meat spins around, the sides of the meat develop a nice char on the outside. It's a sight to behold. A portion of meat is sliced directly off the rotating spit by a man wielding a giant carving knife. What I wouldn't pay to have this guy on retainer… So the sandwich is comprised of the freshly carved meat, peppers and onions inside of a warm pita pocket. The meat is the real star of the sandwich. It's surprisingly tender and some bites have an excellent charred crust.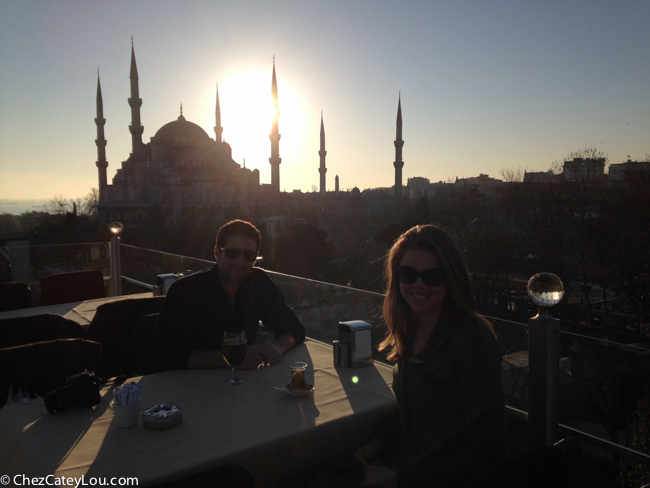 Stay tuned for part two of our trip to Istanbul, including our favorite bite of the trip, Cate's favorite bakery (she has a knack for finding one in every city), and some travel tips for Istanbul.
Hotel:
Four Seasons Istanbul at Sultanahmet
Address: Tevkifhane Sokak No. 1 / 34110 Sultanahmet-Eminönü, Istanbul
t: +90 (212) 402 30 00
Restaurants:
Mikla Restaurant
Address: in The Marmara Pera Hotel – Meşrutiyet Caddesi 15 / 34430, Beyoğlu, İstanbul
t: +90 (212) 293 5656
e: info@miklarestaurant.com
Durumzade
Address: Topcekenler Sokagi No. 1 | Beyoglu, Istanbul, Turkey (a block or so off Istiklal Caddesi)
Karadeniz Pide ve Döner Salonu
Address: in Beşiktaş – ask hotel concierge for directions