A spicy twist on the classic Old Fashioned, the Kentucky Buck Fifty Cocktail is a fun way to spice up your next party. Based on a drink at The Raines Law Room in NYC.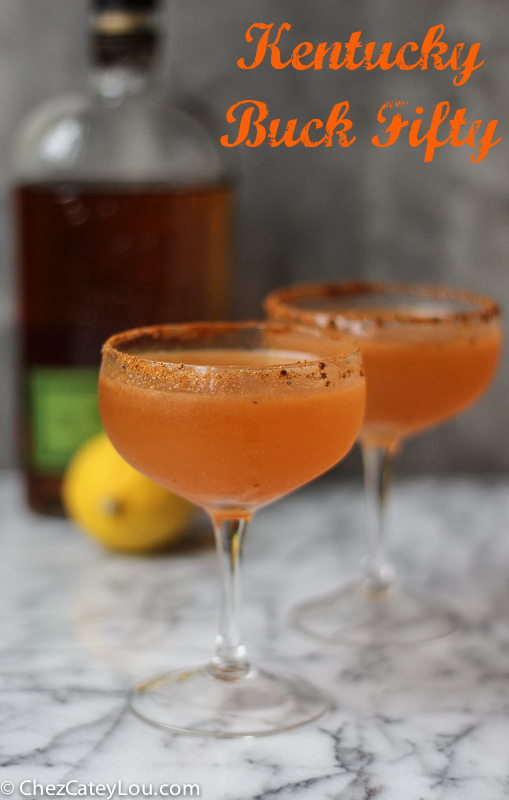 New York is a great city if you like to eat. As you may have noticed, Cate and I try and take full advantage of this. But New York is also great if you like to drink. And while you can get a drink just about anywhere in New York (and at any hour, as bars don't close until 4am), one of my favorite spots is Raines Law Room, a "speakeasy" cocktail bar just north of the West Village. My go-to cocktail at Raines Law Room is the Kentucky Buck Fifty, which is a spicy twist on an Old Fashioned. The secret to the heat is the addition of Cholula hot sauce.
Today I have a quick and easy recipe for a Kentucky Buck Fifty – so easy you can probably make it right now with ingredients already in your house (and if not, consider this a wake up – you should always have rye whiskey and hot sauce in your pantry, or else I'm not visiting).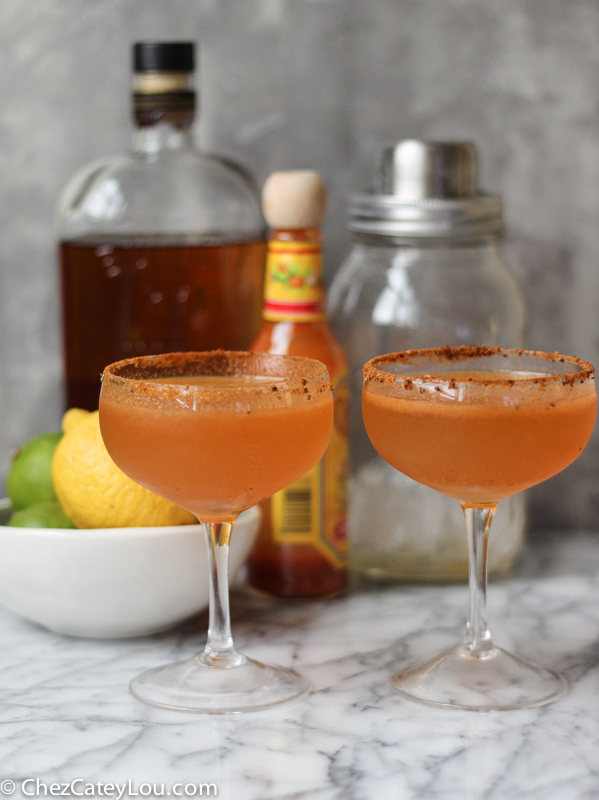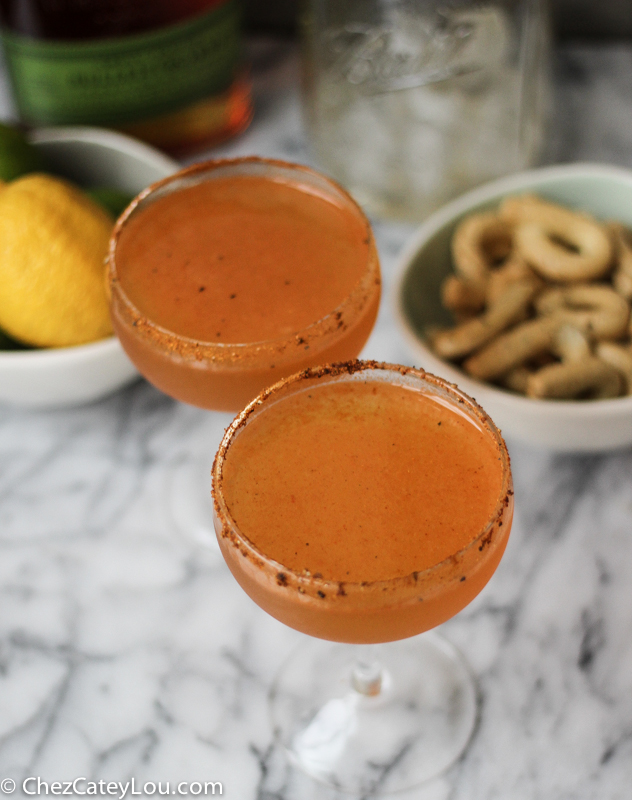 The Kentucky Buck Fifty is a truly artisan cocktail that is easy to make at home. It also prominently features two of my favorite things: rye whiskey and Mexican hot sauce.
The first step is to make a batch of simple syrup, which is simply water and sugar mixed together and boiled until the sugar dissolves. It's best to make the syrup ahead of time so that it has time to cool. Once you have the simple syrup on hand, the construction of the cocktail is rather straightforward.
Mix the whiskey, fresh squeezed lemon juice, simple syrup, hot sauce and ice in a cocktail shaker. If you really want to class up your drink, add a black and cayenne pepper rim to your glass (this will also give the drink some additional heat). Serve cold in a champagne coupe.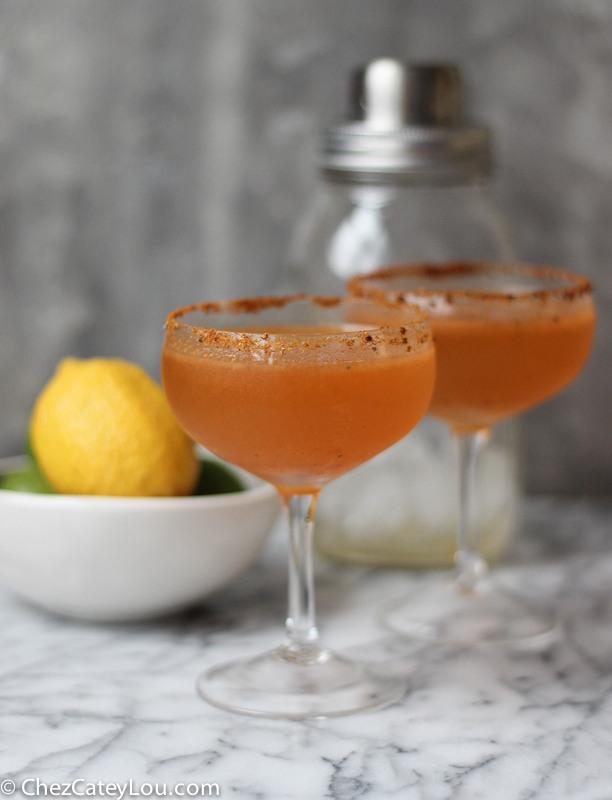 Also a few more words on Raines Law Room. It really is one of the best spots in Manhattan to grab a drink. Although it's technically a speakeasy, the secret is out, and it is hard to get a table there. Go early and put your name on the wait list, and they will call you when a table is ready. The cocktail menu is extensive and all drinks are made with the freshest ingredients. My favorite touch is that before heading to your table, you get to walk through the kitchen and watch the bartenders prepare your first drink. It really gives you an opportunity to see how much work goes into crafting each cocktail.
Kentucky Buck Fifty Cocktail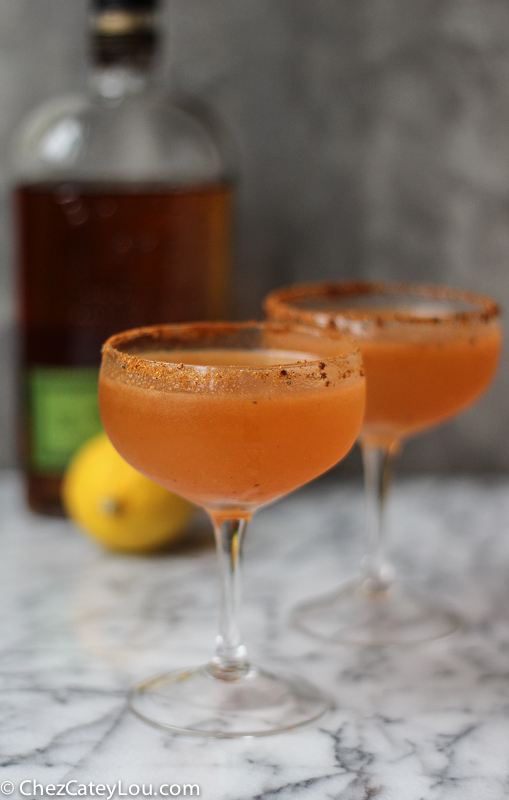 A spicy twist on the classic Old Fashioned, the Kentucky Buck Fifty Cocktail is a fun way to spice up your next party. Based on a drink at The Raines Law Room in NYC.
Ingredients
2 oz Rye Whiskey
1 oz Simple Syrup
.5 oz lemon juice
several dashes of Cholula hot sauce
ice cubes
black pepper and cayenne pepper for rim, if desired
Instructions
Add rye whiskey, simple syrup, lemon juice, and hot sauce to a cocktail shaker with lots of ice. Shake well, until ingredients are blended and cold.
Rub the edge of a champagne coup with a lemon wedge to moisten. Dip rim into black and cayenne pepper mixture.
Strain the drink into the champagne coup.
Note: to make simple syrup, combine one cup water and one cup sugar in a medium saucepan. Bring mixture to a boil and boil until sugar dissolves. Let it cool completely before using.
Notes
https://chezcateylou.com/kentucky-buck-fifty-cocktail/
© Chez CateyLou. All images & content are copyright protected. Please do not use my images without prior permission. If you want to republish this recipe, please re-write the recipe in your own words, or link back to this post for the recipe.
You know we like our cocktails!!
Grapefruit Tequila Cocktail with Chocolate Bitters