The classic flavor of red velvet cake is baked into a cookie and then mixed with tons of chocolate chips! These rich and chocolatey red velvet cookies taste amazing!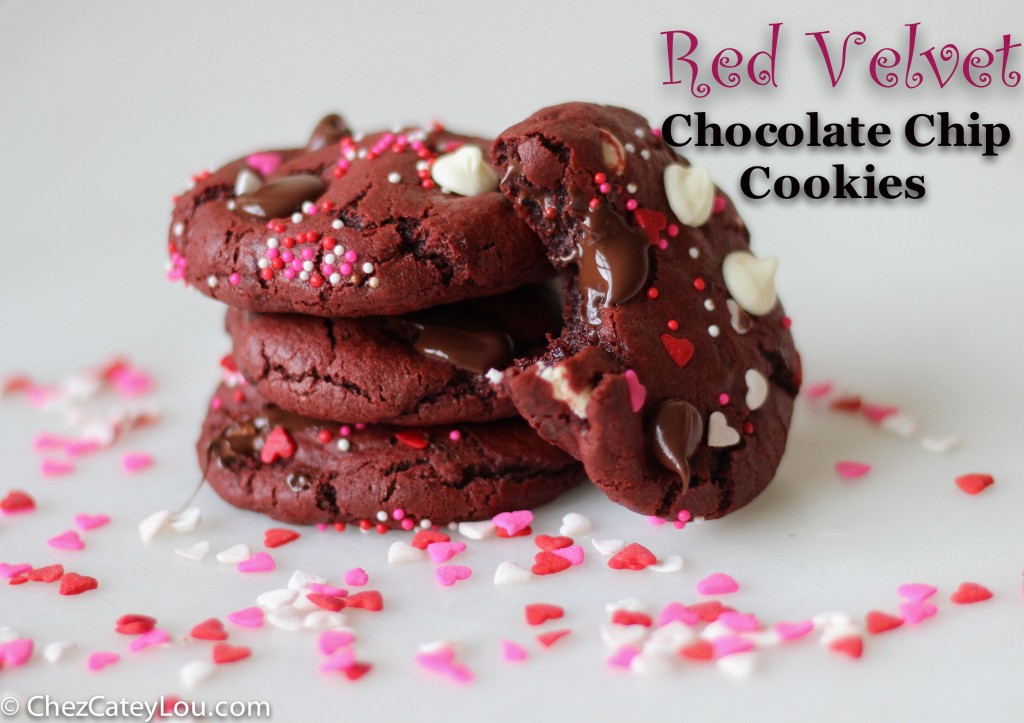 Is everyone getting excited for Valentine's Day? I must admit, I have never really been into Valentine's Day.  It was just never my thing (somewhere, TheBetterHalf breathes a huge sigh of relief…).  However I've crossed over to the food blogger dark side – you know, when you post recipes way before the actual holiday (like my Thanksgiving spread) and get overly excited for every little holiday (I mean who wouldn't want to celebrate national cookie day!).  And really, when candy and cute colors like pink and red and adorable sprinkles are involved – well how can I not be on board with that?! So I guess I was wrong – I am into Valentine's Day! And so I made you a perfect recipe for Valentine's day – Red Velvet Chocolate Chip Cookies.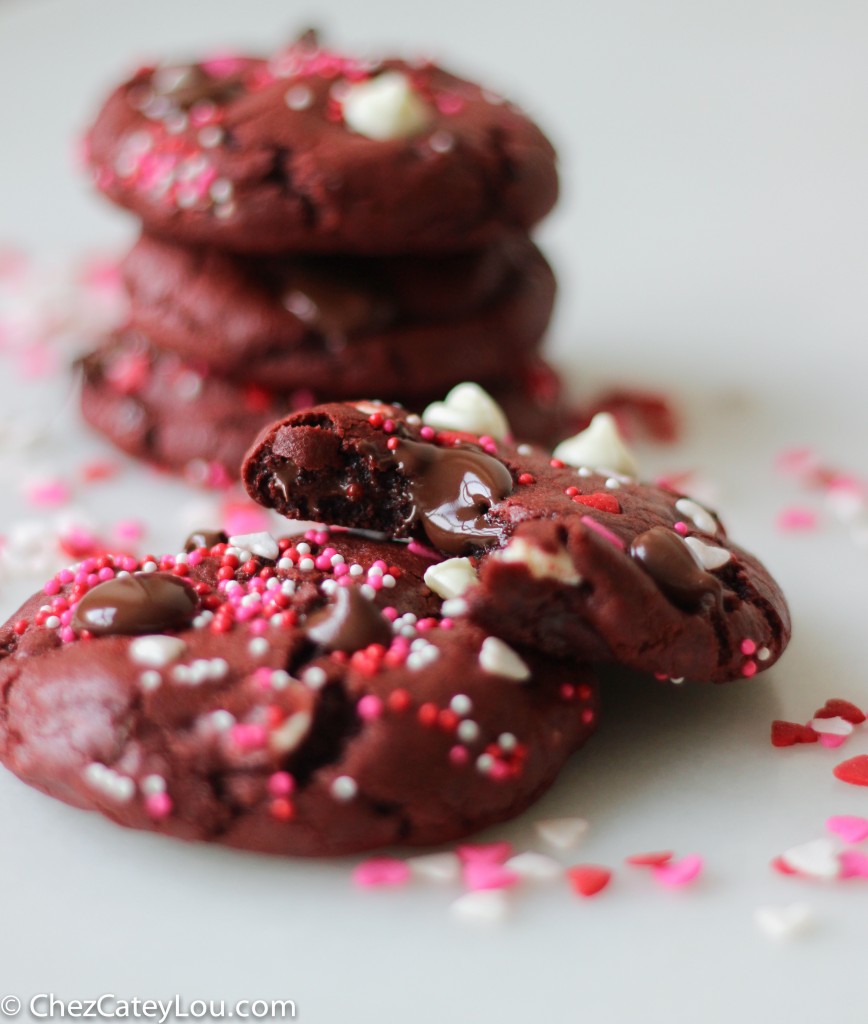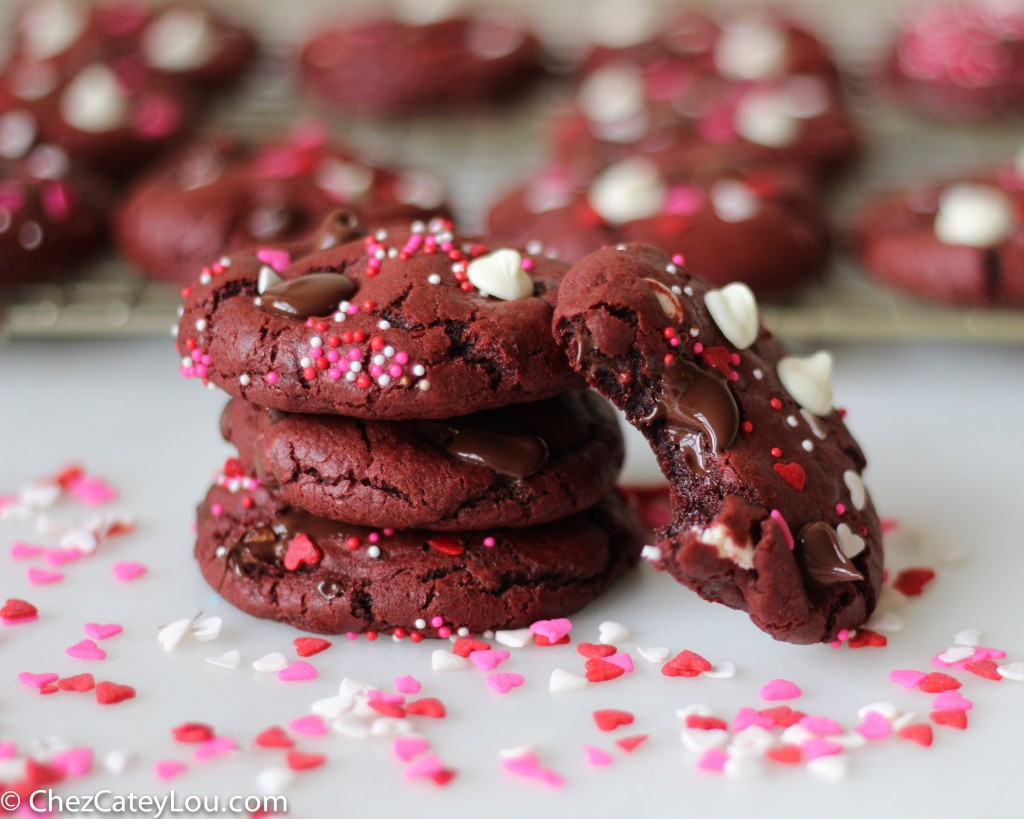 Although I like all my recipes, I get so excited whenever a recipe turns out really well.  You should have seen me this weekend after I made these cookies. I think I must have asked TheBetterHalf about 843 times, "OMG how cute are these red velvet cookies?!".  Luckily he really liked them, so he didn't mind my extreme enthusiasm.  But seriously.  How cute are they?! I'm obsessed.  And they taste as good as they look.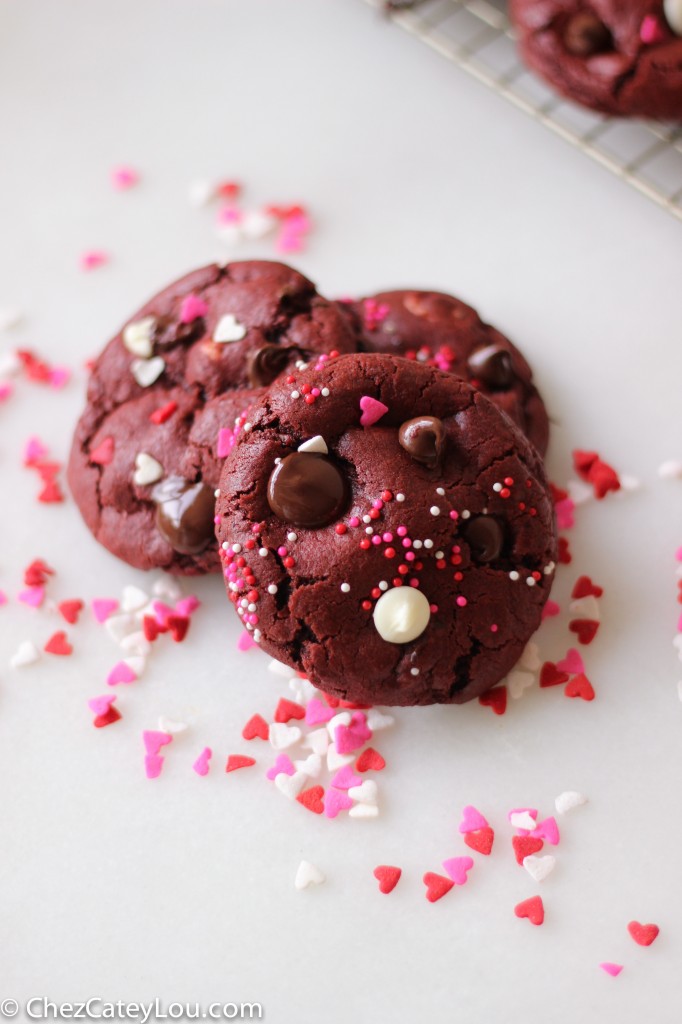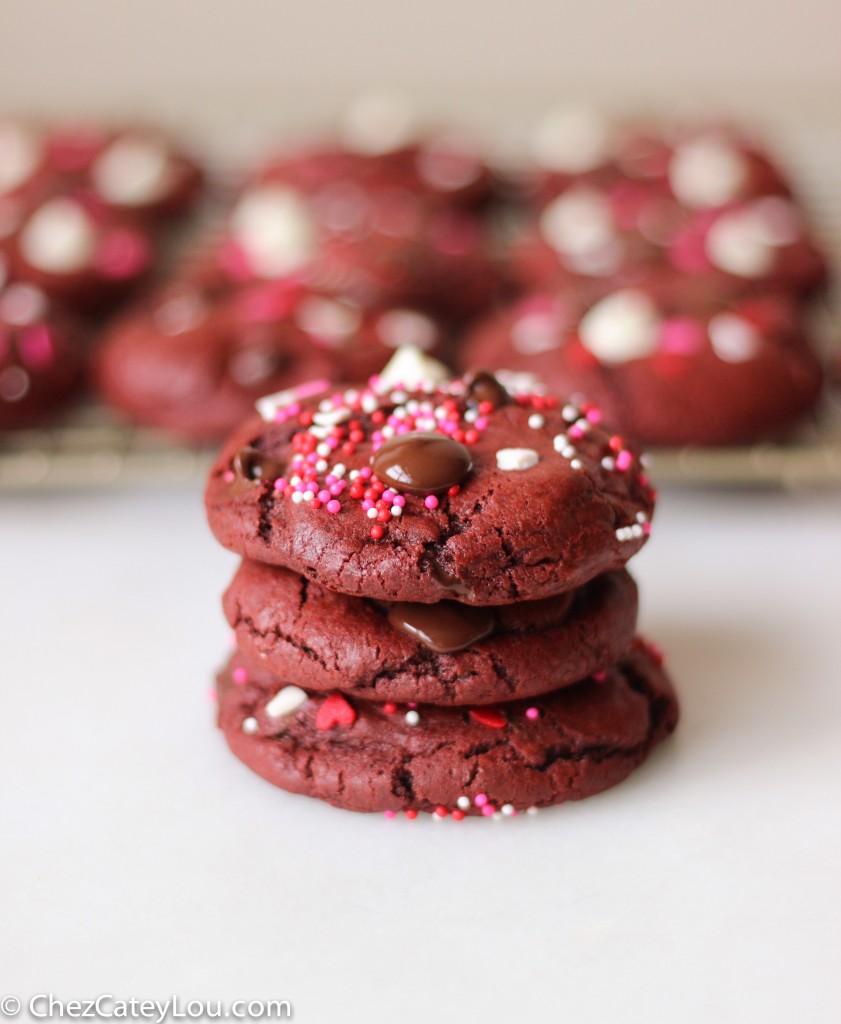 The recipe comes from Sally's Baking Addiction, one of my favorite blogs. She is a cookie queen and comes up with such great recipes. And these red velvet cookies – wow.  I am definitely adding these to the "favorites" list (that list is getting awfully long 🙂 )  The cookies are so rich and chocolatey with a perfect soft texture.  They are full of melty chocolate chips – you can use any kind you like. I used mostly semi-sweet, but added a few white chocolate because I think they look so pretty with the red cookies. And this is for Valentine's Day after all, so I need some white with my red!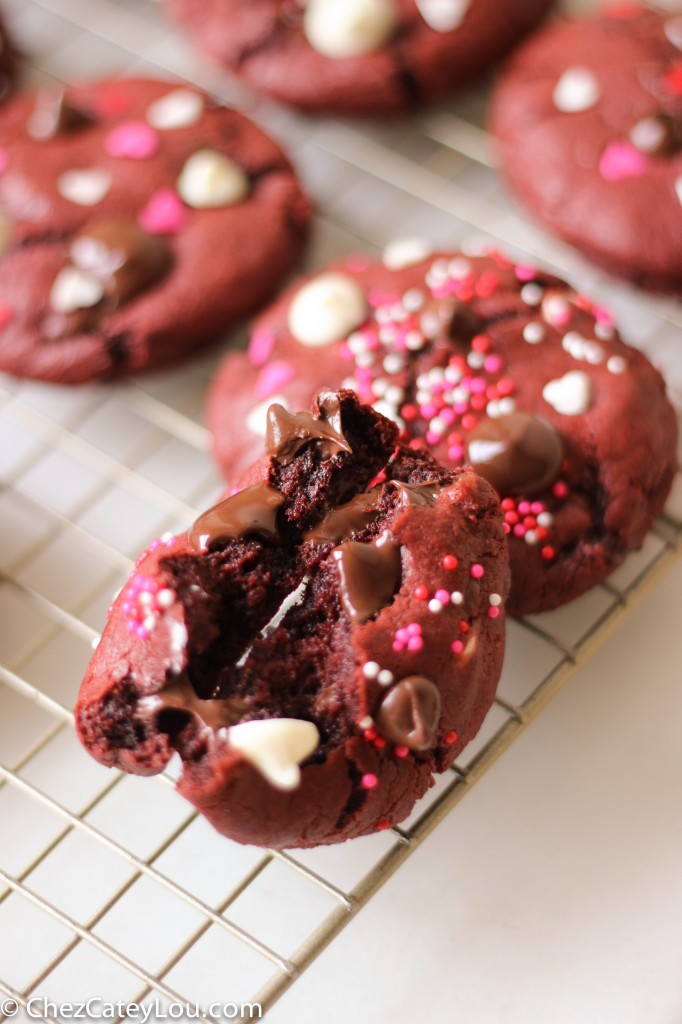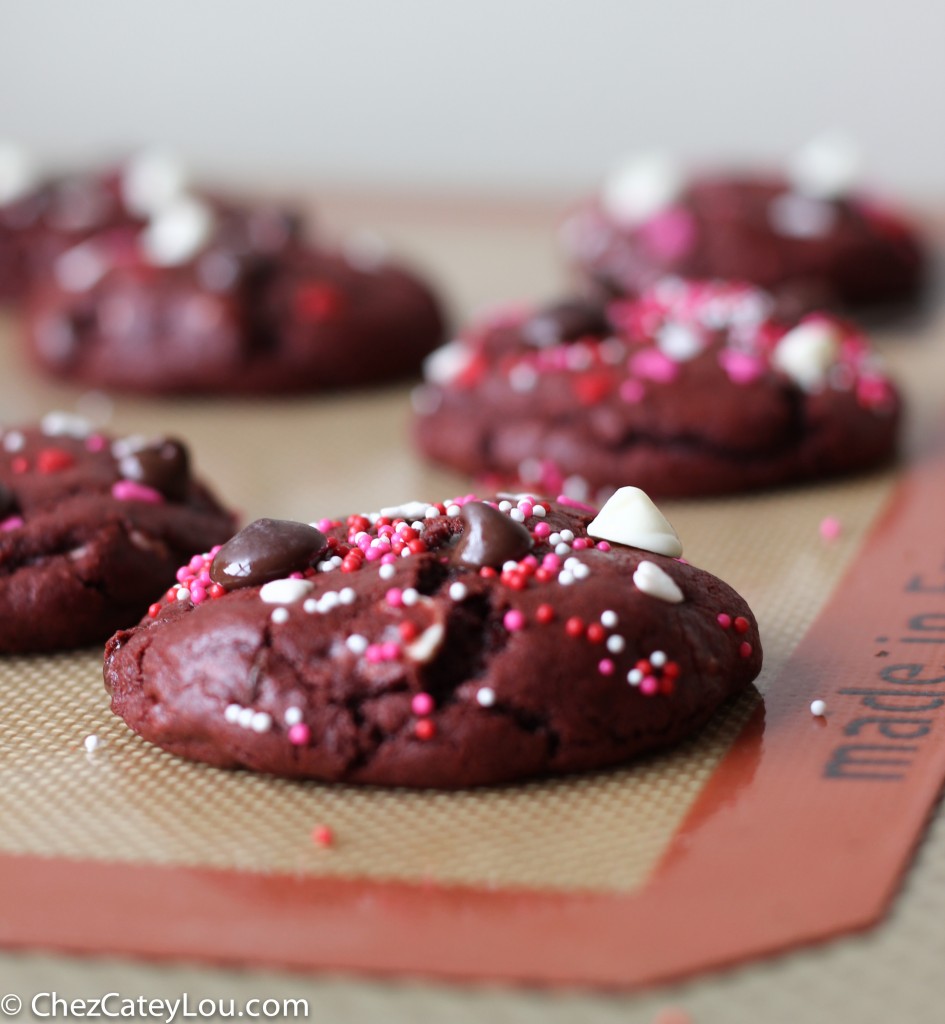 The sprinkles are optional, but I highly encourage you to use them – they are just so cute and fun.  I pressed the sprinkles in the tops of the dough balls before they went into the oven.  A bit tedious, but totally worth the effort because they turn out so darn adorable.  The other secret to perfect-looking cookies is to put a few chocolate chips on top of the cookies right when they come out of the oven. They kind of melt into the top of the cookie and make them look so pretty!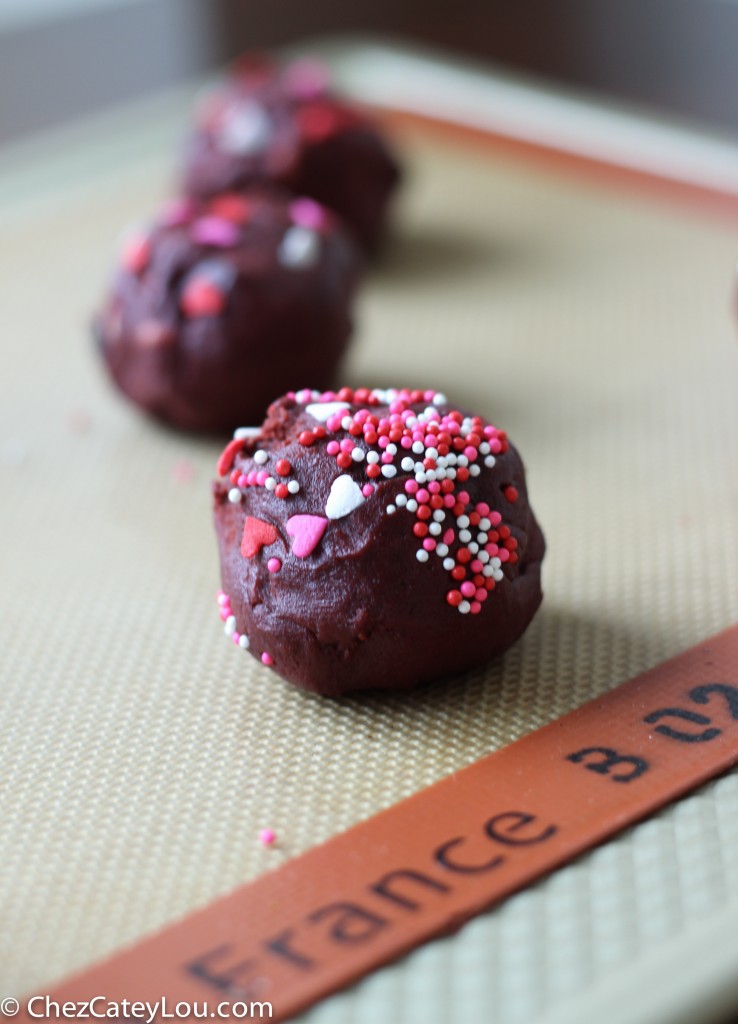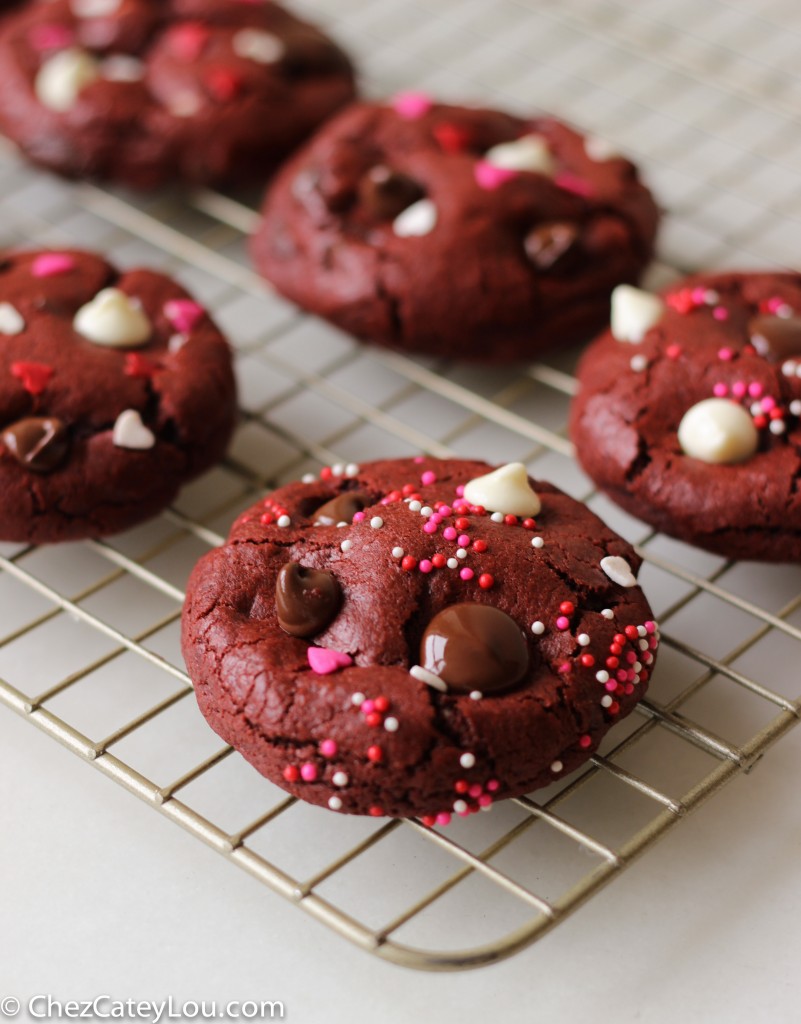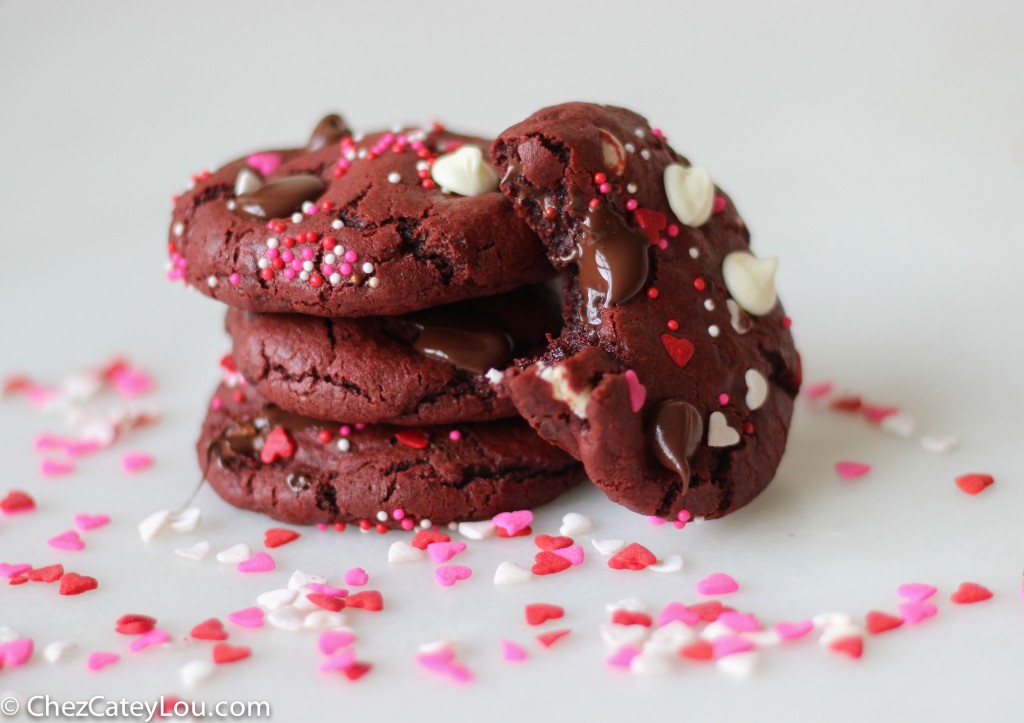 Red Velvet Chocolate Chip Cookies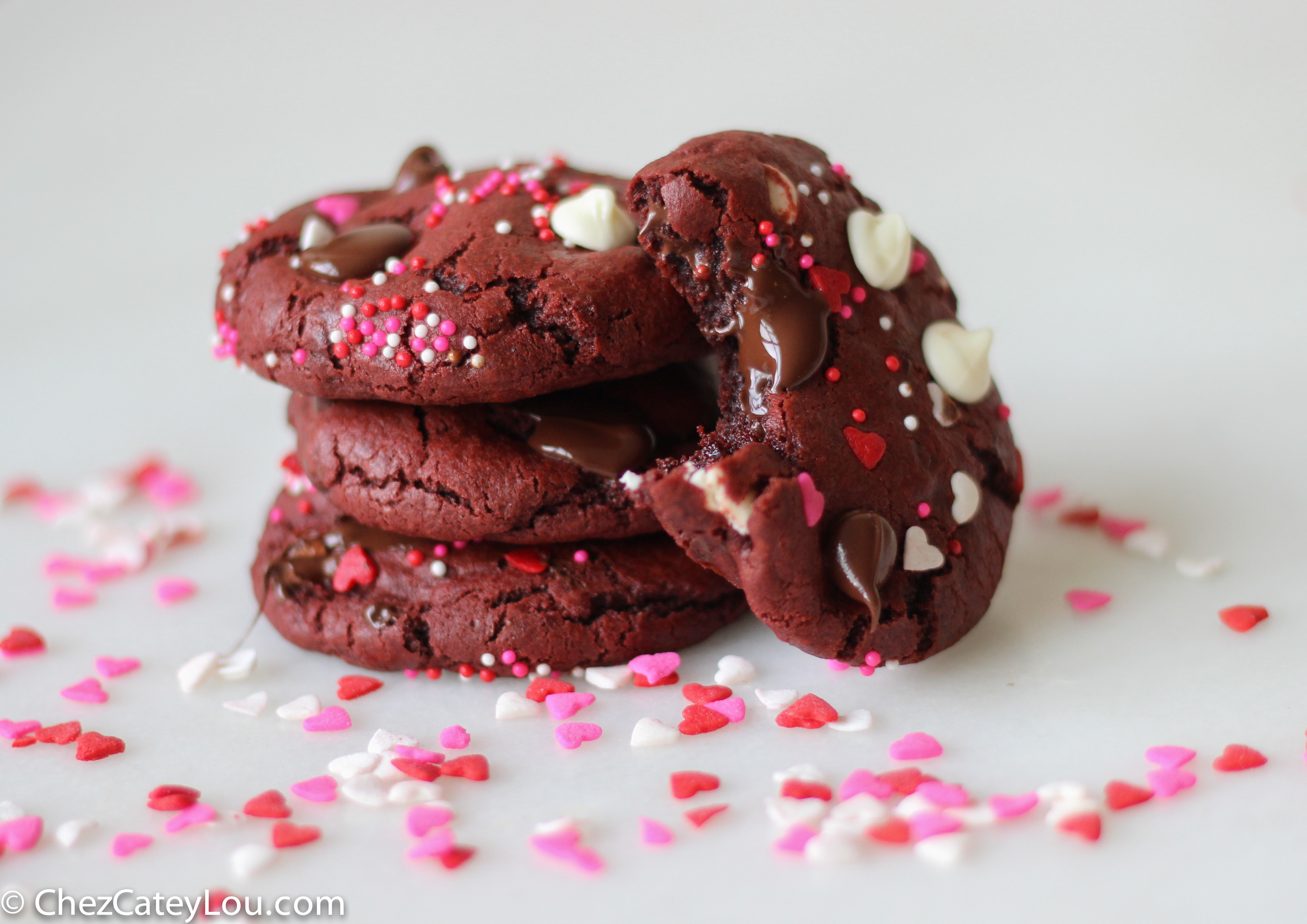 The classic flavor of red velvet cake is baked into a cookie and then mixed with tons of chocolate chips! These rich and chocolatey red velvet cookies taste amazing!
Ingredients
1 and 1/2 cups + 1 Tablespoon (198g) all-purpose flour
1/4 cup (32g) unsweetened cocoa powder
1 teaspoon baking soda
1/4 teaspoon salt
1/2 cup (115g) unsalted butter, softened to room temperature.
3/4 cup (150g) light or dark brown sugar
1/4 cup (50g) granulated sugar
1 egg, at room temperature
1 Tablespoon (15ml) milk
2 teaspoons vanilla extract
2.5 teaspoons red food coloring (liquid or gel)
1 cup (180g) chocolate chips, semi-sweet or a mix of white and semi-sweet (plus a few extra for after baking)
Instructions
In a medium bowl, whisk together the flour, cocoa powder, baking soda, and salt.
In the bowl of a stand mixer fitted with the paddle attachment, cream the butter on high speed until smooth and light colored, about 1 minute. Add the sugars and mix until well combined, scraping down sides as needed. Add the egg, milk, and vanilla and mix well. Mix in the food coloring.
Add the dry ingredients to the wet ingredients and mix on low speed until just combined. Mix in the chocolate chips.
Cover the dough with plastic wrap and refrigerate for at least one hour.
Preheat oven to 350 degrees F. Line 2 baking sheets with a silicone mat or parchment paper.
Scoop the dough in 1.5 tablespoon mounds and form each into a ball. Place 9 on each cookie sheet, spacing about 2 inches apart.
If desired, press decorative sprinkles into the tops and sides of the dough balls.
Bake for 10 - 11 minutes. If the cookies don't spread all the way, gently press on the warm cookies with the back of a spatula. This will flatten them and will form a crackly texture. If desired, place a few chocolate chips on top of the warm cookies.
Let the cookies cool on the sheets for a few minutes, then transfer to a wire rack to cool completely.
Notes
https://chezcateylou.com/red-velvet-chocolate-chip-cookies/
© Chez CateyLou. All images & content are copyright protected. Please do not use my images without prior permission. If you want to republish this recipe, please re-write the recipe in your own words, or link back to this post for the recipe.
Need more red velvet in your life? Red Velvet Cupcakes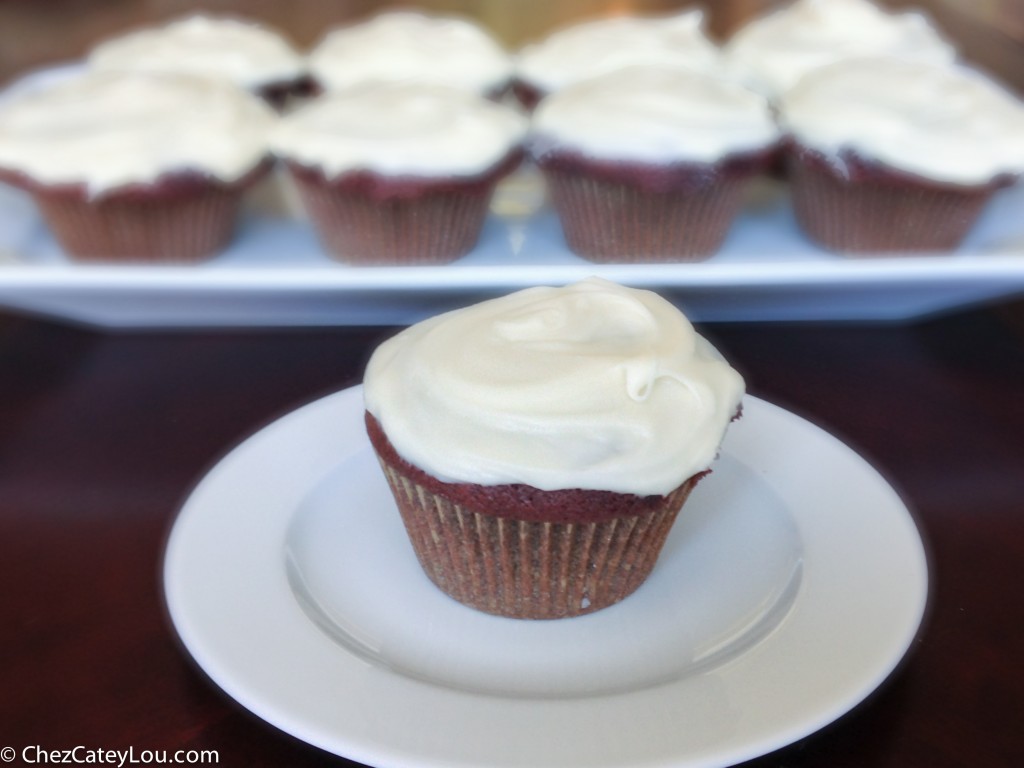 Can't get enough cocoa powder? Oreo Inspired Cookies