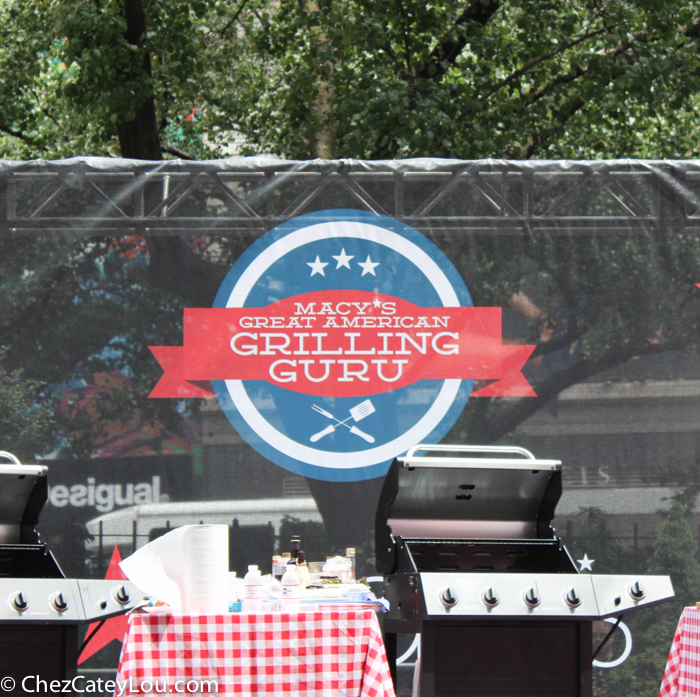 Last Saturday I had the privilege to attend the Sizzle Showdown Finale at Macy's Herald Square, hosted by Macy's Culinary Council.  Macy's spent all spring searching for the best grillers in America to compete for the ultimate prize here in New York City.  It was a fun day of watching six top grillmasters compete to win $10,000 and take home the title of Grilling Guru!  The judges were celebrity chefs Johnny Iuzzini and Todd English – two guys who clearly know a thing or two about great food.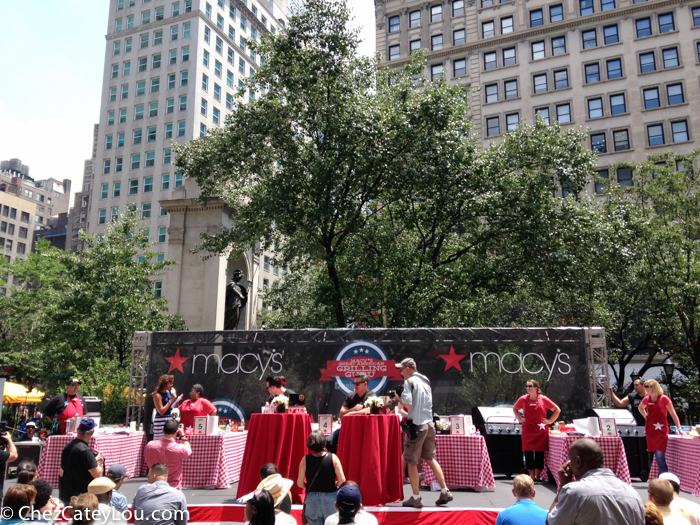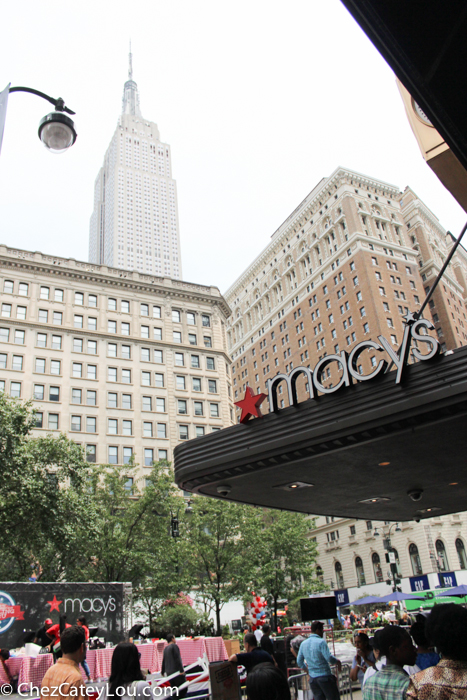 It was a hot, sunny day in the city and the audience was packed with fans there to cheer on their favorite Grilling Guru to victory.  The contestants had an hour to make their dishes.  Everyone did an amazing job and the food looked incredible!  Here's what they made:
1. Sarah M. – Grilled Chicken Stuffed with Herb Goat Cheese and Prosciutto
2. Sonya G. – Pesto Citrus Prosciutto Grilled Shrimp with Mandarin Orange Grilled Red Pepper Fruit Salsa
3. Devon D. – Crab Sliders with Firecracker Chow & Avocado Tartar Cream
4. Mary S. – Pork & Beef Braids with Charred Apple-Mango Reduction on Grilled Kale
5. Sherri W. – Grilled Thai Lamb Loin Chops
6. Jack S. – Steak and Potato Sliders with Basil / Gorgonzola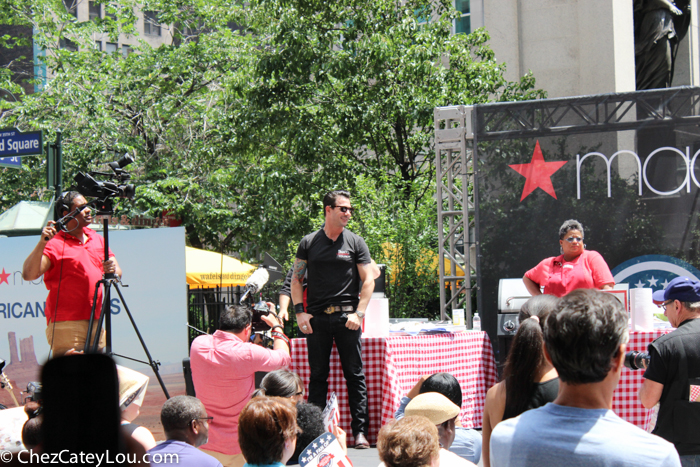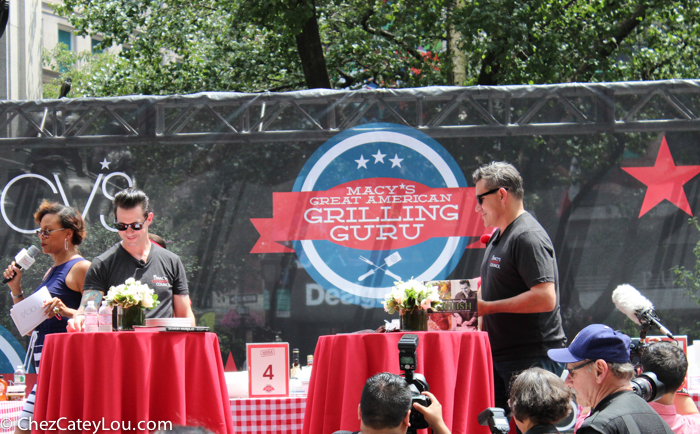 Johnny Iuzzini and Todd English certainly had a tough job at the Sizzle Showdown – all of these Grilling Gurus made delicious looking food !  In the end, the chefs decided that Sherri W. was the winner.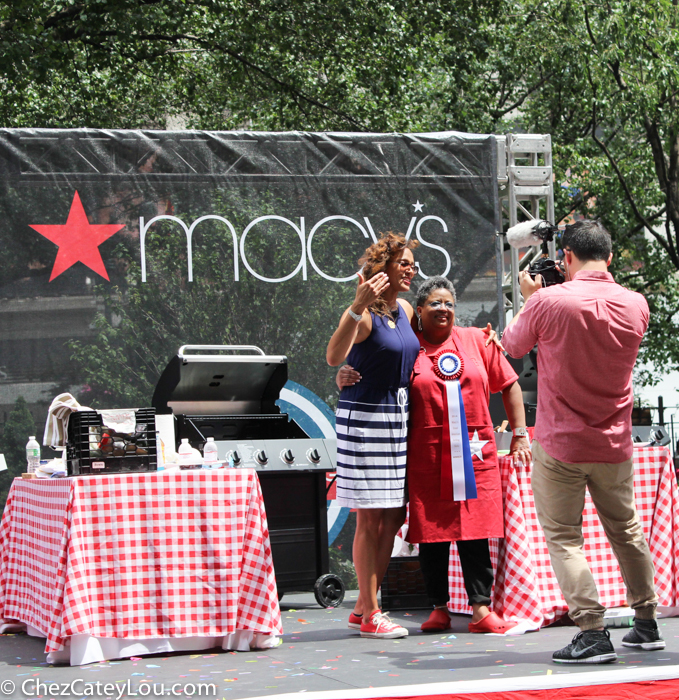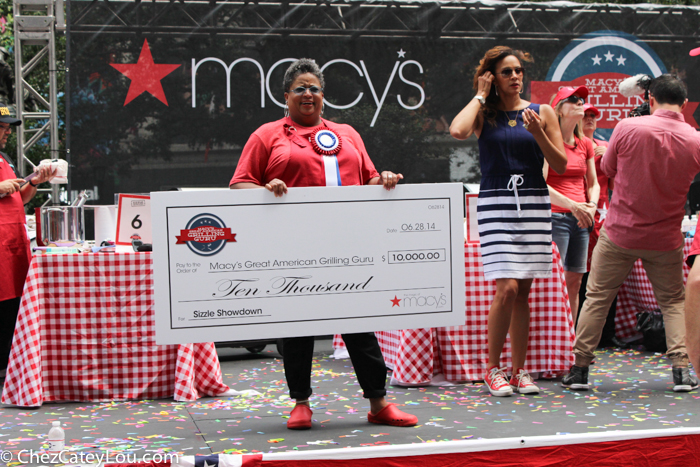 I talked to Sherri after the show and she was thrilled to be named Macy's Great American Grilling Guru!  And lucky for you, I have her winning recipe to share with you.
Grilled Thai Lamb Loin Chops
Ingredients
4 - 6 lamb loin chops, 1 1/2 - 2 inch thick
4 baby zucchini, sliced in half
4 oz. Asian egg noodles, cooked according to package
1/4 cup honey
1 1/2 tablespoon fresh chives, chopped

For the Marinade:

2 tablespoon soy sauce
2 tablespoon fish sauce
4 tablespoon water
4 tablespoon olive oil
Zest and juice of 1 lime
3 garlic cloves, grated
2 teaspoon galangal, grated
1 1/2 tablespoon brown sugar
1 tablespoon fresh mint, chopped
1 tablespoon Thai basil, chopped
1 tablespoon fresh cilantro, chopped
3 Bird's eye chili, chopped
Instructions
Blend all the marinade ingredients together and marinade lamb chops and baby zucchini slices with 3/4 of the marinade at room temp for 20 minutes.
Grill lamb loin chops on preheated oiled medium-high grill for 4-5 minutes each side or until medium rare. Baste as you go. Grill baby zucchini for 2 - 3 minutes on each side, or until tender. Allow lamb to rest for 5 minutes; drizzle with honey and top with chives.
Add remaining marinade to cooked Asian egg noodles. Toss to coat well. Serve lamb loin chops and baby zucchini over seasoned Asian noodles.
Notes
Recipe from Sherri W. of Crestview, FL, winner of Macy's Culinary Council Sizzle Showdown
https://chezcateylou.com/sizzle-showdown/
© Chez CateyLou. All images & content are copyright protected. Please do not use my images without prior permission. If you want to republish this recipe, please re-write the recipe in your own words, or link back to this post for the recipe.
I had such a great time at the Sizzle Showdown with my friend Connie from URBAN BAKES. We loved seeing the grillers in action, smelling all that delicious food, watching the celebrity chefs do their thing, and seeing Sherri W. win $10,000!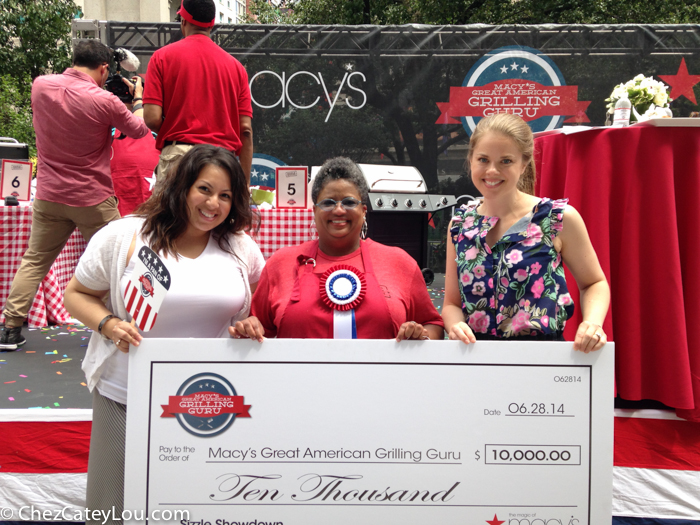 I am a member of the Everywhere Society and Everywhere has provided me with compensation for this post. However, all thoughts and opinions expressed herein are my own.