Want to make split pea soup but don't have a ham bone? No problem! This split pea soup with ham uses ham steak – easy to make, comforting and delicious!
Split Pea Soup with Ham…so I know this is kind of a weird recipe for Chez CateyLou.  I mean I get it – split pea soup sounds kind of odd, and doesn't look particularly appealing.  In fact for the majority of my life, I hated the stuff. My grandmother loved split pea soup and I remember her trying to make me eat it – she was unsuccessful.  Little Cate was not going to touch that weird green soup. But one day a few years ago, I actually tried split pea soup and was shocked…I liked it!  A lot!  And this recipe for split pea soup with ham is seriously delicious, so I just had to share it with you!!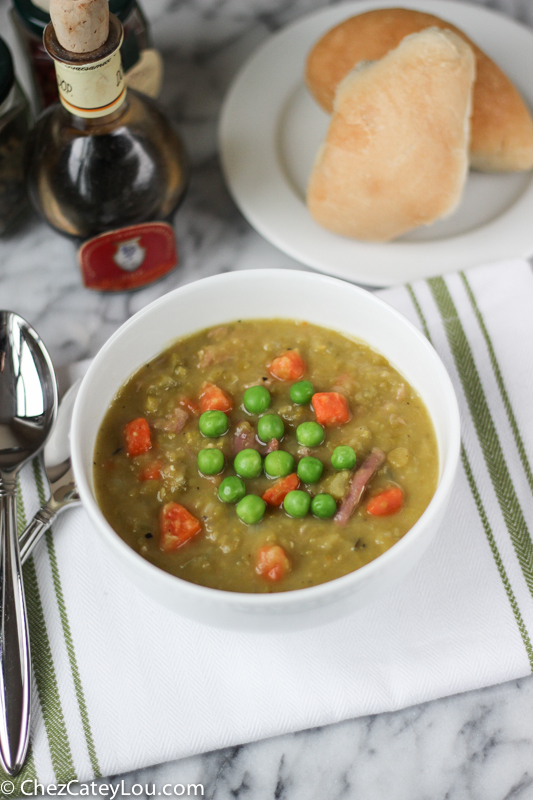 Split pea soup is typically made using a ham bone. However I don't know about you, but I do not ever have a ham bone lying around. Actually, I don't really know what a ham bone is….
But no worries – this split pea soup recipe uses ham steak, something that is available in every grocery store, and still has tons of rich flavor from both the ham steak and from a little bacon. The interesting thing about the bacon in this recipe is that you don't actually eat it!! The bacon is simmered with the soup to add that smoky bacon flavor, but then you throw it away! Crazy to throw away bacon, I know, but the final soup tastes amazing, so I'm not going to question it!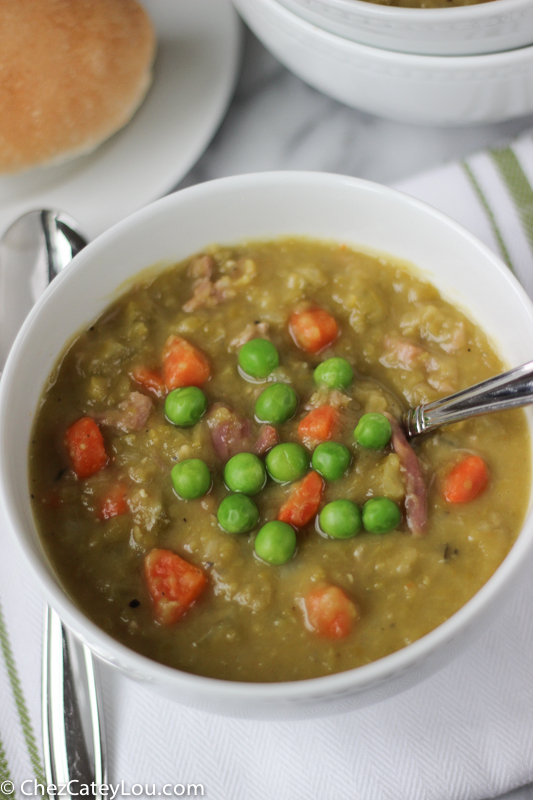 If you think you don't like split pea soup, this recipe might convert you! Take it from a former pea soup hater – the stuff is delicious. TheBetterHalf even loved this soup, and he thought he didn't like pea anything!  But if you think this is too weird to try, I won't force you.  And don't worry,  I'll be back soon with more baked goods to make you happy 🙂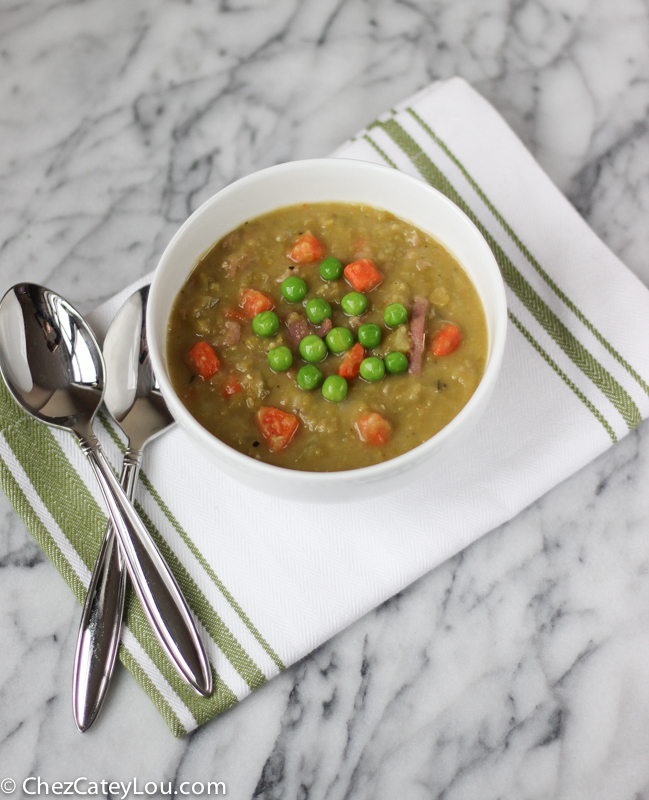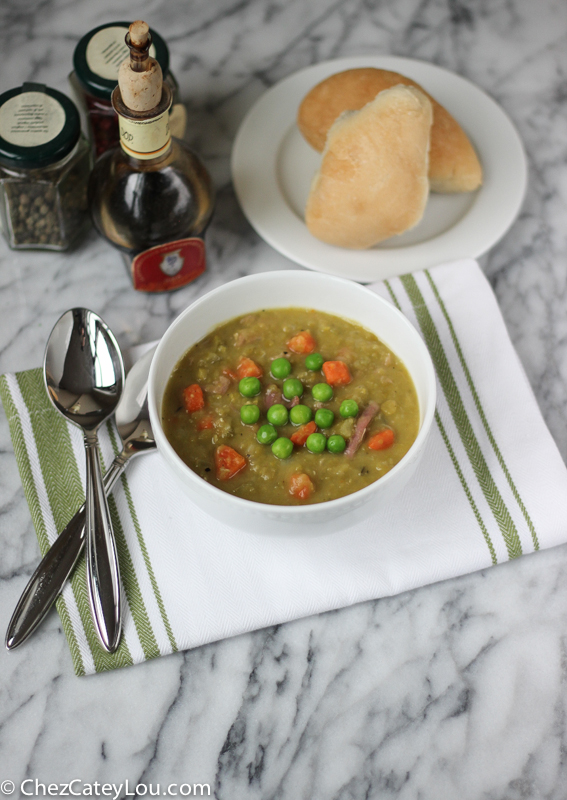 Want to make split pea soup but don't have a ham bone? No problem! This split pea soup with ham uses ham steak - easy to make, comforting and delicious!
Ingredients
2 tablespoons unsalted butter
1 large onion, chopped fine (about 1 1/2 cups)
Table salt
2 medium garlic cloves, minced or pressed through garlic press (about 2 teaspoons)
7 cups water
1 ham steak (about 1 pound), skin removed, cut into quarters
3 slices thick-cut bacon (about 4 ounces)
1 pound green split peas (about 2 cups), picked through and rinsed
2 sprigs fresh thyme
2 bay leaves
2 medium carrots, peeled and cut into 1/2-inch pieces (about 1 cup)
1 medium celery rib, cut into 1/2-inch pieces (about 1 cup)
Ground black pepper
Instructions
In a large dutch oven, melt butter over medium-high heat and then add onion and ½ teaspoon of salt. Cook, stirring frequently, until the onion is softened, about 3-4 minutes. Add the garlic and cook, stirring constantly, for 30 seconds. Add the water, ham steak, bacon, split peas, thyme, and bay leaves and increase heat to high. Bring soup to a simmer, stirring frequently. Once the soup is simmering, reduce heat to low and cover the pot. Cook for about 45 minutes, until the peas are tender but not falling apart.
Remove the ham steak to a plate and cover with foil.
Stir in the carrots and celery then cover the pot and continue to simmer about 30 minutes longer. The veggies will be tender and the peas will have broken down almost completely.
Shred the ham into small pieces, using two forks.
Remove the thyme, bay leaves, and bacon slices from the soup and discard. Add the ham to the soup and bring it back to a simmer. Taste the soup and add salt and pepper to your liking. Add some water if the soup is too thick, or allow to simmer uncovered if too thin. Serve, topped with fresh peas, fresh mint, and a drizzle of balsamic vinegar.
Notes
https://chezcateylou.com/split-pea-soup-ham/
© Chez CateyLou. All images & content are copyright protected. Please do not use my images without prior permission. If you want to republish this recipe, please re-write the recipe in your own words, or link back to this post for the recipe.
Connect with Chez CateyLou!
More soup recipes!
Creamy Tomato Orzo Soup made with Greek Yogurt