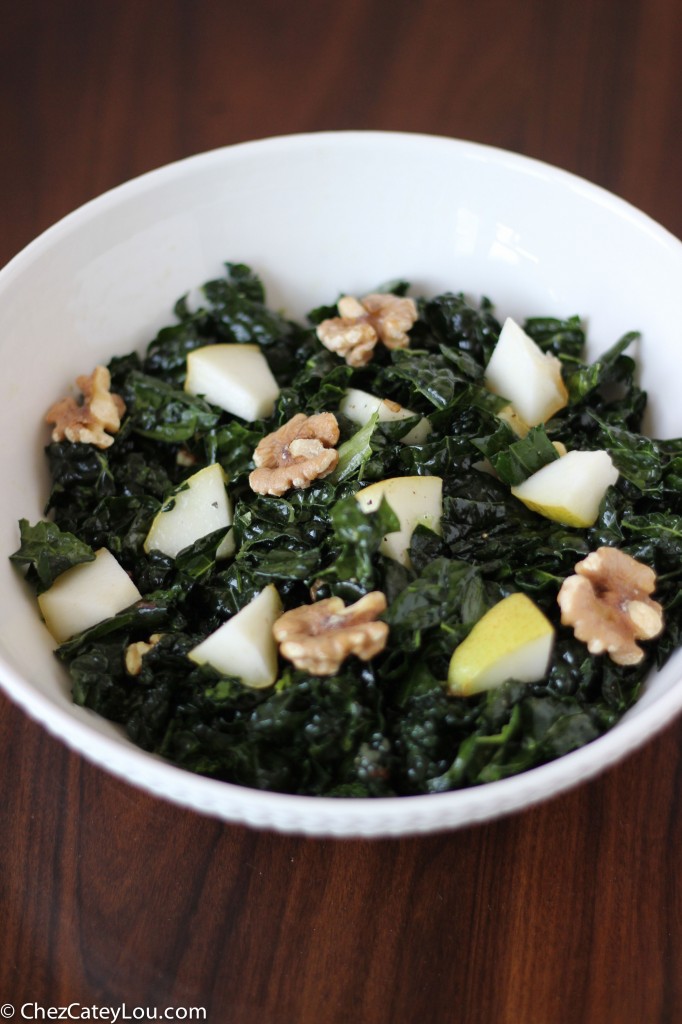 Happy new year!  How are everyone's new year's resolutions going so far?  I don't know about you, but I took yesterday off from any kind of resolution.  January 1 is a holiday, a day of rest – right?  So the healthy eating starts today for me!  I have a few healthy recipes to share with you over the next few days to start the year off right.  The first is one of my favorites – kale salad
Is there a trendier veggie than kale?  I swear I see it everywhere these days.  Forget orange, kale is definitely the new black.   There is even a dedicated initiative to bring more kale to France.  I'm not making that up…read more about it here.
But all of this kale hype is a good thing for me because kale is one of my favorite vegetables.  I really can't get enough of it.  Anytime I see a kale salad on a menu, I have to order it.  And this kale salad recipe is a staple dinner side for TheBetterHalf and me.  It is so easy to make and it tastes great.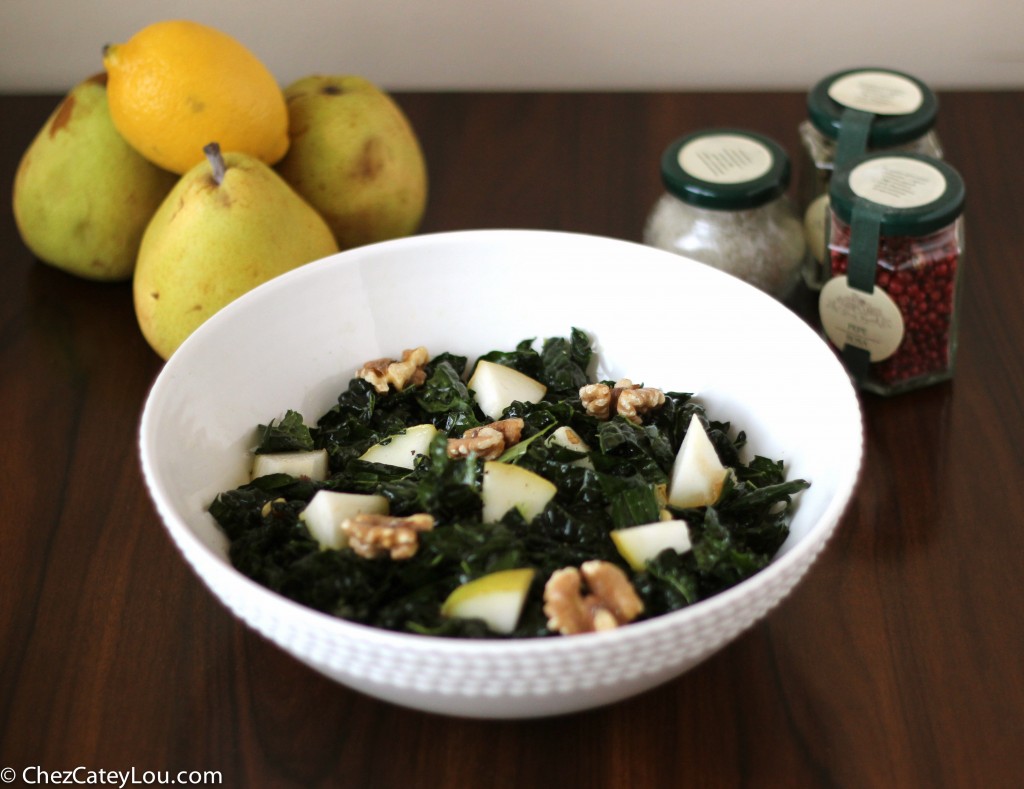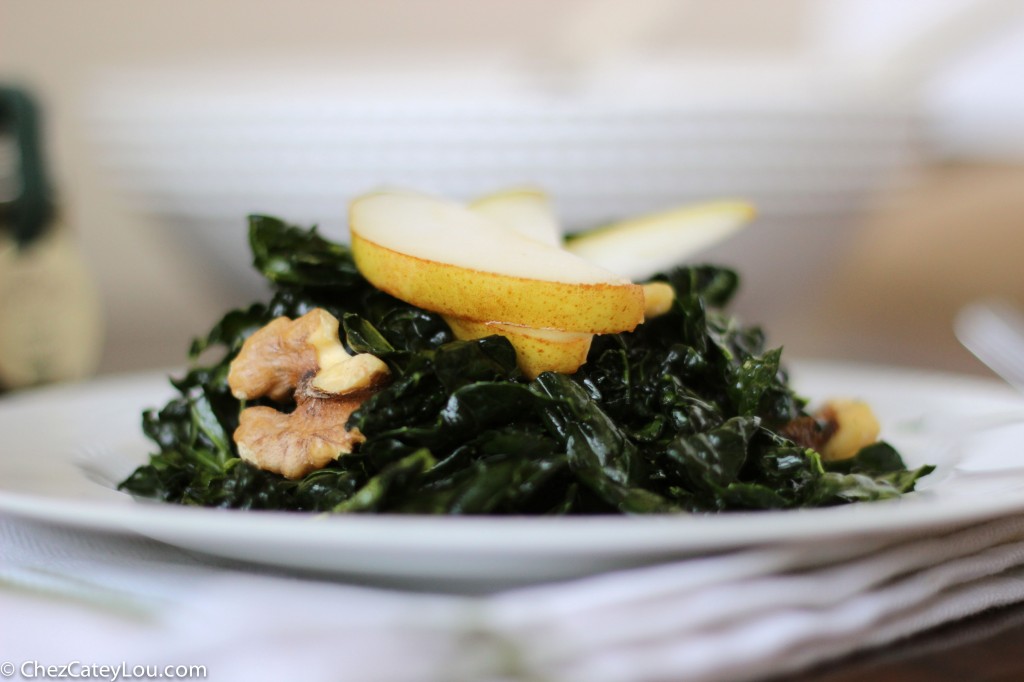 Aside from being delicious, eating kale is the perfect way to begin the new year.  Kale is a superfood.  It has tons of vitamins and calcium, and even has anti-cancer properties.  Sounds like a win-win to me!
For this salad, I combine kale with a simple lemon vinaigrette, and add in pears for some sweetness and toasted walnuts for a nutty crunch.  I love this combo of flavors, but the best part about this recipe is how easy it is to customize it!  Try mangos and almonds.  Pomegranates and pecans.  Add cheese or any other veggie you like.  The possibilities are endless!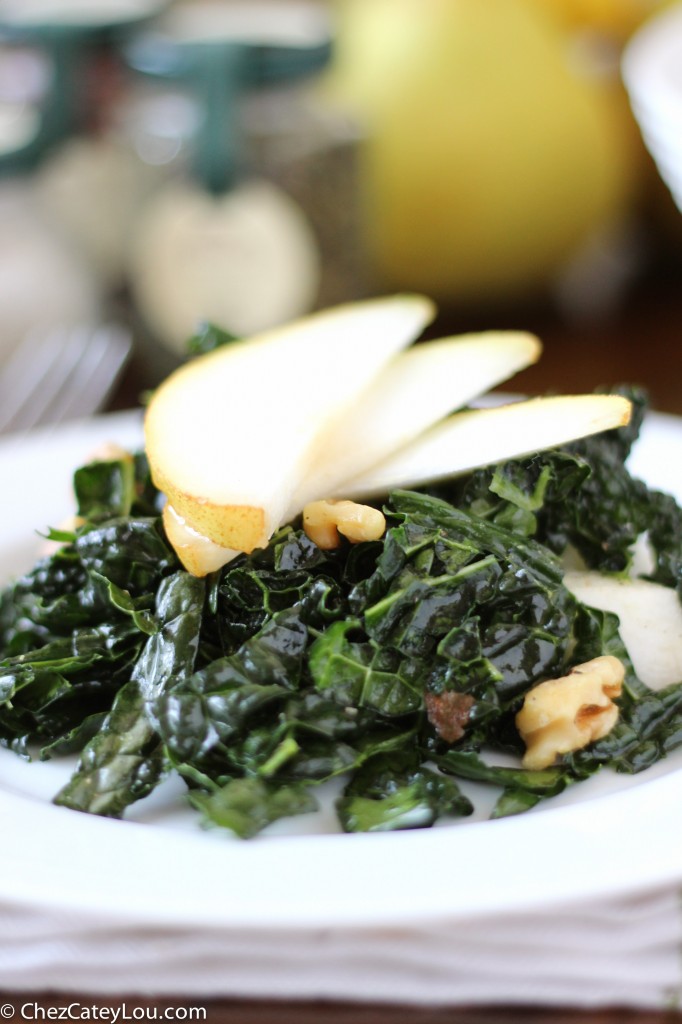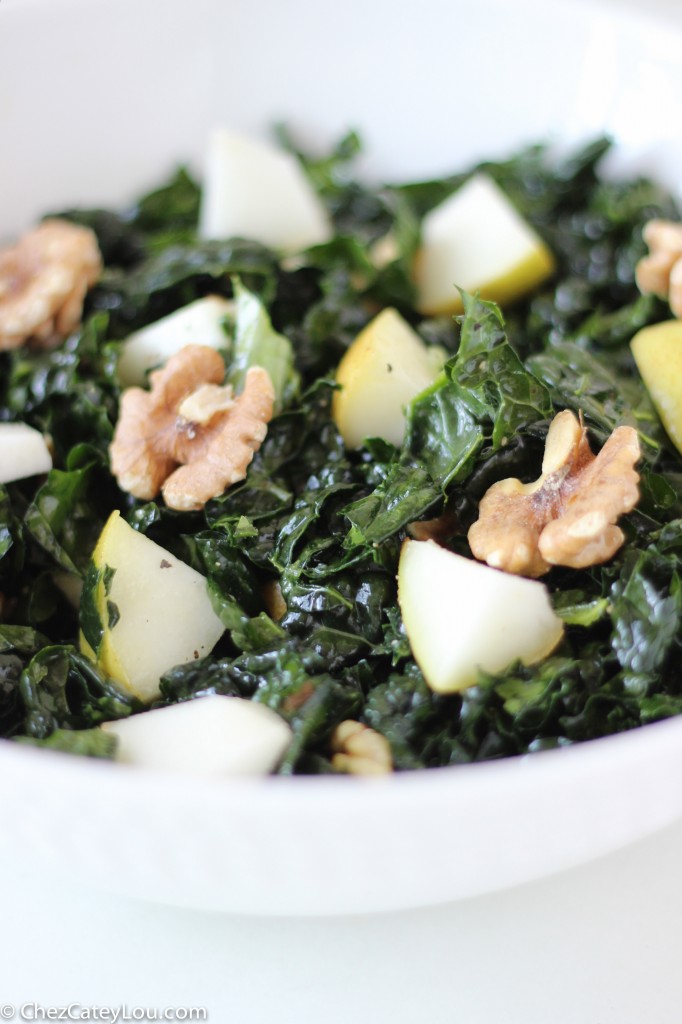 I used lacinato kale in this salad.  It has darker leaves than traditional curly kale, and the leaves are longer and thinner.   However you can use curly kale as well if you can't find lacinato – I use them both depending on what looks best at the market.
To prepare the kale you have to massage it with a little bit of oil and some salt.  Yes, you read that right – you massage your kale.  What a diva – I'm sure spinach is wondering why it doesn't get the massage treatment.  The first time I heard about this technique I thought it was kind of crazy!  But it really works – the massaging starts to break down and soften the kale a bit so that it isn't so tough.  It is a great technique, once you get over the thought that you are massaging your dinner!
This salad is a great way to start the year out on a healthy kick.  It is easy, delicious and nutritious.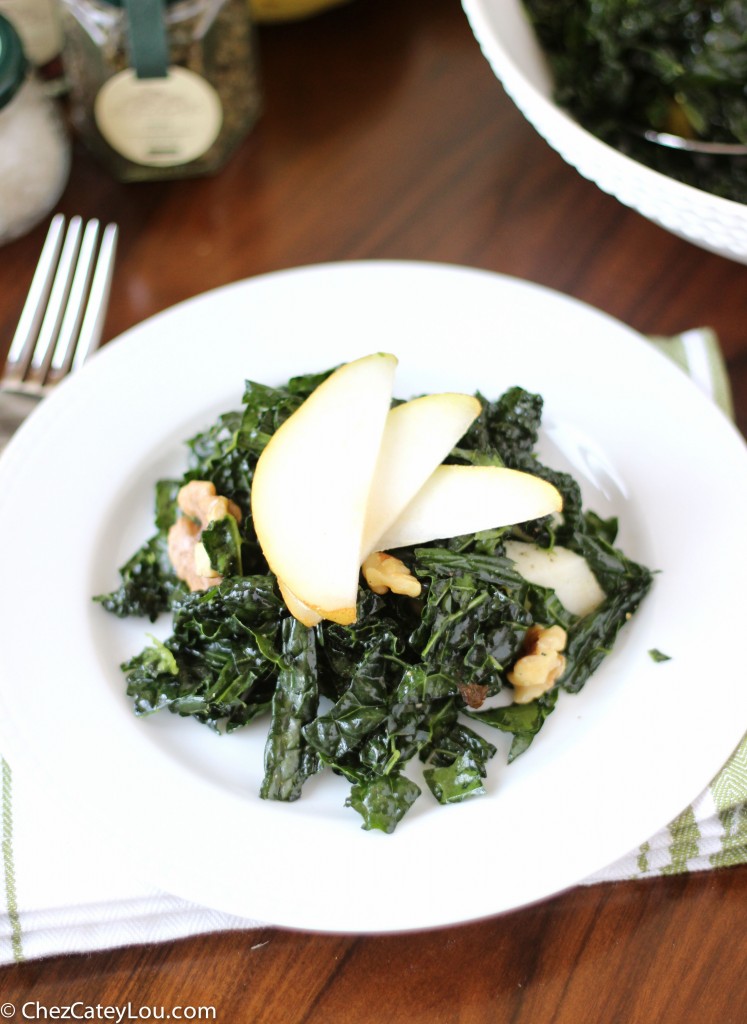 Kale Salad with Pears and Walnuts
Ingredients
1 bunch kale (lacinato or curly)
2 tablespoons olive oil + 1 teaspoon olive oil
1 tablespoon lemon juice
salt and pepper to taste
1 ripe pear, cut into pieces
1/2 cup walnuts, toasted
Directions
Take the kale leaves off the stems and cut the kale into small ribbons.  Place it in a medium bowl and add one teaspoon olive oil and 1/4 teaspoon salt.  Massage the kale with your hands for about 2 minutes, until it starts to wilt and the color gets darker.
Whisk together 2 tablespoons olive oil with the lemon juice.  Add salt and pepper to taste.  Toss the kale with the desired amount of dressing (you probably won't need all the dressing).  Add the pear and walnuts and toss to combine.