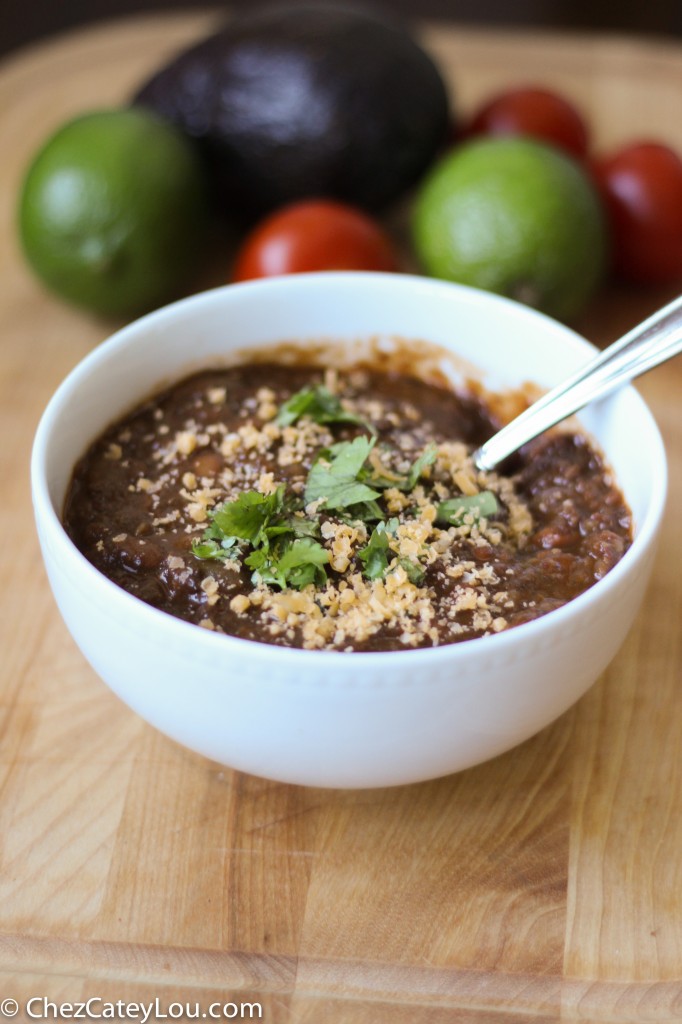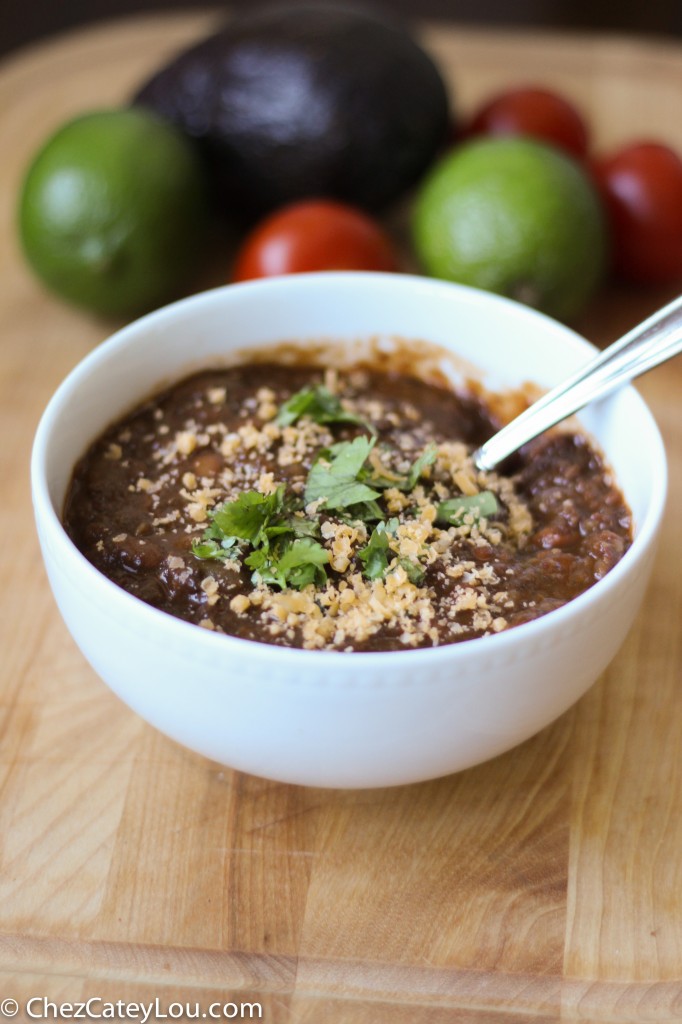 Is there a more perfect winter food than chili? It is so warm and comforting and makes such a hearty meal when it is cold outside.  And it's the perfect food to eat when you're watching football.  Now I'm sure my meat loving readers are scoffing over this meatless chili recipe, but I promise you, it's delicious!  This chili is so full of flavor and texture that you won't even miss the meat.  And if you are still in doubt, this vegetarian chili has TheBetterHalf's seal of approval!  This is really saying a lot because he rarely has a meat free meal.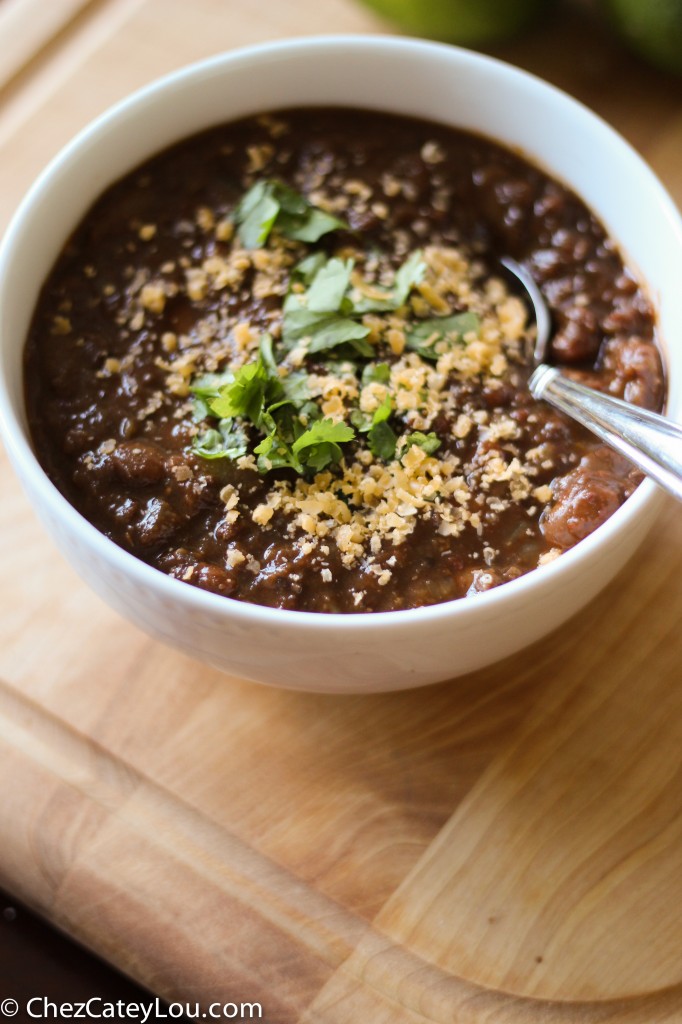 This recipe comes from Cook's Illustrated. (As an aside, TheBetterHalf thinks Cook's Illustrated should be plural possessive – Cooks' Illustrated – because it's not just one cook doing all this cooking and illustrating.  He thinks the only way Cook's Illustrated makes sense is if the company is owned by someone named Cook.  Like Dane Cook's Illustrated.   The lesson, as always, don't listen to TheBetterHalf).  Anyway, Cook's Illustrated is a great source for innovative recipes.   They test out so many different methods of cooking and ingredients that you know the final product is going to be delicious.  Now the one thing about their recipes is that they are oftentimes complex and include many different ingredients.  This chili is no exception.  It has a lot of ingredients, and some seem quite strange to have in chili (walnuts?  soy sauce?? bulgur???) – but don't be intimidated!  Each ingredient serves a unique purpose and the resulting bowl of chili is so rich, hearty, and flavorful.
Of course, the one thing that isn't on this long list of ingredients is meat! But honestly, you are going to think there is ground beef in here.  As I was eating this I couldn't stop saying, "This has the exact same texture as real chili!"  I think it is the bulgur – it adds a chewy hearty texture that is so similar to ground beef.  Toasted walnuts, shitakes, and soy sauce add in savory flavor and richness.   Two kinds of whole chiles are toasted to bring out their flavor and then ground up into powder – no pre made chili powder in this recipe!  Two types of bean add in great texture and bulk up the dish.  Really, it is an awesome bowl of chili.
There are a lot of steps, but the end result is definitely worth it.  I had a lot of fun making this on a cold lazy Sunday.  Plus the recipe makes a full pot of chili, so it will serve a crowd.   Or if you only have one or two people to feed,  you can freeze individual potions of chili and have a quick dinner any night you like.  I love doing that!  This is definitely the best vegetarian chili I have ever had.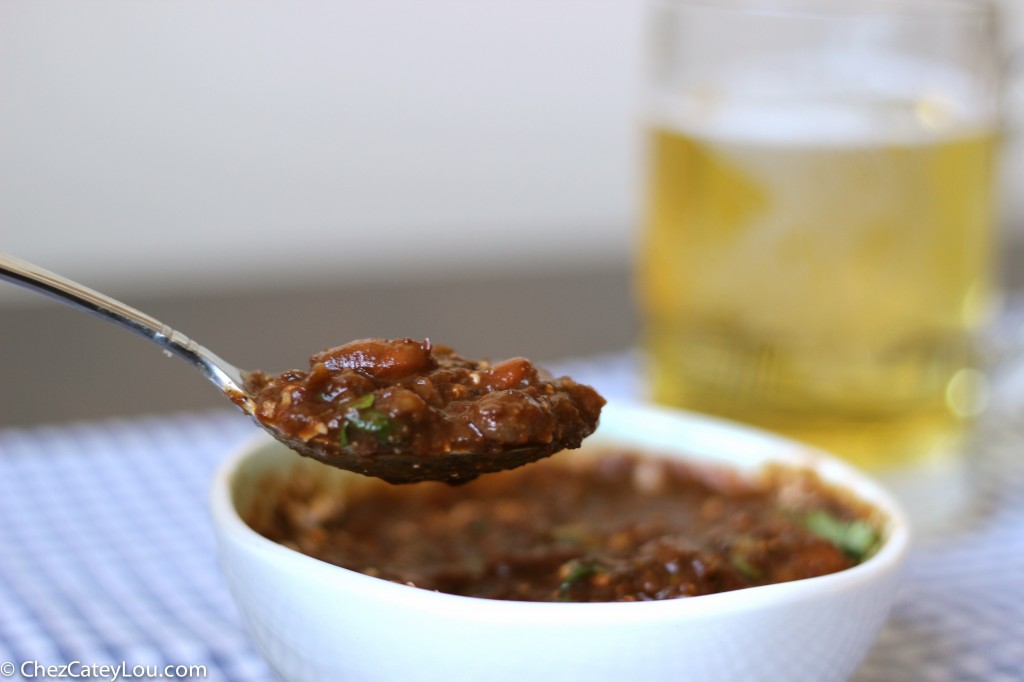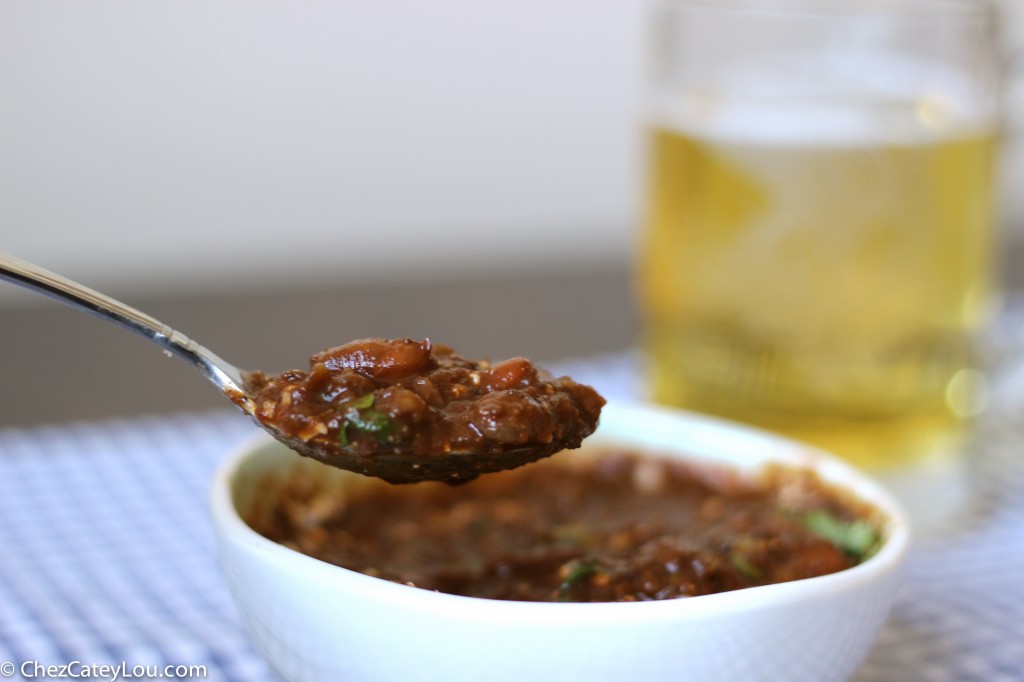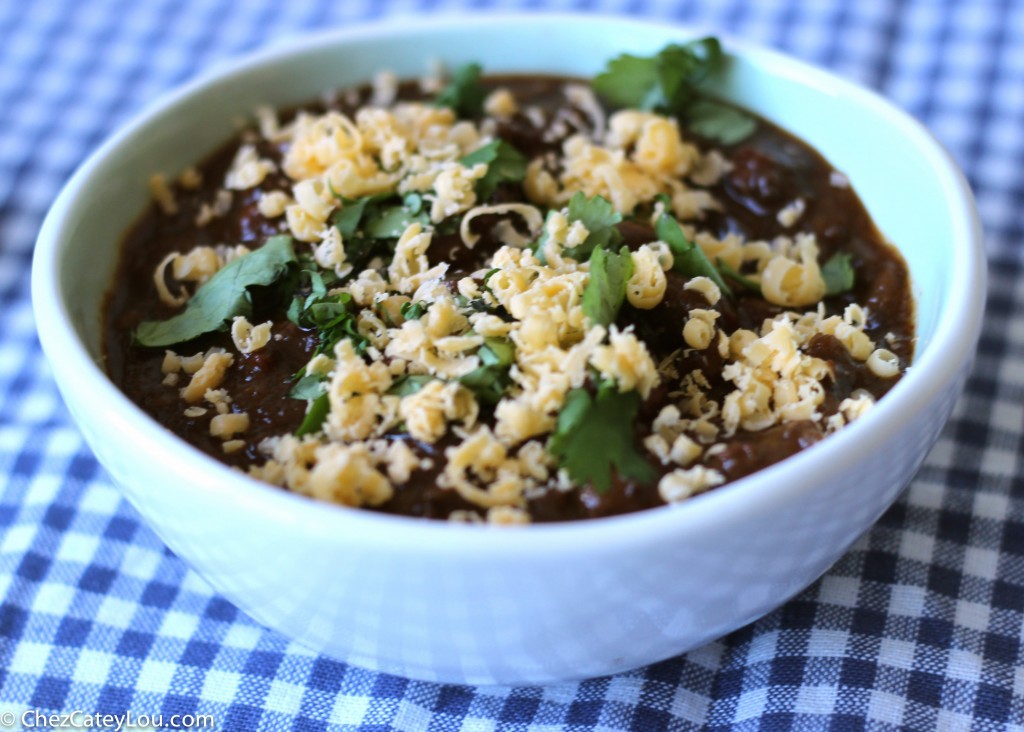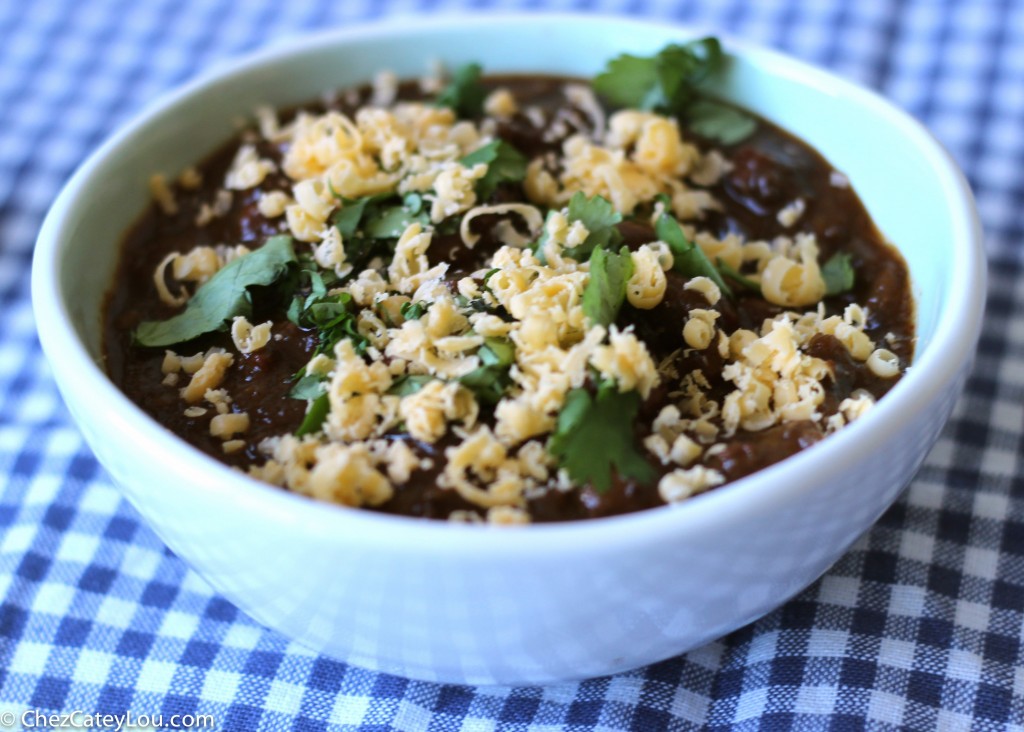 Ingredients
Salt
1 pound dried beans, picked over and rinsed (mix any type you like - I used cannellini and pinto)
2 dried ancho chiles
2 dried New Mexican chilis
1/2 ounce shiitake mushroom, chopped coarse
4 teaspoons dried oregano
1/2 cup walnuts, toasted
1 (28-ounce) can diced tomato, drained with juice reserved
3 tablespoons tomato paste
1-2 jalepeno chilies, stemmed and coarsely chopped
6 garlic cloves, minced
3 tablespoons soy sauce
1/4 cup vegetable oil
2 pounds onion, chopped fine
1 tablespoon ground cumin
7 cups water
2/3 cup bulgur
1/4 cup chopped fresh cilantro
Instructions
1) In a large Dutch oven over high heat, bring 4 quarts water, 3 tablespoons salt, and beans to boil. Once they are boiling, remove pot from heat, cover, and let stand for one hour. Then drain the beans and rinse well. Wash out the pot so that it is clean and ready to use for the soup.
2) Preheat oven to 300 degrees F. Place the ancho and New Mexican chilies on a baking sheet and bake for about 8 minutes, until they are fragrant. Transfer to a plate, let cool for 5 minutes, then stem and seed the chilies. Grind the toasted chilies, mushrooms, and oregano in a spice grinder or a food processor until finely ground, working in batches if necessary.
3)Place walnuts in a food processor and grind until they are finely ground, about 30 seconds, then transfer to a bowl.
4) Next process drained tomatoes, tomato paste, jalapeños, garlic, and soy sauce until the tomatoes are finely chopped, about 45 seconds.
5) Over medium-high heat, heat oil in a Dutch oven until shimmering. Add the onions and 1 1/4 teaspoons salt and cook until the onions begin to brown, stirring occasionally (about 8 - 10 minutes). 6) Lower the heat to medium, add ground chile mixture and cumin, and cook for about one minute, stirring occasionally. Add rinsed beans and water and bring to a boil.
7) Cover pot and transfer to the oven (already heated to 300 degrees from earlier) to cook for 45 minutes.
8) Remove pot from oven and stir in bulgur, walnuts, tomato mixture, and reserved tomato juice. cover pot and return to oven.
9) Cook about 2 hours, or until beans are fully tender. Remove pot from oven, stir chili well, and let stand for 20 minutes uncovered. Stir in cilantro and serve.
Notes
https://chezcateylou.com/best-vegetarian-chili/
© Chez CateyLou. All images & content are copyright protected. Please do not use my images without prior permission. If you want to republish this recipe, please re-write the recipe in your own words, or link back to this post for the recipe.