Lentils are cooked until creamy but firm, tossed in a mustard vinaigrette, and then mixed with kalamata olives, feta cheese, and fresh mint. Healthy, easy, and delicious!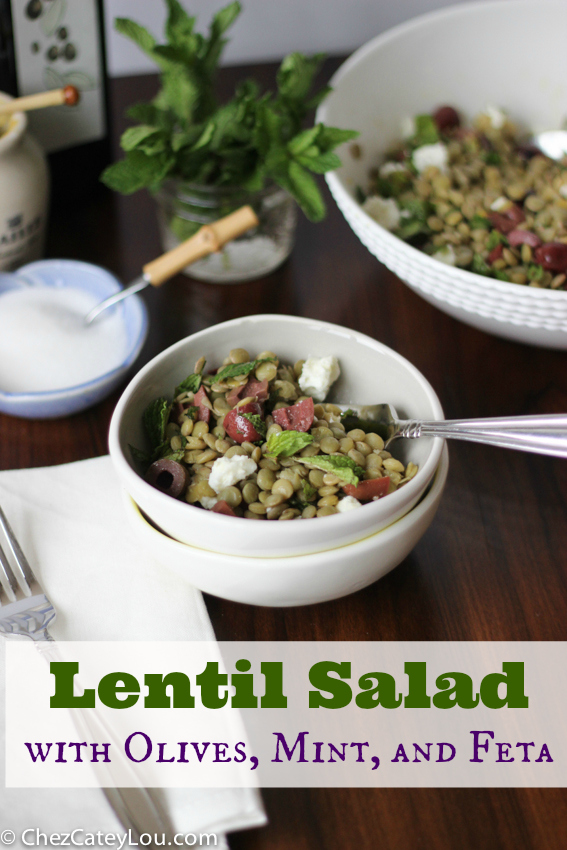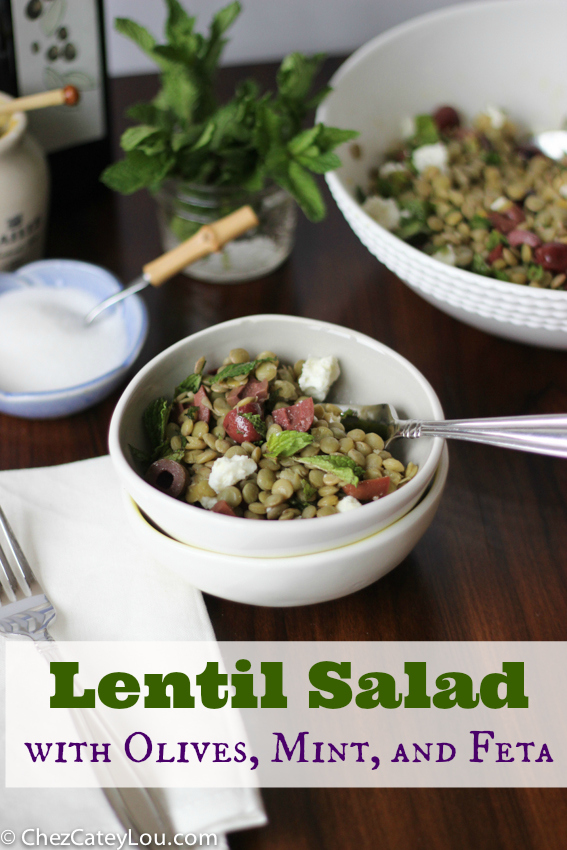 Have you heard of Meatless Monday? According to Wikipedia: "Meatless Monday is an international campaign that encourages people to not eat meat on Mondays to improve their health and the health of the planet."  Sounds like a win win to me!
Plus, I always try to be a little healthier on Mondays. It feels good to start the week off on a healthy foot, and to undo some of the damage from the weekend – because I don't know about you, but my weekends are usually full of eating pretty much whatever I want.  So I have a great meatless and healthy recipe to share with you today – Lentil Salad with Olives, Mint, and Feta.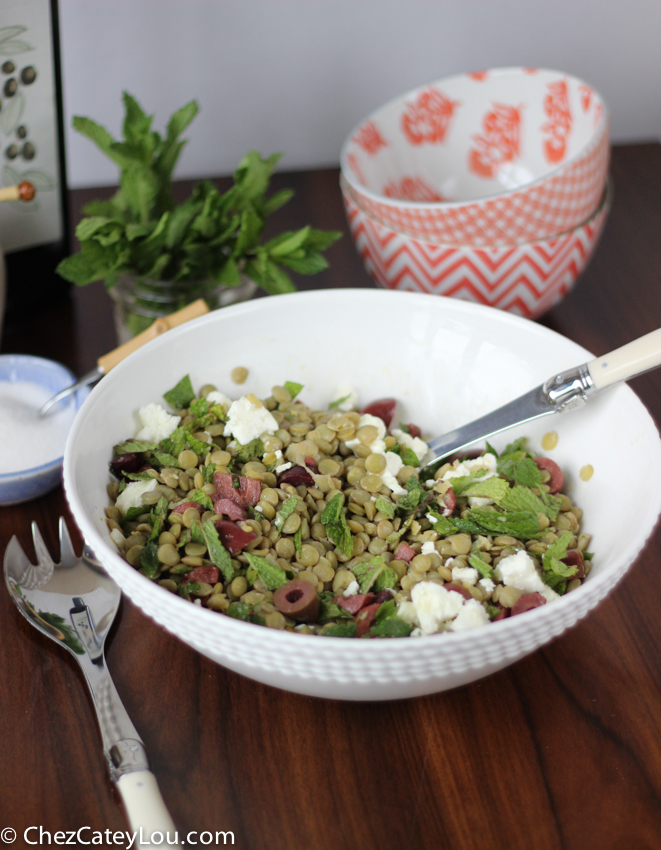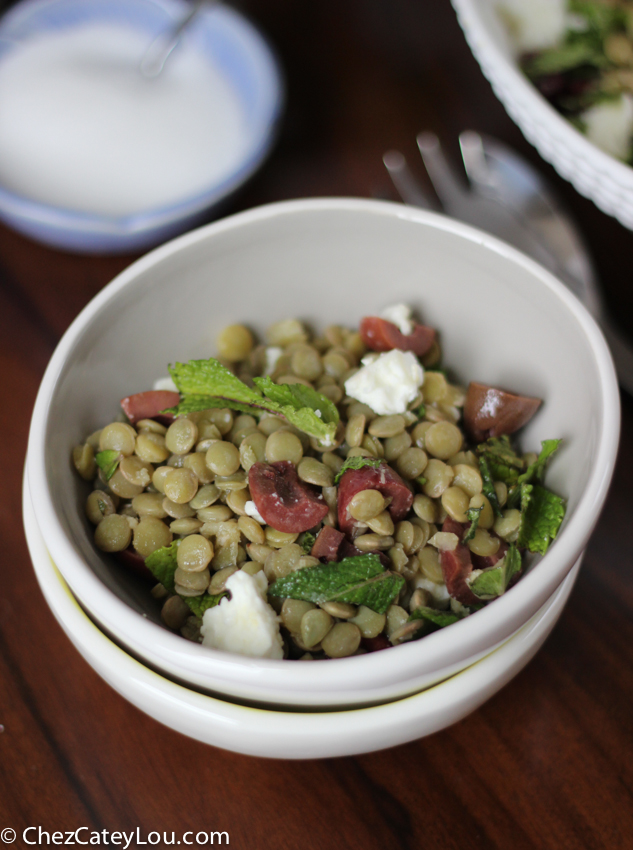 I feel like lentils have kind of a bad rep for being boring or bland. Well I am here to bust that myth. If prepared correctly, lentils are seriously delicious! They have a great texture, and are basically a blank canvas for any flavors that you want to use.
This particular salad pairs lentils with a simple mustard vinaigrette, and then adds olives, fresh mint, and feta cheese. It is a fantastic combo, and is so flavorful. You can serve it on a bed of spinach or mixed greens, and add other veggies like cucumber and tomato, turning this into a healthy and filling dinner – perfect for meatless Monday!
But the best part about this recipe is that you can really adapt it to whatever flavors you like best. Once you have the basic lentil cooking method down, which is super easy by the way, you can use your imagination to turn this into any kind of dish you like.
So here is the lentil cooking method: the lentils are soaked in saltwater for an hour, which helps them stay creamy but still firm once they are cooked. Then they cook in the oven for 40 – 60 minutes in a mixture of water and chicken broth, with a few garlic cloves, a bay leaf, and salt for flavor. Drain them and your lentils are ready to go. So simple!
You can even soak the lentils the day before you want to make this dish, and then store the drained lentils in the fridge. Then just cook them the next day. In an hour, you have a healthy and delicious dinner ready.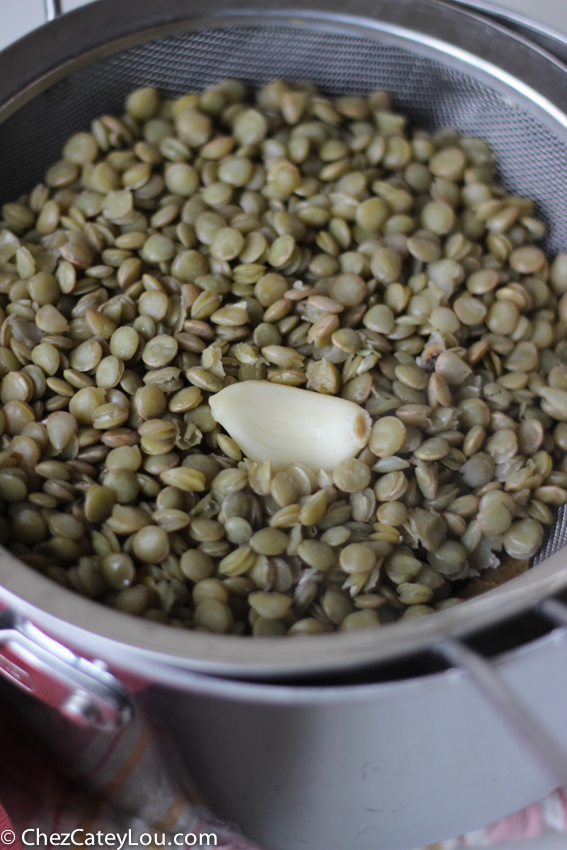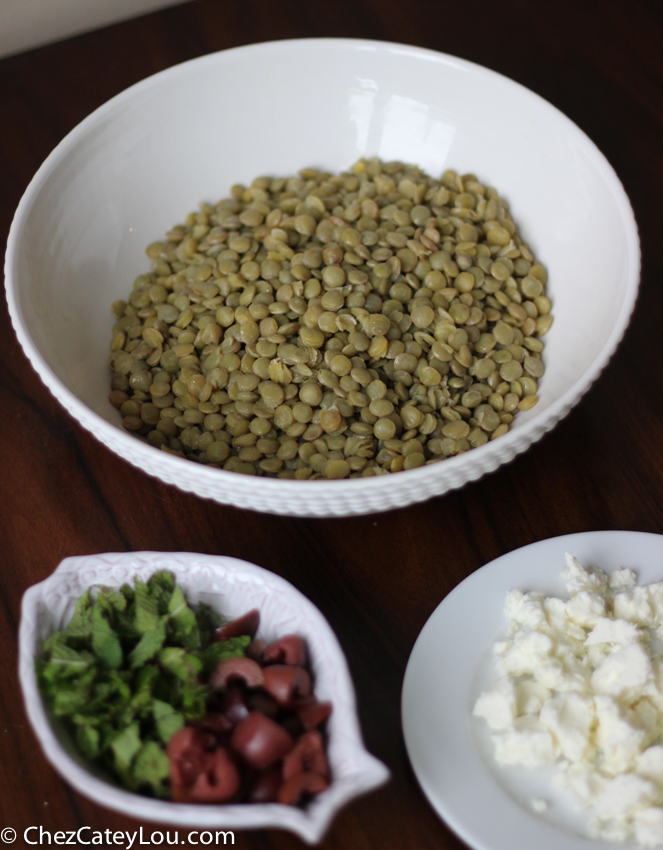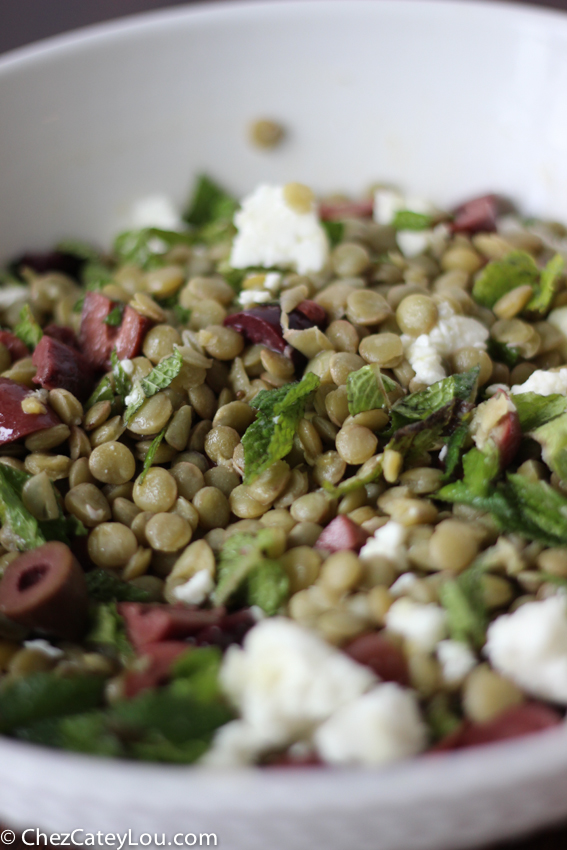 Lentils are a nutritional powerhouse. They are full of potassium, calcium, zinc, niacin and vitamin K, folate and iron. Whoa, that's some serious nutrition. And, they have tons of protein and fiber, making them very filling and thus an excellent healthy alternative to meat.
If olives, feta, and mint aren't your thing, you can still make an amazing lentil dish.  Try out different dressings, add various types of cheese, use other fresh herbs.  Toss in raw or roasted veggies, toasted nuts, fruit – the possibilities are really endless!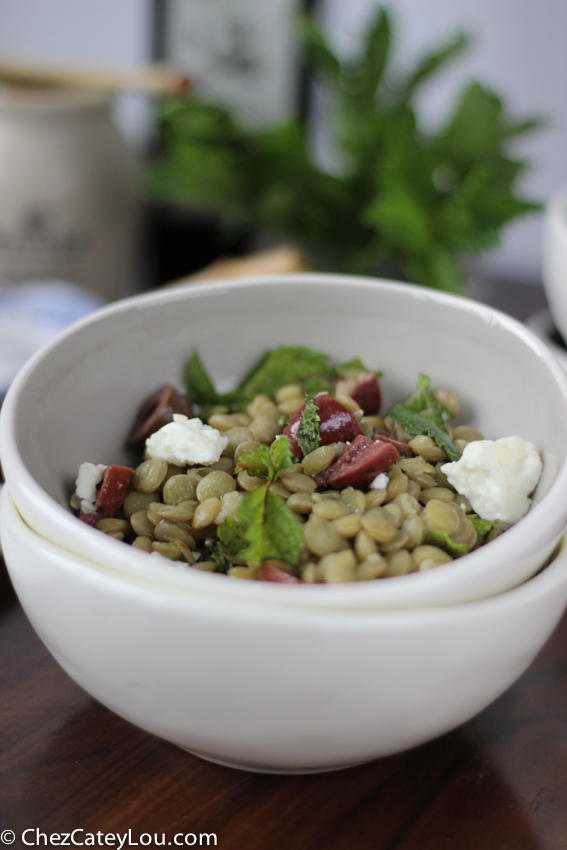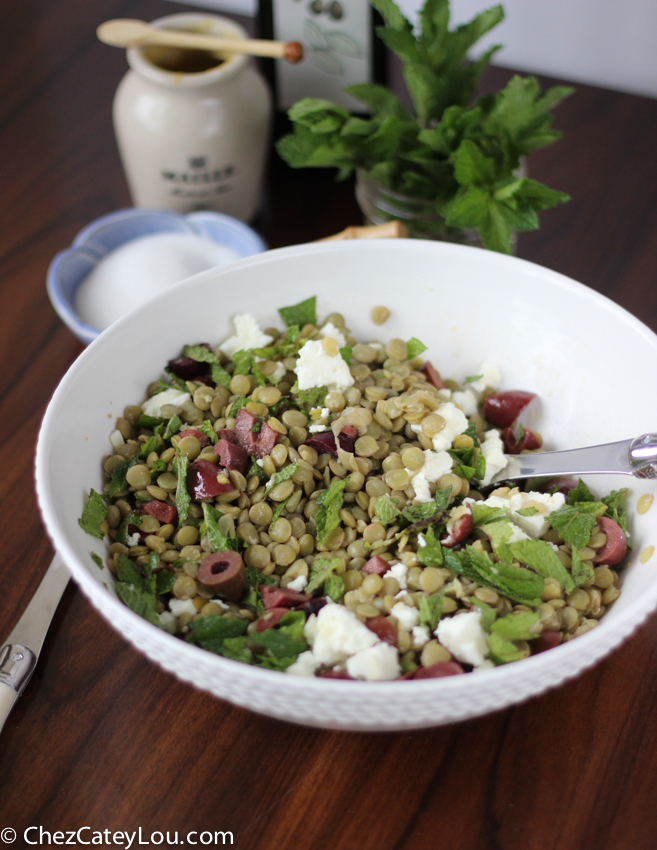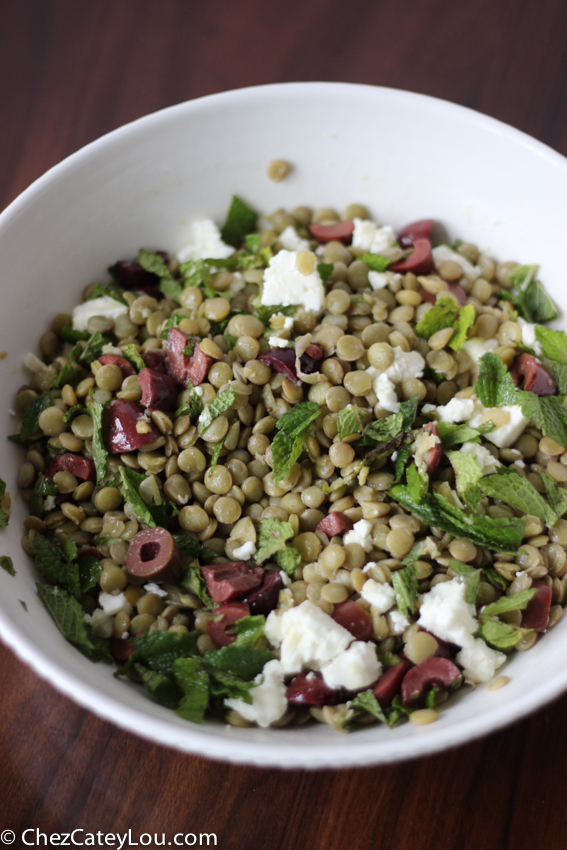 Lentil Salad with Olives, Mint, and Feta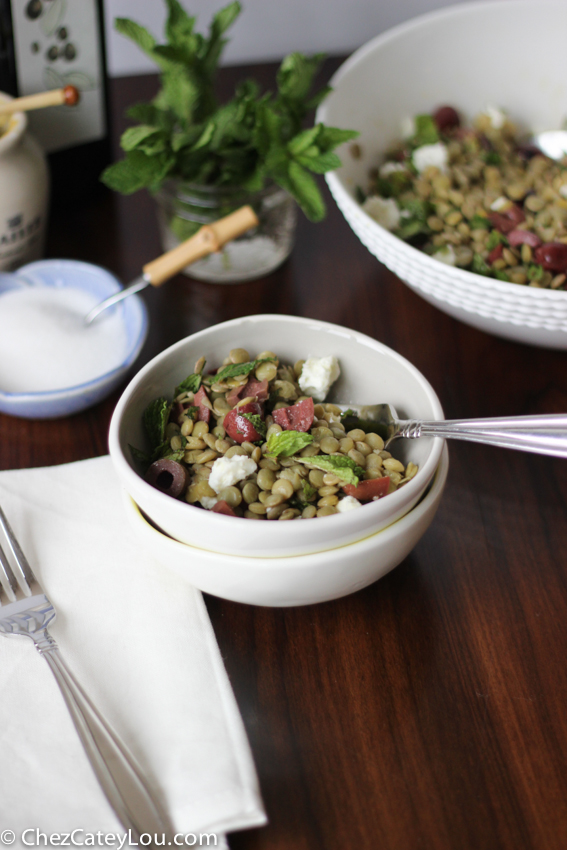 Lentils are cooked until creamy but firm, tossed in a mustard vinaigrette, and then mixed with kalamata olives, feta cheese, and fresh mint. Healthy, easy, and delicious!
Ingredients
1 cup lentils
salt and pepper
6 cups water
2 cups low-sodium chicken broth
4 garlic cloves, peeled
1 bay leaf
5 tablespoons extra-virgin olive oil
3 tablespoons red wine vinegar
2 teaspoons dijon mustard
1 teaspoon sugar
1/2 cup kalamata olives
1/2 cup fresh mint leaves, chopped
1 ounce (1/4 cup) feta cheese, crumbled
Instructions
Place lentils in a fine mesh sieve. Pick through them to remove any pebbles or bad lentils. Rinse them well. Place lentils in a bowl. Add 1 teaspoon salt and 4 cups of warm water (110 degrees). Stir, then let soak for 1 hour. Drain the lentils.
Preheat oven to 325 degrees F. Place the drained lentils, 2 cups water, chicken broth, garlic, bay leaf, and 1/2 teaspoon salt in a medium ovenproof saucepan. Cover and bake for 40 - 60 minutes, until lentils are tender but are not falling apart.
In the meantime, whisk together oil, vinegar, mustard and sugar in a large bowl.
Drain lentils, and discard the garlic and bay leaf.
Add the lentils to the dressing and toss to combine. I like to use a rubber spatula so that I do not crush the lentils. Add the olives, mint, and feta, and toss together. Add salt and pepper to taste. Serve warm or at room temperature.
Notes
https://chezcateylou.com/lentil-salad-olives-mint-feta/
© Chez CateyLou. All images & content are copyright protected. Please do not use my images without prior permission. If you want to republish this recipe, please re-write the recipe in your own words, or link back to this post for the recipe.
What else is for dinner on Meatless Monday? Here are some ideas!