A boneless leg of lamb is crusted with Mediterranean herbs and roasted in the oven. The result is a delicious meal that is impressive and surprisingly easy to make!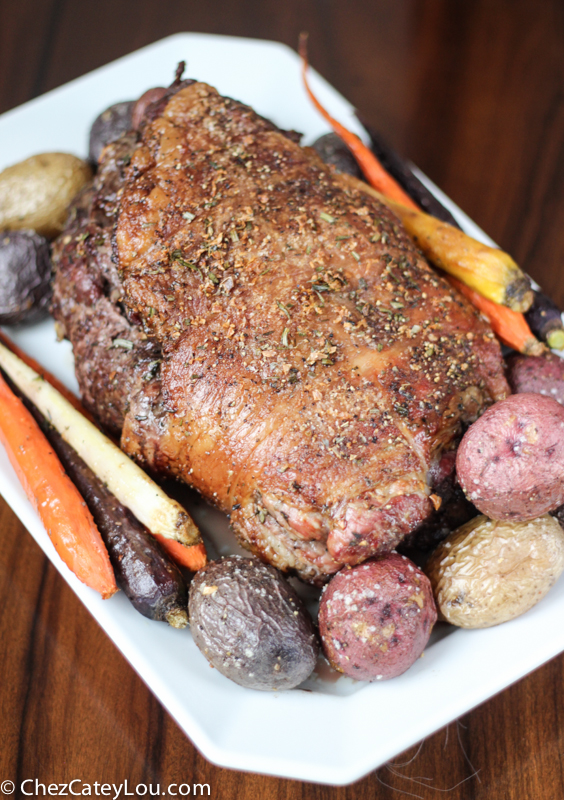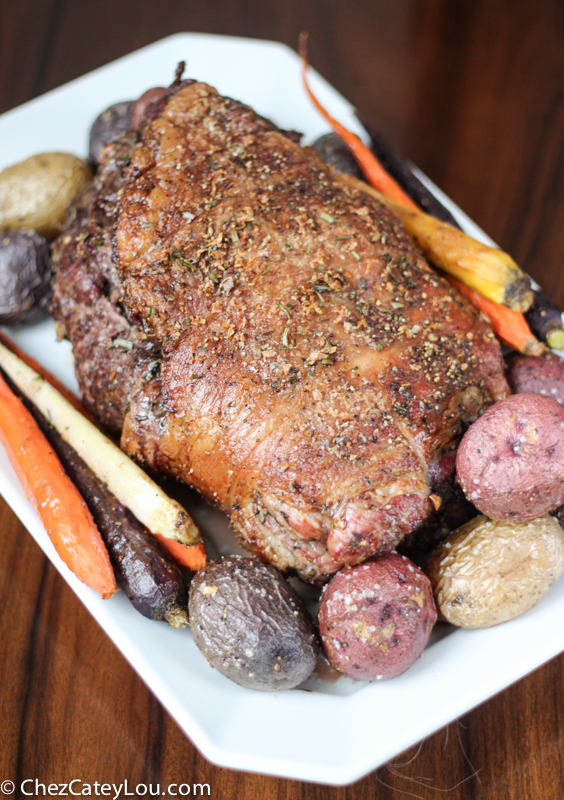 I must say, I am quite impressed with myself today. Look at that gorgeous leg of lamb!! I usually stick to cookies and bread and donuts, and the "real food" I post typically ends up being meat-free. But not today! Today meat, specifically lamb, is the star of the show. TheBetterHalf has never been happier.
And as impressed as I am with myself, I have to tell you that this meal was actually so easy to prepare! Boneless leg of lamb is really a simple dish to make. The oven does most of the work for you!  I crusted mine with a mix of Mediterranean herbs and then roasted it with some potatoes and carrots. Then I finished it with a simple yogurt sauce with feta and fresh mint. The resulting meal was delicious and impressive, and surprisingly easy!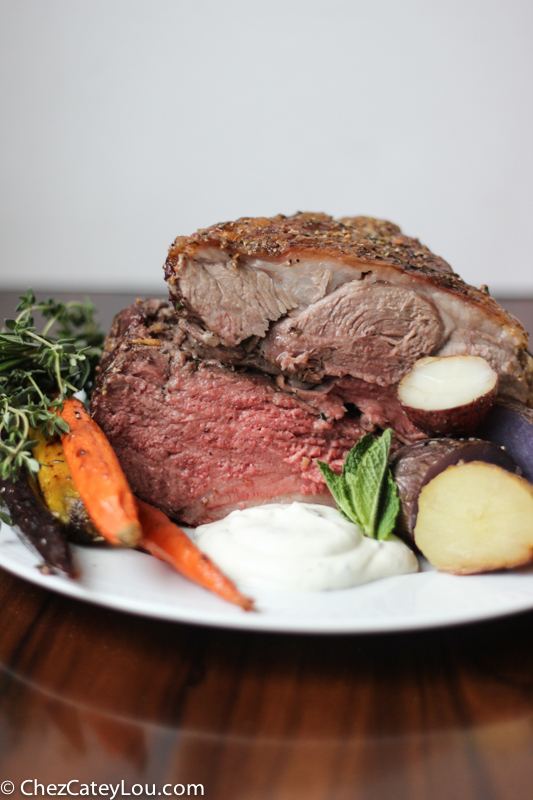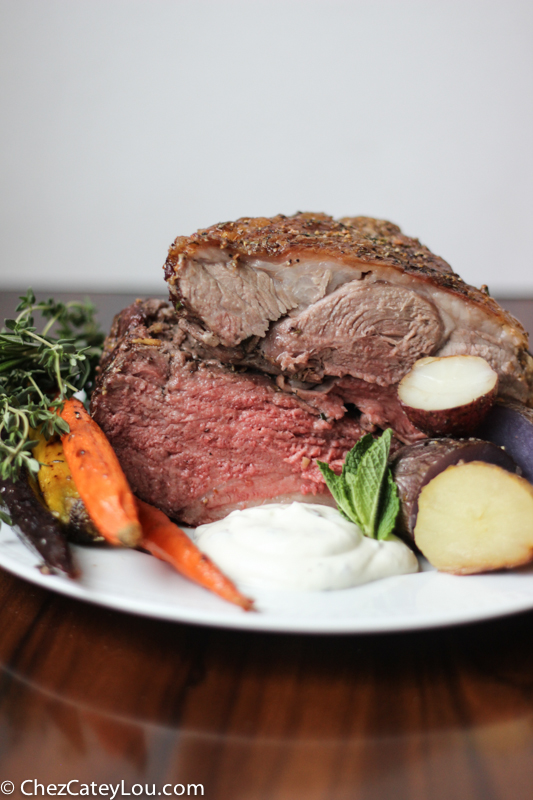 Lamb naturally lends itself  well to global flavors, including Latin, Middle Eastern, Asian and Mediterranean. TheBetterHalf and I studied abroad in Athens, Greece. We fell in love with the food there, and one thing that you would see a lot on the menu was lamb. So that's why I wanted to put a Mediterranean twist on my leg of lamb.  I love those flavors – they are so bright and fresh! I used a mix of rosemary, thyme, garlic, and lemon zest on the lamb itself, and then I added some fresh mint to the sauce. So many great flavors that all work very nicely together!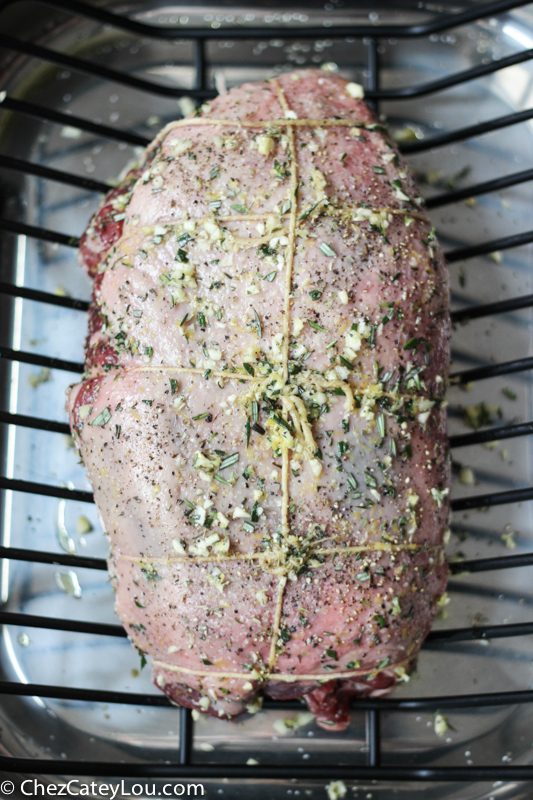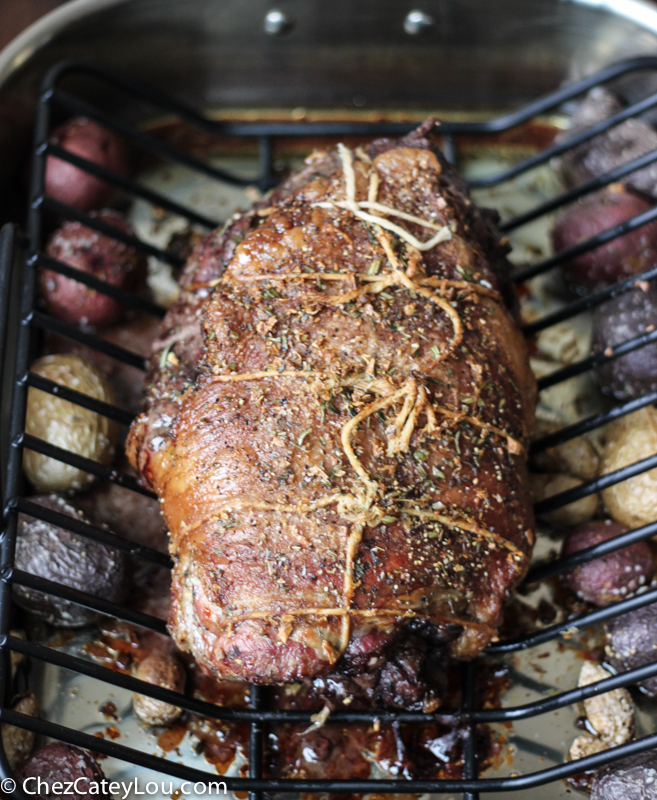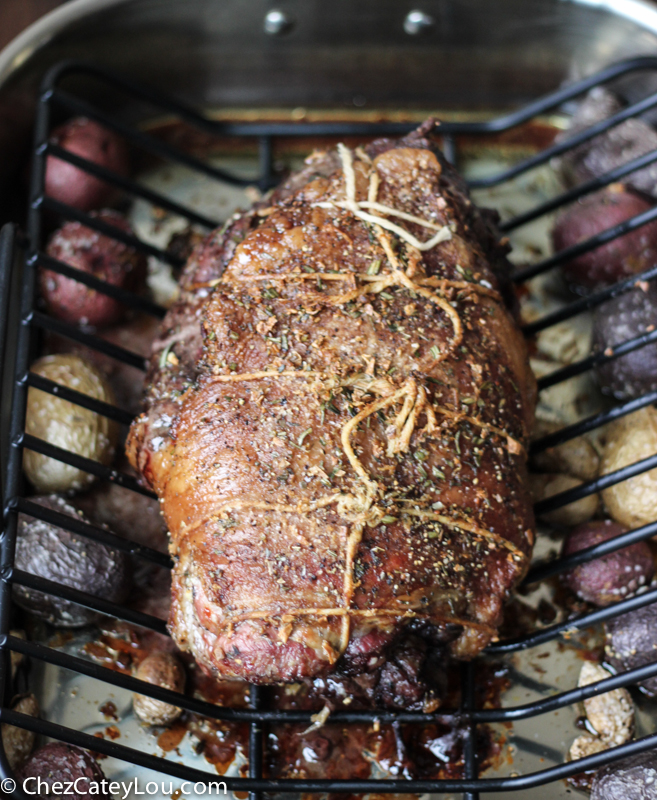 So let's get into the nitty gritty of how to prepare this dish. American lamb is known for its quality, flavor, and tenderness so you really don't have to do much to the meat itself! If you can find a boneless leg of lamb already trimmed and tied up, it makes this dish even easier! If not though, no problem. Just use a sharp knife to trim off any large pockets of fat on the inside of the lamb. Leave the layer of fat on the outside because that adds so much flavor and moisture to the meat as it cooks. Once you have trimmed  the lamb, you need to tie it up with some twine so that it is in a nice, even cylinder. But before that, use this opportunity to season the inside of the meat! I took about a third of my herb mixture and rubbed it inside the lamb, along with some salt and pepper. I did not put the garlic inside the lamb though – the garlic won't cook enough inside the lamb, and I did not want a raw garlic flavor in my meat!
Now, time to tie. I'm sure there is a fancy way to do this but I think my method works fine – I just took about 4 short pieces of twine and tied up the lamb horizontally, and then one long piece tied vertically. Worked like a charm! Place the lamb on a rack in a roasting pan, then rub the outside with some olive oil. Rub the rest of the herb mixture, some minced garlic, and salt and pepper all over the lamb. After a 30 minute rest at room temperature, it is ready for the oven! Nestle some potatoes around the leg of lamb before it goes in the oven.
If you want to serve roasted carrots with your meal, roast them on a separate sheet pan so that you can take them out when they are finished – they will cook faster than the lamb.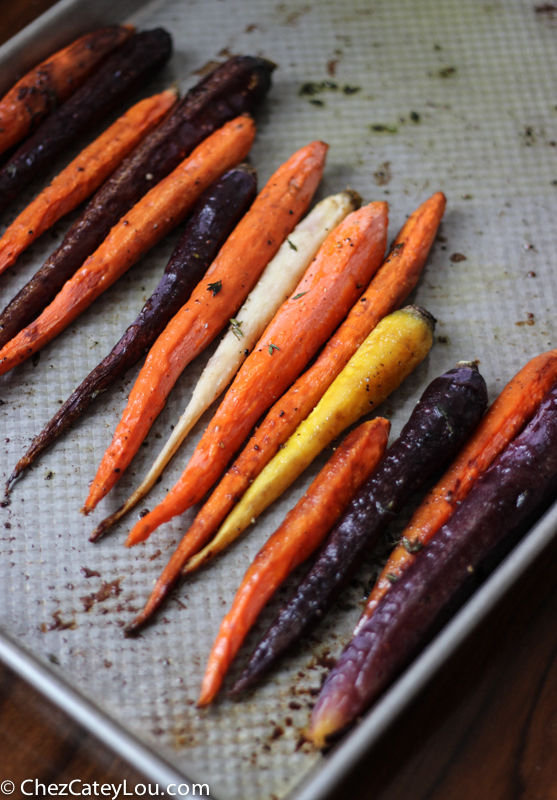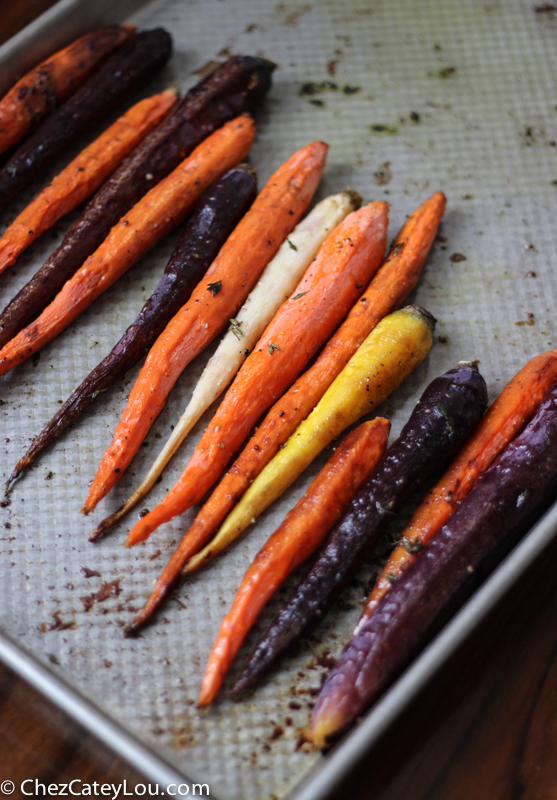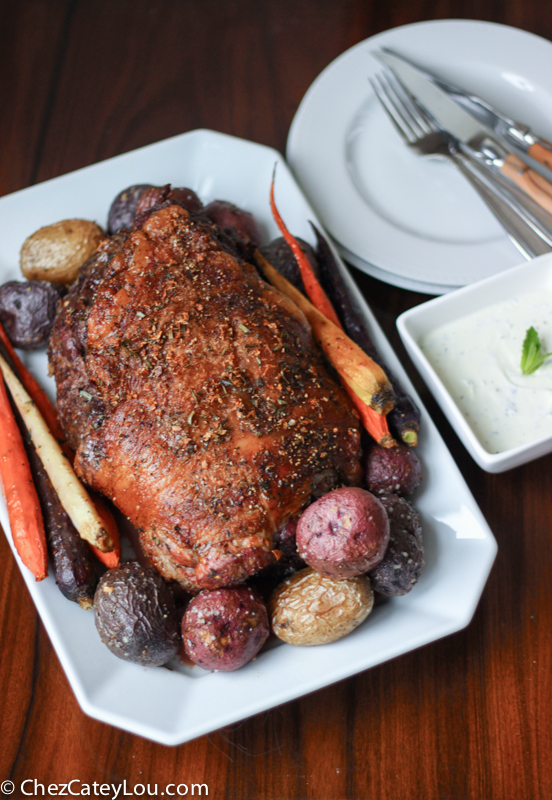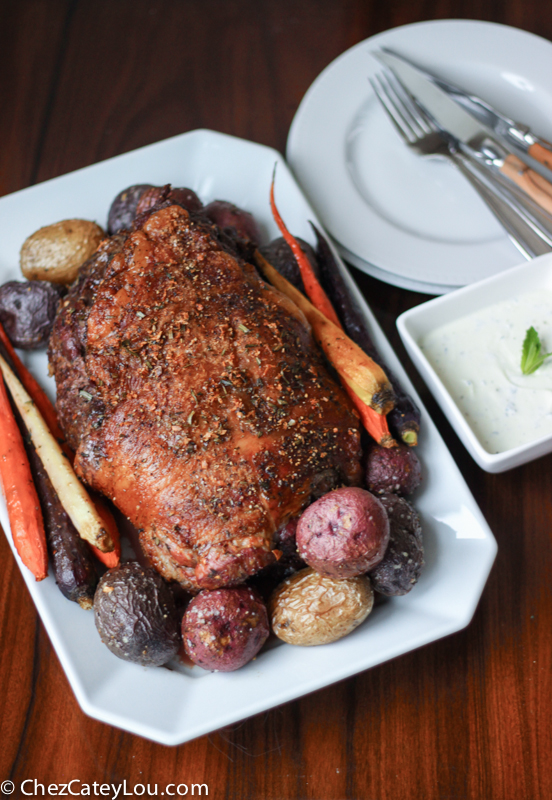 Did you know that there are more than 82,000 family-owned sheep operations around the US? That means that you can get local American Lamb in nearly every state, year round! Lamb tends to get forgotten when thinking about great dinner options, but it really is such a delicious meat. There are so many ways to prepare it, and so many international flavors that pair well with American lamb. This website has lots of ideas, and also answers any question you could possibly have about lamb! I think the lamb 101 and cooking techniques are particularly helpful.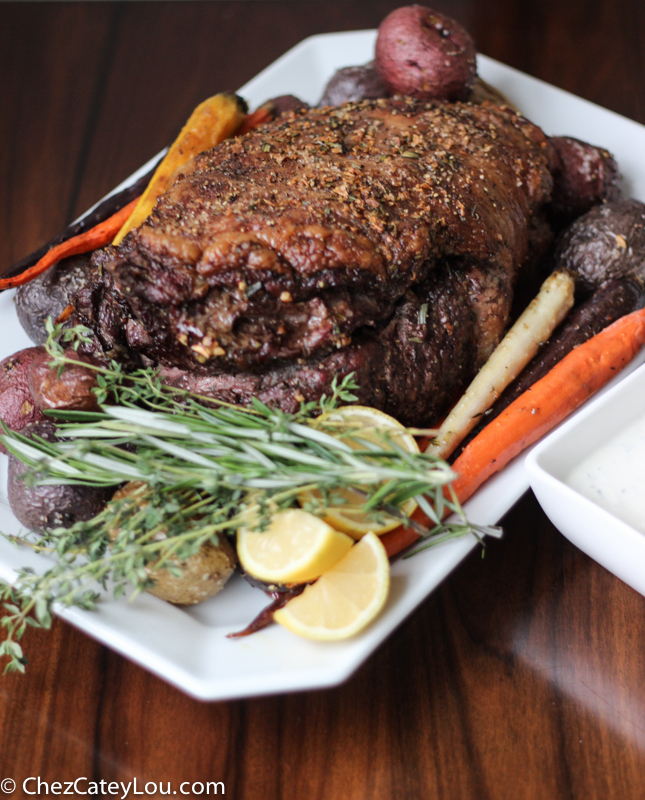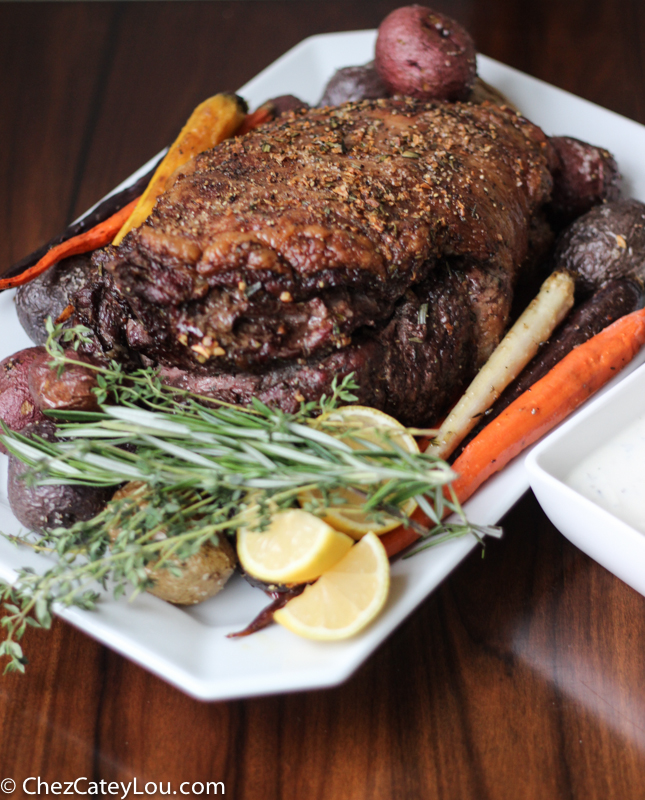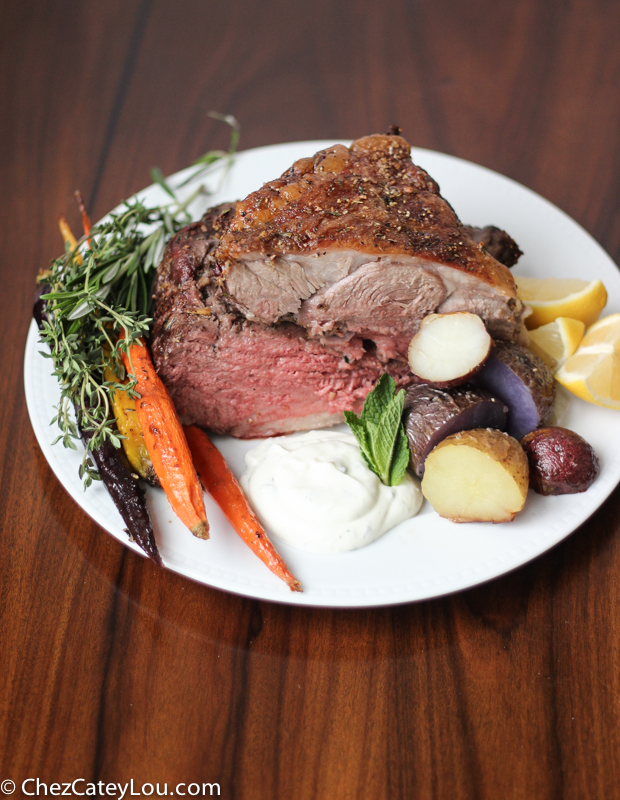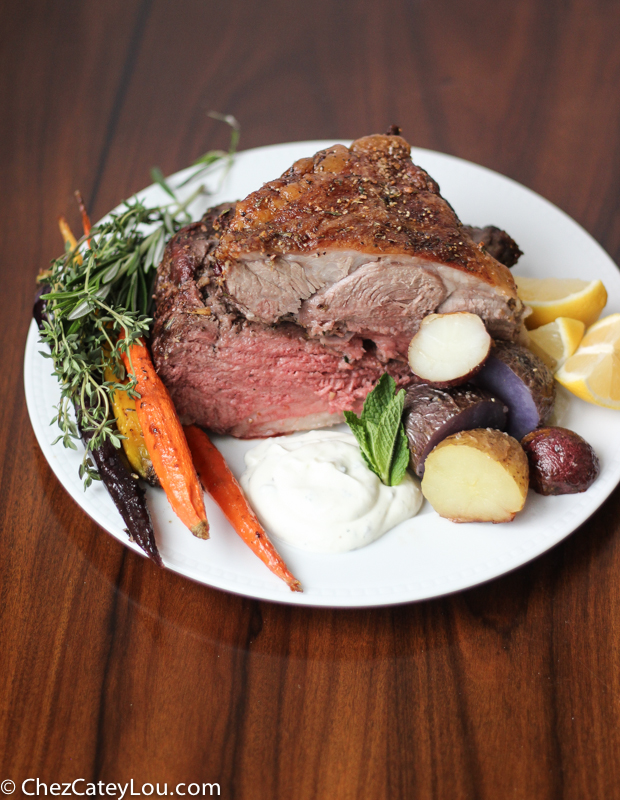 So whether you are looking for a delicious and easy weeknight dinner or a fancy holiday meal, this roasted leg of lamb fits the bill!
Mediterranean Spiced Roasted Leg of Lamb with
A boneless leg of lamb is crusted with Mediterranean herbs and roasted in the oven. The result is a delicious meal that is impressive and surprisingly easy to make!
Ingredients
5-7 lb boneless leg of lamb
1 Tablespoon chopped fresh rosemary
1 teaspoon chopped fresh thyme
zest of 2 lemons (abt 2 teaspoons)
6 cloves garlic, minced
1 Tablespoon kosher salt
2 teaspoons black pepper
2 Tablespoons olive oil
1 lb baby potatoes

For the Sauce

1 (7 oz) container Greek yogurt (I used Fage 2%)
2 Tablespoons feta cheese
juice of half a lemon
1 teaspoon extra virgin olive oil
pinch of salt and pepper
1 tablespoon fresh mint
Instructions
First, trim the lamb. Open up the leg of lamb and trim away any of the excess fat on the inside - leave the thick layer of fat on the outside. Season the inside of the meat with 1/3 of the herbs, zest, salt and pepper (not the raw garlic).
Using kitchen twine (about 4 pieces horizontally and 1 piece vertically), tie up lamb into a neat, even cylinder. Place the lamb on a rack in a roasting pan, with the large fat side up.
Rub the entire outside with olive oil (top and bottom) and then rub with herbs, garlic, lemon zest, salt and pepper.
Let the lamb sit at room temperature for 30 minutes.
Wash and dry the potatoes, then toss in olive oil, salt and pepper. Place in the pan, around the rack.
Set the oven rack to the lowest slot, and then preheat oven to 450 degrees F.
Cook the lamb for 10 mins, then flip it over and cook for 10 minutes longer. Flip it again so the large piece of fat is on the top. Lower the oven temperature to 325. Cook the lamb for about an hour and 15 minutes, checking the temperature until desired temperature is reached. The temperature will rise at least 5 degrees when you remove it from the oven, so take that into consideration. Cook to about 135 for medium rare and 150 for medium. Tent with foil for 15 mins.

For the Sauce

In a food processor, blend the yogurt, feta, lemon juice, and olive oil until smooth. Mix in salt and pepper. Add fresh mint and chop just a few times.
Slice the lamb and serve with roasted potatoes and a dollop of the yogurt sauce.
https://chezcateylou.com/mediterranean-spiced-roasted-leg-lamb-yogurt-mint-feta-sauce/
© Chez CateyLou. All images & content are copyright protected. Please do not use my images without prior permission. If you want to republish this recipe, please re-write the recipe in your own words, or link back to this post for the recipe.
Connect with Chez CateyLou!
I was selected for this opportunity as a member of Clever Girls and the content and opinions expressed here are all my own.