I took my favorite perfect chocolate chip cookie recipe and filled it with nutella! These Nutella Stuffed Chocolate Chip Cookies, made with browned butter, are so decadently delicious!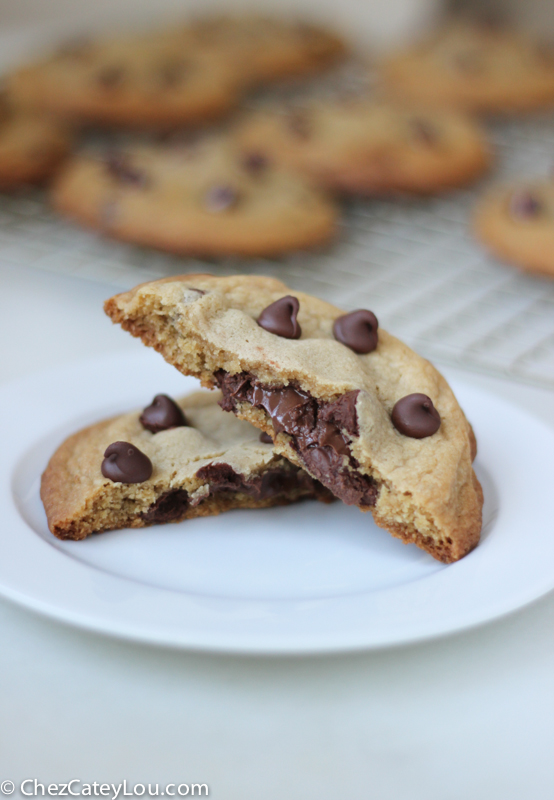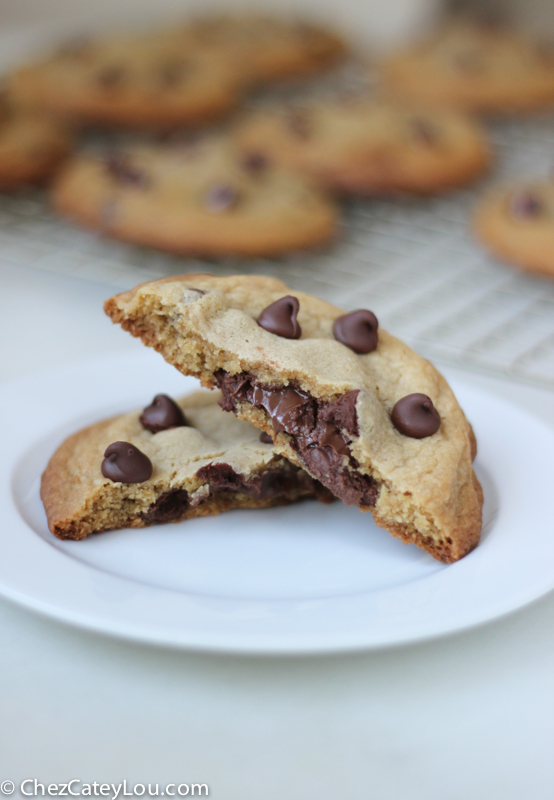 I took one of my favorite cookie recipes, Perfect Chocolate Chip Cookies, and stuffed nutella inside!  It doesn't get much better than that. Well actually, it does…
I am thrilled to partner with OXO today to bring you these delicious cookies, for their #OXOGoodCookies campaign. OXO is donating $100 to Cookies for Kids' Cancer for this blog post. Nutella Stuffed Chocolate Cookies AND helping support pediatric cancer research?  It really doesn't get better than that.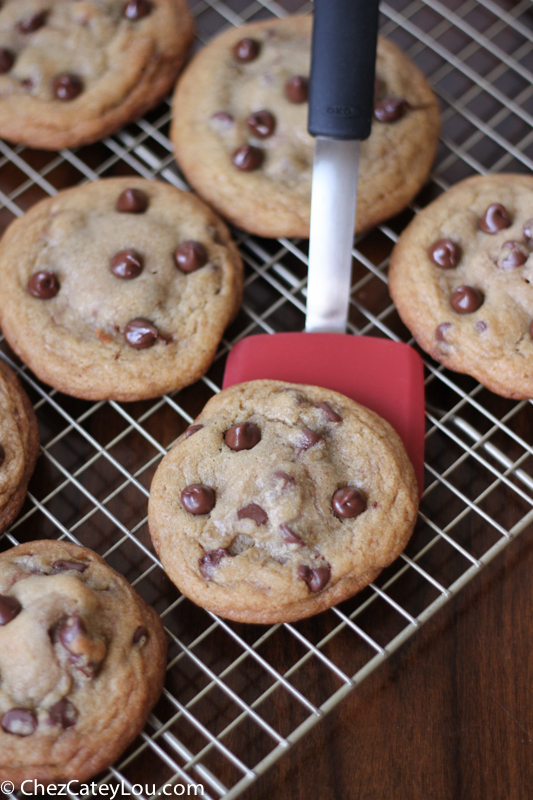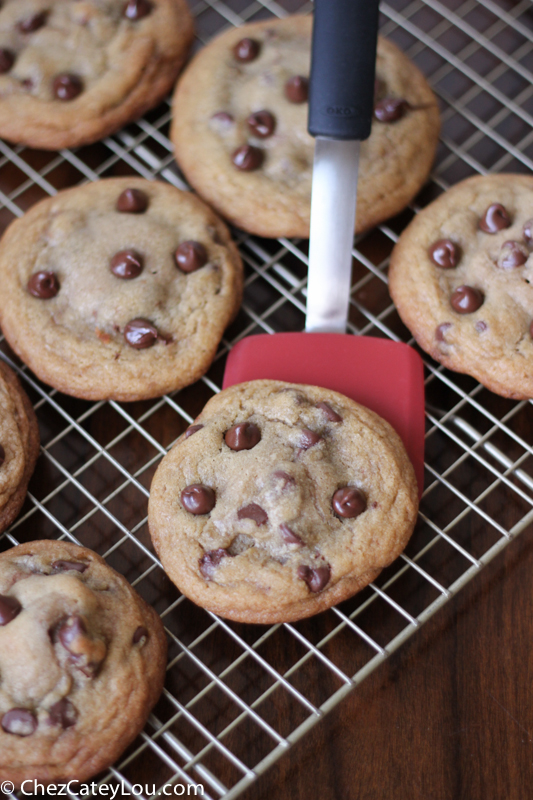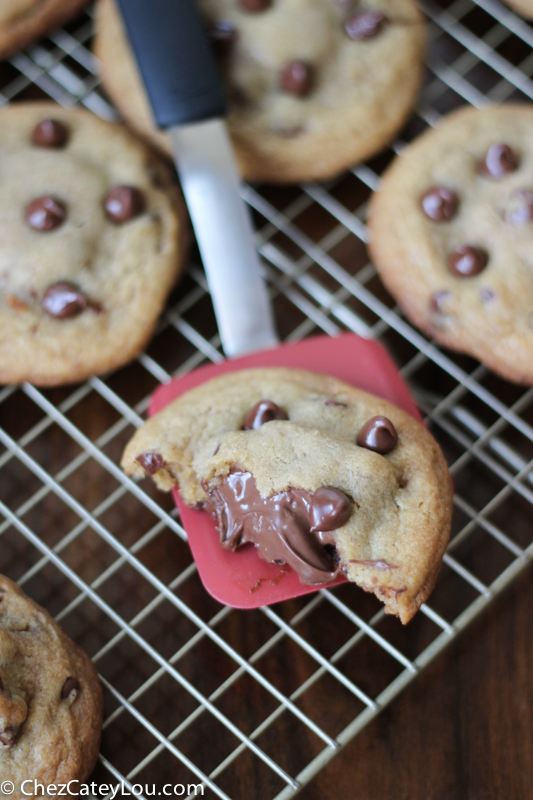 So as I was making these cookies I realized that I have never made a recipe using Nutella on Chez CateyLou!  How have I gone 1.5 years without using Nutella??  Huge error on my part!  And then I read about the potential Nutella shortage, and my heart skipped a beat.  I immediately stocked up on 3 jars and plan on making lots of Nutella recipes on CCL in the next few months to make up for lost time!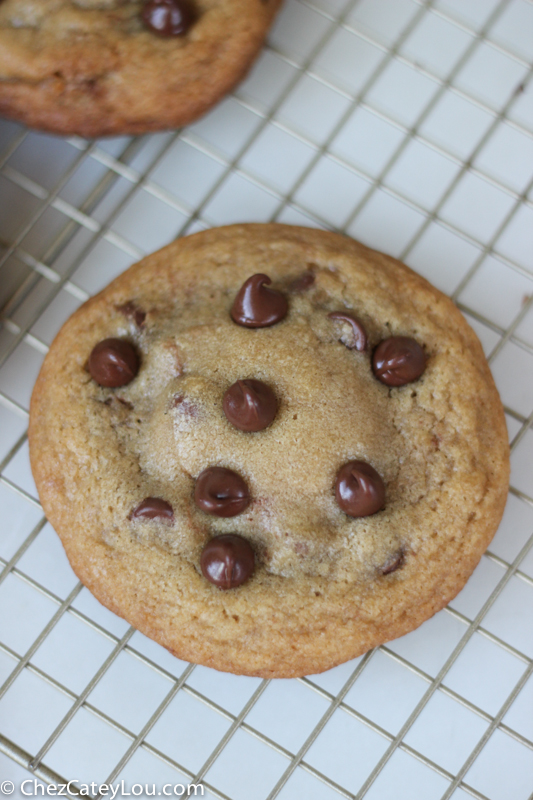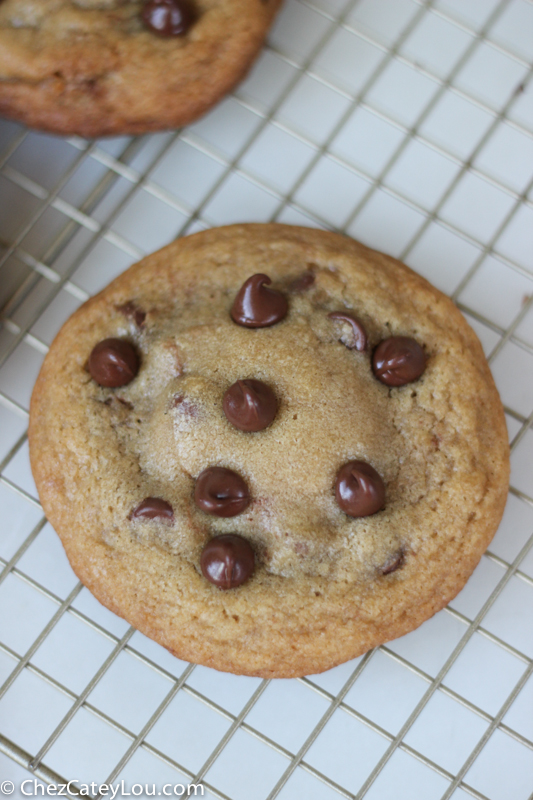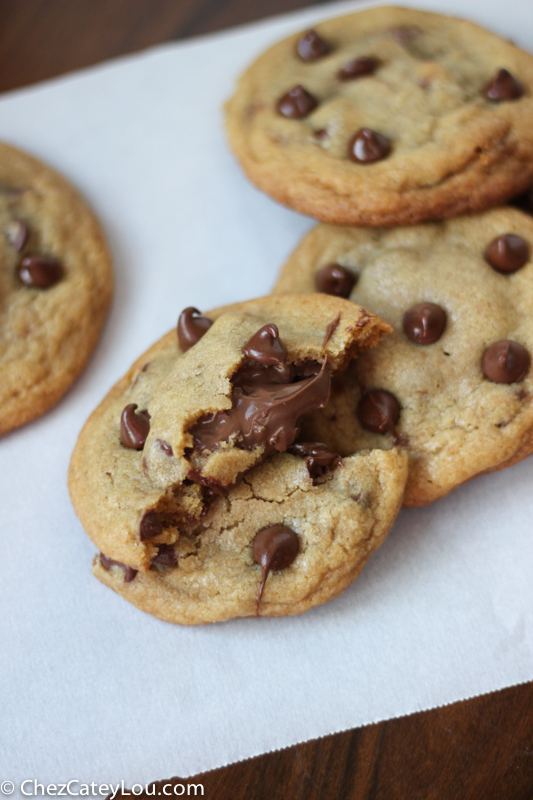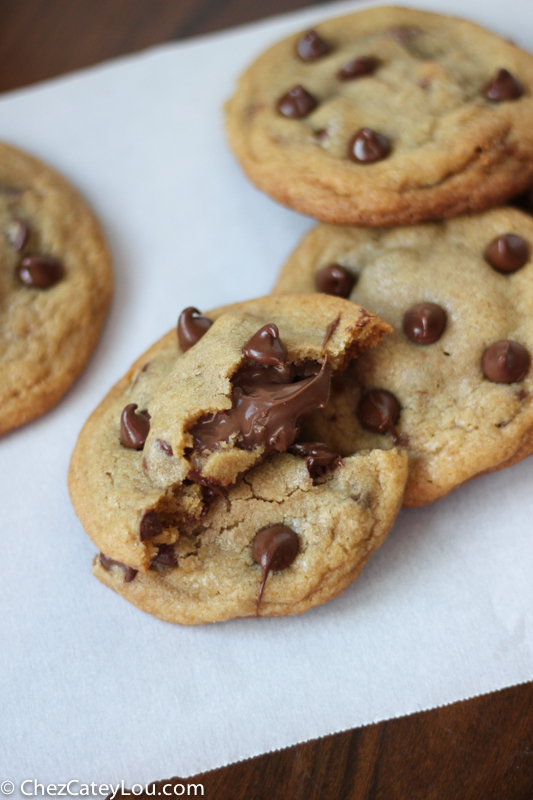 I want to thank OXO so much – they sent me an awesome drop cookie set, full of great products like a silicone spatula set, a cookie spatula, a cookie scoop!  They also sent me another tool that I didn't use for this recipe, but that I am thrilled to have – a baker's dusting wand!  How have I lived 29 years without owning or even knowing about a Baker's Dusting Wand?!  It is like a blogger's magic wand – can't wait to use this!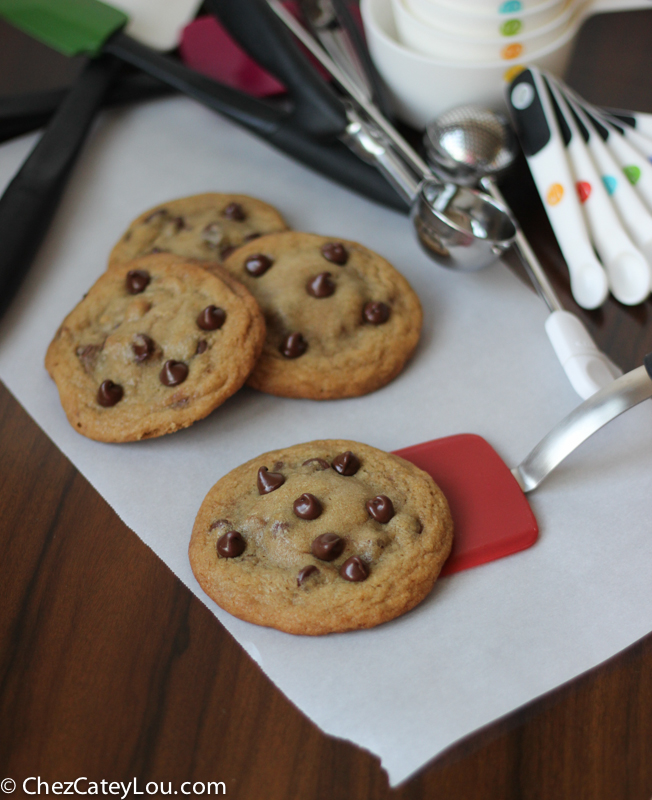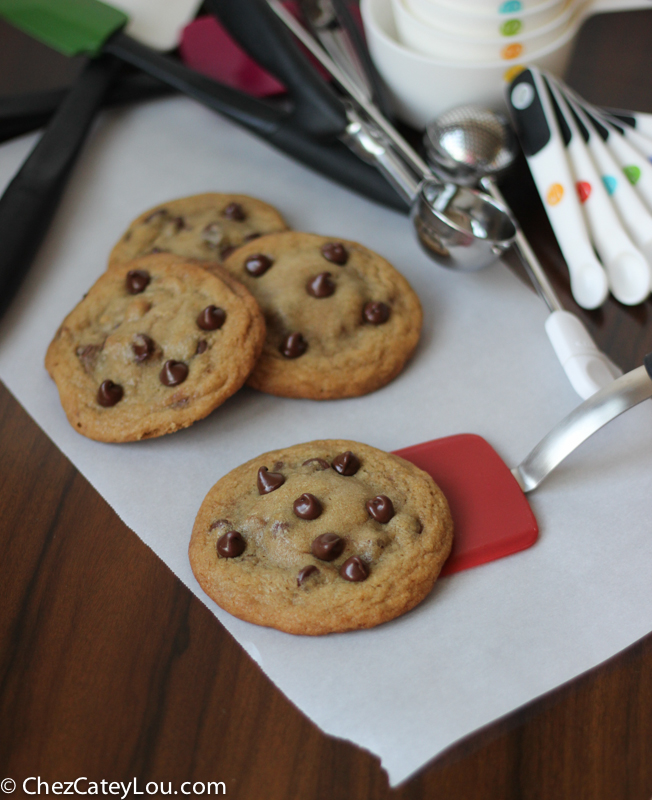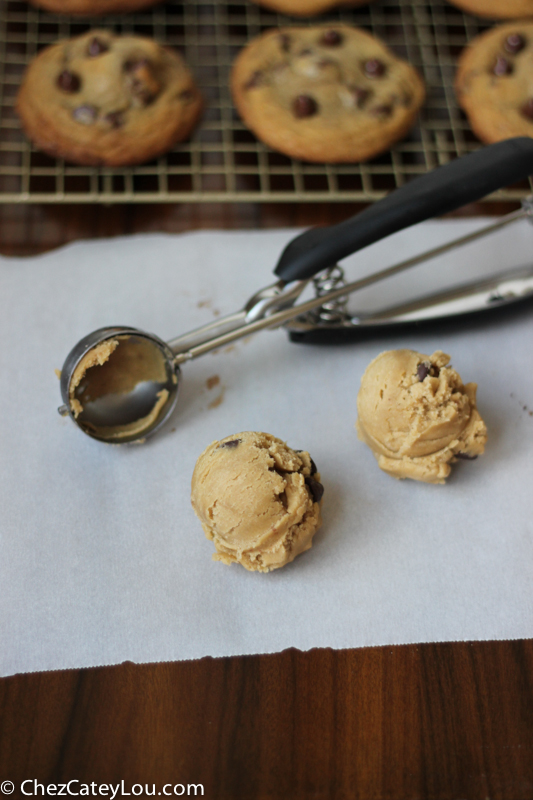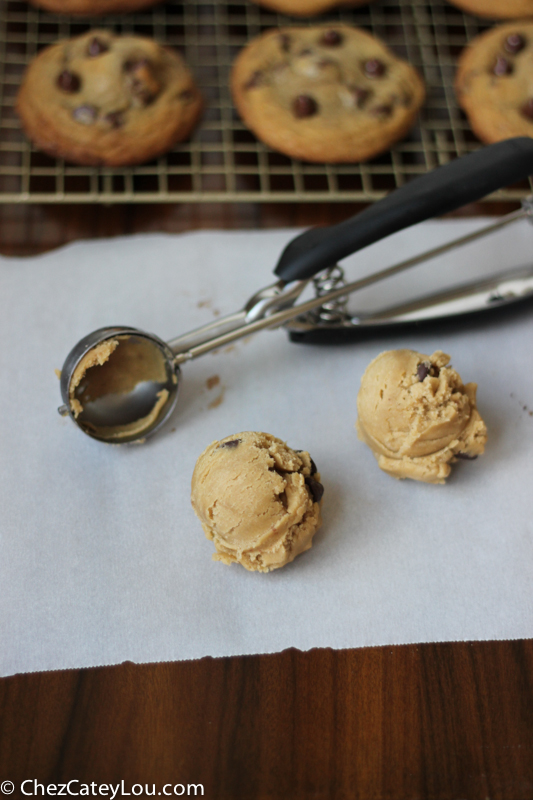 But even better than fun OXO swag is the fact that I was able to  do good by baking cookies. If you want to help, look for specially marked OXO products at participating retailers in September. For every stickered item sold, OXO will donate 25 cents in support of pediatric cancer research as part of its $100,000* pledge to Cookies for Kids' Cancer – pretty awesome!
If you want to connect with OXO and Cookies for Kids' Cancer on social media, here is their info:
Twitter: OXO / Cookies4Kids
Instagram: OXO / Cookies4Kids
Facebook: OXO / CookiesForKidsCancer
Pinterest: OXO / Cookies4Kids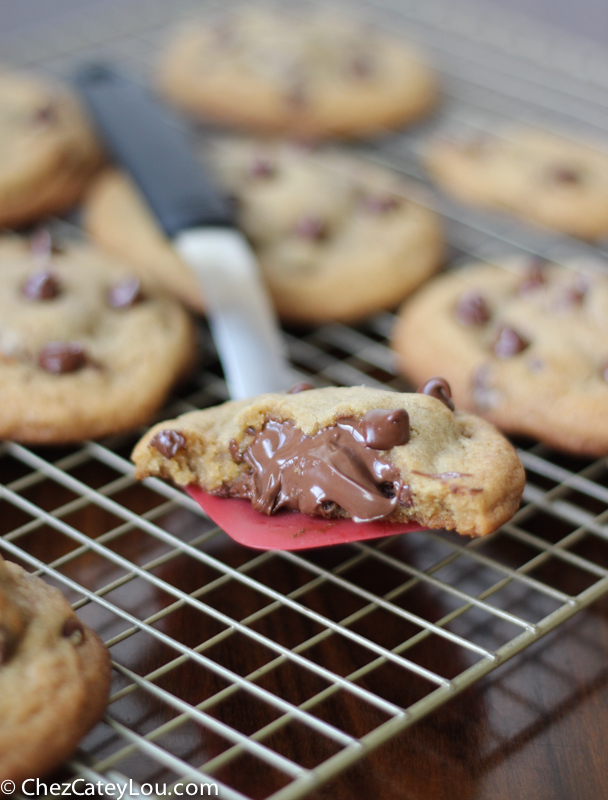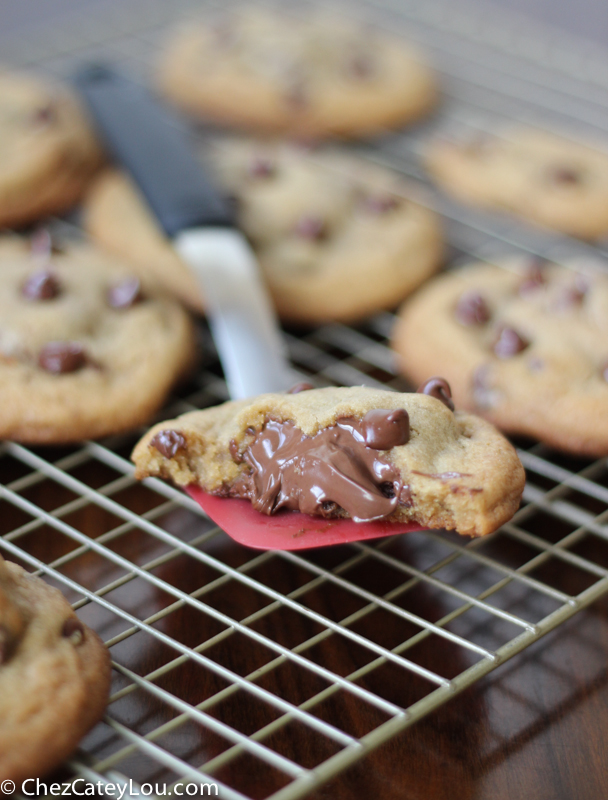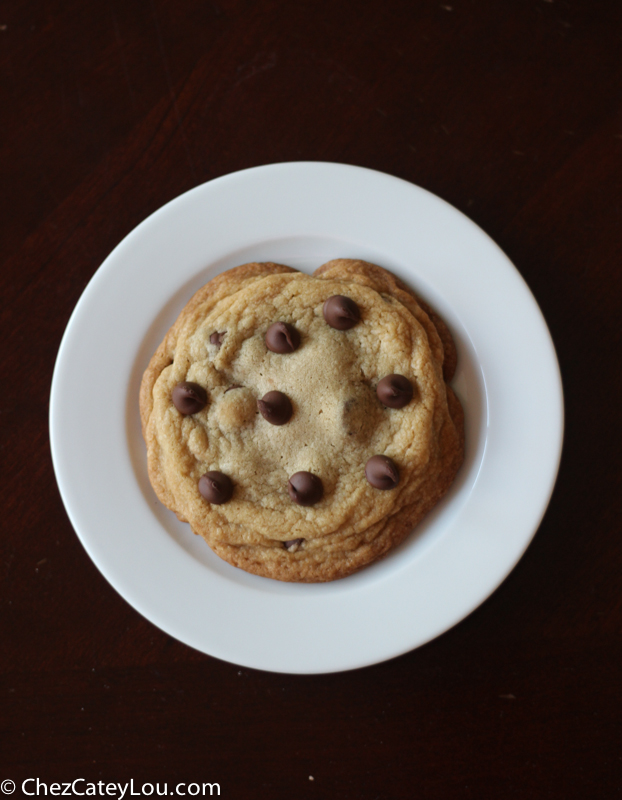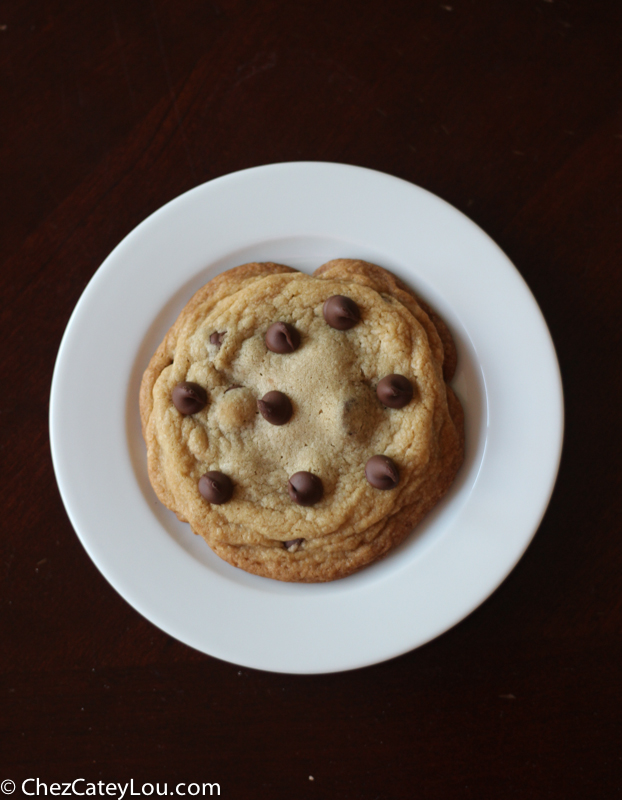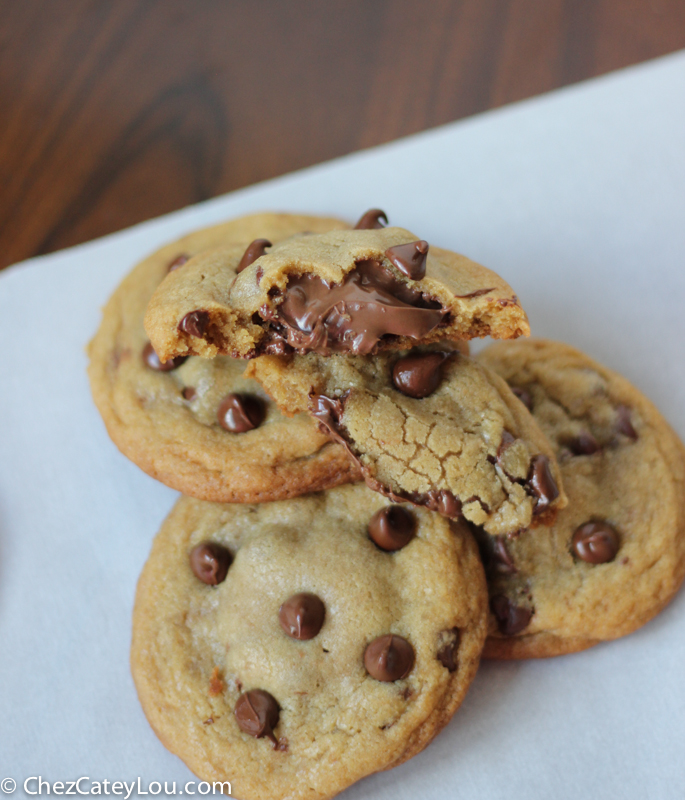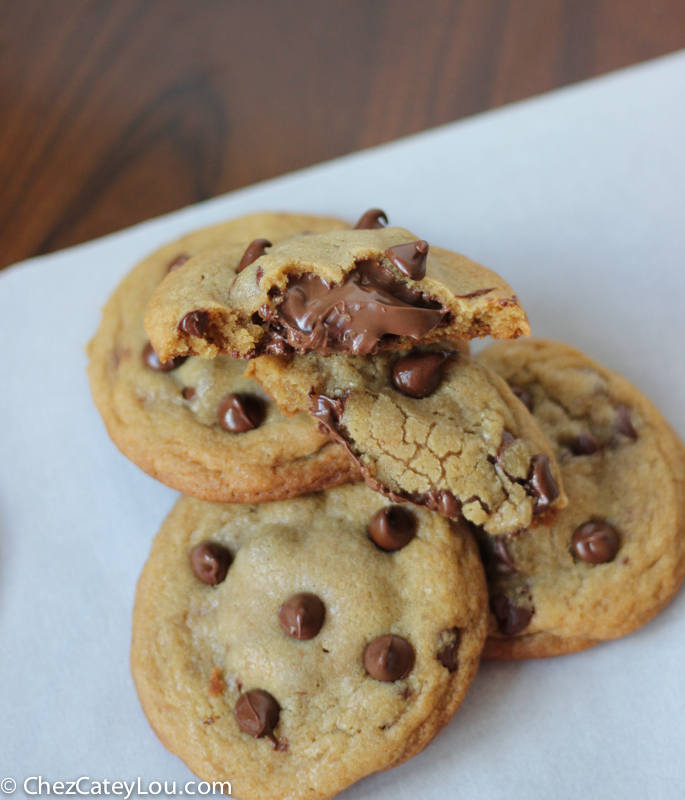 And if you want to connect with me, here is my info! I love interacting with all of you!
Connect with Chez CateyLou!
Nutella Stuffed Chocolate Chip Cookies
I took my favorite perfect chocolate chip cookie recipe and filled it with nutella! These Nutella Stuffed Chocolate Chip Cookies, made with browned butter, are so decadently delicious!
Ingredients
1/3 cup nutella
1 ¾ cup (8 ¾ ounces) unbleached all-purpose flour
½ teaspoon baking soda
14 tablespoons unsalted butter (1 ¾ sticks)
½ cup granulated sugar (3 ½ ounces)
¾ cups packed brown sugar (5 ¼ ounces) – dark works best
1 teaspoon table salt
2 teaspoons vanilla extract
1 large egg, at room temperature
1 large egg yolk, at room temperature
3/4 cup semisweet chocolate chips, plus extra for topping the cookies
Instructions
Line a plate with parchment paper. Scoop nutella in heaping teaspoon mounds on the parchment paper - you need about 16. Place mounds in the refrigerator to harden.
Whisk flour and baking soda in a medium bowl.
In a 10-inch skillet (don't use a nonstick skillet if possible, because it makes it hard to tell with the butter is browned), melt 10 tablespoons of the unsalted butter over medium-high heat. Once melted, swirl the pan constantly until the butter is golden brown. This entire process will take about 3 – 5 minutes, and the butter will have a nutty smell. Watch the pan closely to avoid burning the butter.
Transfer the browned butter to a large heatproof bowl, and add the remaining 4 tablespoons butter. Stir until it is melted.
Add the sugars, salt and vanilla to the butter and whisk together. Add the egg and the egg yolk and whisk until smooth, about 30 seconds. Let the mixture rest for 3 minutes. Whisk again for 30 seconds, and then let it rest 3 more minutes. Do this one more time, until the mixture is thick, smooth, and shiny.
Stir in the flour mixture, then stir in the chocolate chips.
Chill dough overnight. If you need to bake the cookies immediately, you can. I just think the cookies taste better when the dough sits overnight.
When ready to bake, preheat oven to 375 degrees F. Line 2 large baking sheets with parchment paper or a silicone mat.
Scoop about 3 tablespoon of dough. Make a deep well in the center and place a teaspoon of the refrigerated nutella in the center of the dough. Shape the dough around the nutella, covering completely. Pace onto cookie sheets, spacing the dough 2 inches apart. Bake 10 – 14 minutes, until the cookies are golden brown on the edges but still soft in the center. Gently press a few chocolate chips on the top of the warm cookies. Allow cookies to cool on the sheet for 3 minutes, then remove to a wire rack to cool completely.
Notes
https://chezcateylou.com/nutella-stuffed-chocolate-chip-cookies/
© Chez CateyLou. All images & content are copyright protected. Please do not use my images without prior permission. If you want to republish this recipe, please re-write the recipe in your own words, or link back to this post for the recipe.
 Can never have enough cookie recipes!
Butterfinger Peanut Butter Oatmal Cookies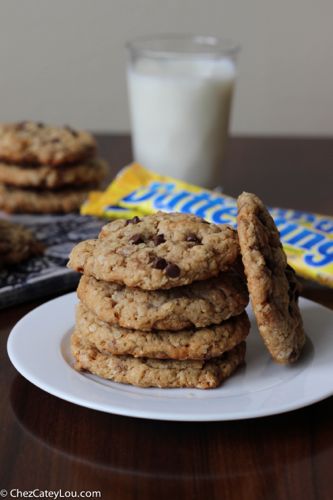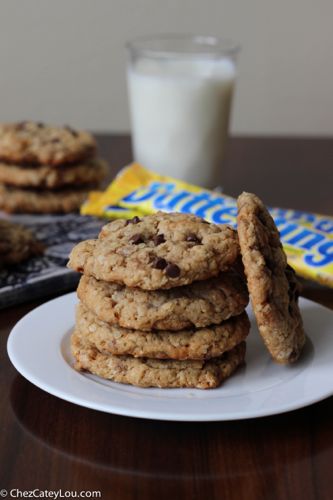 Dark Chocolate Chip Oatmeal Cookies