Rich and fudgy brownies are stuffed with a layer of peanut butter filling – these peanut butter brownies are like a Reese's Peanut Butter Cup in brownie form!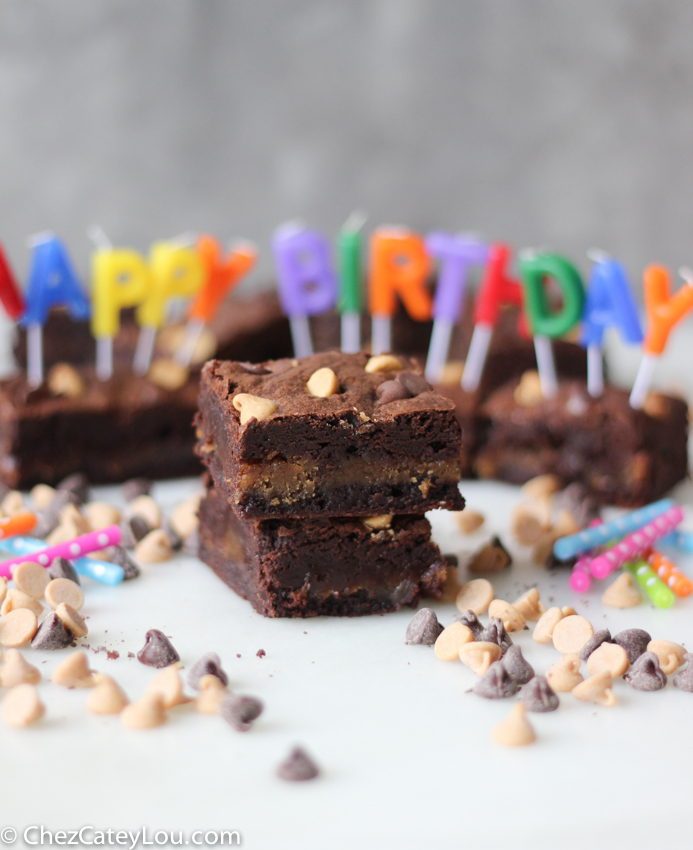 Today is a very important day – it is TheBetterHalf's Birthday! As the biggest chocolate peanut butter lover of all time (I'm pretty sure he thinks he was the first person to like the delicious flavor combo), I of course had to make him something choco pb. And since I already made a chocolate peanut butter cake for Chez CateyLou's birthday, I made TheBetterHalf Peanut Butter Brownies! Fudgy chocolate brownies with a thick peanut butter layer sandwiched right in the middle – if that doesn't scream Birthday Treat, I don't know what does!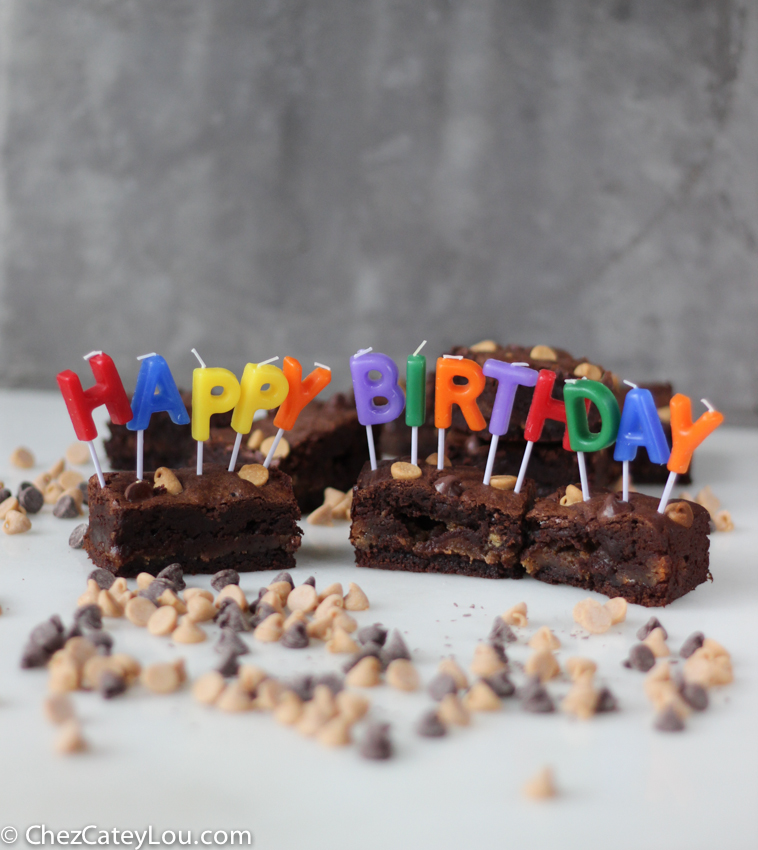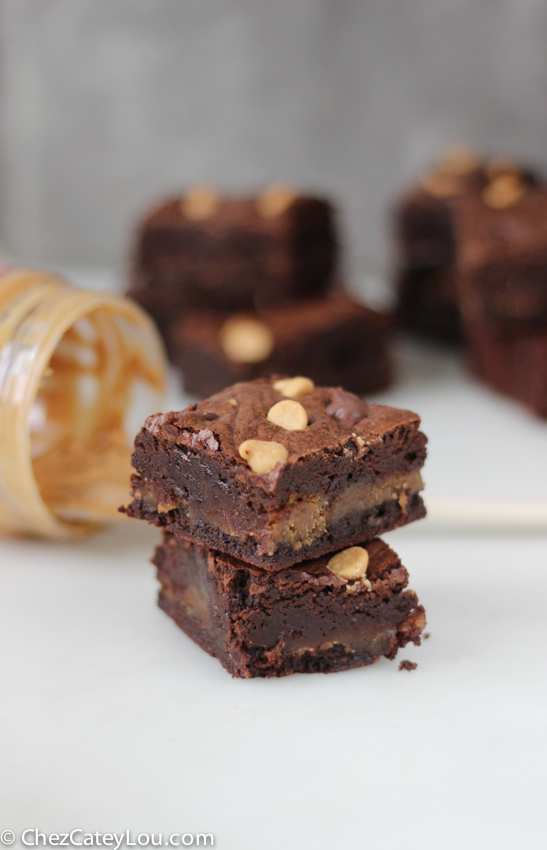 TheBetterHalf and I are almost exactly 6 months apart. My half-birthday was yesterday. He thinks that half-birthdays are not a thing, but in my family they are! I bought myself some flowers and ate a peanut butter brownie to celebrate 🙂
But anyway, for 6 months of the year I am older than him and he looooves to point out that fact. I told him that once I turn 30, he's not allowed to joke about me being old anymore. And I turn the big 3-0 on my next birthday – so you know what that means – now he can officially never make fun of me for being old again!! Ha – we'll see if that actually happens…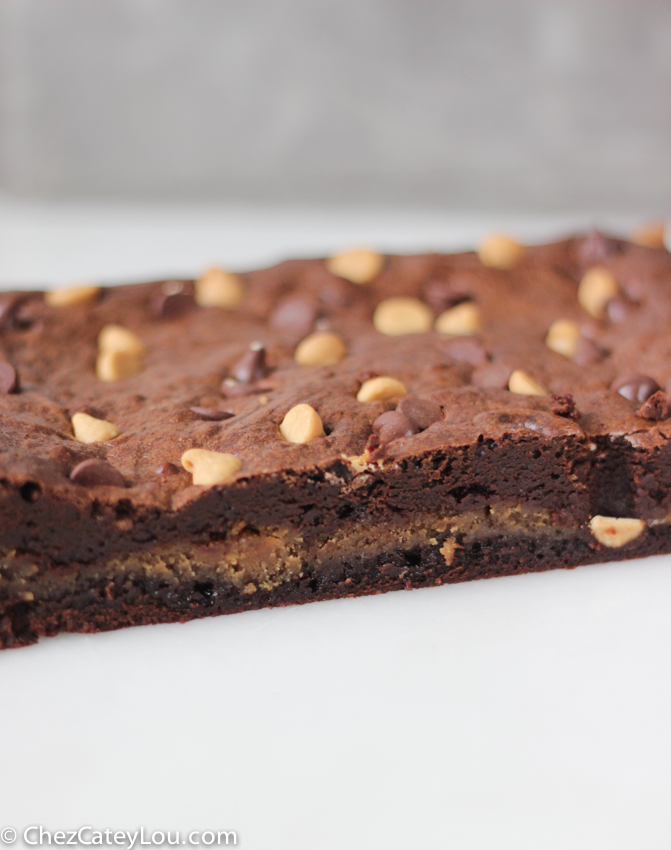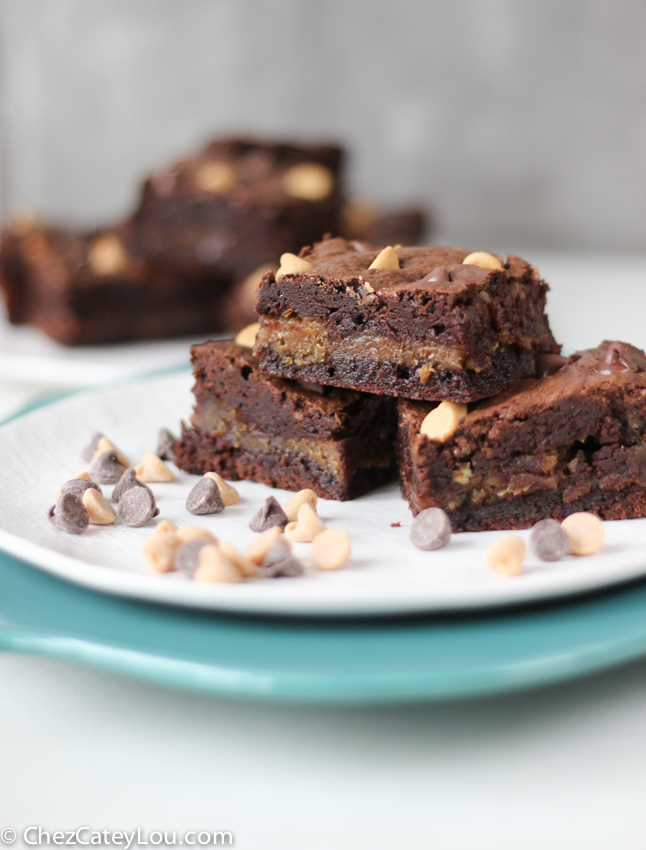 So about these peanut butter brownies – they are pretty much a chocolate peanut butter lovers dream dessert. They are literally like a giant Reese's PB Cup! The brownie is a standard super fudgy brownie. And then the middle layer is tons of peanut butter mixed with confectioner's sugar!  Peanut butter chips and chocolate chips are "icing on the cake" – they look pretty and and add a little extra flavor and texture.
These are SO good. As I was editing the pictures last night, I kept getting up to eat another little piece. Just a tiny sliver. Ok then another. And suddenly a whole (giant) brownie was gone! Dangerous. Sorry TheBetterHalf – I ate most of your birthday treat!
Don't feel too sorry for him though – we're going to Carbone tonight for dinner to celebrate! He wrote about our meal in this post, and we loved it so much that we're going back. Can't wait to celebrate with my favorite!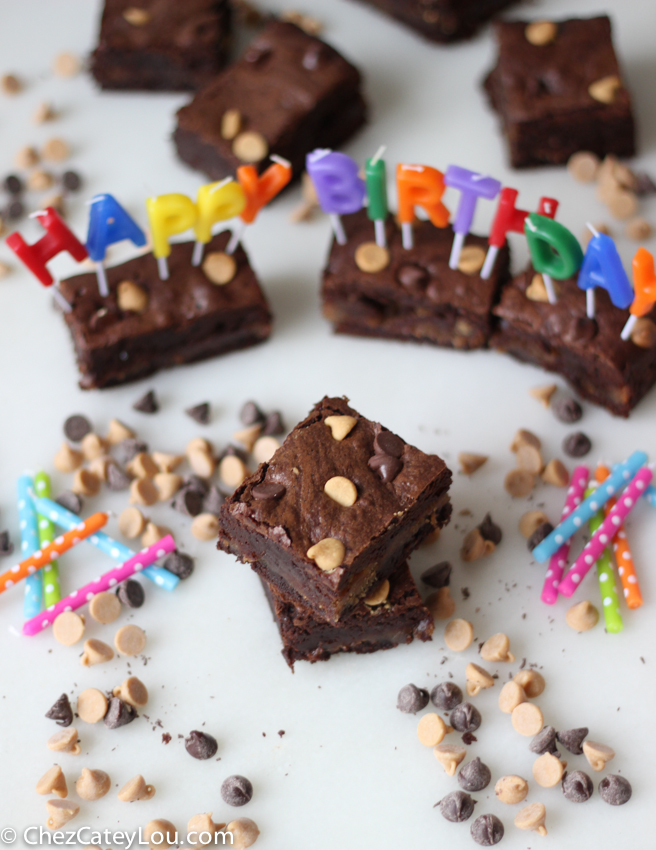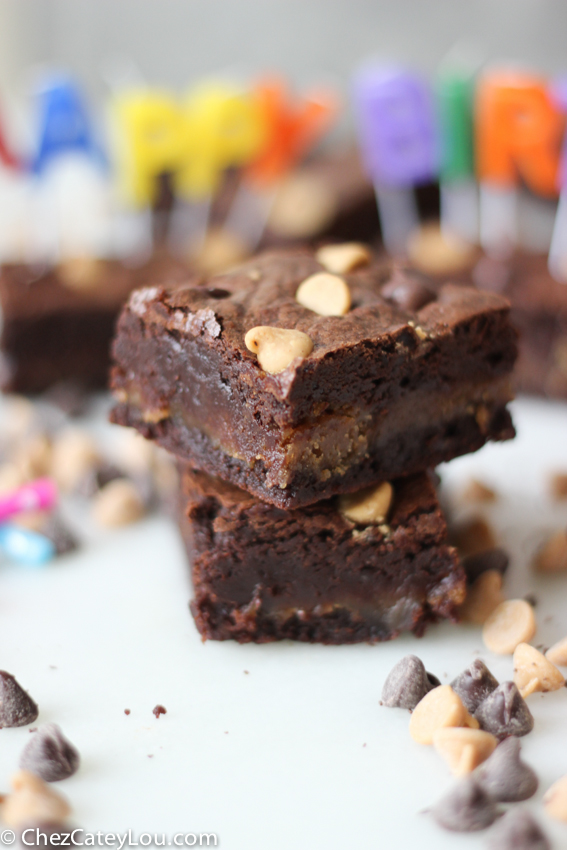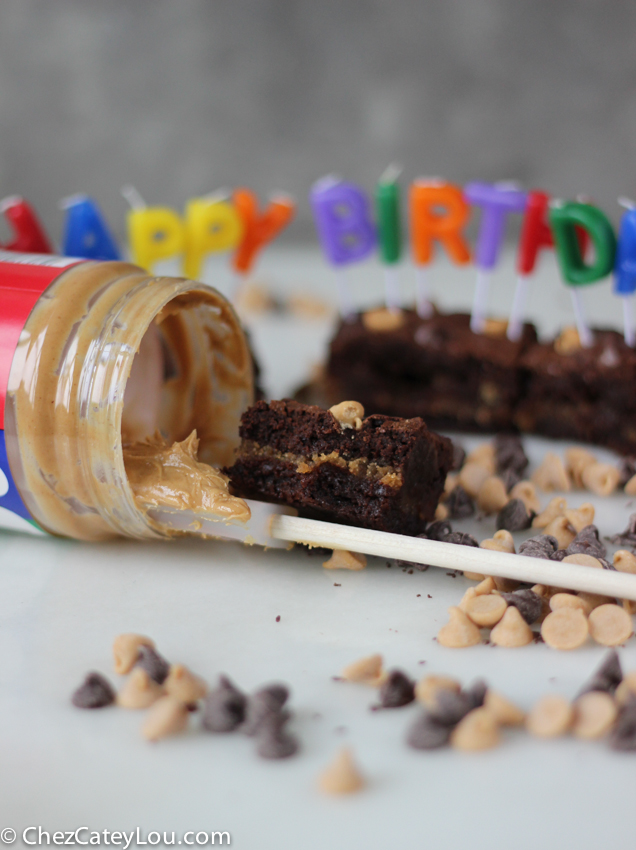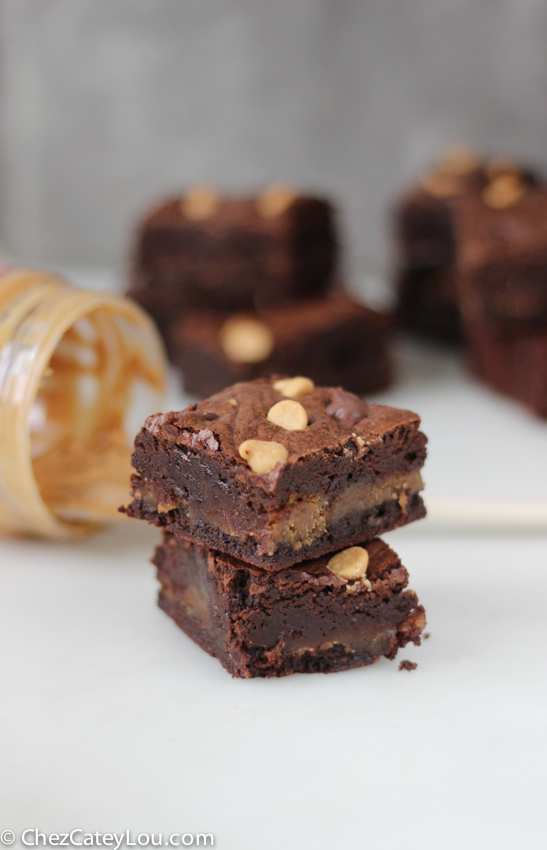 Rich and fudgy brownies are stuffed with a layer of peanut butter filling - these peanut butter brownies are like a Reese's Peanut Butter Cup in brownie form!
Ingredients
For the Brownie

1/2 cup (115g) unsalted butter
8 ounces (228g) coarsely chopped semi-sweet chocolate
3/4 cup (150g) granulated sugar
1/4 cup (50g) light brown sugar
3 large eggs
1 teaspoon vanilla extract
1/2 cup + 2 Tablespoons (80g) all-purpose flour
2 Tablespoons (16g) unsweetened cocoa powder
1/4 teaspoon salt

For the Peanut Butter Filling

3/4 cup (185g) creamy peanut butter (I use JIF)
1 cup (120g) confectioners' sugar
2 teaspoons vanilla extract
2 Tablespoons (30ml) milk

For Topping

2 Tablespoons chocolate chips
2 Tablespoons peanut butter chips
Instructions
For the Brownies

Place the butter and chopped chocolate in a medium saucepan and melt on medium-low heat. Make sure to stir constantly so that it doesn't burn. Once it is melted, immediately pour into a large mixing bowl and allow to cool for 10 minutes.

For the Peanut Butter Filling

Meanwhile, make the peanut butter filling. Combine the peanut butter, confectioners' sugar, vanilla and milk in a medium mixing bowl and beat with a handheld mixer on medium-high speed until well combined. The mixture will be thick and slightly crumbly.

Back to the Brownies

Adjust the oven rack to the lower third position and preheat oven to 350 degrees F. Line a 9x9 inch square baking pan with two large strips of aluminum foil, leaving the edges hanging over the sides. This will create a sling to remove the cooled brownies. Spray foil with nonstick cooking spray.
Add the sugars to the cooled chocolate/butter mixture and whisk until well combined. Add the eggs, one at a time, and whisk well after each addition, then whisk in the vanilla.
In a small bowl, sift together the flour, cocoa powder and salt.
Add the flour mixture to the chocolate mixture and gently stir until just combined.
Pour half of the brownie batter into the prepared baking pan. Using your hands, grab large pieces of the peanut butter filling and flatten into squares. Place them in an even layer over the brownie layer. Try to cover all of the brownie layer. Pour the remaining batter over the peanut butter filling and spread evenly. Sprinkle the top with the chips.
Bake for 30-35 minutes or until the brownies are set in the center and begin to pull away from the edges of the pan.
Cool the brownies in the pan set on a wire rack until completely cooled. Then use the foil overhang to lift the brownies out of the pan. Cut into squares with a very sharp knife.
Notes
https://chezcateylou.com/peanut-butter-brownies/
© Chez CateyLou. All images & content are copyright protected. Please do not use my images without prior permission. If you want to republish this recipe, please re-write the recipe in your own words, or link back to this post for the recipe.
We don't mess around when it comes to birthdays around here!
Like my Birthday Brownie Pudding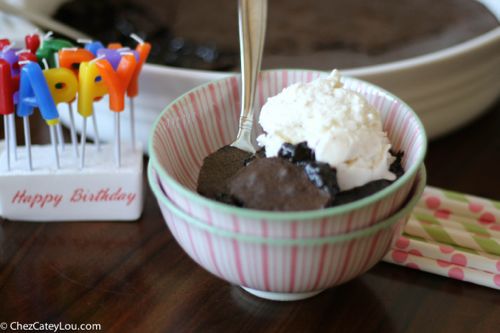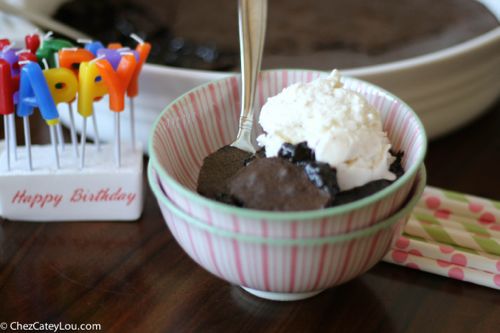 Or Chez CateyLou's birthday cake – Chocolate Cake with Peanut Butter Buttercream Frosting!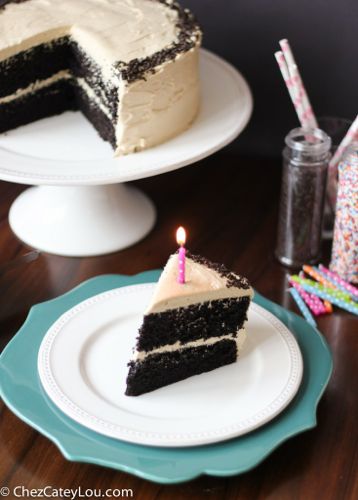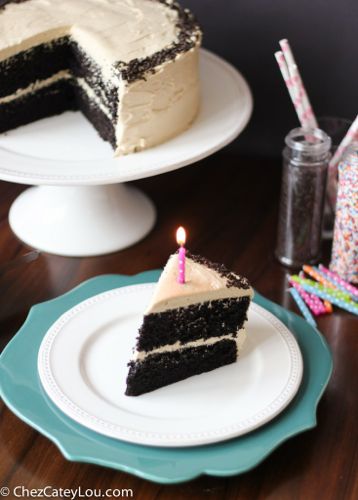 But if you want to keep things lighter, try these Skinny Peanut Butter Brownies. Still birthday-worthy good!