Rich and moist chocolate cake is topped with the most amazing peanut butter buttercream frosting – a chocolate peanut butter lover's dream cake!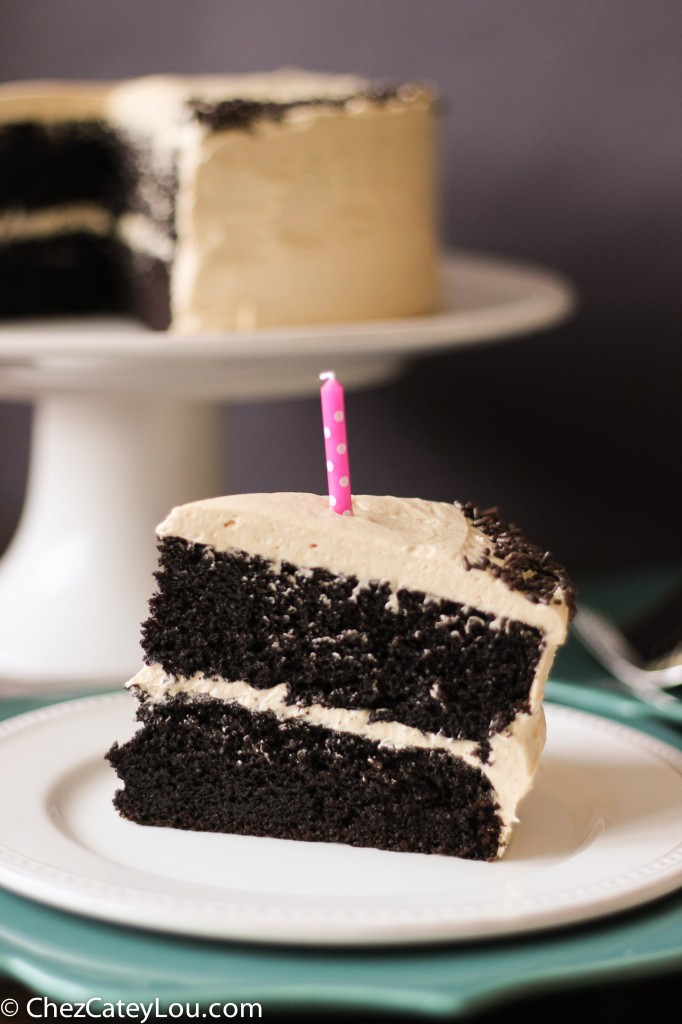 Happy Birthday to Chez CateyLou! Our little blog is one year old today. I actually can't believe it has been an entire year!! Time really flies. I have learned so much this past year – about photography, cooking, food styling, blogging, social media – the list goes on and on! A year ago I wasn't even on Pinterest – now, it is our number one source of traffic to the blog. I didn't even know what DSLR meant (ok I can't lie – I just had to google what DSLR actually stands for) and now my fancy camera is one of my favorite possessions. I even named it, or her to be exact. Her name is Cécile – my French camera for my French blog name – and she has become a member of the family (and now you all know how weird I really am)!
But thank you for sticking with me and reading all of my posts. You, my dear readers, are the reason that this little blog is around and that I continue to work so hard at it each and every day. Thank you, thank you, thank you!
And now it is time for cake. With peanut butter buttercream frosting.  Oh yes.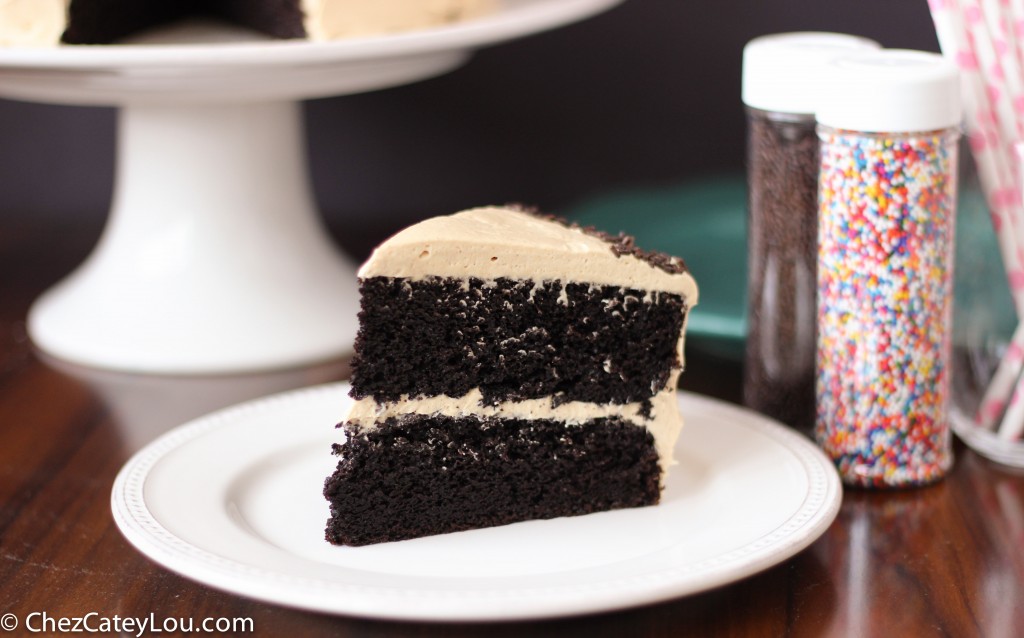 I am so excited for my blog's birthday that I am going to have a two day celebration.  Tomorrow is a little flashback to my very first post but today, we have cake!  I decided that of course we needed cake to celebrate the birthday, because what is a birthday without cake?  And then I realized that an entire year has passed (which means at least two birthdays Chez CateyLou) and I have not actually made a cake!  Sure I've made cupcakes and coffee cakes.  But not a good old fashioned layer cake.  Well, I have fixed that today!
And this is not just any boring cake – this is a cake with our absolute favorite flavor combo – chocolate and peanut butter.  Only the best for the first birthday party!!!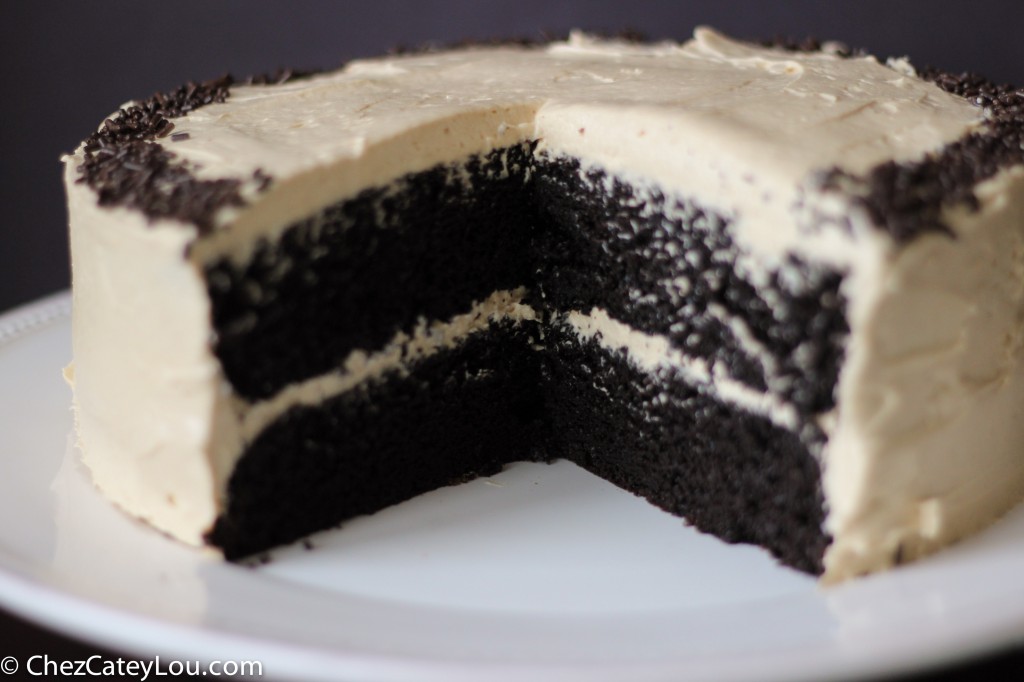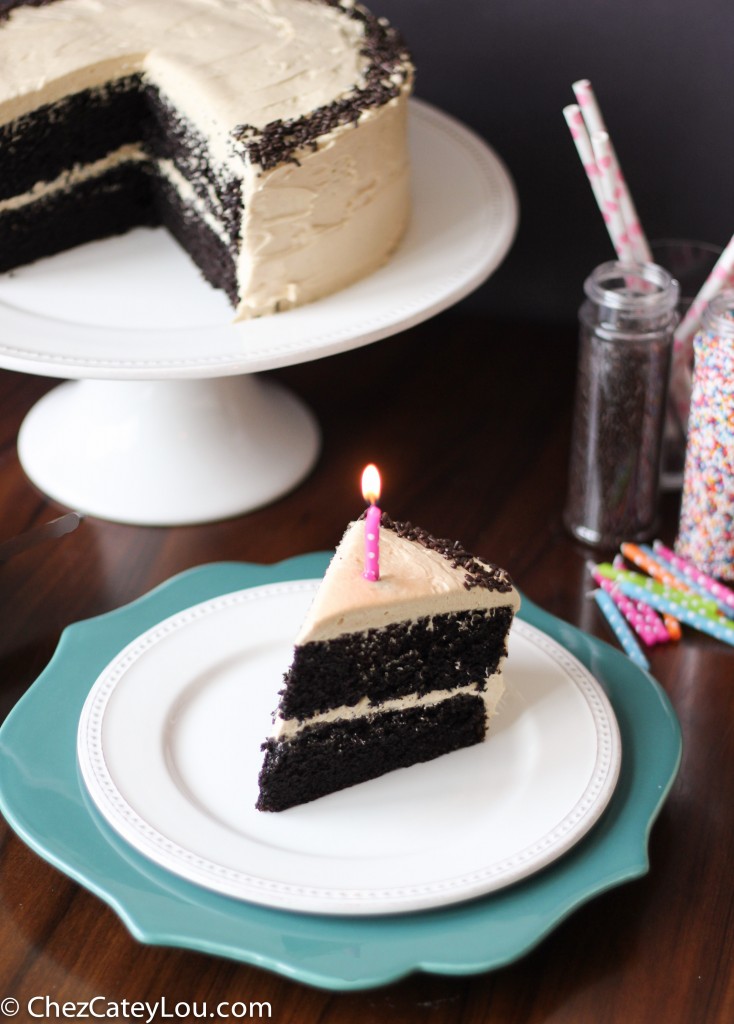 The chocolate cake recipe is from Ina Garten. It is a classic chocolate cake – light and fluffy, full of chocolate flavor, and so moist. It has the absolute perfect layer cake texture! And it is so easy make. The original recipe calls for a full cup of coffee. Coffee brings out the flavor in chocolate, but I didn't want to actually taste coffee. After reading some reviews I decided to use ⅔ cup coffee and ⅓ cup of hot water – and there was not even a hint of coffee flavor! But the chocolate really did shine, so I think the coffee is a great addition.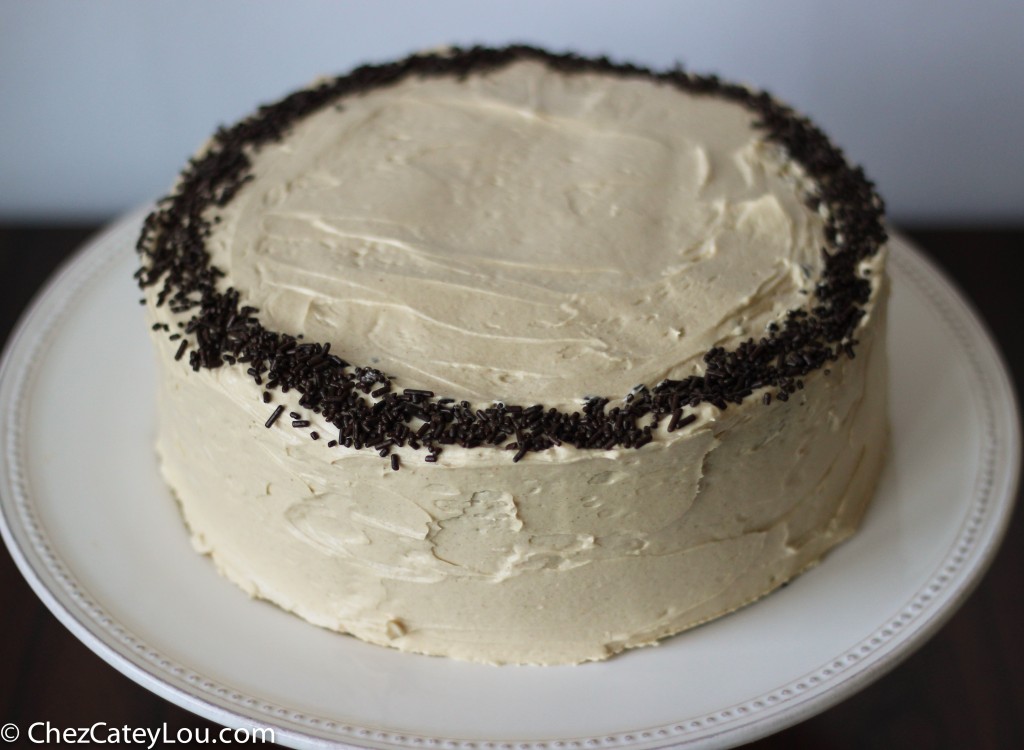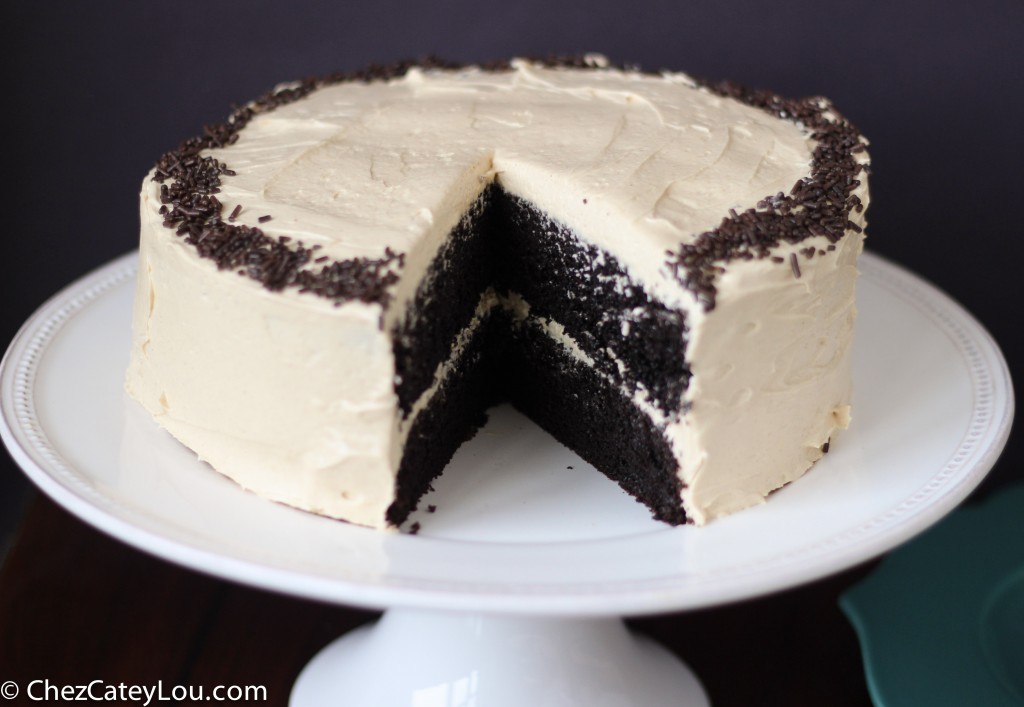 The frosting is a classic buttercream, with the addition of a cup of peanut butter.  Now I am not really an frosing person. Those shots of frosting that you see at cupcake stores in NYC (I'm looking at you Butter Lane)? I always thought they seemed kind of gross. Until I tried this peanut butter frosting. OMG. This stuff is SO good. Dangerously good. I kept going back to the icing bowl for just one more taste…. I guess there is a reason that I only make cake once a year!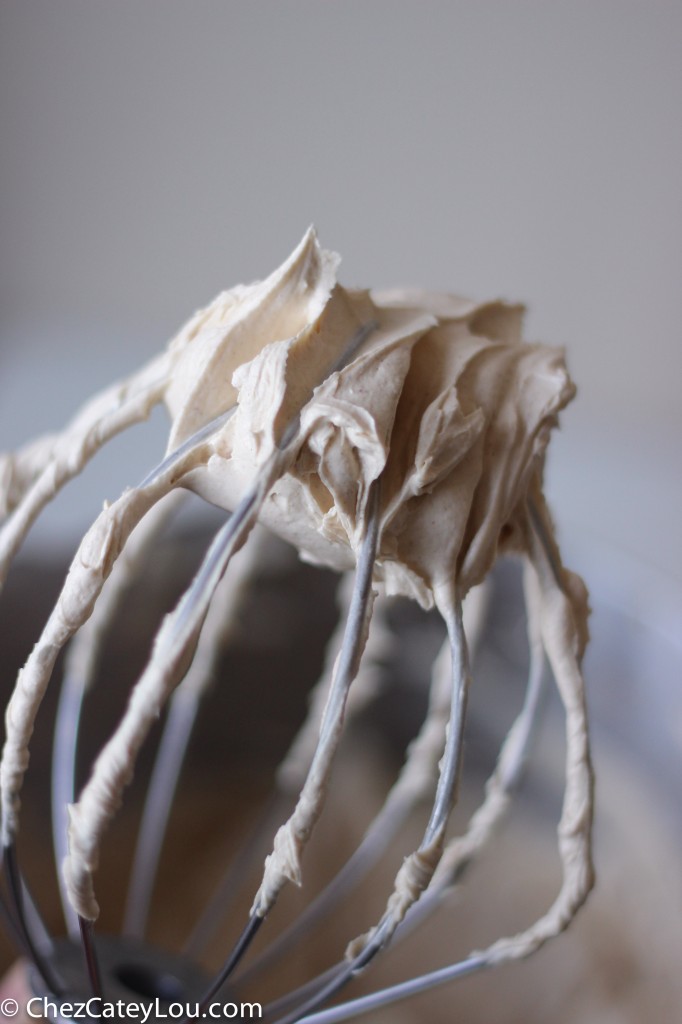 The combo of the rich peanut butter frosting and the fluffy chocolate cake is out of this world. TheBetterHalf, who is the world's biggest chocolate peanut butter fan, was in heaven. That giant piece you see? He ate the whole thing. He was literally staring at me during the whole photoshoot just waiting until he could take a bite!! Not that I'm judging at all – I had already had about 4 spoonfuls of frosting before I even started taking pictures.
This really is the best possible dessert I can think of to celebrate a great year of blogging.  I can't wait to see what the next year brings for Chez CateyLou!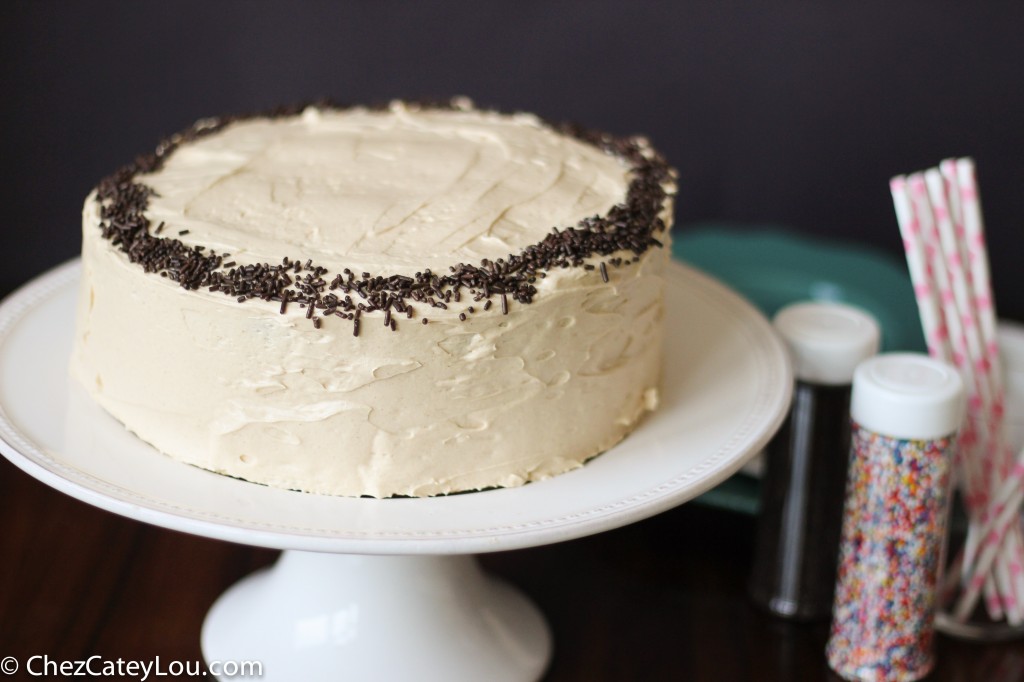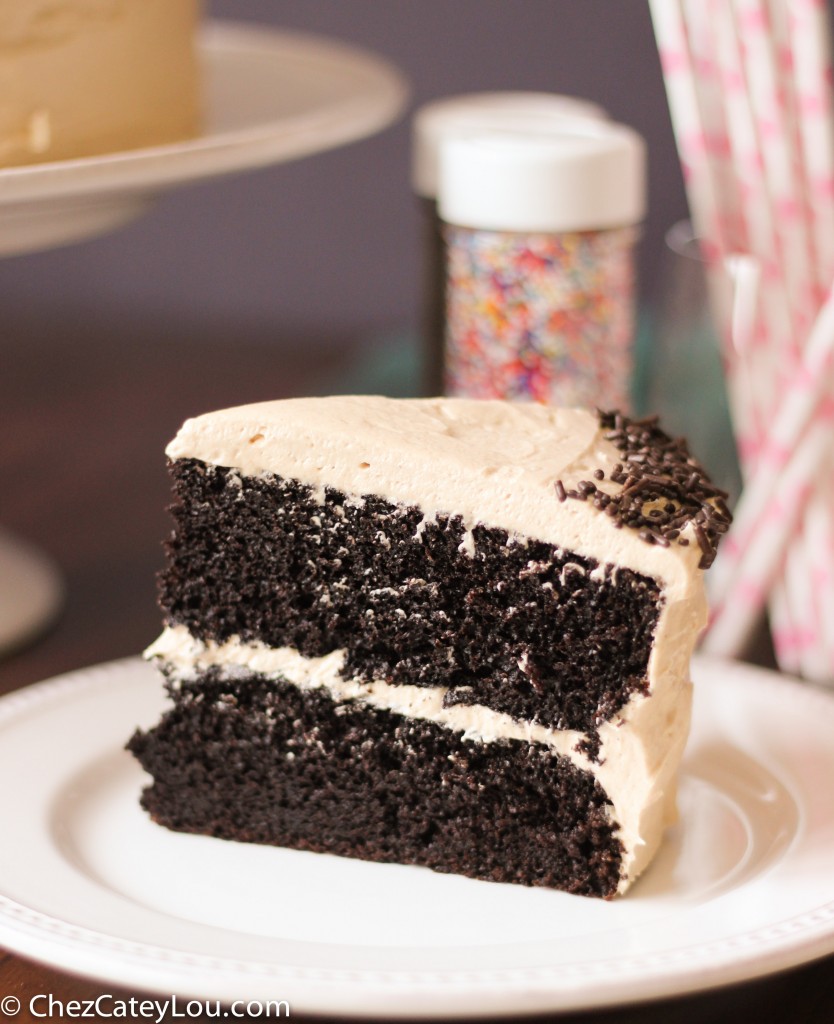 Chocolate Cake with Peanut Butter Buttercream Frosting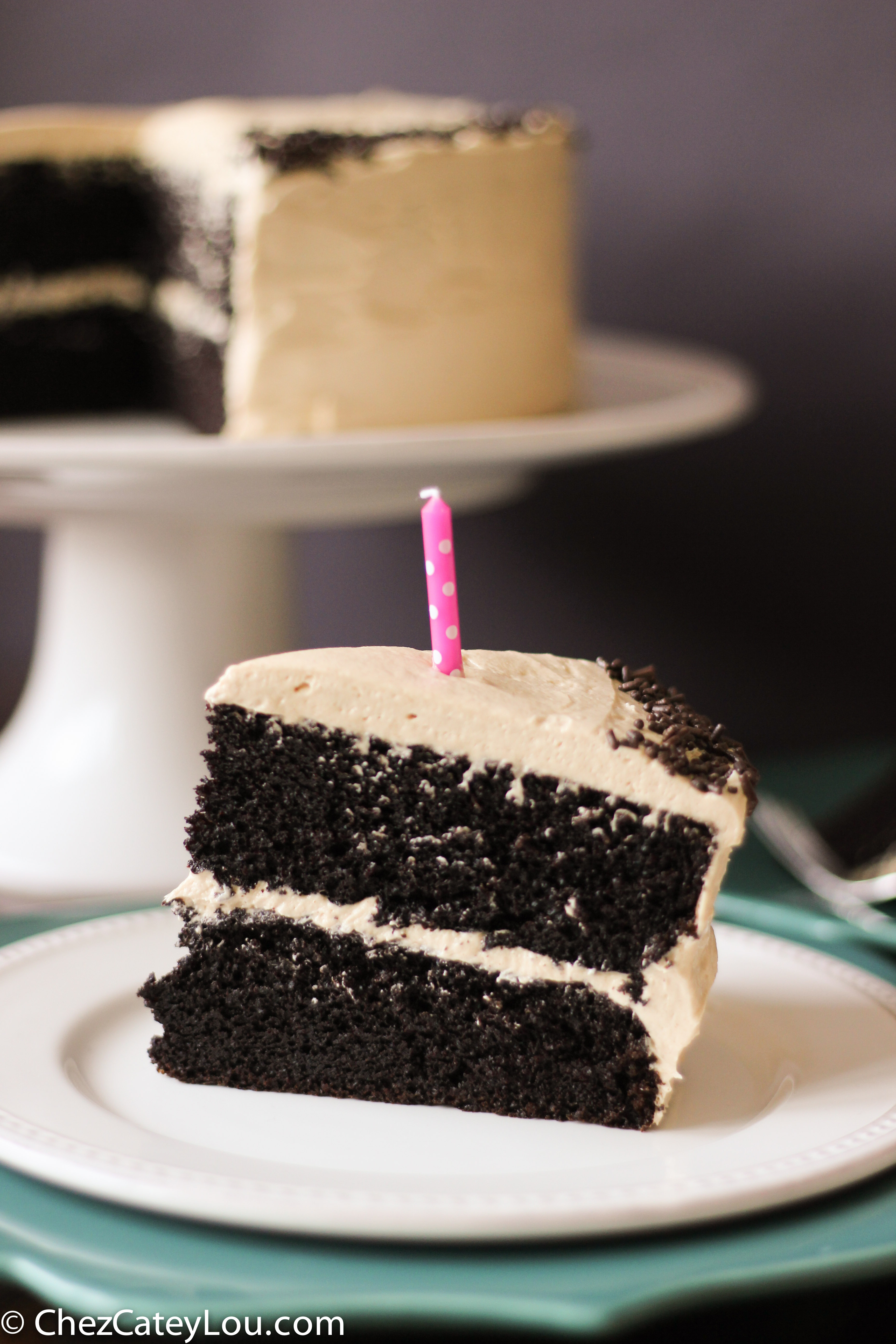 Rich and moist chocolate cake is topped with the most amazing peanut butter buttercream frosting - a chocolate peanut butter lover's dream cake!
Ingredients
For the Cake

Butter, for greasing the pans
1 3/4 cups all-purpose flour, plus more for pans
1 3/4 cups sugar
3/4 cups cocoa powder
2 teaspoons baking soda
1 teaspoon baking powder
1 teaspoon kosher salt
1 cup buttermilk, shaken and at room temperature
1/2 cup vegetable oil
2 extra-large eggs, at room temperature
1 teaspoon pure vanilla extract
1 cup freshly brewed hot coffee (or 2/3 cup coffee mixed with 1/3 cup of water)

For the Frosting

2 sticks (1 cup) unsalted butter, softened
1 cup smooth peanut butter (don't use natural - I used JIF)
1 1/2 cup confectioners' sugar
1/4 tsp salt
1/2 teaspoon vanilla extract
1-2 tablespoons heavy cream or milk
Instructions
For the Cake

Preheat the oven to 350 degrees F. Butter two 8-inch x 2-inch round cake pans. Line with parchment paper, then butter and flour the pans.
Sift the flour, sugar, cocoa, baking soda, baking powder, and salt into the bowl of an electric mixer fitted with a paddle attachment, then mix on low speed until combined.
In a separate bowl, whisk together the buttermilk, oil, eggs, and vanilla.
With the mixer on low speed, slowly add the wet ingredients to the dry and mix until just incorporated, scraping down the sides of the bowl as needed.
Add the coffee and stir just to combine. Give a final stir with a rubber spatula to make sure the bottom and sides are fully incorporated.
Pour the batter evenly into the prepared pans.
Bake for 35 to 40 minutes, until a cake tester comes out clean.
Cool in the pans for 30 minutes, then turn them out onto a cooling rack to cool completely.

For the Frosting

Add the butter and peanut butter to the bowl of a stand mixer fitted with the whisk attachment. Whisk at medium-high speed until smooth, about 20 seconds.
Add confectioners' sugar and salt and beat at medium-low speed for about 45 seconds, until the sugar is moistened. Scrape down the sides of the bowl and then mix at medium speed until the sugar is fully incorporated, about 15 seconds.
Add the vanilla and cream and beat at medium speed until combined, about 10 seconds.
Increase speed to medium-high and beat until light and fluffy, about 4 minutes, scraping down the bowl a few times during mixing.
Place 1 layer of the cake on a flat plate or cake stand. With a knife or offset spatula, spread the top with frosting. Place the second layer on top, and spread the frosting evenly on the top and sides of the cake. Garnish with sprinkles as desired.
Notes
Chocolate cake recipe adapted from Ina Garten. Frosting recipe from Cook's Illustrated. Icing can be made a day in advance. Cover and refrigerate. When ready to use, allow it to come to room temperature.
https://chezcateylou.com/chocolate-cake-with-peanut-butter-buttercream-frosting-chez-cateylous-1st-birthday/
© Chez CateyLou. All images & content are copyright protected. Please do not use my images without prior permission. If you want to republish this recipe, please re-write the recipe in your own words, or link back to this post for the recipe.