Arugula, cherry tomatoes, and fresh herbs are mixed with farro and tossed in a lemon vinaigrette. Shaved parmesan and roasted pistachios finish off this amazing farro salad!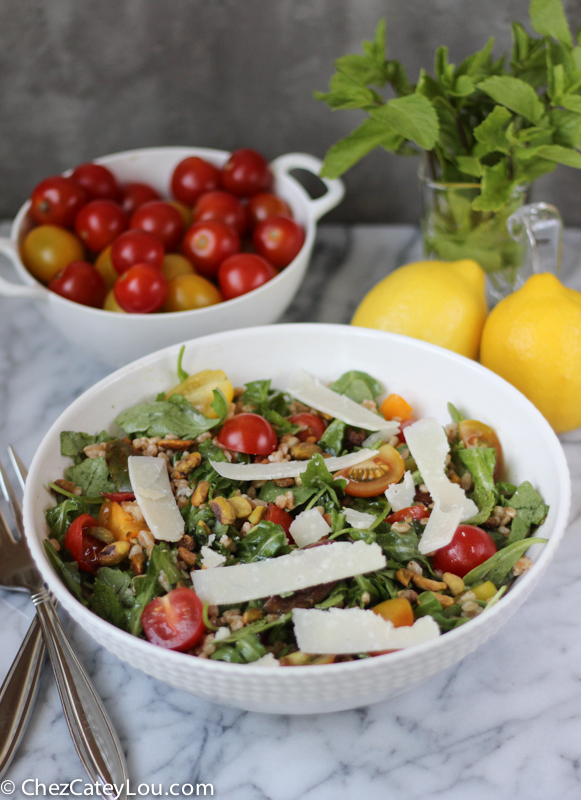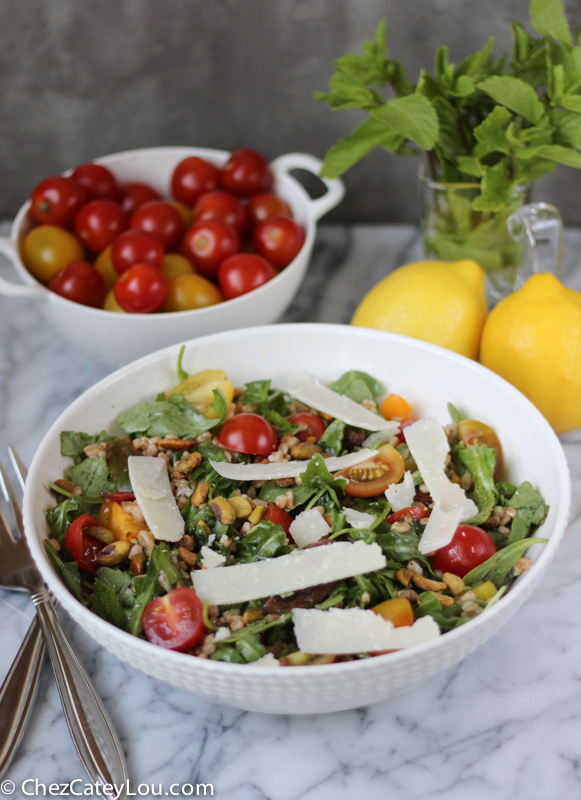 Do you ever have an amazing dish at a restaurant that you wish you could recreate at home? I had the most incredible farro salad at one of our favorite restaurants in NYC, Charlie Bird.  I know it doesn't sound that exciting – I mean it is salad after all.  But I promise you, this salad is memorable.  And when I got home from dinner and googled it, I found a  recipe in the New York Times for the farro salad! Lucky me!
Sidenote – Charlie Bird is delicious.  If you live here and haven't tried it yet, you really should!  Their chicken is outstanding!   Also when we were eating there once with TheBetterHalf's parents, we saw Jerry Seinfeld and his family.   One of our best celeb sightings!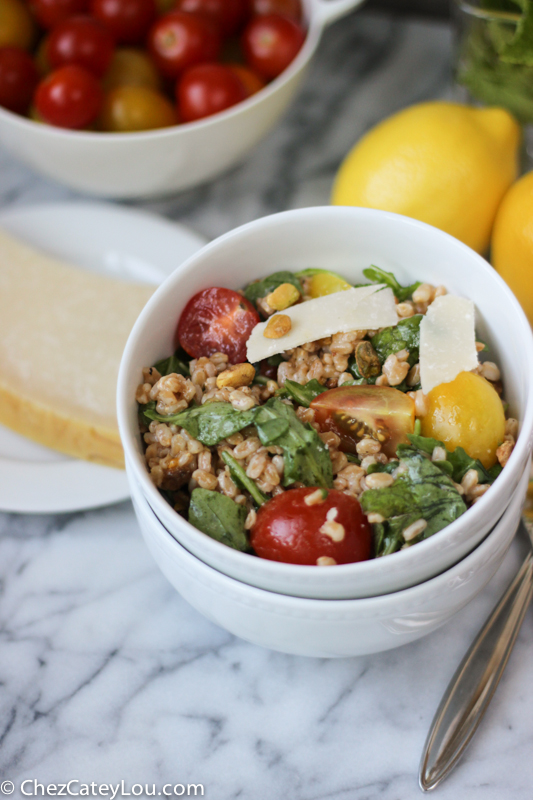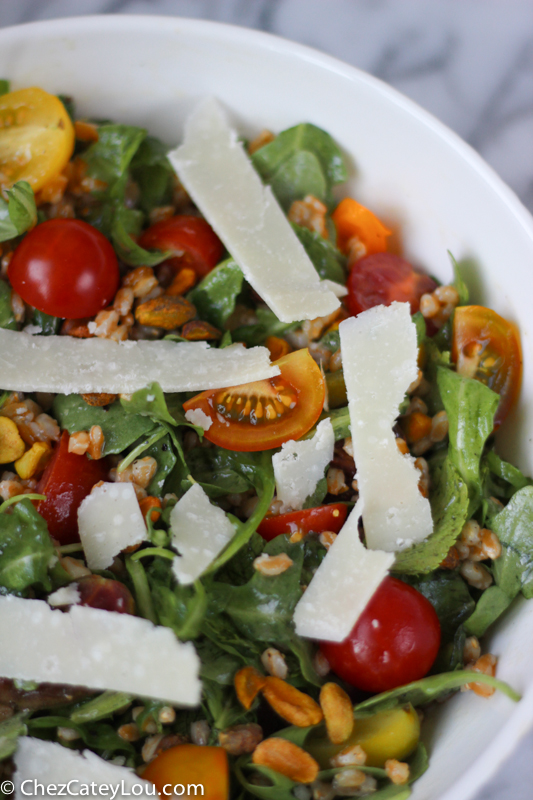 I got so excited about this salad and about Charlie Bird (what can I say, there's a reason my tagline is Always hungry…) that I forgot to mention it is MYSTERY DISH time! Our host this month is the lovely Sarah from The Pajama Chef, and she is the reason I am in Mystery Dish!  She invited me to get involved back in the fall, and the rest is history :).  She picked a great list of summery ingredients for us, and challenged us to use three:
coffee (grounds or brewed)
sour cream
farro
almonds
cherries
watermelon
cantaloupe
jicama
cucumber
tomatoes
infused or flavored olive oil
fresh herbs (any kind)
cornmeal
hot peppers (any kind)
Now usually I get the list of ingredients and then decide what to make. But this month something different happened – Sarah sent out the ingredients and I realized that the Farro salad I had just made (literally the day before) fit the Mystery Dish requirements! What a delicious coincidence!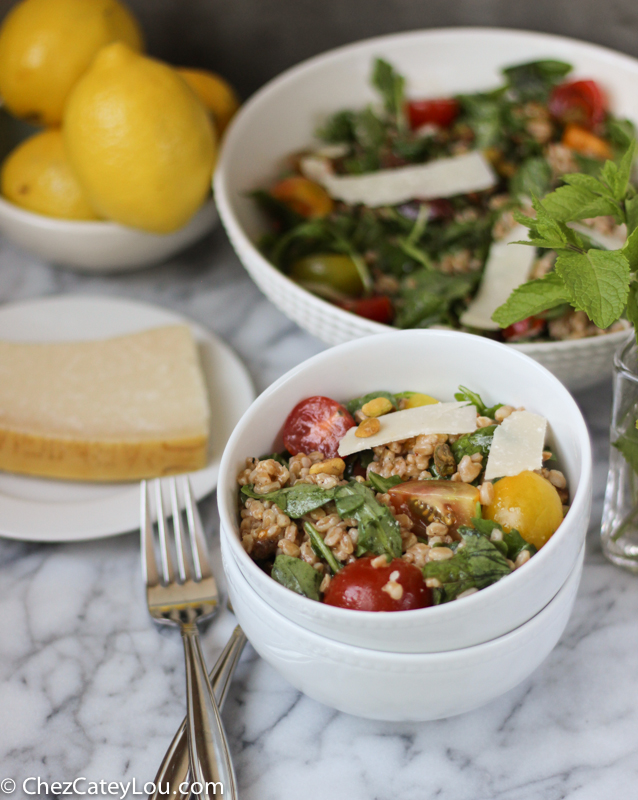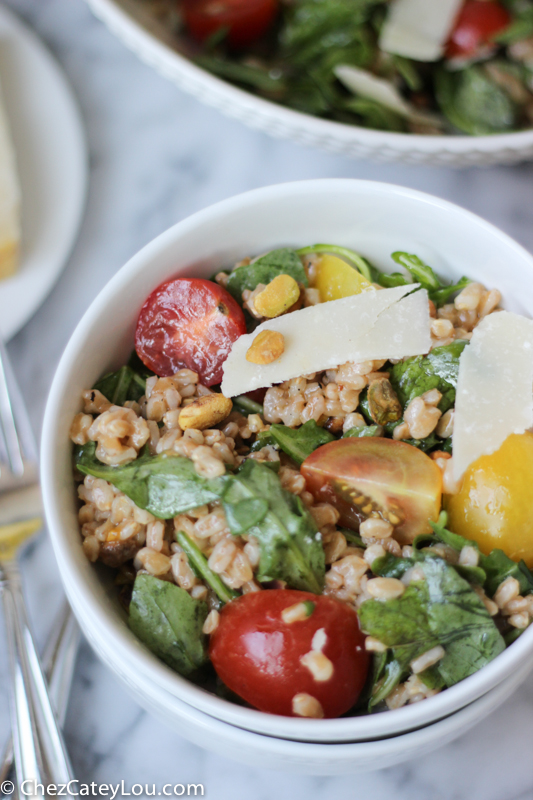 I made a few changes to the original recipe, as I'm prone to doing.
And I can't lie, one of them was a complete mistake. The original recipe calls for cooking the farro in 1 cup of apple cider and 2 cups of water. For some reason I read that as apple cider vinegar. I have no idea why, but I did. By some stroke of luck, I only had 1/3 cup of cider vinegar left, so I just used that and diluted it with water. The recipe turned out so well!! It smells strong when you are boiling the vinegar, but in the end it makes the farro so flavorful! It was only the next day when I was looking at the recipe that I realized my mistake.
Although it really was lucky that I only had 1/3 cup of the vinegar left b/c a full cup of vinegar would probably have made the farro  inedible.
Another change is that I made the dressing a little more lemon heavy (I love citrus and acid) and made less dressing – the original recipe called for 8 T of olive oil, which seemed like WAY too much to me! Although that is probably why it tasted so delicious at the restaurant…
This salad is full of such bright and fresh flavors, and the farro and nuts make it hearty enough to eat for dinner.  It is a perfect sumer salad!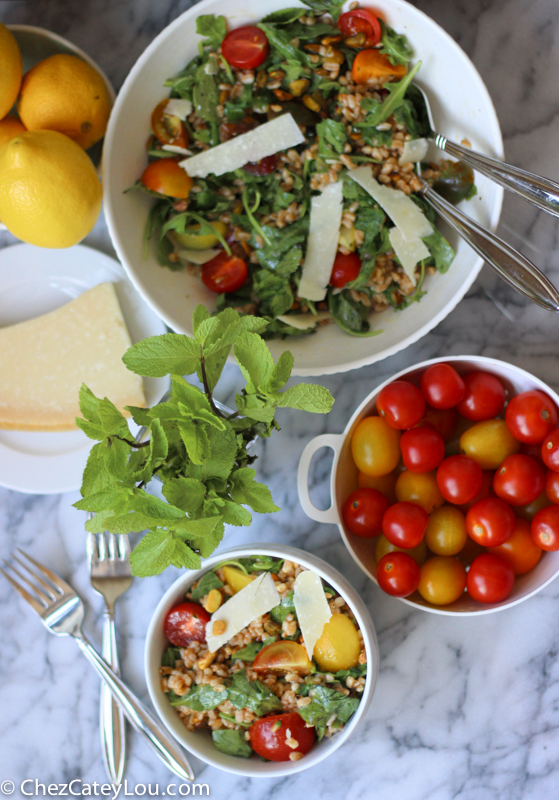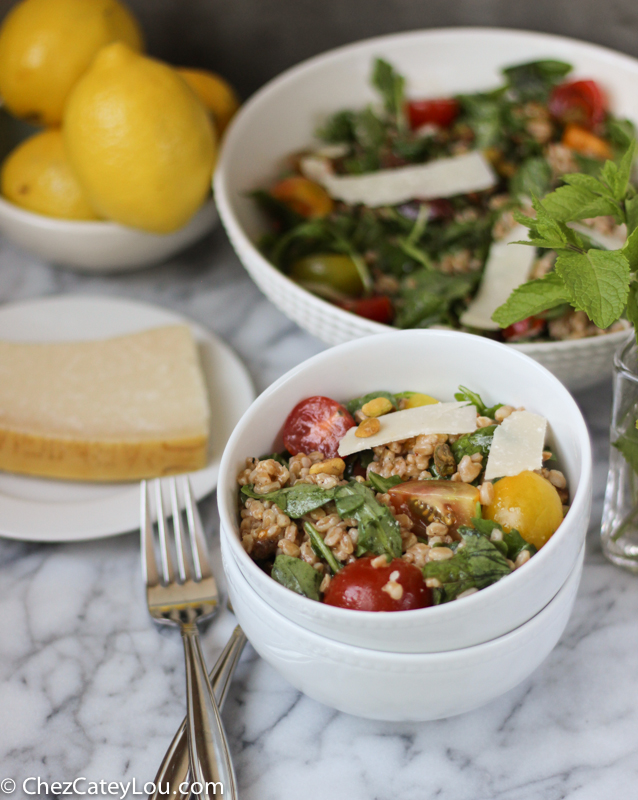 Arugula, cherry tomatoes, and fresh herbs are mixed with farro and tossed in a lemon vinaigrette. Shaved parmesan and roasted pistachios finish off this amazing farro salad!
Ingredients
1 cup farro, rinsed well
1/3 cup apple cider vinegar
2 teaspoons kosher salt, more as needed
2 bay leaves
4 tablespoons extra-virgin olive oil
2 tablespoons fresh lemon juice
2 cups arugula leaves
1 cup basil leaves, torn
1 cup mint leaves
1 1/2 cups halved cherry or grape tomatoes
1/2 cup Parmesan cheese, shaved with a vegetable peeler
1/2 cup chopped pistachio nuts, toasted
Maldon or other flaky sea salt, for finishing
Instructions
In a medium saucepan, bring faro, 2 2/3 cups water, apple cider vinegar, salt, and bay leaves to a simmer. Simmer until farro is tender and liquid evaporates, about 30 minutes. If all the liquid evaporates before the farro is done, add a little more water. Let farro cool, then discard bay leaves.
In a salad bowl, whisk together olive oil, lemon juice and a pinch of salt. Add cooked farro and arugula and mix well. Fold in herbs, tomatoes, and pistachios. Top with shaved parmesan and sprinkle with sea salt, if desired.
Notes
https://chezcateylou.com/farro-salad/
© Chez CateyLou. All images & content are copyright protected. Please do not use my images without prior permission. If you want to republish this recipe, please re-write the recipe in your own words, or link back to this post for the recipe.
Check out the amazing summer treats my friends made this month!

If you are looking for more salad recipes, here are some great ideas:
Quinoa Salad with Asparagus and Tomatoes in a Basil Vinaigrette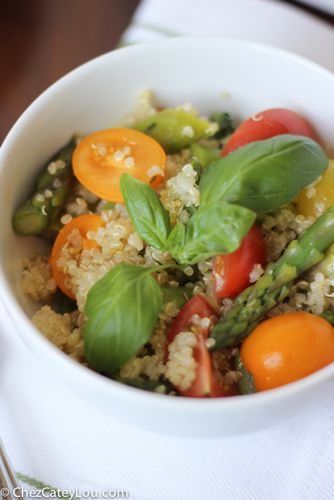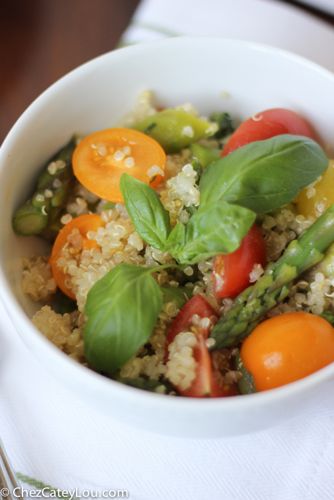 Lentil Salad with Olives, Mint and Feta