A review of the restaurant Septime in Paris, France-one of our favorite restaurants in the world. Amazing food, perfect service, and a rustic yet refined setting.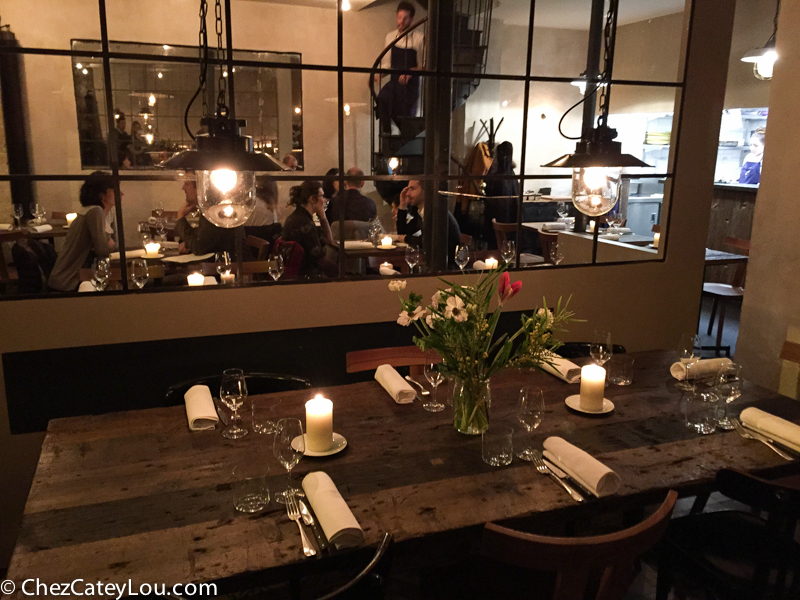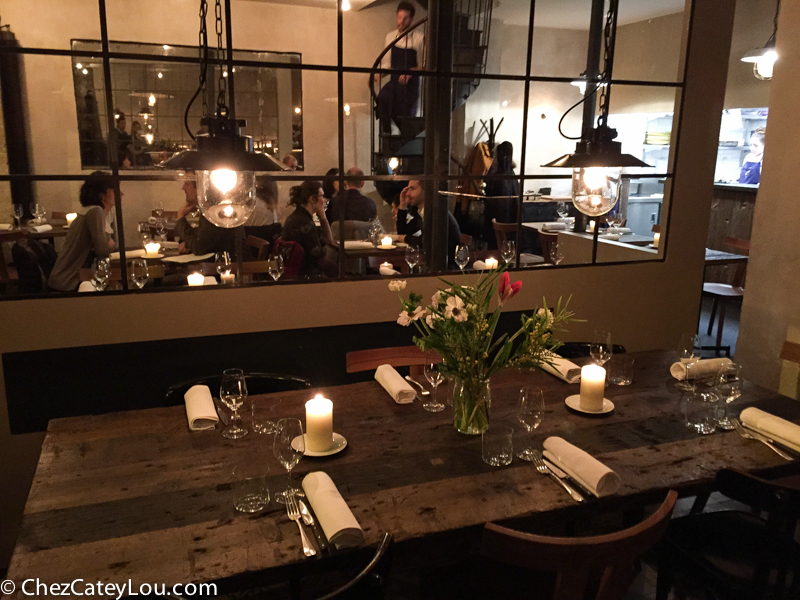 On our most recent trip to Paris, Cate and I were lucky enough to snag reservations at four of the hottest restaurants in town: Chateaubriand, Septime, Frenchie, and 6 Paul Bert.  All four were unique experiences and each is worthy of a visit while in Paris.  But if we had to pick a favorite, it would be Septime.  This was actually our second dinner at Septime – Cate and I went for the first time on our last trip to Paris and loved it so much we had to go back.  And it was just as amazing as we remembered.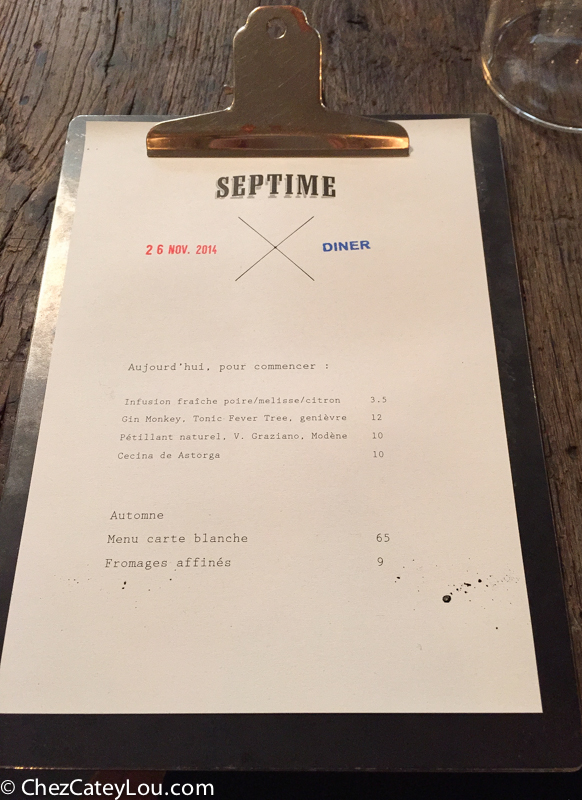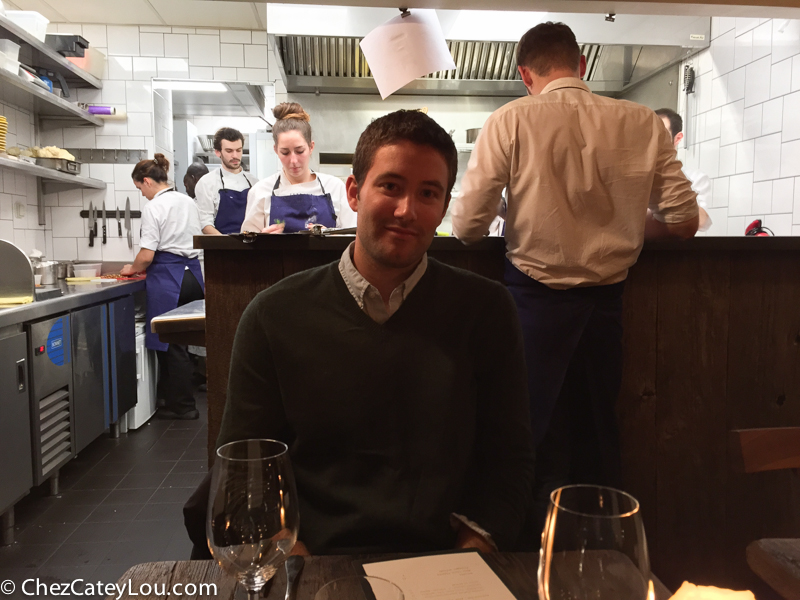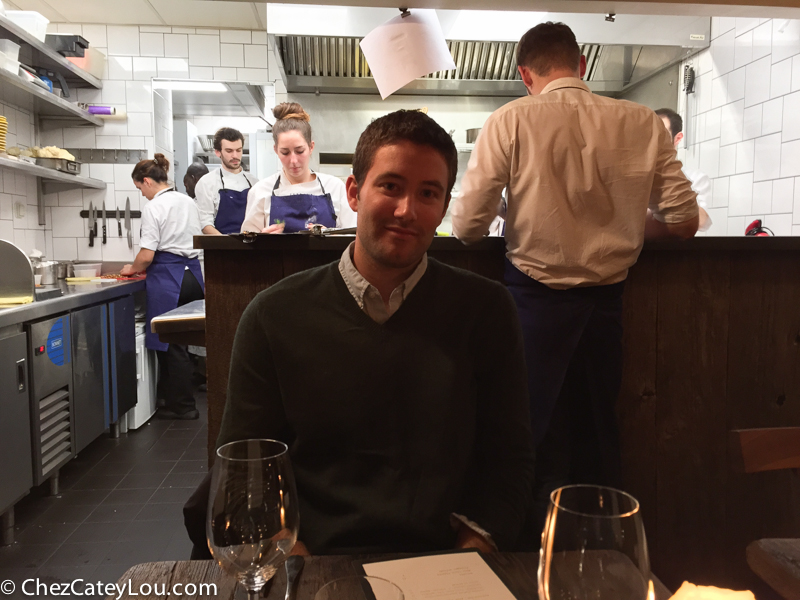 Septime is helmed by executive chef Bertrand Grébaut, who formerly worked at L'Arpège, and clocks in at #52 on the World's Best List. It has quickly become a favorite of locals, tourists, and celebs (JayZ and Beyonce). The food at Septime is French in nature but more progressive and innovative than a typical bistro, and the décor is simple yet inviting. The open kitchen gives diners a view of a top-notch kitchen staff.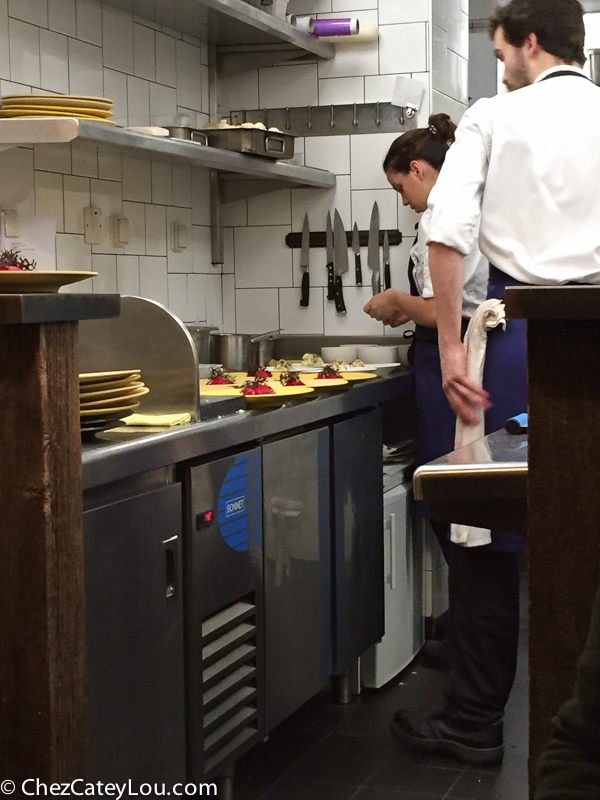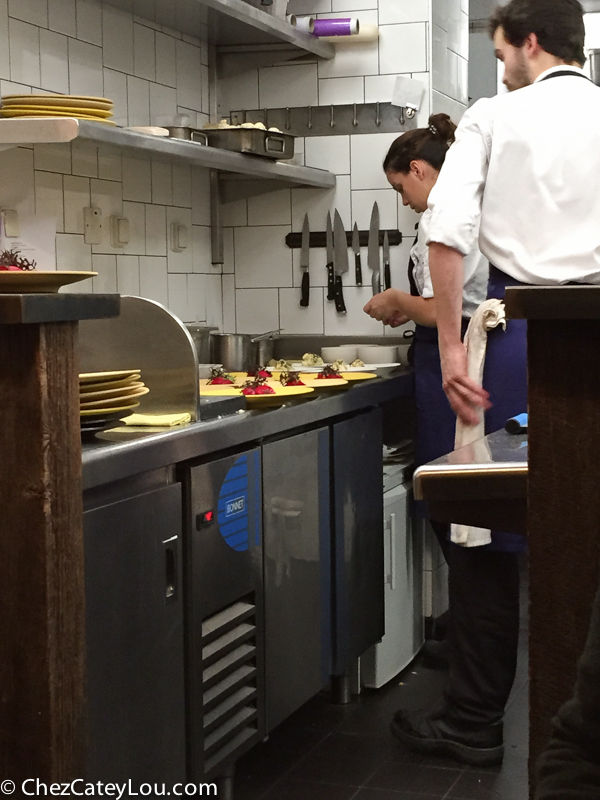 The restaurant serves a 65€ 5-course dinner, carte blanch.  Carte blanche means chef's choice: so basically you're eating whatever the kitchen is sending out. I realize this could scare away some diners – especially because the restaurants most likely to have a carte blanche menu are more on the innovative/adventurous side. However, I'm happy to report that Septime is relatively accommodating to picky eaters (Cate is the pickiest foodie you will ever meet).
At the outset of the meal, a server came by to ask about food allergies and other dislikes. Cate gave her list of foods she does not eat (raw meat/fish, strong cheese, offal – I know, I know…all delicious things), and as the meal progressed the kitchen made everything from slight tweaks (removing an element of the dish) to wholesale changes (substituting an entire course) in an effort to comply with Cate's preferences.
A few more things before we get to the food. First and foremost, the service at Septime is great. It flies right in the face of the old "snooty French waiter" stereotype. I appreciated that the majority of the staff spoke conversational English, and took the time to walk us through each course. It's not a given, and it's certainly not a requirement (we are tourists in their country after all), but it helps. Also, unlike their 11th Arrondisement neighbors Bistrot Paul Bert and 6 Paul Bert, where the waiter-to-customer ratio is about 1-100, at Septime there were almost as many waiters as customers.
Second, let's quickly discuss the alcohol scene at Septime. The wine list specializes in natural/organic wines, and there are also a few local beers and some spirits to choose from. New as of our most recent visit is a house wine served in carafes. It's a young Beaujolais that is moderately priced and pretty tasty (I'm not a wine expert, so that's all you get).
And now for the good part – the food.  Since a picture is worth a thousand words, here are all of of our dishes: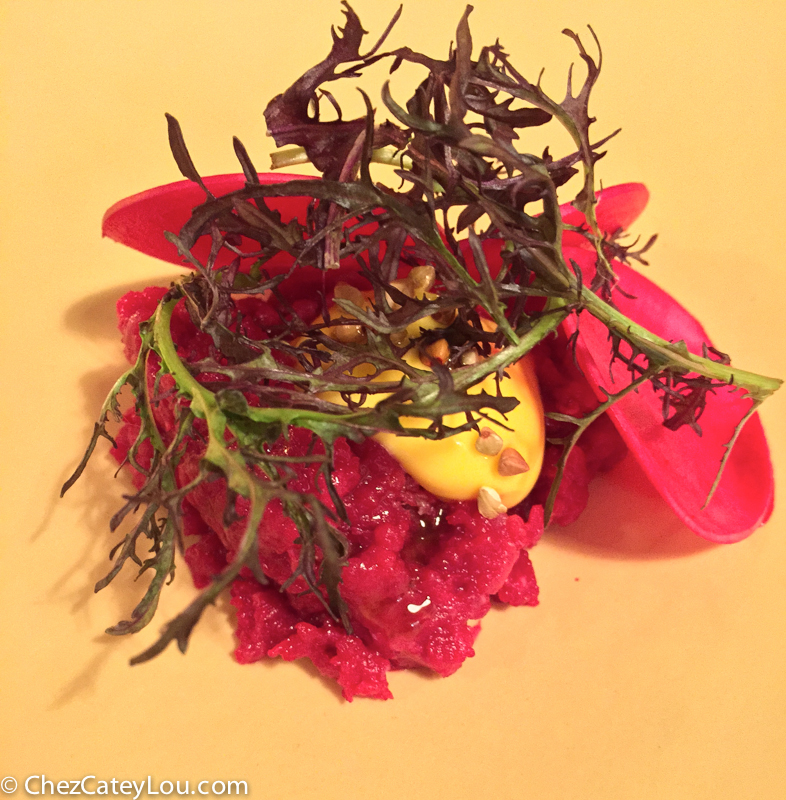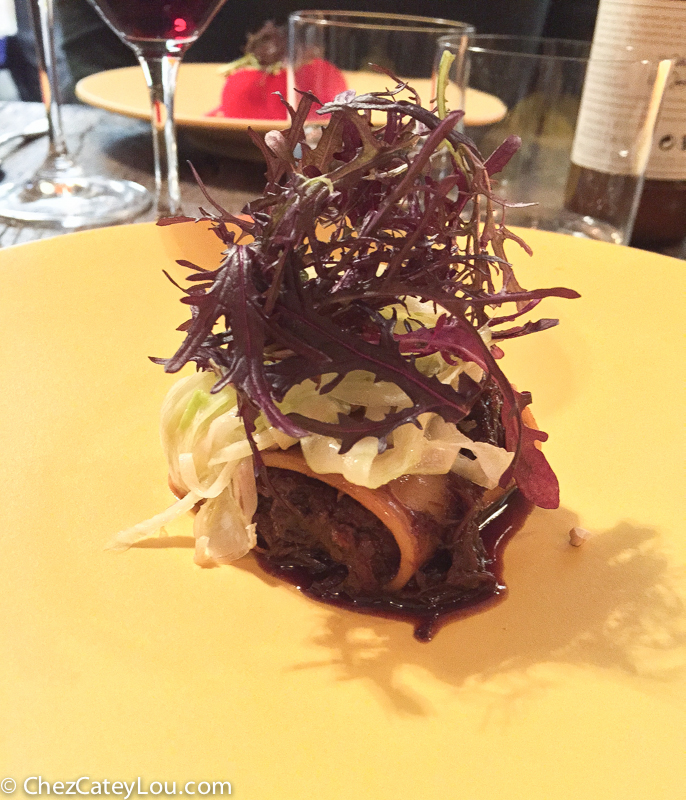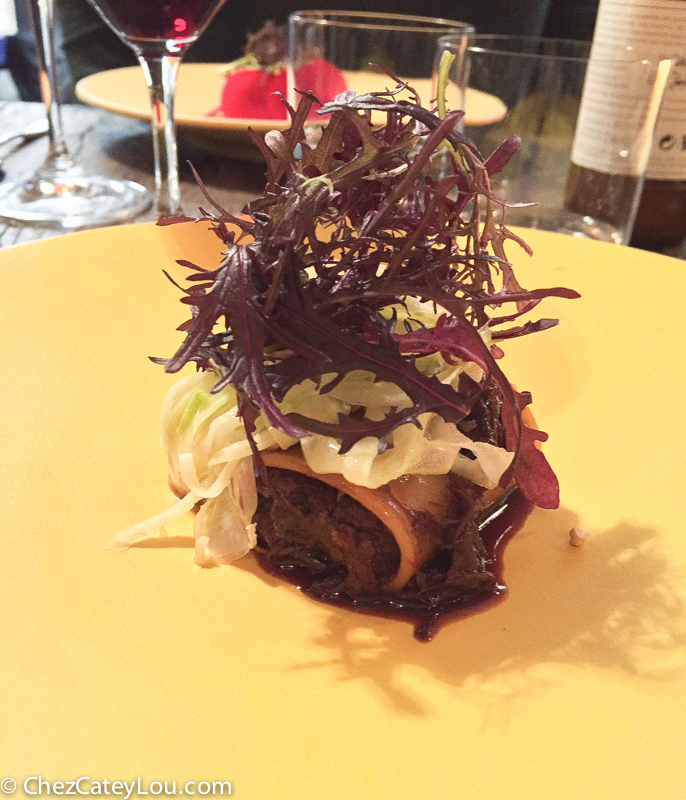 First Course: For me, beef carpaccio topped with beet juice and egg yolk sauce. Even though I'm not a huge beet fan, the beet flavor was not overpowering and it also gave some additional color to the meat (which was visually impressive). Since Cate doesn't eat raw beef, her first course was a beef cheek pasta in a red wine sauce, and was one of the best bites she has ever had (a list that is constantly in flux, but no doubt high praise).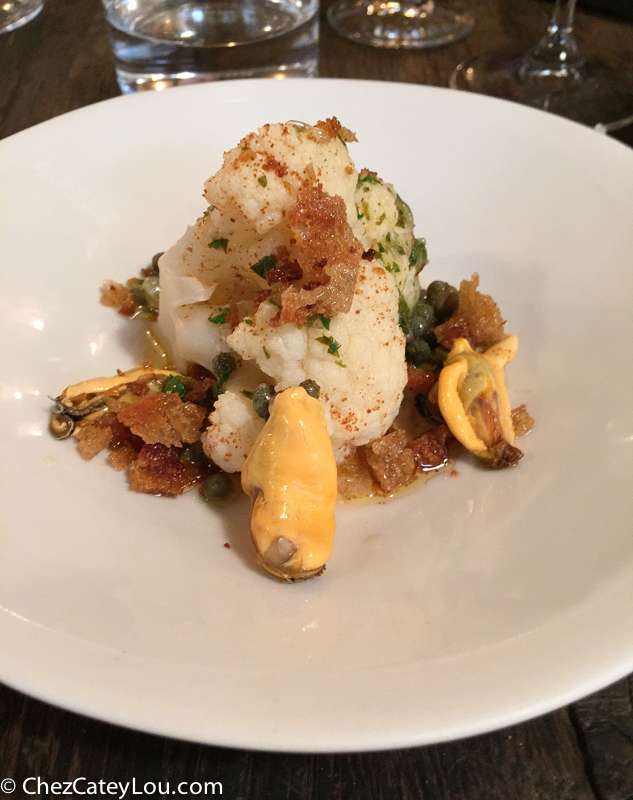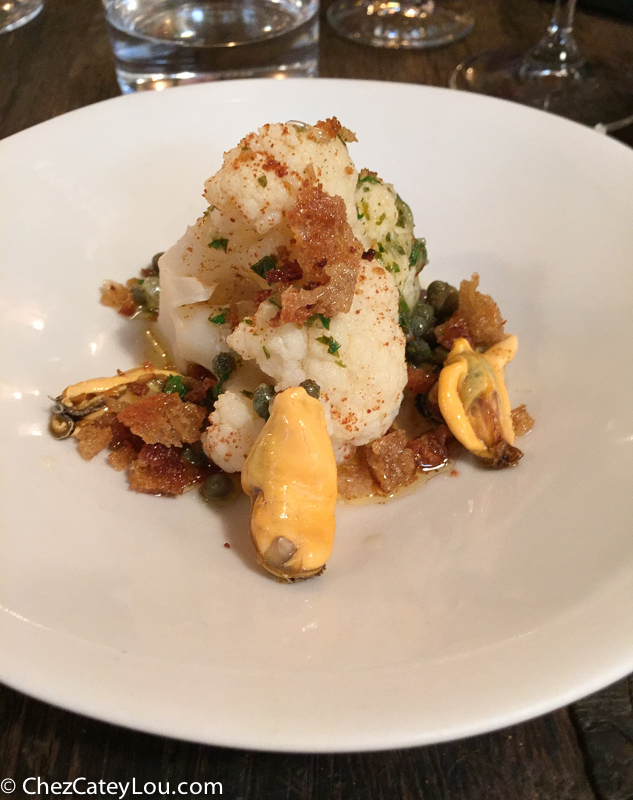 Second Course: Smoked cauliflower with capers and mussels in a lemon sauce (Septime kindly held the mussels for the picky princess).  The smokiness of the cauliflower was unique and the flavors and textures in this dish worked so well together.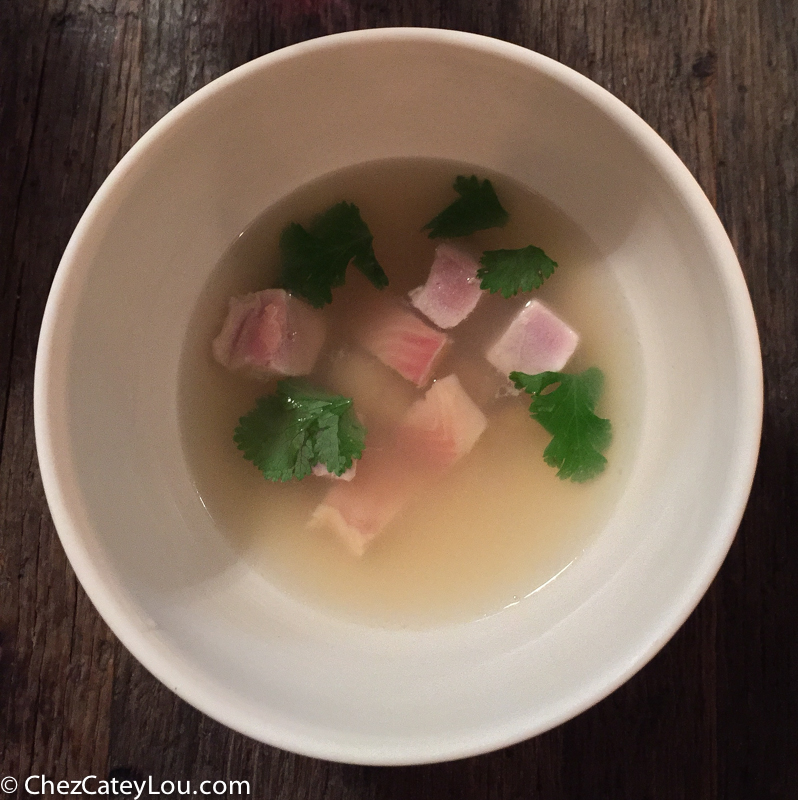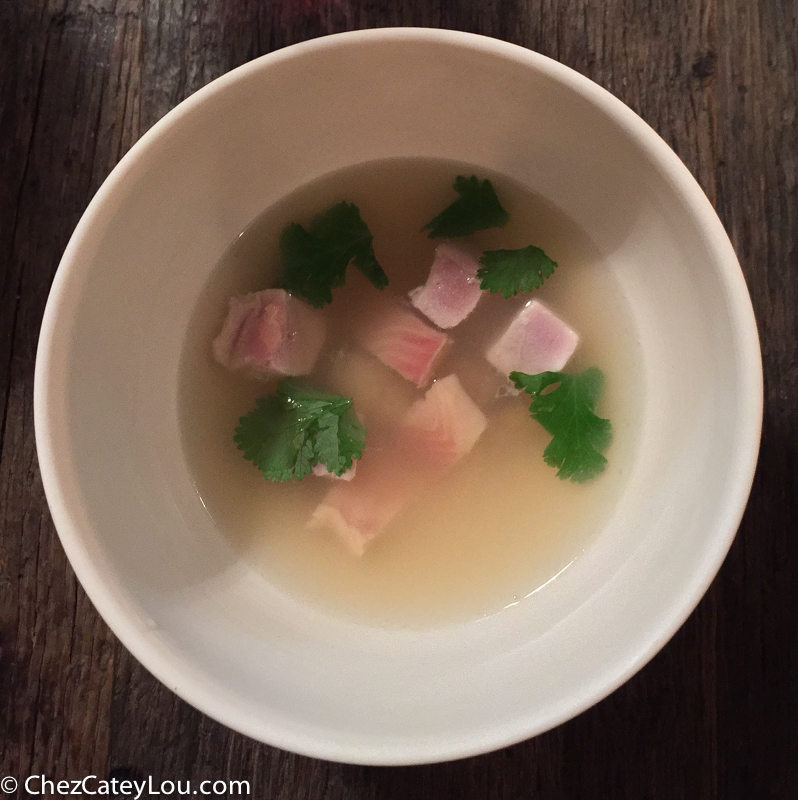 Third Course: Of course, one of the drawbacks of the carte blanche menu is you don't ever see a written description of what you're about to eat. The third course was a fish in a broth with foie gras. It definitely sounds more elegant en Francais, but that's what I remember. I'm pretty sure they placed each cilantro leaf in the bowl with tweezers. The attention to detail in the plating here is amazing.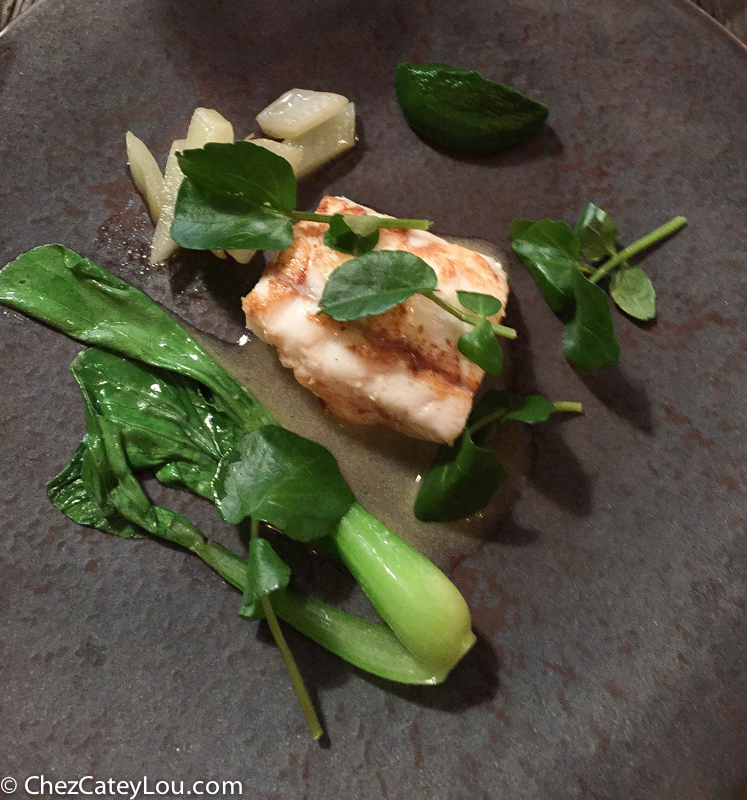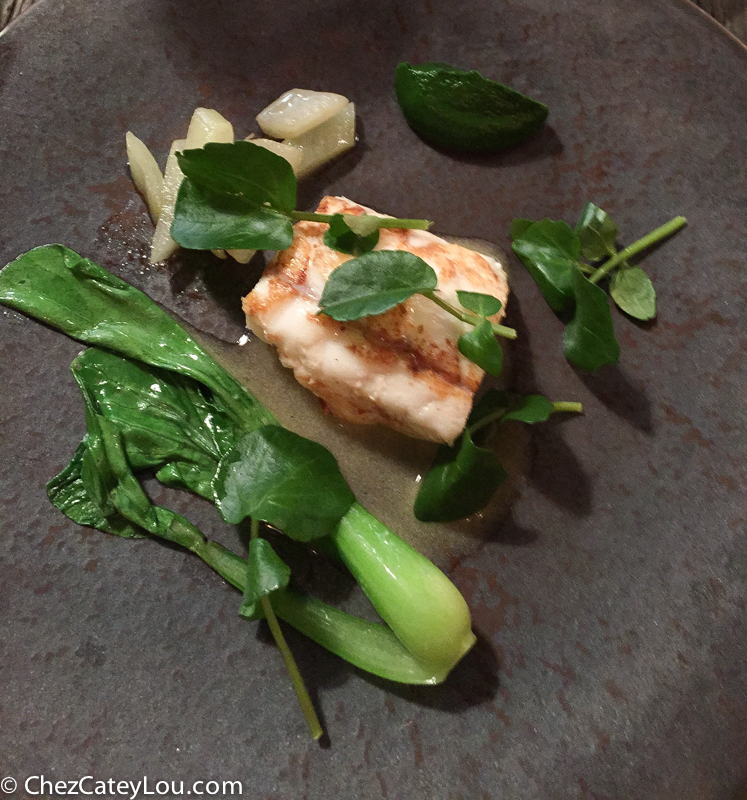 Fourth Course: Fish with boo choy and a watercress puree. We really should have taken notes on exactly what we were served, but this course was particularly delicious.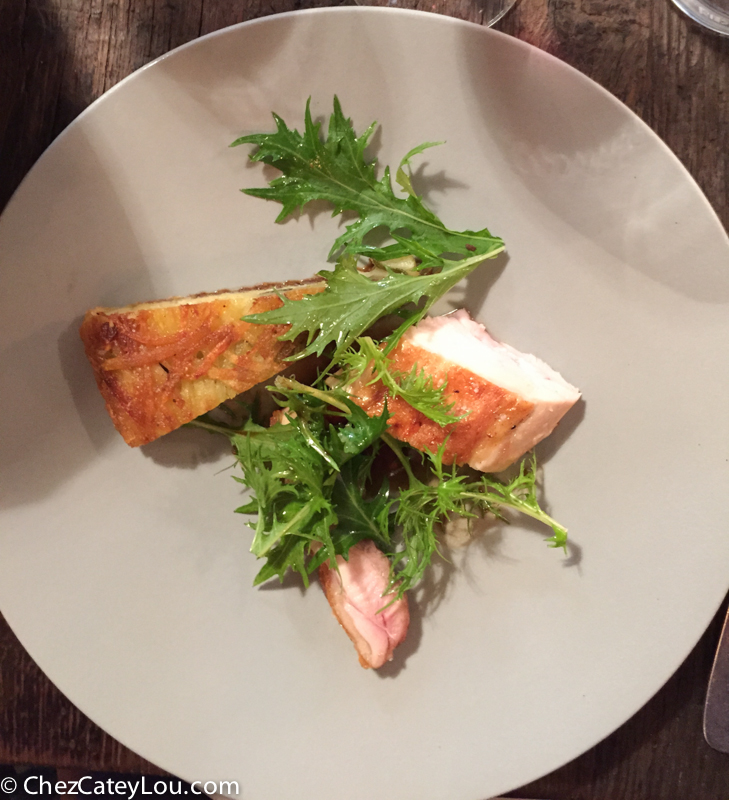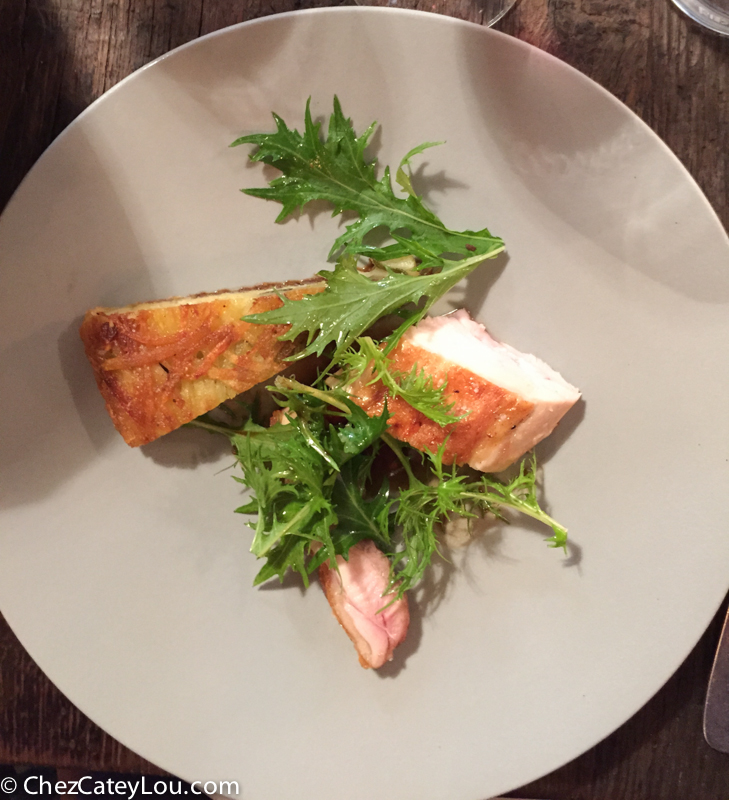 Fifth Course: Free range chicken with potato cake. This was probably my least favorite dish of the night; if only because I naturally have to compare it to all the incredible chicken dishes we've had lately (Barbuto and Charlie Bird in New York, Vernick in Philadelphia). However, on our first visit to Septime the meat course was a braised short rib that was spectacular.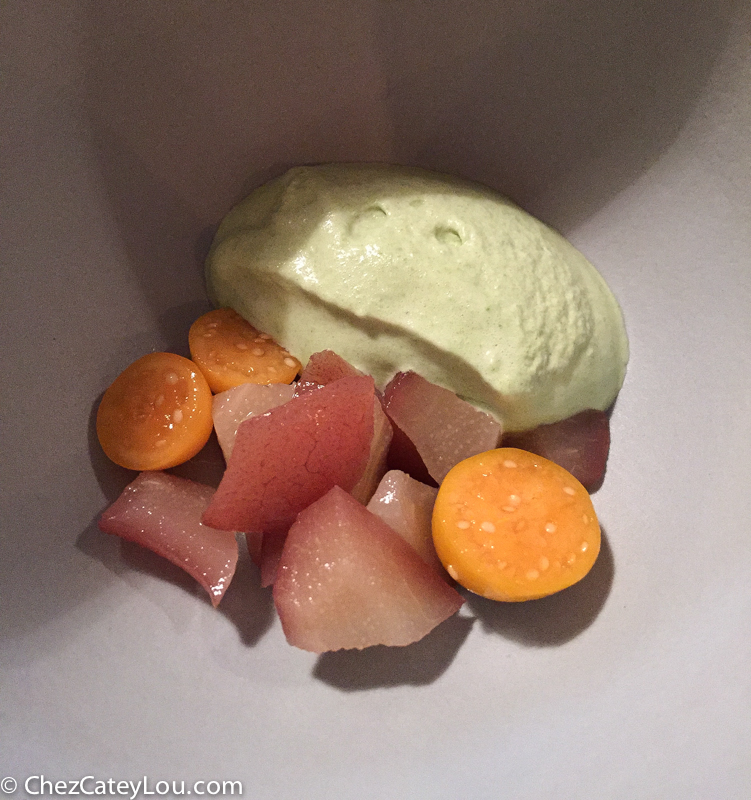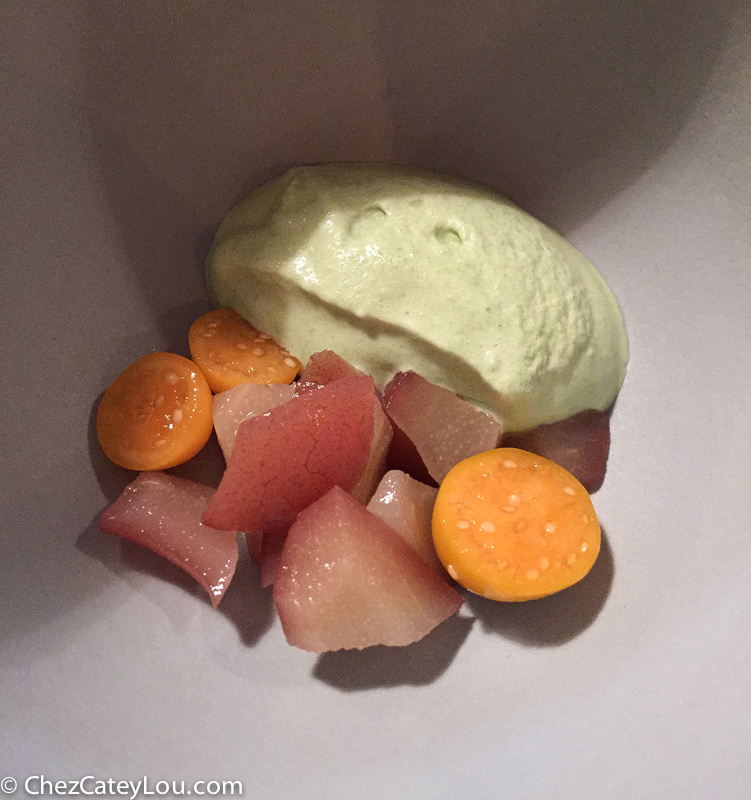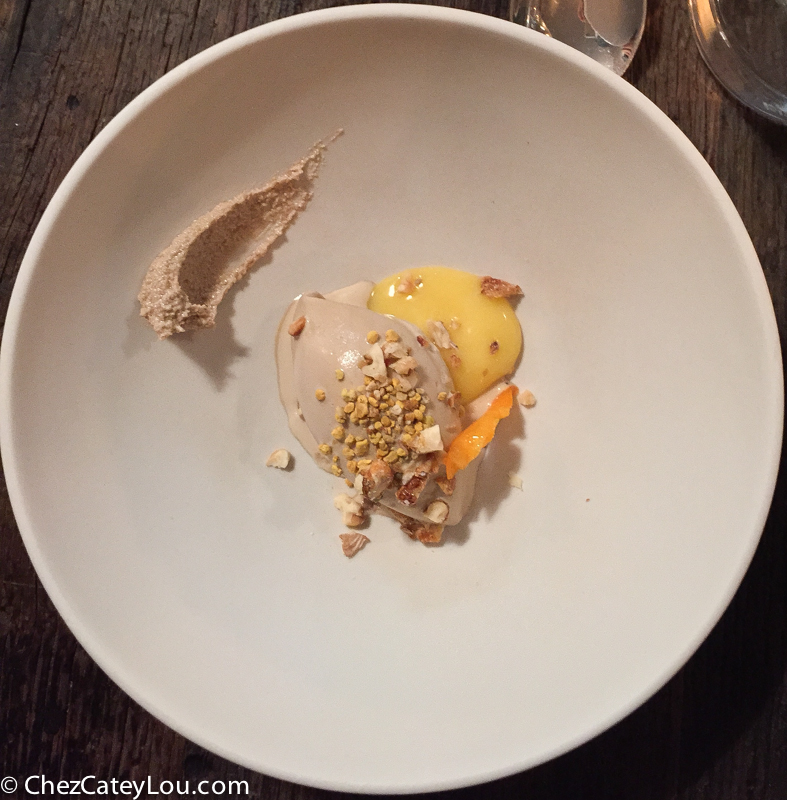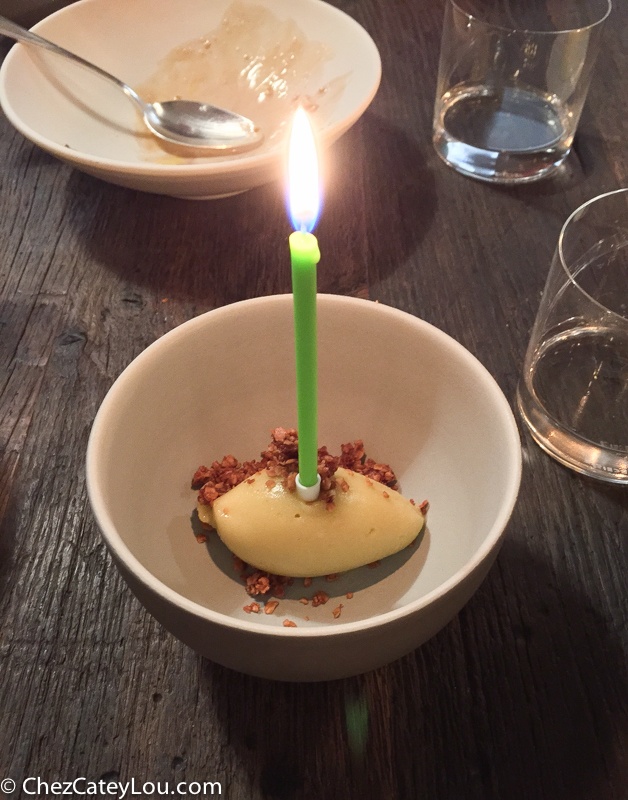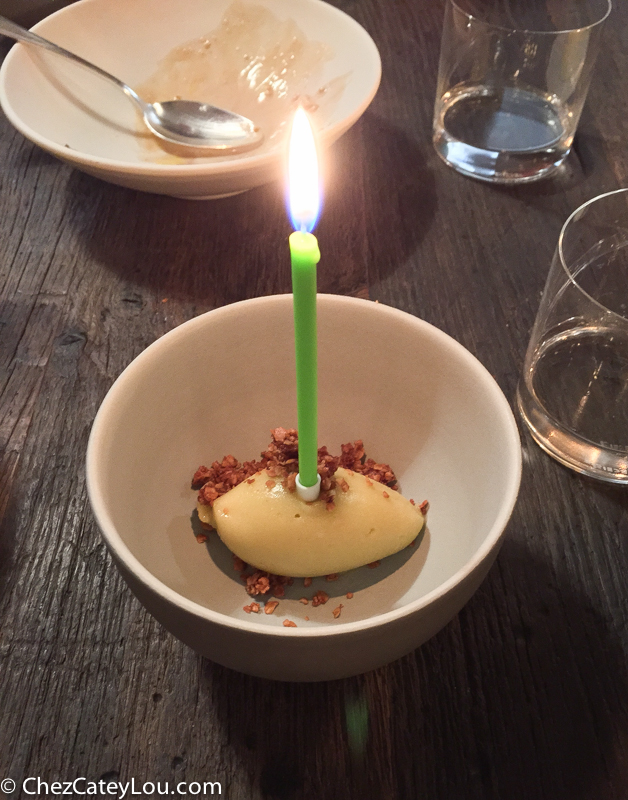 After a cheese course (not pictured) it was time for the best course of the meal for Cate – Dessert. Three desserts to be precise – 2 are standard and one was a bonus as we were celebrating Cate's 30th birthday. Each dessert was more unique than the next and they were all delicious.
Now a note about logistics – it is very hard to get a reservation here.  They are done online 3 weeks in advance at midnight Paris time.  And they disappear in about .5 seconds.  But it is absolutely worth trying your hardest to get one because it is sure to be an unforgettable experience.
Septime
80, rue de Charonne, 75011
t: +33 01 43 67 38 29
Open for Lunch Tuesday-Friday 12:15pm-2:00pm; Dinner Monday-Friday 7:30pm-10:00pm
Connect with Chez CateyLou!