Healthy Chocolate Chip Pancakes are light yet filling, and so delicious! A single serving recipe makes these the perfect healthy and satisfying breakfast for one!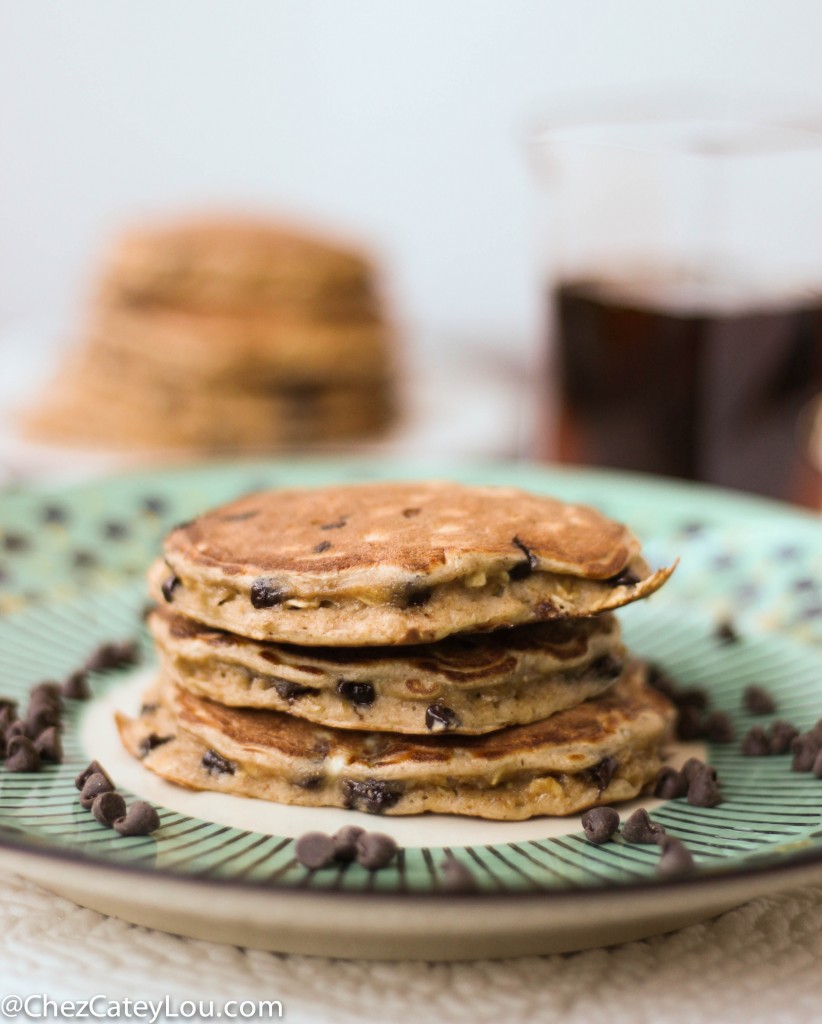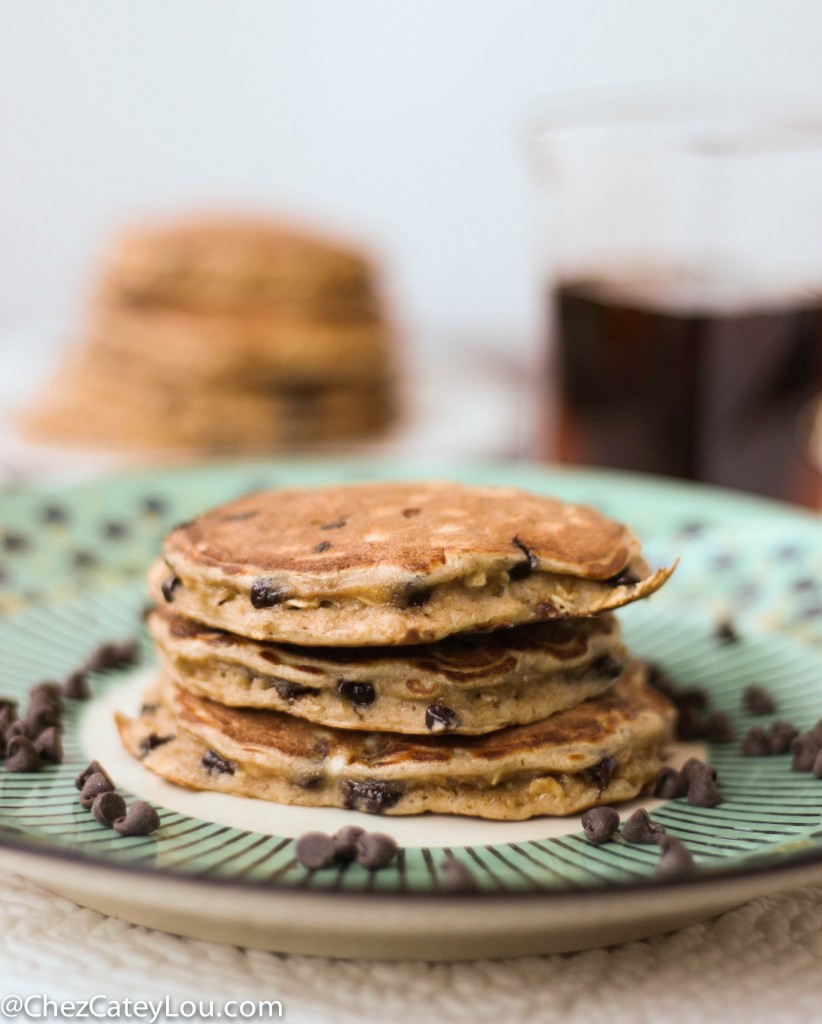 Happy Monday!  I don't know about you, but I would really like to be curled up on my couch right about now instead of being back to real life. It is hard to get back into the swing of things after the nice holiday break.  It is even harder to get back to reality when you are also trying to eat healthy!  Luckily, I have a delicious and healthy recipe for you that looks decadent but is actually guilt free!  These healthy chocolate chip pancakes are so light that they will not ruin your New Year's resolutions.  Plus, they are just a single serving, so they are easy to whip up for a quick and delicious meal for one.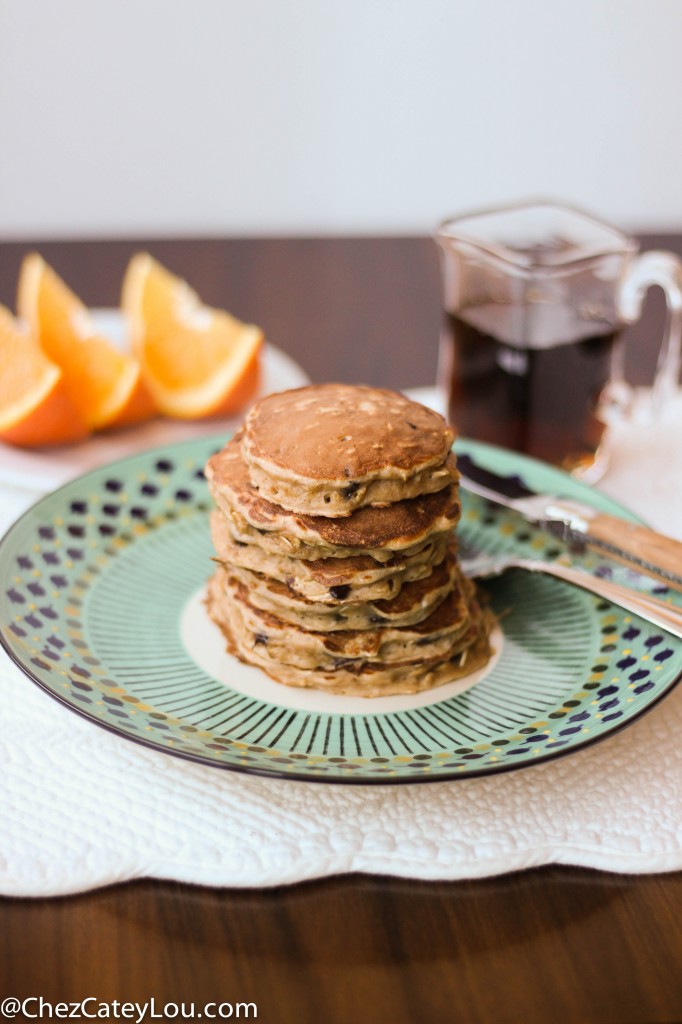 These healthy chocolate chip pancakes have been one of my go-to breakfasts for years.  To be honest, they were even a dinner staple for me when TheBetterHalf was in law school in Philly and I was in New York (that was a very long three years!).  I adore pancakes, and these are actually full of healthy ingredients – oats, egg, yogurt – so I figured it was definitely a balanced dinner. TheBetterHalf disagrees so unfortunately pancakes aren't for dinner nearly as often as they used to be.  But lucky for me, this recipe only serves one so I can whip it up whenever I want 🙂
They come together so quickly and you can adapt them a bit to suit your preferences or what you have on hand.  The first ingredient is regular oats – the recipe works best with regular oats but I have used quick cooking oats before and they turned out fine!  Then whole wheat flour, but if you only have white flour that'll work too.  Next is baking powder – well this ingredient is kind of non-negotiable!  For a little sweetness, I add one packet of splenda but you can use any sweetener you like – even regular sugar, honey or agave.  Next comes one egg or if you want to lighten these up a little more use egg beaters.  You also need some yogurt – I like fat-free vanilla but you could use any flavor that you have around, even plain.  If you use plain, you might want to add a bit more sweetener, depending on how sweet you like your pancakes.  Vanilla extract is optional, as is salt although I recommend using both of them.  And then the final ingredient is mini chocolate chips – and again, you can use whatever you want in here!  I've subbed in blueberries (with a little cinnamon), cinnamon chips, peanut butter chips…the possibilities are endless!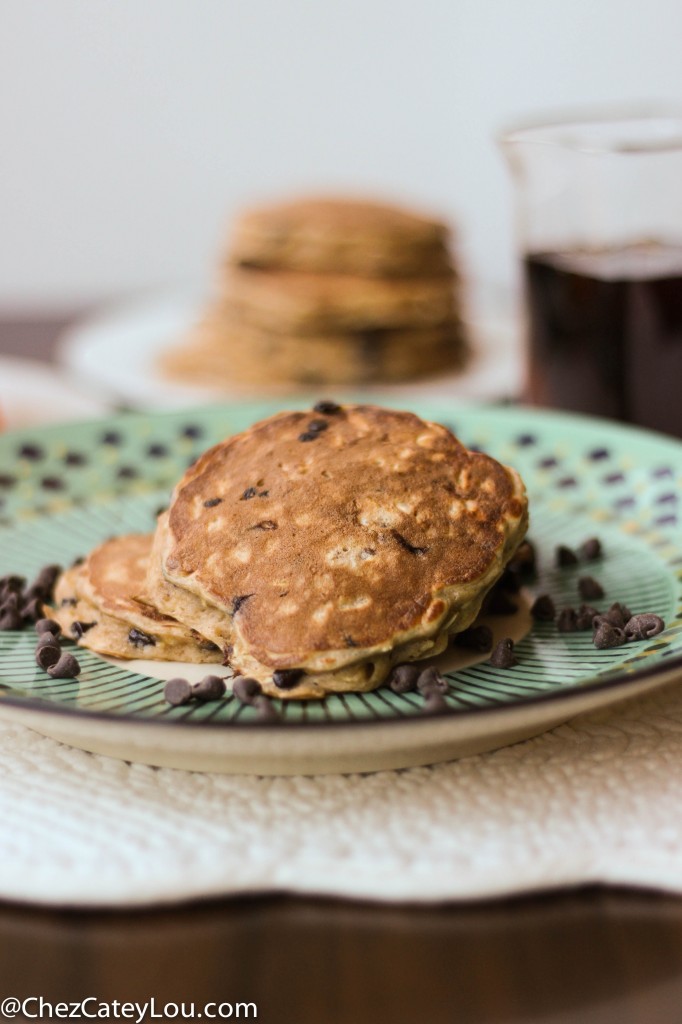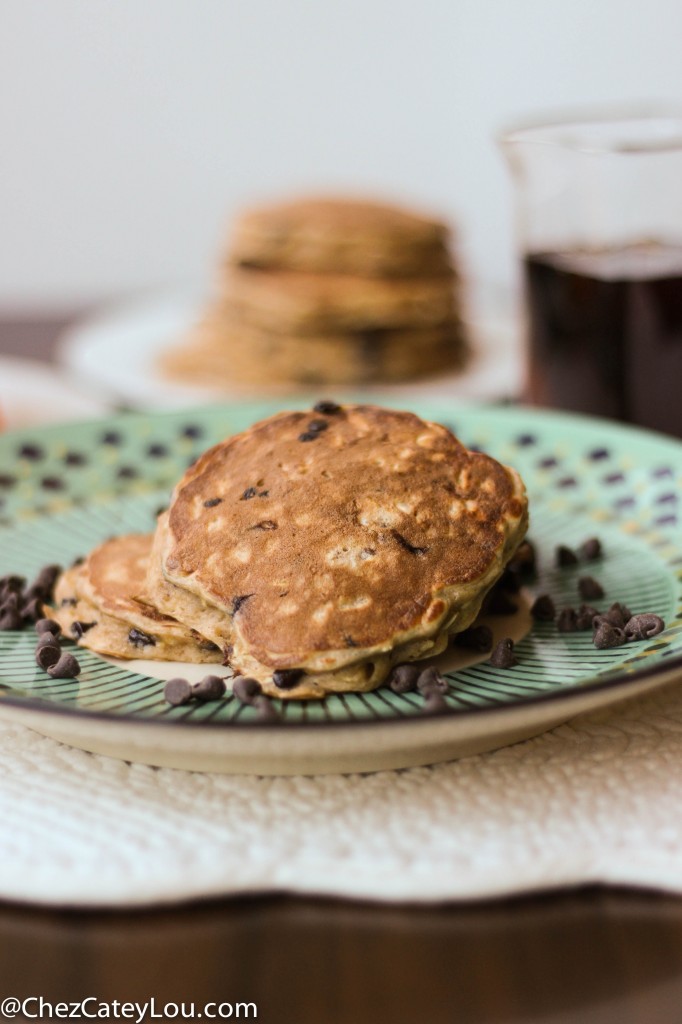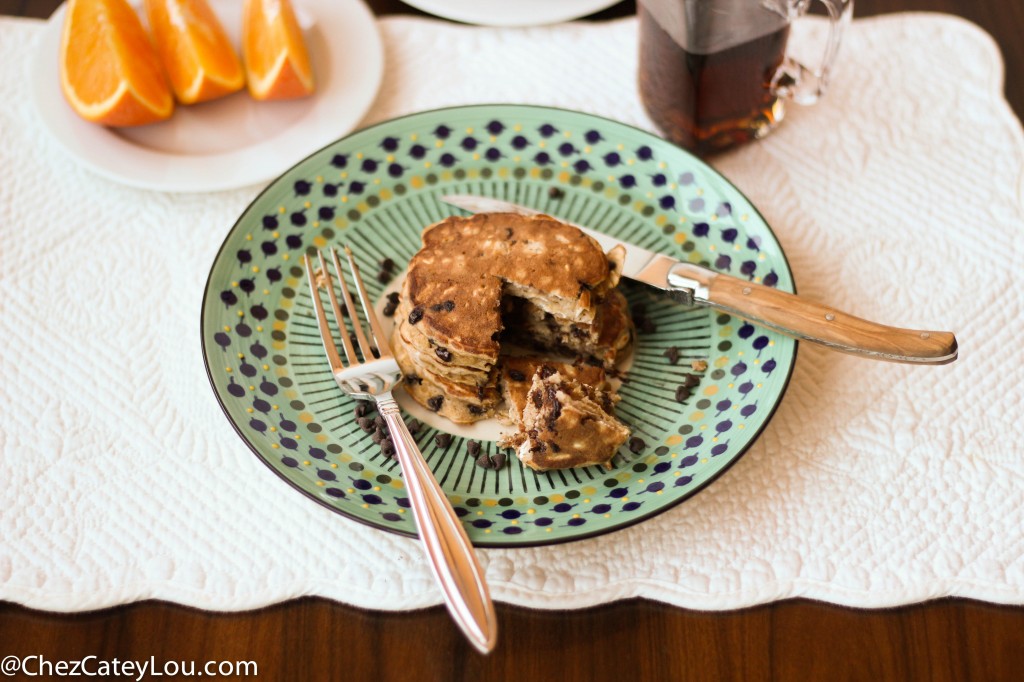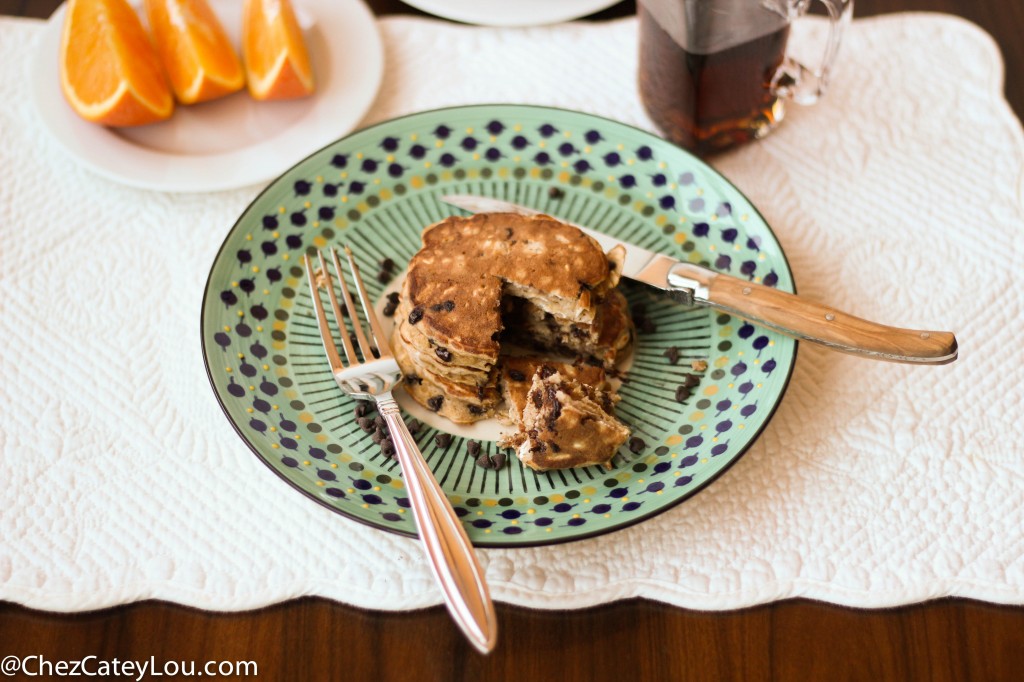 You can cook this recipe as  two big pancakes or 3 medium ones – I like to make three because they are easier to flip.  Once they are finished, the topping fun begins!  Honestly these are great plain or with a little spray butter to keep the calories low, although I know spray butter freaks some people out (hi Claire).    But my favorite topping is light whipped cream!  It is sooo good with the chocolate.  This is really a versatile pancake recipe for a simple, healthy breakfast.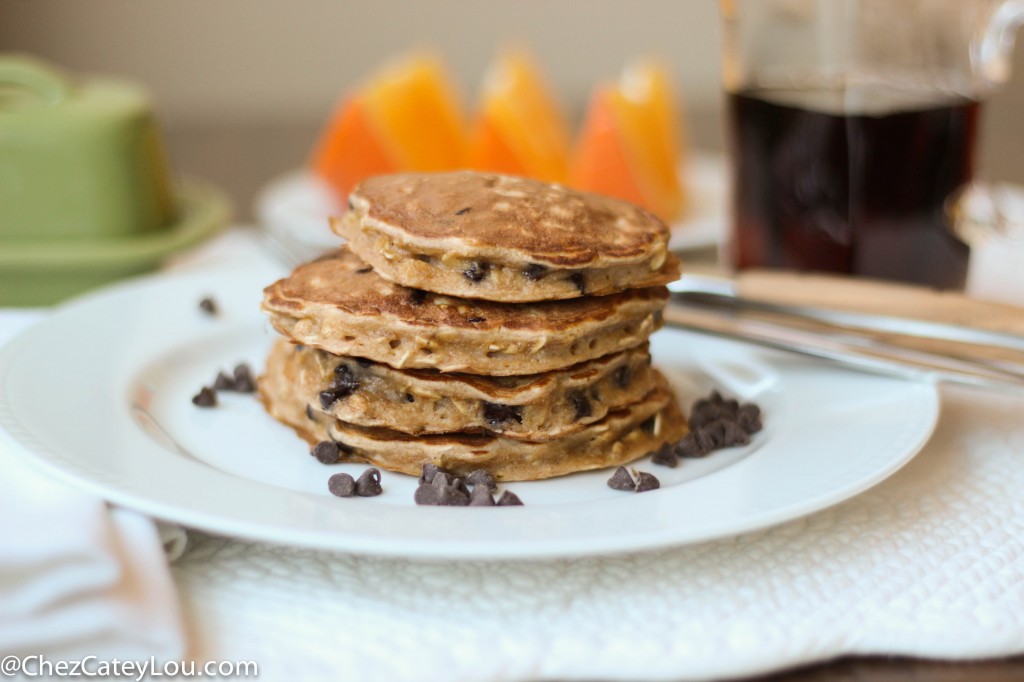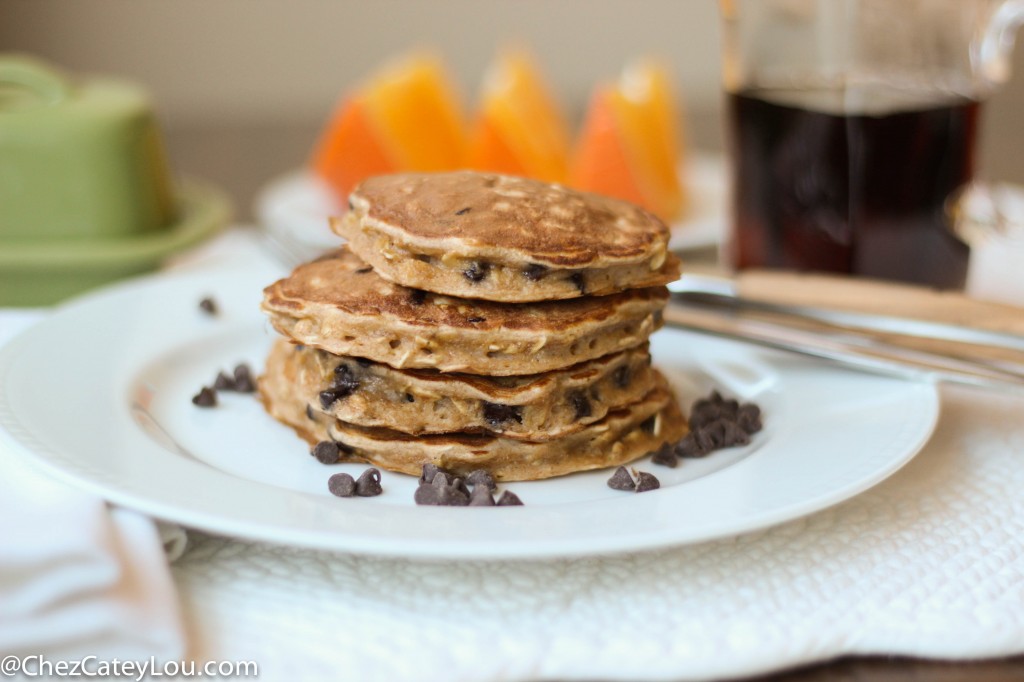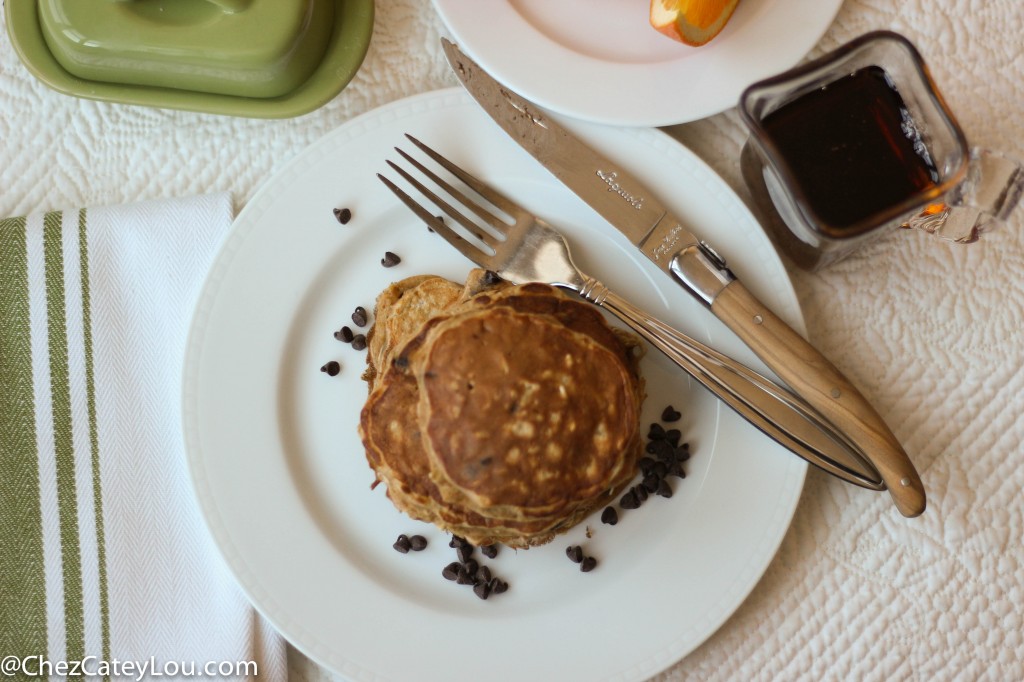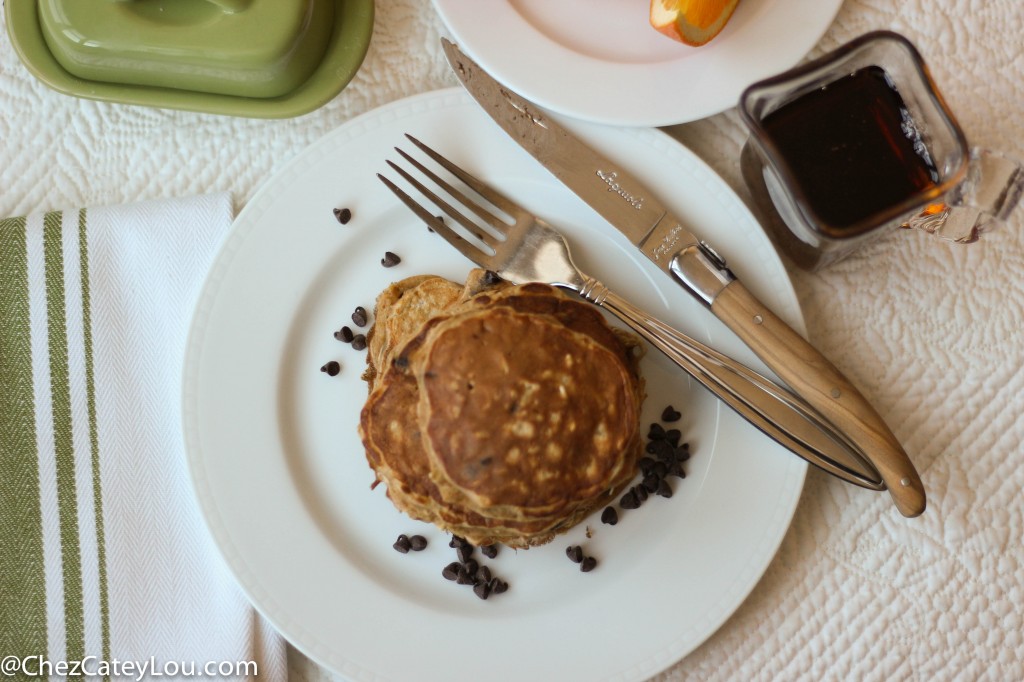 Single Serving Healthy Chocolate Chip Pancakes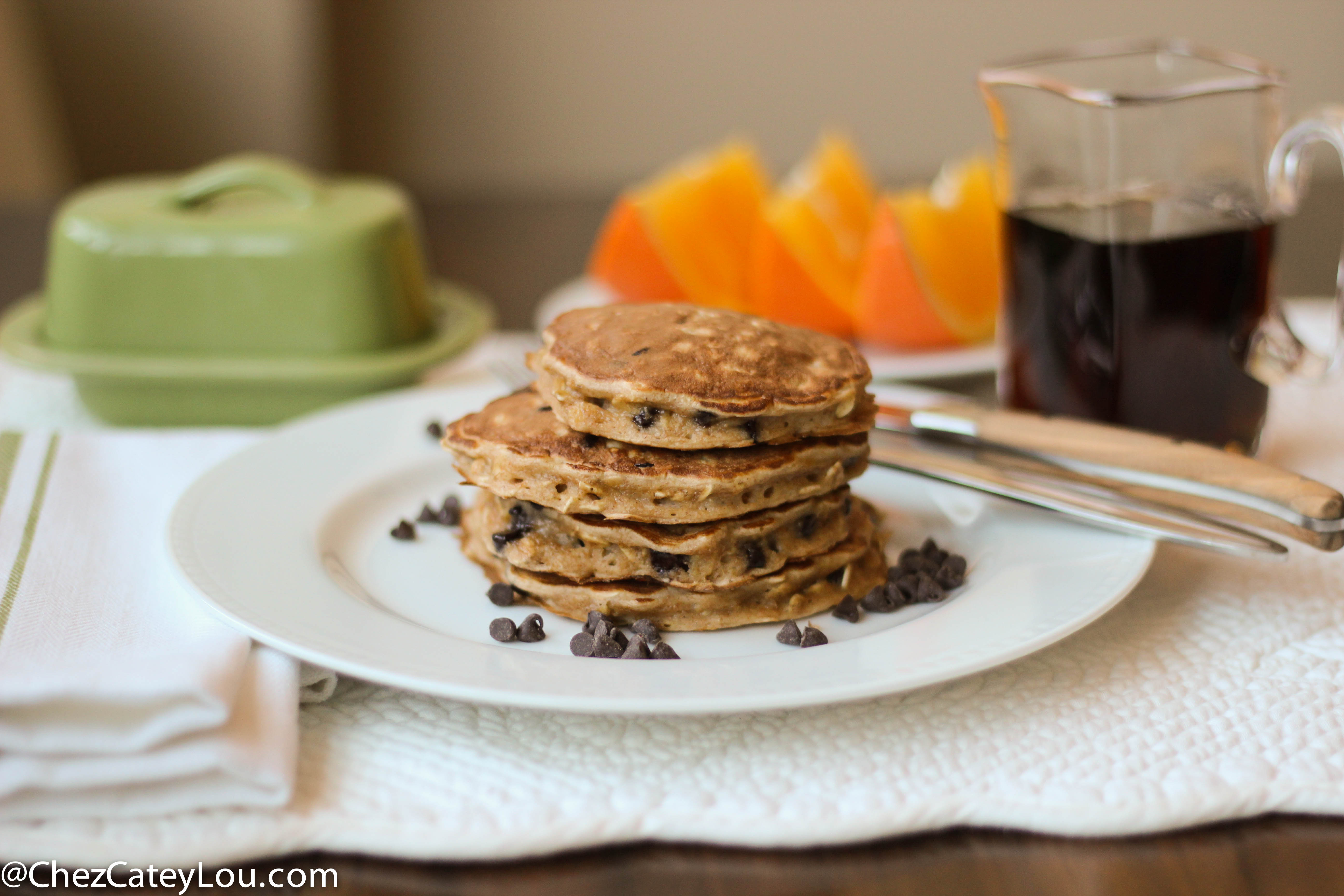 Ingredients
¼ cup regular oats (not instant)
2 tablespoons whole wheat flour
¼ teaspoon baking powder
1 packet splenda
dash salt
1 large egg or ¼ cup egg substitute
2 tablespoons fat-free vanilla yogurt (I like Dannon light n fit)
¼ teaspoon vanilla
2 tablespoons water
1 tablespoon mini chocolate chips (or more to taste)
Instructions
Preheat a griddle pan or frying pan over medium heat.
In a small bowl, mix together the oats, flour, baking powder, splenda, and salt. In a separate small bowl, whisk together the egg, yogurt, vanilla, and water.
Add the wet ingredients to the dry and stir to combine. Stir in the chocolate chips.
Spray the pan with nonstick spray or lightly coat with oil. Pour the batter into two or three spots. After about 1 ½ minutes (or once the pancakes are lightly browned), flip and cook for another minute. Serve, topping as desired.
Notes
https://chezcateylou.com/single-serving-healthy-chocolate-chip-pancakes/
© Chez CateyLou. All images & content are copyright protected. Please do not use my images without prior permission. If you want to republish this recipe, please re-write the recipe in your own words, or link back to this post for the recipe.
Other healthy breakfast options!
Healthy Blackberry Coconut Yogurt Bread